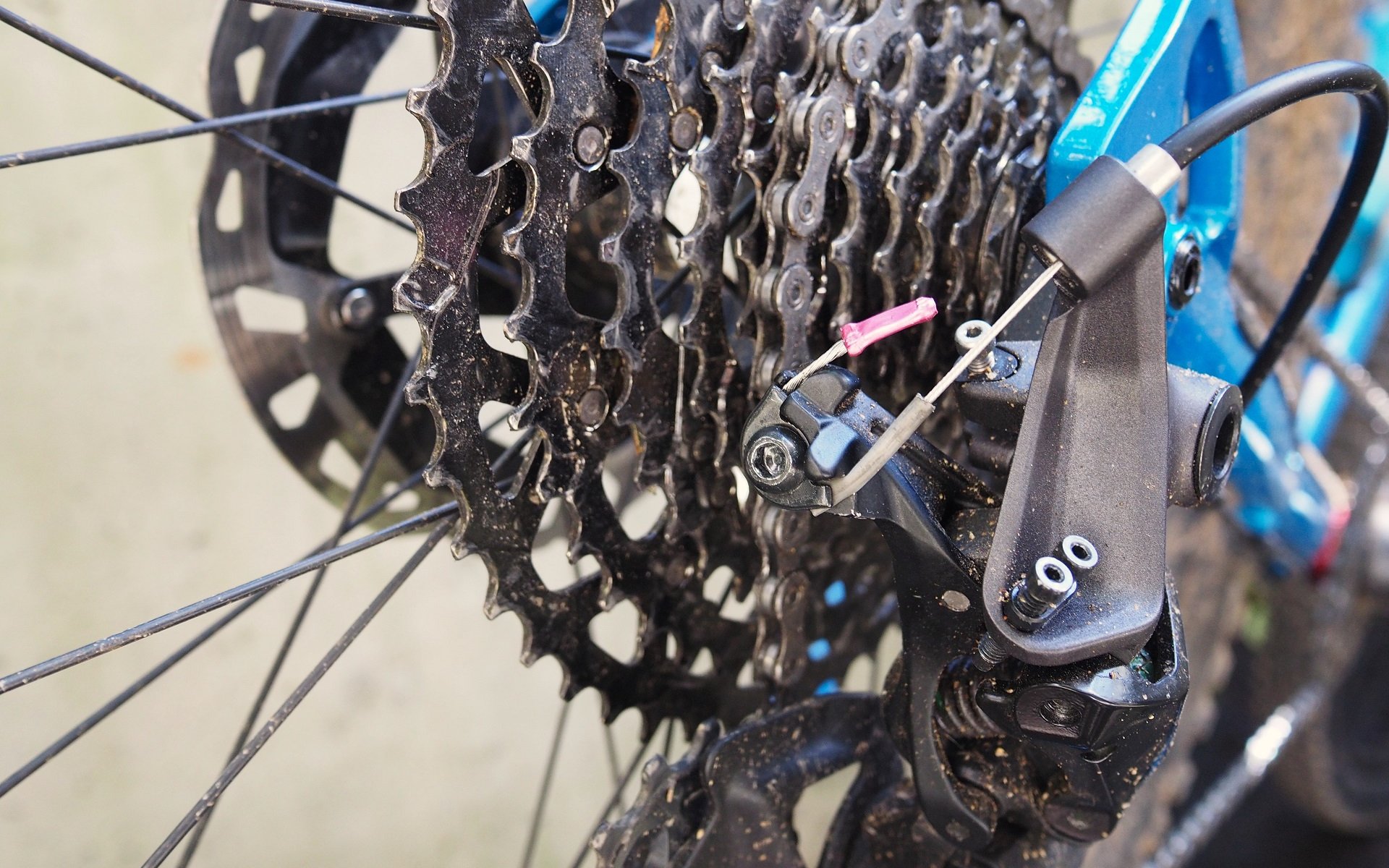 DOES THE FUTURE HAVE FEWER GEARS PT IX
Shimano Inadvertently Upgrades Friction Shifting
XT M8130 Continued
Shimano's LinkGlide M8130 XT drivetrain is the most positive cable-actuated shifting I've ridden. Under heavy pedaling loads or backing off, the chain happily walks up or down looking to embrace the next cog.
I've written about XT M8130 and the CUES LinkGlide drivetrains previously, for those looking for a more robust explanation. In short, LinkGlide cassettes have significantly thicker cogs that interface more fully with an 11-spd chain, regardless of whether it's a 9, 10, or 11-spd LG drivetrain. How much thicker? An 11-spd LG cassette takes up the same real estate as a 12-spd HG+ unit.
The LinkGlide-specific parts are fully interchangeable between various component levels and consist of just the cassette, shifter, and rear derailleur with the cassette providing most of the magic. Said cassette rides on a legacy HG freehub driver, which helps Shimano bring LG to lower price points and ensure max swap-ability of LG components.
What Is Friction Shifting
The XT M8130 shifter performs in an exemplary fashion, but more importantly it was igniting possibilities in my brain: as improved as LinkGlide is, hitting gears quickly and under load with an indexed setup, wouldn't all those benefits also translate to friction shifting?
Friction shifting confuses some folks who've never used it before, but the simplest way to think of it is the absence of any shift-clicks. A rider moves the shift lever to find the next derailleur position. There's often some confusion as many rear thumb-shifters of yore can be run in both indexed and friction modes. This is true of the rear DuraAce barcon shifters that folks convert to thumbie action with an adapter plate, like the Paul Components Thumbie that I use.
Many years ago I had a friend who was in a local Bob Dylan Appreciation Club. I once asked if the members spent their meetings sitting around debating Bob Dylan lyrics. He quickly replied: "No, we appreciate them." It's something that comes to mind every time someone asks me to explain why I'd choose to ride a friction-shifting setup over an indexed one.
If you love friction shifting then I'll tell you now, you've never experienced friction shifting like what Shimano LinkGlide delivers. I'm hitting shifts faster and harder than I can with any other drivetrain I've tried - HG, HG+, SRAM. If you don't appreciate the mechanical poetry that is pushing a derailleur through gears entirely on muscle memory and feel, LinkGlide is not going to make you covet a friction setup.
Leveraged
The biggest hurdle of combining a friction thumb shifter with a modern 11- or 12-spd drivetrain is the lack throw, which makes it challenging to hit all the gears. Specifically, hitting the last couple of low gears is a stretch unless I'm on pavement or gravel, where I can take my hand off the bar and crank the shifter. This isn't a concern for me as I rarely use the last couple of gears unless I'm doing a sustained steep gravel climb and frankly, I'm quite happy pedaling out of the saddle if I find myself in the wrong gear.
I recognize the challenge of being able to run this system in index mode is a barrier to others potentially falling in love with a friction-shifting setup. I want to shoot some credit here to a rider I internet-know named Marc Pfister, who encouraged me to chase ways to reduce the number of millimetres of cable pull necessary to move the derailleur between cogs. While I'm throwing out thank yous, cheers to Bean for the friction-LG encouragement to begin with.
With the big under-bar lever, there's no issue with leverage or degradation in shifting, but running the cable a shorter distance to the fixing bolt significantly reduces the amount of thumbie-throw necessary to hit all eleven cogs. This requires some precise shifting, thankfully aided by LinkGlide's excellent shifting under load. I did add a piece of rubber over the cable because in this orientation there is cable wear in the lowest gears. The photos below likely paint a better explanation of the 'how' but the result is excellent.
Does The Future Have Fewer Gears?
In the next few years, there will be some riders, currently on 12sp drivetrains who will seek out 11 or 10sp Shimano LinkGlide setups. They should experience better, more robust, and significantly longer wearing shifting in exchange for a few grams and one or two fewer clicks at their shifter.
There is something beyond the crush to build drivetrains that are optimized to shift under any load that people-powered-people, motor-assisted-people, or people-assisted-motors can produce. Out past spooling cable ratchets and yet another battery to manage, a friction-shifting setup awaits. Mated to all the advantages that derailleur clutch systems and wide-ranging 1x setups offer, trying a friction thumb shifter is a relatively inexpensive way to have a different riding experience using all the other components of any cable-actuated drivetrain.
And, again, for the record, Shimano's LinkGlide is the best friction-friendly drivetrain on the market being more intuitive and exact when shifting in single track. It also has the potential, though I have not yet tried it myself, to mate all the advantages of Shimano's LinkGlide cassettes to any existing cable-actuated derailleur, Shimano or otherwise, which is an exciting follow-up project I'm attending to.