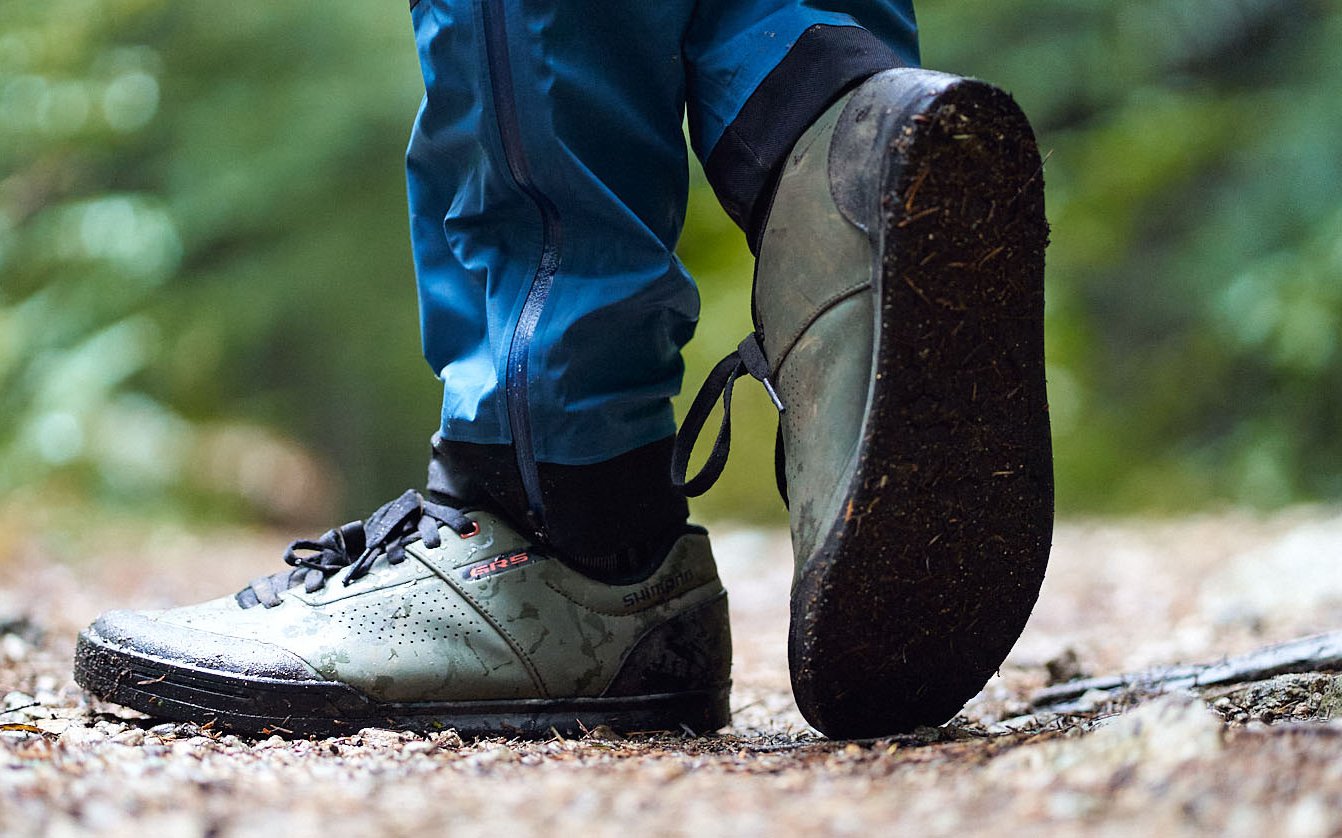 REVIEW
Shimano GR5 Flat Pedal Shoes Reviewed
I started mountain biking in the pre-SPD era. And I've still got most of my own teeth and some of my own hair. Back then you could ride flat pedals, if you were brave, but those inaccurately named 'Bear traps' wouldn't trap a mouse, let alone a skate shoe. It wasn't long before I realized the limitations of this setup and jumped ship. At the urging of my MTB mentors, I got some more conventional looking pedals and bolted on some toe clips. This probably sounds terrifying if you've never ridden on the original 'clips' but it wasn't bad at all. Generally the straps weren't done up very tight and when things went haywire it only took a slight pull back and you were out. Over time, as the riding became more challenging, the straps got tighter, but I don't recall ever having a big problem getting out, like I did when I began riding the other kind of 'clipped in.'
When I began riding on flat pedals in earnest, around the turn of the century after years of riding Shimano SPDs, shoes specifically made for the application were not available. Or if they were, I was unaware of them. Which meant Vans were the best option I could track down. The grip wasn't great, either from the pedals or the shoes, so compensation was needed. For me that involved shoes with a relatively flexible sole. The idea was that draping the sole of your shoe over the pedal improved traction to some degree.
Eventually FiveTen shoes came along and changed everything, and pedal manufacturers started to pay more attention to flats, making those floppy shoes obsolete. Stiffer soles provided more support, power and protection, and a better ride overall. My tastes have moved further in that direction and the shoes I prefer now bear little resemblance to those that I was drawn to in the early days.
My preferences may not align with yours, and I'm sure many riders prefer soles with more flex, and it turns out you're in luck. Shimano's new entry level flat pedal shoes, the GR5, may meet your specifications.
Shimano shoes have always fit me well. They aren't terribly wide but the forefoot is nice and roomy and all the contours seem to have been drawn with my feet in mind. These were instantly comfortable when I slipped them on and I was optimistic about the design of the sole. Many shoes are designed with lugs that align front to back which means the pins of your pedal can slide through those channels when they encounter an impact. Shimano thoughtfully offset the lugs so there are no grooves that align these forces, which should prevent premature wear and slippage. Further, the channels are very narrow so pedal pins dig in even when they align with the spaces between lugs.
Protection for your heels and toes is adequate and the quality of materials seems decent. The construction however appears to be excellent, with seams that match well and appear very well bonded together.
As I have mentioned before, when FiveTen shoes became available I became addicted to grip. In fact only FiveTen's Impact models had enough stick for me. These days I'm quite happy on shoes with lower friction, partially because pedals have improved and also because I'm lost if I can't move my feet into the proper position while descending.
Grip-wise these shoes do just fine. They aren't exceptional and are at the lower end of my comfortable range, but I didn't have any problems with unexpected slipping. Recomposing my foot position is easy as is finding the sweet spot.
With all that in the plus column, it feels like a shame to move to the other side, but these shoes have a couple of flaws that for me were fatal. The most significant is the flexy sole I mentioned earlier. A shoe's sole can be flexible while still providing protection for the bottom of your foot, often in concert with a robust insole. Unfortunately that isn't the case here. The sole is both flexible and thin and the feedback from the pedal and the ground is excessive, to the point that I worry I'll be injured from a large impact, on the bike or off. To be clear, I realize that some of you are going to be be just fine with the thin flexible sole.
If you are looking for lots of pedal and ground feedback, The GR5 might be just the model you are looking for, but there's a second issue here. Aside from the heel and toe, which are well protected as mentioned, the upper doesn't provide much protection at all. The synthetic leather material seems very good, although it feels a little too much like plastic, but it's quite thin without any significant lining material to make it feel robust. I recently banged my foot against a rock. It wasn't a hard hit and I was surprised when I felt a sharp pain at the impact site. These sorts of bangs are inevitable riding aggressive trails and they happen on virtually every ride, but normally I hardly notice them because of the protection most shoes provide.
One issue with the bottom of the shoe is the ultra thin and almost flimsy insole. It has almost no shape and seems hardly more than a millimetre thick. If you like the GR5's stark aesthetic you could slide in a more robust insole and move the needle toward adequate protection, but good insoles aren't cheap, and it might make sense to have a look at another pair of shoes that already come equipped with a nicely contoured structural cradle for your foot..
Back in the positive column, these are nice light shoes at only 400 grams, they breathe well enough while keeping much of the wet weather out, which means if you like feeling all of your pedal and don't mind a little less protection under foot, these could be a nice choice for you. For everyone else who rides aggressive trails and subjects their feet to peril on every ride, I would point you in another direction, despite the reasonable 110 USD price these carry.
More on the Shimano GR5 Shoes.