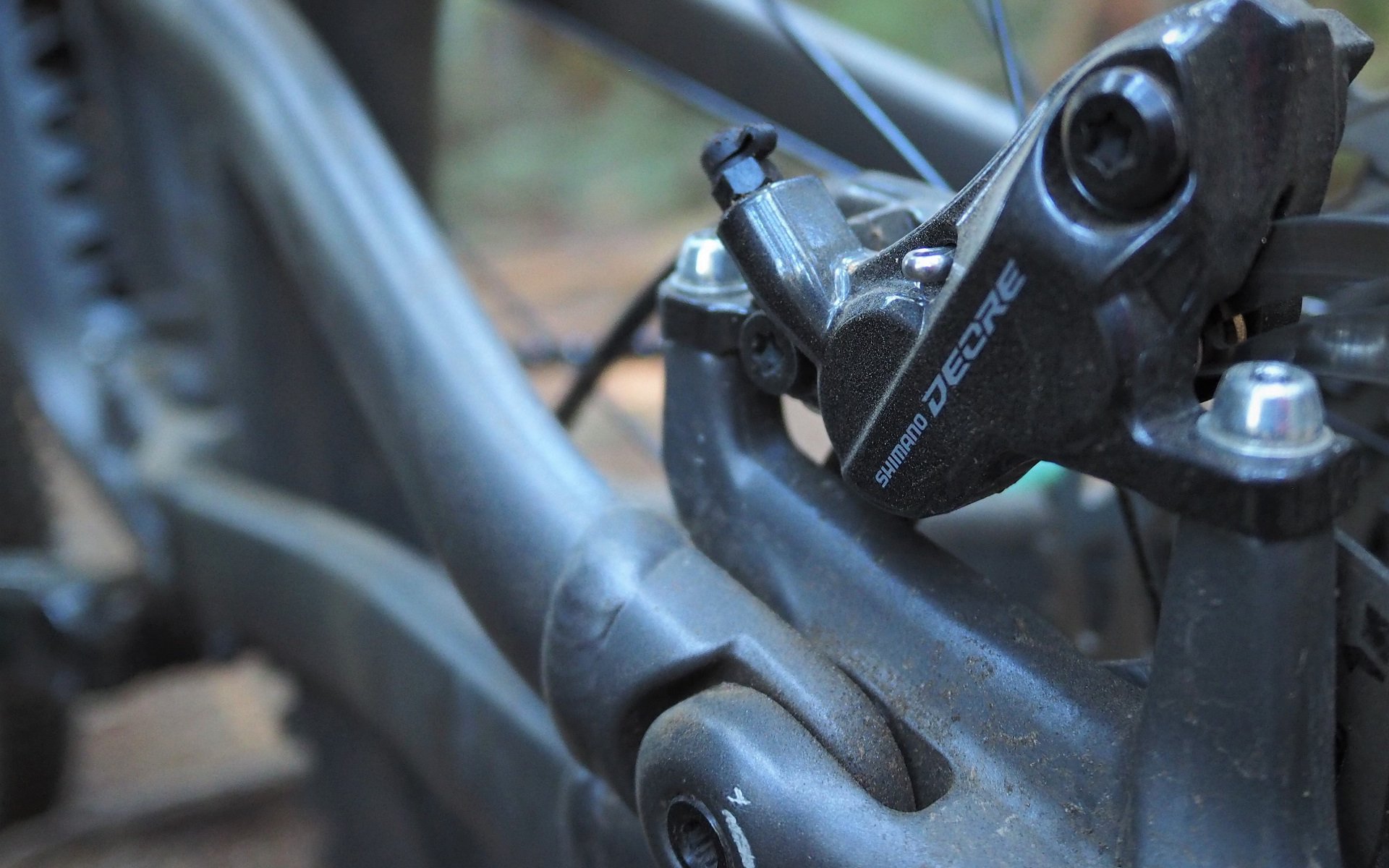 REVIEW | EDITORIAL
Shimano Deore M6120 Four-Piston Brakes
Like A Boss
Shimano's four-piston Deore brake isn't 30-seconds into its first interview and it's already telling you how to reorganize your company. To say they come on strong, well, that's an understatement. These brakes put pads to the rotor as firmly as anything in Shimano's lineup and come equipped with Shimano's universal, and quiet, 4-piston sintered brake pads - no fins for the win.
For folks that love Shimano brakes, you can certainly spend more, but if you didn't already throw down for a pair of XTR 4-piston brakes then Deore M6120 wants to have a word with you. What about SLX and XT? They seem nice. Nice?! Why because they spent more on getting dressed up and their resumes come on nicer card stock? Deore's not hearing it.
These brakes want you to know that they'll reliably hold their own against anything on the market for 150 USD | 200 CAD a wheel* while giving the Shimano brake lover everything they expect, just at a lower price. It's almost poetic.
*Does not include rotors
It's not a question of modulating power, (it's fully possible to crawl down steeps with these brakes) but rather the way the power turns on. Their main competitor for the job of your next brake system, SRAM's Code series, is more of a soft-power player. They can equally stop a rotor dead on the steepest terrain, but only with some direction from management.
Does Wandering Bite Point Matter?
If it bothers you it bothers you. If you, like many people I know, hear the term for the first time and ask, "what is wandering bike point?" and you've been riding Shimano hydraulic disc brakes for years, clearly you are not bothered.
The phenomenon of having the lever blade pull variable distances, sometimes in the cold but sometimes not. Sometimes made better by a bleed but sometimes not. Sometimes very noticeable and other times not, on the same bike, on the same day, with two different riders back-to-back is not totally unique to Shimano but certainly they get called on it the most often.
I find that Shimano's four-piston brakes are generally much more consistent than their two-piston brakes and these M6120 brakes specifically were the most consistent Shimano brakes I've ridden in the last few years. Did I notice some variation in lever position versus pressure? Yes. Was it ever an issue for me on the trail? It was not but it's worth mentioning.
SRAM v Shimano
There are plenty of brake systems on the market and it's no secret my rotating top three are the Hayes Dominion (DOT), Formula Cura4 (mineral oil), and any Magura 4-piston system (mineral oil). But, the reality is that 95%+ of riders going in to buy a bike or brake system are running Shimano or SRAM and that's born out in the woods as well.
Some riders choose Shimano, or another system, out of a preference for mineral oil brake fluid over DOT fluid. For most, it will come down to either learning to like what came with their bike or a predilection for the distinct feel that SRAM and Shimano each produce. Personally, I'm not a fan of Guide/G2 and every pair of Levels I've tried to ride on the Shore has been a bad joke, but if every bike came with SRAM Codes, even the basic Code R, that would work just fine for me.
The harder I pull, the harder they bite. It's great. The pads are relatively cheap, though best results come from replacing them around the half-life. And while I personally prefer to handle mineral oil around the house, they're simple to work on and fully rebuildable with readily available parts. And kudos to SRAM; in Canada at least they've been doing a great job of having parts in stock.
If you don't care, or even prefer the simplicity of swapping components, then absolutely; you-do-you. I like to be able to service components instead of replacing them and I'm not surprised that it's been coming up more and more as a selling feature of some brake systems.
It's one of the reasons I really like Formula's CURA4. It bleeds up exactly like a SRAM brake using two syringes, it's equally easy to rebuild, and it uses mineral oil. The small parts support, again in Canada, is also quite good although obviously, they're nowhere as ubiquitous as the various SRAM options.
Shimano doesn't design serviceability into their brake systems' individual components. This is nothing new. We're talking a couple of decades of making hydraulic disk brakes. There's a lever assembly, a caliper assembly, and a brake line assembly. In theory that should let them offer a better system for less money, especially with their economies of scale, and less expensive replacement parts since they are also not serviceable and there are significantly fewer SKUs for employees to babysit.
Anytime I bring up some of the things I don't love about SRAM's MatchMaker cockpit de-cluttering system, my SRAMite friends can be counted on to innocently query what series of Shimano I-Spec we're on at this point. A, B, II, Deep Space Nine. Who can keep track right?
M6120, and all Shimano's performance braking products, features the newest I-Spec EV which is so much more awesome than all the past versions that I can't even be mad that it took them this long to get here. The side to side adjustment for the shifter is 14mm which is quite reasonable. For some reason Deore gives up a lot of the angle adjustment of the higher end models (10° versus 20° for XT & SLX and 60° for XTR) but I found it more than suitable to get my shifter into an ideal position.
I'm not saying you can't continue to flippantly throw an "I-Spec" every time your Shimanophile friends start spitting some bullshit about how Shimano is better than SRAM because they take their time and fully perfect a product before releasing it, but this is genuinely a step up from MatchMaker if only because the system doesn't eat handlebars.
Note to Shimano, I-Spec EV is good. It's very good. Please stick with this one for a while.
Great News & Bad News
On appearance alone, the Deore M6120 four-piston brakes are winners. With their tooled lever reach adjustment, I'll go as far as to say the master cylinders look better than SLX or XT. Better than XTR? Not compared to the magnesium M9100 model, but compared to the M9120 four-piston version? I think yes. The four-piston calipers look clean as well, though none of Shimano's latest options measure up to the Saint M820 calipers when it comes to looks.
Performance? I've actively wondered multiple times during this test why Shimano doesn't only offer two 4-piston brake systems for performance mountain bikes. Between XTR and Deore there's a void where more money doesn't get you any improvement beyond the aforementioned tool-free reach adjust. Given the number of SLX bikes with Deore brakes this year, I think more than a few bike manufacturers have caught on too. Don't worry, I'll revisit this when I come back to review the M6100 drivetrain as well.
The bad news is that Deore M6120 brings nothing to the table for riders who don't already appreciate the on-trail feel and performance of a Shimano ServoWave system. I for one keep hoping for the feel of their budget systems equipped with four-inch-long lever blades combined with wet weather performance of their sintered brake pads and the higher production quality of their top-end products. Sadly for me, ServoWave like Trunnion Mount doesn't look to be going anywhere.
There is, on the other hand, some great news for the Shimanophile who is targeting performance over owning a certain 'level' of groupset. These brakes represent a savings of 60 USD per brake compared to XT M8120. That's 120 USD that can be pumped into other upgrades with zero loss in performance on the trail. They're as good as XT brakes, for a stack less money, and I think they look better doing it. Watch for the Deore M6120 brake to cannibalize the rest of their line on the shop floor and on the trails.