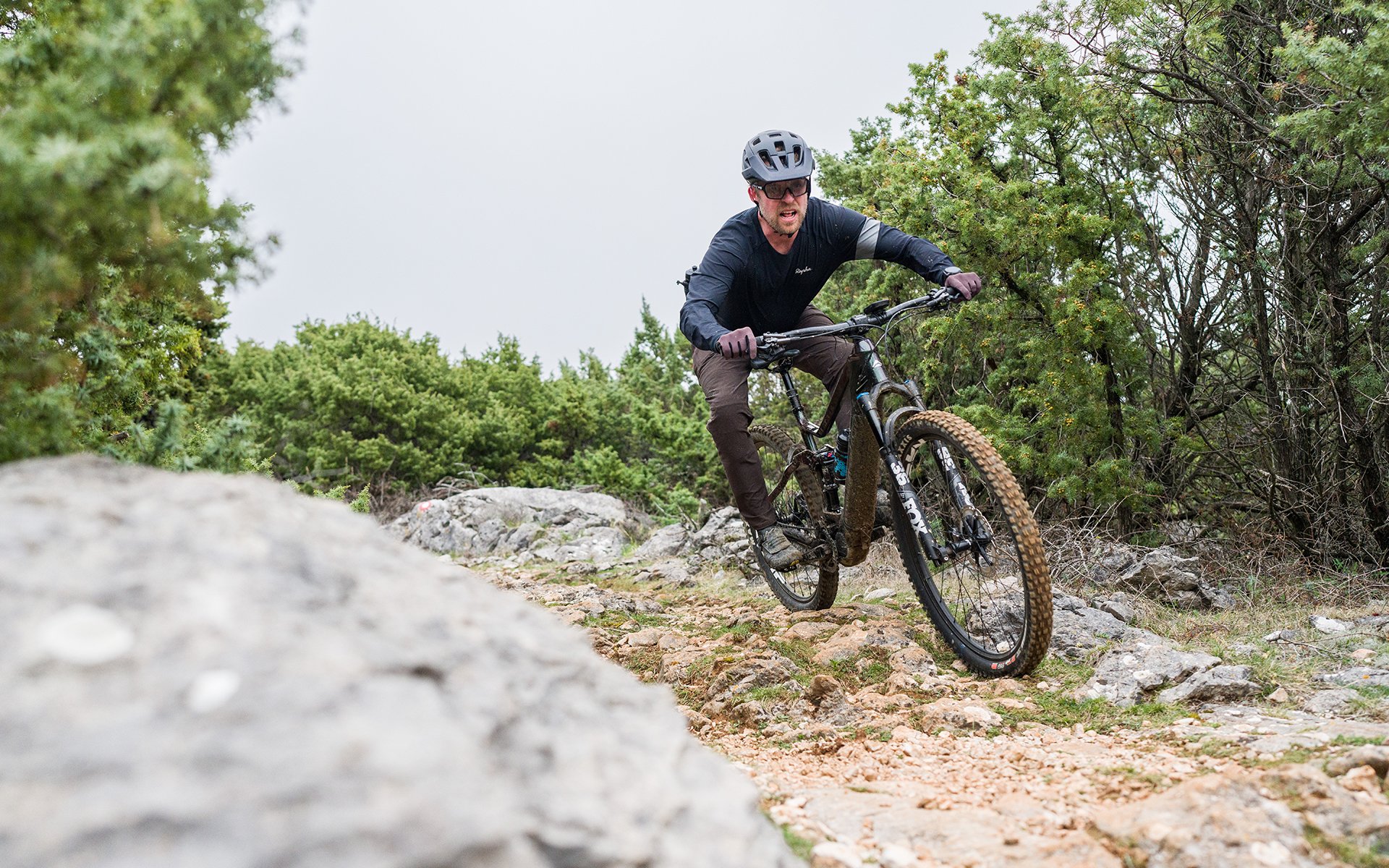 FIRST RIDE IMPRESSIONS
Shimano Auto Shifts Into the Future
The 7 am wake-up call came early. We'd gotten in late after missing a flight connection in Frankfurt, which meant we bypassed the evening's product rundown on all the new Shimano hardware and tech we were in Croatia to ride: the new XT Di2, LinkGlide, the EP8-01 e-bike motor, and AUTO Shift and FREE Shift. Yep, we have a lot to unpack from a metaphysical standpoint (robots are taking control of your shifting) to a practical one (how the hell does this stuff all work). We'll get there. But first, we had to get there.
After a quick breakfast, I barely had time to set my saddle height, make sure my levers were set to an acceptable angle, and check air pressures (tires and suspension), before I found myself coasting downhill to a marina where a twin-hulled boat was waiting to take us to the nearby island of Rab for a day of touring the Croatian island destination while we got used to all the stuff I mentioned above.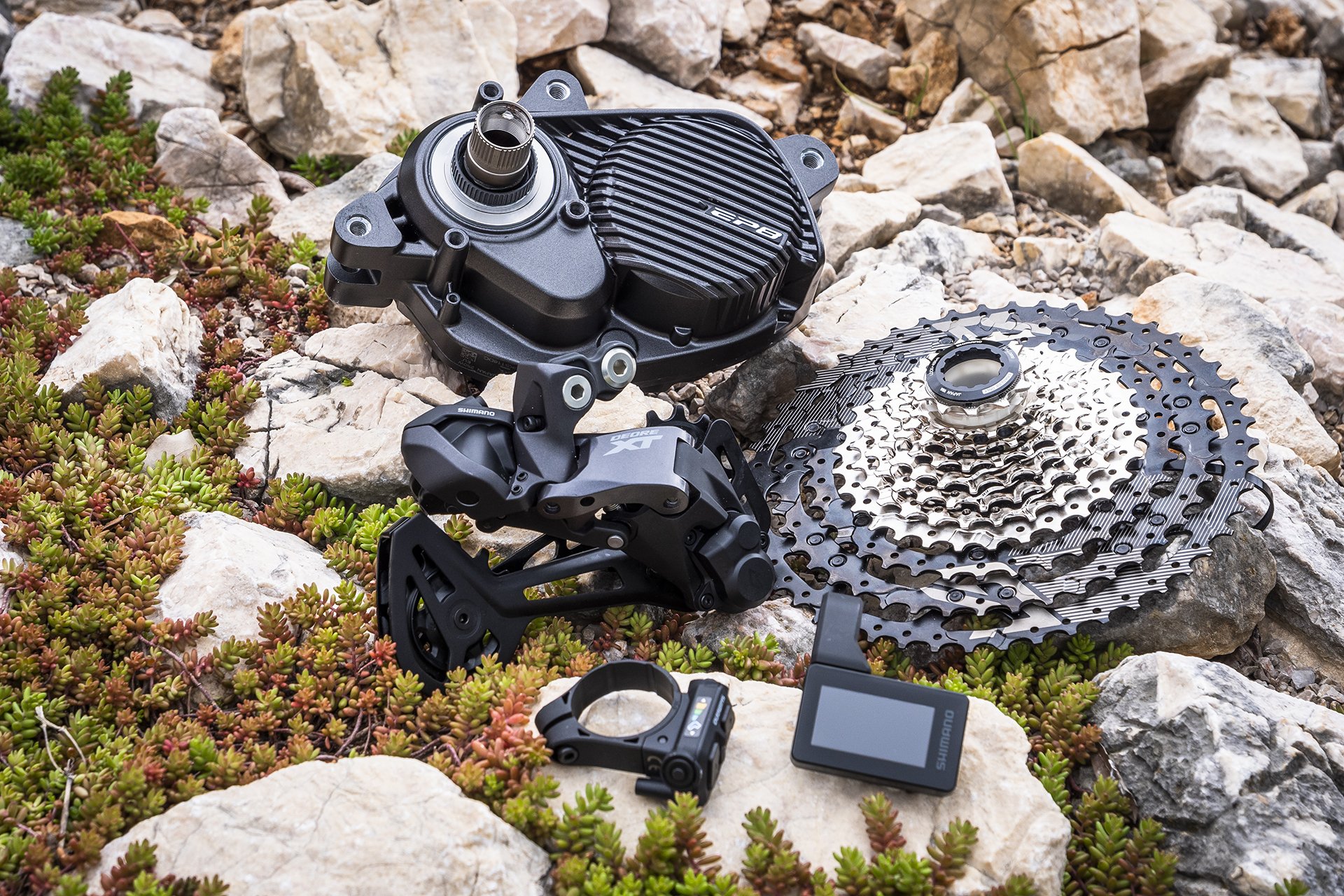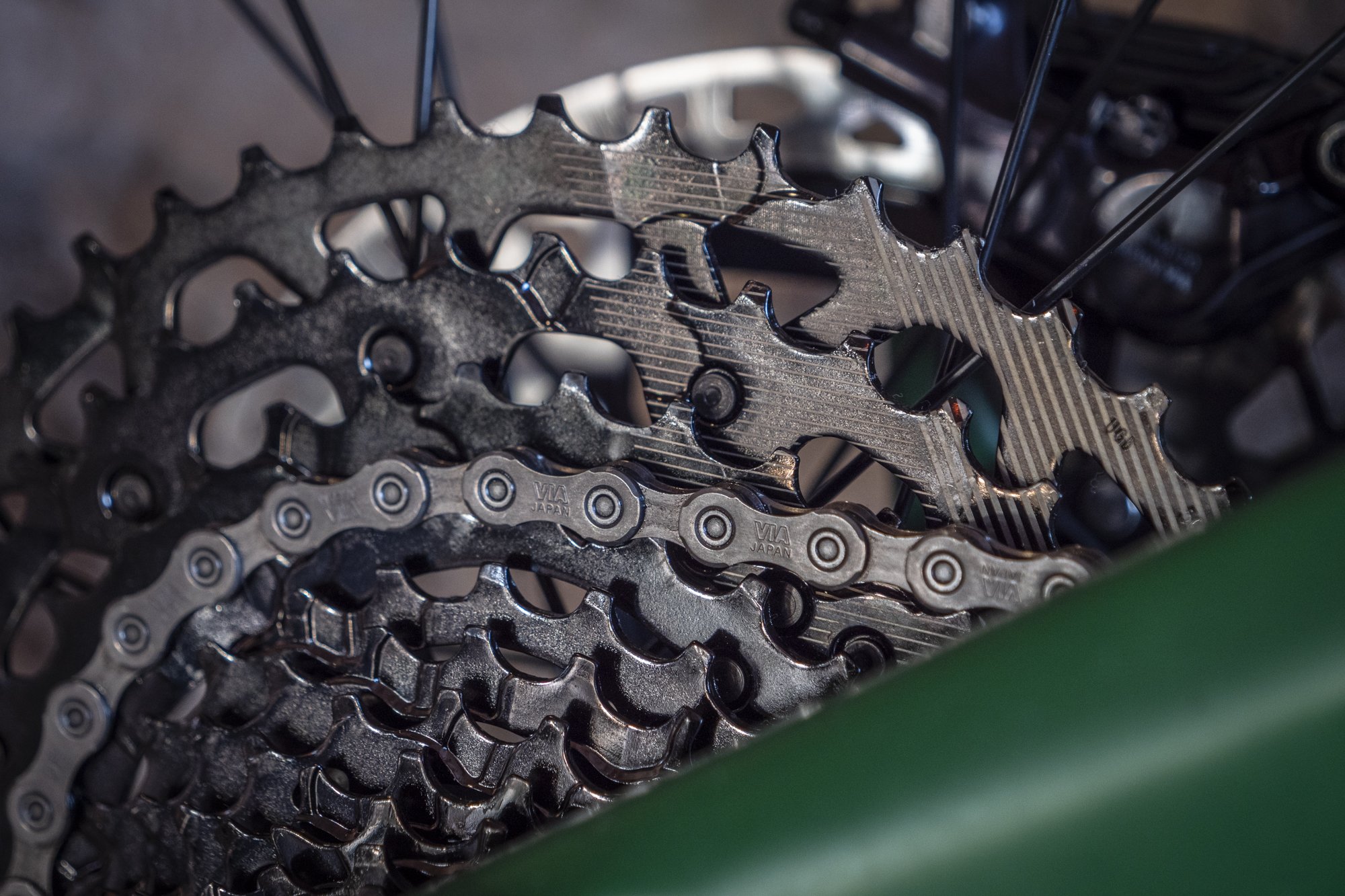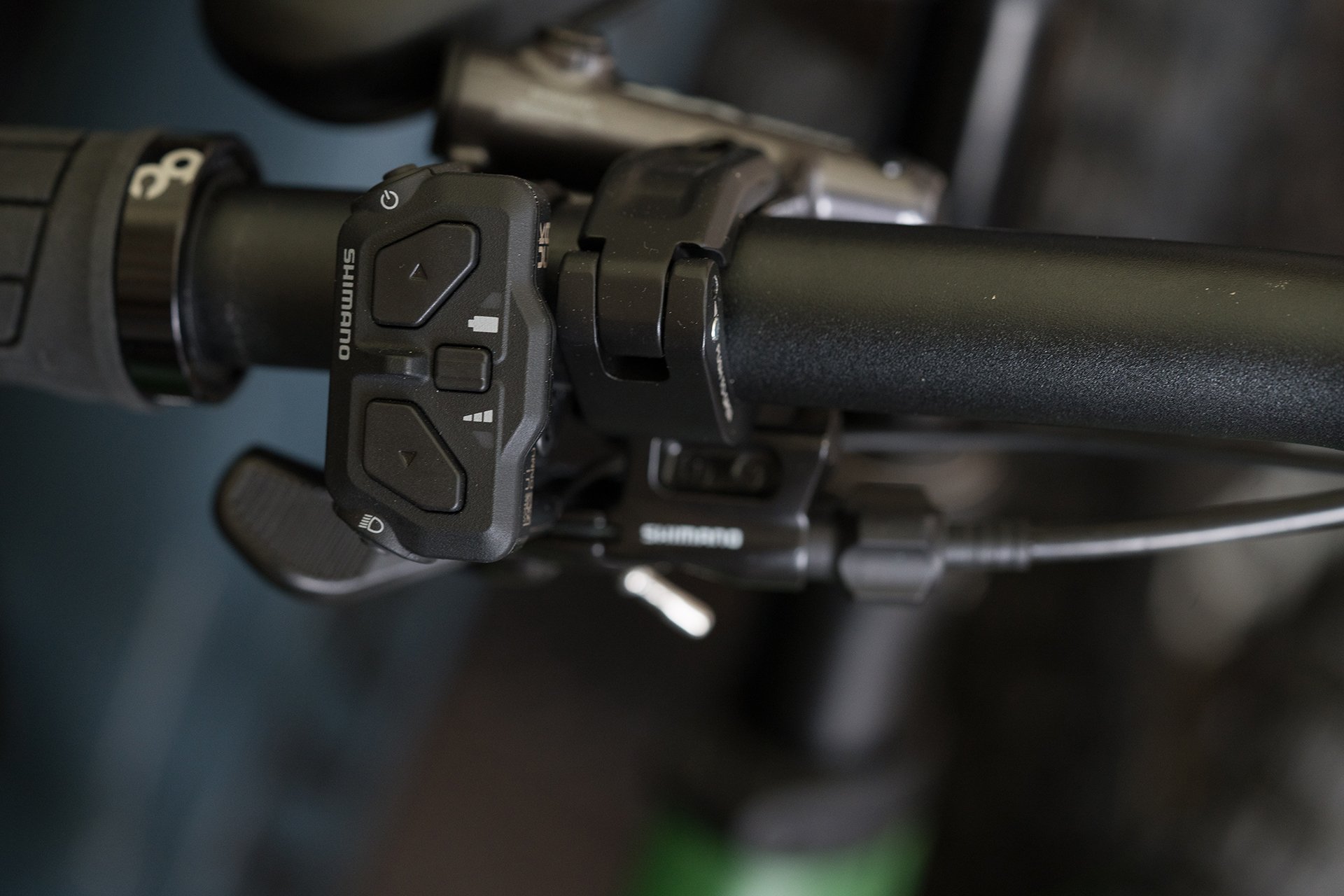 As we were freewheeling down that hill, I became very aware of the fact that the familiar bzzzt bzzzt sounds of a motorized Shimano derailleur were coming from my motorized Shimano derailleur. Except I wasn't doing anything to activate it. The damn thing was changing gears for me all on its own as my speed picked up on the way down the hill. Had I wanted to start pedaling, the sensors connected to the brain controlling my Di2 derailleur had already anticipated which gear would probably be the most suitable, and taken the liberty of telling the EP8-01 motor to spin the chainring (but not the cranks), allowing the shift ramps on the LinkGlide cassette to do their thing, dancing the chain along into that gear. This process took me through half of the cassette as I cruised downhill. All in a matter of seconds. Without me pushing a button. Or even thinking about doing so. Bzzt-shift-whizz went the freehub. Bzzt-shift-whizzz.
Those first moments with AUTO Shift were a little unsettling. My jet-lagged brain was trying to process what it meant that shifting was becoming something that maybe we won't (always) have to do anymore, and how do I feel about that? The first bike I owned with gears was a Sears ATB with 6 speeds and a friction thumb shifter, sometime back in the 80s. I was proud of having a bike with gears. Never mind that I promptly slammed that thumb shifter into the highest gear and almost never shifted out of it - it was a point of pride to use my muscles to overcome gravity rather than the gears. For sure there's a single-speeder-at-heart joke in there somewhere. But at the heart of that little anecdote is a kernel of truth that spells success for Shimano's AUTO Shift technology, whether or not it finds traction in the world of performance e-MTBs: many regular people (commuters, pleasure riders, etc) either don't know what gear they should be in or don't particularly care. And just like most drivers who feel ambivalent about what system controls what gear their car uses at any given time, most cyclists - on a global scale - would also be more than happy for the bike to take care of the selection and shifting of gears for most if not all of their riding.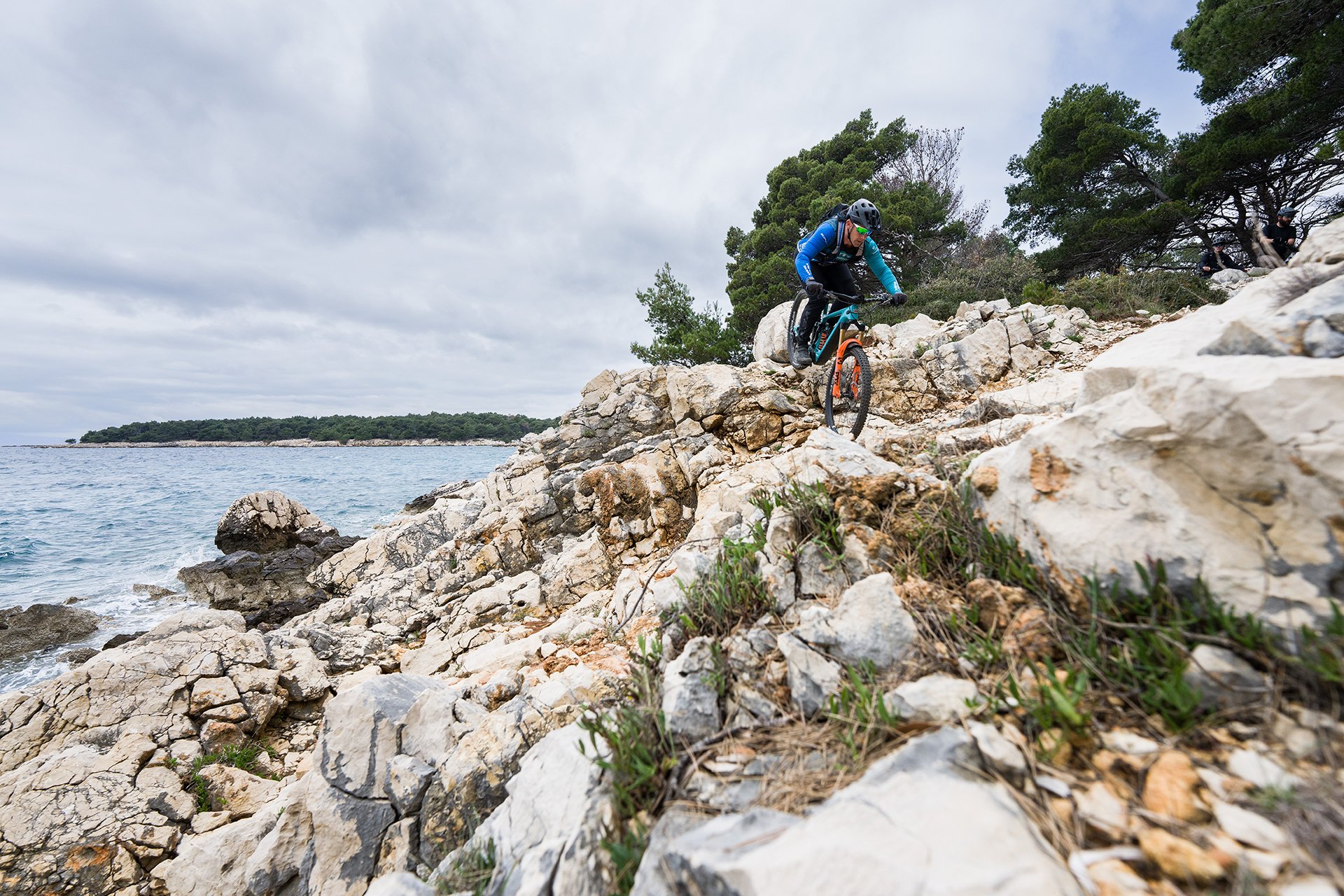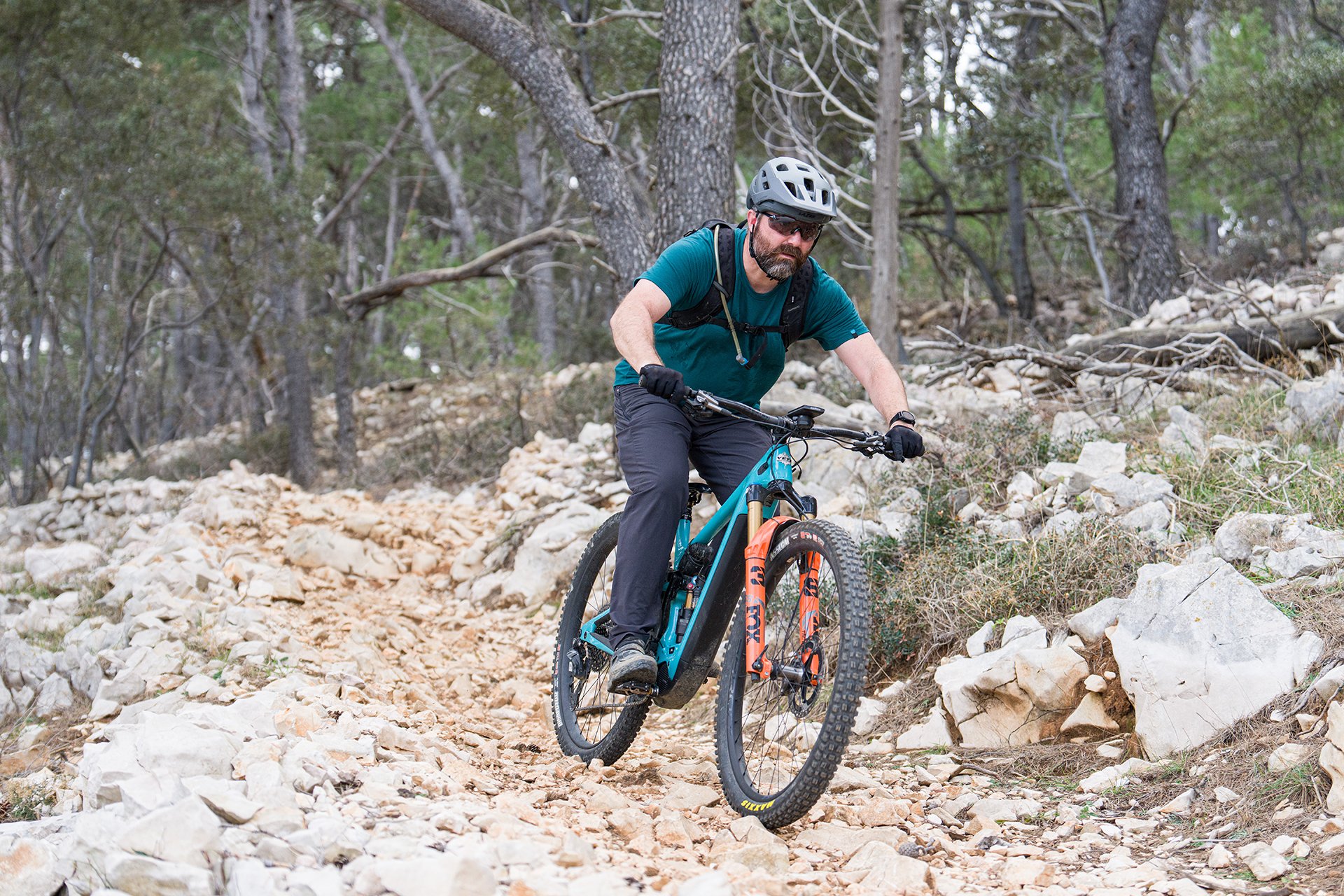 Before we go wading through any more belly button lint, it would be most useful to review the different technologies Shimano has rolled out here because they're all related, but understanding what they all are is important. Let's do this like a glossary.
FREE Shift
Shimano FREE Shift is a new shift mode, specific to e-mtbs*, that allows riders to change gears without pedaling. It is e-mtb specific because when you shift, the XT Di2 system tells the motor to cycle the chainring which enables a shift independent of pedaling, which can only be done if you decouple the drive unit from the pedals. Free Shift can be manual (rider shifts as normal but does not need to pedal to complete the shift) or automatic (Di2 simultaneously tells the derailleur and the motor that it wants a shift, and both units comply).
*more accurate to say 'specific to e-bikes' because Shimano will be using this tech on non MTBs, but you need a motor for Free Shift (or Auto Shift) to work.
AUTO Shift with Manual Override
Shimano AUTO Shift is a new mode that automatically shifts gears for you. Think of Free Shift as a solution requiring hardware (Di2 working with the derailleur and EP motor to execute a shift) and Auto Shift as the software that employs speed, torque, and cadence sensors along with an algorithm to determine what gear you should be in (there are default parameters but also a LOT of adjustability so you can customize how AUTO Shift works for you). The Manual Override part refers to one of the available settings: for obvious reasons, users may not want to surrender shift decisions to the computer at all times, so you have options: full auto gives power to the computer to select gears whether you're pedaling or coasting, but you can also set it so that Auto Shift only works while you're coasting. In this way, the system would select a gear for you when exiting a turn or after negotiating a rhythm section where a speed change occurred. You always have the ability to make manual shifts, the difference lies in whether you want to give the computer the ability to shift while you're pedaling. This leads us to the rest of the tech we need to cover...
LinkGlide
If the concept of AUTO Shift seems futuristic, or just insane, part of the reason is probably that you're wondering how the hell a computer can be trusted to shift for you when you're hammering up a technical climb in Boost mode, putting all the torque your two legs are good for, in addition to the 300% multiplying force generated by the electric motor. Chains, teeth, and derailleurs have been broken under far less demanding conditions. Enter LinkGlide. Andrew did an excellent job writing about Linkglide a few months ago, so go give that a look. Linkglide is exciting for all mountain bikers that value durability, value, and dependability - whether or not you end up using it on an e-bike. Shimano is promising 3x durability, 3x toughness, and 3x shift performance (defined as smoothness and reliability) over Hyperglide+ drivetrains. To review, Hyperglide+ was a kickass step forward from prior-gen shifting, enabling terrific downshifts under load, even while climbing. But e-bikes are another level of chain-mangling, tooth-damaging torque, so LinkGlide is the tech that makes AUTO Shift possible, while introducing new levels of durability and reliability. There is a weight penalty of a few hundred grams since the cogset is all steel, and it only comes in 11- and 10-speed versions (some people will see that as a plus rather than a minus), but otherwise it's all upside.
Hyperglide+ drivetrains can still be used with FREE Shift, but they can only be used with AUTO Shift while coasting, not while pedaling - that requires the strength and durability of LinkGlide. Whether you care about saving a bit of weight or the fastest possible shifting on your e-bike is up to you, but for my money, the durability of LinkGlide makes it an easy choice, whether or not AUTO Shift is part of the equation.
Deore XT Di2
All of these new technologies are complementary. Without the hardware (LinkGlide), AUTO Shift wouldn't be possible (Free Shift does work with HG+ drivetrains). But the brain that ties everything together is the new version of XT Di2. Notably, when Shimano last launched XTR and XT, there was no Di2 version, meaning that until now, the Di2 we all know (and hardly ever use) is the version that was released in 2014. Shimano is well aware that that technology was quickly overshadowed and never reached its potential. However, re-purposing it as the central nervous system for these other new technologies breathed new life into Di2 for the time being. Shimano was careful to note that this is not the final iteration of XT Di2 or Di2 in general - let's hope the wireless version is coming soon.
There are two versions of this latest XT Di2: the 12-speed version works with Hyperglide+ shifting tech and is aimed at riders who prioritize lighter weight and higher performance shifting (read: speed) over durability and cost savings. In other words, racers. The version we're concerned with here is the 11-speed XT Di2, which pairs with LinkGlide (LG) as discussed above.
Because this shift mode and compatibility situation can be confusing, let's review one more time:
Deore XT Di2 with LinkGlide Shift Modes:
Full Manual Shifting
Full Manual Shifting with FREE SHIFT Enabled
Automatic Shifting While Pedaling and While Coasting with AUTO SHIFT WITH MANUAL OVERRIDE
Specs
1x11-speed with 11-50t Cassette
New CS-LG700 Cassette – 170g  Lighter Than Previous CS-LG600
RD-M8150-11 e-MTB dedicated 11-speed Di2 rear derailleur 
SW-M8150-R/IR SHIMANO DEORE XT Di2 Right Shift Switch and I-SPEC EV
Compatible with SHIMANO EP600 and EP801 Drive Units
Deore XT Di2 with HyperGlide+ Shifting Modes:
Full Manual Shifting
Full Manual Shifting with FREE SHIFT Enabled
Automatic Shifting when Coasting
Specs
1x12-speed with 10-51t Cassette Options
RD-M8150-12 e-MTB dedicated 12-speed Di2 rear derailleur
SW-M8150-R/IR SHIMANO DEORE XT Di2 Right Shift Switch and I-SPEC EV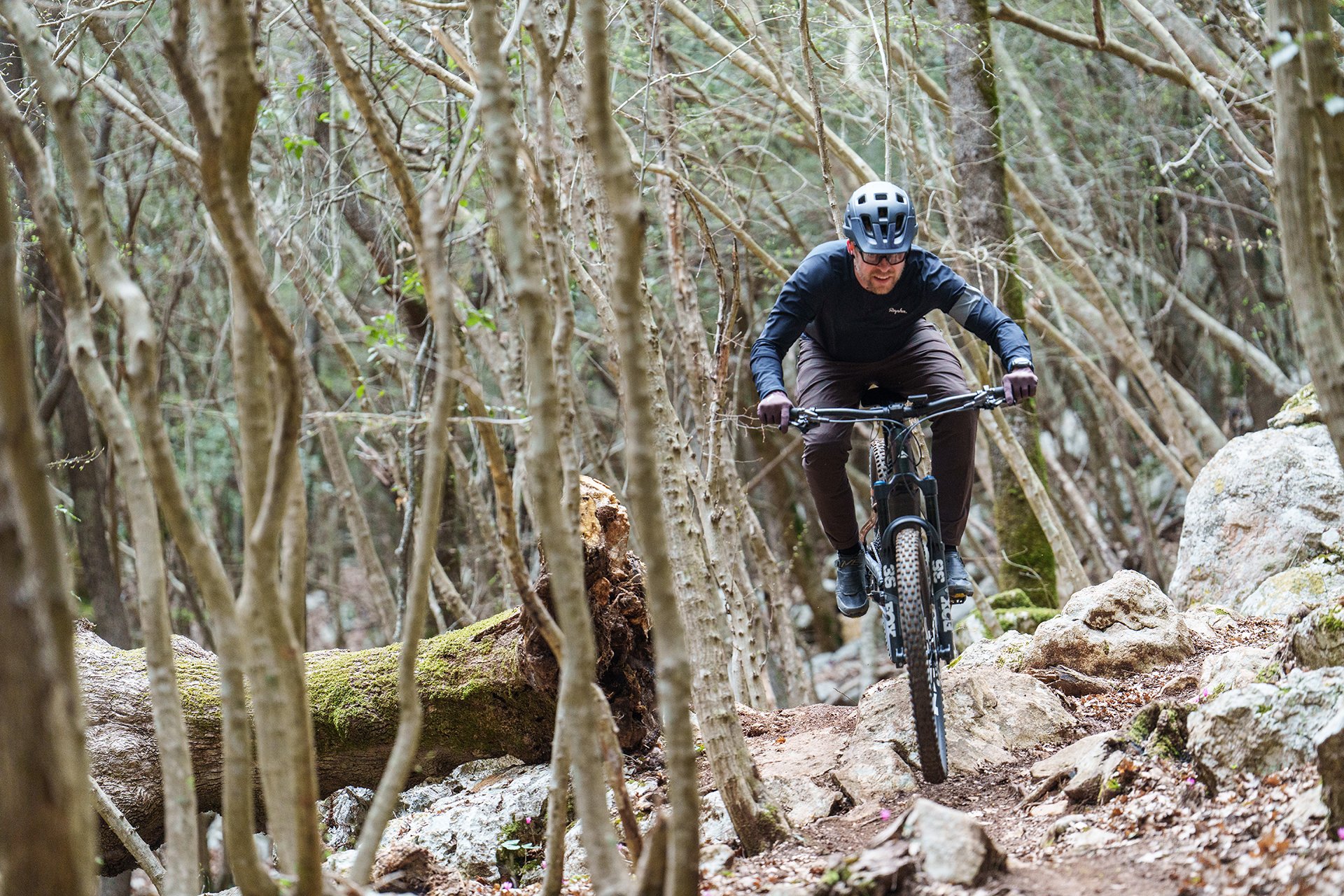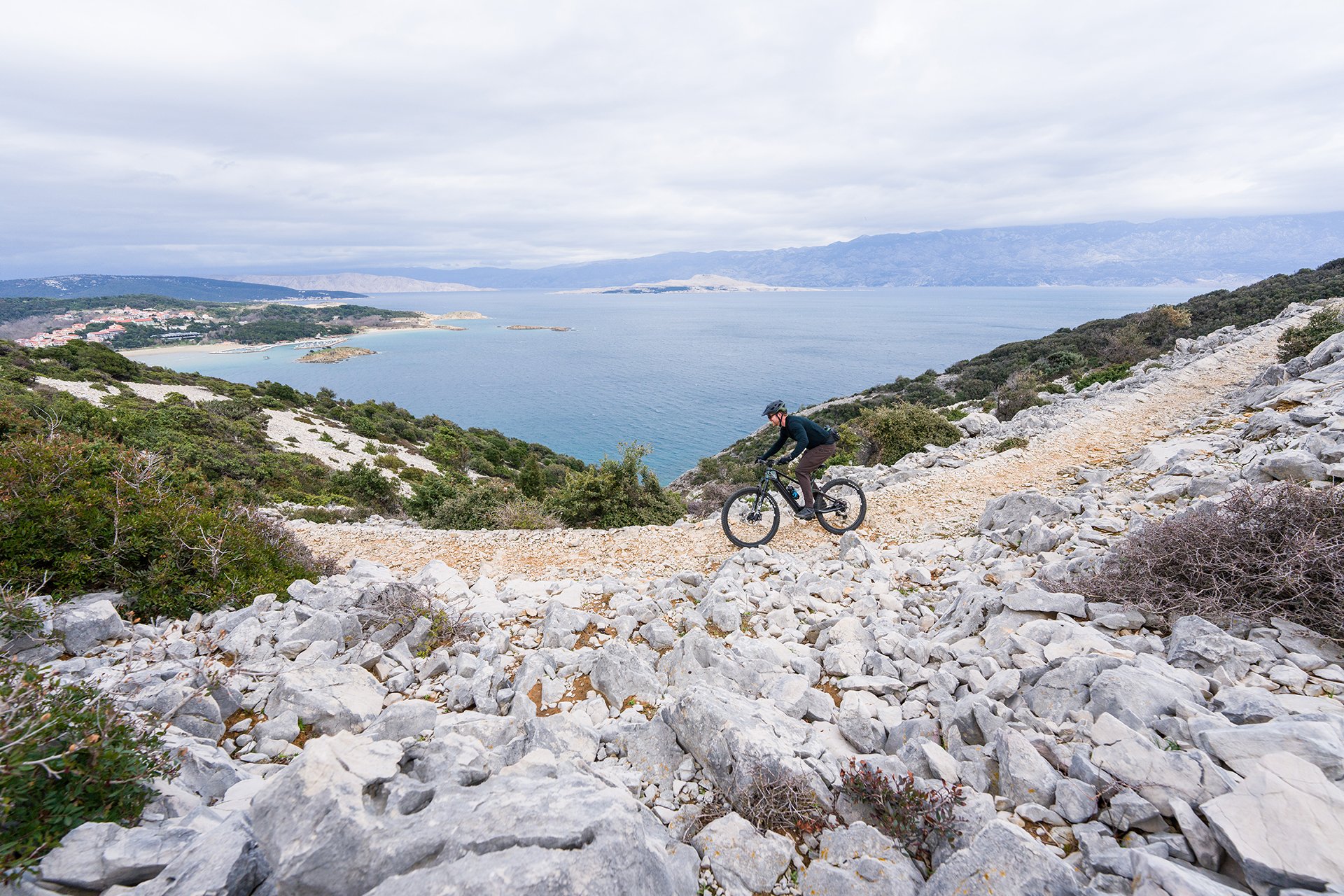 In a refreshingly open way, Shimano MTB Product Manager Nick Murdyck was candid about the fact that Di2 hadn't been the success Shimano had hoped for since its released in 2014. The system shifted well, but wires are a bummer, and SRAM delivered the killing blow with their enormously successful AXS system, recently launched in gen 2 and named Transmission - a system the folks from Shimano were quick to credit as being impressive. A key takeaway for me from the launch of these technologies is that Shimano is hedging their bet while also rolling the dice. Hedging the bet because the existing XT Di2 system (with lots of improvements and additions) is being used as the brain that unlocks some of these new technologies, like AUTO and FREE Shift, and rolling the dice on whether e-bike Product Managers (PMs) and customers actually want it. But therein lays the second hedge: FREE Shift is likely to find success in this market but where AUTO Shift's uptake may be less predictable, it will almost certainly be a winner in the recreational space. Because it's software, it costs very little to implement it into e-MTB systems that may or may not use it. Development costs are already sunk and can be amortized over a wide array of drivetrain types.
In a further nod to this line of thinking, Shimano's recent launches of its LinkGlide and CUES drivetrain systems indicate that they're betting on the meat of the market, which prioritizes reliability and durability over outright shfit performance. Ironically, LinkGlide shifts wonderfully, and if it gives up fractions of seconds in outright speed to XTR and XT HyperGlide+ shifting, the reliability and incredible confidence I felt while shifting LinkGlide - at times in truly heinous conditions - made me think I'd choose it over HyperGlide+ for almost every future Shimano-equipped bike I owned, unless weight became a bigger priority than it currently is for my kind of riding (e-bike or not).
Also, there's nothing about LinkGlide that shifts slowly. Maybe I'd notice a difference if I rode LG and HG+ back to back, but when I did manually shift, I was met with very precise, responsive, and fast results.
Sick Mick Weighs In
Mick Hannah's presence at the camp wasn't merely to remind us how much faster pros are than the rest of us; he also gave some good insight into the development process as well as how he's using all these new technologies to race and train. For starters, he is all in on LinkGlide for e-biking. He's recently moved back to Cairns full time with his family, and says that in the past, a HyperGlide+ drive train would need to be swapped out after several weeks of e-bike training (let's keep in mind that he's a horse so these would be long rides with punishing shifting, in Cairns' wet conditions). LinkGlide drivetrains are lasting months for him - he said Shimano's '3x more durable' estimates are conservative in his experience. He also finds LG's shift performance and reliability to be more than adequate for his needs.
Second, Mick won a stage in Tweed Valley's e-EWS last year using all this new stuff. He runs an Auto/Free Shift hybrid with Manual override, meaning the system will automatically shift for him only while coasting - when he's on the pedals, it's full manual. This makes sense for racers as well as - probably - most of us, since being on the pedals is usually when we're making the kind of predictive shifts that Shimano's algorithms just aren't going to be able to anticipate. Incidentally, I didn't hear this from Damien Oton, who was with another group, but apparently he plans to try full AUTO Shift mode while racing this year. Time will tell but it was interesting to hear he was that enamored with it.
Mick did say that after using Free Shift and, to a lesser extent, Auto Shift for a few months, he was surprised at how much he'd come to rely on it, which only became clear when he switched back. Racers have different needs and wants than most of us - fast is fun but I think we can agree that the manual gearbox car analogy works well here: automatics are faster now in almost all situations, barring race car drivers, but most people driving 'for fun' would prefer to have both legs and one shifting arm engaged, and I think the same goes for mountain biking in most situations for non-beginners. Are there rides where I can imagine just throwing it into full Auto? Sure. Most rides? Nope. But having the option won't carry a weight, cost, or functional penalty, so having it on board is a nice option.
One last piece of shifting insight from Mick that I found interesting relates to DH racing: he told me that when he would create a shift map for a DH course, he started at the bottom and plotted his shifts as he moved up the course. So, first he would determine what gear he wanted to finish in, then work up the track to decide where he would shift into that gear, and so on. I am no DH racer but I would never have thought of that approach. I didn't ask Mick if that was common, but I got the impression it wasn't. DH fan boys and girls (or racers) please feel free to illuminate us in the comments.
How does it all ride?
It would be hard to talk about how everything worked without having explained it all first, so now that that's out of the way, let's get down to it. My ride experience with the new XT Di2, LinkGlide, EP-801 Drive Unit and AUTO and FREE Shift was spread across two days in Croatia, totaling almost 90 kms across both days. Enough time to get a sense of how everything feels and performs, but not nearly enough to dive into the many menus and options to get the settings exactly where I'd ultimately want them. Not to say the defaults weren't a good starting point, though, because they were.
I began this article with an anecdote about my first impression with Auto Shift which I described as unsettling, but which also was intriguing. Once we got off the boat on the island of Rab and started riding, I was able to settle into my Merida 140mm e-bike and get a feel for the new system. I'm not going to dive into the whole UX and E-Tube app and interface here - I'll save that for a future article after I've had a test bike delivered and can really take some time to play around with it. But the broad strokes are that the actuation lever has been redesigned and is customizable and intuitive, and a third button has been added to the right side controller which lets you instantly toggle between two modes: A1 and A2. In this case the folks at Shimano had set them up so that one was a default 'pavement' setting, which toned down the assist levels granted by the drive unit and also tuned the shifting according to higher cadence pavement riding, while the other setting was tuned for trail riding. In a 40+ km ride day with a bunch of steep climbing, you want to keep one eye on your battery level, depending on how much assist you like to use while climbing. Having that A1 and A2 mode available is handy if you'll do a lot of rides on pavement or access roads to get to and from the trails.
It didn't take long to get used to Free Shift, once I realized it wasn't doing anything funky. Time after time I'd start pedaling again, knowing a shift or two had taken place, only to find the new gear I was in was perfectly appropriate. And while the system attempts to make predictive shifts, Shimano obviously wasn't pretending it can see what's happening ahead of you on the trail. There are going to be times where you want a shift and the system can't know that - at least not until it's hooked up to AI and GPS and starts to know how you ride a given trail and can keep up to that. Examples of these kinds of predictive situations would include anytime you plan to make an aggressive change in speed on the trail, like winding up a sprint or a lunge up a technical uphill section, or to instigate a pass. However, in most conventional situations, I was really impressed with both how seamless Free Shift was at shifting while I coasted, and the gear it selected for me when I got back on the pedals.
Truly impressive, however, was how well Auto Shift worked, and how well the new LinkGlide drivetrain shifts in general. On that first day, we quickly encountered a steep climb with several technical sections that obviously required gear changes and/or big efforts to overcome. We were told to put the drive into Boost mode and hammer up the hill. I stood on the pedals and mashed my way up, not babying the system or worrying too much about when or where the automatic shifts would take place - but also not making any shifts myself. Miraculously, the shifts came, and the drivetrain was more than happy to shift down a few cogs as I ground away. Under full torque, the XT Di2 derailleur executed shifts with passionless detachment. These were some of the worst shifting conditions I had ever experienced through my own two feet - certainly ones I don't think I could initiate willingly - yet the result was anticlimactic in its execution, which made it all the more remarkable considering what it was being asked to do.
E-bike drivetrains have been notoriously clunky and hard done by for years; even a shift under low torque in flat terrain can sometimes be met with a krrrrkTHUNK as the chain slams into place as if it's been put in a choke hold and leg-swept into submission. All of a sudden LinkGlide comes along and these shifts are routine. And fast. And 100% reliable. Forget your rage about a world where shifting no longer requires much forethought or finesse and just ignore AUTO Shift altogether, but definitely pay tribute to the heavenly wonder that is LinkGlide.
There are countless other details and intricacies that make all this new technology interesting. The new EP drive units now offer dynamic assist curves, rather than flat ones, meaning you can access all that power more readily, and have way more control over how that assistance is delivered. There are settings and modes for shift responsiveness and timing while pedaling and climbing, a start gear setting which the system will shift into every time you stop (again, something many users will have to fool around with based on preferences but a pretty cool feature). You can tune your three assist modes: Eco, Trail, and Boost, so that all three can employ full power assist depending on how you want to use them - meaning you could pedal softly in Eco mode to conserve power, but if you really stomp on it, you could get a burst of all 85 nM without having to switch out of Boost mode, and then be back in Eco as soon as that intense section is behind you.
The possibilities seem almost endless, and to some users, that will be daunting, but you can always revert back to the system defaults and those are going to work well for most users in most places. The burden shifts somewhat to the sales floor, where staff will be well-advised to understand the system and how to coax a customer into using it properly. Caveat emptor to new riders buying one of these bikes online, if they're not the type to RTFM*. But all of that is obscuring the main takeaway here, which is that as we brush up against new boundaries of technology in our bikes that have been redefining our experiences with things like cars for years now - boundaries defined by the convergence of innovative hardware and software that complement each other - the result is a new type of performance that promises benefits to all riders, not just those on e-bikes.
*Read the Flippin' Manual
For now, these technologies are only being offered as OE spec, and they should start popping up on showroom floors soon. So I don't have pricing information just yet. I do believe a long term test bike with all of these new bits and pieces will be on the way soon, so we'll have more time to dig into some of these things individually, and in greater detail.