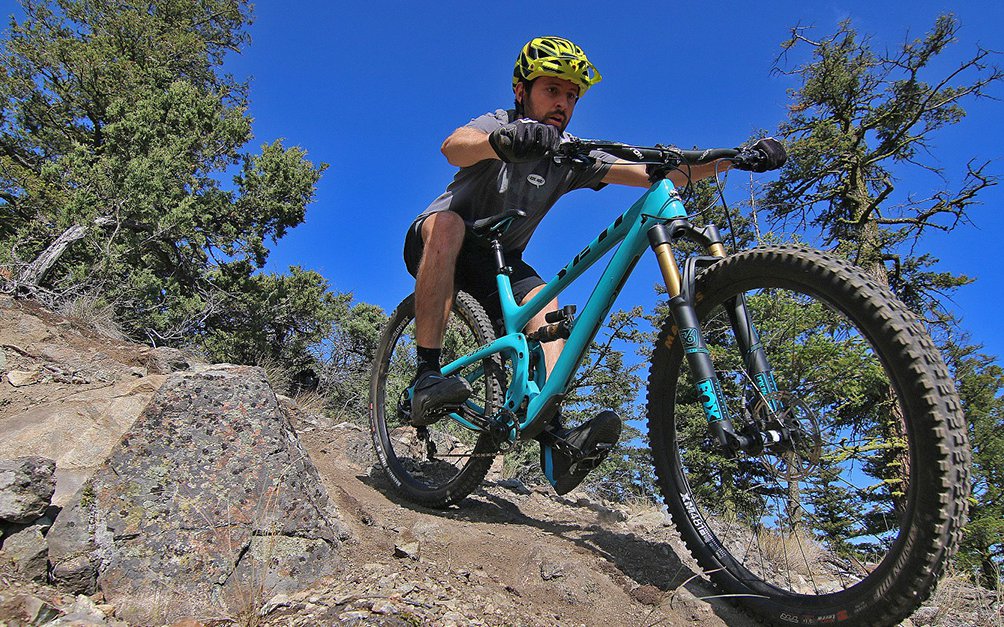 Shimano AM7 Shoes Review
The best thing is that they match the Yeti
After a 15 year break, I've been playing around with clipless pedals again. The transition back was pretty easy. It's just one of those skills that don't go away (I wish there was some kind of common idiom that described the ease to which you can re-visit an old skill…just like…mowing the lawn?  Riding a horse?  Let me know if you come across something). However, since I made the switch, I have felt like my bike handling skills have slipped somewhat. So the arrival of these Shimano AM7 shoes felt like the perfect excuse to get back onto flats.
Lots of protection and lots of velcro
Initial Impressions
Shoes have always been the thing that separates mountain bikers from regular humans. You can buy shorts and a jersey that look reasonably normal. Take the helmet and gloves off and they might let you into a restaurant. But you're still left with the shoes. The AM7 shoes look like an early 2000's Michael Jordan took up hiking. Which I think is kind of awesome, by the way. But these will not help you blend in when you stop at the grocery store on your way home.
The shoes feel well made, yet utilitarian. I would describe the fit as boxy and stiff. They're no supple Italian leather loafers, but there is plenty of room to accommodate my wide feet and I'm sure one day they'll break in nicely. I also really like the asymmetric cuff which adds a bit of height to protect your ankle bone, and prevents you from spilling out the top.
A good look at my skinny ankles and the asymmetric cuff
The uppers are 100% synthetic and do a pretty good job of looking new even after heavy off road use. There's not one, but two strappy gizmos that cover the premium feeling laces. Never underestimate the lowly shoelace, I always say. Nothing can undermine a nice pair of shoes like subpar laces.
Lastly, we have the Vibram sole. I'm a sucker for a Vibram sole. You could spray cowshit on a farm kids feet, slap a Vibram logo on them and I'd pay you a few hundred dollars for the same privilege. This particular iteration looks the business. The tread is made up of small blocks, and the gaps between them look hungry for pins. There's also a noticeable concavity to the sole. They sure give the impression that whoever designed this shoe knew what they were doing.
Riding
I still own and regularly ride in a pair of first generation 5 Ten Impacts. I bought them the first year they came out and I haven't looked back. There are huge chunks missing from the soles and I've had to re-glue the soles back on, several times. They're flexy as hell and the insides look like a rat had its way with them. But I haven't found a better pair of shoes yet. Because of their condition they only come out for gnarly rides where serious injury is a possibility, or as my flat pedal version of the international prototype kilogram; my reference for how a shoe should work. Before my first ride on the AM7 shoes, I pulled the 5 Tens out of their protective plastic packaging and re-acquainted myself with flat pedals. It felt like heading home for the holidays.
The Vibram sole, showing a bit of wear but standing up nicely
My next ride was on the AM7 shoes. From the first pedal stroke, I became a bit worried. You could really feel your feet moving around, and that was just on the climb up. They were stiff enough for pedalling, but it was hard to notice because your feet are all over the place. I decided to ride a mellow trail and, surprisingly, things got better once I headed down. There were no slipped pedals and there was a decent amount of grip. I figured things would continue to get better as they broke in.
This was a false assumption. My feet continued to move around a lot on the way up. And though things are fine on an average trail, once it gets steep, rough and technical, there's a lot of movement. Once again, I never completely slipped a pedal, but I never felt super secure either. I was constantly assessing and subtly re-positioning my feet. Over large bumps, I would feel my feet leave the pedals. I persevered, but there was always a bit of doubt. I even tried a number of different pedals*, but it didn't get better (it actually got worse, in some cases). And then I decided to go back to my go-to set-up: My decade old 5 Tens.
It was strange how much better things were. Immediately. It was noticeable just on a mellow pedal up Fromme. My feet weren't slipping around and I felt more in the pedals than on them. Once I hit the trail it was a revelation. I don't chalk it up as a coincidence that I had my best ride in weeks. I had more control and I didn't worry about my feet. At all.
But, credit where credit is due, there is one area where these shoes excel: Off the bike. They feel just like regular shoes, even with the somewhat stiff sole. Great for any hike-a-bike or any other off-bike adventures, for what that's worth.
One thing about all that velcro, it makes it a bit challenging to get at the laces when you're putting them on.
Parting Thoughts
If I didn't have my 5 Ten baseline, I would probably like these shoes. They fit well. They look interesting. They're probably a decent choice for fighting zombies in the upcoming Trump apocalypse (they seem durable, is what I'm saying). There are some riders out there that are used to riding with less grip, and these could be a perfect choice for them. But if you are looking for maximum grip on your flat pedals, many of you are going to want more than what these provide. So for me, my hunt continues to replace my decade old 5 Tens.
*If anybody is really curious about my choice of pedals. Most of my time was spent on a pair of Straitline Amp pedals. I recently deconstructed my 26″ hardtail and stuffed it in a box. These pedals looked interesting so I've taken them off and used them a bunch. I also tried a pair of second generation Crank Brothers 50/50 pedals that I've put quite a few miles on. As a final test, I searched deep through my parts bin and pulled out a pair of the original Straitline pedals which are pretty much meat tenderizers that you screw onto your cranks. Three sets of pedals. None provided the grip I was looking for. And before you get all "you should have tried pedal X, they offer amazing grip."  The point isn't to have to buy new pedals to suit the shoes that you just bought. And yes. I own two pairs of Straitline pedals. I got a really good deal on them. And neither pair has ever given me an ounce of trouble.
---
Do you like max grip or can you deal with a little less?