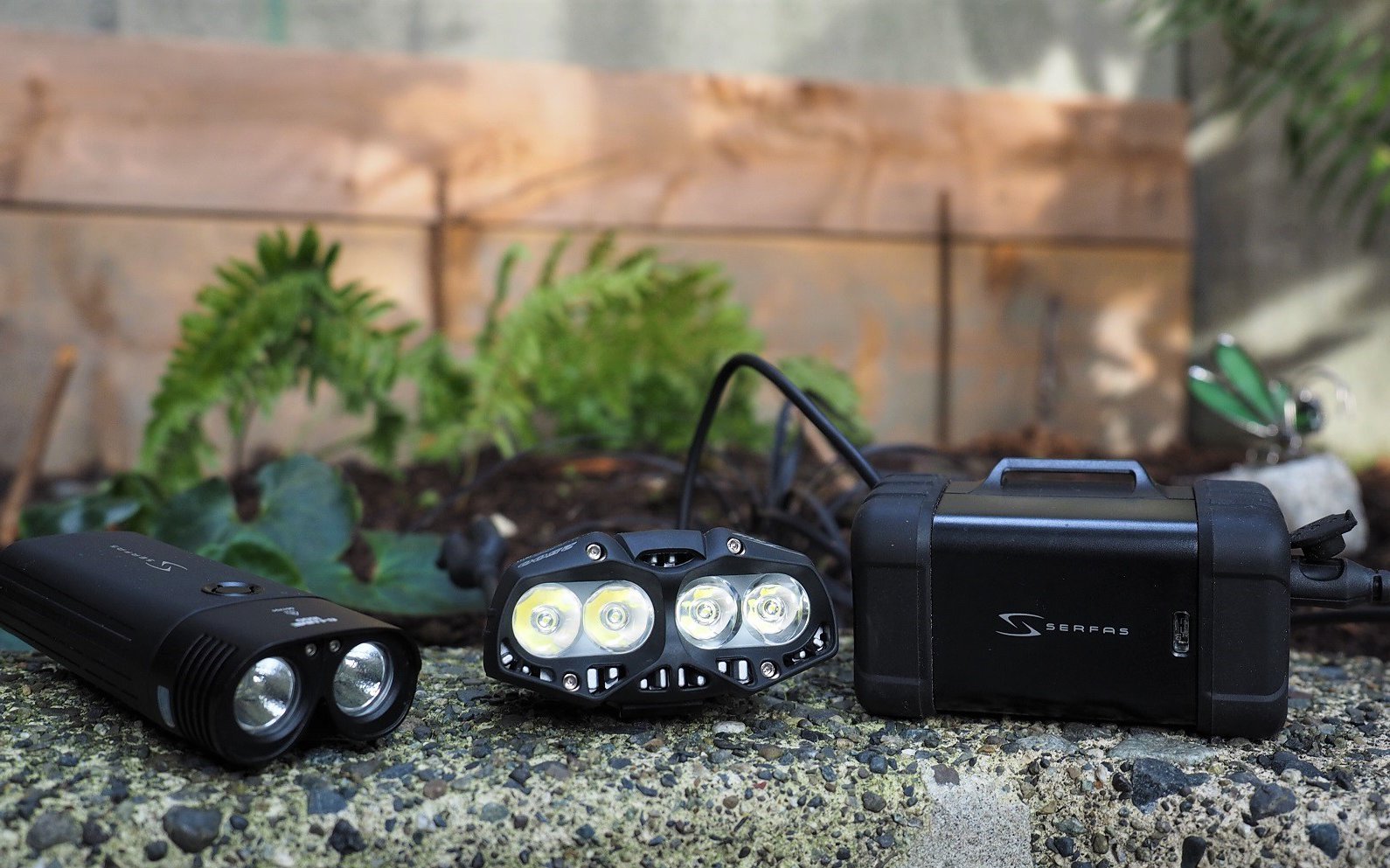 Review
Serfas True 2500 and E-1600 Light Systems
Night Riding
I ride at night a lot. More than half of that time I'm alone. It's often rainy. The local terrain is technical and despite none of my regular night loops straying too far from civilization, bad lights could mean unnecessary ouchies and a dead light will mean an uncomfortable night in the woods. Simply put, when it comes to light systems I don't f*** around. 
I always run two lights with one on my helmet and one on my bar. I always carry a spare light source in the form of a Petzl with the batteries down-cycled to less vital electronics yearly and after every time it is used. I have a giant bag full of other peoples' horror stories about failed light systems and with the exception of an accidental swim and a couple of crashes – i.e. rider error – I have none of my own. 
I've been running NiteRider and Light & Motion lights exclusively for over fifteen years and NiteRider LED systems for just over a decade. Enter two light systems from Serfas, a reputable brand, promising top end output and quality at a discounted price. 
Serfas Lights
I'm looking at two systems. The Serfas E-1600 (USL-1600 E-Lume) is a self-contained battery/light system that promises to pump out 1,600 lumens for 1.5hrs on the maximum 'overdrive' setting. It's micro-USB chargeable and includes a bar mount only although the 240-gram system works on a helmet mount and may be a good option for anyone night riding without a pack. 
The E-1600 jumps into the light system fray with a 140 USD price tag and a silly selection of 6x output settings including two flashing modes. I used the medium (700 lumens) setting for fire road climbs and the high setting for everything else. 
The second system is the True 2500 (TSL-2500) which plugs into a battery that can be frame or pack mounted. The total system weighs 538 grams including the helmet mount and the light unit and helmet mount alone are 208 grams with the modified two-strap configuration I'll discuss below.
The True 2500 sells for 380 USD including a charger, battery, bar and helmet mount. Claimed run time in the 2,500 lumen overdrive mode is 1.75hrs. I used it in the overdrive and low (600 lumens) modes exclusively. There are also high (1,600 lumens) and Medium (1,000 lumens) settings. It also charged in about four hours using the included wall charger. 
Configurations
If I wanted to night ride without a backpack running the E-1600 on my head and the True 2500 mounted to my bar is a viable solution. I do wear a pack and given the two systems have similar mounted weights I prefer to have the brighter unit on my helmet.
One negative of running the True 2500 as a head unit is the barrel plug used to attach the helmet cord to the battery. Where NiteRider and L&M use secure proprietary connections the Serfas plug will pop out if you look at it funny. It has stayed in place riding and crashing but there have been a few times I went to grab a beer out of my pack and had my light unplug. Another great reason to have a second light on the bar. I quite like the simple Serfas handlebar clamp which works with both 31.8 and 35 bars via a removable spacer. It's a simple hinge clamp design that never comes loose on the trail but is easily removed after a ride. 
Run Time
The easiest place to call bullsh*t on any light system is the run time. It's simple to measure and unfortunately it's common for companies to advertise overly optimistic times. 
To get an accurate starting point, charge the light, set it up outside (lower temperatures reduce battery life) in front of a big fan (or two) and run it at maximum until it shuts off. With good light management it is rare that a light will be run at maximum, or even be on, for an entire ride, but it's good to have a baseline.  
Credit here to Serfas. At 5°C, the True 2500 ran for 2:02 (claimed 1:45) on overdrive and the E-1600 ran for 2:00 on overdrive (claimed 1:30). Even on a cold stormy night, I'm confident I'll get the claimed run time out of both systems. 
Light Output
There is no standard for measuring lumens and even then the colour of the light and breadth and intensity of the beam make a big difference on the trail. So, I'm left comparing the Serfas systems to others.
Compared to the True 2500, my four-year-old NiteRider Pro 1500 system puts out a bigger, brighter beam with a colour that does a better job of illuminating our terrain. I repeated the test with a buddy's brand new NiteRider Pro 1400 Race and at any distance it is a better light for 250 USD. Run time on high is essentially identical. 
The E-1600 is roughly the brightness equivalent of a NiteRider Lumina 1100 but has a broader beam and much longer runtime so I'd say it's worth the extra 40 USD for a light that is going off-road. It is definitely not a Light and Motion Taz 1500 (250 USD) with a similar lumen claim. 
The Helmet Mount
Battery run time is the good, light output vs claimed is the bad and the helmet mount is the ugly. The 380 USD Serfas light includes the same style of single strap helmet mount that Planet Bike sells for their commuter lamps for 5 USD. Serfas is not alone. Most helmet mounts for lights suck. NiteRider has been making a very good one since HID lights were introduced and I've long said if you can't design something that isn't crap why not just copy theirs?
These days there's an even easier solution. Just make your lights GoPro compatible and let consumer choice rain down upon the unwashed masses. After months of using the Bontrager Rally MIPS I wish all my lights interfaced with a magnetic, GoPro compatible, mounting system. 
The amount of play, in every direction, using the stock helmet setup is unacceptable. When I'm bouncing down the trail my light is dancing to a different tune. I fixed the Serfas helmet mount with two straps I stole from an old NiteRider mount and four zip ties. For the Leatt helmet. I also added a thin piece of foam the same shape as the mount below it which increases the contact area. It's not factory clean but it works acceptably. 
It would be a step in the right direction if Serfas supplied the mount with two opposing straps.  The real fix however would be to make both systems GoPro mount compatible. If you've already purchased a True 2500 or an E-1600 plus a helmet mount it's time to hunt down some appropriate replacement straps. 
The Buy-In
I am not saying that these Serfas lights aren't good for mountain biking. They are. Even on dank technical trails a pair of E-1600 lights or an E-1600 paired with a True 2500 offer perfectly enjoyable light outputs and either is usable on their own at slower speeds or on tamer trails. With my helmet mount fix, I've happily logged many hours on the systems. The problem is the price. The value of any light system is predicated mainly on three things: light output, battery runtime and reliability. Runtime is better than advertised, Serfas has a great reputation for standing behind  products and still these light systems are not close to delivering on their advertised value.
The True 2500 is more expensive than lights with better features, industry-leading reputations and better light quality but advertised at a significantly lower claimed lumen rating. The E-1600 actually presents a decent value for what it does at 140 USD but the performance is not comparable to similarly lumen rated, more expensive systems from the performance light brands I've mentioned. 
For more information the True 2500 please click here. For more information on the E-1600 please click here.