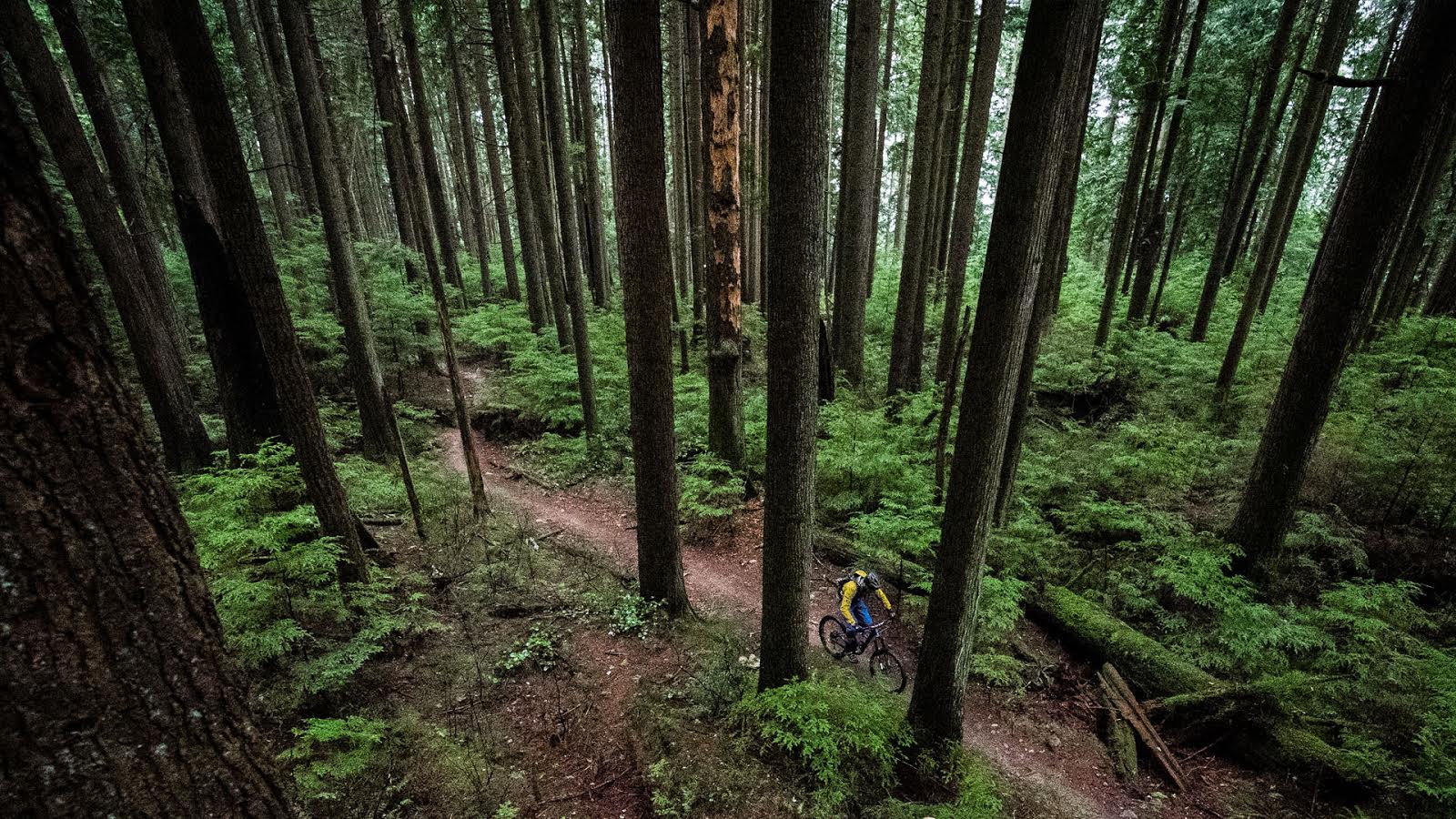 Seeking Altitude
The concept came while drinking coffee one day at my favourite little spot in Lynn Valley at the base of Mt. Fromme. The End of the Line cafe has always been a sanctuary from the rain and cold on those wet and miserable North Shore days – the type of wet days that by the end of August I've come to realize I not only don't mind but start to miss. While drinking my coffee and letting my mind wander I realized the North Shore was lacking in elevation. Something that when I first moved here 8 years ago I never would have thought. Especially if you asked me that while I was panting at the third switchback on Mountain Highway.
So the problem was recognized, more elevation was required. Blame it on the location or my slow and steady maturing approach to "old-man-strength" a solution was needed. Why not take all the things I love about ski-touring and do the same on my mountain bike. And with that thought I found myself a week later riding with a 30L pack crammed with 30lbs of food and camping gear. My first trip was a solo mission into the local hills. The elevation is there but it's off the beaten path. I woke up the next morning at 5:30am with the sun rising over Golden Ears Provincial Park. I climbed out of my bivy, ate some breakfast, drank some coffee, and jumped on my bike for a thousand metres of descending.
My friend Eli Relke and I had set our sights on a big backcountry riding trip for the season – or perhaps a more accurate way of describing it is that I had convinced him it was a good idea. We decided to get our feet wet with another short trip first. So we headed to where many mountain bikers had gone before: the Elfin Lake Hut in Garibaldi Provincial Park above Squamish. Elfin Lakes is a popular destination in part because it is one of only two legal mountain bike routes in Garibaldi, a huge tract of park land between Squamish and Whistler.
The hut is situated at 1470m, with the upper most parking lot at 950m, which in the winter makes for a very manageable ski tour. In order to give ourselves more of a ride we decided to start our adventure from Squamish at 40m above sea level. We began our climb at about 8:30 and worked our way through some of SORCA's expanded climbing-only trail network. At the top of the climbing trail we decided to save some time, cutting out a switchback on the road with a hike-a-bike up Cakewalk.
After a quick lunch we were back to climbing up the road towards the upper parking lot. From there the climb to Red Heathers was slightly more difficult than in the winter with skis, something both Eli and myself had exclusively only done in that area. The climb up through Red Heathers was a welcome grade change. With more ease we were able to spin our legs up the mountain. As we approached the top of the meadow a large boom of thunder went off and the skies opened up.
With our heads down we crested the top of Paul's Ridge and began our descent down to the shelter. With a sudden change of weather the shelter was a welcome escape. Elfin Lakes is also the end of the road in Garibaldi Park, at least for bikes. Unfortunately the ~25 km climb left us wanting more but Garibaldi couldn't provide us with it. We did however take advantage of what BC Parks could provide us with: a fantastic hut surrounded by an amazing vista.
We woke up the next morning to find the bad weather had continued throughout the night. After some coffee and oatmeal it was time to face the inevitable and start what was going to be a cold and wet ride. I've always enjoyed the descent to the parking lot during the winter, but the ride on a bike is even better. We were wet, cold and visibility was poor but we weren't complaining. My cheeks hurt from smiling and the entire time all you could hear is hoots, hollers and plenty of laughs. It was by no means technical but as far as wide paths go, this one was the best.
Although the total distance of this trip was over 50 km it took very little time. So little time that it certainly could have been a day trip, but a night in the Elfin Lake hut was a great vacation and we didn't mind the extra down time. We knew the final descent would be a quick one, but we never imagined it being that quick. Thankfully the Shady Tree is open for lunch and we were able to get a pint and warm up.
As this was a prelude to a bigger and better adventure to come it achieved what it was supposed to achieve. We worked out the kinks in our gear, more importantly what not to bring the next time. It also brought to light a form of mountain biking we hadn't really explored before. Mountain biking on the West-coast is all about the journey, it's the trail that defines the ride. We had just ridden a distance that featured trails that by no means were world-class.
But that's not why we went; we went for the destination. A common goal for hikers and some backcountry skiers but not for the freeriders that Eli and I consider ourselves to be. It was a great experience and I hope to have more opportunities like it in the future. Perhaps the ban on mountain biking in Garibaldi Park will someday be lifted and it could become common practice to ride from hut to hut by bike during the summer months. One can only dream. In the meantime we'll continue the spirit of mountain bike touring and if the accommodations aren't there then a tarp and bivy-sack will have to suffice.
---
Follow Brent's adventures at bikeski.ca. Be warned, though – not all pow is brown over there.