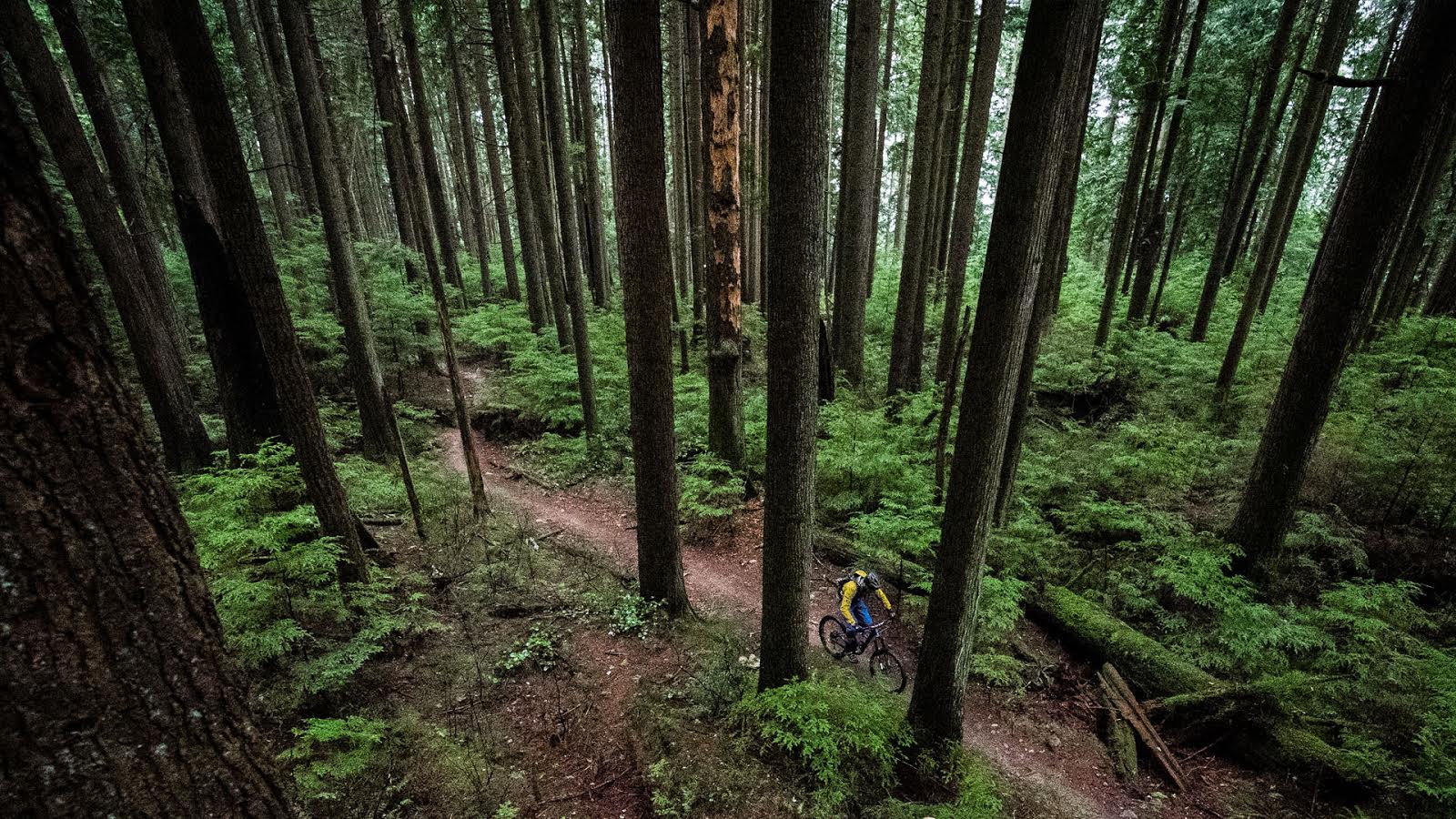 Sea Otter 2015: Rocky Mountain Sherpa
DEVELOPMENT
The inspiration for the Sherpa came from our lead product guy Alex Cogger, whose own rides were getting longer and weirder and more rugged. Through strategic cooperation with WTB we were the first to experiment with 27.5+ tires and rims, and over the last few years we prototyped several bikes to test the capabilities of the wheel size. It was immediately clear that the increased float and traction was a great match for overland bikepacking. The Sherpa debuted as a concept bike at Sea Otter 2014—complete with a custom Tibetan Snow Lion paint job. It generated an overwhelming response from riders wanting to expand their exploration capabilities, and convinced us to bring it to production.
CHARACTERISTICS
Fully loaded overlanding requires an extended gear range. We began with our proven Element carbon front triangle and designed a wider rear
end to ensure that a front derailleur would clear even the widest tires. The wide footprint of WTB's 27.5+ x 2.8 Trailblazer tires gives the Sherpa confidence and stability in choppy sections—important when you're loaded down with gear and going mach chicken over high desert chunder. They also have surprisingly low rolling resistance and excellent roll-over characteristics.
We matched its 95mm of rear travel to an increased 120mm of front travel for more capability and loaded stability. Rider position was adjusted to be more upright, making long days in the saddle more comfortable. It is critical for suspension to react in tandem with high volume tires. We worked with Manitou to spec supple suspension for excellent response off the top. The Magnum fork has a wide stance for better tire clearance, and the Mcleod requires lower air pressure, allowing a fully loaded rider and bike to remain in the shock's "sweet spot."
WHY ANOTHER NEW WHEEL SIZE?
27.5+ is a super high volume tire mounted on a wide 27.5 rim, providing an outer diameter that is roughly equivalent to a 29er tire. Overlanding means exploring the unknown, and for the kind of varied terrain we wanted to explore with the Sherpa we needed a low pressure, high volume tire that didn't exceed traditional 29er outer diameters. The extra volume improves traction and allows for low pressures even while carrying the weight of bikepacking gear—because needing to overinflate your tires is the worst. And, the outer diameter allowed us to design the Sherpa with proper full suspension in a full range of sizes.
IF MASSIVE VOLUME IS SO GREAT, WHY AREN'T ALL YOUR BIKES 27.5+?
The Sherpa is the world's first full suspension 27.5+ bike, but we're not using the new "skinny fat" wheel size to jump on a bandwagon. 27.5+ wheels are not 27.5 and they're not 29—they're not a replacement for any other wheel size and our "regular" bikes aren't going anywhere. Everyone put their pitchforks down. For all their advantages, they are slower and heavier than traditional 29er systems on smoother terrain. So if you're looking to win an XC World Cup then 27.5+ probably isn't for you. Also, more volume means their sidewalls are taller than traditional tires, limiting cornering stability. A Landcruiser isn't great at the racetrack, but hits its stride when things get rough.
THE RIDER
We designed the Sherpa for riders who want to get out and explore the world. From bushwhacking in Idaho, to traversing military trails in the Dolomites, to racing the Colorado Trail, to travelling long forgotten game trails in the Himalayas—the Sherpa is made for anyone whose adventures regularly require a GPS beacon.
FRAME SMOOTHWALL Carbon Form 7005 Series Custom Hydroformed Rear Triangle. ABC Pivots. Press Fit BB ACCESSORIES Frame, bar, and saddle bags not included. We recommend Porcelain Rocket bags. SHOCK Manitou McLeod Custom Valved. SmoothLink™ Design 95mm. Rebound / 4 Position IPA Platform Settings FORK Manitou Magnum 27.5+. 120mm. TPC Absolute+ Damper / Compression / Lockout / Rebound / 110x15mm HexLock Axle / Tapered Steerer HEADSET Cane Creek Fifteen Series: IS42mm Top / 52mm Bottom Tapered BRAKE LEVERS Shimano M506 I-Spec Shifter Mount BRAKES Shimano M506 Hydraulic Disc 180mm CASSETTE Shimano HG50 11-36T 10spd CHAIN KMC X10 10spd EcoProtect Anti Rust CRANKS Race Face Turbine Cinch Custom 83mm 170-175mm 38/24T 2x10spd BOTTOM BRACKET Race Face Cinch 30mm BB92 Press Fit w. 83mm Adapters PEDALS N/A SHIFTERS Shimano SLX Rapid Fire I-Spec 2x10spd FRONT DERAILLEUR Shimano Deore E Mount 2x10spd REAR DERAILLEUR Shimano XT Shadow Plus Direct Mount 10spd FRONT HUB SUNringlé SRC Plus / Fat Fork Specific / 6 Bolt / 32H / 15x110mm Axle REAR HUB DT Swiss 350 / 6 Bolt / 32H / 12 x 142mm Axle / Star Ratchet Freehub SPOKES DT Swiss Competition RIMS WTB Scraper i45 27.5+ TCS Tubeless Ready TIRES WTB Trailblazer 27.5+ TCS 27.5″ x 2.8″ Tubeless Ready HANDLEBAR Race Face Evolve 3/4 Riser Ø31.8mm x 725mm x 9° Sweep STEM Race Face 6° x 70-100mm GRIPS Rocky Mountain Lock On Mushroom SADDLE WTB Volt Race SEATPOST Rocky Mountain XC 30.9mm x 400mm
---
Available mid-May.