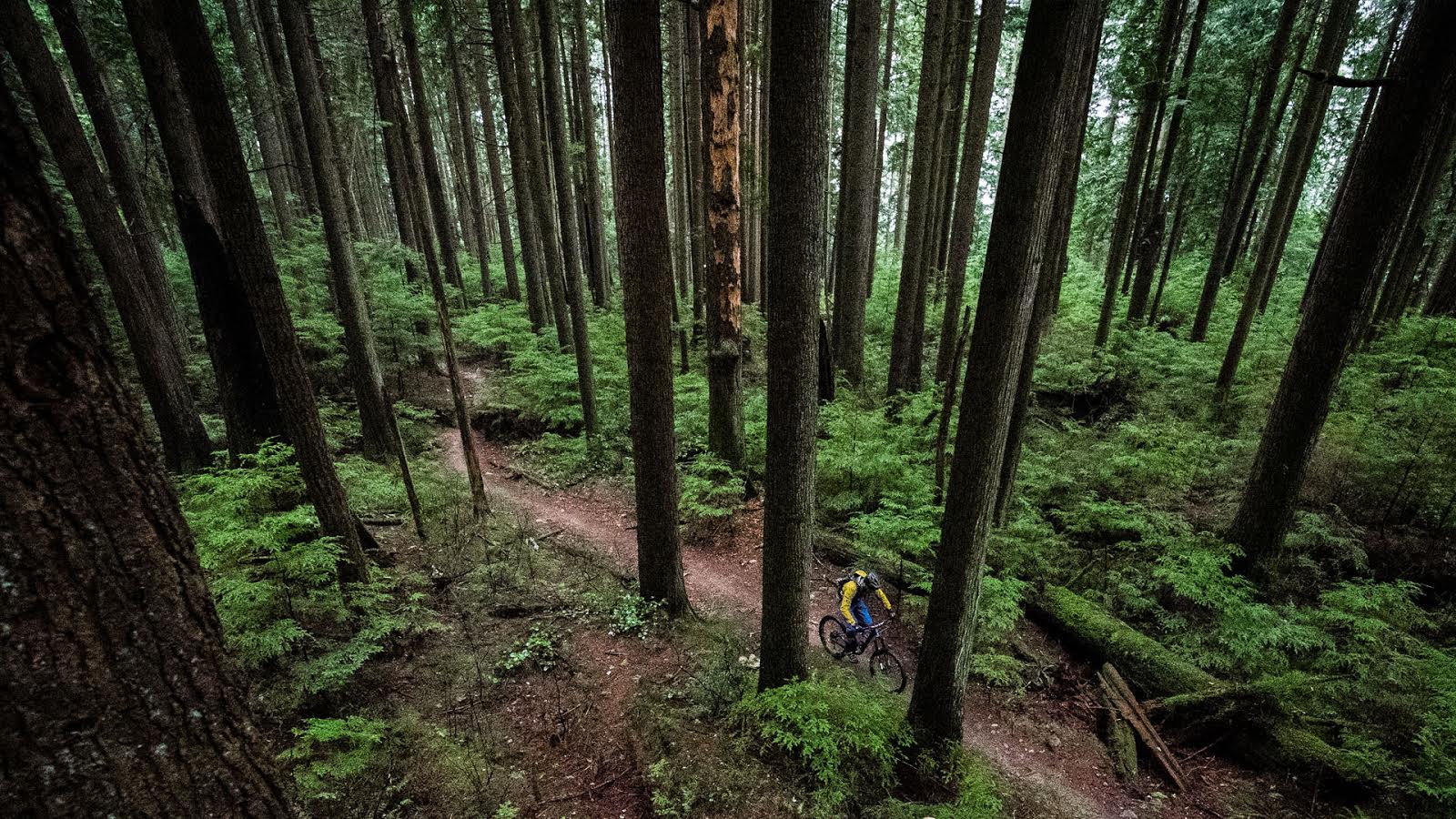 Scott Voltage FR710 – First Impressions
2015: Year of the 650B freeride bike. We saw longer travel bikes get the tweener treatment in 2014, but that was mostly under pros and in proto stage. While 650B downhill bikes have gone public in the last year, freeride bikes (or what's left of the category) such as the Trek Session Park remain 26 inch specific. Of the brands we are familiar with in North America, along with the Banshee Darkside, the 2015 Scott Voltage is of the first 650B freeride bikes. But, much like the Darkside, there IS still a 26″ option for this bike.
The Voltage arrives with many changes for 2015: The shock now mounts to the top tube, there are more braces and an interrupted seat tube, limiting the seat post length. The adjustability is still prominent, though not as dramatic as swinging travel from 130mm to 180mm as it did previously. The latest Voltage has an adjustable head angle, from 62 deg to 66 deg in increments of 1 deg, and two modes of travel: 170mm and 190mm. A new brace on the seat stays and on the linkage provide additional stiffness. In short, the Voltage has become more of a DH/FR bike and less of a big slopestyle bike.
The spec and geometry suggest the Voltage is a gravity sled, so if you wanted to slap a dropper on the Voltage and turn it into a Fromme fireroad Strava killing machine, I suggest you think again. In Jon Harris' words, "it pedals like a 2004 freeride bike." It should be noted that the Voltage we have for testing is the large size, perfect for Garrett. I usually ride something smaller but I feel great on the large Voltage. I'm a backend heavy stance kind of guy, so the longer top tube lets me have a little better weight distribution.
I took the Voltage to my local dirt jumps at Invergarry and it felt great on the medium-large dirt jumps (I didn't dare touch the wood ramps). The bike had very good pop to it, and cornering was breezy and fun. The Magic Marys helped keep me planted in the berm even when I was Matt Hunter sideways (okay maybe not so much). Bombing down gnarlier, downhill oriented trails is where I felt the bike's downhill side come to action-in short, the bike excels on jumps and at speed. I have yet to ride this in the park yet, but a few park days are on the schedule before the end of the test term.
---
The once mildly crowded freeride category is looking pretty lonely these days. Is there still a place in your heart for park and play bikes?