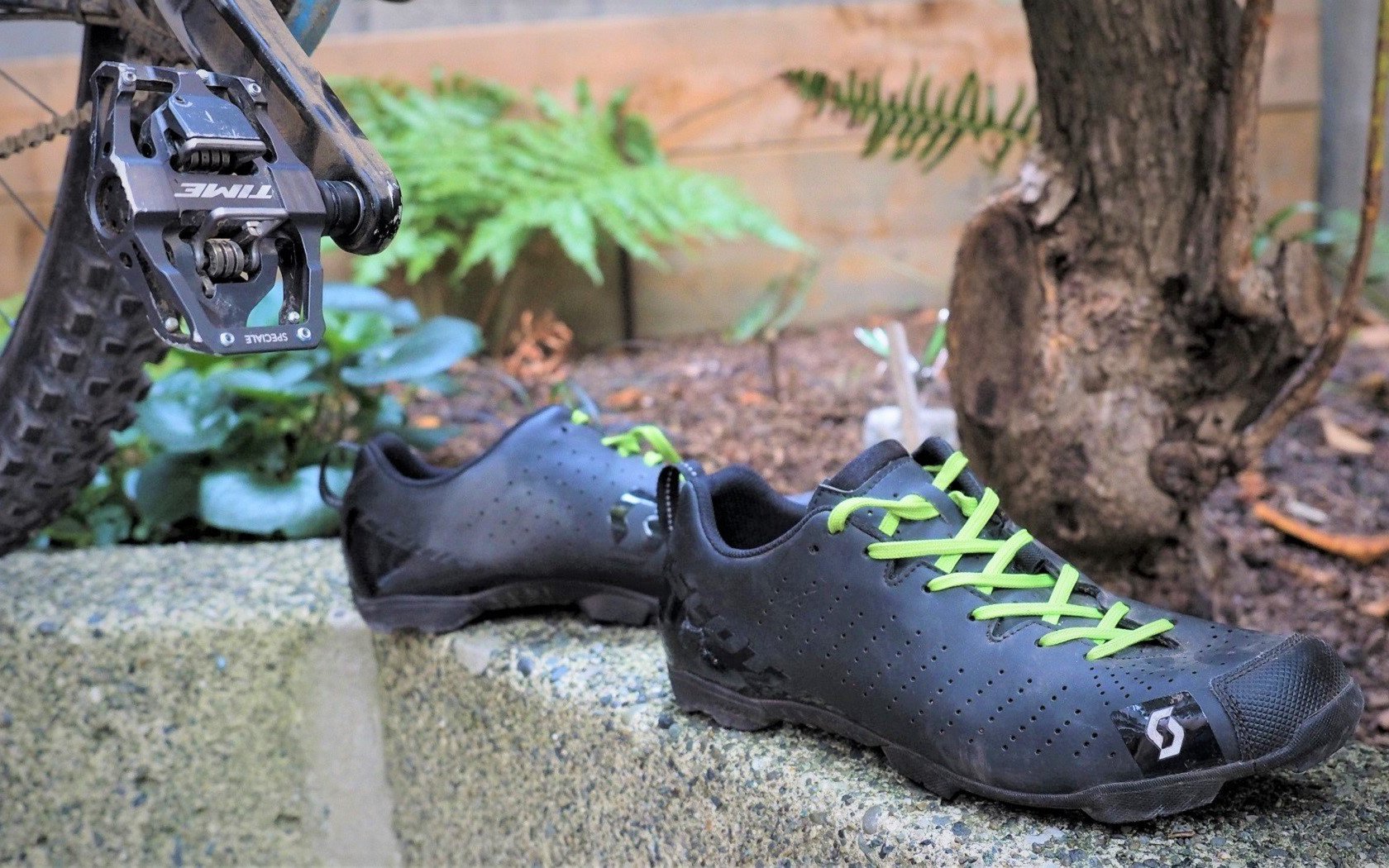 Mid-term Review
Scott MTB Comp Shoes AND Time Speciale Pedals
Test Interrupted
One moment I'm dancing along bantering at my brother and carrying a fresh stringer for some new woodwork, the next moment I'm sliding down a greasy slope with my left foot underneath me. Ouch. Ouch. Ouch.
I've been told that stupid injuries get a pass if you acquire them trail building. Something about Karma vs. having to admit I'm a dummy. I'm fairly certain it was just a conspiracy to ease my wounded ego, and luckily I was back riding - on flats - soon enough that it didn't feel like I missed a pedal stroke. Clip-in pedals and shoes were another matter because of the twisting force required to release at a moments notice and it's just recently that I've been able to get back on these Time Speciale and lace-up Scott MTB Comp shoes.
I have more than enough rides in a range of conditions to talk about the performance of these products but I really need to smash them for a few more months to be able to talk about durability definitively. So I'll split the review into two parts. Here I'll talk about performance and I'll put together an update for both the shoes and pedals after thrashing through some hard winter months.
Time Speciale
The Speciale is functional art, and like art these pedals aren't cheap. Unlike some paintings and sculptures however, there are solid reasons for the 350 CAD | 260 USD price tag; the pedals are made entirely in France, they look gorgeous, clear crap as well as any pedal on the market, and the one-piece 6106-T6 body should last forever.
With the tension adjust set at its lightest the release and entry are typical of what I've come to expect from Time. Step-in is a forward and down motion more akin to a ski-binding than slamming my foot into a Shimano or Crankbrothers pedal. The release is the same motion as every other clip-in pedal on the market requiring a flick of the heel.
Entry and release action is most similar to HT X2 pedals, particularly when the tension is dialed up on the Times. The Speciale has a much more refined feel, as I'd expect given the price, but both pedals require a bit more violence to affect a release and both clasp the cleat more positively on entry when compared to Shimano SPD pedals.
These are the antithesis of the Crankbrothers Mallet DH I usually ride. Going back and forth between rides the Crankbrothers feel vague when I'm hammering out XC loops but when I'm getting over my head exploring janky technical descents the light release of the Mallet DH is a beautiful thing.
I have viciously slammed the Speciale into immovable terrain without suffering an accidental release. The pedals are perfectly firm and consistent releasing when I want out. Given that experience, I would not recommend these Time pedals to a rider new to clip-in pedals. If you're running your Shimano SPD clipless pedals with minimum tension and want to try something new, I'd recommend Crankbrothers instead. Riders charging full-on into the unknown who never want to faff with an accidental release no matter how hard they smoke a pedal, only to release when it's full detonation wrecking time... Welcome Home!
I hope the Speciale is the harbinger of the next generation of Time pedals and the basic outline will descend to lower priced models. If it does Time fans and riders looking for a solid connection to their bike should rejoice.
Cleat wear has been minimal even with some solid hike-a-bikes and other than some scratches and gouges the pedals are working as new. I'll be back after some hard winter smashing but in the meantime please hit Time for more information.
Scott MTB Comp Lace-Ups
Is it so wrong to get giddy about about mountain bike shoes? The Giro Empire is my all-time favourite XC shoe but they come with a premium price tag and I murder the upper contact points and tear off half the lugs before the rest of the shoe is anywhere close to worn out. I'm still Freesole'ing my 2016 Empires, and while I use them more for road and commuting now, which makes me wonder...
What I'm looking for is an injected-composite (nylon-plastic) shoe with laces, a comfortable upper, and a sole stiff enough for long XC rides (like the Empire), but with greater durability and a palatable price tag?
I've tried a lot of shoes and I really like BOA adjusters and some ratchets but the fit of a shoe would have to be Cinderella-perfect for me to drop my own money on anything but lace-ups. Thanks to Scott, my new unicorns have offset laces as well. If I really crank down most shoes Icget a hot spot in the top of my foot that causes either burning or numbness. I manage this by running my shoes a bit loose and then tightening them after the first big climb. Certainly not a big deal but with the offset laces I can tighten them until my toes lose function without any hot spot. It's a treat.
The Scotts are less comfortable on long out of the saddle climbs, especially ones that are technical. The 'Index 6' stiffness rating is great for hike-a-bike or pedaling up seated on my dually but I really miss the bonus stiffness of shoes like the Empire or Lake MX 332 when I'm pounding the pedals up or down.
To be fair, Scott makes a much stiffer, and more expensive, carbon-soled version of the shoe which they give a stiffness rating of 'Index 9' and most potential customers aren't going to use these shoes on a hardtail.
My favourite Mavic Deemax shoes, as beaten as they are, are similarly flexible and comfortable on hike-a-bikes without presenting the same issue at the pedals. I assume this is because the shoes themselves are overbuilt when compared to the lithe construction of the Scotts.
So far the soles show no signs of wear but I do a lot more bike pushing in the winter. The uppers have some scuffs and these wouldn't pass for new but the stitching still looks fresh and there's no significant damage to be seen. I will likely wish the Sticki soles featured softer rubber and bigger, separated, lugs but both would likely result in significantly faster wear.
With the laces, there is plenty of room for my beloved Showers Pass socks so these shoes will get no reprieve no matter how wet or cold it is outside.
At 120 USD, the Scott MTB Comp Lace presents excellent value in an every-persons' trail shoe with XC roots and all mountain potential. After I walk on greasy woodwork, scramble my bike up some nasty inclines, and scrub them on rocks for a few months I'll deliver a final conclusion.