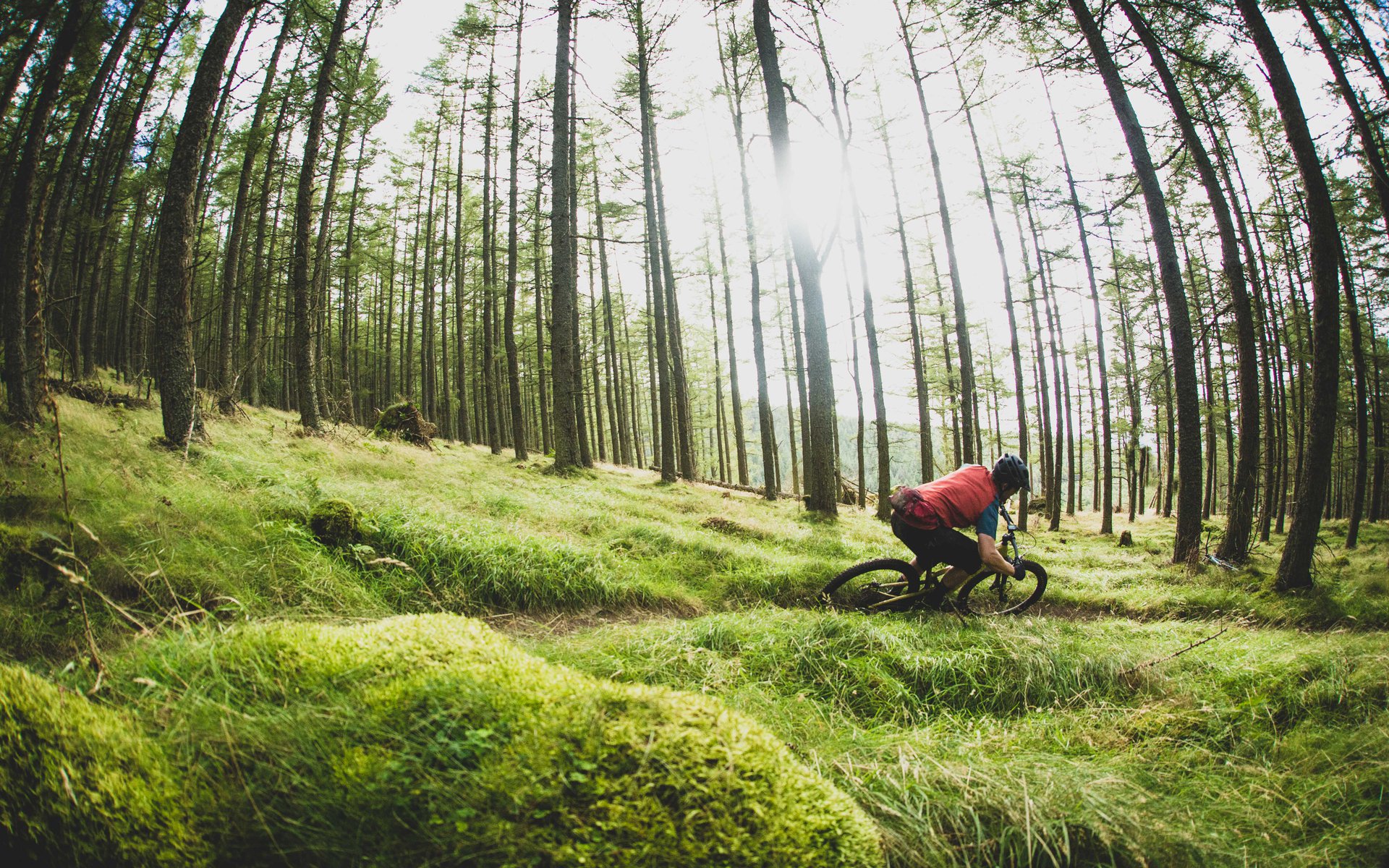 TRIP REPORT - PART 1
Scotland is a Mountain Bikers' Paradise
Something big is happening with MTB in Scotland. In September, I traveled to the Tweed Valley as a guest of Santa Cruz, to ride the trails, meet some of the people behind it all, and experience the beauty and magic of the area. This is part one of that story. Part two can be found here.
Light rain patters against the windows, catching glare from a lone street light on the corner. Inside a cozy stone house, the wood stove burns, the comforting smell of wood smoke mixes with the remnants of a homemade curry. In an adjacent room, the dim light reveals 7 or 8 characters, sitting or kneeling in a rough circle, poring over maps and engaged in debate over the future of one trail or another. Murmured phrases like 'galvanizing support', 'public trail days' and 'fighting for legitimacy' hang in the air. The list of issues they need to address in their jurisdiction is both very old (lone wolf builders, appeasing land owners) and very new (bureaucracy, grant applications, seeking approval for new trails). This could be the scene of a board meeting for the NSMBA, circa 2006. Instead it is a gathering of the board of directors of the TVTA - the Tweed Valley Trail Alliance - and even though some of the trails they are discussing are at least 20 years old, this organization is in its very infancy. Mountain biking is not new in Scotland - not by a long shot - but the endless demands of advocacy in the fight for trails and legitimacy in the area have just begun.
Until recently, Scotland would not have made my short list of must-go mountain bike destinations. As far as the UK goes, I've always been MTB-curious, but other than the very famous and long-running World Cup in Ft. William, I didn't have much of an impression about how the riding would be in the land of golf and whisky. Had you asked, I would have conceded that golf and single malt would be more likely to get me there than singletrack. Of course I was aware of the many great riders that call the place home, not to mention the successful Tweed Valley EWS races in 2014 and 2015. These two facts, had I paid them the slightest forensic attention, should have been enough evidence that something big is going on with MTB in Scotland, but as much as I love traveling to ride in new places, it's easy to be lulled into complacency by the BC bubble. So, I'm not exactly sure what I was expecting out of a riding trip to Scotland, but then I went there to play golf, and, paradoxically, that got me really interested in the riding.
In a strange twist of fate, I was invited to go on this trip while I was already in Scotland (for the first time), albeit for a once-in-a-lifetime golfing trip with my dad, brother, and uncle. The call came from Seb Kemp, longtime friend of ours and a former nsmb contributor, and now the brand manager at Santa Cruz. "There's a ton of really good stuff happening in the Tweed Valley" he told me, "come along with me for a short trip, meet some of the people making it happen, ride the trails, and see what you think." Pro tip: that kind of invitation from someone like Seb should never be met with a 'no', and I soon found myself booked to return to Scotland less than a month after I had left. In that space of time, while still buzzing from my golf pilgrimage (Scotland and St. Andrews are to golfers as BC and Whistler are to mountain bikers), I started thinking about how economics, history, and the approach to recreation and land use impacts golfers and mountain bikers in ways more similar than the average player from either camp would care to guess.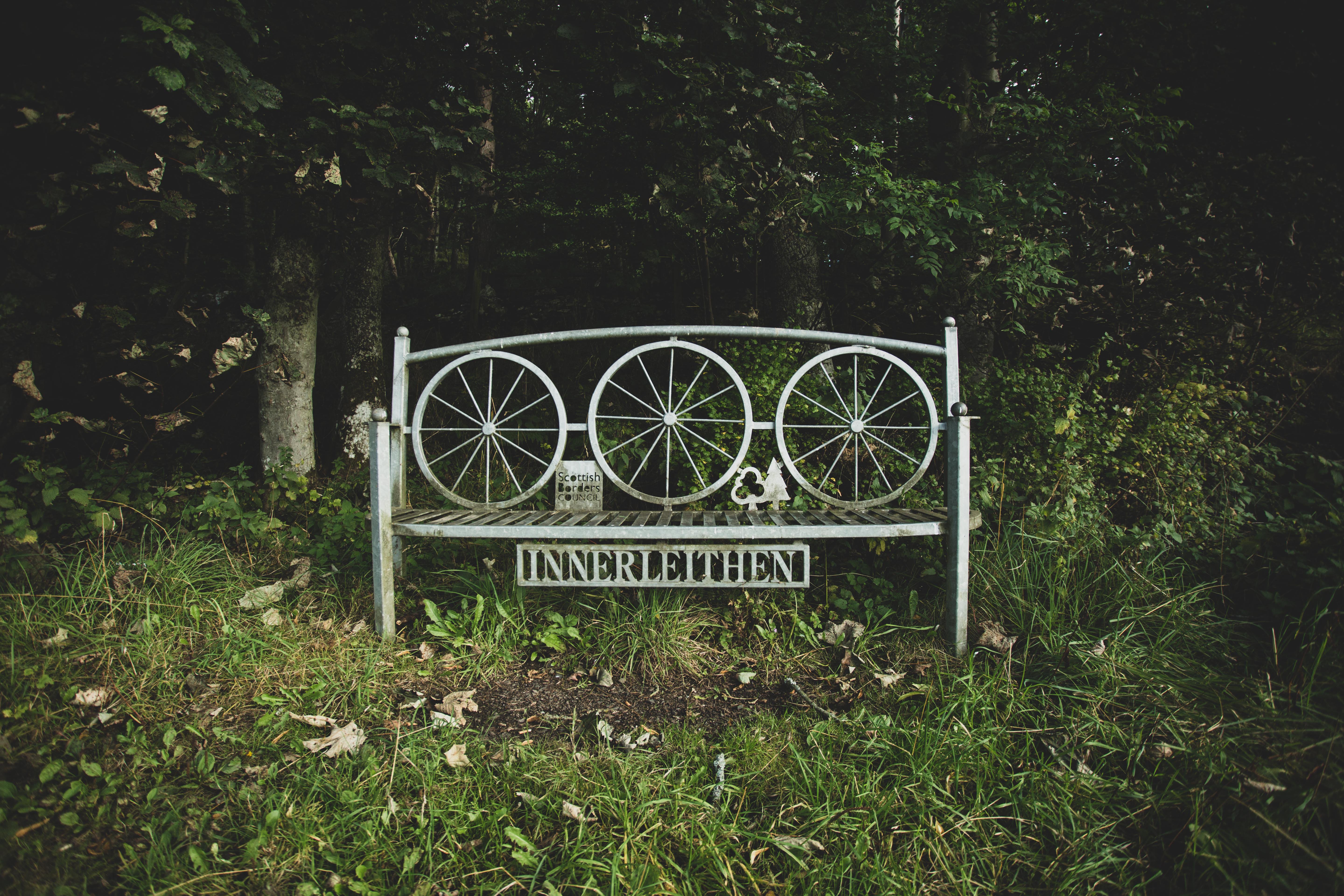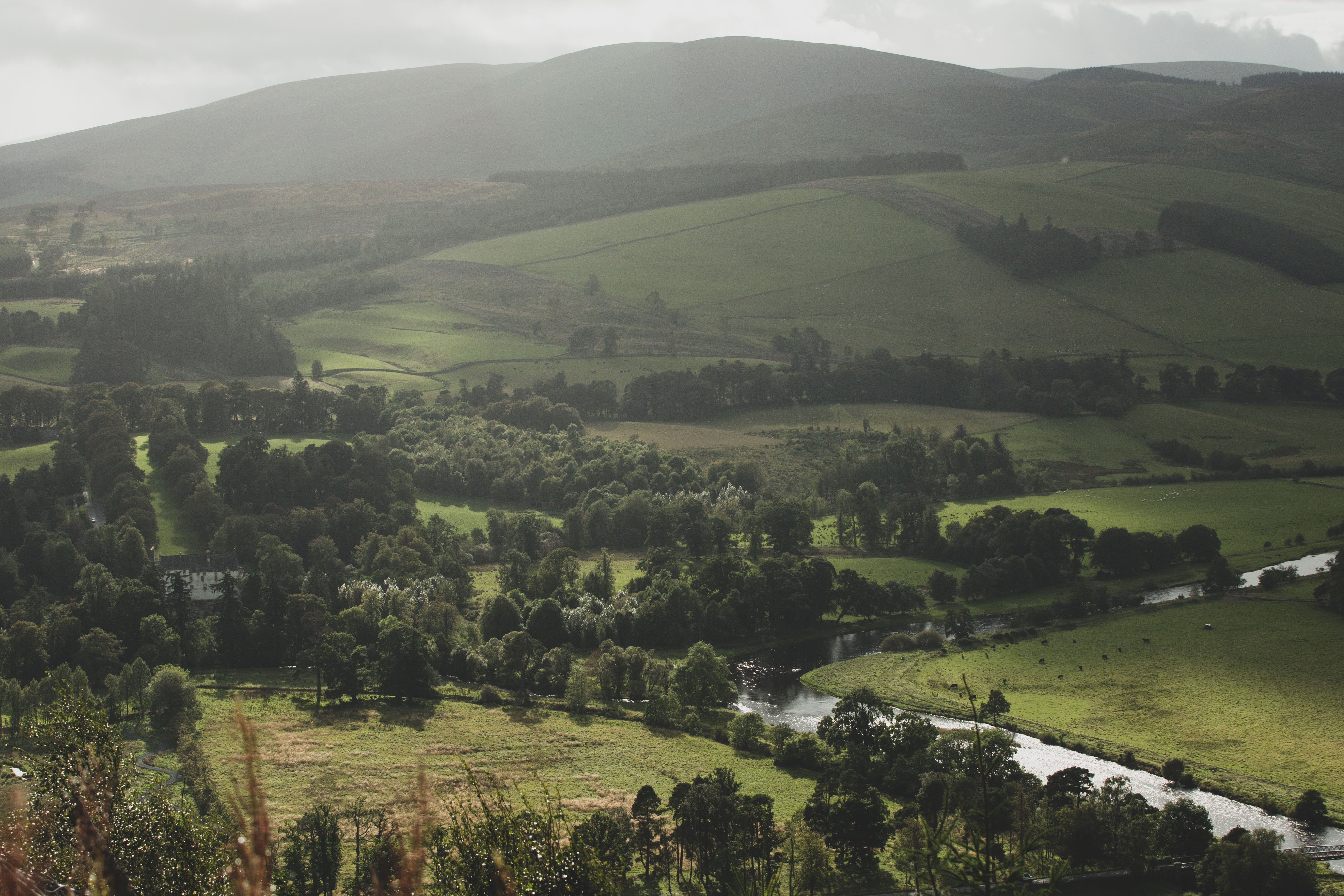 Central to all of this is the way the Scots have started working together: riders, builders, event organizers, advocates, and various levels of government, to figure out how mountain biking can benefit their economy and society. The fact that we're at a place where a sentence like that can be written is already a huge source of optimism. But what is taking place in the Tweed Valley goes several steps further than I could have imagined. Mountain biking is very well in Scotland, indeed, and part of the reason is due to the reshuffling of attitudes towards golf.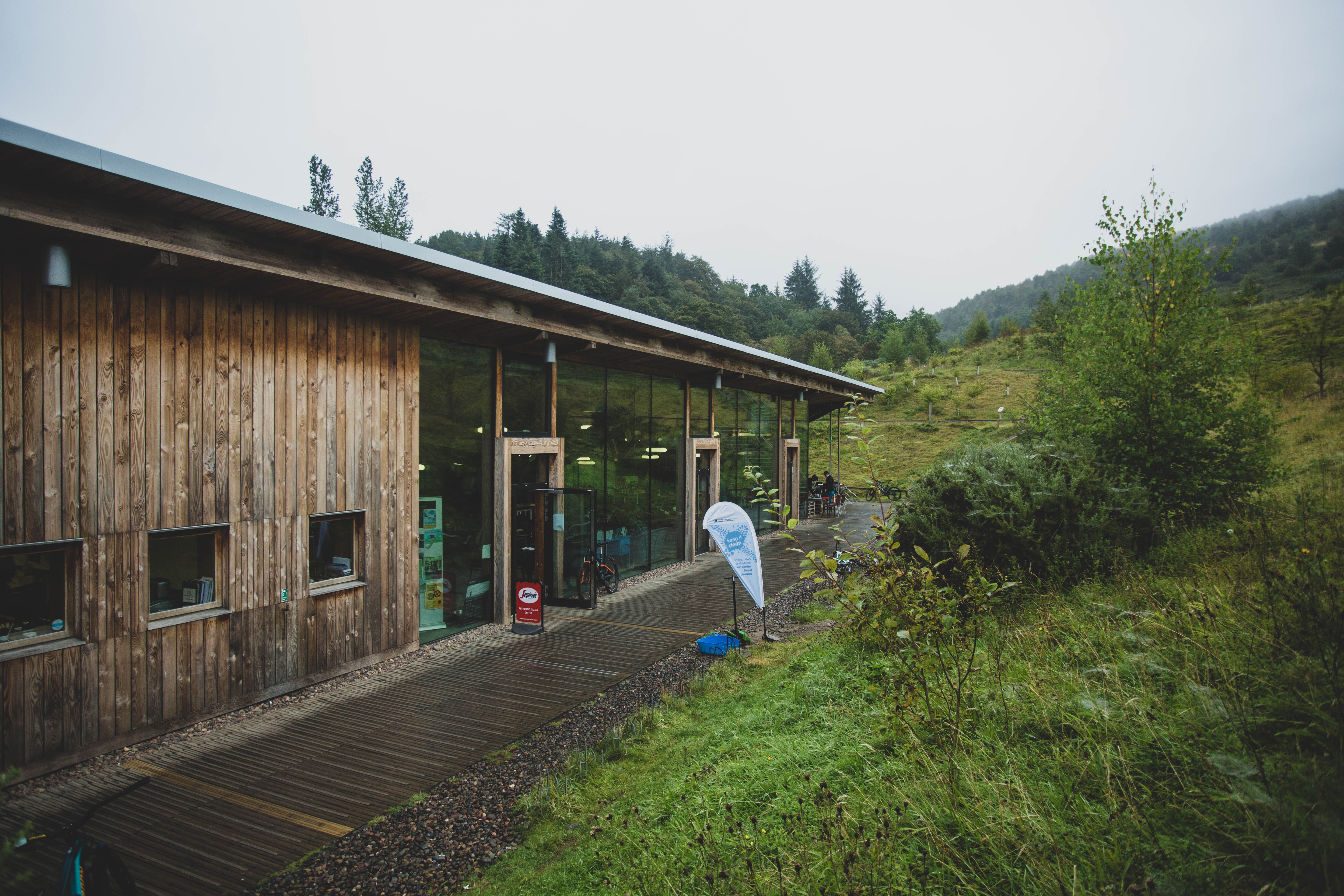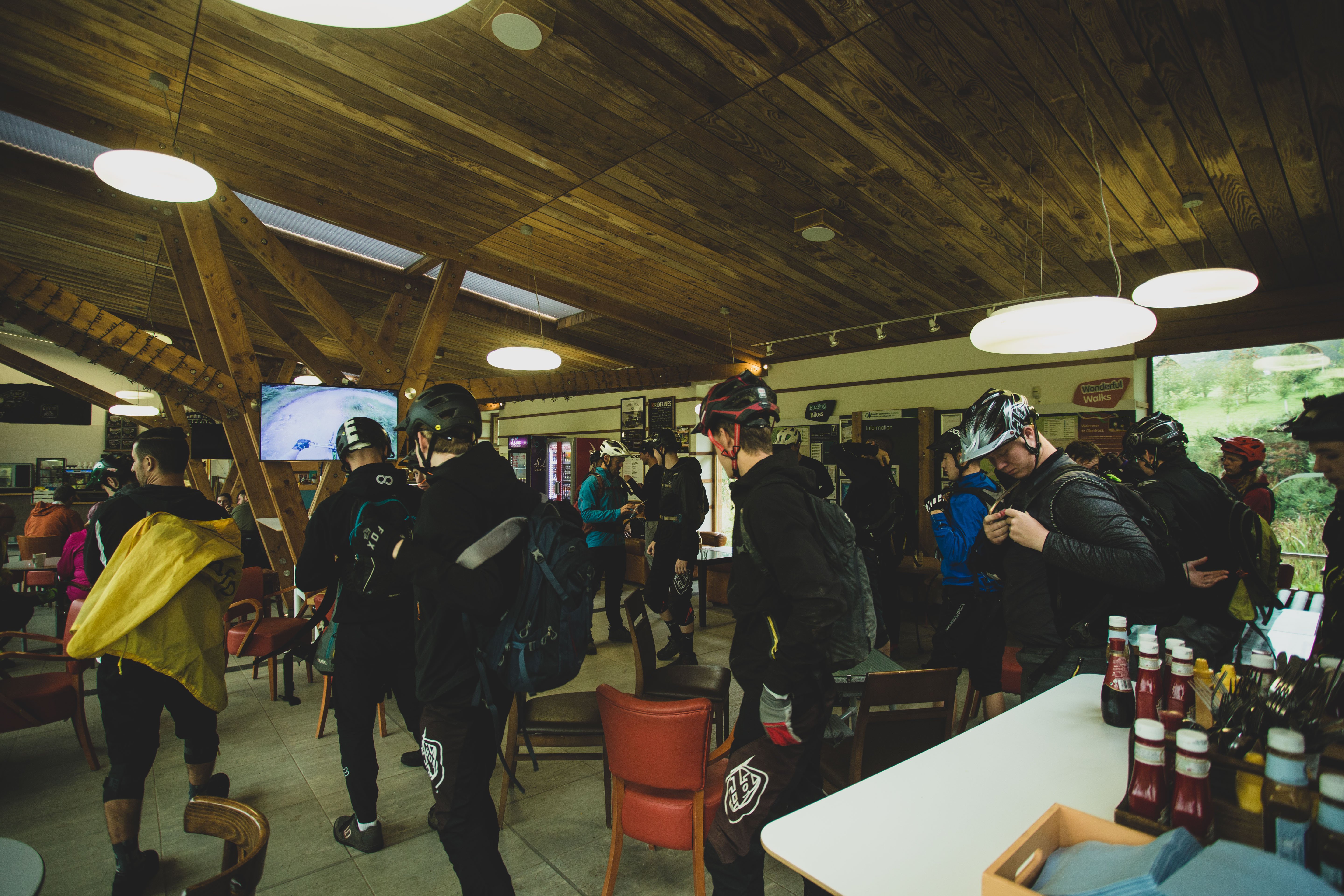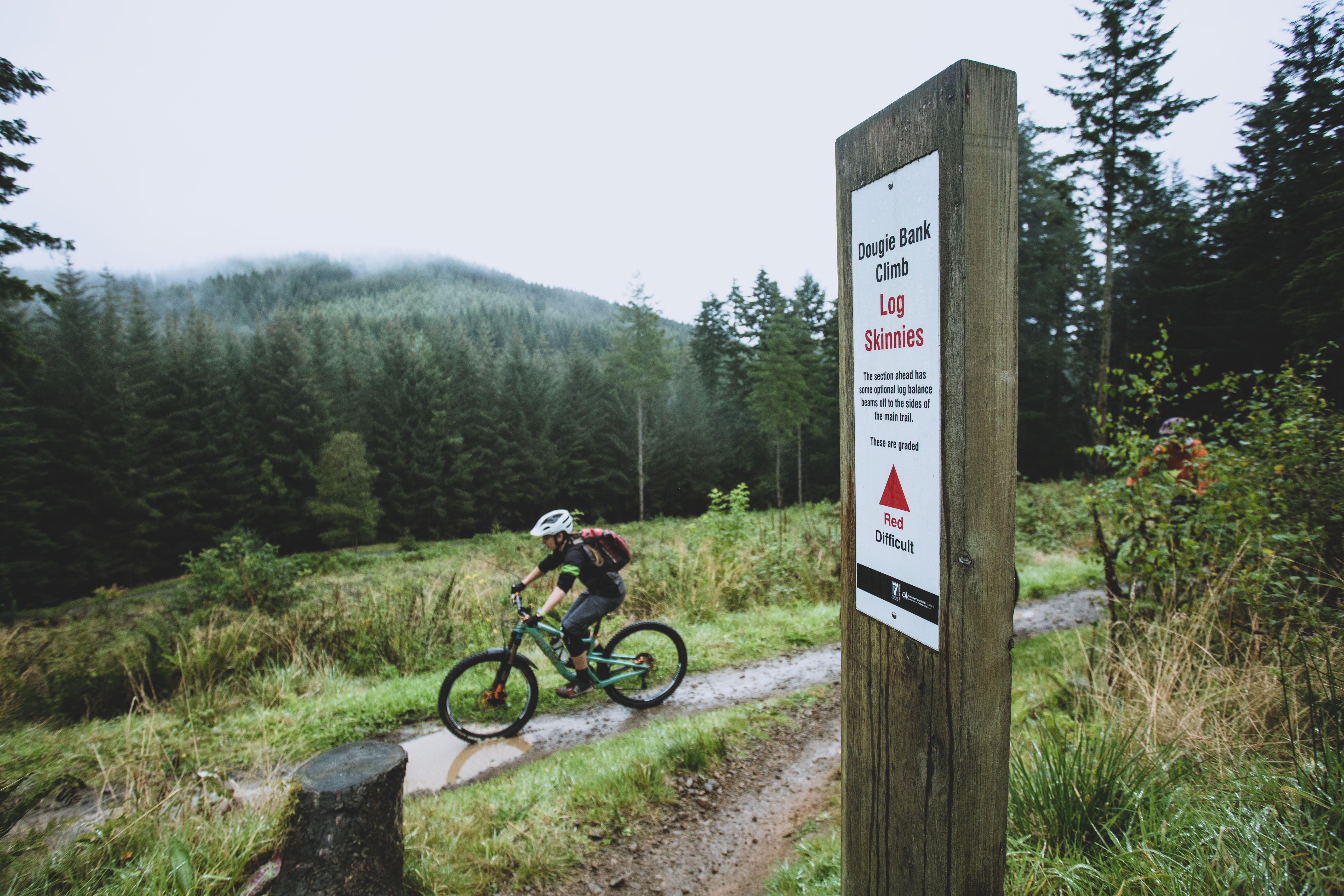 Mountain biking, golf, and land use: we can all learn from Scotland
So, why am I even mentioning golf in an article on this website about riding mountain bikes in Scotland? Other than the obvious fact that Scotland is the birthplace of golf, there are some common threads that came together for me over the course of these two very different trips, and one important cautionary tale. I'll keep it brief, but a little bit of background will help me illustrate.
To understand golf in Scotland, you need to know that golf as we know it in North America is, a lot of the time, a total bastardization of the game as it was originally intended. Although golf's origins as a leisure activity date back hundreds of years, when the only folks with time for 'leisure' were wealthy, the sport's origins are not consistent with the reputation it has here for five-figure membership fees, courses requiring huge amounts of water and chemicals to maintain, and lazy, fat people driving around in carts swilling crappy light beer and smoking cigars. The first golf courses were seaside links, scratched out of otherwise useless tracts of land: the strip between the coastline and the zone where land became valuable for farming. Grass grows in those strips, but little else - at least little else that is edible to humans. Courses popped up in these otherwise unusable zones of land, but this was well before the invention of land-moving equipment, meaning that the course routes were dictated by the landscape, not the other way around: dunes and swales covered in tall grasses as well as sand-filled depressions formed natural obstacles. Nearby farmers' cattle and sheep would graze on the courses, forming the first greenskeeping contracts: livestock was fed as it was keeping the grass short. Mountain bike trails have evolved in similar fashion: early on, they were rugged and natural (as many of us still prefer), but trail centers and bike parks have helped evolve flow trails, which generally require much more extensive use of machinery to move the dirt around.
For sure the upper classes were the ones who had time to play golf, but as society evolved, many Scottish towns had their own links that were owned and maintained by the town, with their primary purpose being that of an accessible source of exercise and recreation for its residents. Over time, tourists arrived, and golf is now a huge driver of tourist dollars in Scotland. The problem is that in most places where it is played, golf is not as democratic as it is in Scotland, and while you can play golf cheaply on municipally-owned courses in Canada and the US, the amount of land it requires and our propensity to build courses in areas that require lots of water and added upkeep and chemicals in order to create a good course, make it difficult for the game to be sustainable or accessible for many. So, the outer world broke golf in some ways by shoe-horning courses into the wrong places, and partially as a result, the pool of would-be golfing tourists is shrinking (thanks also to a tough economy and competition for tourist dollars). Many courses in Scotland are still healthy, and yes, there are also swanky private clubs there, but those are the exception in Scotland - most courses can be played by anyone, but tourists pay more (much more) and that feels right to me; if each town's course is intended primarily for its residents, they shouldn't have to struggle to afford to play there. Others should be welcome, but they can pay for the privilege.
Within this context, we find places like Innerleithen and the Tweed Valley, named for the Tweed River (also the inspiration for Tweed wool which used to be the area's primary industry). The wool industry has also suffered as a result of globalization and the commoditization of cheap clothing. Some farmer's fields and sheep remain, but the local wool mills are mostly shuttered. As in BC where many resource-based towns are looking for the next economic driver to latch onto, mountain biking arrived in Scotland and found fertile ground. And as in BC and every other place that mountain biking has taken root, the first trails were built by early adopters to the sport, industrious rogue builders who decided that rather than seeking permission, they would build the trails they wanted and worry about begging forgiveness later - if at all.
This is a story we've seen repeat itself in all of the early hotbeds of mtb: a few pioneering sorts find a nice piece of forest and carve out a trail or three. They ride and build, often in the cover of night, to avoid detection by the rightful landowner. Eventually the landowner finds out and either approves, turns a blind eye, or is vehemently opposed, whether due to concern about liability or other reasons, both legit and bogus. As in coastal BC, riding is possible in the Tweed Valley pretty much year round. MTB tourism may not be firing in the dead of winter, but that doesn't mean the riding industry isn't still active, and it's no accident that brands like Endura are springing up nearby.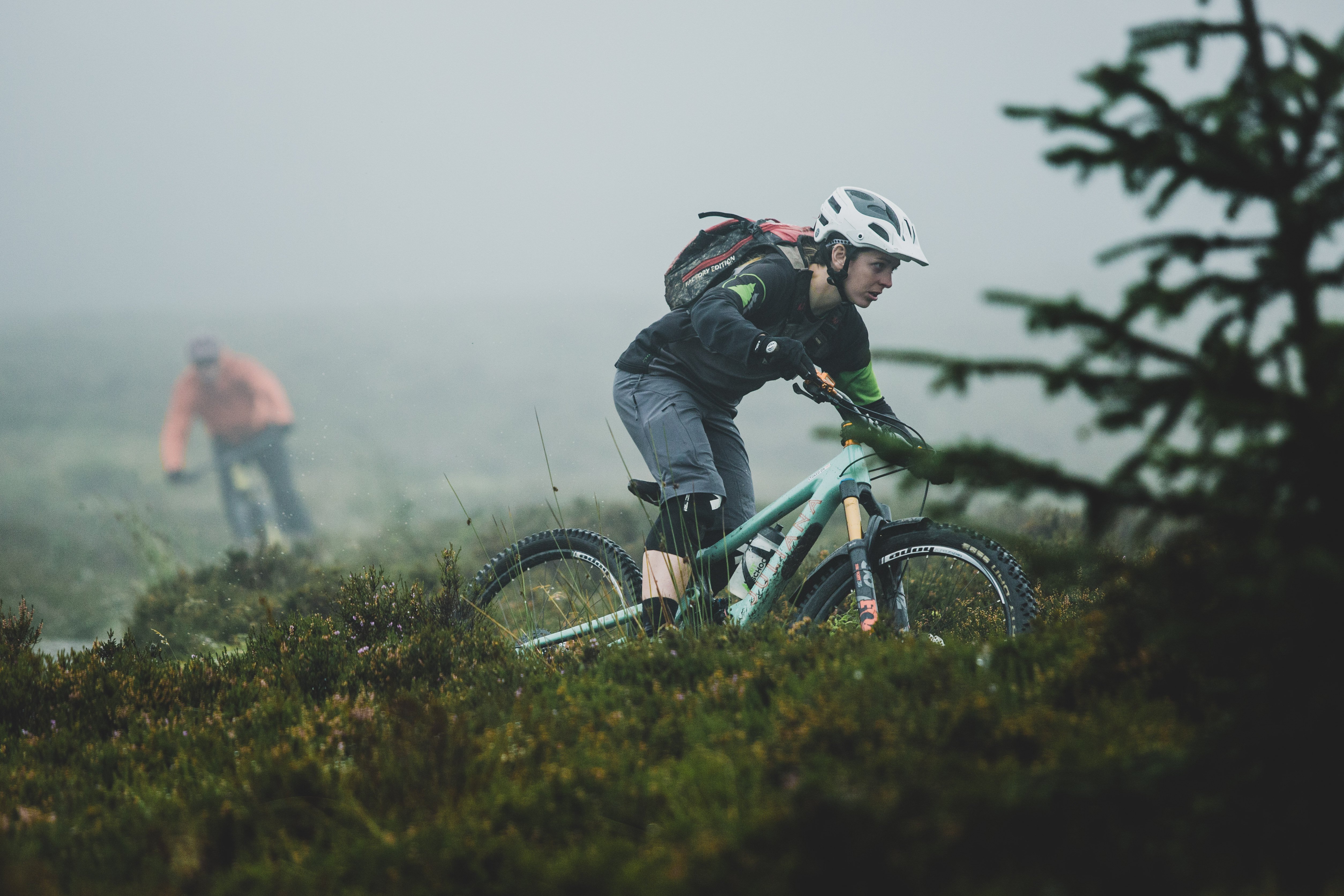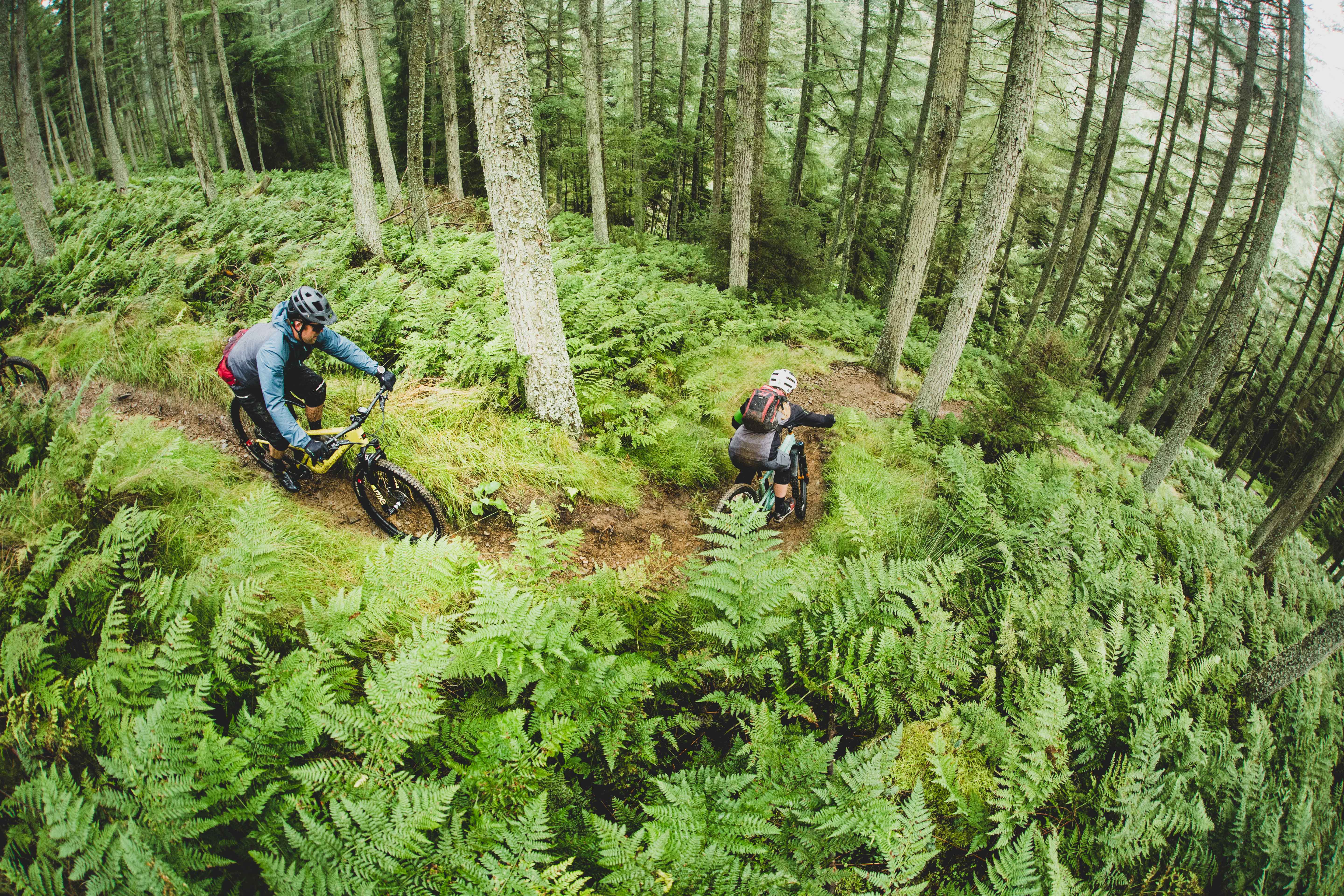 We're all very familiar with this story, but it took EWS founder, former pro downhiller, and Tweed Valley resident Chris Ball, to put it in a context I'd never heard before. "Can you imagine a basketball court being built secretly, under cover of darkness?" he asked. "Mountain biking is like no other sport. Whether it's golf, or soccer or basketball - any sport, really - they have a field or a place to play, and that space was come by legitimately. In fact, it's normal for those facilities to be built and maintained by the government. But with MTB - and this is true everywhere - the trails were built without permission by rogue builders, and then the fight was on to gain legitimacy later. Mountain bikers have always had to fight for their ability to build trails and ride on them, and that's not like most other sports you can name."
Mountain biking has had to fight for its existence everywhere. Trails don't get built, they're secretly scratched out of a piece of dirt, often illegally, under cover of darkness or, at least away from prying eyes. The trails in and around Peebles are no different, but Scots have a secret weapon called the Freedom to Roam.

The Land Reform Act 2003 (which came into force in 2005) gives everyone rights of access over land and inland water throughout Scotland, subject to specific exclusions set out in the Act and as long as they behave responsibly. These rights are sometimes referred to as 'freedom to roam'.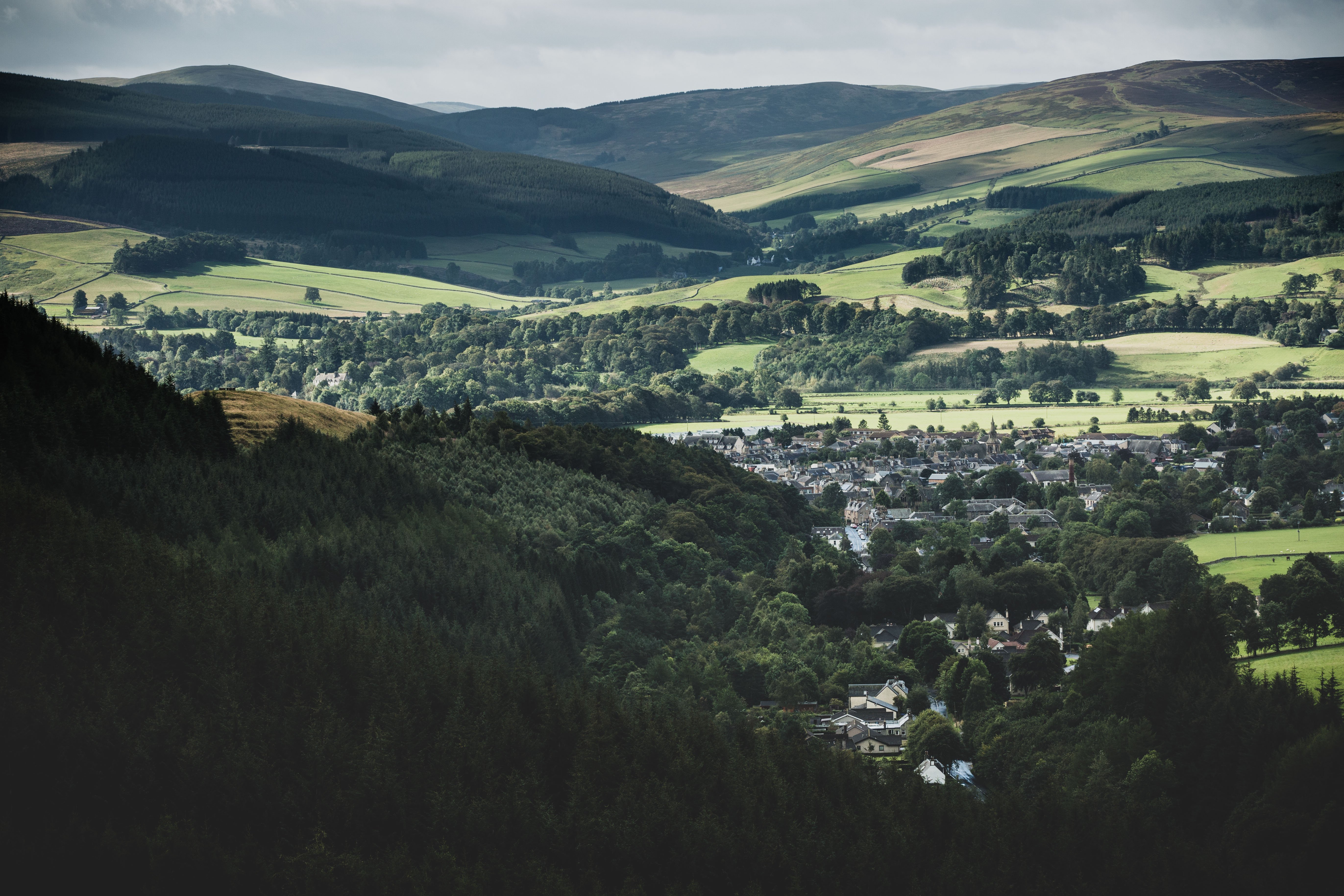 Freedom to Roam is a recent piece of legislation based on generations-old attitudes towards land ownership and use in Scotland. Golf courses are used by non-golfers as great places to walk, and dogs are welcome there. Sometimes the local links lies between your home and work, so your walk or ride to work may involve using its paths or fairways to get there. And while most mountain bike trails were illegal to build in Scotland, once they're built, the law states that you can't be kept from riding them. It is as quirky as it is beneficial to riders, but that doesn't insulate riders from all problems, and if anything, it creates extra challenges in uniting the community behind a new sport and the commercial influx it has the potential to create.
As one of the founders of the EWS, Chris Ball's name has become synonymous with enduro racing. He's had a huge impact on our sport by virtue of running the race series that has done the most in recent years to influence the technology, culture, and even riding style of so many of us. But his positive impact on mountain biking dates back well before the formation of the EWS. It turns out that Chris Ball may be some kind of mountain biking alchemist, for he seems capable of turning dirt into gold. This has not happened by accident, nor luck. As a board member of the TVTA, Ball is one of many dedicated individuals working hard to unite the rogue builders, riders, various levels of government, and businesses in Scotland. Mountain biking everywhere needs people like this: those who can bring together the various parties that have such different mindsets. There are no two groups more diametrically opposed than trail builders and government agencies: one has no time or use for most rules, the other is dedicated to their formation and enforcement. To get them to sit down, discuss, and ultimately agree to terms is no small feat of grassroots diplomacy. This is the challenge that was laid at the feet of the TVTA, and it wasn't until 2019 that they had their first officially sanctioned trail day.
Dirt School
If you were after an indicator of the health of the mountain biking scene in the Tweed Valley, Dirt School would be it. Founded with the intention of providing coaching that combines sports science and top-level experience as coaches and competitors, partners Chris Ball and Andy Barlow seem to have found a magical balance. Their students trust them to impart coaching that is developed in classrooms and labs as well as on dirt, and it's proven. Their coaches are all trained and experienced, and one of them is Ruaridh Cunningham, a Tweed Valley local and former World Cup top 10 DH racer. Over the course of three days of riding, I was fortunate to ride with Andy as well as one of Dirt School's coaches, Janey Kennedy, who both served as guides to the trails and the area. Gifted riders and coaches both, and great company whether it was in the middle of a climb or halfway through a pint at the end of the day. If you find your way to the Tweed Valley, hiring a guide will improve your experience immeasurably.
But a lot of riding hotbeds have great coaching programs and guides. What makes Dirt School special is the BASE College Course (Borders Academy of Sporting Excellence) which they run in conjunction with the nearby Borders College. BASE is a two-year college program that sees students spend three days a week on their bikes and two days in the classroom - every week, throughout the school year. Admission to the program doesn't require the highest marks or best skills on the bike, instead they're looking for desire to learn and open minds. Graduates of the program have gone on to race on the world stage, but they're also learning skills they can use towards careers in coaching, training, or just confidence and skills that will benefit them as they enter the next stage of their lives. As much as I loved my university days, this is absolutely the kind of program that would have helped me find a new level of motivation and interest. Plus, who wouldn't love their homework to be aimed towards becoming a better or stronger rider, rather than another 100 pages of 18th century history?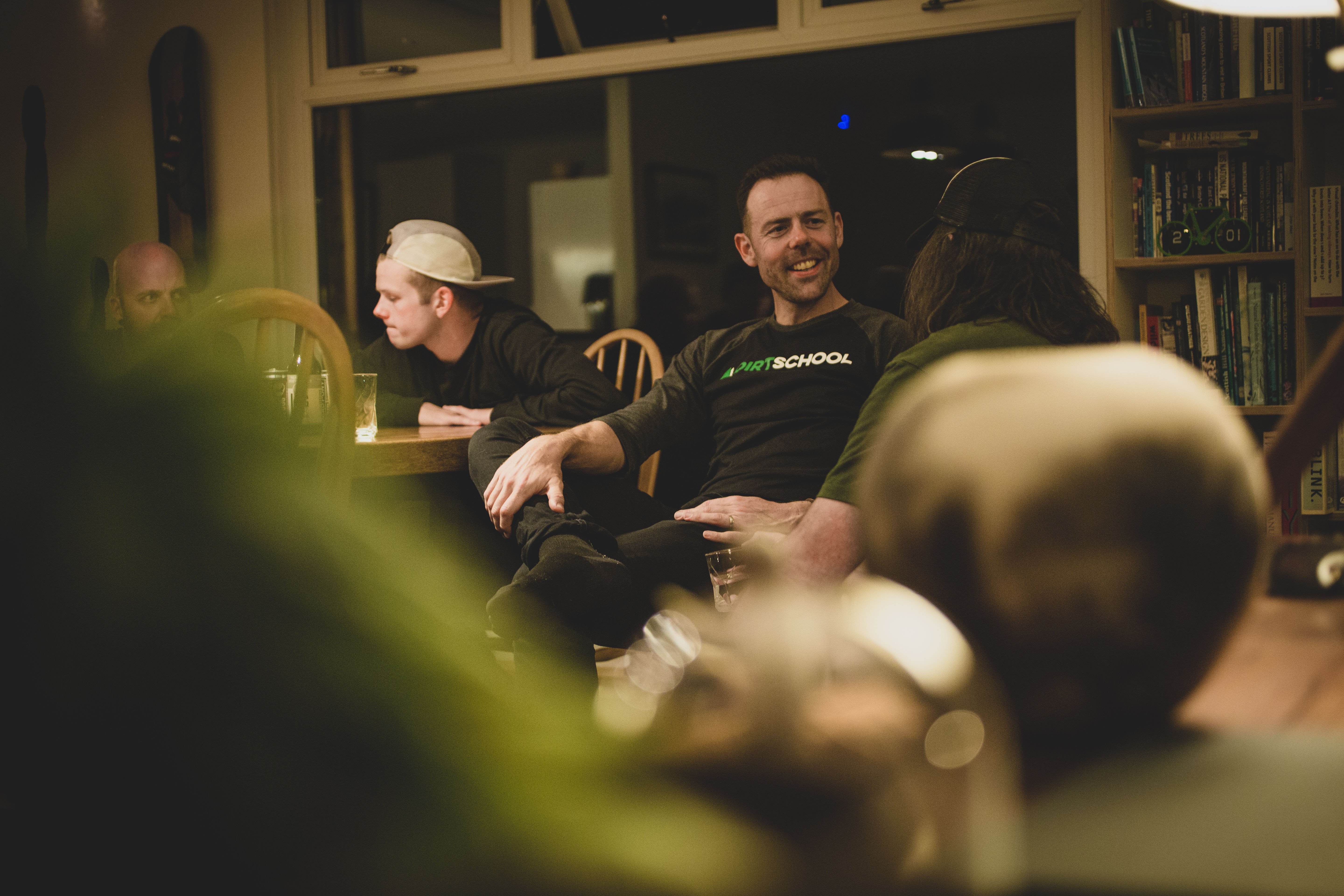 The whole idea clicks when you read what Andy has to say about it:
"The trick really is to recognize that they're not just learning how to ride mountain bikes. What you're actually doing is you're able to capture people that wouldn't normally be interested at all in any sort of academic pursuit, and by giving them the opportunity to study something that they already enjoy, that switches them on intellectually. If they apply that same strategy of, you know, breaking something down into its component parts, working on your weaknesses, and then building it to be something stronger, you can take that attitude, they actually apply that to furthering their education, to running a business, even their social life, you know, so there's lots of different aspects of how you can apply your mountain biking qualification to much bigger parts of your life."
In part two of this story, I'll talk a little more about the Dirt School experience, and dig deeper into the riding in the Tweed Valley and why you need to go there to experience the trails and the incredible riding culture for yourself.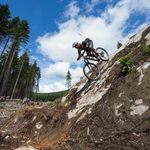 Pete Roggeman
Age: 46
Height: 6'1 // 185 cms
Weight: 195 lbs // 88 kg
Inseam: 32" // 81 cm
Bar width: 780 - 800mm // Reach: 485 - 500mm // Dropper: 180 - 200mm
Flats or clipless: Default clipless, flats for zesty stuff
Trail(s) of choice: VFR and a bunch I can't name