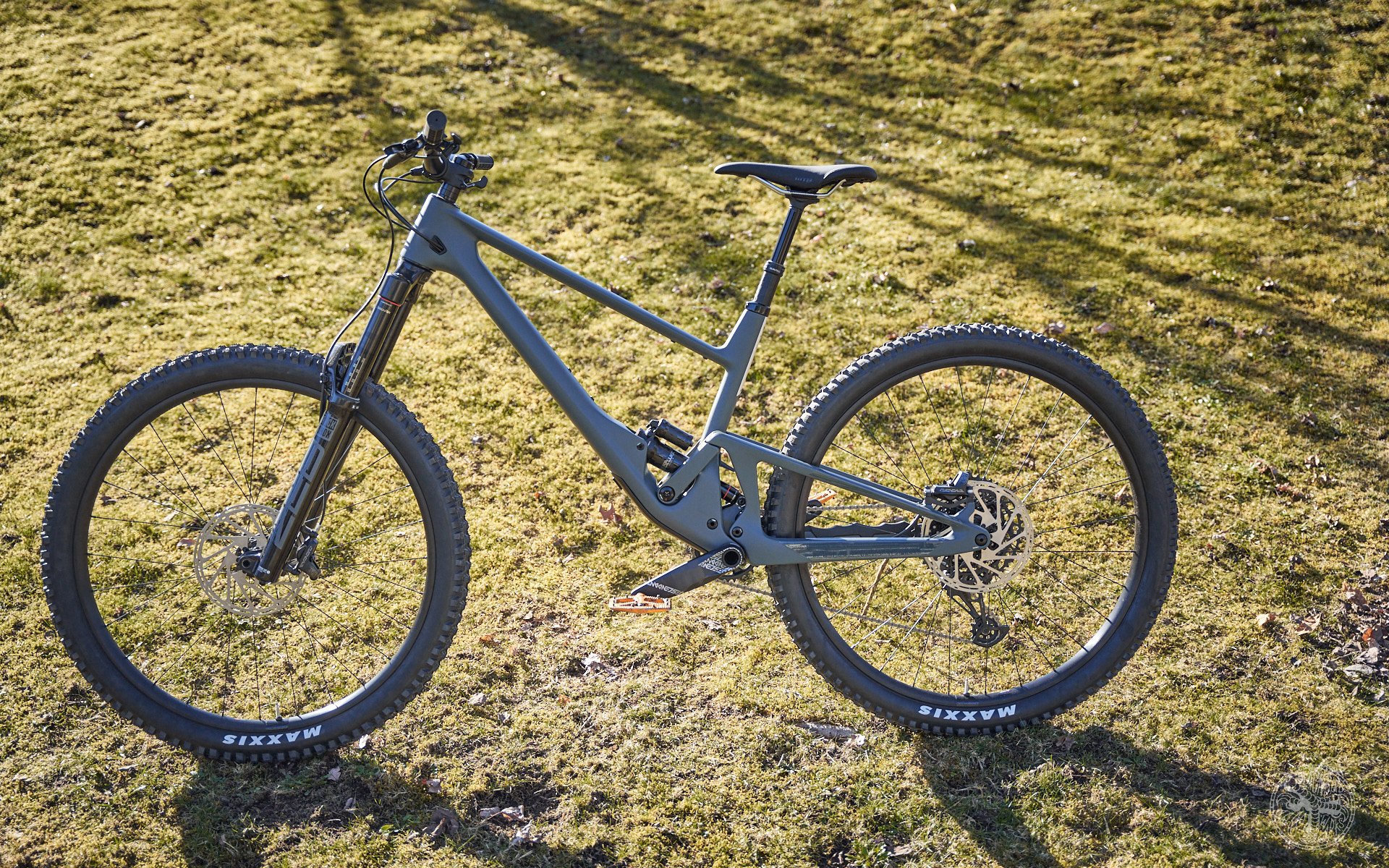 First Impressions REVIEW (and the Story of SCOR)
SCOR 4060 LT NX First Impressions
This 4060 LT has been a head-turner. Everyone asks, "what the hell is that?" The subtle branding helps it fly under the radar but the silhouette and the badging are both distinctive. It doesn't help when I say, "it's a SCOR 4060 LT," and then when I add, "it's a sub-brand of BMC," that doesn't help much either considering the Swiss brand's mountain bikes are rarely seen around here.
So what the hell is SCOR? The brand was born in the imaginations of a few BMC employees who rode steep and challenging trails and had no option but to choose bikes from other brands.* As Antoine Lyard told me; "It started as an after hours project from Mariano Schoefer. Mariano is one of our engineers and he likes to rides big bikes aggressively." Mariano began to cut up existing BMC Trail Fox frames, modify them, and then put them back together with geometry that better suited the riding this group liked to do.
*Currently BMC's 'long travel' bike is the 120 mm Fourstroke LT
Antoine continued; "Mariano was then joined by yours truly and industrial designer Christoph Bigler. Mariano and I tested this proto to settle on geo, while Christoph was doing a design study on what this bike could look like. This was Fall /Winter 2018/19 and we settled on a ballpark of 63.5/63.75 ° HTA, which was nowhere to be seen on the market." This, radical-at-the-time geo was a reaction to the riding the group was doing in the Jura region of Switzerland. Many of the trails they rode were old hiking trails with ridiculous switchbacks and impossibly-steep descents.
Eventually management took notice of the group's efforts, realized resistance was futile, and gave them the green light to dedicate working hours to their passion project. As progress was made with all aspects of the endeavour, it became clear things didn't align perfectly with the BMC brand, which was how the SCOR sub-brand was born; "At that point our CEO made the call, and the direction was set. This unlocked a lot of aspects: purpose, brand marketing, all the way down to distribution strategy."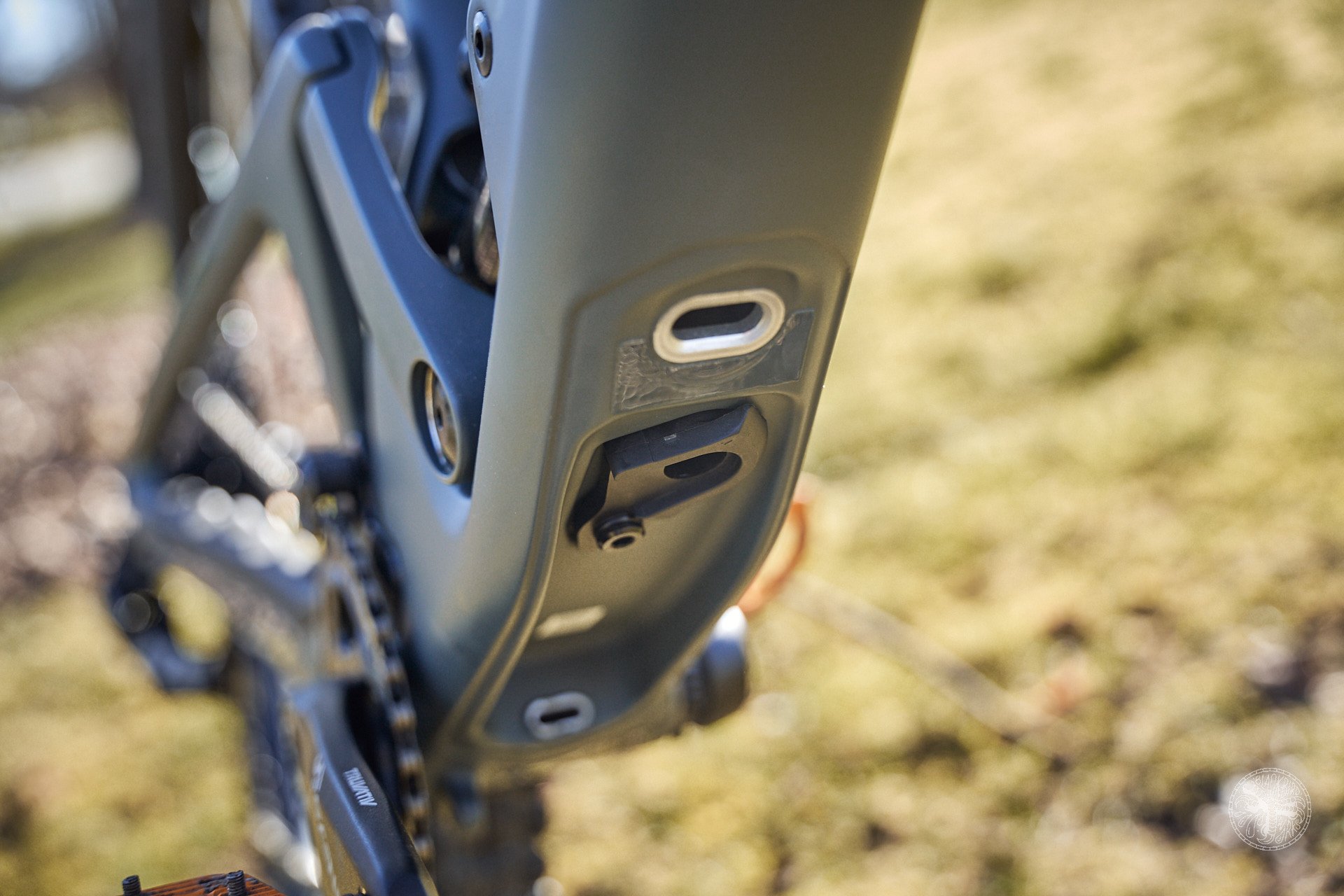 Many of the bike's numbers continue to be on the progressive side which is noteworthy considering it's a first of breed and because the design was drawn up more than four years ago. The 63.8º headtube is close to the cutting-edge-for-an-enduro-bike end of the spectrum along with the 348 mm bb height and 77.9º actual seat tube angle (76.5 effective @750mm). The wheelbase and chainstays however are shorter than much of the competition, and that is by design. As Antoine tells us; " We had experienced longer chainstays on competitors' bikes we rode in the past and for us the benefits were not worth the trade-offs. Our trails are narrow, steep and all corners have weird radii, plus Mariano loves to get hang time so short stays are the ticket!
For my part I haven't noticed any stability issues at speed, nor have I found the bike particularly nimble in tight circumstances, but I think that's more a reflection on the 170mm-drop post than on the geo.
How it Rides So Far
We started out okay, and then things got weird. After the first couple of rides I knew I needed to chop the bars, which I did. And then I didn't ride the 4060 for about a week. I can't remember if it was one of the COVIDs or Sea Otter that produced this absence. When I got back on the bike, my bars felt as though I hadn't cut them. And I rode poorly. I didn't bail but I had about 5 high-consequence close calls and I stepped away from several lines I usually ride. I think this was on Cypress. When I got home I measured the bars. They had grown from their original 800 mm. As it turns out there was a bulge on the bar that produced a hard stop for my left grip, so I fastened it right there, which took the bars I'd cut down to 760 all the way to 805, with every one of those 45 extra millimetres* on one side. My failure to recognize what was wrong during that ride was surely one of my proudest moments.
*in my notes I wrote 30, but maybe I was trying to minimize my embarrassment
After that things got better. There's a sort of hanging drop on Cypress with a bit of a dodgy root entrance to rock face, to launch, to steep landing with blown out-left-hander exit, and I've managed to ride on the SCOR a couple of times. The last time was very slimy and both front and rear wheels slipped. Surprisingly this didn't induce panic and I pointed my fingers and let it roll.
It hasn't been all roses though. The bike has consistenly felt good on slower steep sections, or on smoother surfaces at any speed, but I've struggled to get it to feel right on high-speed rough sections, particularly those with hefty impacts in rapid succession. I thought I had it sorted after a pretty good test day on Cypress. Our friend Ian Rudd, the Mayor of Cypress, was doing 60 shuttle laps on his DH bike, over three days, for his 60th birthday and we rode the last 9 of them with him. Which was pretty great.
His course, which Ian and his buddy Jason had been prepping for weeks beforehand, was fast, undulating and smooth for the first 90%, and then the last chute is bony and wide and steep. The bike felt great everywhere but there. I made a few adjustments and probably made it worse, but then my buddy, and World Cup mechanic, Mike Wallace, suggested I slow the rebound in the Zeb And then it started to click.
At that point I thought I had it dialed, but then I was riding a different sort of dual-character trail on Seymour, and on the high speed rough section at the end, I felt like I was getting bucked toward the front wheel when I began to get up to speed. In that respect the bike has been a little like my COVID experience; every time I feel like I had handle on it, I got slapped back down. It seems I'm getting there though, and it's more likely me than the bike at this point, as you may have gathered.
Some Changes
Since that time I've ridden a lot of trails at the sketchy end of my repetoire, and doing it pretty confidently. But I've made a couple of changes. The big one is the wheels.* The tires were fine, but I knew if the bike was mine I'd be riding with inserts and sticky rubber. I had a set of Crankbrothers Synthesis wheels wrapped in a TCS light casing and High Grip compound WTB Judge/Convict Combo with Cushcore in the back and Tannus Tubeless up front, so I slapped those on. Along with some Ergon grips. That's it so far, but I'm going to sub in a 200 mm or greater dropper as well to replace the 170.
*and pushing the grips on equally
SCOR didn't want to send me the lowest model but it was all they had. I'm really glad they did because it's so good, and because it's the platform I'm trying to evaluate, rather than the parts. This is a bike that is worthy of significant upgrades. The frame is the same as the more expensive models, and this bike sells for only 900 USD more than the least-expensive frame-only selection. I have enough info about the swapped-out components though so you'll hear about them in the full review.
Maybe We should talk about the Parts (etc)
One of the elements that is most unexpected about this bike, for me at least, is that the spec is very well thought out and performance-focused, and yet could compete with direct-to-consumer brands in terms of investment quality. Are the Swiss known for producing products that compete in terms of value-per-dollar with the best in the world? Based on what I know so far, that is the case here. Of course there are issues outstanding in terms of performance and durability but thus far there is cause for optimism.
The suspension components are RockShox Select and Select +, drivetrain is SRAM NX 12x, utilizing a Shimano HG-type driver, tires are well-chosen Maxxis Dissector and Assegai, both MaxxTerra and EXO+, CODE R brakes, and seemingly, so far entirely serviceable no-name wheels and hubs.*
*Spec. sheet says they are XCX-530 for the hubs and the wheelset. And persumably the rims. Spokes? But, admittedly without looking hard at all, I haven't found any distinguishing marks on the products themselves. Which I kind of like.
This is all entirely decent stuff, with money allocated intelligently. I've heard horror stories about NX Eagle drivetrains, and rear derailleurs in particular, but I've always been charmed in that department and the trend continues here. There is also an assumption that CODE R brakes are as powerful as, but less adjustable externally than, the CODE RSC. This is bunk. But after a few rides I got used to grabbing a bigger mitt-full, and modulating more sensitively, and I've continued to close the gap.
I'm not sure if this fits Andrew's Min-Max preferences,* but it has nailed my interpretation of his framework
*perhaps aside from the rear hub.
This Test Bike Comes with a Story
At first, the person I spoke to at SCOR, was very professional. And particular. No. Make that precise. And I mean those as compliments!* This is significant because much of our experience testing bikes for the last 22 years has been loose in a beautiful and haphazard way. An example is, I've only had one marketing 'executive' try and demand to control who would test his company's bike. I can't remember if he won or we agreed. But it's one of those.** Which means virtually all of the rest of these folks have been willingly sending bikes to a fly-by-night web zine with no strings attached, which I think that's pretty cool.
*I should add, this person was exceedingly nice to interact with
**Identity guesses encouraged in the comments
Sometimes bikes arrive before I hear they may be coming. Or before I know they exist. Often I simply get an email asking what size we'd like. I ask a couple of questions, and about reach numbers at L or XL, and about intended hucking, to help select the right tester, and then choose XL.* But it's not like that with BMC. I had to fill in an application form. Which I have done before, for European companies exclusively, but those forms couldn't compete in terms of commitment required and, as I mentioned earlier, precision. Startlingly, there were questions I was unable to answer like, on what date(s) would you publish things about our bike, and on what date will you have it back to us. That second one was the hardest one because I simply had no answer. Their reply was that the bike had to be returned in one month.
*Except for Deniz. He gets his own size.
This is not an unreasonable timeline, but it is for me. I was planning to ride the bike. A lot. I replied something to the effect of, I understand your policy but I'm afraid that won't work for our format. Did I say format? It might have been better than that, but going back to read what that email actually says would sully this narrative. I replied to this electronic mail with; the minimum we could do is 60 days. (even at the time I suspected this would turn out to be a lie). Otherwise, I said, we'll have to wait for another time. Which, I assured them, was fine.
There was no reply to that email but I'd put it out of my mind the moment I hit send. I was quite certain it wasn't coming.
Perhaps three weeks later, the SCOR 4060 LT NX arrived, without notice, at our door. This was incredibly badass.
And then I think I got COVID. The first time. That slowed things down a little. The throat lesions, clearly visible in the mirror, were the worst part. And then we went to Sea Otter, which is a disruptive event at the best of times, but particularly so when you do it like we did it this year, squeezing every drop of sap out of northern California. I'd say we crammed two weeks of living into 5 days and four nights. Re-entry wasn't smooth. And then I got COVID. Again. Needless to say, things are a little behind schedule.
Anyway, thanks for being badass SCOR, particularly whoever intervened in my application. After meeting Antoine at Sea Otter, he is my prime suspect. The ninja bike delivery was a beautiful way to say, keep it as long as you'd like.
Click for the full spec and geometry of The SCOR 4060 LT (and ST) NX sells for 4499 USD
Frameset Prices
4060 FRS LT  - Fox Float X2 Factory : 3799 USD
4060 FRS ST  - RS SDLX Ultimate : 3599 USD
4060 FRS LT Limited – Öhlins TTX22M/RXF 36m.2 Coil :  4999 USD (fork included)