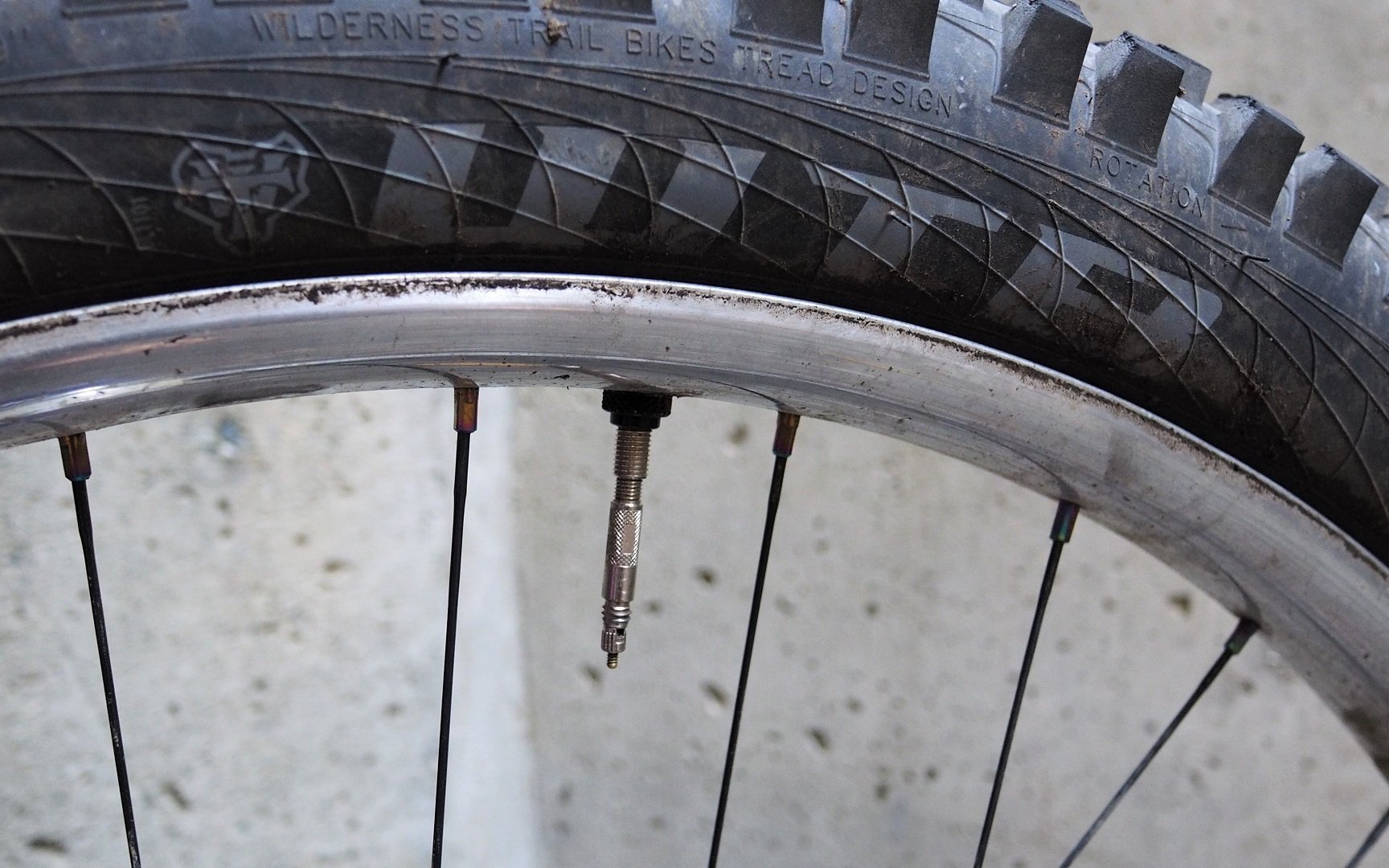 REVIEW | EDITORIAL
Schwalbe ProCore Revisted
ProCore Round 4
I haven't ridden or worked on every insert system, but between Huck Norris, CushCore, and Schwalbe's ProCore I think I can speak broadly about the major theories on rim protection and ride tuning add-ons.
ProCore has a solid combination of ease of install, function, and tune-ability. Being inflatable, ProCore is no more difficult to install than the lightweight foam systems like Huck Norris and it actively forces my tire bead against the sides of my rim. It is also tuneable for support and feel. Another advantage of Schwalbe's system, is that the wear component, the inner tube, is relatively cheap to replace. All the other systems I've seen in action break down through usage* and will require replacement at some point if ridden hard.
*YMMV depending on how often the inserts are being impacted.
One place that ProCore (and I'll throw every other tire system making the same claims down the same set of stairs) fails is the idea that the system weight is partially negated by the ability to run a lighter tire. In my experience if you need a tough sidewall without an insert you are going to need that same sidewall with an insert. That goes for any application where an insert may be helpful.
The Hammerschmidt Factor
After a pause, I once again started running ProCore in my front tire months ago. I'm sporting the double wall protection of the very impressive WTB Vigilante 29x2.8 in a the High Traction/Touch Casing version. The combo weighs more than enough but the combined performance is excellent. In the exact vein as my Hammerschmidt experience, I can't help but wonder how Schwalbe's system would have evolved if more people had jumped on-board. Lighter? Simpler? Tougher? Cheaper?
Certainly the dual-position valve could be improved, not to mention that for a few more grams* the overall durability of the system (tube) could be much better.
*the combo of an aggressive tire and insert already disqualifies weight weenies
Despite the more involved install and similarly high price, CushCore is obviously eating ProCore's init had initial market share. Cushcore is expanding into XC and Plus sized versions and selling units on the same promise as ProCore; it isn't just about rim protection, it's about improving ride quality. It's really too bad Schwalbe isn't continuing to improve ProCore, because competition improves the breed and I think that's especially true if you have a couple of completely different concepts, like ProCore and CushCore, chasing the same goal.
Plus Size Me
Riding aggressively with Plus sized tires up front is what brought me back to the Schwalbe ProCore system. Specifically, I was looking for something to lock the tire beads in place in a way that Huck Norris, which I revisited this year as well, does not. There is also something about a supple high-volume tire that works better with added progression and a bit of bottom out resistance. It's a bit like a Formula Neopos for my tires.
Riding is better, for me, with an insert. Huck Norris gave it the college try but this revisit of ProCore has demonstrated how rudimentary the floating pool-noodle system is, not to mention that ProCore is significantly quieter.
And now CushCore has a new 29+ insert. It's harder to install than ProCore but with none of the setup challenges and no routine maintenance. Just ride the system until it is worn out, or your tire is worn out, and replace. None of the tune ability but none of the routine maintenance in a system that is growing into more market segments instead of disappearing.
ProCore isn't popping up many places these days or getting press anymore which is a huge change from its trumpeted release. But, if you're thinking it's time to try an insert and can get a deal on your wheel size I think you'll be very impressed with the performance. I can't overstate how keen I am to see Schwalbe release a next generation system.