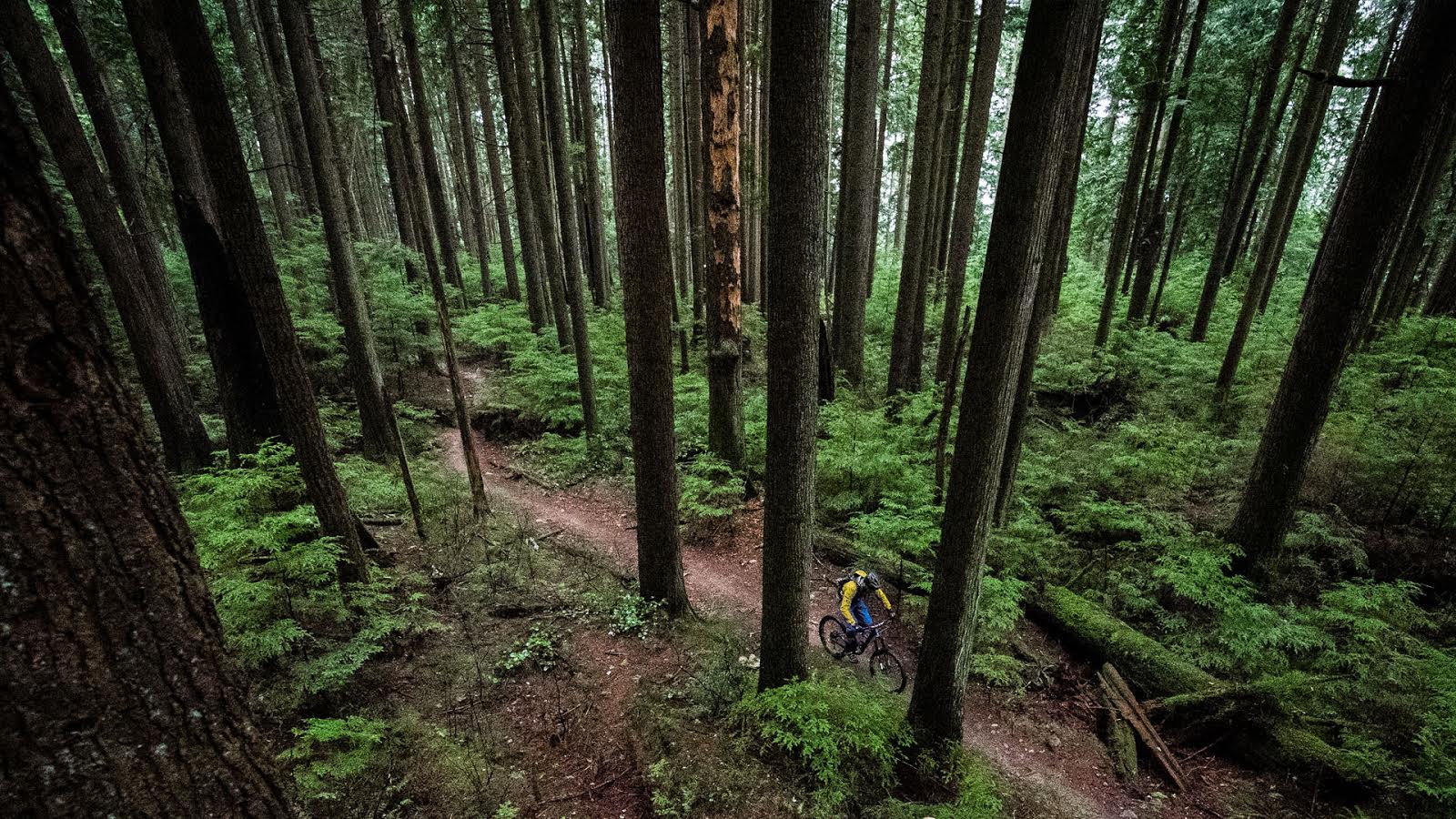 Schwalbe ProCore
Schwalbe and Syntace's jointly developed ProCore system stormed into town on a triumvirate of promises: More Traction! No Flats! Rim Protection! If the company was run by a bunch of Canadians rather than our friends from Reichshof-Wehnrath, you would almost think their marketing tagline was a send-up of the bike industry in general: "Nothing stays the same".
"I'm your private ProCore
More traction for Money $$$
I'll do what you want me to do…
I'm your private ProCore
No flats for your Money $$$
And most any wheels will do…"
-With apologies to Tina Turner
PROCORE: Two inner chambers (the blue tires), two tubes (with dual air ways), two air channels (red), two bottles of sealant, one bottle of Schwalbe's excellent 'Easy Fit' tire mounting fluid, some high pressure rim tape, and the best plastic tire levers you can buy.
When in 2014 they said "in the future, air pressure can be controlled in the tire's double chambers" you could be forgiven for thinking it was a bold proclamation along the lines of The Future Is Now! The excitement was palpable and there was a great deal of chatter in shops and online. In reality they meant to say 'check back a year or so later' and here we are with production kits available worldwide, and a chance to put your money down and see what the buzz, that started in the 2014 World Cup DH season, was all about.
I'm going to have a look at the installation process for the system and talk to some pro-ProCore folks about what they see as the chief benefit(s) of the system.
All ready to install. My plan: three wheels, three different rim tapes, three different tires, discussing three trains of thought.
Before the kit arrived I hadn't considered myself an ideal candidate for ProCore. I like the damping characteristics of a beefier sidewall so I'm already running fairly aggressive rubber and ~23-to-28psi front & rear setup tubeless is enough to give me adequate traction in the wet, good support from the tire, and to prevent expensive rim contact. And I'm not looking for more weight or complexity. But the more I started to collect information and opinions, the more interested I became.
Wheel #1. Schwalbe's high-pressure rim tape installed. For those just skimming the captions: Stan's NoTubes yellow rim tape worked great as well. Gorilla Tape, while an awesome value for regular tubeless conversions prevents proper air flow into/out of the outer chamber.
In case you missed the hype, let's get you up to speed on ProCore. It's actually really simple and surprisingly easy to install. There is a tube with an adjustable valve that can fill either the inner chamber, which consists of the blue inner 'tire,' or the outer chamber, which consists of your tire of choice and some tubeless solution.
If a wheel rolls in the forest and it doesn't have a ProCore decal, how will anyone know?!
Super nifty ProCore valve allows you to inflate both the outer chamber and the inner chamber separately.
The red rubber insert allows air to transfer around the inner chamber and fill up the outer chamber (your tire of choice).
Where things really get interesting is when you start to ask what ProCore can do for you. If you're an XC racer the short answer is, give you heart palpitations about how much it weighs. I assumed that for me, ProCore's value was limited the rear wheel. Up front, I've had no issues with rim damage, burping, or sidewall support running 25-27psi in a Maxxis Minion DHF 2.3 EXO tire or 23-25psi in a Schwalbe Magic Mary Super Gravity 2.35. In the rear, I run more pressure than I'd like to avoid bottoming on the rim, burping the tire, and flatting. I hate flats. Being able to reduce rear pressure by 3-5psi, from the 28psi I run now, to get superior traction and no rim strikes, without sacrificing support, sounds like pure gold.
The magical inner chamber. It's a bumper that prevents you from bottoming out on the rim. It holds the beads of your tire against the rim to eliminate burping and provide a fail safe if your tire does have a failure. It acts as a volume spacer inside the tire changing how pressure ramps during compression. It provides the option of hours of nerdlicious fun balancing your inner and outer air pressures… it…
It was a chance encounter with a local bicycle wizard named Rick Loader that really got me thinking of ProCore's potential for a trail rider like myself. Rick's key ProCore benefit is the ability to run ~23psi (or less?), get all of the ground-hugging characteristics of a tubeless tire setup, and have the support of the tire beads you get from a traditional tube. And this will only cost you around 200 grams.
Wheel #1 aired up. ~75psi for the inner chamber and ~25psi for the out chamber as a starting point based on other's recommendations. Tire is a Specialized Slaughter Grid. 60ml of Schwalbe sealant inside the out chamber (tire).
Speaking of costs, ProCore sells for somewhere around ~$275 CAD. Wow. But for some folks I know that's going to end up being a bargain when you consider the price of a rim, spokes, nipples and labour to rebuild a wheel. It doesn't take more than two totaled rims to cover off the cost of ProCore. Plus the kit includes Schwalbe's fantastic Easy Fit tire mounting fluid/applicator, for those tires that are stubborn to bead up, and a three-pack of the best tire levers you can buy. Tubeless rim tape and two 60mm bottles of sealant are in the package as well.
Best. Tire. Levers. Ever.
Once the inner tube/chamber are installed the rest of the process is just a straightforward tubeless tire setup. Then air up the inner chamber and then the tire will inflate right up every time. Way easier than many tubeless setups I have performed and definitely no compressor required.
Dave McInnes is a creative wrench who services a lot of aggressively thrashed bikes. He's experimented with the ProCore system more than anyone I know and he offered a unique perspective from his experience supporting privateer DH racers. These are the guys that bankroll themselves traveling all over creation. It can be a hard choice between a winning set up and one that limits the amount of overtime you have to work to pay for wheels/tires every weekend.
I love Gorilla Tape for tubeless conversions. Not only does it work really, well it only costs about $3 for a roll. But leave it in the drawer for your ProCore conversion.
Dave is adamant that ProCore adds significant value to anyone looking to maximize their DH performance, with rim protection being the number one feature. Running 80psi in the inner chamber and experimenting with pressures ranging from 19psi front / 22psi rear all the way up to 30psi front & rear depending on conditions, he has seen riders going from cracking and/or flattening rims every race-paced lap to going whole weekends with minimal truing.
This tiny patch included with the ProCore kit ensures a proper seal for the valve base against the rim tape. Works brilliantly and would be a great idea with any tubeless conversion.
Just as Campagnolo invented the quick release but Shimano perfected it, Dave points out that before ProCore was available, many racers had experimented with various "ghetto" versions of the system by running a road tubular, which acts as a bumper but doesn't lock the tires' beads into the rim the same way.
I arranged for some bench time at the Bike Room to do my ProCore installations. Jeff, the lead instructor, and an experienced racer himself noted that some racers run partially inflated DH tubes with tubeless sealant as a multi-stage fail safe to try and salvage race runs in case of a tubeless tire failure.
Schwalbe can't take all the credit for the idea of ProCore, but they ran with the idea and released a unique and very polished product.
ProCore install #2. WTB i25 rim with Hans Dampf EVO SnakeSkin tire. No word of a lie, it took longer to 'extract' the Hans Dampf from the stock rim strip than to install the ProCore setup.
Handy little plastic tool included to both tighten down the valve core, and replace it as needed, and also to open and close the dual chamber valve settings.
The last of my three ghosts of ProCore's future is Ken Perras of Rocky Mountain Bicycles. In addition to being a solid rider, Ken, as one of the guys tasked with spec'ing bikes to provide the best value for the consumer, has a very keen sense of performance per dollar.
Ken agrees that there is value in the system in terms of prolonging rim life, but has managed to destroy a Flow EX rim by casing his rear wheel. If you case your wheel hard enough something has to give – fair enough. But while the damage prevented the bead from holding and his tire deflated, ProCore meant that his inner chamber held air and the tire stayed on the rim potentially preventing an awkward high-speed crash.
Great insurance if you're racing or pushing your bike to the limit.
What are you looking for? Traction? Tire retention? Rim durability? All of the above? Schwalbe makes some big promises but the more people I talk to who have ridden the system the more excited I am for the possibilities.
Valve body collapsed : open valve core and pump up inner chamber (tube).
Valve body extended : open valve core and pump up outer chamber (tire).
As I am writing this I have a few rides split between two bikes. The first is a front-&-rear setup with a Specialized Slaughter Grid rear tire and a Maxxis Minion DHF 2.3 EXO 3c front tire. The second is a rear only setup using a Schwalbe Hans Dampf EVO Snakeskin tire with a Schwalbe Magic Mary Super Gravity setup tubeless up front.
Installation was a breeze in all cases and I can already speak positively about increased and a more fluid suspension feel. You get a tonne of traction from running less air pressure but you don't get the washy feeling. There is still good support when you lean the tire over.
I'm really looking forward to testing the system through a range of settings conditions and also in checking back in with riders using the system differently than myself to collect their experiences. So, if you're on ProCore yourself I'd be keen to hear your comments below.
For more on ProCore click here…
---
ProCore, huh yeah. What is it good for? Absolutely something…