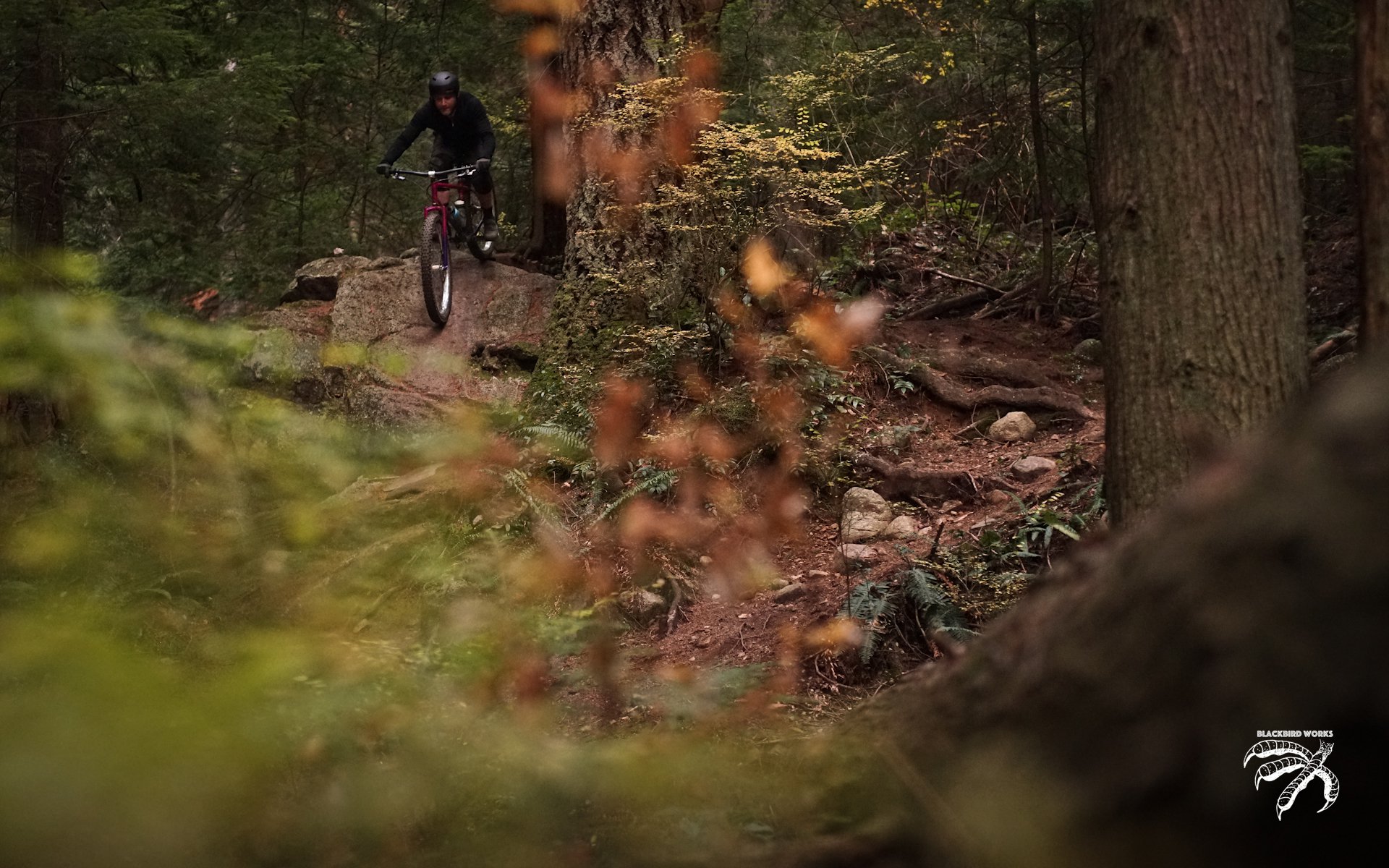 EDITORIAL
Scare Yourself
Bookwus
I was on my first visit to 'The Shore,' pedaling up Mt Fromme on my Balfa MinuteMan* single speed, in search of a recommended trail called 7th Secret when I ran into a threesome of friendly, helpful, assholes named Noodles, IFO, and Dave.
The gregarious bunch tells me that 7th is actually totally clapped out and not worth my time.** Especially for my first ride on the Shore. But there's no need to worry because they're headed up that way and I'm more than welcome to join them. They'll show me the real goods. Because if you haven't ridden Bookwus and Grannies. Well my friend, you simply haven't ridden. Besides, Bookwus comes out on 7th just in time for the best bits.
*Size large, team-only clear-over-raw finish bought used. Beautiful.
**This turns out to be untrue and is certainly not the case today (thanks Pete!)
At that point, my main haunt was Burke Mountain where I thought the trails I rode were rugged, rooted, and steep. Once I confirm the aforementioned trail is all wheels-on-the-ground riding, I'm all in. If there are a couple of steep technical pitches I can't handle, I'm not too proud to walk.
A while later we roll past the traditional exit of 7th Secret just as a rider is starting down a large log ride. The rest of his group is already waiting on the road and we stop to join in the cheers & jeers. The log itself goes fine but he stalls out cornering at the top of the steep rocked-in exit to the road. One foot comes unclipped and then somehow passes through the front triangle of his frame. Then his whole body rotates and he's looking back up the trail. Falling! One backward step, two small hops, and then his feet, still wrapped in his frame, are passing his head in a full-on backward somersault. I close my eyes. There's a lot of noise as the bike and body meet arranged stone and then a loud cheer. He's A-OK.

Phew.

Dave asks if I want to join them again next week. Same time, same trails. Absolutely, I'll be there. I love these trails. I love these trails?
If watching that end-of-7th crash was a shocking introduction to Fromme, it had nothing on watching Noodles, Dave, and IFO hit the first big roll-in on Bookwus. We've barely started down the trail, and I've already walked a few techy moves, when I find myself standing with the guys at the top of a short steep climb staring down this steep composition of rock-face, greasy roots, and dirt.
I'd never walked as much of a trail as I did that day. I slide on my butt down a few features on Bookwus. I carry my bike down multiple Escher-esque rooted sections on Grannies. It is insane. I am terrified. This is mountain biking‽ We continue down and at some point, I ride my bike for more than five meters. We're done. We all laugh. Dave asks if I want to join them again next week. Same time, same trails. Absolutely, I'll be there. I love these trails. I love these trails?
At some point I got pretty proficient at riding Bookwus, generally flowing into Pipeline which has long been one of my Fromme favourites. It feels pretty good to be decent at riding hard technical trails and the trails on Fromme aren't like anywhere I've ridden. And then I move to the Shore.
Years go by, riding priorities change, I find myself riding solo more and more and choosing trails that aren't necessarily easy but at the same time aren't full-on. I crash my bike, sure, but I'm not generally riding anything that gets my hackles up. I haven't ridden Bookwus in years.

Then one dry, spring evening, my friend Chris won't take no for an answer. I need some Bookwus in my life. And some Upper Crippler. And some Digger. And some Lower Boundary. I'm jittery, scared, consumed by what's coming. I'm slow. I walk plenty of stuff. Features that haven't changed at all, that I know I've ridden plenty of times before, and yet remain impossibly daunting. Do I want to join him again next week? Same time, same trails? Absolutely, I'll be there. I love these trails. I love these trails!

2019 has turned into my most fantastic year of riding in recent memory, with months left to go. I leave the Shore less frequently than in past years but ride a greater variety of trails. I clean Bookwus top-to-bottom for the first time in my life and it feels amazing (when I unclench at the bottom). The re-learning curve is steep but the return on stress invested is phenomenal. I'm beyond stoked on riding my bikes.

Apparently I needed to be reminded about a foolproof method for stoking the fire: Scare yourself.