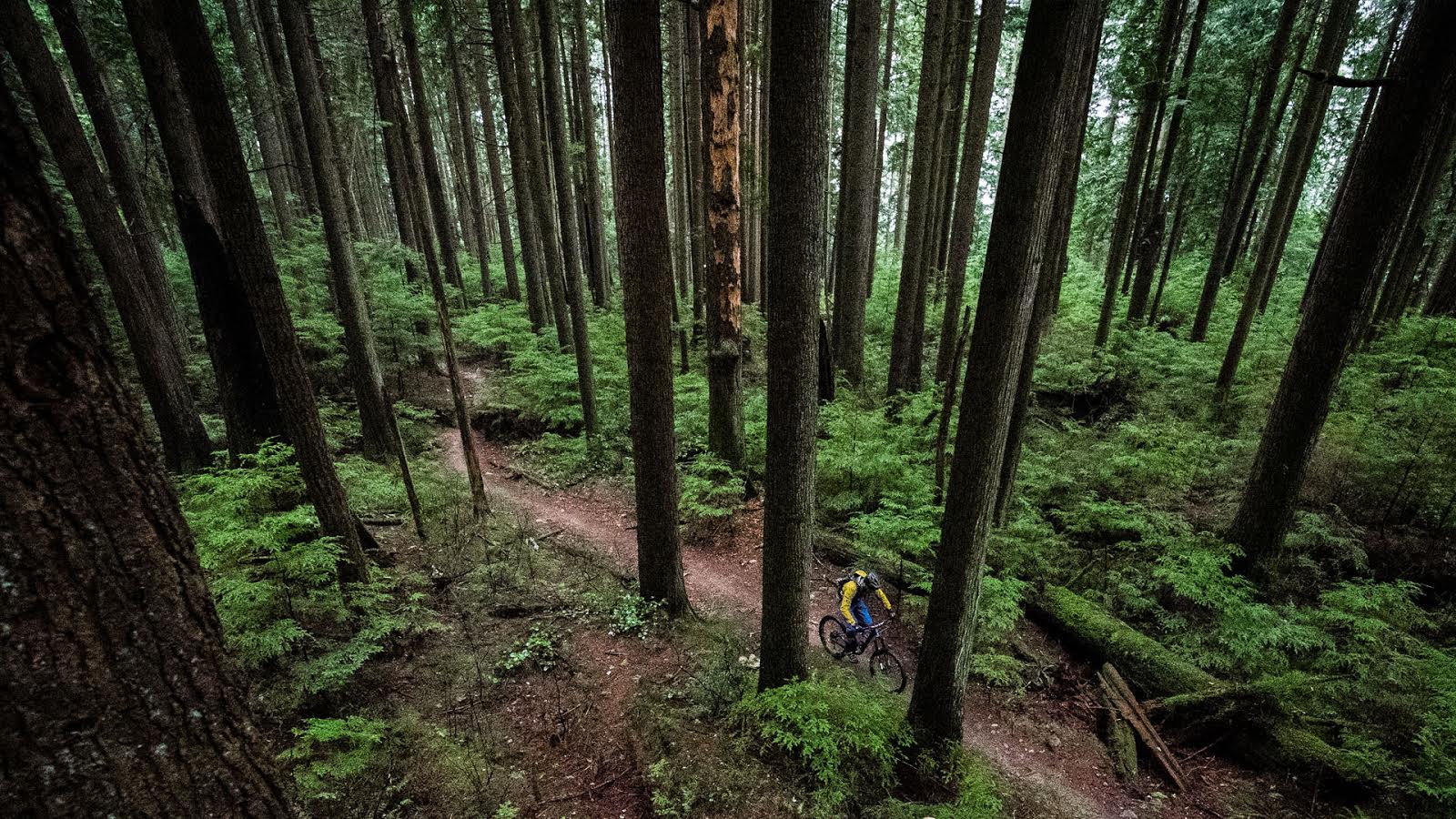 Save Your Hands? Spank Vibrocore Bars
Relative Stiffness
Some mountain bikers always want more stiffness.
How much more? All the stiffness. 20% more on top of the 20% more than last year. The stiffness brigade may not be crazy enough to think Giant's Overdrive-2 is a good idea but almost. I don't have both feet on that bandwagon.
Why are we talking about stiffness? This is ostensibly a look at a pair of identical looking Spank Spike handlebars. But, I think the best way to highlight what I'm talking about is to reference two other cockpit choices that are more commonly talked about. Both carbon. Chromag's BZA and Easton's Havoc. Both bars are 800mm wide and have 35mm clamps.
The Chromag, which I've ridden on the ThunderVolt, has got to be the stiffest bar on the market. Combined with Chromag's 35mm stem, the front triangle of Rocky's Thunderbolt frame with Shimano's XTR wheels, the reasonably stiff Fox 34  fork was the flex point in the system. Comparatively, the Easton Havoc carbon is actually very forgiving.
I'm not saying one is better. I know impressive riders who swear by one or the other. But it's a notable difference on the trail.
Aluminum Bars
I'm with Cedric Gracia in my preference for alloy bars, or more accurately some alloy bars, over carbon. I perceive the ride quality to be better and I take less of a sh*t kicking. Particularly on shorter travel bikes. Nothing scientific, but I went into it in greater detail in my Renthal 35mm Fatbar review.
I bring all this up in introducing the Spank Spike bars because their relationship to the Renthal parallels the Chromag BZA vs. the Easton Havoc. The Spike, with its 31.8mm clamp, is the stiffest aluminum bar I can recall using.
And that is entirely by design.
Spank Spike
Spank's 'Super-6' aluminum is a specially blended, highly magnesium-silicon enriched, work hardened alloy… It is ideal for the creation of thin walled, super stiff handlebars."
Spank's theories behind the Spike bars is straight forward. To start off with, they sponsor elite gravity racers and riders. Stiffer handlebars mean more precision. When Spank claims the Spike line is "super stiff" they aren't messing around.
For folks like myself who suffer from vicious arm pump on longer crunchy descents an extra $20 (USD) and 30-grams of weight, over the Race model, buys the Vibrocore version of the Spike. As tested by the likes of Tracey Hannah and Brett Tippie these bars are meant to combine that massive amount of stiffness and "to combat the debilitating effects of hand-arm numbness and arm-pump" while also providing "vastly enhanced fatigue life".
They may use the term "carbon killer" in their marketing…
Geometry of the bars is identical with an upsweep of 4° and a backsweep of 8° across the sizes.
Spike's Spank 800 Race bar is 800mm wide, has a 31.8 clamp, and is available in four rises: 5mm, 15mm, 30mm, and a massive 50mm. All models run with an SRP of $80 (USD).
The Vibrocore version retails for $20 more and forgoes the 5mm rise option. It's available in 15mm, 30mm, and 50mm rise options. Suggested retail is $100 (USD).
Premise & Methodology
I laughed. I was reading an intelligently crafted – if baseless – critique of Spank's Vibrocore marketing. Something along the lines of buying a can of spray foam and filling a handlebar to get the same benefits. Chuckles aside, Spank makes some bold claims about the damping effects of their "complex foam core".
The joke is actually on me because when I pitched the idea of a bar-to-bar test to gauge the potential advantages of Vibrocore they were gung ho.
I do not have access to a bunch of machines that prod, prick, smash, tweak, twist, twiddle, or thwack handlebars whilst creating data. Even if I did, I'm not an engineer of German descent.
My plan? Ride both bars back-to-back on as many different bikes as I could get my hands on. Notice any difference in ride quality. Write about it.
Vibrocore Claims
Vibrocore is a complex, low density, foam core that Spank injects into bars. It is purported to do everything short of providing a sensual post ride forearm and hand massage. No one is claiming it is 'suspension' but the idea is to reduce hand fatigue and arm pump by damping "vibrational energy".
In Spank's own words:
The result is a handlebar that feels incredibly strong and rigid, AND acts to reduce impulse and vibrational fatigue… Vibrocore™ handlebars enhance tactile sensitivity between rider, bike, and terrain, while reducing fatigue."
Vibrocore Realities
The Spank Spike bars are the stiffest aluminum handlebars I've ridden. They rival most carbon bars. It is notable out of the saddle twerking the bar around. It's notable smashing down rocky trails. And in the case of the Race version its notable in my hands under those conditions.
The difference between the Vibrocore and Race bar was noticeable particularly after long descents on shorter travel bikes or hardtails. On the Nomad I didn't really notice the benefits during a ride but I always felt less fatigued afterwards on the Vibrocore version. For long shuttle or bike park days on the big bike the combination of stiffness and relief could be ideal.
Looking for the stiffest bar available but not wanting to feel like you've been beaten with it? The Spank Spike delivers. It is definitely worth the extra 30 grams and $20 compared to the Race model.
Choices
The ideology behind Spank's bars is nicely summed up as they differentiate their Vibrocore bars from the competition:
…competitors have been forced to design unwanted flexibility into their bars"
Vibrocore Spank Spike bars are monstrously stiff but also quite comfortable to ride. Anyone looking for the stiffest possible cockpit without the budget, or acceptance of carbon bars, to purchase a Chromag BZA would do well to consider them. The fact they are 31.8mm is also a bonus given my collection of stems.
On shorter travel bikes, and hardtails, I prefer the ride quality of the aluminum Renthal Fatbars. I take the 'ride quality' of those bars to be by design as opposed to a bit of flexibility that is unwanted. On longer travel bikes with big tires, the Spank Spike Vibrocore was excellent, and certainly an improvement over Spank's Race bar.
---
How do you like your stiffness served?