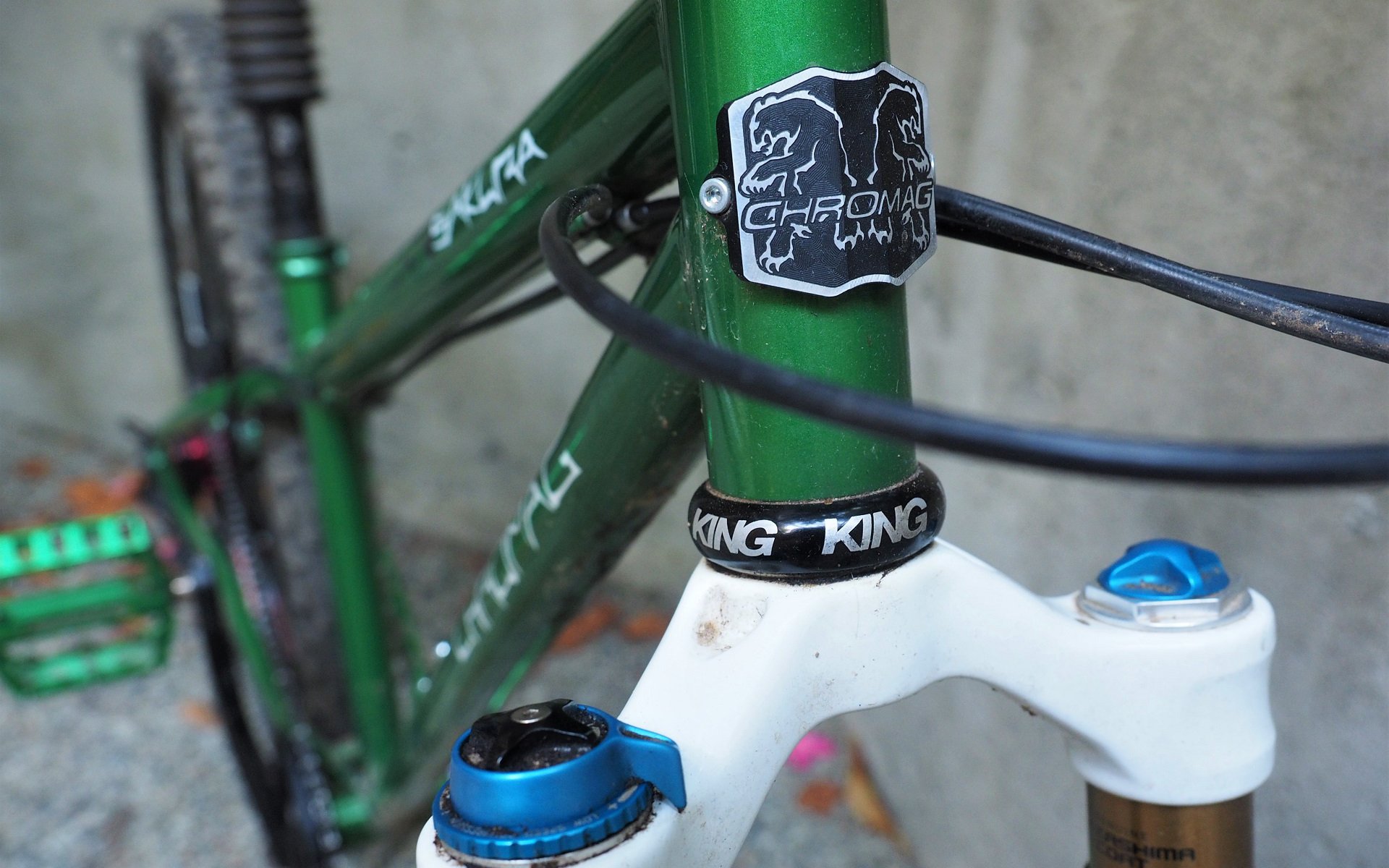 EDITORIAL
Save Us SRAM (and our bikes!)
The Precipice
Mountain Biking faces a pandemic of slow rolling inevitability. An unprecedented mass extinction like nothing the sport has ever experienced. The global potential for millions of dollars in lost equity. A complete re-ordering of a system that has been in place since the day after the sport was invented.

As of this year there are no longer viable options for 1-1/8" suspension forks at a modest price. Whether you blame Manitou for pushing oversized 1.5" steerers 15 years ago or Trek for introducing Tapered steerers in 2007, the slow death of the 1-1/8" suspension fork spells certain doom for thousands of otherwise perfectly fun-tastic mountain bikes. Some of them are classics and some of them aren't even a decade old. For others, beloved steel and titanium frames, it means painful and expensive surgery to install 44mm head tubes, rigid-fork commuter duty, or a life of slow decay, all but forgotten in a crawl space.

There is only one company with the product penetration, price points, rider-driven direction, and - dare I say - panache to save us, and even make a few dollars doing it. SRAM, we need a hero - will you answer the call?

This is mountain biking's "let them eat cake" moment. Not everyone can afford a new Super Boost Carbon 29'er, and even 'cheap' bikes often don't touch the potential value on the used market. Environmentally their production debt is paid, and in many cases they are invested with significant emotional attachment from their owner.

Some are beloved bikes that have been a singular companion for years and others are on their second or third owner. Some have been passed down to kids getting into the sport and some are being called on for the first time in a decade to answer the call of the mountains.
And many are in great working condition save for creaking, squeaking, leaking, and shrieking suspension forks. Long unsupported with small parts, even if the chassis' are safe for use and the owners have been diligent with maintenance, these forks could only take so much. Marzocchi, Manitou, RockShox, and even Fox* forks are destined for the recycling bin without replacement options available.  This spells mass extinction for durable platforms like the classic Heckler, Hustler, Stumpjumper, Slayer, Nomad, SX Trail, Knolly Endorphin and Transition Preston, and that's just bikes I've noticed in June.

*Who has long lost the luster of once-legendary legacy product support.
The Pitch
All I'm asking for is a few SKUs. Take some current forks that straddle the price vs. performance value curve, insert a 1-⅛" steerer tube, and save these bikes from a fate worse than cracking.

The majority of the soon to be abandoned bikes are 26" wheeled machines, with a few shorter travel 29'ers thrown in there, but I'm not asking you to reinvent the wheel. 26, 27... close enough right? Let's start with three existing chassis:
RockShox Judy Gold 27.5" (100mm, 120mm) at 380 USD. 

RockShox Judy Gold 29" (100mm, 120mm) at 380 USD.
RockShox Revelation RC 27.5" (120mm, 130mm, 140mm, 150mm, 160mm) at 650 USD. 
But wait, these are Boost forks?  Include a 10mm axle spacer and it's easy enough to re-dish the existing wheel to fit if its 15mm. Most 20mm hubs have conversion end caps. Forcing a rider to ditch their QR front wheel is certainly the lesser of two evils. And, as an added bonus the new fork investment will be easily transferable to a new trail bike with Boost spacing in the future.
How are you going to press a straight 1-⅛" steerer tube into a crown meant for a 1.5" to 1-⅛" tapered steerer? To keep production costs low, take an existing crown steerer unit (CSU*), press and bond in a permanent 1.5" to 1-⅛" reducer, and press in the 1-⅛" steerer from there. Wait, what am I saying? SRAM makes truly rideable suspension forks that sell for less than 400 USD. I'm sure they don't need my help to make a 1-⅛" version that maximizes the use of current components.

*The pressfit assembly of two stanchions, the crown, and steerer tube.

Still too much to ask? Let's start with the Revelation. It's a high-value platform that would fit 90% of the bikes in questions. You already make everything needed except for the 1-1/8" steerer CSU and the included you-don't-have-to-buy-a-Boost-wheel-yet spacer. Or offer your own version of the Problem Solvers universal Booster kit. It might work out to being cheaper than a basic 10mm spacer and labour for a re-dish. 
We all get a boost from stoked teenagers boosting away on the best bikes they can convince their folks to go halfers on. It's one minute to midnight for a lot of these bicycles and you hold the keys to keeping many a machine in the mountains.