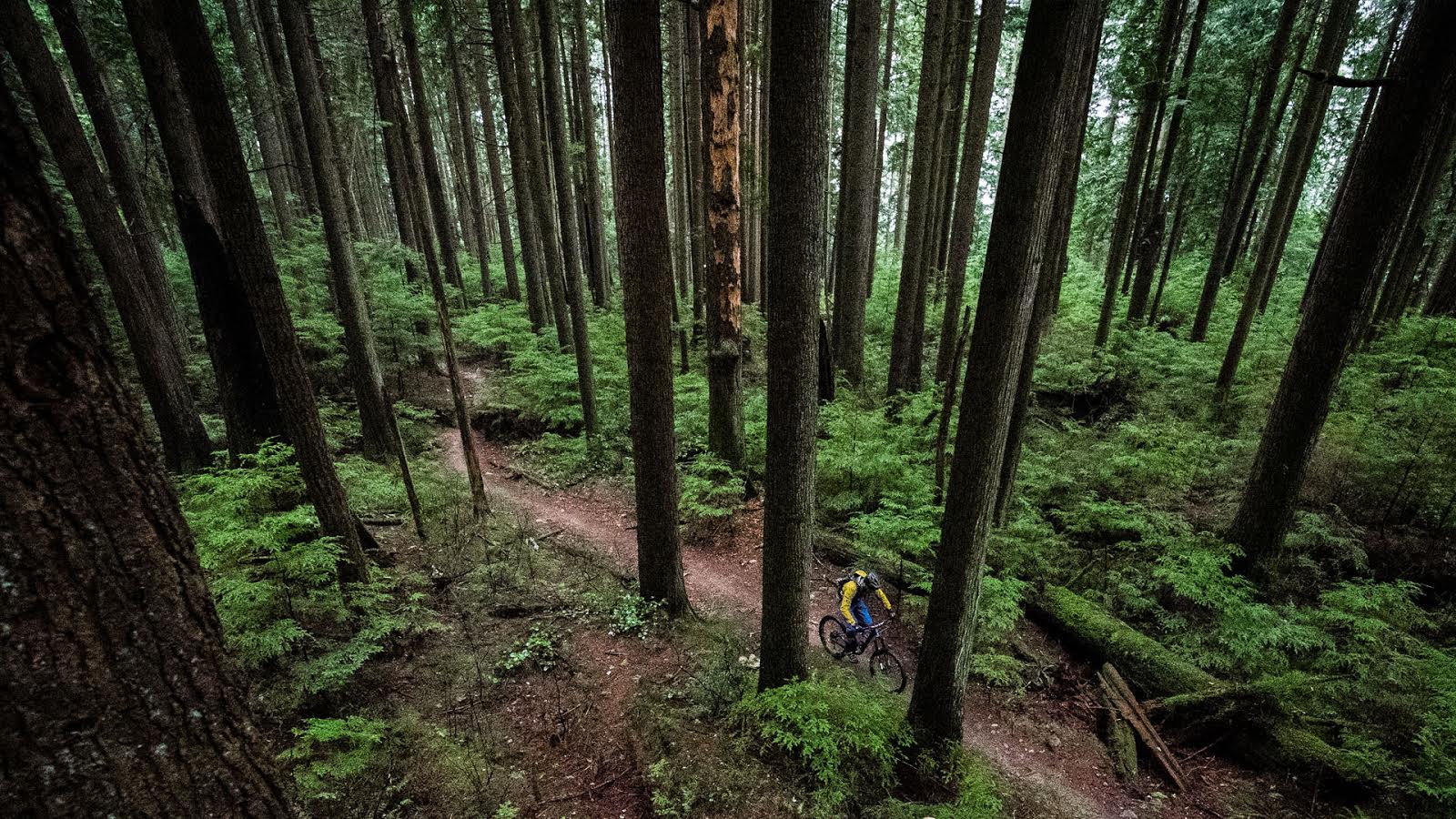 Santa Cruz V10 C and CC long term reviews
We tried something a little different with the test of the newest Santa Cruz V10. Rather than put one bike under one rider, we put two bikes under two riders. You can read about the first impressions of the bikes from Tim Coleman and Mike Wallace as well as more details spec and product photos here. They rode, raced, and occasionally chased each other all summer aboard the bikes – making sure to swap back and forth once or twice in order to do a true comparative review. Their thoughts are below. Tim's first, and then Mike's.
---
We'll start with Mike's description of the differences between the two rigs:
I was lucky enough to be able to spend the summer testing not one but two of Santa Cruz's latest DH race offerings. Santa Cruz is offering the latest generation of their DH speedster – designed and refined around 27.5" wheels – in two specs, the V10.6 C and the V10.6 CC. The boys from California have gone one step further than simply changing the parts spec on the same frame. The C and CC models actually have different frames. The CC is made with a higher grade carbon layup which results in a frame up to 0.8 lbs lighter than the C. The CC also comes with a higher end parts spec including carbon ENVE wheels, XO1 drivetrain and the top tier Fox 40 Float. Make no mistake, both the C and the CC are meant to be top end race bikes with the C priced at over $7,000 in Canada. The CC believe it or not comes in over $11,000 CAD (with E13 wheels), or north of $12,000 with Enve wheels.
Tim's words:
I was recently asked to ride and review the new Santa Cruz V10CC. I peed myself a little, nodded exuberantly and mumbled something in Neanderthal that roughly translates to "f*&k yes".
I'm going to preface this review with a few notes. I'm a washed up never was downhiller that has been racing downhill for 12 years. I'm an engineer by trade and love nerding out on anything mechanical. For me doing reviews on top shelf products like the V10 CC is love-hate. I love riding the bike, but the reviews are almost always lose-lose. If I'm critical I'm a biased douche, and if I'm full of praise I'm a fanboy. However I think this one will be different.
On to the bike, and let's take this from the top. First impression, the new V10 is bite the back of your hand pretty. Santa Cruz has done a phenomenal job of the simple yet striking paint scheme and whether from afar or up close every detail has been beautifully executed. I love the integrated fork bumpers, down tube protector, chain stay protector, integrated grease ports, the head tube badge, the rear brake mounts, gosh I could go on for hours. For the nerds, here are some key technical frame features:
Full carbon frame and swingarm
216 mm (8.5 inches) of rear travel
650B / 27.5 inch wheels
63.5° / 64° head angle
2.75" stroke rear shock
Sizes: S, M, L, XL
I think the geometry of the V10 has been wonderfully judged and well-balanced. The head angle, bottom bracket height, chainstay length, seat angle, reach all seemed appropriate. Sizing wise I'm 6' tall and likely as tall as you'd want to get on the Large frame. Ideally I'd be on the XL per Santa Cruz's recommendations. The angular contact bearings make complete sense from an engineering perspective, and result in stiff pivots. The cable routing looked funky at first, but worked well with no kinking, no tight radii, and no rubbing or tapping on the frame. This is a thoroughly well thought out frame.
I'll start off with my review of the full spec V10CC version, which I rode in size Large, which retails for $12,299 CDN with specification highlights as:
| | |
| --- | --- |
| Fork | Fox 40 Air |
| Shock | Fox DHX RC4 Factory Kashima |
| Wheelset | ENVE M70 rims on DT Swiss 240s hubs |
| Tires | Maxxis DHR2 27.5 x 2.4" 3C |
| Drivetrain | X01 DH 7-speed |
| Crank | Race Face SixC |
| Handle bar | Race Face SixC |
| Brakes | SRAM Guide RSC |
The parts spec is top shelf from axle to axle and leaves little to be desired. The bike weighs a svelte 34 lbs with a steel spring on the rear shock and tubes. Get yourself a Ti spring, go tubeless and you'd easily have a sub 33 lb. downhill race bike. The Fox RC4 rear shock was excellent. I settled on a tune I liked quickly. The knobs were easily accessible and easy to turn, and each click made a noticeable change to the ride. The supplied 450 lb/in spring was too soft for me, but thanks to Evolution Bikes in Whistler I was able to borrow a 500 lb/in spring that was perfect for my 180 lbs (cheers Trevor and crew). I love the Race Face SixC bar and stem combo, and the DHR2 tires are excellent.
So the part you've all been waiting for; how does it ride? In a word: fantastic. This bike simply does everything well, I absolutely love it. I had thoughts of skipping the country just so I don't have to give it back. Does Costa Rica have an extradition policy? The V10 CC accelerates with ease out of corners whether you're mashing the pedals, or pumping through a rhythm section. I'm surprised a bike this neutral over square bumps can pedal this well. Whether fast or slow the V10 gobbles trail, but effortlessly takes flight when asked.
Maybe due to the lighter weight the V10 CC had a sense of being feather light and nimble, yet a complete axe through rough ground. I found myself over-jumping everything, and having to routinely scrub the lips on trails like Dirt Merchant. It's just so fast everywhere. The bike never seemed to get out of shape, and never reacted in an unexpected manner. I've been riding 27.5 inch wheels on my trail bike for some time now, so that may have eased the effortless transition from my 26 inch DH bike to the 27.5 V10. I don't notice any downsides to the larger wheels, and the bike seems to hold great momentum regardless of how rough the trail is. Some have expressed concern that these new big wheel machines may be less agile.
However I found the V10 CC to be surprisingly agile, easy to flick from side knob to side knob, and nimble getting in and out of corners. I was a little concerned the bigger wheels may not be as stiff as 26 inch wheels, but even smashing the bike into tight corners resulted in no negative flex that I could perceive. I quickly found myself exploring the limits of traction and comfortably letting the back end step out in fast flat corners. Not only did I feel fast, but according to the super accurate Strava, I set personal best times on nearly every segment in the Whistler Bike Park, including tight trails like Ninja Cougar.
Build wise there were two things I didn't love: the Fox 40 Air and the brake pads. I started out hating the fork, but after 4-5 days it started bedding in, opening up, and I found a compression damper setting that I liked. I feel like this fork was developed for World Cup racers, even after break-in the 40 Air feels over-damped to me. The 40 seemed to struggle to generate grip on flat, rough corners and felt a bit harsh on the high speed trails at the Whistler Bike Park. Maybe I'm soft, but I drive a desk for a living and moisturize often. For reference I left the progressivity at the supplied setting, rebound 8 clicks out, compression ~20 clicks out on both high and low speed and air pressure at Fox's recommended 69 psi. This gave mediocre small bump compliance, and good support on the steeper trails.
I will say that on steeper, gnarlier tracks the 40 Air was fantastic, eating industrial strength bomb holes with great control. On the plus side the spring and damper curves of the 40 Air perfectly matched the rear of the V10 CC, which lead to neutral handling when deeper in the travel. Ultimately I didn't love or hate the 40 Air, but it would probably be the only major part of the bike I'd change. Well, that and the brake pads. Dear brake manufacturers, please ship your brakes with metallic brake pads. Stop this nonsense. Who likes the organic pads anyway? Literally not a single person I know. Charlie Sponsel, why hasn't there been a Team Robot post on this issue? #amateurhour
For the frame specifically I had only two points of criticism: chain slap and shock size. The chain slap on the new V10 is loud. Ok it's very loud. The chain protector is made of hard plastic and does little to damp the impact. I've talked to some folks and apparently Santa Cruz is aware the chain protector can be loud and have already implemented a piece of weather stripping under the protector to reduce the noise. I'm sure this could easily be done yourself. Next up: Santa Cruz has flip-flopped on shock sizing. The original V10 was 2.75 inch stroke, then she went to 3 inches for a bit and now back to 2.75 inch. Word on the street is the 3 inch stroke shock didn't fit in the new 27.5" frame. In reality this makes little difference in performance, the bike rides awesome, but I'm grumpy because none of my springs and shocks fit.
A blurb on the ENVE wheels. These are nice wheels, really nice even. They are certainly light and look mighty fancy, I also like the DT Swiss hubs. But I can't say I felt they were substantially faster / stiffer / better than DT Swiss hubs with a good alloy rim. I think the hidden nipples are silly, requiring removal of the tire to re-tension. That said, after 6 days of smashing the Whistler Bike Park the wheels are arrow straight and haven't required a re-tension (a first for me). While these seem to be great wheels, I'm cheap, and I don't think I could justify the added $2,000 (an upgrade from alloy wheels to Enve costs $1,200 USD, which is almost $2,000 CAD at current exchange rates -Ed).
On to the V10 C then, which will set you back $7,299 CAD or $5,699 USD (stupid Canadian dollar). Component spec highlights include:
| | |
| --- | --- |
| Fork | Fox 40 Performance Elite |
| Shock | Fox DHX2 RC2 |
| Tires | Maxxis DHR2 27.5 x 2.4" 3C |
| Drivetrain | Shimano Zee |
| Crank | Truvativ Descendent |
| Handle bar | Easton Havoc |
| Wheelset | DT Swiss FR 570 on Novatec hubs |
| Brakes | SRAM Guide RS |
After the first 30 seconds on the V10 C I was looking around for cameras to catch my reaction, "is this Candid Camera?". The fork on the V10 C I reviewed was a 2015 spec Fox 40 R and to say it was disappointing is an understatement. Who at Santa Cruz rode the Fox 40 R and thought, "Oh yes, that's quite nice, we should spec that …"? There was no compression damping adjustment, and admittedly too soft a coil spring. Somehow the compression damper produced virtually no low speed compression damping, but still managed to be harsh over high speed bumps. Spec'ing a fork this miserable, which requires at least a $500 upgrade to have any hint of reasonable damping, on such an expensive bike is comical. Folks spending north of $7,000 on a bike are going to expect a half decent fork. Further baffling to me is how Fox produced such an abysmally bad product when their competitors all make relatively good inexpensive downhill forks. It is obvious that Fox have identified the flaws of the Fox 40 R, and the new V10 C's come with the 2016 Fox Performance Elite, which does have a low speed compression adjuster. I haven't ridden the new fork, but based on the Fox 40 R I'd highly recommend a test ride before purchase, then again I doubt it could be any worse.
The remainder of the more price-conscious V10 C was excellent, that is besides the organic brake pads, and horrendous chain slap. The wheels are a reasonable workhorse, the rear shock was good, and the drivetrain didn't miss a shift. Like on the V10 CC I'd prefer the Code on a DH bike, but the Guide brakes are sufficient. Thumbs up for the good tire spec, and nice wide handlebar.
Those of you who've been around NSMB.com for some time probably know that I'm more critical than most. The biggest niggle for me on the V10 is the price. For the cheaper, but still expensive $7,299 V10 C I'm hoping the new Fox 40 Performance Elite is better than the Fox 40 R I tested. The V10 C has a lower build spec for the same price as many of its competitors, yet the components seem well chosen and the V10 C is a very capable, durable, and light DH bike. The V10 CC is silly money as far as I'm concerned at $12,299 CDN, but one can't deny it's a fantastic bike, with a similar build kit to what I'd pick for my personal ride.
I'm not sure discussing value for money is really applicable for a bike like the V10. It's like discussing value for money on a nice scotch. Sure $50 of cheap stuff will get you buzzed, but it's never really as nice as a bottle of Ardbeg is it? No one is going to google over your bottle of Glenfiddich 12, brah. The V10 is expensive, and in reality it probably isn't faster than something cheaper, but it is just so nice. You will love this bike, sometimes you will just sit and stare at it, you'll feel like Greg Minnaar every time you ride it.
My critiques:
The chain slap was loud,
I'd prefer a 3" stroke shock,
Who rides organic brake pads anyways,
I would probably replace the dampers,
My strategy of parking next to a more expensive bike at the GLC for after ride buckets doesn't work anymore.
The V10 is beautifully made, feather light, stiff, fast, agile, a joy to ride, and everyone looks at you like you're a total boss. It's the total package, golf clap Santa Cruz. I'm out, I have an unplanned flight to Costa Rica to catch.
---
Mike's words
Riding, racing and testing these bikes has been an absolute blast because as already mentioned the VPP suspension equipped V10 design has been highly refined the last several years. This is not a radically new bike design where there was any potential for missing the mark. Santa Cruz has been winning World Cups on this bike for many, many iterations and generations.
Actually it's probably hard to claim that you are an unbiased tester when you have the last 3 generations of Santa Cruz V10's in your basement. However it is very easy to claim you are spoiled and have high expectations.
The biggest differences between this latest generation of V10's and the previous are the lack of a 10" mode, the new adjustable head angle (0.5 deg) and of course the new 27.5" wheels.
Let's start with a review of the V10.6 C parts spec.
The highlights of the C spec package are Fox 40 R (coil sprung, not air) fork, Fox DHX RC2 rear shock, SRAM Guide brakes, DT Swiss 570 rims and a standard 10-speed Zee drivetrain.
I will start right off by saying there has been a lot of grumbling about the C costing $6,000 and being outfitted with a less than top of the line fork. I have to admit I feel the same way. The coil sprung Fox 40 R feels fine until things get really rowdy. Then the lack of any sophisticated damping becomes apparent very quickly. The fork is plenty stiff enough and works fine in fast bermed-out bike park trails but simply cannot smooth out rough and fast sections of trail. When you come in fast to a harsh landing or g-out it almost feels like the fork needs a second or two to settle down before the next section. Not very confidence inspiring.
The rear Fox DHX RC2 rear shock is also not quite an RC4 but it does work well. I think this is one spot where Santa Cruz successfully saves a little cashola without compromising the mission.
SRAM Guide brakes have been a great leap forward in lever feel, dependability and adjustability in my opinion. Santa Cruz has actually spec'd these brakes on both the C and the CC. Their website says the C comes with the RS versions and the CC with the RSC but both bikes that showed up at the NSMB control tower in North Vancouver had the top of the line RSC's. I absolutely love the way these brakes feel. However, they are not ideal for serious DH riding and racing. I found that on long descents I would get some brake fade with the lever moving ever so close to the handlebar as the run went on. This is very unsettling for those of us that like to run the lever close to the bar to start with. This happened on the rear brake of both bikes. It would improve with a bleed but eventually come back. At one point while racing a BC Cup at Panorama I switched out the brakes for Codes. The fading problem disappeared but I really missed the lever feel of the Guides. So the question is, when is SRAM coming out with a full DH version of the Guides?
The drivetrain on the C is a 10 spd Zee derailleur and shifter matched up with Truvativ Descendent cranks. While the cranks are not too sexy they are all you need to win a World Cup DH race. The derailleur set up is definitely another weak spot on this bike. The drivetrain is both surprisingly and disappointingly noisy. The large diameter carbon rear triangle amplifies noise. In a successful effort to provide a stiff rear end, Santa Cruz in my opinion, had a little bad luck in that the design is very noisy if 'knocked' upon by the derailleur or chain.
Over the summer I spoke with many other new V10 owners and saw a lot of different attempts to remedy the problem. Some riders are of course just adding more dampening material (foam, rubber, etc) to the chainstays. Some got fancy and added a layer of material under the molded rubber piece that fastens on to the chainstay. Others replaced the Zee derailleur with the heavier duty Saint derailleur. I can say for sure that the V10 CC with the 7 spd SRAM X01 DH derailleur is quieter. Although still not as quiet as is deserved by a bike of this caliber.
The wheels on the C are DT Swiss FR 570 rims matched up to Novatec DH series hubs. Novate is a relatively recent and welcome addition to the high performance hub market. The hubs on the V10 C proved to be trouble-free for the summer. The DT Swiss FR 570 rims are strong and functional. For racing though I would prefer a lighter setup such as the DT Swiss EX 471's. If you are so inclined and spend hours analyzing photos of DH bikes in the pits of the World Cup races you will see many bikes, including Mr. Gwin's, running the 471's.
The V10 CC parts spec is very different. I need to start by saying the V10 CC is really a thing of incredible beauty. The black inlay on it is very sharp and helps to give the bike a sleek appearance. When combined with the ENVE M90 carbon rims and Race Face SIXC carbon cranks this bike really turns neck-braced and D3-adorned heads.
The CC comes with the top of the line Fox 40 Float RC2. By now most everyone knows this is a lightweight, incredibly stiff, high performance fork. This fork can win races. The downside to this fork I found is (still) the lack of small bump compliance. Racers are used to living without suppleness but one day it would be nice to ride a fork that could provide big hit handling, the ability to stay high in the travel and still have a little small bump compliance at the top end for braking bumps and other miscellaneous chatter inducing terrain.
The XO1 DH drivetrain shifts extremely well. I loved the simplified chain line, crisp shifting and easy adjustments, although I must say that adjustments were rarely needed with this 7 spd X-Horizon system. There is one glaring problem with XO1 DH derailleurs that SRAM needs to fix: the derailleurs work themselves loose from the derailleur hanger. This is a very common problem for both the 10 and 7 spd set-ups (I own both on different bikes) and can create all sorts of issues if you don't stay on top of it. Even red Loctite (more grip than the regular blue often used by bike mechanics) doesn't solve the issue. I also found the b-tension screw would slowly work itself out as well, however this was minor compared to the derailleur working its way off your bike during your DH run.
The ENVE M90 rims are an option/upgrade on the V10 CC. These rims are not only light but are bullet proof. I still, after a summer of bike parks and racing, have not needed to true them or adjust the spokes. This is incredibly impressive. Personally I would not spend the needed mountain of cash on these rims simply because of how difficult it is to change tires. More than once I had to change over to mud tires in a hurry on race weekend and without Greg Minnaar's personal mechanic around to help out it was a giant pain.
The tires on both the C and the CC are the Maxxis Minion DHR2's. These are a great tire for the steeps. They are not particularly fast rolling or particularly good in the mud but they are an excellent all around rubber choice. For bikes of this performance level I don't believe it really matters what the bikes are spec'd with anyways. Riders who buy these bikes already have strong preferences for which tires they want to run.
Riding and Racing the V10
Compared to previous generations the slacker head angle and larger wheels make this bike an even faster, more stable sled. At first I must admit I was disappointed to hear the V10 was no longer actually a V10 but only a V8.5. However, dozens of rides later, it is obvious that the increased slackness combined with the larger diameter wheels and modern shock design have made the 10" mode obsolete. One of my favourite attributes of the previous model V10s was how forgiving they were at speed. The new model has retained that ability while at the same time improving pedaling efficiency and agility.
I found the adjustable geometry to be a great feature for racing. For example, the Whistler Bike Park BC Cup DH race had some particularly flat tight corners. I made a point of trying this track in both the steeper (64) and slack (63.5) positions and really liked the steeper set-up. Of course for the steep Kootenay tracks like Panorama the slacker set up was awesome. I should also say here that the improved damping of the Fox 40 Float over the Fox 40 R made the tight rooty corners much easier as well.
The lighter overall weight of the CC vs the C of course makes a difference. It could be partially psychological but I found the very light weight (less than 35 lbs) of the CC made it easier to sprint and move the bike around in general.
The external cable routing has been much appreciated this summer. These bikes are designed for racing and racing involves a lot of cable and brake changes.
A couple random comments for thought…
I am not sure if it is a function of the rear suspension of these new V10's or the increased wheel size but I suffered significantly fewer rear flats this summer even though I rode with tubes. This is even more impressive considering that you cannot buy 27.5 DH tubes yet. So even running XC type 27.5 tubes I only had a couple of flats throughout the entire summer. Sounds like someone needs to do a thesis on increased tire contact patch vs flats.
I also found that with the larger wheel size I appreciated being clipped in much more. My theory is with the larger and therefore heavier wheel size that being clipped in makes more of a difference to bike mobility under the rider than it does with the smaller 26" wheels.
To sum it up…
The Santa Cruz V10 is one of the best DH race bikes you can buy. This has been proven time and time again. Riders now have a choice of two different carbon frames depending on their budget. The spec of the CC version is much better but of course you have to pay for it.
My feeling is that the quality of the frames has really jumped ahead of the available parts, especially in the drivetrain department. Hopefully we see some improvement here in the next couple years. Until then riders looking for the best will need to choose the best spec level they can afford and then make parts changes as needed.
---
No word on Tim's return from Costa Rica. Thankfully we seized the bike before he left…