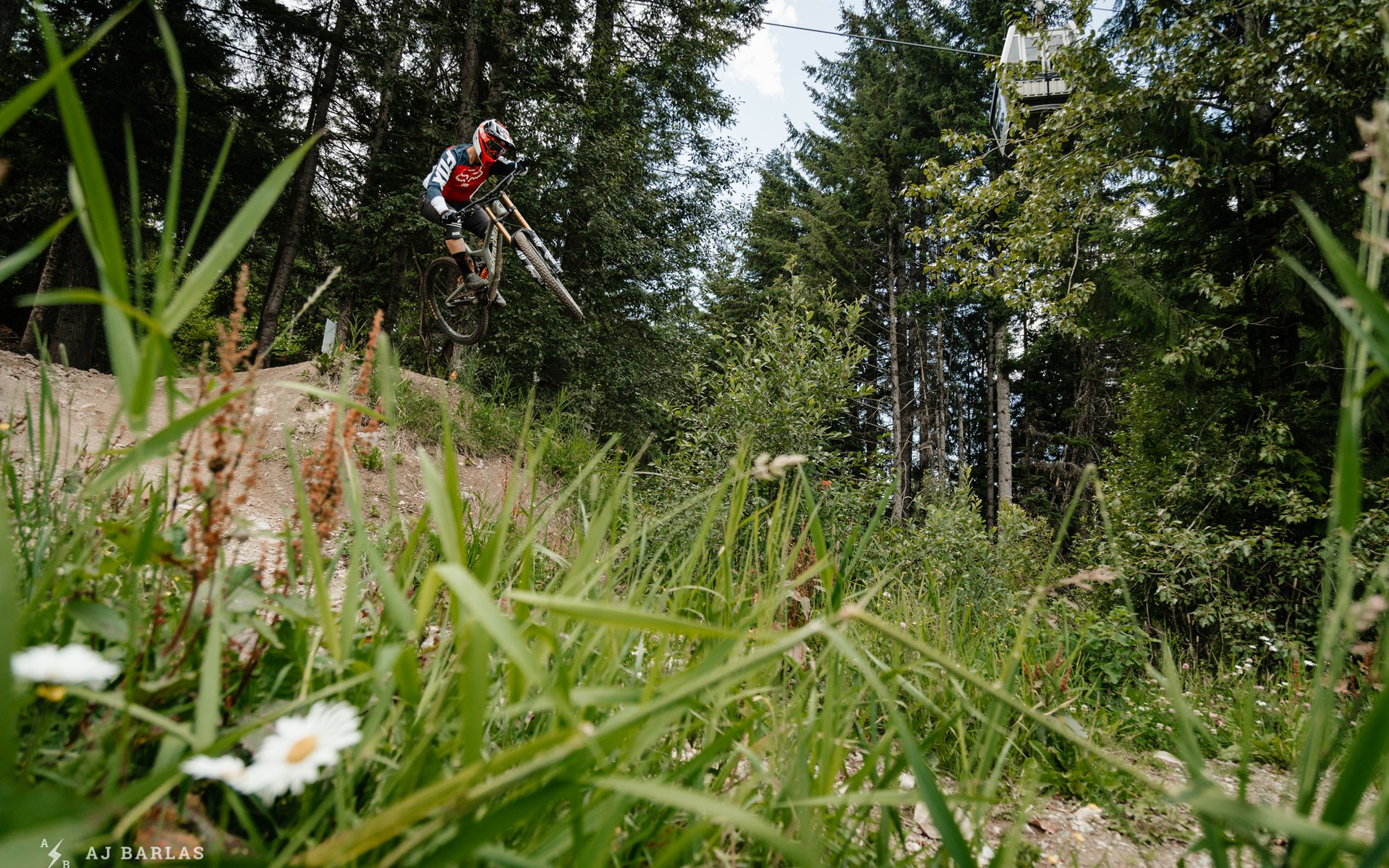 Long Term Review
Santa Cruz V10 29er
Sizing
When I was offered to test the V10 I was undecided on size. I'm 6' tall with a short inseam and long arms. The XL looked monstrous. A quick chat with Seb from Santa Cruz and it was decided that the XL was the right choice. Gulp. The full geometry is available on the Santa Cruz website here. My concerns quickly faded once I started riding the V10, the XL was the right size for me.
Bike Setup
Stem Reach: Long
Chain Stay: Short
Geometry: Low
Fork Pressure: 82 psi with 4 tokens
Fork Low Speed Compression: 6 clicks out
Fork High Speed Compression: 10 clicks out
Fork Low Speed Rebound: 5 clicks out
Fork High Speed Rebound: 5 clicks out
Shock Spring: 550 lbs/inch with 1 turn of preload
Shock Low Speed Compression: 6 clicks out
Shock High Speed Compression: 11 clicks out
Shock Low Speed Rebound: 7 clicks out
Shock High Speed Rebound: 10 clicks out
Front Tire: Maxxis Assegai DH 2.5 WT MaxxGrip at 21.5 psi with Cush Core
Rear Tire: Maxxis Assegai DH 2.5 WT MaxxGrip at 27.5 psi with Cush Core
Component Highlights
Given that this is a Gucci build, it's not surprising that I liked pretty much every aspect of this V10 29er. Of the entire build the Fox 49 was the standout for me. I've been critical of the older RC2 damper in the Fox 40 and the 36, for a couple reasons I never loved that damper. But I think the Grip 2 damper is marvelous. The Grip 2 allows me to run a bunch of low speed compression damping, but have a relatively open high speed compression circuit that produces great support under braking and cornering, without any high speed harshness. The Grip 2 rides firm when you want it, but generates good grip in rough sections. The air spring curve was near perfect for my taste, giving enough suppleness around sag, while remaining progressive enough to resist bigger loads. The combination allowed me to run a stiffer spring rate and damper setup than I'm used to, which provided better control and stability. But at the same time the effective high speed damper circuits kept the fork easy on the hands and generated loads of front end grip.
The SRAM Code brakes and XO1 drivetrain (with Race Face SixC cranks) were excellent as always. These were almost unremarkable in the sense that they get the required job done so efficiently and without fuss you almost forget they're there. Well chosen goers and stoppers here.
The Maxxis Assegai tires were excellent. I like the way these tires excel in the dry / loose over hardpack conditions. I ran these all summer, and elected to race them at all the downhill races I contested this year.
I liked the house-branded Santa Cruz handlebar, stem and grips. The combination made for a cohesive cockpit package that worked well together. I liked the shape of the bar, and stiffness level of the setup. Even the graphics package is well-judged here. I ran some Race Face Grippler grips for the majority of review period to be consistent with my other bikes, but I think the Santa Cruz grips will work well for most folks.
The only components that could use improvement are the Race Face ARC 30 HD rims, which are on the softer side. I was tensioning and truing these wheels after every day in the bike park. The upshot is these might save you some tires, but the rear wheel was full of character by the time I gave this back (sorry Seb!). While this is already an expensive bike I'd personally spring for a set of high quality carbon rims.
Ride Impressions
So here's the part you've probably most interested in. How was the V10 to ride? Geometry-wise I found the new 29er V10 darn near perfect for me. I loved the long wheelbase, and found the weight distribution in the bike spot on. I was initially a bit nervous to ride a bike of this length; it's the longest bike I've ridden. But I adapted quickly and soon appreciated the room to move around. I could easily move my weight to load each tire predictably and at will. I tried all the permutations of geometry options on the V10. Other bikes feel a bit short to me now. I preferred the low setting which made the bike feel more stable while still having ample pedal clearance. I liked the chain stay in the short setting, and the stem in the long setting. This biased my weight forward, which helped getting the front tire to bite in corners.
Given the long wheelbase at 1316 mm, and the 29-inch wheels, I correctly predicted the V10 29er was going to be incredibly stable at high speed. But I thought the trade was going to be difficulty turning, especially on tighter trails. And it just wasn't. Down the famously tight Ninja Cougar in the Whistler Bike Park I couldn't believe how fast I was able to get the big bike through those corners. There were so few spots where I thought the length was a negative, I can't recall a single one. So maybe it'd be too long for super technical trails you ask. Wrong again. The V10 is so comfortable and generates so much grip it makes everything technical feel a grade easier. I rode some features I'd been wanting to do for years on the V10, and they felt easy. Huge jumps that used to scare me, almost felt a bit small. Blasting down to the Comet Trail at Silver Star doing 79 km/hr I was thinking about what to have for lunch. This bike shifted my paradigm more than any other bike I've ridden recently.
Santa Cruz won't release the suspension kinematics for the V10.7. I think this might be because the V10 doesn't have the most anti-squats, or the most rearwardnesses, or the most progressivities, or whatever current in vogue metric the keyboard warriors are banging on about this month. Looking at any of these metrics of the V10.7 is probably unremarkable. Santa Cruz went through a methodical development plan trying scores of links to settle on the current V10.7 kinematics. The result is a bike that isn't a master of any one portion of the track. It's well measured and well judged, providing a good overall platform. It pedals well, it's neutral under braking, and it never seems to lose its composure when things get rough. It might not have the bump eating characteristics of the high pivot bikes, or the ultra firm pedal efficiency of some others. It seems to sit in the middle of many design characteristics, resulting in a formidable overall design.
Santa Cruz claims the V10 weights in at 35.4 lbs. After adding some pedals and Cush Core, and this crept up closer to 37 lbs, which is mighty impressive. The light weight of the V10 helped keep the bike feel agile regardless of its size. I'm not a weight weeny, but I appreciate the well thought out build that saved weight without compromising performance.
Frame stiffness wise I can only comment on the 29er XL as I didn't get to ride other sizes or wheels. I liked the torsional and lateral stiffness of the V10. When leaned over in a corner I could feel a small amount of compliance that aided traction. Torsional stiffness was spot on for my weight. While there was a slight witness mark of the rear tire touching the stays in extreme events, the back end of the V10 felt stiff enough. The V10 always felt precise snapping through corners and never felt harsh or overly stiff. Sprinting felt firm and efficient, and I didn't notice any unwanted flex.
Issues
This is the part where I talk about all the issues. But I'm grasping here. Sometimes the V10 makes a little squeak under severe bottom out. I can't figure out what it is, but I've heard it on another V10 too. It's irritating that your buddies know when you bottom out, which is quite a lot for me. The Race Face wheels are probably a bit soft, as I mentioned, and think there could be an improvement here. I'd like a brighter colour option please. I like my bikes how I like my sports cars; loud. Also it's expensive at $10,799 CDN, but even then it's not out of line given the quality of the frame and the build. Oh, and it's not very good at teeter totters.
Conclusions
I really enjoyed my time aboard the V10 29er. We went through a lot this summer, and this bike will hold a special place in my memories for a long time. Of all the review bikes I've tested, I think this one was the hardest to give back. You could almost say it's too good, and makes everything seem easy. But but then I'd say you're just not going fast enough. The V10.7 unlocked technical moves, jumps and speeds on trails I didn't think I was capable of. Exploring the limits of this bike was terrifying, yet always comfortable some how. The V10 29er feels like a big carbon safety blanket saying, "Don't worry bro, I got ya."
I'm mad Santa Cruz won't share the kinematics data, but it doesn't matter. The geometry and suspension kinematics work together making a cohesive package that works well just about everywhere. It's a beautiful thing to look at, and I love all the little design details on the frame. The V10.7 proved to be light, appropriately stiff, and faultlessly reliable. I didn't think I'd be here writing to say this thing was worth the $10,799 CDN asking price. But I think it is. It's better than the sum of its parts. The winningest downhill bike in history shows no signs of slowing down, and gets two thumbs up from me.