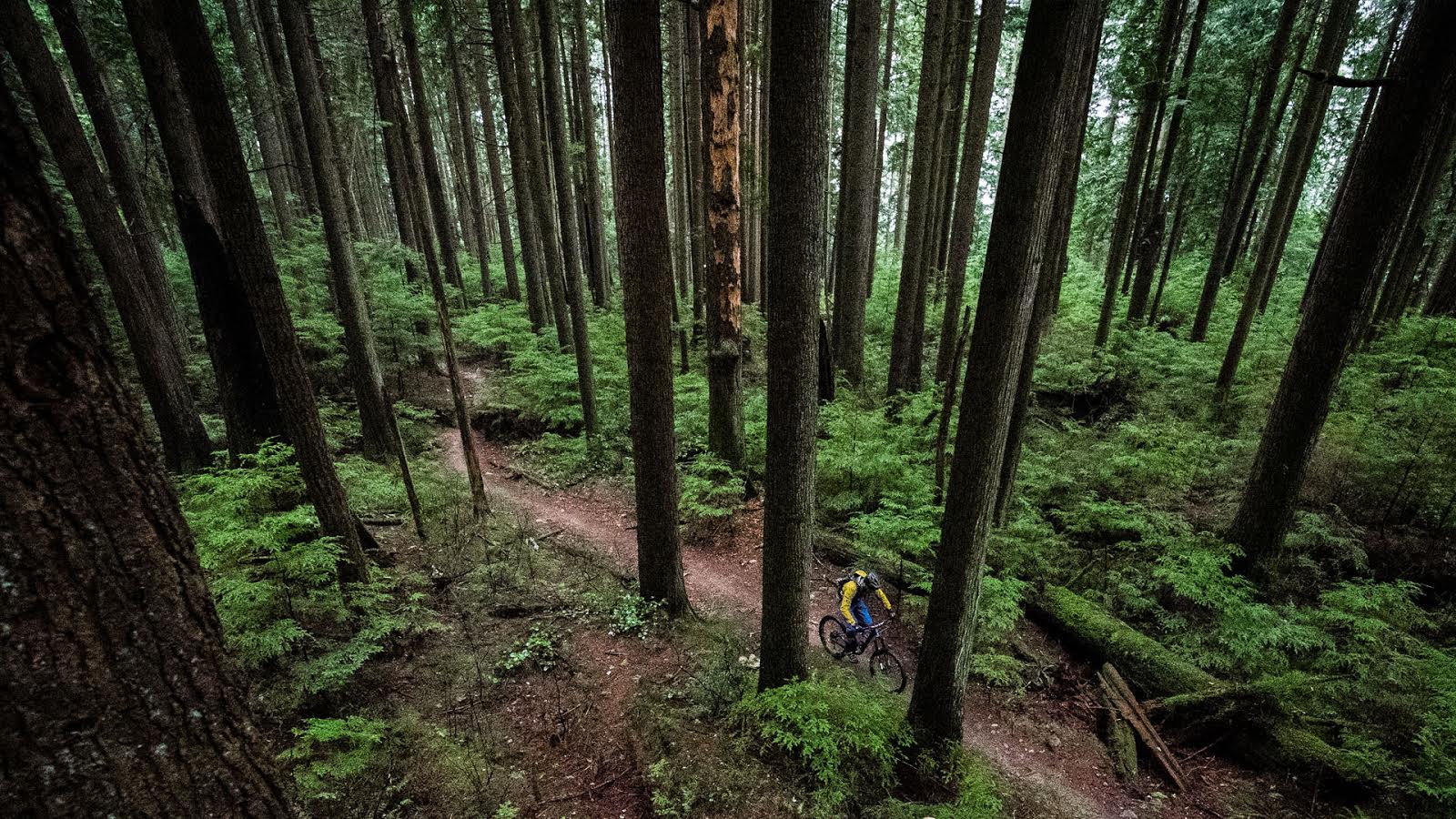 Santa Cruz Tallboy 3 CC – Review
There is a formula to determine whether you are the sort of rider who likes to be under or over-gunned. And that might swap for you depending on the day. Terrain, age, ego, competitiveness (highly correlated to ego and age), fitness and risk aversion are some of the variables in this equation. The birth of the quiver means this formula is applied to every ride for many riders. The biggest factor of course is… are you racing today? Mike Levy wrote a funny and insightful piece on this subject, arguing for propping up your weaknesses in a racing situation. Lungs like Richie Rude with Sumo Wrestler finesse? Get some real tires and decent suspension, and vice versa.
Much of the day we shot these photos was spent with weight on the front wheel. That's the Cypress Bowl riding experience.
If we are honest, most of us who ride with buddies are racing on every ride, if only on the way down, enduro style. Otherwise why would we be so obsessed with the minutiae of our builds and the tune of our suspension? If we didn't like to push the limit and challenge ourselves we likely wouldn't be mountain bikers. Sometimes that requires bringing a pea shooter to the gun fight and other times you need the Bazooka.
For most of the test I rode the Tallboy as a 29er (as pictured here) but for the last few weeks she's been rolling plus.
In a year that was full of surprises, the Tallboy III was a shocker for me. 110mm of travel in the rear? Only 120 up front? Around here that's petite for an XC bike. The Tallboy is the shortest travel bike in the Santa Cruz lineup. It has a 68 degree headtube in the low (29er) setting, a relatively low-slung 330mm BB height and a generous 624mm top tube. And it weighs a little over 26lbs sans pedals with this spec.
If this was my bike I'd name her Honey Badger. Not surprisingly, speed and flow made the Honey Badger smile.
As I mentioned in my first impressions of this bike, I wasn't immediately drawn to the idea of riding a pinner 29er in our neighbourhood. It's almost impossible to go on a ride on the North Shore without hitting some World Cup DH-worthy downhill. I generally aim to ride a bike that is light enough to climb adequately but burly enough that I survive the most challenging trails we descend. I'm not racing so I ditch Levy's wise counsel and play to my meagre strengths. That means low, slack and 150 or 160mm up front and 140 or more in the rear on a 27 or at least 130 on a 29er. The TB 3 is lighter and steeper than the bikes I usually ride and it gives away 20+mm of rear travel. Going in I figured there would be a few trails I'd be comfortable on and many I'd be humbled on, particularly with a 120mm fork.
Steep was welcome on the TB3.
Santa Cruz Tallboy 3 CC XX1 (29er mode)
The numbers don't tell the story on the trail, however. The Tallboy rides high in its travel while dealing nicely with small amplitude hits. When the time comes to deal with bigger issues the Fox Float Factory (with EVOL air can) responds willingly but with good support. My experience on earlier VPP bikes, like the Blur TRc, was that travel felt shorter than it measured. The Tallboy gives the opposite impression because the rear wheel movement is so responsive and well controlled.
Another issue I perceived with earlier VPP bikes was an indistinct feeling in the middle of the travel, making it feel glued to the ground even when you wanted to leave the earth. The Tallboy 3 has excellent mid-travel support, firming up nicely when high amplitude hits are absent.
Snow up high has forced us to ride trails outside our heavy rotation and it's been refreshing.
Bendy Bits
Early in my 29er conversion, I was negotiating tight corners like they were strewn with baby heads and broken bottles. It takes more effort to angulate a bike with bigger wheels and I eventually found that getting my weight further forward is essential (more on this when we talk Plus). It took some repetition on some particularly tight trails to get the feel, rolling through slowly and doing it again and again while gradually gaining pace, but it now feels natural to me. Correcting your line to get out of trouble or to cut things tighter is generally tougher on big wheelers but they hold a line beautifully. The TB3 has the tracking benefits of other wagon wheelers I've ridden but with added agility. Recomposing on an unfamiliar line to set up for the next action is easy and intuitive. This bike is a weapon through the turns allowing me to get exactly where I want to be. At least that is the case in 29er mode.
Cypress is the North Shore peak with the nastiest trails. It's rocky and exposed and steep. Honey Badger don't care. All the action photos were shot with the bike in Plus mode.
Agility
I've been hearing about the mythical 'flickable' 29er for as long as these bikes have been around. And I was skeptical for a long time. Seeing Greg Minnaar bend a 29er to his will did nothing to ease my skepticism. The bikes have changed and I have learned to ride them, but the Tallboy sets a new standard for me – particularly in Plus mode. It willingly changes lines and gets off the ground. The lightweight frame, roomy cockpit, short rear end and generous standover all contribute to the zesty character.  I've had this impression of a few other big wheelers lately (speaking of Groundhog Day) but the TB3 sets a new standard for me.
I gave this line an approach on our slippery filming day but I put my foot down. The ground collapsed and I almost rolled backwards off the rock rider's right of the tree concealing my rear wheel. Pete came to the rescue just before I slipped off. #myhero
Going Up
I don't have a wealth of comparison when it comes to recent trail bikes. In terms of travel, the closest bike I have ridden lately is the Trek Shremedy we tested last year. It has 130mm in the rear but 150mm up front and it's significantly heavier so really my baseline isn't well established. That said this bike goes up like a demon. The long cockpit and steep seat angle put me in a comfortable attack position. I arrive at the top earlier and in better shape. It handles tight switchbacks easily and devours vertical like you've got a hidden motor. I didn't use the climb switch at all prefering a little compliance but even out of the saddle efforts were rewarded with little sense the rear damper was working against me.
A short climb on Pull Tab got me out of the saddle.
Down
Seventh Secret* was the first trail I rode on the TB3. One of the oldest mountain bike trails on the North Shore, it winds down from Fromme's 7th switchback alternating between tight and janky and relatively flowy. There are some sections where putting power down is essential to lowering your Strava time** so it has a little of everything. On the TB3 on my first run, I felt like I rode the trail faster than I had before. It was so much fun that I kept going back to it and gaining speed. This combo of moderately rough, twisty and with only reasonable incline (for the Shore), let the bike shine. It is stable and precise in a straight line and I have often enjoyed moments where the bike started to feel weightless beneath me.
Janky moves went down surprisingly well on the TB3 but it gets to the next level on faster terrain.
The TB3 is a competent descender on steeper more technical singletrack and it surpassed my expectations repeatedly in these situations, but the advantages of the platform become more apparent when speeds increase. This is a fast bike that chews up undulating and modestly rough terrain and carries momentum incredibly well. The 68 degree head angle in 29er mode is slack enough to roll over square edges without slowing you down yet steep enough to be a quick handler.
By this point the challenging part of this line is done. I've looked at this before but I'd never had the nerve to hit it before this. To my right is the drop to flat line for any aspiring Danger Dans.
Competent may not be generous enough considering some of the lines I ended up on with the TB3. On a Cypress ride last week we tipped into S&M from the top, a punishingly steep and tight collection of high exposure switchbacks and everything went fine. I even rode a line lower down (photo above) that I've never had the nerve to tackle before. And I rode it twice for Dave Smith's camera. Much of this confidence comes from the knowledge that the combo of the stiff frame and the high performing Fox 34 will point me exactly where I want to go.
On my first few rides I had an issue with the Eagle rear derailleur being reluctant to shift to the 50t cog on the trail, despite working perfectly on the stand. Some tinkering with the limit and B-tension screws and securing the internal shifter housing corrected the issue and it's been flawless ever since.
Plus
I crossed an unexpected threshold the other day. For well over a month we were riding on snow. Hard snow, soft snow, wet snow, good snow and shitty snow. During that time I swapped between 29er wheels and those fat mid-sized wheels known to me as 27plus (screw the .5). The unpredictable and foreign conditions, so strange and often wondrous, pushed wheel and tire size below the level of what could distinguished. Noticing tires would have been as unlikely as walking in space and discerning the wicking properties of your boxers.
Roots and rocks get smaller with Plus wheels. And grip on many surfaces is enhanced, particularly loose conditions, but I find rock slabs and and wood planks more slippery with most of the Plus tires I have used thus far.
I also rode a Kona Wozo fat bike and the Chromag Primer Plus that Pete has been testing to further confuse the issue and normalize these preposterously wide and bulbous tires. I rode straight through the transition from snow to slush and finally to dirt, taking the days of the pineapple express off, on 2.8″ wide tires. Maxxis Rekon to be specific. But by then these were just the tires I was riding. I no longer noticed them as unusual. I just noticed how much fun I was having.
These big knobbed Terrene Chunk Plus tires were 3.0s and they had generous side knobs – leaving little clearance.
So Plus snuck up on me rather than making a grand entrance as it has in the past. And the bike I was riding with Plus tires, with out-sized traction and control, just felt like a mountain bike. In order to really notice what Plus added to the experience, I needed to swap back. These photos were taken on my second last ride on the bike and two days later I swapped the bike back to 29er*** and rode the same trails again.
The Easton ARC 40 Rims are true Plus width at 40mm internal.
The return of the cold weather changed the conditions some, firming up the ground and exaggerating the difference, so this wasn't a perfect back to back but the difference wasn't dramatic. What I noticed immediately was the firmer tires' reluctance to roll smoothly over bony ground. The Plus tires (run at 16psi front and 20 rear compared to 24 and 28 for 29er) gave an added layer of compliance. This allowed me to ramp the small bump compression on the fork so the two elements weren't competing. Shortly after I began riding in 29er mode I twisted several clicks out of the fork's small bump compression and things began to feel better.
Tall Cans uses the terrain incredibly well. It meanders through an open mossy forest in a way that discourages DH bikes.
Plus Vs. 29er
In Plus mode I felt more confident getting off the ground and I was more apt to find little hits on the side of the trail and get rowdy in my own modest way. On steeper and more challenging sections of trail I felt a little more confident as well, but this difference was less pronounced. Climbing was clearly better in 29er mode on Minions compared to the beefy Terrene 3.0 rubber. The stock Maxxis Rekon 2.8s were excellent and, unlike the Terrenes, there were no clearance issues.
After I sorted out one early issue the entire spec was flawless. The fork was brilliant, the SRAM Level Ultimate Brakes were perfect and there was nothing I wanted to change. And after this test I am officially addicted to SRAM's Eagle drivetrain with its 500% range. And Santa Cruz's choice to run the rear brake line externally is excellent.
Lately I've spent a lot of time wearing winter riding gloves but the day prior to our photo shoot was warm enough for regular riding gloves once we got lower on the mountain. In Plus mode the winter gloves felt fine but on the cooler day once I swapped back to 29, having more material between my hands and the grips was challenging because I was feeling more impacts from the ground. I actually had to grip harder with the conventional rubber and my control was compromised.
The Terrene Chunk 27.5 x 3.0 on the left (both photos) compared to the Maxxis Minion DHF 29 x 2.3 (right). Photos – Cam McRae
Cornering was different in the two modes as well. As I mentioned earlier, I need to get my weight up front to corner a 29er effectively, but in Plus mode I felt like I could ride the rear wheel more, in my mind looking exactly like Josh Bryceland goofing around with the 50:01 crew. I'm not sure if one is faster than the other but Plus mode feels more rad.
Rider: Cam McRae | Location: Cypress | Trail: Upper Tall Can
My preference would be to have two sets of wheels for this bike so I could swap back and forth. I think in most situations the bike is slightly faster downhill with 29″ wheels, but on more challenging terrain I felt more confident on Plus. If forced to choose I guess the edge goes to 29 because it climbs so well, but the fun factor of Plus tires is a huge draw. If I was buying a TB3 new I'd buy it as Plus to get the 130mm fork and pick up a set of 29″ wheels.****
Am I gushing? I absolutely loved this bike, which makes my job much harder. Complaining about issues is much more straightforward, but the Tallboy 3 had me smiling in both configurations. For the riding I do close to home, this bike wouldn't be my choice as my only bike, but it would be a brilliant second bike and one that I would take with me travelling most places. This is a versatile, fast and capable trail bike with world class climbing attributes and a thinly veiled mean streak. It may look unassuming, and your riding buddies will think you've brought a knife to the gunfight, but you'll know better. Throw anything you want at it because it don't give a shit – just like the Honey Badger
The Santa Cruz Tallboy 3 CC XX1 Build costs $10,599 here in Canada (US$7799 £5399 ) Tallboy C models start at $4849CDN (US$4599 £3499) and aluminum models begin at $3549CDN (US$ 2599 £2699 ).
 —
*Thanks to the work of Peter Morin the trail is running better than it has in years and probably faster than ever.
**I don't do Strava.
***When I swapped from 29er to Plus I swapped in a 130mm fork as Santa Cruz recommends and turned the flip chip to the slack setting but when I swapped back I left the 130mm fork installed.
****The frugal Scotsman in me likes the idea of having a swappable hardtail (like the Chromag Primer) and a swappable duallie, moving the wheels from on to the other getting four modes with two sets of wheels without having to swap rotors or cogset.
---
Bazooka or pea shooter?