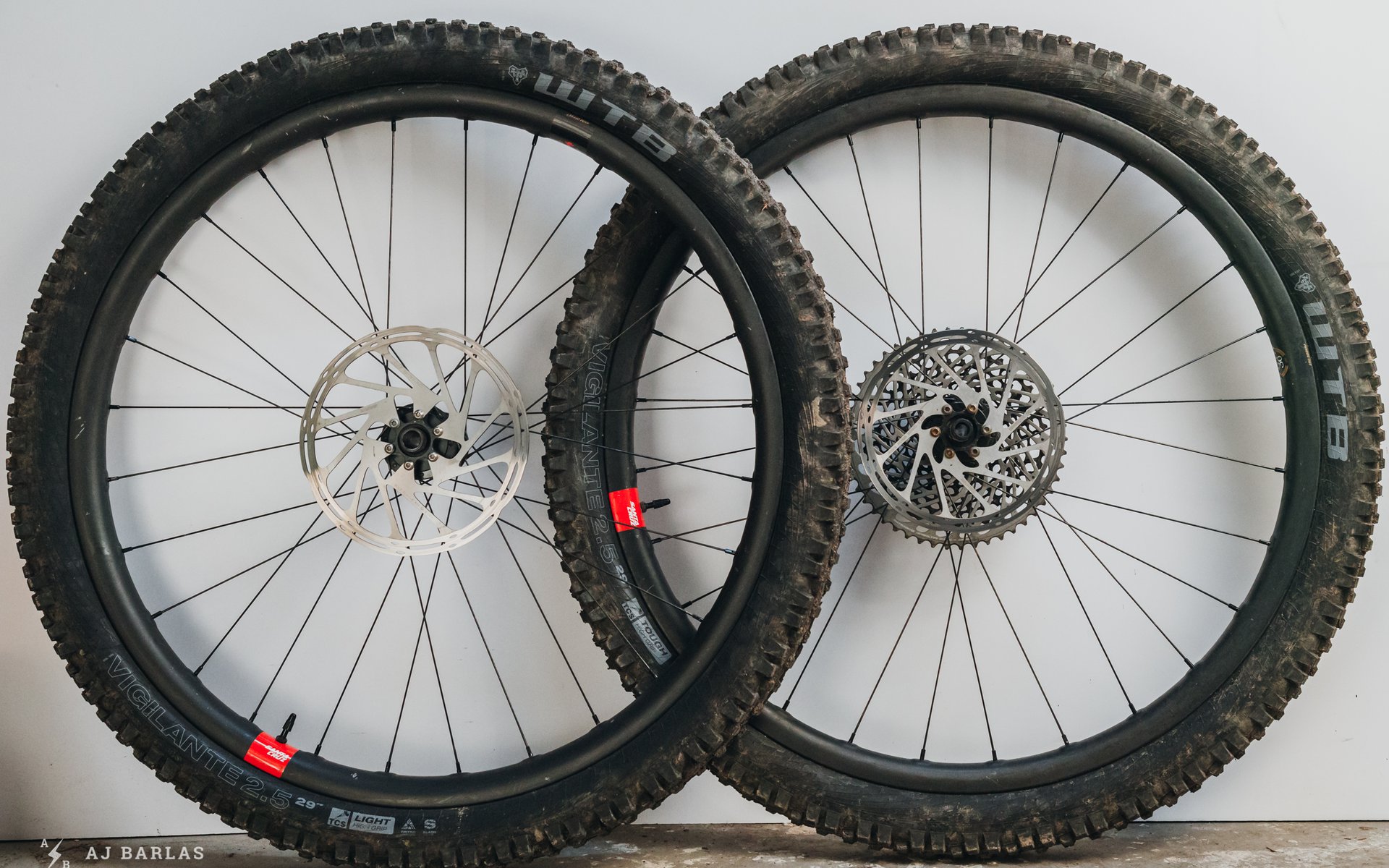 Long-Term Review
Santa Cruz Reserve 30 Carbon Wheels Reviewed
Santa Cruz Bicycles supported their June 2017 Reserve carbon wheel release with a bold claim: 'The Strongest Wheels on the Market.' They supported the claim with a video featuring Danny MacAskill doing everything he could to destroy them. It took him a long time and a number of large hits sans tire to make it happen but he did eventually succeed.
Many of us won't come close to the force Danny was putting into the rims. To last as long as they did with his antics is bloody impressive. Still, if a customer were to break a rim, Santa Cruz stands by a lifetime warranty with the promise of a speedy turnaround. They're off to a great start.


The Devil's in the Details
The wheels were released with 25, 27, or 30mm internal rim widths in either 27.5 or 29-inch wheel diameters. Not long ago a big daddy 37mm internal width option was also made available. Perfect for those running 2.5–3.0-inch wide tires. Santa Cruz has made simplicity a priority and there are no proprietary bits included. The wheels are built with j-bend spokes and have externally accessible nipples that feature a mechanical lock for increased durability. Both front and rear, the wheels feature 28 spokes. With carbon generally being stiffer than alloy, the lower spoke count could help balance compliance and strength.



Highlights
Wheel Diameter: 27.5 and 29 (tested)

Internal Width: 25, 27, 30 (tested) and 37mm

Hubs: DT350 (tested), I9 Torch or Chris King

Asymmetric profile and angled spoke bed

Externally reinforced spoke holes

28 spokes front and rear (J-bend spokes)

Lifetime warranty

Weight: 1,831g (claimed for the DT350 29" x 30mm tested)

MSRP: 1,599 USD (DT350), 1,899 USD (I9 Torch), 2,199 (Chris King)

There are three hub options to choose from, starting with the more wallet-friendly DT350 tested here. At 1,599 USD they represent relatively good value, especially considering the lifetime warranty. Cheaper carbon wheels are available, but they can lack the compliance and comfort that some of the pricier options have. Weight for the 29" x 30mm option is a claimed 1,831 grams, an admirable amount. Are there lighter wheels? Yes. There are alloy wheels that at similar weights too, but carbon rims are generally undaunted by the force required to leave a significant dent in aluminum.
Santa Cruz claims to have spent significant time on the rim layup and design. The outcome is an asymmetrical rim with external spoke reinforcement and an angled spoke bed providing even tension around the nipple, all with durability as the end goal. Asymmetrical rims create more equal spoke tension, which results in a stronger wheel and the use of externally reinforced spoke holes helps ensure accurate drilling.



During testing, Santa Cruz found the spoke holes became a weak point so the external reinforcements were added for extra strength. The goal is for the  nipple or j-bend spoke, both easily replaced, to break before the rim to save customers cash and hassle. SCB also wanted to address a point of failure they had noticed in competing wheels. They found many rims are tested and manufactured to absorb impacts equally across both beads. In practice carbon rims typically fail due to a hard strike to one side of the rim. It's something I've personally experienced a number of times and despite hitting the Reserve's on one obstacle harder than any other, they live on.
SCB developed a layup that includes what they say is one of the thicker rim beads on the market; each bead is up to one-millimetre thicker. Adding material to the bead and using external spoke hole reinforcements allowed Santa Cruz to use less material elsewhere in the layup. This effort keeps weight in check and is said to provide a more compliant wheel.


Ride Quality
Historically, many carbon wheels provide a harsher ride than their alloy counterparts. The stiffer properties of the carbon hoops typically transfer more trail feedback to the rider. With each carbon wheel release we see improved ride quality, but have any reached the comfort of a well-built alloy wheel? The Santa Cruz Bicycles Reserve 30 carbon wheels come mighty close.
In a straight line, the Reserve 30 wheels provide a stiff feeling. Vertical forces through the wheel amount to more feedback than some of the competition. I attribute this, at least partially, to the strong spoke interface. Under acceleration, the wheel's tangential stiffness results in a spritely ride, transferring rider output efficiently to the ground. Radial stiffness also comes into play here and the Reserve 30's are certainly strong in this aspect, as I discovered…
Later in the test period the Reserve 30 wheels were subjected to one of the worst impacts I've put a wheel through, which they survived without failure. It was a worse case scenario; a poorly placed rock at the bottom of a high-speed rock roll caught me by surprise. A large protruding edge from the rock sat higher than the rest of the fresh armour it was part of. As the bike compressed deep into its stroke the noise from the rear violently echoed through the woods. To my surprise, the damage was a small chip to the finishing coat of the drive side rim bead… and a ruined tire.

Impacts of similar force and less have broken a number of my favourite carbon rims in the past. An alloy rim would have been dented badly, most likely ruining the tubeless seal beyond repair. Honestly, thoughts of testing SCB's warranty program quickly came to mind but I was pleasantly denied. However, there is a downside to this radial stiffness. The Reserve 30's provide more feedback than others that are more comfortable in the vertical plane, with trail chatter and square edges sending more feedback through the wheel. I also experienced more flat tires with these wheels than with any other wheel and had my first front flat in years. Coincidence? Maybe, but worth noting nonetheless. Cush Core tire inserts helped and so did running a heavier duty tire casing.
Laterally the rims are very comfortable. Deflection is minimal for a carbon wheel and while not as easy to manage as alloy wheels, they're very good. Staying on line requires little extra assertiveness even in the greasy wet conditions experienced lately. Loading up hard into corners produces the sort of propulsion that I'm yet to experience on an alloy wheel and deep compressions while riding ragged are quite manageable thanks to the wheels overall ride quality.


Regardless of the heavy hit, neither wheel has required the attention of a spoke key. The wheels have been wrapped with a number of different tires over the more than 600kms of riding they've seen. Aside from some tires being more of a challenge than others to seat, there have been no problems to speak of. 
I don't envy brands trying to make the perfect carbon wheel; it has to be an incredibly difficult task. While an alloy wheel will provide a more comfortable trail feel than the Reserve 30's, especially for the discerning lightweight rider, these score points as one of the best carbon wheels available. When considering trade-offs, the strength to comfort ratio of the Reserves strikes an excellent balance, unmatched by the competition. Add that they're cleverly built with easily accessible replacement parts and include a lifetime warranty, and you really can't go wrong.
Head to the Santa Cruz Bicycles website for more on the Reserve wheel range. 
---