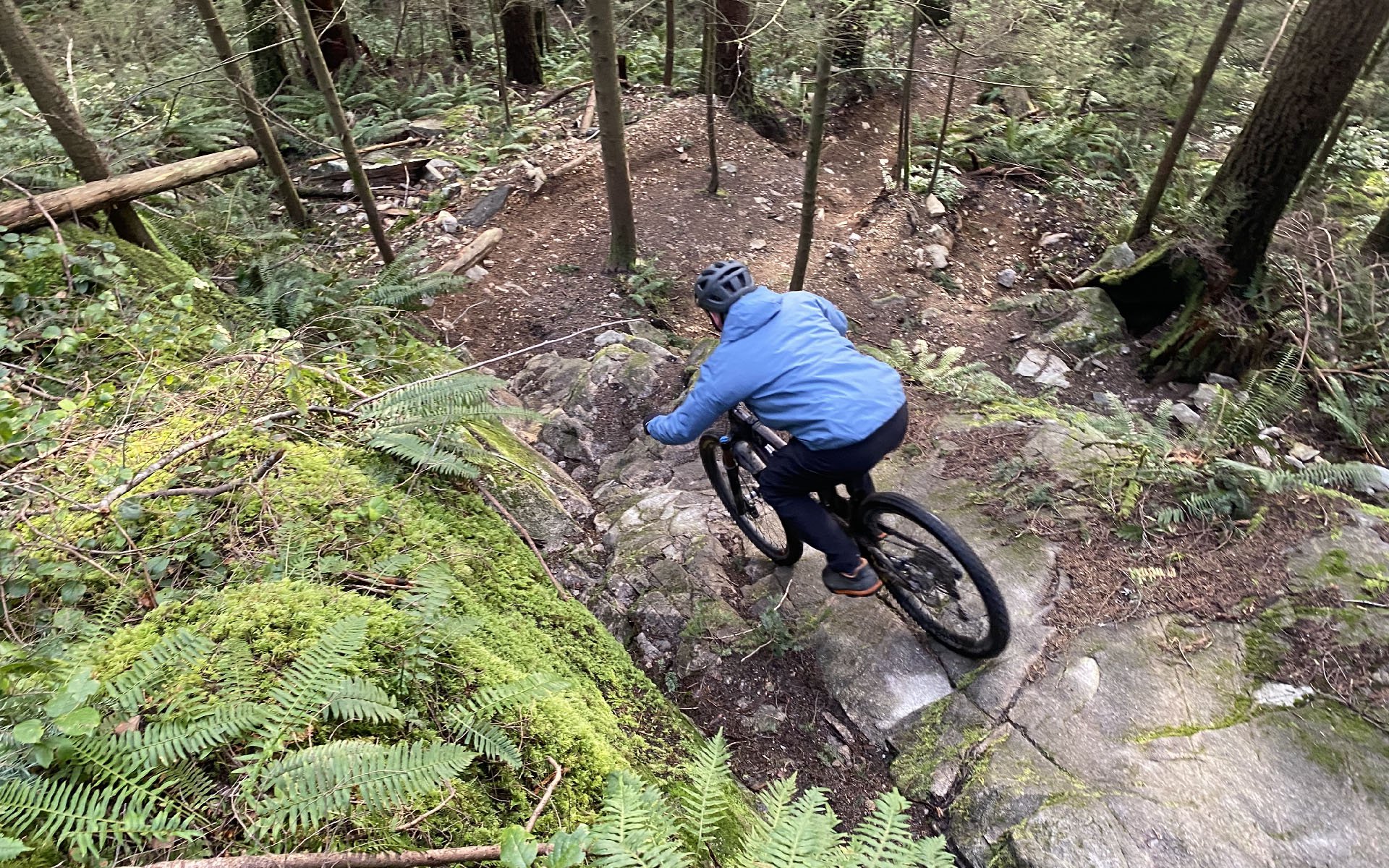 Full Review
2021 Santa Cruz Nomad V
Are long travel 27.5" bikes dead? In my mind they were when Cam asked me to do a long-term review on the fifth edition of the Santa Cruz Nomad. It's been four years since I rode anything less than 29" other than a few fat bike rides, a pile of E bike rides and many mulleted rides on my Enduros. Okay so I guess technically (and literally) I have not been monogamous in my 29er relationships; but a big travel enduro bike with 27.5" wheels front and rear has not been on my ride list for a long time.
Initially when Cam offered me the new 170mm travel Santa Cruz bike to test, I said sure. I rode the Hightower test bike a few times and loved it. And I remember Roggey aka Pete Roggeman crediting the Nomad IV for getting him to a point where he could almost keep up to me on the steeps. When I got to NSMB HQ, I had visions of riding an even better Santa Cruz. But when I saw the wheel size I cursed the wheels and had a hissy fit and reneged on my offer to test it. However, after plying me with his cheap beer that he saves for biker guests and moochers who don't bring beer to post-ride tailgates, (Eamonn) and then going on and on about how fun it was on some of our favourite trails, and how I would love it, I relented. After all does does size really matter?
What struck me right away was how good it looked in the sweet Ox Blood colour on the carbon frame. In addition, the intricate and smooth VPP suspension design, the top of the line Fox 38 and X2 suspension and the XO1 drivetrain had my interest piqued; oh, and the super sexy Reserve 30 wheels were the cherries on top of what was going to be a fun bike to test over the long term.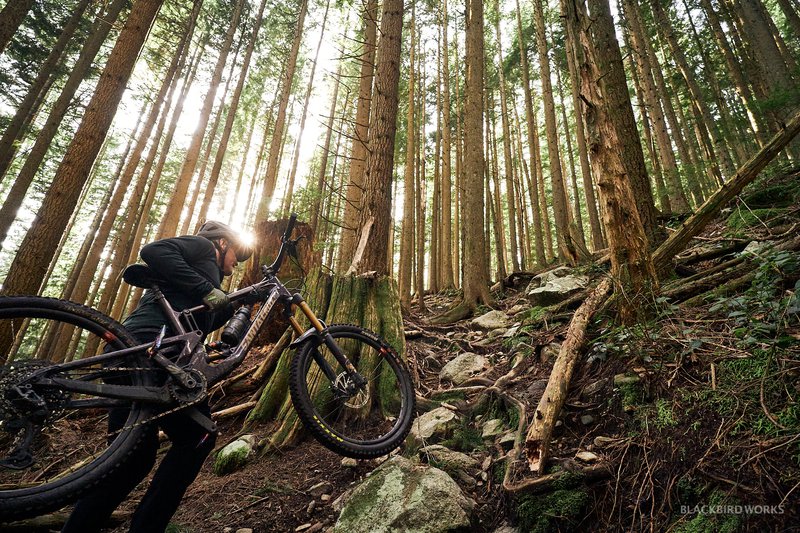 MY ADJUSTMENTS
The first thing I needed to do to the Nomad was to make up for the lack of SWAT I have been used to on my two Enduros over the last four years. To make fake swat happen I did what my buddy Roggey always does during conversations at the Dumpsters, I One-Upped it. Rather than inane dad jokes I got some sweet OneUp gear: an EDC Lite tool was popped into the stem, an EDC pump with plug and pliers kit was attached to the bottle cage and my tube and a CO2 cartridge were EDC gear link strapped to the frame. To one up my one upping I put on a set of OneUp oil slick pedals to go with the Ox blood frame and installed my climbing cheater: a One Up oval ring. I wanted to use my OneUp bar but I forced myself not to so I could give proper feedback on the feedback the Santa Cruz carbon riser handlebar gave me.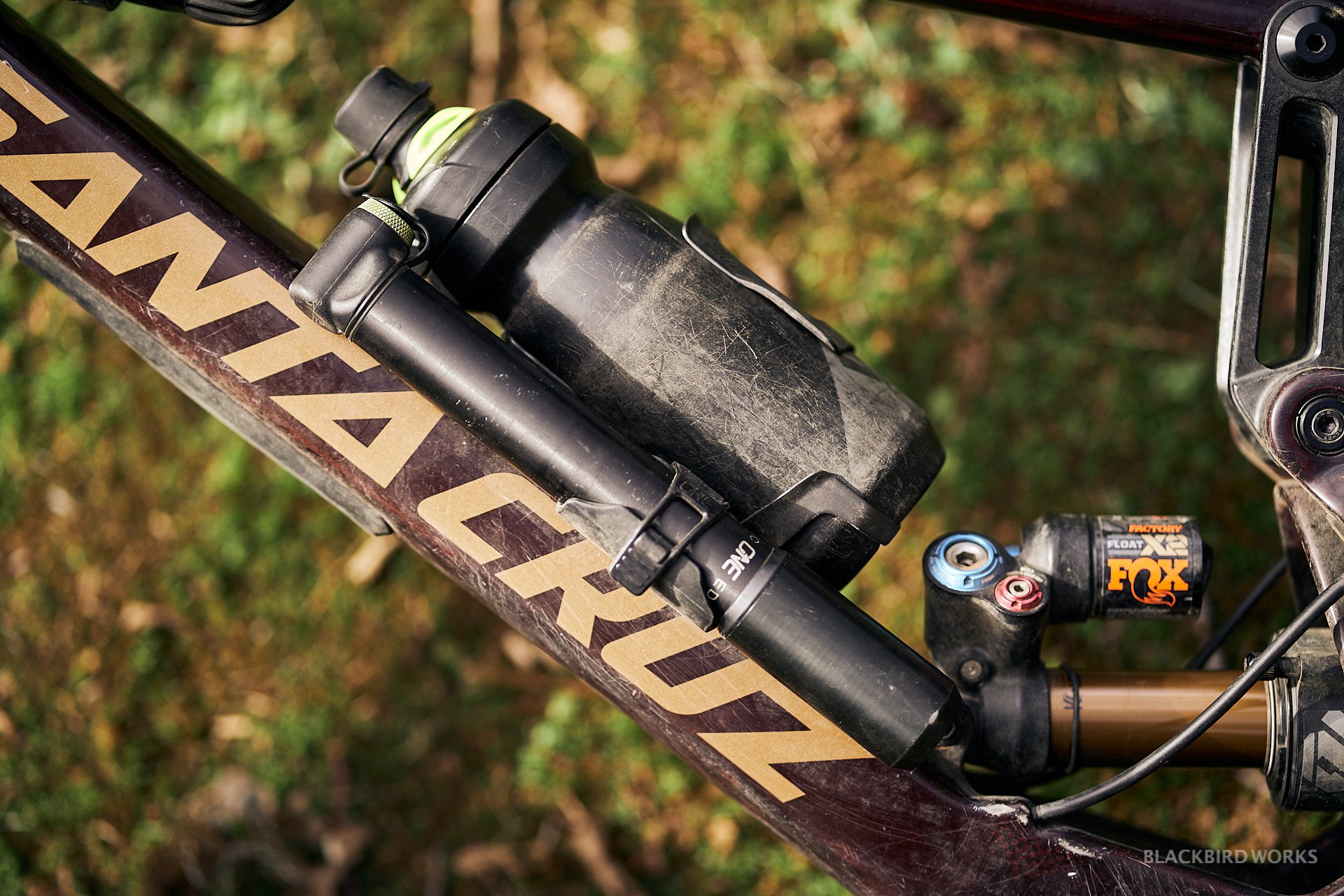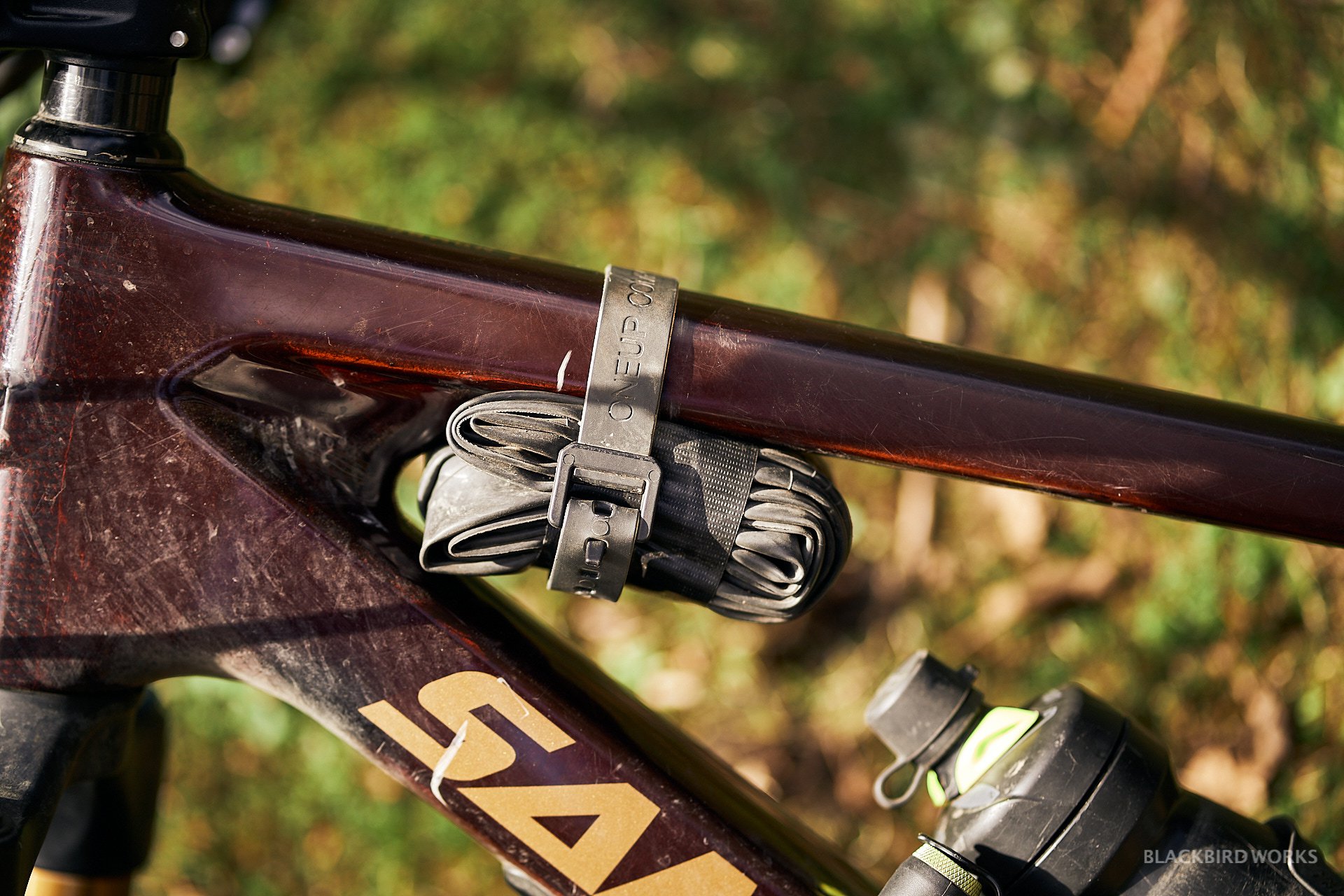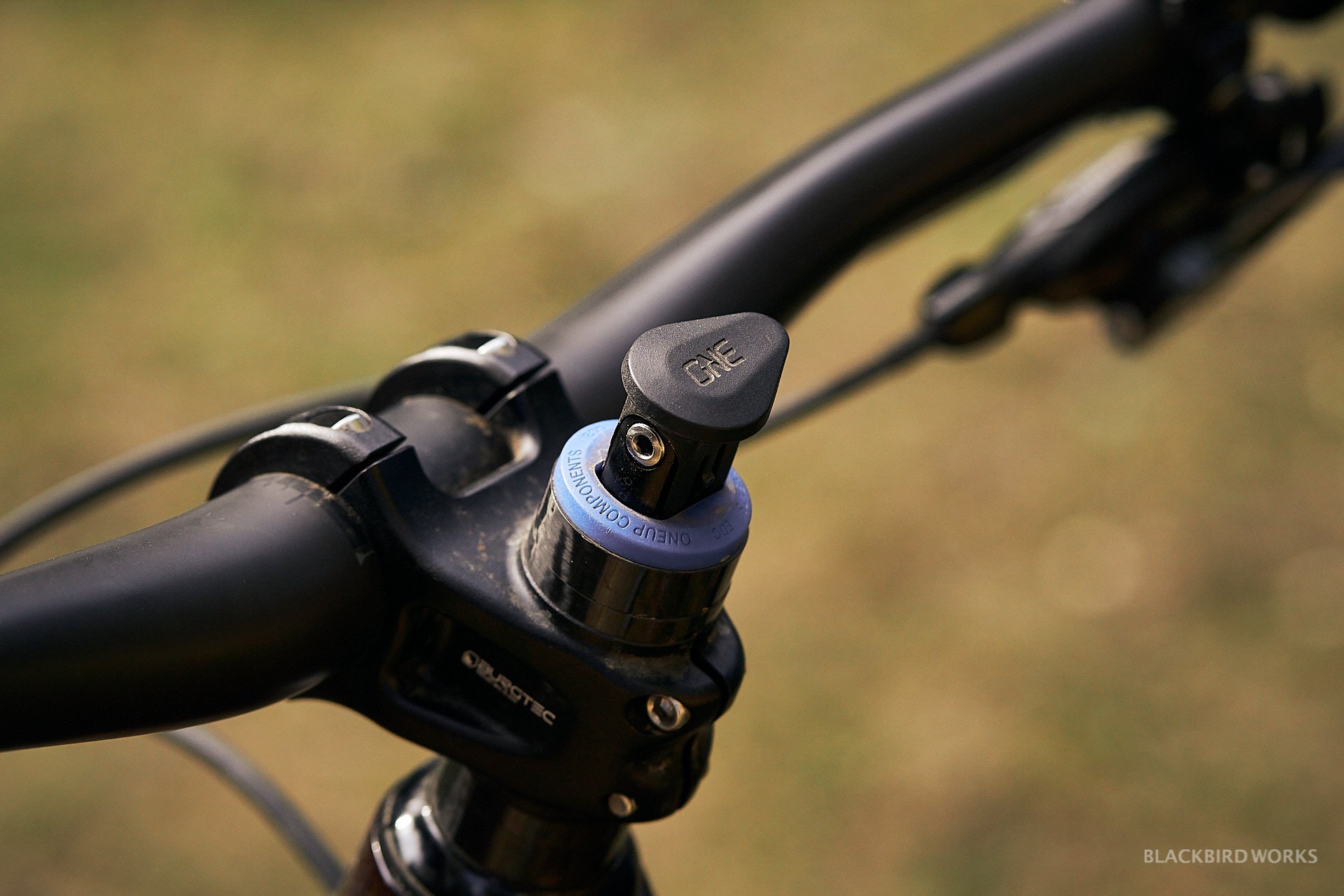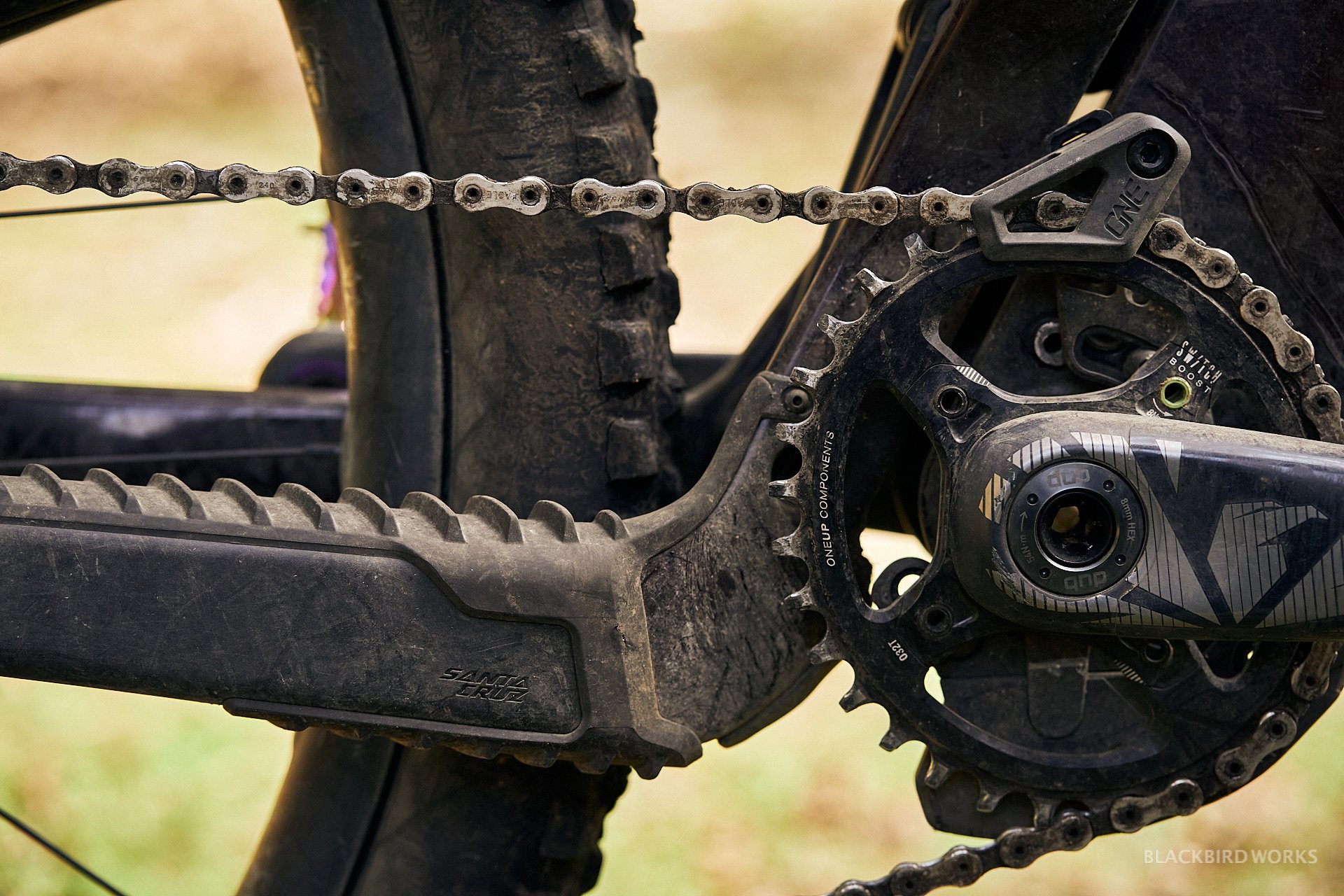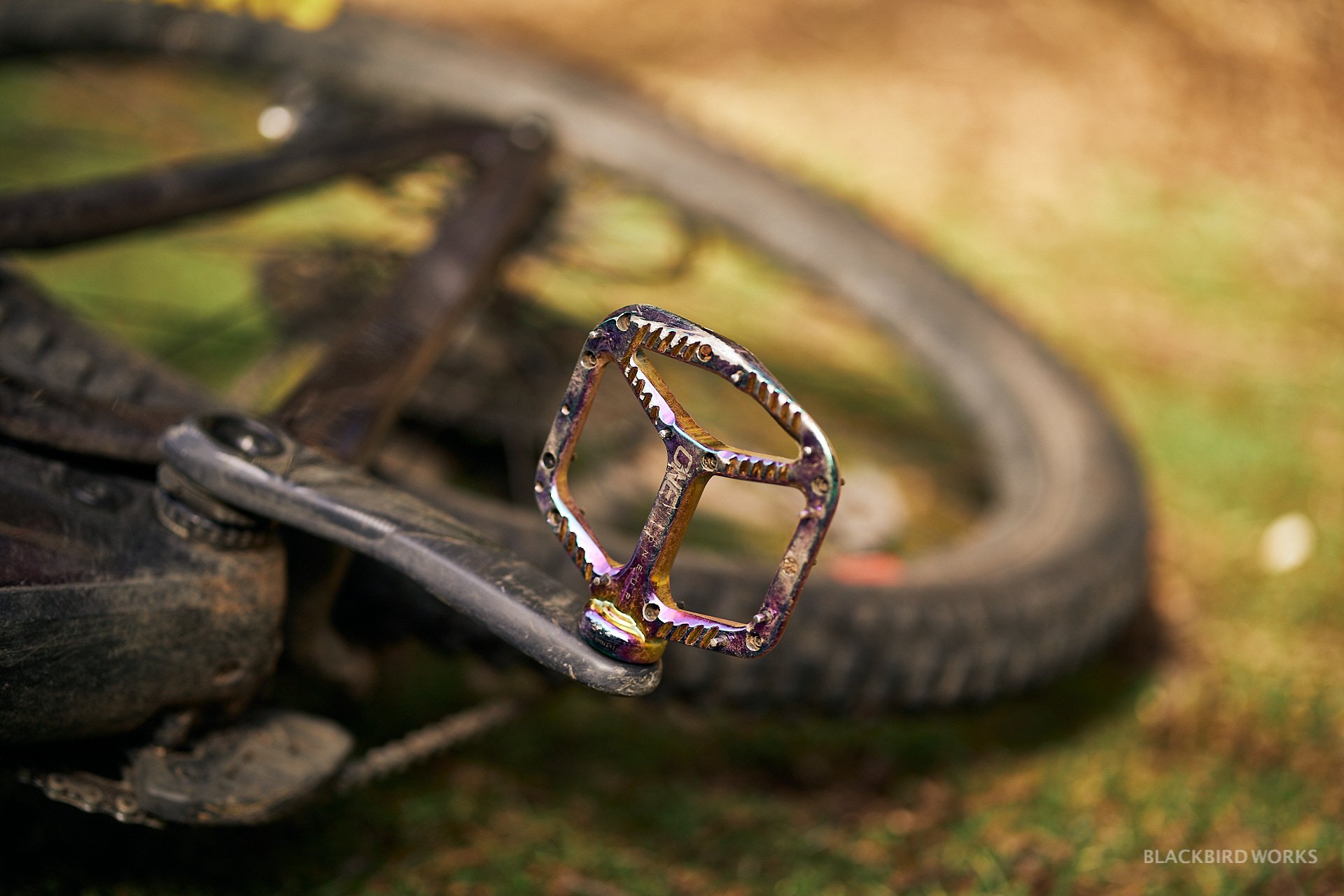 The other adjustment was the addition of Tannus inserts front and back because I am now fully addicted to the benefits of these inserts. The best part of this adjustment was that Cam had already done the install.
The adjustment I could not make has something to do with the mullet-shod elephant a in the room. I thought this bike would be a perfect mullet by throwing on a 29r fork and wheel but alas Santa Cruz strongly advises against it. In the Tech Support section for the Nomad the question, 'Can I mullet my Nomad?' has the answer below:
We don't recommend this. The Nomad is designed around a 170mm 27.5 fork. A larger diameter front wheel and longer (axle-to-crown) fork would significantly change the geometry we worked hard on. It would certainly slacken the headangle but also raise the BB height, shorten the reach and slacken the seat tube angle, which would negatively affect the handling of the bike. If you were deadset on doing it you'd be best off using a 150mm-travel 29" fork, but that would mean unbalanced suspension feel.
I used to hear stories of epic parties at SC HQ; I guess the Nomad is a party in the back pooper (that doesn't sound right). I have seen a few Nomad mullets; some look weird but this one seems nice.
My love of mullets comes from my experience mulleting my 2017 and 2020 Specialized Enduros. I shoved my saddle forward to help with the slacker STA, I put the BB in the high position on the 2020, and I lowered stem stack height to help with the slacker head angle. I'm guessing these changes weren't so great for the way the bikes were designed but I sure enjoyed riding them mullet-style. There wasn't any more ass buzz, wheels hooked up better into corners and it gave me more desire to pop the bike. It may have been a bit less forgiving in bomb holes but the other benefits outweighed the negs. I will be testing a mullet yoke from Williams Racing on my Enduro this spring. The yoke is designed to account for all the issues Santa Cruz mentions as well as keeping the progression curve similar to that of a 29er. Santa Cruz is no stranger to mixed wheels sizes with Bullit/Heckler eMTBs and the V10 DH bike. Maybe a mullet will be on the horizon in one or two of their enduro/trail bikes?
Suspension Set Up & Performance
I followed the Santa Cruz-recommended settings at first for the Fox X2:
205 psi
LSR 11 // HSR 6*
HSC 7 // LSC 14
They felt great but I figured I should probably play a bit to see if it would feel even better. Nope – I went back to the originals and rode the rest of the test like that. I did enjoy the beefy feel of the Fox 38 compared to my Lyrik but I still like the suppler feel of Rock Shox forks over the stiffer feel of Fox forks. The 2021 X2 played well. I cannot comment on the difference between the 2020 X2 on my Enduro and the 2021 as they are two different bikes. I can say it felt great, sucking up big hits, reducing chatter at high speeds, and everything in between.
*all measurements taken from fully closed, ie. Low Speed Rebound (LSR) 11 = 11 clicks out from fully closed.
Climbing
The Nomad climbs well for a 170 squish-bike. Initially I got the comfortable centered body position feel I had when climbing the Hightower. However, the easier climb characteristics I noticed were not as noticeable probably due to the extra weight and suspension on the Nomad. It did handle the harsh tech up-hills well. I even did a back to back comparison on a section of a trail from Wade's pick a part. I attempted the wheelie up and over rock and roots with my Enduro then grabbed the Nomad Cam was riding for his initial impressions piece and I tried the same line. The Nomad was a bit more agile in the tight corners than my big wheeled Enduro but the traction on the tech was the same for both bikes: excellent. I did experience a lot of annoying banging on the OneUp bash guard in the low BB setting. The difference between low and high settings is only 13.39" vs 13.54" so I don't get why it was so noticeable other than the smaller wheel size but it was enough to bug me and get me to switch it to high. When in the high setting the guard bang went bye-bye. I experimented with climbing with the X2 in open and closed positions. In open, traction was significantly better but BB bangs were more prevalent. I usually did all my climbs in closed and still had excellent traction; except when my one-crash-too-many-brain would forget and I would descend in closed wondering why the suspension was feeling harsh.
As an experiment I kept the suspension closed on a couple of our smooth flow trails. This made for more pop in the FPP but less fun in and out of corners and on straights as the traction was diminished.
How She Handles, Eh?
Okay this is what it all comes down to: how does the bike perform going downhill and (sort of) how it behaves going up; but in the end do we really care all that much about the ups if we are into this type of riding? More on the boring climbing part later. More on the best part now: if you're down with FPP (fun, playful and poppy) and/or not OPP this bike is for you. On my first ride I was popping every little feature I could see. The bike wanted to be airborne. I found myself seeking out anything on the side of the trail as if I was snowboarding, doing side hits all the way down the mountain. I have learned to be a bit cautious with this side hit seeking style as I had a bit of a blow-out years ago following Wade Simmons as he carved side to side all over the trail. I had never witnessed anybody ride like that. He is still at it 15 years later. The style of riding was so much like my snowboarding style I attempted to mimic his lines on a few of his side hits only to go flying off of the trail to a big crash on the next one. Turns out the skill set for that kind of riding was (and now definitely is) outside my set. Regardless, the Nomad had me seeking the sides, the mini-doubles, anything with a bit of launch-ability.
I immediately noticed how fun it was to carve turns - snapping in and out of corners. The bike was balanced and responsive rolling steep rocks and stunts. And a big bonus was no more butt buzz with the smaller rear wheels.
On my favourite steep trail I went out charging and didn't let up. I kept thinking I might be slowed down but that was not the case; the Nomad plowed through the steeps, the chundery chutes, and the drops and rolls, all the while keeping the FPP on full. My feet stayed securely planted on the pedals at speed over rocks and roots. It was love at first ride.
I had forty-nine rides from mid-December through mid-March. I rode in the snow, mud, and sort of almost dry dirt; I hit flow trails, steep and gnarly trails, old school jank trails, and even some almost XCish trails. I gave the bike a thorough beating on all my favourite, sort of favourite and friends dragging me down their favourite trail trails on all three of the North Shore mountains.
I spent the first dozen-ish rides in the low BB setting and the rest of the test in my preferred high BB setting. I figured I would lose traction and stability at speed in the high position but I didn't notice losing either of them. I did notice the annoying BB bangs go away though. That's why I kept it in high after the required reviewer time to try in order to compare rule.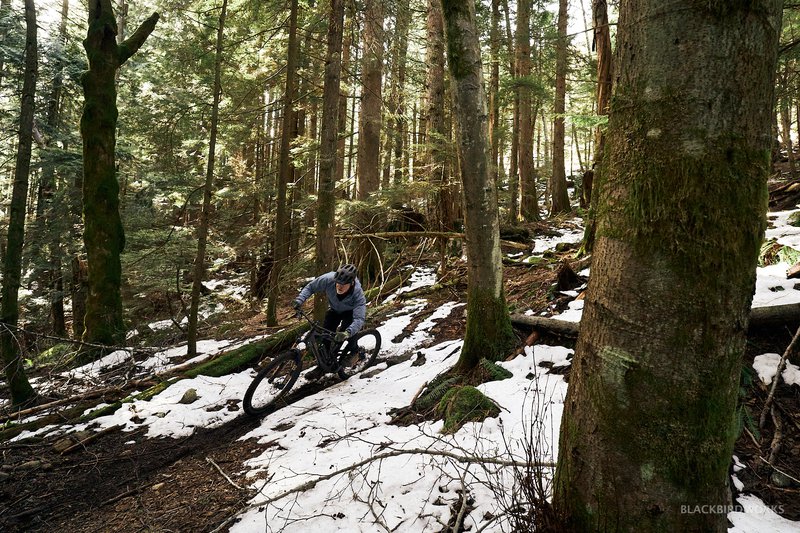 Bars, Rims, Grips, Frame Durability & Protection
This Ox blood frame not only looks good it sounds great too. The bike was quiet the entire time – no cable rattling, chain slapping nor any other annoying sounds (other than rides with my buddy Chambré behind me prattling on about commuters, comics and conspiracies). The frame is protected well with extensive chain guards on the top and bottom of the chain stays. I like how the top guard continues up towards the chain ring to stop scratches in the event of chain drop. There are two small down tube protectors that I think should be a continuous protector as I have a number of scratches on the tube between the two pieces. Another protector is strategically placed on the swing arm for even more bash guarding. The best protection of all is the Santa Cruz lifetime warranty in the event anything does go wrong on the frame, bars, bottle cage, bearings and Reserve wheels.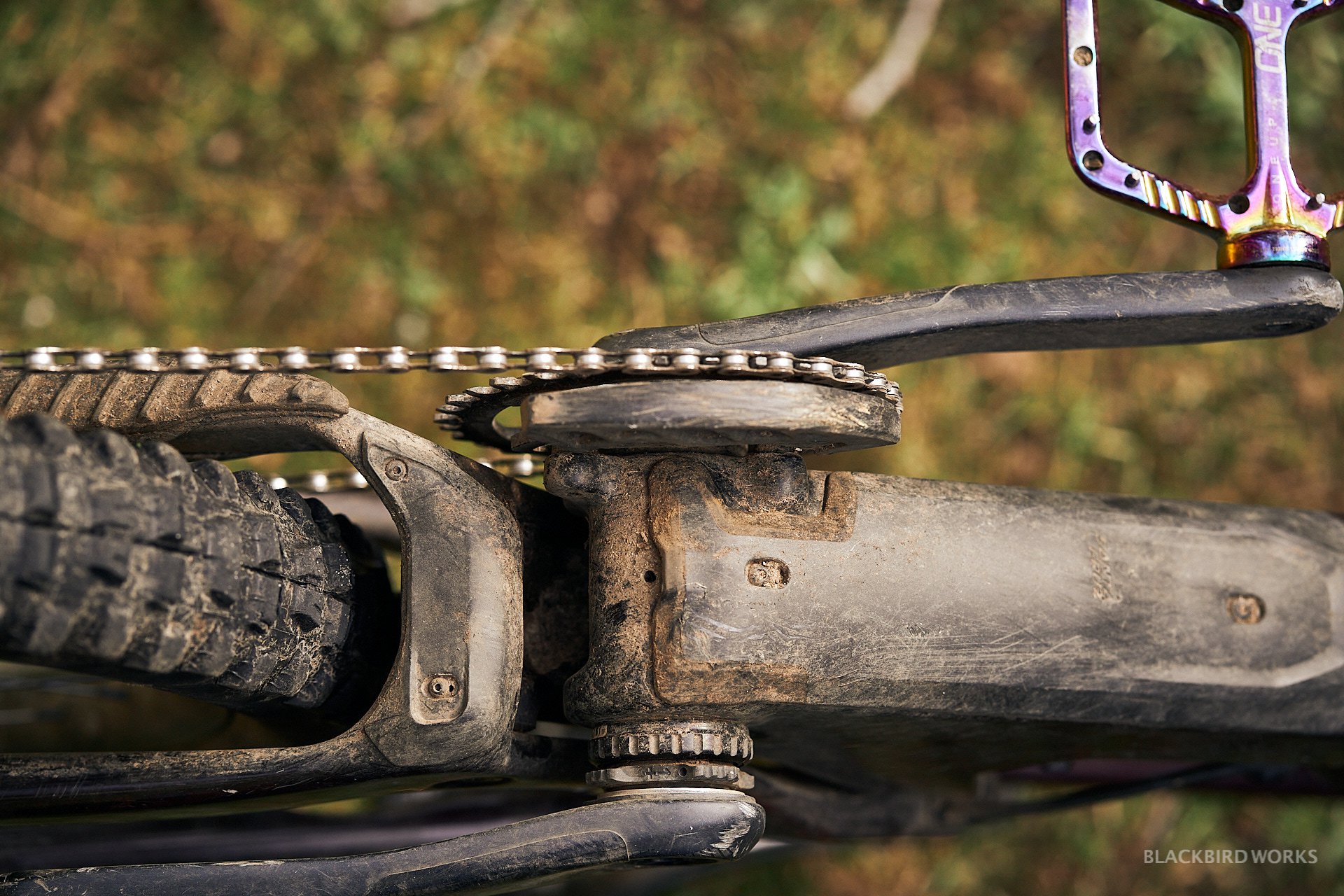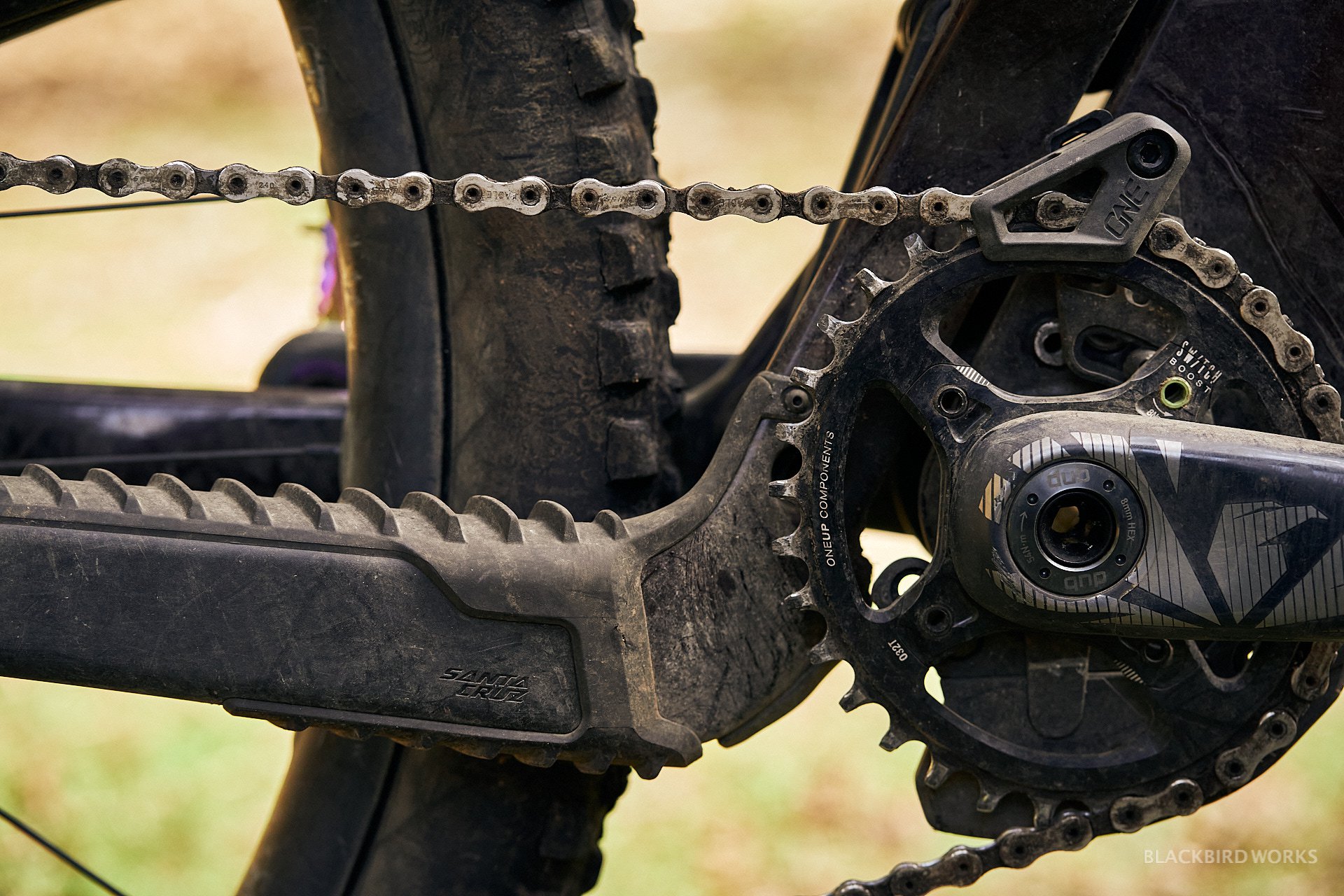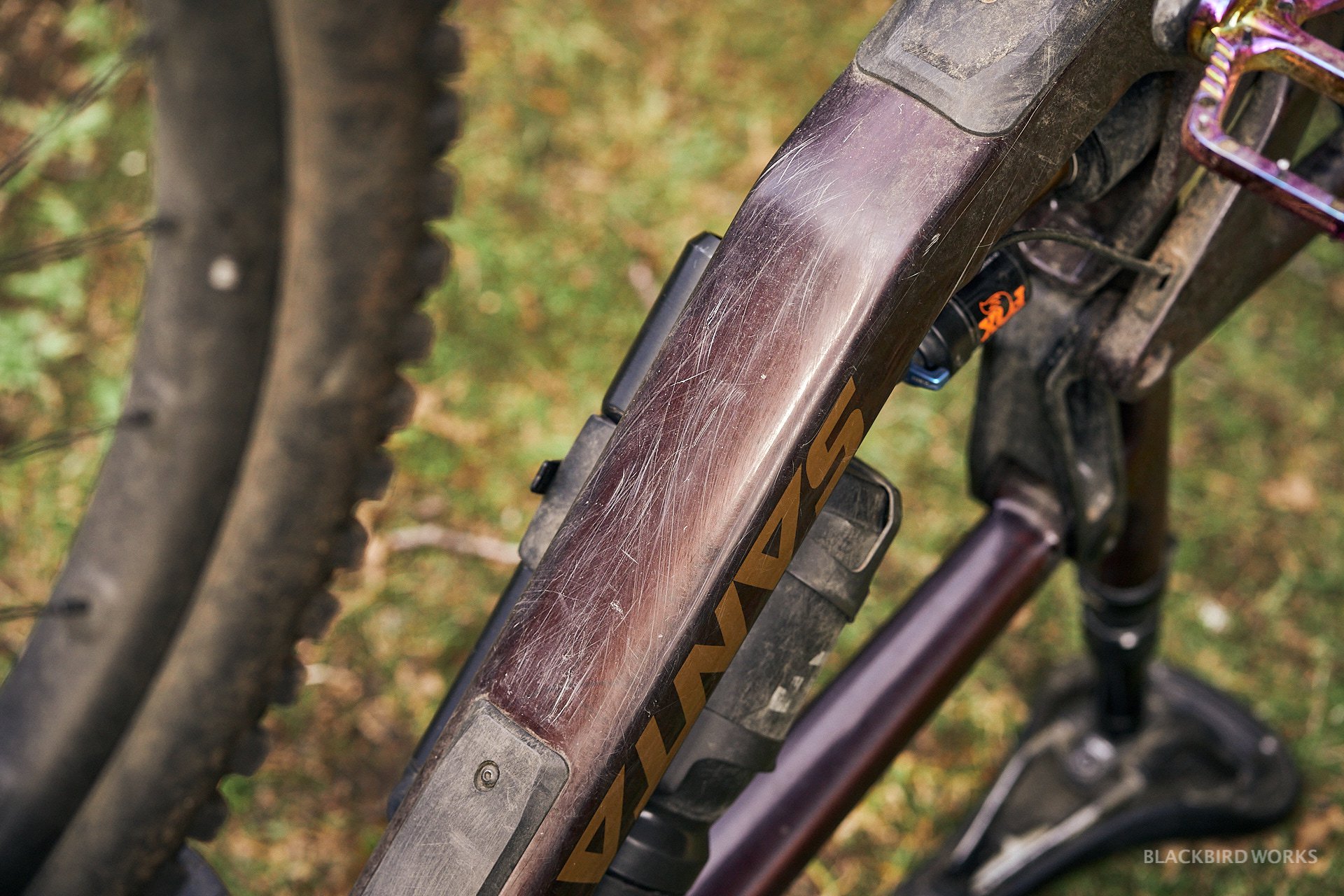 The bars felt excellent. I am used to OneUp bars which reduce my forearm and wrist fatigue. The Santa Cruz bars gave me the same feeling as the One Ups, filtering out harsh feedback. I like the SC grips as well. They were not too squishy and had a great feel under winter and spring gloves. The Reserve rims stayed true, tracked well and even though they felt stiff they did not give any harsh trail feedback. For more info check out AJ's long term Reserve wheel review.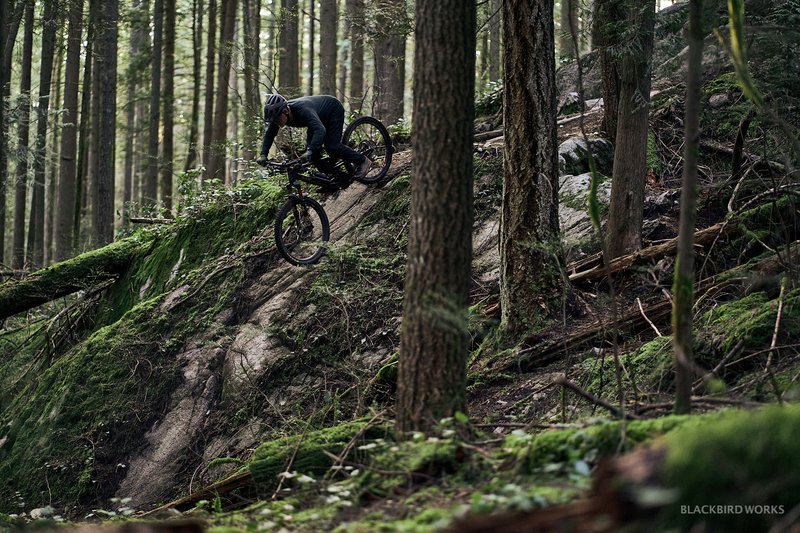 Conclusion
I kept thinking this bike might be my new ride after each ride on it. Maybe it was better than my Specialized Enduro aka my favourite bike of all time. After my dusty lilac/strawberry smoothie bike sat lonely for three months I decided it was time to see if the Nomad would usurp the Enduro's throne. On the first ride I got sucked in by Cambition: a state where Cam convinces all riders that the snow is going to be epic. I started in some perfect snow only to augur my front wheel sending me flying over the bars. No problems until neck pain kicked in four days later. I went to the wonder-worker Colin Miller for some body pin cushion IMS rehab and after two sessions I was good to go.
Back to the first ride: when the snow finally ended and I was back onto dirt that old Enduro love connection kicked in. The smooth feel and excellent ground traction feel was back. Let me steal words from Roggey's Nomad IV review to describe that feeling: it is like a fresh cinnamon bun - it's gooey and makes the rear wheel stick to everything. In addition, when I hit high speeds I absorbed all the bumps and contour changes with comfort and ease. The Nomad did these things but not as well as the Enduro; I found the Nomad wandering a bit and feeling just a hair under full control. Hitting the same lines on the same trails I rode the day before helped me realize how much better the Enduro handled most aspects of the riding I like. These feelings helped my feelings of confidence and made me ride more aggressively than I did with the Nomad. The FPP of the Nomad is still a bit better than the Enduro but I realized FPP is in the mind. Now that I was all about the pops and side hits I started seeking them out more on the Enduro. On my last ride I was popping everything in sight only to have buddy riding behind me accuse me behaving like a teenager.
I was still annoyed by the big tire bum buzz on the Enduro but that will be remedied when I get it in mullet mode. The Nomad weighs the same as my Enduro (34 lbs with pedals + Tannus inserts) but climbs with a bit more ease. I'm not sure how much better that will be with the mullet but whatever, I don't ride bikes for the ups. I don't want those ups to be too cumbersome and neither bike cumbered my some.
The Nomad V is an excellent long travel bike that will appeal to anybody seeking flow trail lines, jumps, play times whenever possible, bike park laps and fun times on trails.
This model retails for $9599 USD but hey you're worth it. More info here: Santa Cruz Nomad V
Trevor Hansen
Age - 57
Height - 5'9"
Weight - 175lbs
Ape Index - 0.992
Inseam - 31"
Trail I've been stoked on lately - Bukwus
Bar Width - 780mm
Preferred Reach - 465-480mm