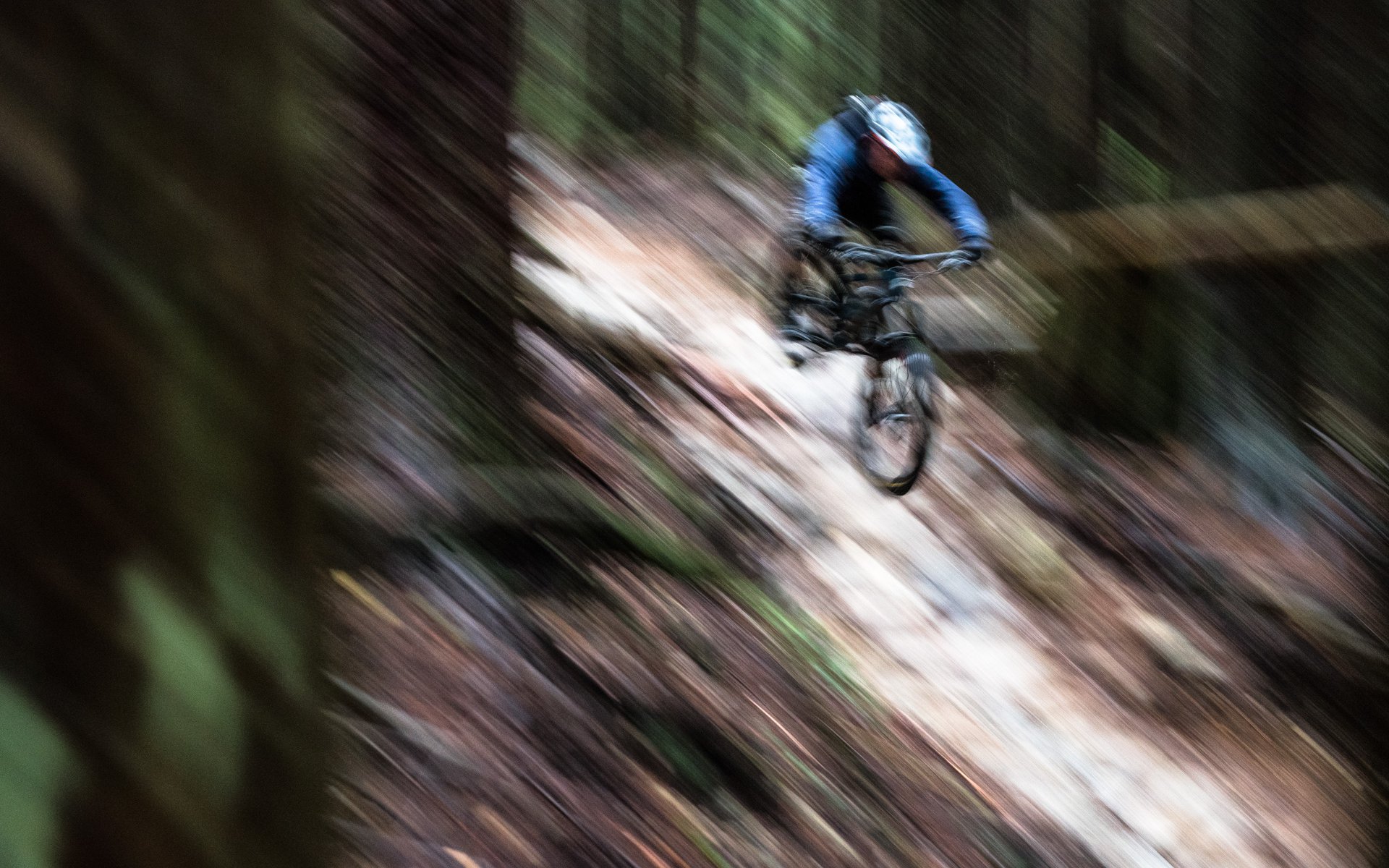 LONG TERM REVIEW
Santa Cruz Nomad IV
Now look here: this is a long-term review. In it, I will discuss my relationship with the Santa Cruz Nomad IV. In it, I will not discuss (many) of the details I already covered in the First Impression piece. We write two articles for most bike reviews so we can cook and salt the meat in the first one, and spend the second one pushing it around the plate and mopping up the sauce with a piece of bread.
Since writing down my first impressions back in June, I have spent some time thinking about this bike and what it does, and for whom it is intended. Santa Cruz said from the start that they had Europe in mind when this sucker was birthed: the kind of all-day rides you can find in the Alps, for example. Which is to say that there might be a chairlift or a gondola, but there also might not, in which case you're going to have to do a lot of pedaling to be able to say you ate local cheese in more than one country during a single ride last Thursday. With chunky descents in between.
What had me wondering, though, was whether the Nomad would convince me that it was a great choice for the North Shore. Whistler? Of course. Maybe your day calls for a little bike park, a little west flank, or some Pemby? Gimme. I've been on 27.5 bikes almost exclusively this year (the Trek Remedy and Rocky Altitude), and they are both very capable descenders that - at 150mm - also go up very nicely, thank you very much. So this here Nomad IV still had - for me at least - a bit of an identity conundrum. Would I put one in the quiver if money weren't an object? Hell yes, but then the question remains: how often would you notch that arrow? Is Bronson or Hightower LT a better choice for most people in most places? The answer is yes, but that's an over-simplification. Let's check out the design brief and see if it helps with this evaluation:

Descend like a V10, climb like a 5010.

Be able to handle Alp-style valley-->peak-->valley rides. In other words, climb a long way and descend really steep, chunky stuff.

Work well with either a coil or air shock.

Sizes XS through XL and oh, yeah, there is a Juliana version as well, called the Strega, as well as an aluminum version now, which presents a very interesting choice for some people.

Descend like a V10, climb like a 5010*. Well, it wouldn't be a brief without some lofty goals. For all intents and purposes, #1 and 2 are just different ways of saying the same thing. And no, the Nomad IV doesn't do either thing quite as well as its bigger and smaller brothers, but it comes closer than most bikes that make these claims. Where I get a bit stuck, though, is when considering the people that do these all-day rides over very rough terrain. If I'm choosing a bike for a day of nasty riding, the 150mm bikes listed above can handle whatever I'll be riding down. There are riders with bigger balls and more skill, but they also would probably choose a bike that won't be as much of a bear to pedal all day. Some of those people are Enduro racers - and Santa Cruz's team races Hightower LTs and Bronsons. On the other hand, Bryceland and the 50:01 crew make liberal use of their Nomads, and they're some of the cats I think of when talk turns to a 'rebirth of freeride'.
*please don't quote me as those are not my words and this is not a "goes down like a DH bike, and up like an XC bike" kind of review
Work well with either a coil or air shock. All right, well this is compelling, no matter what you're doing with the bike. Whether you intend to run multiple shocks or not, just knowing that it was designed to give you that flexibility is pretty boss. And it also probably points again to the rider who expects to find themselves in the bike park on the regular, or who has a truck with a well-worn shuttle pad.
Size spread is great, but doesn't give much of a clue about intended use. Strega for the ladies: that's just awesome. Our very own Hailey Elisee loves hers. And in alloy: this is interesting for people who may have to replace their park bike but aren't looking to spend big bucks or get a DH bike, and yet want some cross-platform compatibility (wheels, tires, etc). For them, an alloy Nomad may be ideal.
All right, so Alpine adventuring. And bike park riding if you don't want or have a DH bike. Fine, but...is that really it? I struggled with this question a bit more than I normally would, because I had some unusual days on the bike this summer. Some truly shocking forgot-how-to-ride kind of days.
Remember the scene in Tin Cup where Kevin Costner gets the shanks? No? Well, here you go in brief (start at 1:50). Anyway, that was me. And instead of having Cheech Marin as my caddy to sort me out, I just had cajoling ride buddies telling me how much I sucked. So I switched back to flats and it mostly sorted itself out. But in the middle of all of that, there were also some amazing rides. Days when I could will myself to go faster than I thought I wanted to, and never ever doubt that the Nomad had my back. Days when everything came together and it became clear to me that for some people this certainly was THE bike. People who don't care much about how long it takes to climb that hill but want every available advantage on the way down. People who want to trick themselves into dropping from higher, jumping farther, or riding down truly stupid shit because the bike is not an excuse so now it's either you go and suck it up or you don't go and you just suck. If you're one of those people, and you ride bike park or like to ride all day in the Alps (or similar) then the Nomad IV is a glorious big mountain hammer. Or if you're Josh Bryceland or Loose Dog.

"[for] people who want to trick themselves into dropping from higher, jumping farther, or riding down truly stupid shit because the bike is not an excuse so now it's either you go and suck it up or you don't go and you just suck. If you're one of those people, and you ride bike park or like to ride all day in the Alps (or similar) then the Nomad IV is a glorious big mountain hammer."
Descending
If I tell you it's like a mini DH bike, I don't know if that'll help you understand whether you'll want to buy it. Reviewers have been saying that for a long time and I think it's a bit...lazy. Anyway, it doesn't feel like a mini DH bike to me, although the difference in downhill performance isn't vast. It feels like the burliest trail bike you've ridden, and even if you think I'm splitting hairs, I really don't think I am. It isn't unwieldy, but it does feel big and doesn't like to go slow. It handles, and you have to muscle it around at low speeds in tight stuff, but it's not awkward or lumbering. Get up to speed though, and you're happily skipping like a stone and the angles and stiffness work together well. Until then, it's a bit like a cold V8. Ok, so it has mini DH bike attributes, but I stand by the 'biggest trail bike you've ridden' comment.
One paragraph isn't enough to cover the Nomad's temperament on the way down. We had both a Rock Shox Super Deluxe Coil and Air shock. The coil is like a fresh cinnamon bun - it's gooey and makes the rear wheel stick to everything. For my riding style, that would usually be the preference, but I actually preferred the Super Deluxe Air RCT for its liveliness on the way down and a more supportive feeling when pedaling. If I were logging bike park days or long, back-to-back shuttles, I'd swap to the coil but for most riding, I preferred the more progressive feeling of the air.
One last thing: this sled is stiff but the Santa Cruz carbon recipe is wizardry. They were responsible for the frame, the wheels, and the handlebar. None of those components felt like they wanted to give an inch in the chunder or in a rough turn, but I never got that harsh transmission of jarring chatter that you can get from an overly stiff frame or component. The wheels will get their own review, but for the frame, stiffness counts when you're riding a little outside of your comfort zone into something steep and nasty and you can rely on everything to stay tucked and solid beneath you.
Climbing

The thing about a bike like this is that everyone wants to write that it goes up like an XC bike and I'm here to tell you that that's utter bullshit. Is the Nomad IV an overachiever on the climbs? I would say yes it is. It's not all that fast - the 700-meter climb from my place up to the trails on Fromme is enough to figure that out. But it doesn't bob like a drunk otter in the surf, so you don't feel like your legs are wasting effort. Ergo, for a 170mm travel bike, it climbs well. In technical terrain, I was happy to leave the shock open and take advantage of the extra traction on the steep ups, but on a smooth surface climb, that compression lever did make a difference I could appreciate.
Component Highlights
If you haven't yet ridden a bike equipped with GX Eagle, let me just tell you that it is, in my opinion, the engineering feat of 2017. Every lick of Eagle performance in an affordable package? Even you SRAM skeptics have to acknowledge that they've achieved something great. If I was buying a drivetrain, that would be it. After almost 6 months, I've had to tighten the derailleur cable once (quarter turn) and gave the derailleur the hairy eyeball after I thought I knocked it out of true, but it fell in line. Otherwise, it's been glorious 10-50 tooth action, complete reliability and, so far, no durability issues.
Honourable mention goes to the SRAM Code RSC brakes. The recent cold weather has got me wishing for carbon levers (yes you can justify them) but they are more powerful and far more consistent on long descents than Guides. For this bike, Codes were the only appropriate choice from the SRAM family. My only nitpick would be that it is a little unusual not to see a 200mm rotor up front. Power didn't suffer greatly in many scenarios but for the intended uses of this bike, go for the bigger rotor up front at least.
We're going to hang on to the Santa Cruz Reserve wheels from this bike and review them in full on their own, but my experience so far has been impressive. As I mentioned, they're stiff without being harsh and despite multiple rear flats, the rear wheel has only once been knocked out of true - easily knocked back. Truly impressive, though, is the USD 1599 - 1899 retail price (depending on hub choice) and lifetime warranty.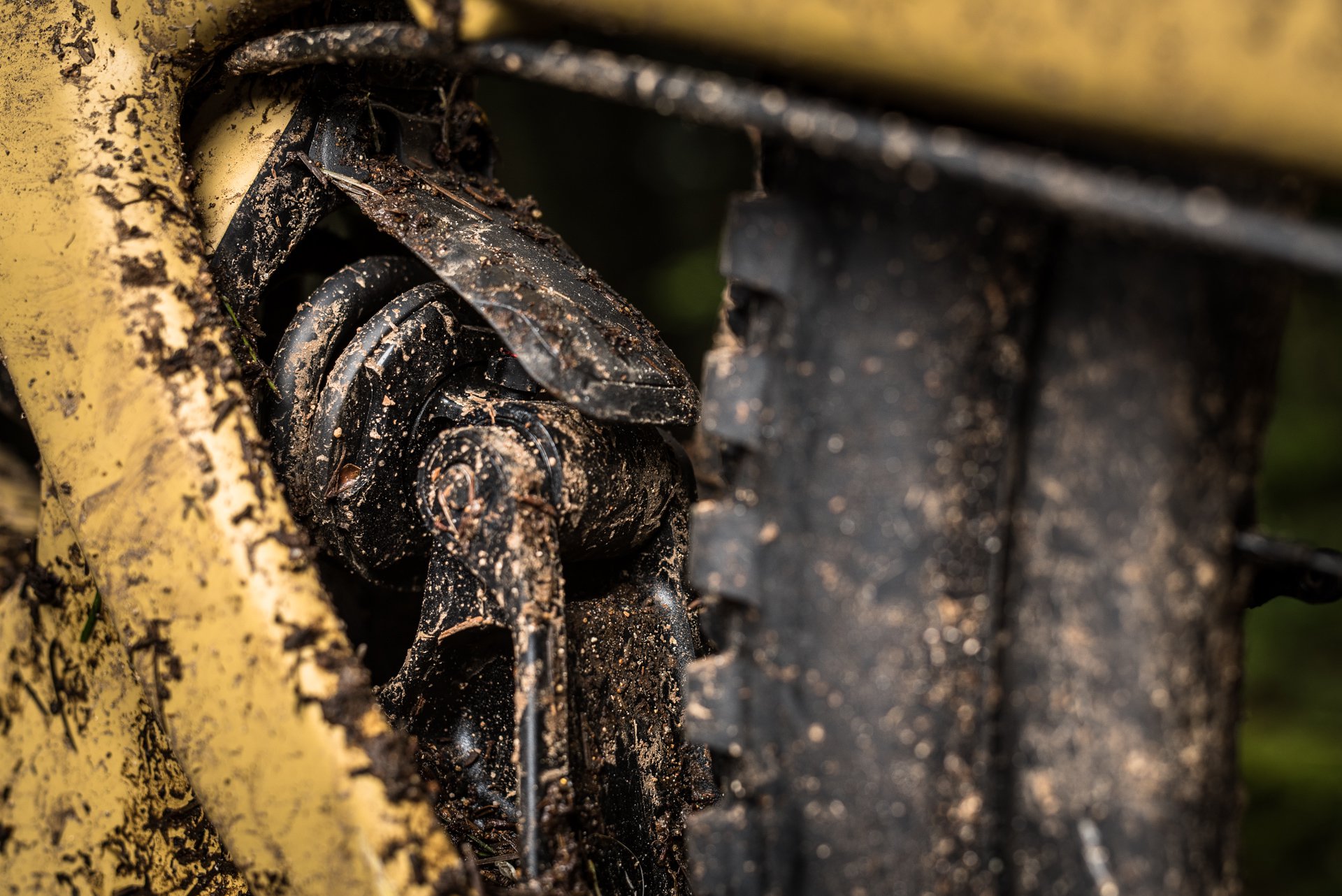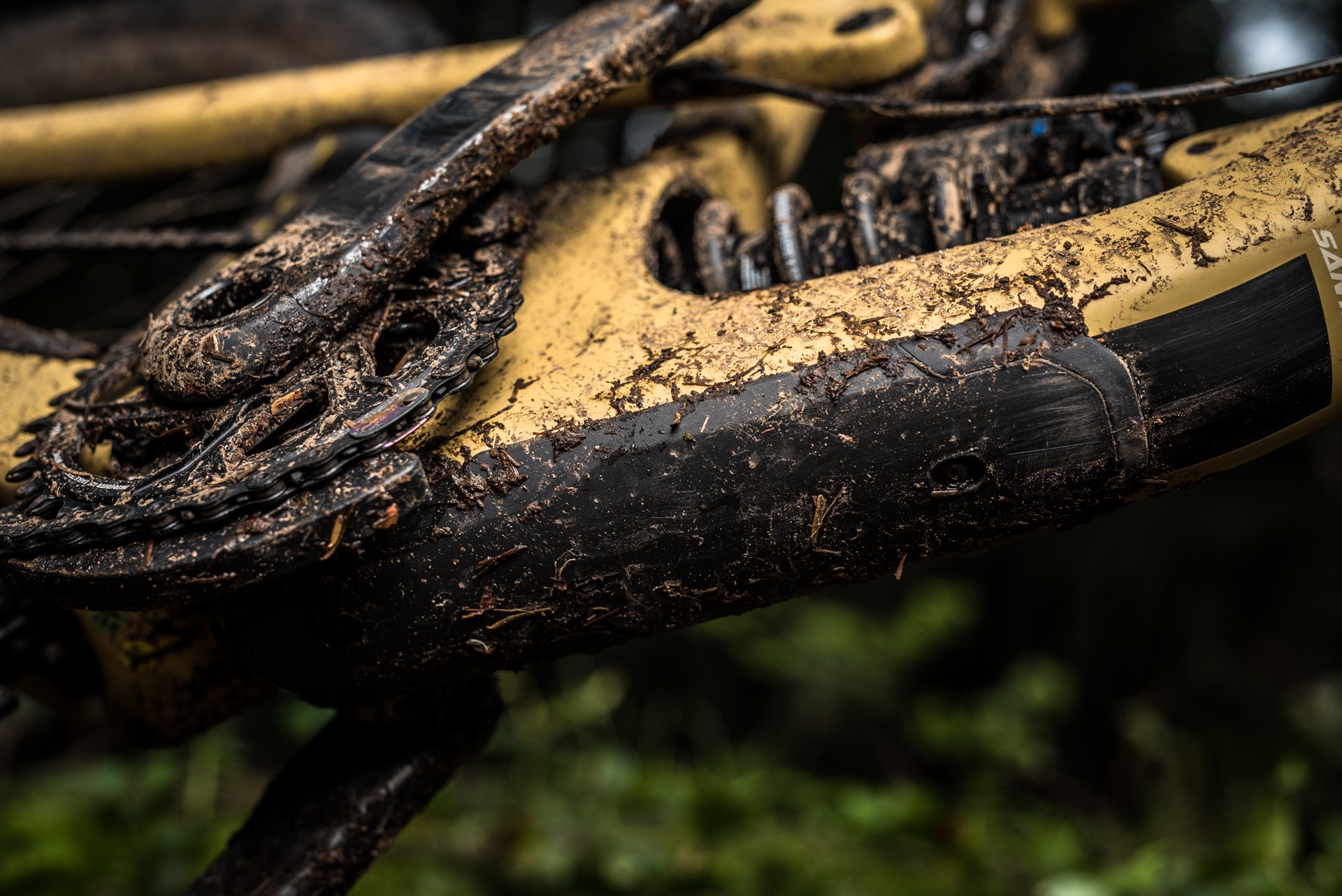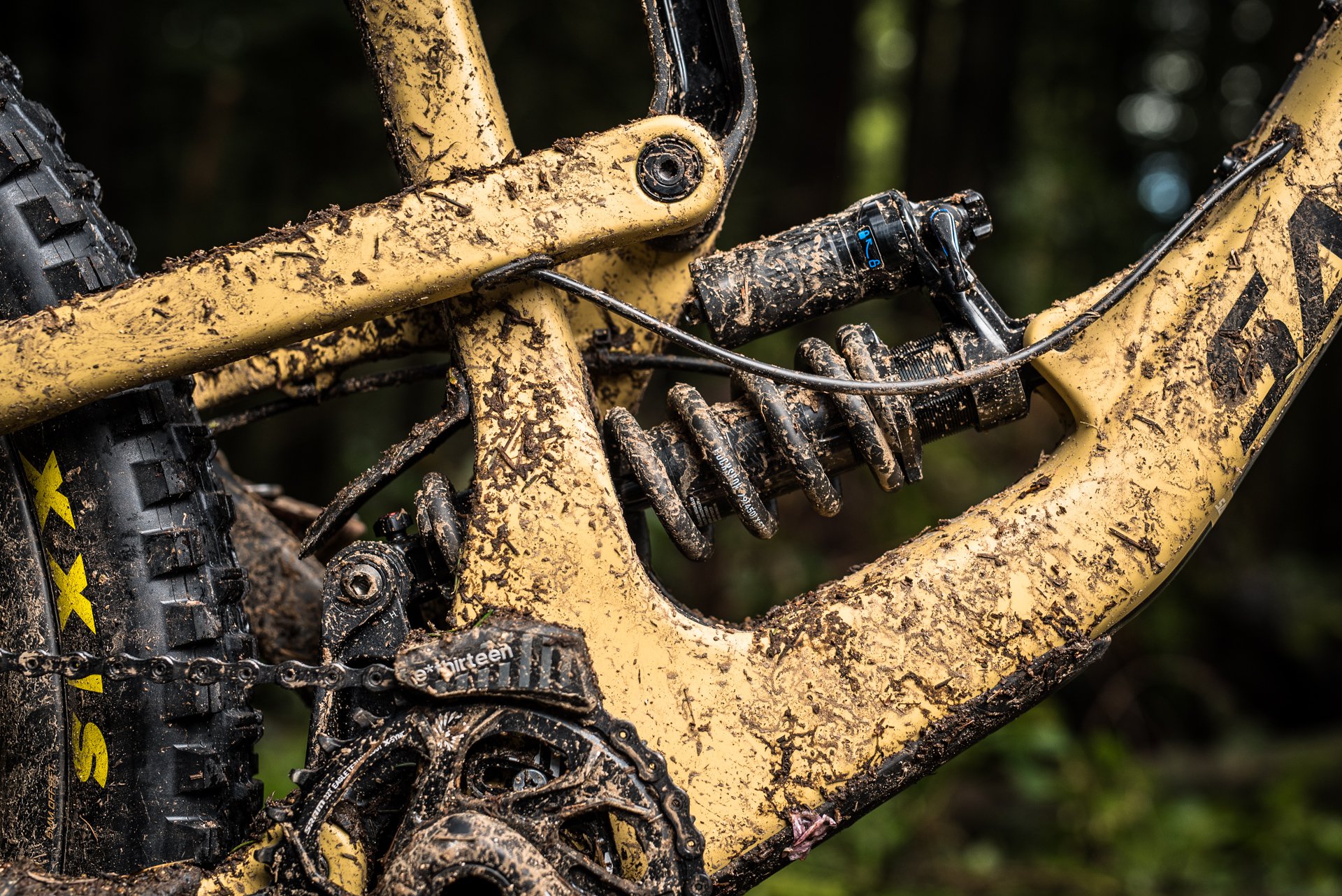 Other Details

Not a single creak from the pivots or the threaded BB. Not a squeak from the internally-routed cables (omit the rear brake which runs externally). No issues with the e-13 chain guide, which has sustained plenty of knocks due to the low BB height (both climbing and descending). The Maxxis Minion WT DHF and DHR II...well, what do you expect? Paired with the Codes, those tires deliver serious traction and although the rear is starting to wear now, it has seen a lot of miles under a lot of hard braking.
Conclusion
If it seemed like it took a lot of hand-wringing to draw a conclusion, let me just be clear: the latest Santa Cruz Nomad is, again, setting the standard against which other all mountain bikes should be judged as far as descending prowess goes. As trail bikes in the 140-150mm category have gotten better, however, you are faced with a familiar decision: buy the best descending bike that you can still pedal, or give up a bit of outright downhill juice in favour of something that pedals better? For a lot of the riding we do on the shore, I could go with a step down on the descending scale and not feel like I was giving up much in terms of enjoyment. The other bikes I mentioned (Remedy, Altitude) have been faithful descenders in truly steep terrain, and they both climb better than the Nomad. So does the Bronson (according to Cam, the Hightower LT). Everyone has a line like that, but it's up to you to find yours. For my part, I continue to enjoy 27.5" wheels, but that doesn't mean I'm not smitten with several 29" bikes - I'm just not putting mid-sized wheels in the ground just yet.
If my weekends were spent shuttling or in the bike park and I was buying a bike to excel there, the Nomad would be a top choice, because it has also been great for 2 or 3 hour trail rides with a lot of pedaling - and I don't feel like I'm working too hard to get it to the top. But, since I don't ride in the bike park that much, the waters are muddy. Within Santa Cruz's lineup alone, I'd probably advise myself to go with a Hightower LT or Bronson for the way I ride these days. But goddamn have I ever enjoyed my time on the Nomad, and I'll sure be sad to see it go.
Here is some basic 2017 Nomad build kit and pricing info in Canadian dollars. For the complete picture including USD pricing, head to the Santa Cruz site. Reserve denotes Santa Cruz Reserve Wheels upgrade.
Aluminum
Strega/Nomad A | R | RockShox Super Deluxe R | RockShox Yari RC 170 | CAD 4,849
Strega/Nomad A | S | RockShox Super Deluxe R | RockShox Lyric RC 170 | CAD 5,749
Carbon
Strega/Nomad C | R | RockShox Super Deluxe R | RockShox Yari RC 170 | CAD 5,999
Strega/Nomad C | S | RockShox Super Deluxe R | RockShox Yari RC 170 | CAD 7,049
Strega/Nomad C | XE | RockShox Super Deluxe RCT | RockShox Lyric RCT3 170 | CAD 7,849
Strega/Nomad CC | X01 | RockShox Super Deluxe RCT | RockShox Lyric RCT3 170 | CAD 9,549
Strega/Nomad CC | X01 Reserve | RockShox Super Deluxe RCT | RockShox Lyric RCT3 170 | CAD 11,099
Strega/Nomad CC | XX1 | RockShox Super Deluxe RCT | RockShox Lyric RCT3 170 | CAD 10,849
Strega/Nomad CC | XX1 Reserve | RockShox Super Deluxe RCT | RockShox Lyric RCT3 170 | CAD 12,399