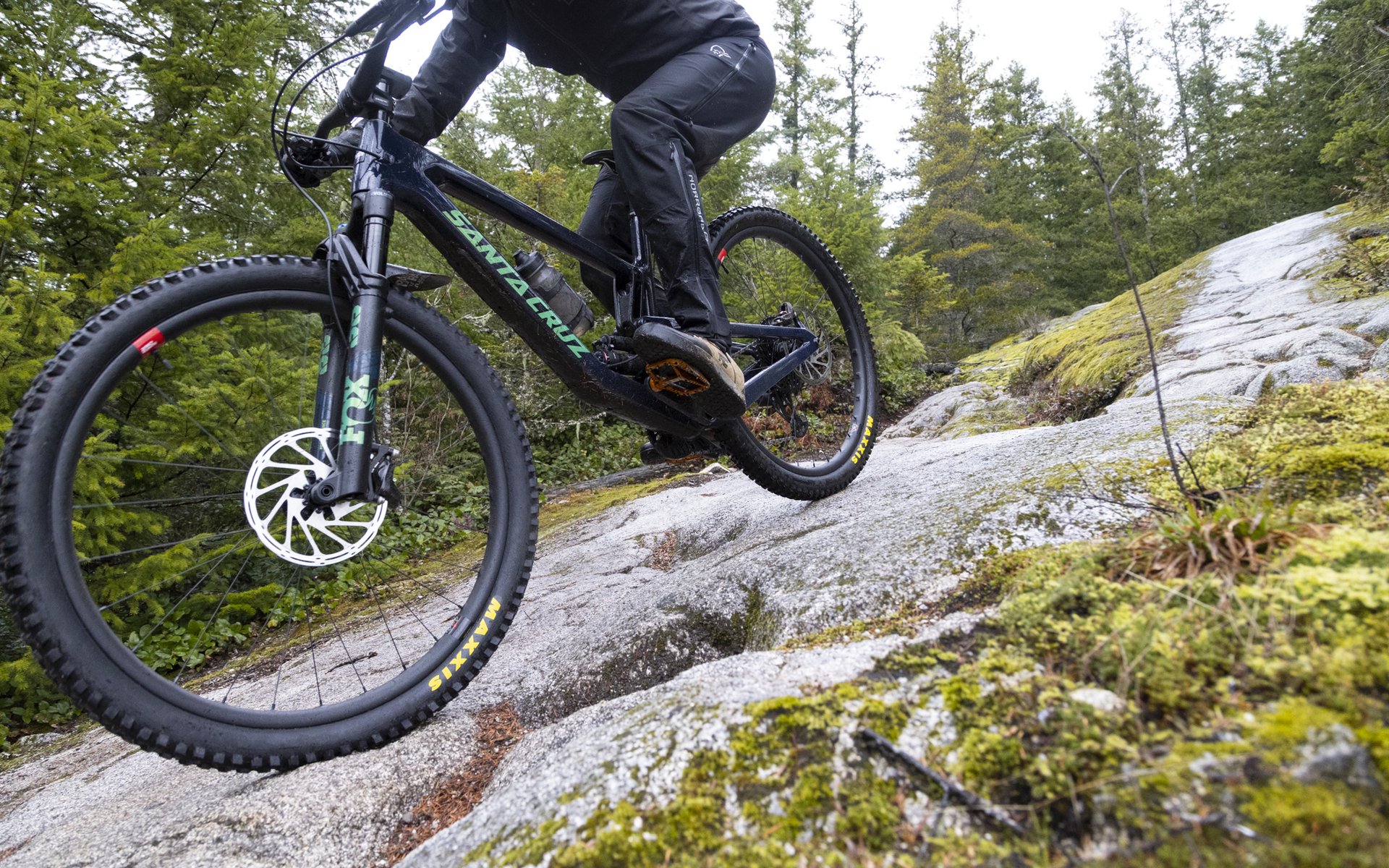 REVIEW / LAUNCH
Santa Cruz Megatower V2 Review
Big bicycles come with big expectations. That can be taken a number of ways, but what I'm driving at is that one should approach the riding of a Santa Cruz Megatower with a little trepidation. It's a bicycle made to go fast and hit the big shit. If you're using it properly it should probably set your heartbeat racing a little bit even just contemplating upcoming rides.
On that theme, one shouldn't approach the launch event for the brand new Megatower without similar levels of trepidation. At first, it was easy to put these thoughts to the background as the plan wavered and changed and adapted. But when something concrete emerged, I started to realize that maybe I was getting in over my head a little bit.
Even just the invite list messed with my head, and Cooper (I think unknowingly?) decided to play psychological games in the week leading up to the event: "Seb Kemp? Seb Kemp is an animal! He'll rip your arms off and slap you across the face with your own hands, all while laughing and plunging down a cliff face on his bicycle!" A few days later he followed with "Matt Beer! Matt Beer is so bloody fast! He'll get there an hour late and still beat you down the hill." Which aren't actual quotes, but capture the gist of what he said. He would have had similar things to say about everybody else if I let him get around to it. I really started to shit my pants a little bit, because it's one thing to be the out of shape media schmuck on the industry ride. It's fully another to be the slowest media schmuck on the industry ride that is taking place on your home trails.
And not even the easy stuff! We're not talking about a few mellow laps on Seymour. No, we're meeting at noon at the bottom of Cypress and put that extreme rainfall warning out of your pretty little head.
Now, I used to ride Cypress a lot. In the peak of my freeride days I was riding there once per week at least. But my tastes have changed! I seldom venture over to Cypress now because I value my limbs and ability to walk without a limp. Almost every major crash that I can think of took place on Cypress. The time I crumpled my ankle on Wild Cherry. The time I caved in a full face helmet on Sex Girl. The time I tumbled down the mountain so hard that my shoes fell off on Fifth Horseman. The easiest line down Cypress will try to kill you at least a couple of times, and if it doesn't, you're probably lost. And I see you over there, hardcore North Shore rider, scoffing at this apparent fear of a mountain. Fear is weakness and on the North Shore we don't show weakness. Yes, we all like to challenge ourselves and fun things happen on Cypress. But those trails are real! You don't take your co-worker who rides a couple of times a month over to Cypress for a mellow after work ride. You don't take the out-of-town guests over to Cypress to show them what the North Shore is like. But fuck it! What do I know?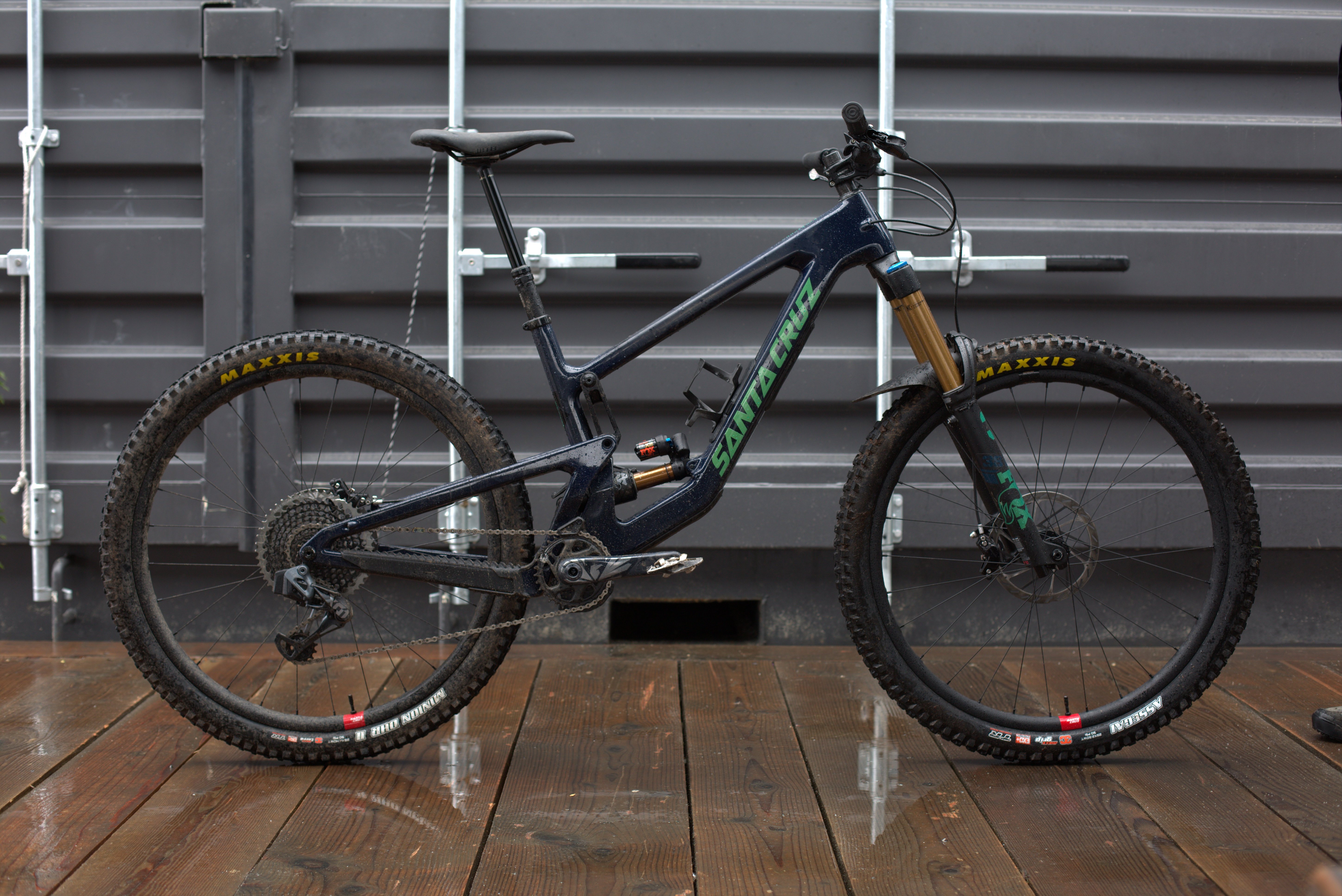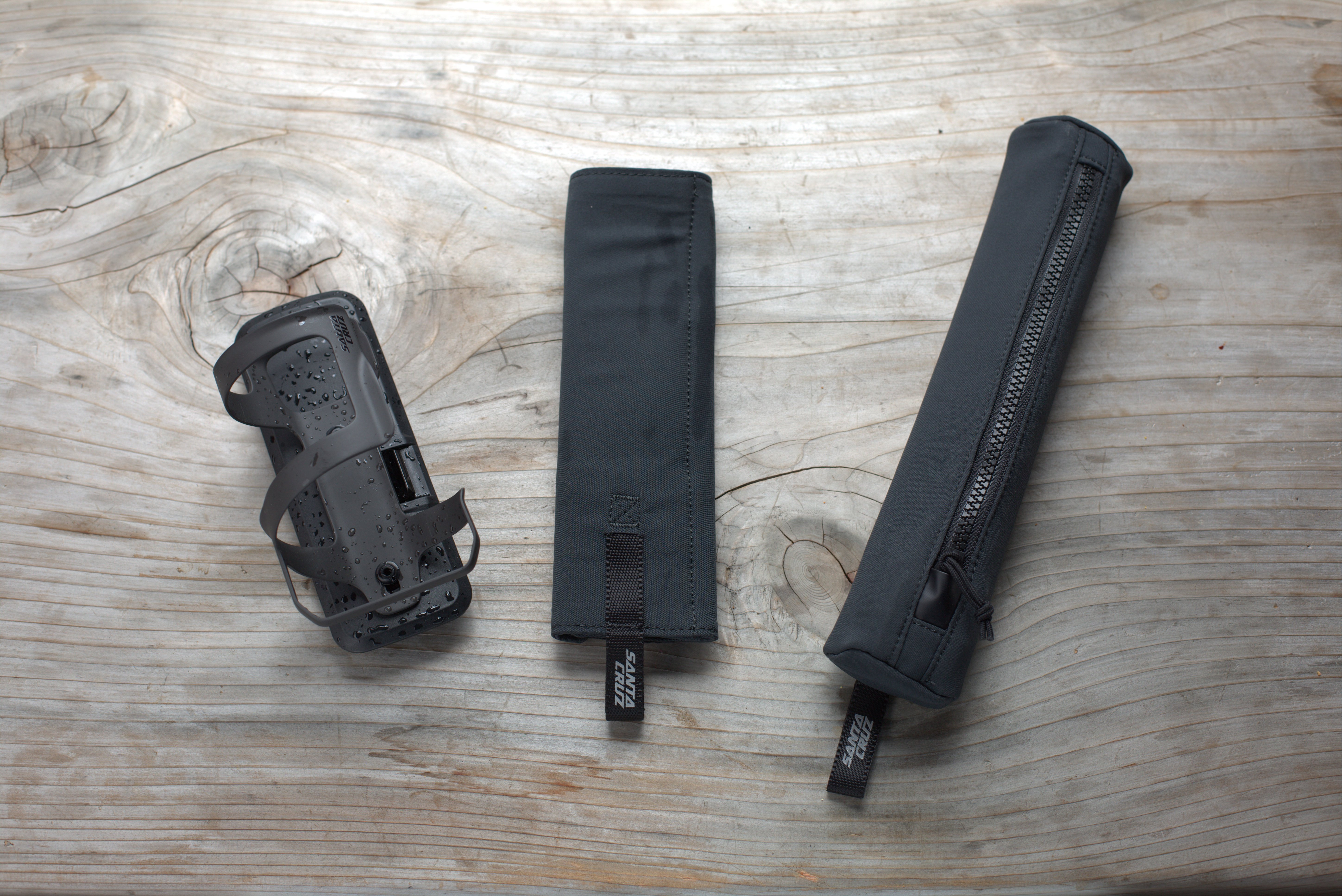 Back to the Bicycle
So. New Megatower. Call this an "iterative change". I asked them to give me a rundown on the biggest advancement with the new model and the response was "well…this one has a hole in the downtube." We then talked for several minutes about the changes to geometry, building it around a burlier fork, etc. There are definitely some things going on, and you can also bring along a tool roll.
So, it's a very similar looking package to the last Megatower, but it is different. Anybody paying attention to recent updates to Santa Cruz bikes won't be surprised by the design language or features. Frames come in C and CC options. Bearings have a lifetime warranty. There's nice guards and shields and rubber in all of the right places. And there's also a bit more travel, a bit more length, and a bit more slackedness. Running through some of the major changes, in point form:
Rear travel grows to 165mm from 160mm
There's a new hole in the downtube/cargo compartment
There's no more flip chip in the chainstay – size specific chainstay lengths instead (via altered pivot locations) which give you a size specific, fixed chain stay between 436mm on the Small and 447mm on the XXL
Reaches have grown ~5mm with each size
Stack has grown a few mm on most sizes
Head angles are ~1 degree slacker, at 63.5 degrees in low and 63.8 degrees in high
All models are built around a 170mm fork vs the last version which had 160mm with an air shock or 170mm with a coil shock
Shock stroke is lengthened from 57.5mm to 62.5mm, the leverage ratio has dropped and the leverage curve has been straightened
Seat angles have steepened
So, compared to the previous version, it's slightly longer and a tiny bit slacker. Kinematics have been tweaked and there might now be a spot for a banh mi in the downtube. Maybe. Stay tuned for the long term test.
Sorry to beat this whole hole thing to death, but they really talked about it a lot, so it felt important.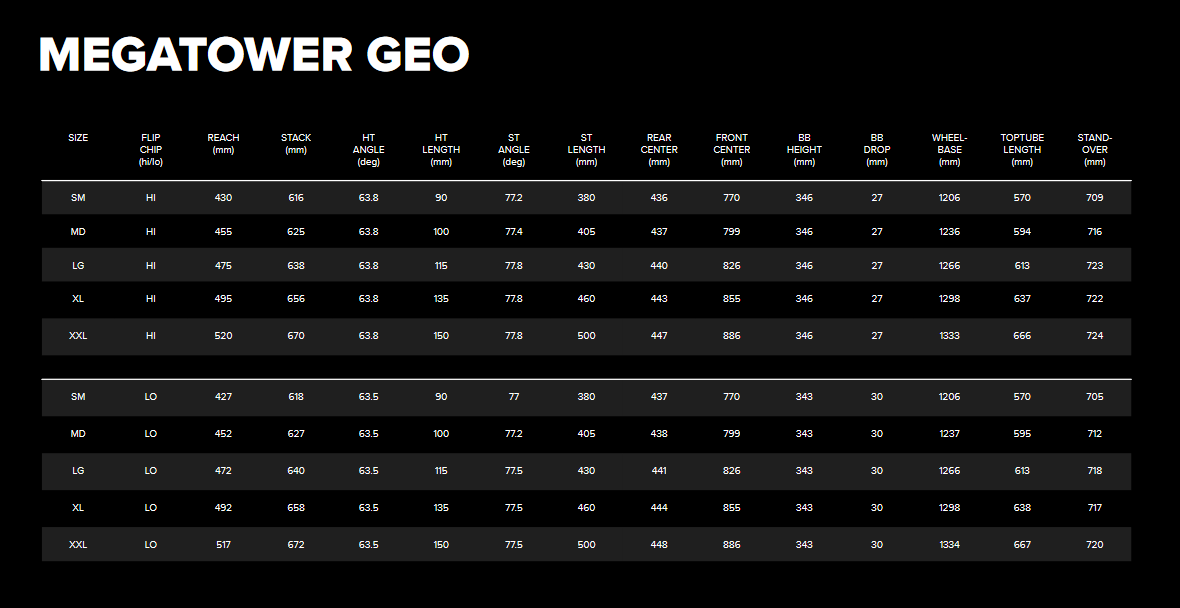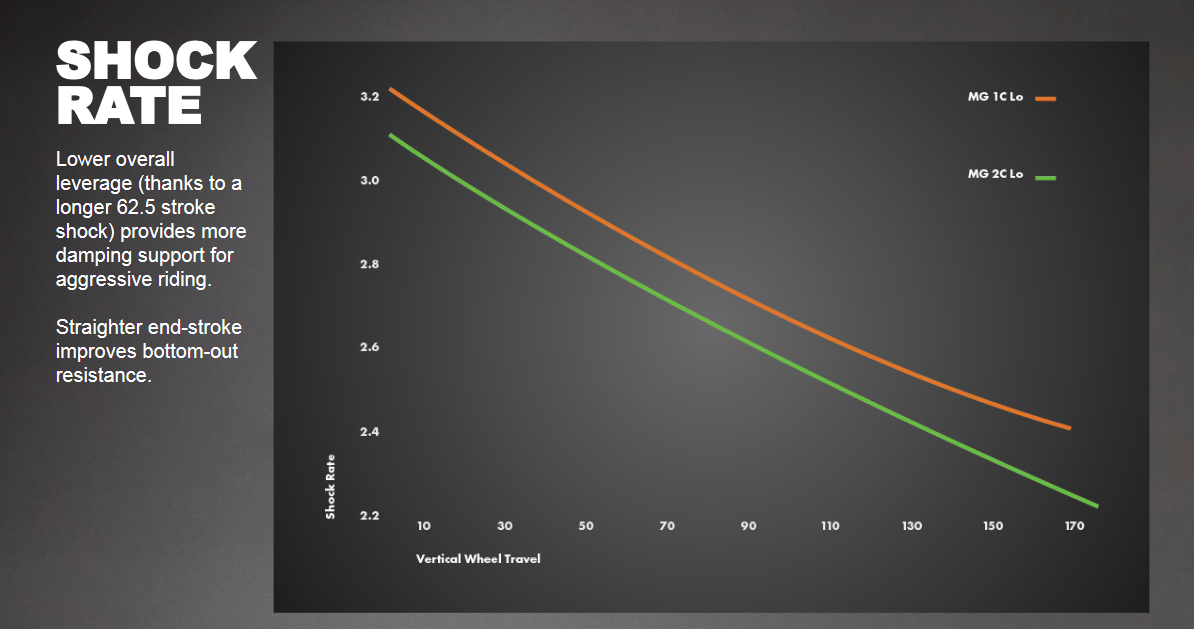 Santa Cruz Megatower Test Day 1 – Cypress
More on that later.
Day 2 – Squamish
Day 2 was a pretty solid test for the various capabilities of the Megatower. We started with a roughly 6km climb up to the top of the Alice Lake trail area. This climb is a mix of mellow double track, as well as some steeper singletrack and technical bits. With the climb switch in place, the Megatower was happy enough, and I didn't find myself wishing for a shorter travel bike.
Once at the top things got more interesting. Our fearless leader for the day was Squamish local and Santa Cruz Product Manager Josh Kissner. Before arrival, I made the request of Josh to "show us some slabs", and he seemed more than happy to oblige. Our loop took us from Entrails, to Bony Elbows, and then on to Hueso and Highway to Hell (I think). After that, we looped around for another climb before hitting Dirty Jane. This wasn't quite Rémi Metaillier levels of slab riding, but we were in the same neighbourhood at least, and got a glimpse of some Rémi lines.
It's sometimes hard to get a feel for a bike on unfamiliar trails, but at the same time weaknesses can come to the forefront. It was quickly evident that the Megatower is comfortable and confident, and it was easy enough to follow along as closely as I could and trust in the bike. I've mostly been riding 150mm rear/160mm front bikes for the past year, so just the existence of a bit of extra travel probably helped with feeling like I was riding a downhill bike, but the performance of the Megatower felt like more than just a 10-20 mm growth in travel.
Beyond that though, the Megatower just fits, and it is supremely comfortable. The not-too-crazy reach of the XL feels like it is right in my wheelhouse (they do have the XXL in case you want to go even longer). Further, the Megatower is the first bike in a while that I haven't had to resort to weird things in the name of chasing stack. The handlebar height is nice and high, and there are plenty of spacers still available if I want to go higher. It's almost like they've recognized that tall people ride large bikes, and built accordingly.
Having a Fox 38 up front helps out, as well. This is only the second 38 that I've run, and I've meshed pretty quickly with it after experiencing one on the Norco Shore. The 38 feels smooth and supple, but still has some punch to pull things out of trouble. No complaints here.
My version of the Megatower came with the Rockshock Super Deluxe Select Plus rear shock, which seems to have swapped out usable adjustments for adjectives. The shock felt a little bit soft at base pressure, and was a bit squishy on climbs. The climb switch is really firm though, so this wasn't a gigantic problem. Going down, I was pretty happy with how forgiving everything was. On a rainy day riding sketchy, unfamiliar trails, a little bit of softness isn't all that bad of a thing. We hit drops. We hit rolls. We hit slabs. We hit jank. The Megatower ate it all up. And that was just the morning!
Soaked, cold and tired, Santa Cruz piled us into a truck and carted us up to the top of Garibaldi, where it was lightly snowing. We dropped into a steep ass trail that was made of peanut butter. I wouldn't have been too upset had the day ended an hour earlier over a nice hot lunch and a beer, but the bike was happy enough to guide me in the right direction, even if I wasn't feeling up to the task. The steep-assed peanut butter lead to some flowy bermed trails, and again the Megatower just took care of it all.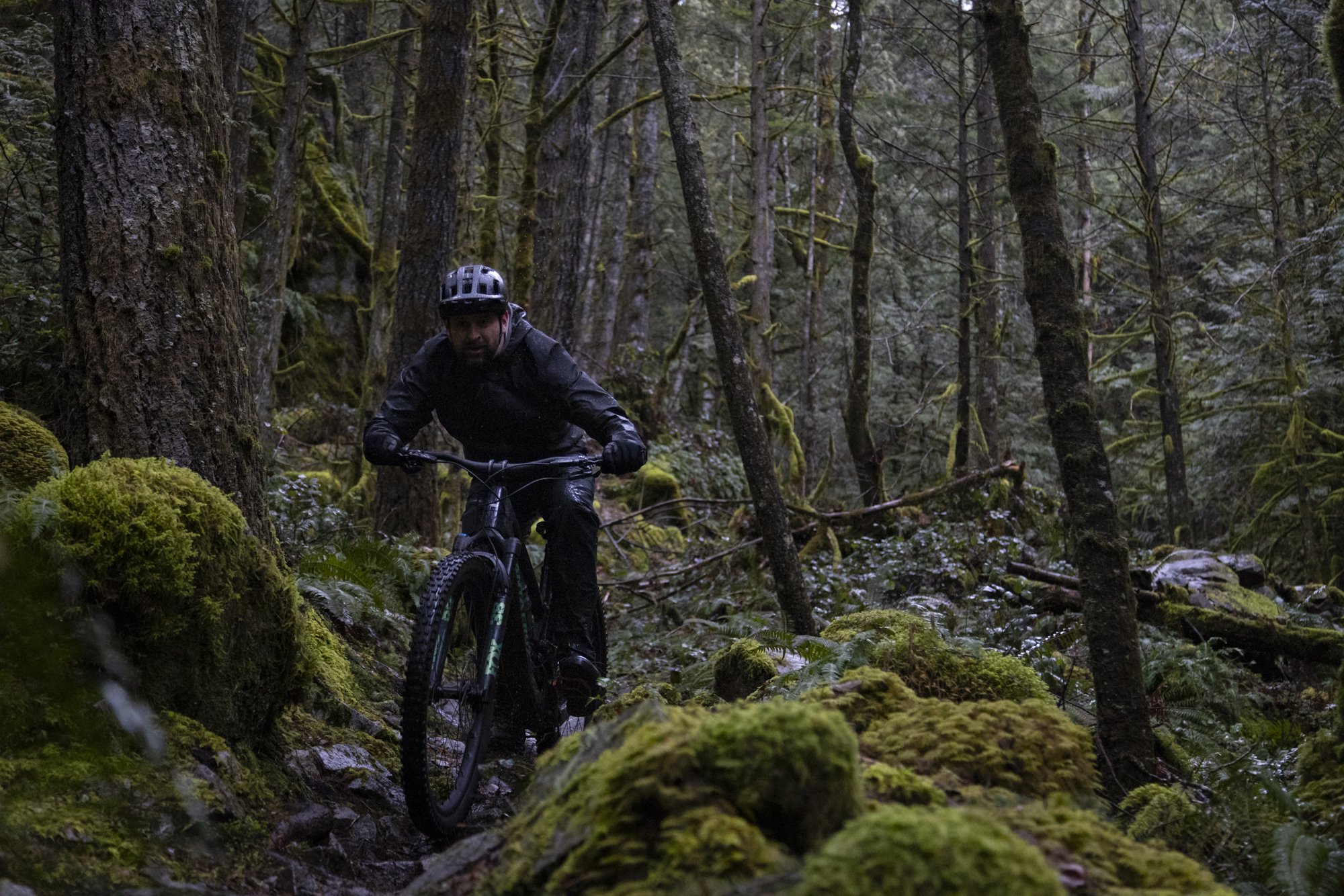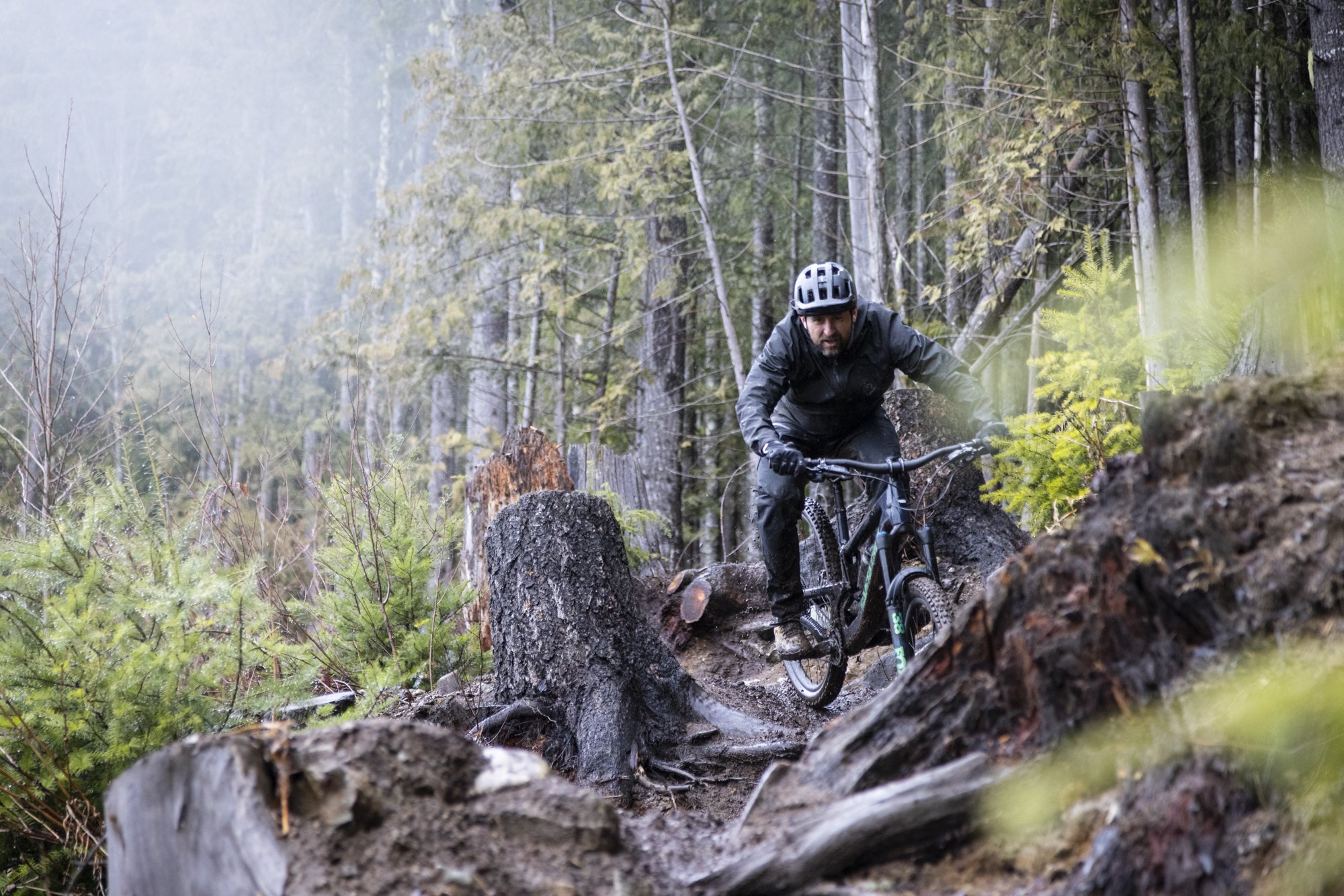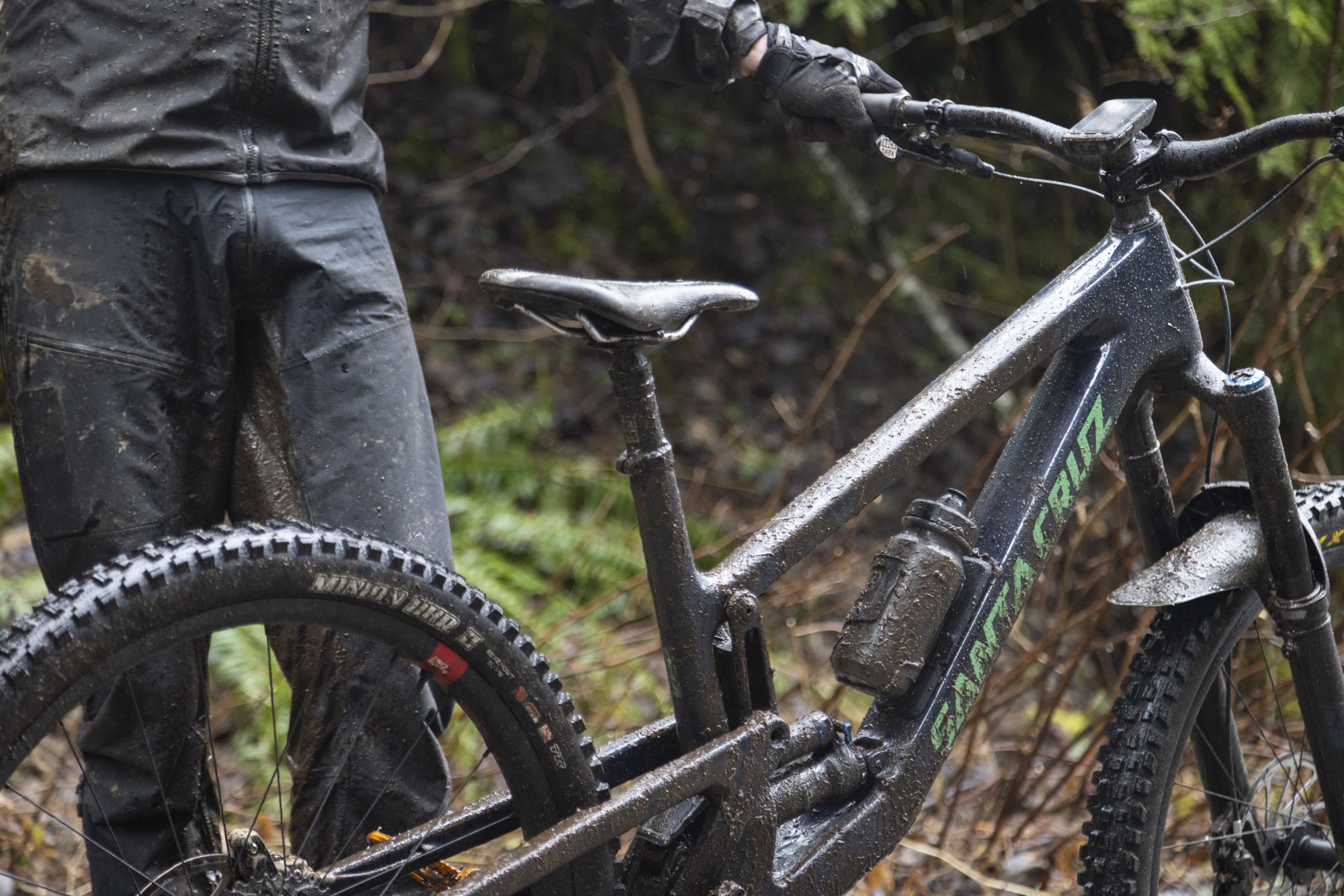 Megatower on Home Trails
It's been a busy winter, and I'm facing the horrible task of too many bikes to ride. I've spent a lot of time this winter repeating laps on back-to-back days, changing up bikes. Doing this has really let me wrap my head around what feels different, bike to bike. I was generally pretty happy with this setup until the Megatower showed up. My one regret is that I've had to spread the love around a bit more than I would have liked, and I've really just wanted to ride the Megatower.
Parts wise, the bike I'm testing is a mix of serviceable, not-too-flashy parts. Controls are a mix of a Burgtec stem and a house bar. Tires on my bike are the new Maxxis EXO+, with a MaxxTerra DHR on the rear and a MaxxGrip Assegai on the front. Coil Megatower models get you DoubleDown casings. The dropper is a regular old RockShox Reverb, without the AXS to match the SRAM GX drivetrain. Wheels are Reserve 30s, with Industry Nine 1/1 hubs. You even get a full chainguide, provided by OneUp. Putting that all together, I think that makes this bike a Santa Cruz Megatower C GX AXS RSV, and puts the price at a healthy 12,799 CAD.
My tweaks to the bike have been subtle since the launch ride. On my first ride back home I got a bit heavy-handed with shock pressure, before knocking things back to 5 psi above recommended settings. This feels like a great balance between support and forgiveness. The bike feels firmer under pedaling, sits up nice and high, but still sucks things up without difficulty. Other than that minor pressure change, nothing else has been touched.
Climbing wise, I've been surprised by how able the Megatower is to keep up with the slightly shorter travel bikes I've mostly been riding. While it's probably not the bike you want to be on for a full day of climbing mountains, there isn't much of a gap at all to the smaller bikes. Yes, this bike does have some high dollar wheels and components that keep the weight down, but for a bike so capable, this is really impressive.
Descending on the Megatower is piles of fun. I know you're probably looking for more than that, but it all just feels proper and correct. The fit is comfortable, the geometry is predictable, and the suspension on both ends works really well. To expand on that, the bike always feels like it's ready for just a bit more. You can plow through a fast succession of bumps and it feels like it is only using what is necessary and is anticipating what is coming next. It leaves me feeling like certain sections of trail can be ridden, rather than survived.
Santa Cruz has found a really nice balance with this Megatower. It's super capable, but doesn't feel out of place in smoother terrain. You probably don't need it if you're riding nothing but mellow trails, but even on bermed, machine built trails, it's still a pile of fun. It just feels right, both fit and geometrywise, and I'm glad Santa Cruz hasn't gone too crazy on the geometry.
More to come. This one is going to hang around until the e-mails from Santa Cruz/Cam/Pete get really, really desperate.
Santa Cruz Megatower Pricing
The Megatower is a bike for the serious rider, and model pricing ranges broadly. An incomplete list of pricing is as follows:
CC Air/Coil Frame only - 5,599 CAD / USD
C Frame R Kit - 7,399 CAD / 5,649 USD
C Frame GX AXS Kit - 11,099 CAD / 8,499 USD
C Frame GX AXS RSV - 12,799 CAD / 9,799 USD (as tested here)
CC Frame XO1 Kit - 12,149 CAD / 9,299 USD
CC Frame XO1 AXS Reserve Kit - 14,599 CAD / 11,199 USD
CC Frame XX1 AXS Flight Attendant Reserve Kit - 18,249 CAD / 13,999 USD
Complete Megatower spec and price list.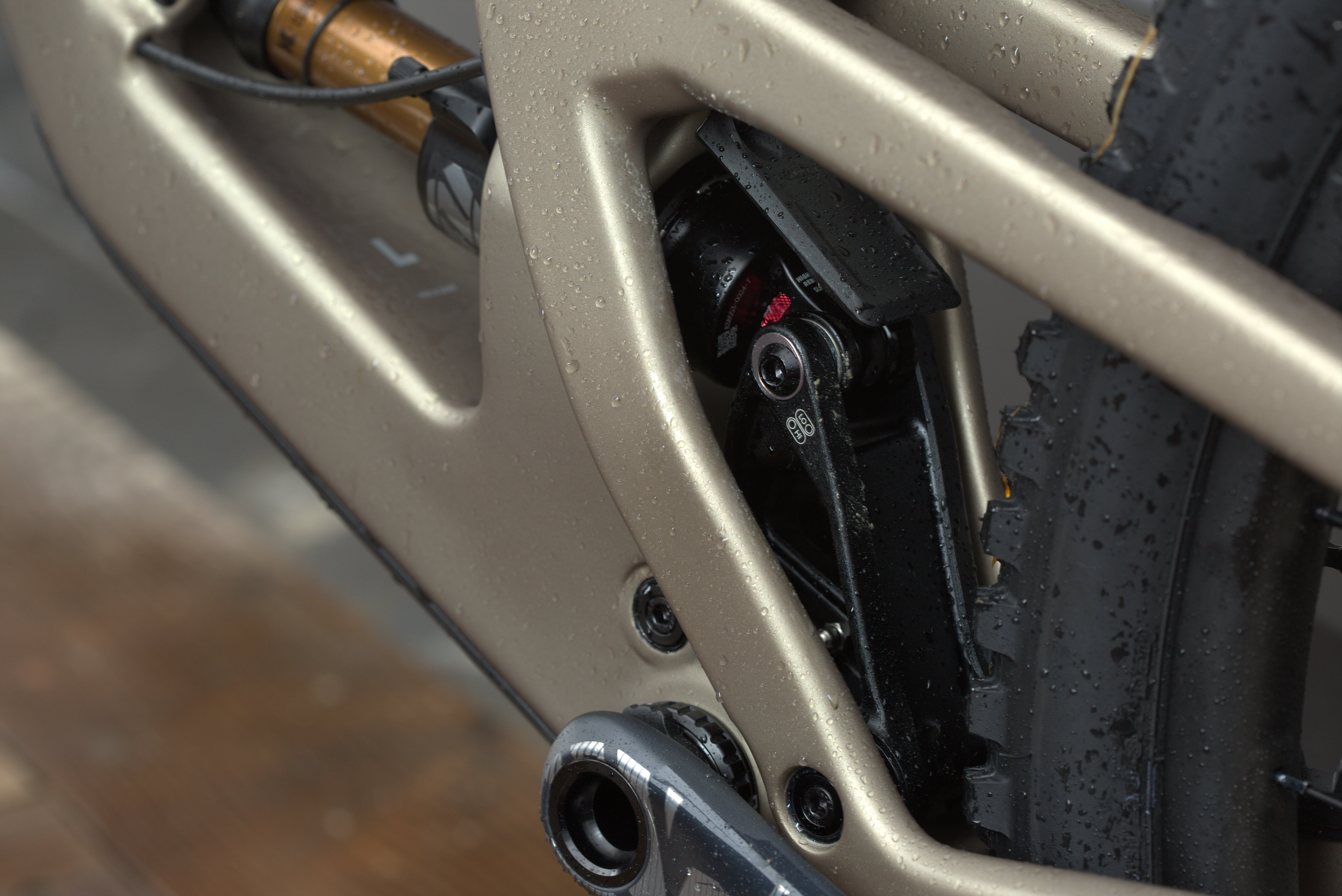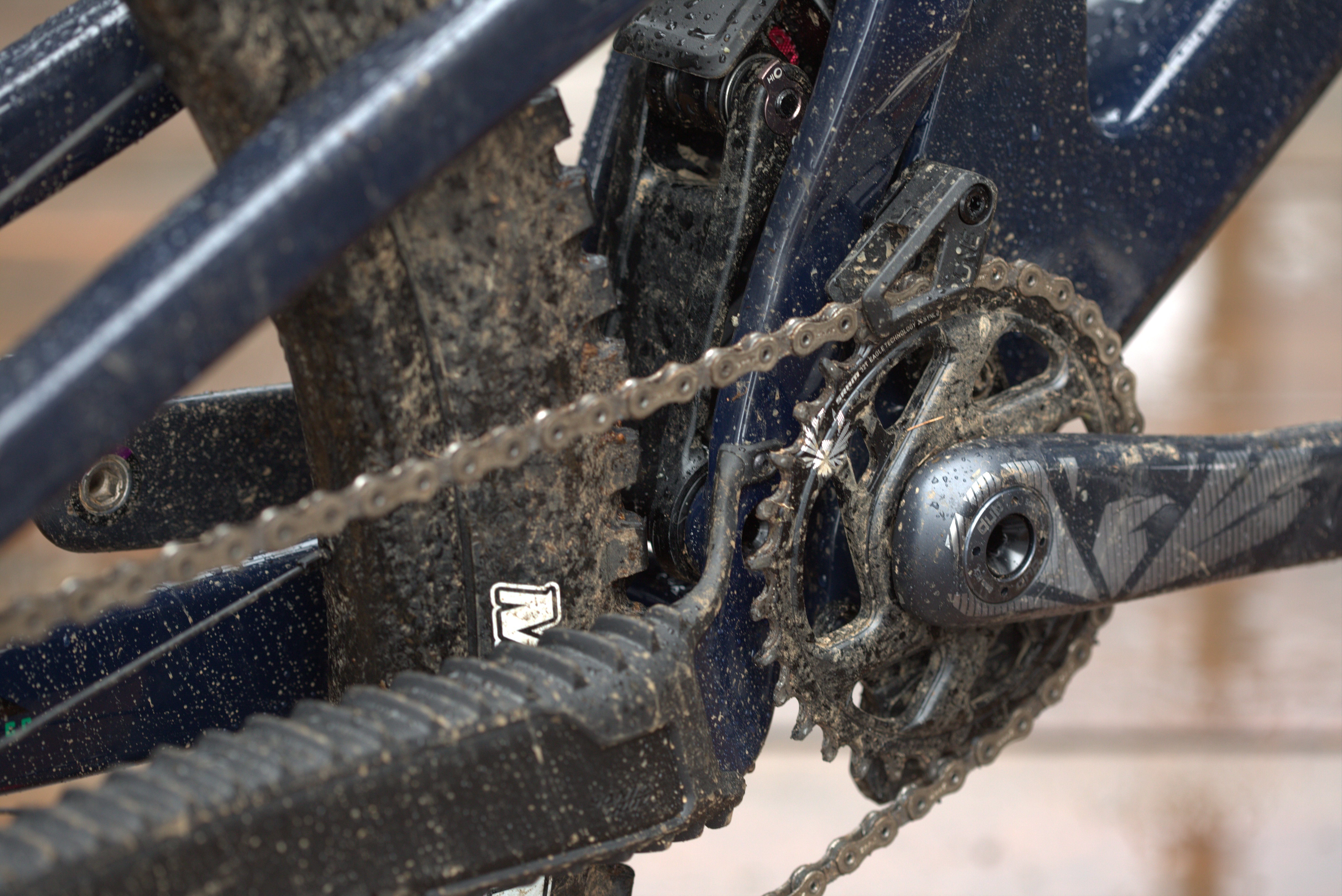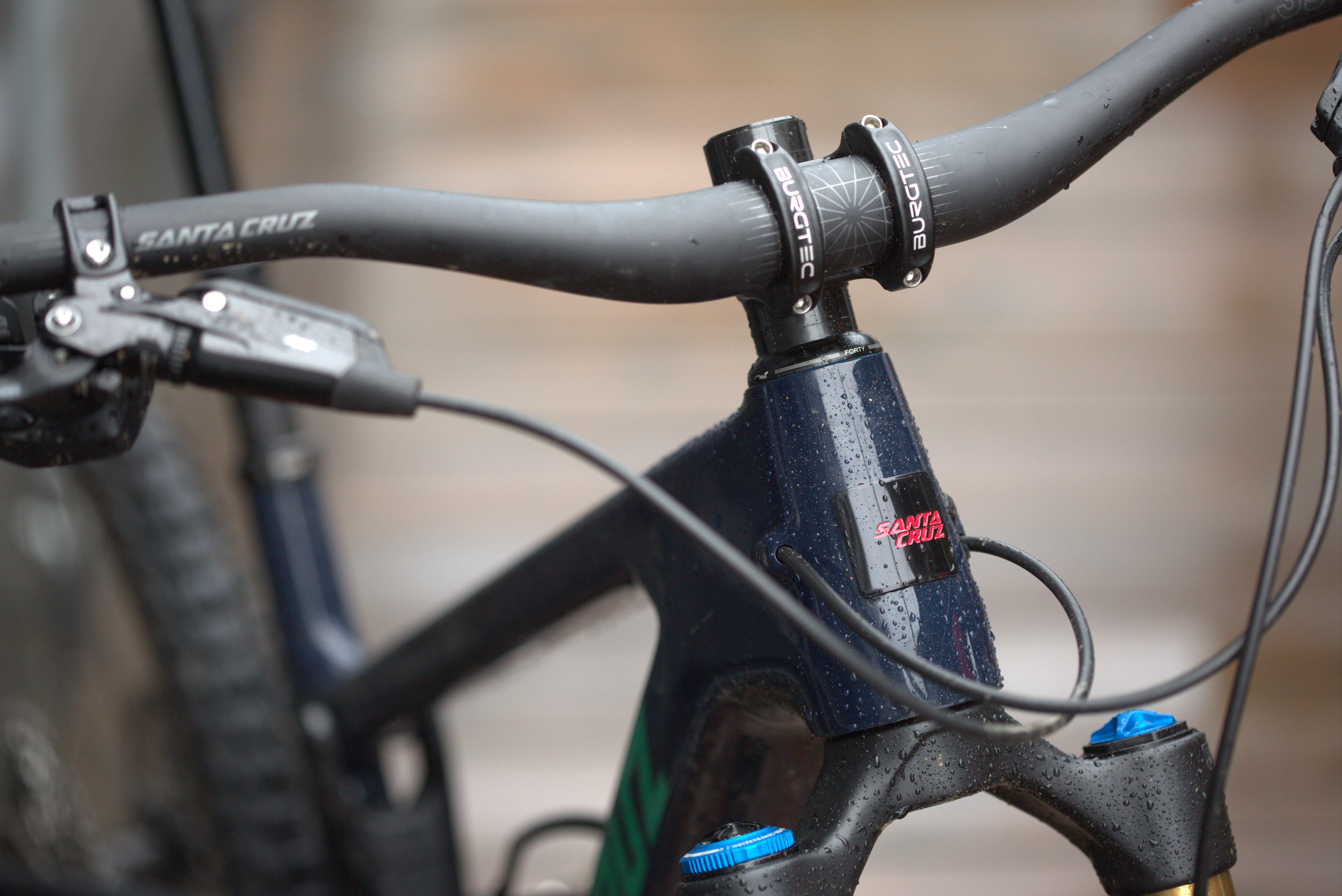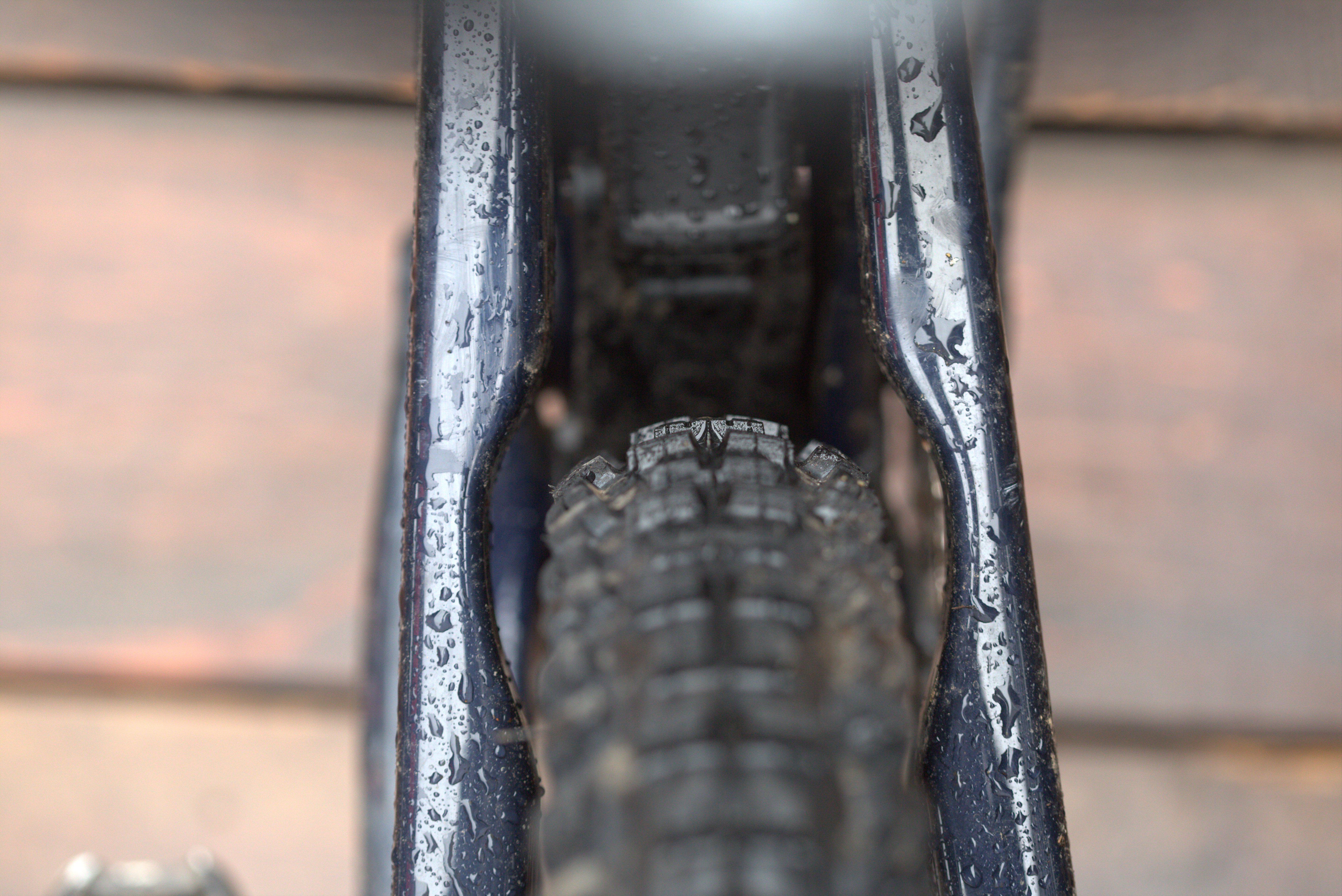 Back to Day 1 – Cypress
After reading this, It might seem like I built up the introduction to support the story that I'm about to tell. But I didn't. In the days leading up to the launch I was kind of freaked out that something bad was going to happen. And it did. I just assumed it was going to happen to me.
These bike launches are always a bit funny. You're there with a bunch of people you don't really know. You're representing yourself, your publication, your hometown. There's a fair bit of dick swinging going on, and it's taking place on a bike that you don't really know, and that hasn't been broken in. So you plunge into things cold with brakes that aren't bedded in and suspension that probably isn't perfectly set up. And when that's all happening on Cypress, it can feel like a bit too much.
It was actually all going pretty well. People were taking it easy. The bikes seemed good. The weather was fucking atrocious, but we had a nice plan to lap the bikes, get a feel for things and generate the photos that we were going to need.
And then Grant the photographer broke his leg.
And not just a little break. Like, loud snap, tumble down an embankment, how the fuck are we going to get him out of there, oh my god he's really screaming and in pain sort of breakage. The next two hours were a humbling experience in the wonders of humanity.
Luckily, we happened to be fairly close to the bottom of Roach Hit. I mean, try repeating "The trail is called Roach Hit. R-O-A-C-H H-I-T" several times to a 9-1-1 operator. But within what felt like a few minutes we had an access path roughed in (thanks to a nearby trailbuilder and his tools), a Pinkbike-branded umbrella to keep Grant dry (thanks to Matt), a stack of moving blankets to keep Grant warm (thanks to Seb), and a whole bunch of people running up and down the mountain, trying to figure out something/anything that they could do to help, or at least not make things worse.
Within 45 minutes we had a first responder on the scene (with gas!), shortly followed by what felt like a dozen firefighters. Just boom! No nonsense. They stabilized the leg, dodging curses and potential violence, hauled him out of the bushes, strapped him to their fancy little carcass dolly, and within 2 hours from the incident he was off the trail and on his way to hospital.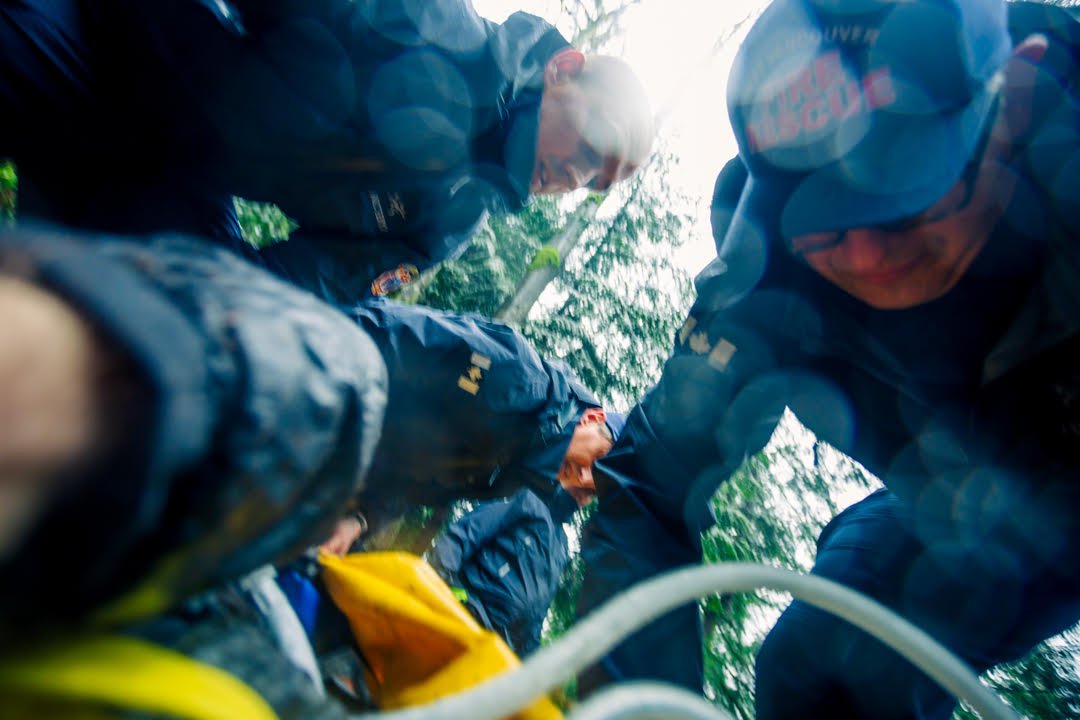 This, to me, is a pretty amazing representation of the strengths of civilized culture. Think of just how incapable most of us are of dealing with even the simplest of injuries out there. Even just standing on the trail, looking at the bank that Grant tumbled down, and the giant stump that he bounced off, it's sort of amazing that he only broke his leg. Then consider that not only were we clueless as to what to do in the immediate aftermath, but we were profoundly ill-equipped to move him the 30-40 feet required to just get him back on the trail, let alone the few hundred meters to the bottom of the mountain. And with one phone call, a few instructions and some magical little location app, a team of professionals show up and deal with all that shit like they're picking up the kids from school? Amazing.
But beyond that, this could literally have been any one of us, on pretty much any day of the week. The feature that Grant crashed on was not large. It was a trickly little roller/drop of about 3 feet into a deep sort of rut, and he thinks the break happened when he bashed his leg into a rock that was sticking out of the side. This was not a high consequence move, and this is the sort of thing that most of us would see on just about any ride we complete on the North Shore.
But this is society. A hundred years ago (or whatever) we may have been out there panning for gold or cutting down giant trees with a handsaw or maybe just figuring out other ways to randomly deface nature, and if the same thing would have happened the results would have been far different. We would either have had to figure out a way to make the 2-day journey back to civilization with a screaming mass of Grant, or maybe we would have just tied him to a tree and let a bear finish him off. Instead, we punched some numbers into our fancy phones and then watched the competent humans haul our friend to the bottom of the mountain, and then we hopped on our bikes, rode a couple of hundred meters of trail, and then ate a sandwich. After that, we hopped in our vehicles, drove to Squamish, drank a bunch of beer and talked about just how precious life is.
That is some tax dollars at work, right there.