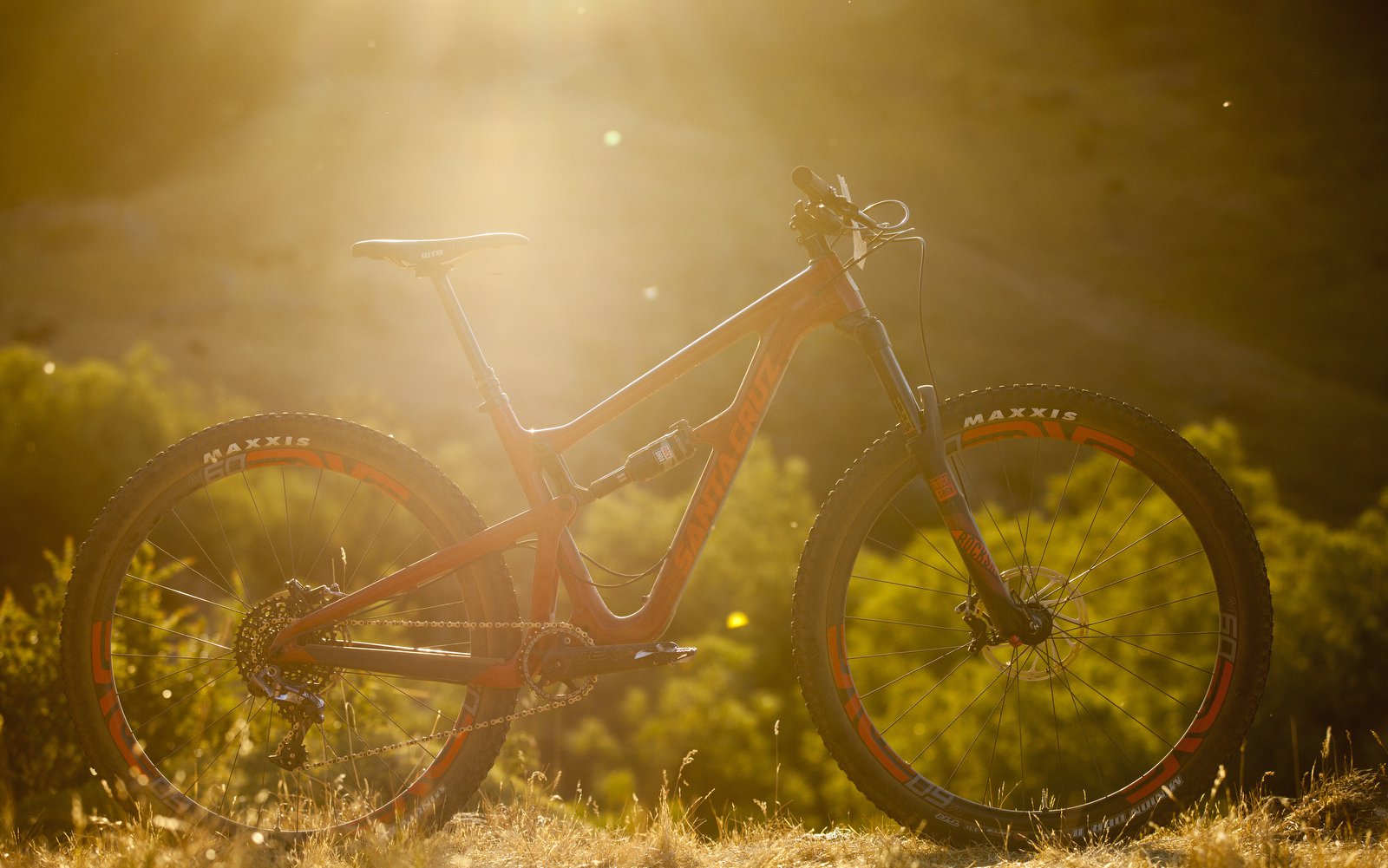 Santa Cruz Hightower
Day 1. Gathered at the top, getting ready to head down from the radar tower.
The first high fives of the trip came early.
After six kilometers of climbing up a steep switchbacking gravel road, we had just descended the first 100 or so meters of vertical, through a high-speed shale slope that quickly changed from 'Choose a line and surf it' to 'What will shale do to my face at this speed'. The first group of us got to the bottom before realizing what could have happened if we'd stuffed a front wheel into one of the holes lined by jagged rocks sticking up at us from behind cascading blind risers. Somewhere in the second group, someone hadn't been so lucky.
This is the mellow, low angle version of the Shale Slope aka Choose Your Own Adventure Zone.
We had just had time to check for torn sidewalls, followed by a few bro slaps after getting an idea of how rad these four days of riding were going to be. Then the radio chatter started. "rider down…head injury…attending…stitches…. evac…"
Shit. That sounds serious.
Jens Staudt, a German journalist for MTB-News, accomplished downhiller, and known madman, had stuffed his front wheel and catapulted, landing head first in a pile of rocks. A jagged rock smashed the side of his helmet to pieces and then went one further, slicing his scalp open behind the ear. Luckily his crash happened close to our starting point, so he could be carried via spineboard to a waiting jeep and driven to the hospital. Thankfully tests were negative for internal injury. Sporting eleven stitches and a newfound appreciation for mortality, Jens rejoined us later that evening in camp.
The second timed stage on day 1 was a corker. Twisty loam through a beech forest that was thousands of years old. Is this Chile or some place in BC?
We'd barely begun riding and had already been vividly reminded that we were in Aysén, a remote region in the southern part of Chile. We were also some of the first to ride mountain bikes in Patagonia. Ever. As awesome as that is, there was no getting around the fact that, despite having very capable support crews with extensive first aid training and equipment and a doctor riding along with us, we were still breaking in bikes and trails on the bottom of the world. Ironically, the first 500 meters of descending were the most consequential. After that, the greatest dangers were barbed wire, sunstroke, and Piscola (Pisco and Coke). One false move with any of those three and you'd be spending the next day at the back of the caravan.
Seb Kemp. Fueled by Piscola.
As guests of Santa Cruz, we were invited to check out their latest trail bike. Speculation from all corners was mostly right:
"It's a new Tallboy LT. Has to be. They stopped delivering them to my shop months ago."
"It's a new 29er."
"It's a plus bike."
Correct on all counts. Well, mostly. It's not a new Tallboy LT, because they chose to name the new bike after their factory demo manager, who goes by the nickname Hightower. He's 6'5″ and rips (on a Tallboy LT). And now he's got his nickname on a Santa Cruz top tube.
Day 2 seemed like an interminable string of double track climbs, heat, and dust. At least we ended with a downhill stage right to our campsite. Beside a lake.
Like the Tallboy LT, the Hightower is a 29er with 135mm of rear wheel travel, intended for pedal-friendly jack-of-all-trades type riders who like to get a bit rowdy on big wheels. Here's the twist: the Hightower also comes ready to play as a 27.5+ bike. For either wheel size, the frame is the same, with a flip chip added to keep the BB height almost identical. The 29er comes with a 140mm fork while the 27.5+ gets 150mm up front (some staff are already running the 150/29er combo and report good results). The Hightower will be available, like other SC models, in two levels of Carbon: the C or the lighter CC.
The Santa Cruz Hightower in 29 / Matte Carbon & Mint and 27.5+ / Sriracha Red.
Other standard features of the Hightower:
150mm Rock Shox Reverb Stealth
Internal cable tunnels for rear derailleur and dropper post
73mm threaded BB
ISCG 05 mounts
No provision for a front derailleur – Hightower is 1x only
Boost Hub spacing: 148mm rear / 110mm front
Available in Sriracha Red or Matte Carbon & Mint
Key numbers and geo. The Hightower is the evolution of the Tallboy LT, but those numbers put it closer to a Bronson with big wheels.
Aaaand the spec, prices, and weights. Bold spec denotes a change/upgrade from the trim level below it. Both 29 and 27.5+ versions are combined into each spec column since the only differences are fork travel (29″ gets 140, 27.5+ gets 150), rims, and tires. Weights correspond to the wheel size as listed up top.
The Hightower in 27.5+ trim. One thing about 150mm dropper posts is that some riders are forced to ride them slammed. The Hightower comes in M, L, and XL. Santa Cruz could have made an S, but felt that the handling would be compromised in order to make the numbers work for the smaller frame.
The 29er I rode is showing a lot more post and a greater saddle to stem drop. Standover on the Hightower is extremely good. BB height was bang on IF you're used to today's modern mantra of long, low, slack. Pedal strikes were rare but did happen. However, it was usually due to an unexpected rock or trying to slip in a pedal stroke where I probably shouldn't have.
It may not look like it, but that is full travel. This Monarch comes with a 50 or 57mm stroke option, so if you have ~7mm left, you're still getting it all. I was thankful for the shock's lockout mode on the gravel road climbs, and used the middle Pedal position more than I'm used to, but that was just as much a mental thing as a physical need.
Santa Cruz's internal routing tube system is quiet and easy to work with.
Gary Perkin always seeking that #lightbro.
Gave the Lezyne Super GPS a great workout all week. Review coming soon.
A number plate that will find a good place on the wall of the shed.
First seen on the new Nomad (and not exactly seen here), the Hightower employs the short lower link that also was recently introduced on the Bronson.
1x only. ISCG 05 is there so you can mount a chain guide if you want to rattle around a bit.
Those are 29s, but there is extra clearance built in for 27.5+
Same story on the front – the Boost-equipped Pike comes ready to handle as much rubber as you want to throw at it.
So those are the nuts and bolts on the bike. What about the feels? Let's put the terrain we were riding on into perspective.
Because the people at Santa Cruz tend to be intrepid (or just on an international search for twister liquor), and because they're throwing a lot of effort behind growing the adventurous side of the sport, they decided to combine the bike launch with a recon mission of a new event they are supporting, called the Rally Aysén Patagonia. Four days of riding (about 35 km and 900 m climbing per day), each with 2-3 timed stages. Unlike the Enduro format, this is called a Rally because there are differences. Some of the timed stages are downhill, others are flat, and a few are climbing stages.
Stage profiles for all four days. We cut out a few sections on day 3 and 4 that were simply grinding up gravel roads. The route will change somewhat between now and showtime in 2017. Day 1 and 4 were more or less perfect, whereas day 2 and 3 should see some tweaks.
It's aimed at riders looking for adventure with a bit of racing mixed in, and longish days in the saddle without the death march-like numbers of a Cape Epic or TransAlp. Rather than cumulative times from the race stages, you instead earn points: first place on a stage gets zero points while last place earns the number of points that corresponds to the total number of competitors. Least points at the end wins. This format would be interesting if applied to an Enduro race as well, because it would make a catastrophic mechanical less punitive to a racer's overall results, but wouldn't change your placing on the stage in which it occurred.
The southern Chilean countryside had a decidedly Western feel a lot of the time. This is cattle ranching country.
A future Juliana team member poses with current Juliana and all around badass Anka Martin
That fence is the primary perimeter before the border into Argentina.
Standing in Argentina, bike still in Chile. Didn't get a stamp, but came prepared, just in case.
Over four days, we were treated to a buffet of virginal loam in ancient beech forests, verdant pastures full of frisky cattle, dust so fine it squeaked under our tires, alpine moonscapes, slow motion sunsets, and moonlight that negated the need for a headlamp. Day after day we were breaking in trail that had only seen sweat and rubber from the few who came before us to build them. We spent our fair share of time on dusty double track, but then we would scale yet another barbed wire livestock fence and set off on a carpet of grass, dirt, and roots, as 30 sets of wheels created a track where none had formerly existed. Mountain biking in Patagonia is just beginning, and if you want to experience how raw that feels, you'd be advised to line up for the first running of the Rally Aysén Patagonia in January of 2017.
Gabo Benoit (left) and Los Pollos, his young helpers, are working hard to bring MTB to Patagonia. Gabo is also a renowned fly fishing guide and Patagonia ambassador (the brand). The Pollos are keen rippers that are getting an early taste of trailbuilding experience.
Although the trails themselves were not often technical in nature, you still had to focus a lot of the time because the long grass concealed fallen logs or holes, off-camber sections would unexpectedly narrow or pull you into sections of deep dust, and even in the doubletrack sections the wind would shift, changing perfect visibility to dust clouds that brought visibility down to less than a foot in front of your wheel. If you were evaluating the riding based on singletrack alone you might have wished for more, although we rode three or four sections that would hold up to any loam hunter's lofty standards. However when you factor in the variety of terrain, the changing views, and the thrill of riding where no one had ridden before, the aspect of adventure became the focus, and I found myself a bit disappointed each time the day's riding came to an end. Except day 2. That day can be over forever.
Head to head. The Hightower I brought back with me is currently equipped with 27.5+ because I wanted to try it like that in the mud and snow we're currently 'enjoying'. Soon enough I'll swap to 29″ wheels and try it that way for a more complete picture.
Everyone started the week on 29″ wheels, but there were several sets of 27.5+ to test, so we all took turns with them as the days went by. For the first two days, I found myself quickly at home and happy on the Hightower in 29″ trim, if not perfectly situated. By day 3 I was feeling really comfortable. A look at the numbers show that it brings modern geo to the table which, combined with the familiar VPP platform, pedaled well and descended predictably. At no time did I find myself thinking "this thing rides pretty well for a 29er". It simply rode well, wheel size wasn't a big factor – but again, it was after a few days that it started to feel 'right'. By now, many people would feel that way anyway, but we don't ride as many 29ers here on the Shore as elsewhere, so when I do jump on one, it's usually noticeable.
Day 2 turned into a bit of an epic, but the first 10 kms took us through scenery like this.
And we always knew that cold beer and good times were waiting at the end of each day.
The Hightower just felt like a really good bike – one I wanted to pedal further than I usually do, but which still felt fun to go fast on. Maybe a hair slower to push from one side to the other, but in time that gave way to a solid and predictable feeling in the corners, and I even found a surprising comfort level letting it slide in loose corners. It does not feel high, nor do I feel like I'm 'in' the bike (that never felt good to me anyway).
The suspension performance was first rate. I like VPP and have become very comfortable with it on the Nomad, so it came as no surprise that the Hightower felt familiar. The longer reach and firmer pedaling performance was especially welcomed on the longer days of riding, and although I loved the active feel that came with a balanced amount of mid-stroke support, I still wasn't shy about using Pedal mode on smooth doubletrack sections or lockout mode on long gravel road climbs. It wasn't necessary by any means, but the prospect of a 500m climb is always a little easier when you can trim the back end and gain a little bit of added efficiency. On the shore my tendency so far has been to climb with the shock open, because traction is so vital in these wet, snowy conditions.
Right before this was a tricky off-camber climbing section that was about 10 inches wide for 2-300 meters. After, we started diving down through dusty corners that swallowed front wheels like it was their last meal.
I drew into my time on the chubber rubber on day 4, which I think worked out pretty well. We started that day at a Chilean army base that breeds horses for use patrolling their mountainous border with Argentina. We climbed for a few kilometers up a loose, rocky road that claimed a lot of dabs from spin-outs and dislodged rocks. The big tires just plowed over everything and I went straight to the front of the pack with no trouble. Later, we rolled across a steppe over areas where there was no defined trail in the traditional sense, and I appreciated the extra traction and weight distribution of the wider tires in soft, flat grass and muddy sections. On the final climb of the day we were pedaling and hiking through long grass and loam, and again the wide tires seemed to give me an advantage as I found traction where others had to work harder to keep spinning. The final timed stage was also the last riding we did all week, and while I would have appreciated deeper knobs and a more precise feel in the tire in the loamy sections, they made up for it on the loose and flat corners that punctuated each change in direction as we made our way down the hill.
Foot out and roost it, Seb.
Will Ockelton heading down to camp on Day 2. Someone mentioned there was cold beer, and he was gone in a cloud of dust.
We ate like kings each night. The company bidding for the camp and catering contract for the Rally Aysén Patagonia handles the same logistics for a little event called the Dakkar Rally.
Lots of big vistas in this part of Chile.
Anka Martin rides past remnants of the fire from 100 years ago. Depending on who you asked, that fire burned for 5 years or 20.
Day 4 on the big rubber – just how good are these things in the loose soil, anyway?
The thing about riding in front of your guide is you may come around a corner at Cedric Gracia speed and take out a barbed wire fence. The crazy Frenchman came an inch from losing a thumb, and even closer to severing a tendon. Three stitches and he rode for another three hours that day.
We had some transfers via pickup. Four-door diesel Toyota Hiluxes were most popular but there were also Mitsubishis, Volkswagens, and GMCs.
Day 4, top of Mt Gloria, preparing for the final descent – 11 minutes of pure downhill that left us all giggling and howling.
Josh Kissner let off the Leish.
Seb Kemp makin' it look great.
The only fitting way to end four incredible days of riding: slam your thumb into a beer and shotgun it. We popped a lot of #thumbgun cherries that day.
It would be easy to take a cynical approach and claim that because we were flown down to Patagonia for an incredible 4-day adventure of riding and camping, that bias would be impossible to eliminate. Of course I liked the bike, you'd say. Of course you'll write nice things about it. However based on initial impressions, it IS a great bike, and one of the first 29ers I've ever wanted to ride on the Shore, because I am genuinely curious to see how it will stack up, not to mention the 27+ variant, which is still new enough that making sweeping judgments (which many have done) isn't yet fair. No compromises here, no 'taking one for the team'. Just genuine good first impressions and curiosity about how this platform will perform, no matter which shoes it has on. The terrain in Chile was suitable for the Hightower, however you could also bring a hardtail or shorter travel XC bike, and be happy. I'll always opt for longer, lower, and slacker, but a hammerhead would get along just fine on a nimble rocket – some of the swoopy, loamy downhills wouldn't be as fun, but it would still suffice.
So I have a Hightower with me here on the shore, and it's going to get a lot of use in the upcoming months in both its 27.5+ and 29″ versions. The shore presents very different terrain and demands than what we encountered in Chile, so I'm interested to see how it compares. After three rides back home I can report a flat tire near the middle of the tread on the Maxxis Ikon 27.5 x 2.8 rear tire – one of the issues that plagues early versions of this tire size. However traction in snow and mud has been good, and the bike has yet to scare me on anything steep and slippery.
Check back for a long term review, where I'll have a lot more to say about it. Until then, if you're daydreaming about Patagonia, we'll have more information about the 2017 Rally Aysén Patagonia very soon.
---
We've laid out all the numbers and geo up above, but you can also get more info on the Santa Cruz Hightower on their website.