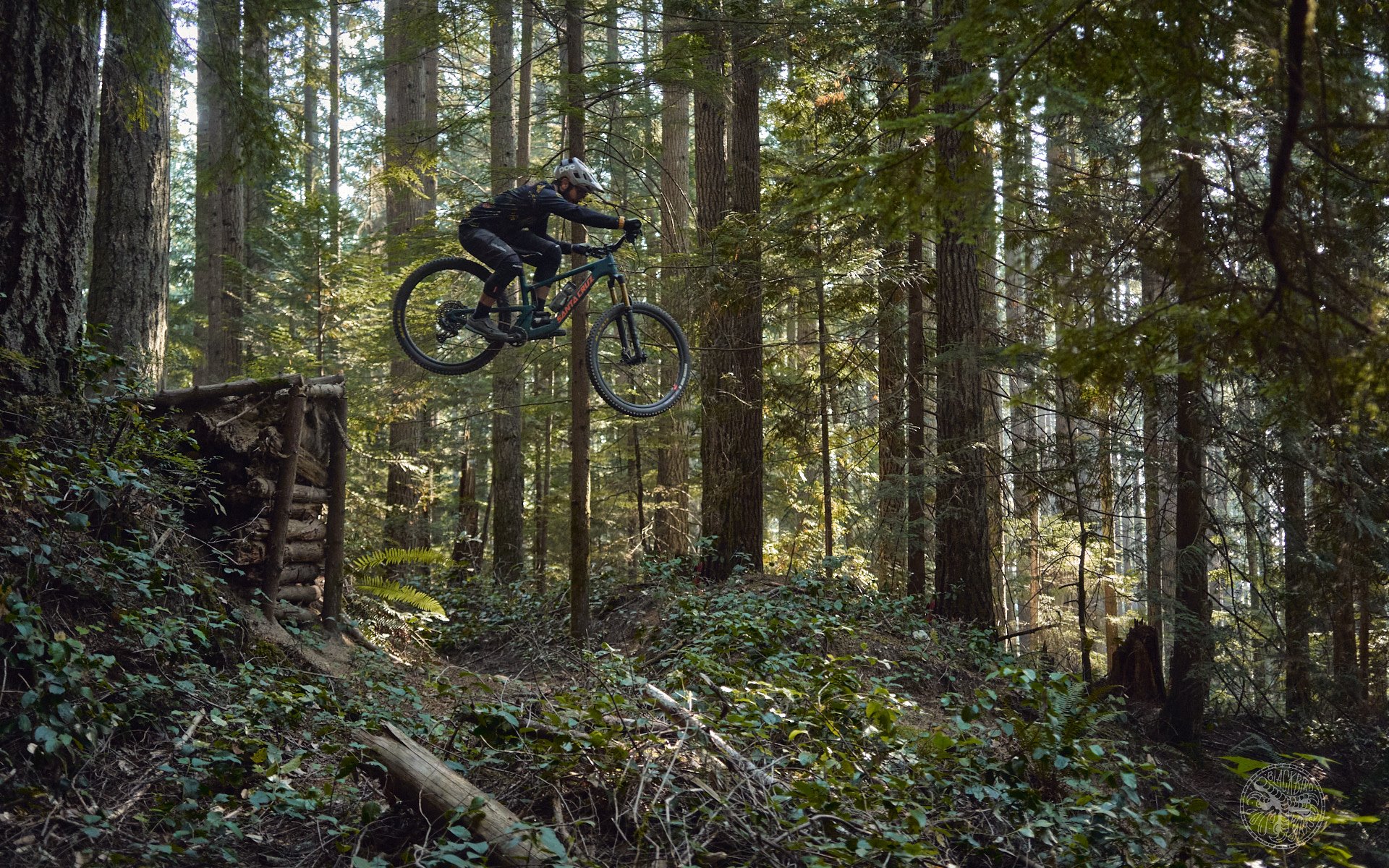 Long Term Review
Santa Cruz Hightower III
Santa Cruz Hightower 3 Review
On the longest day of the year, I introduced you guys the new Hightower 3 I had the pleasure of meeting in Westfir Oregon. Mike Ferrentino calls it "Deniz's New Favourite Place to Ride". Let me tell you Mike, it is not that simple. I sure was excited to be a part of a product launch led by Santa Cruz and discover new trails with a big crew of freakishly fast media people. Not that I can't ride bikes and sometimes ride them "fast," but I was out of my element in a couple of ways in Oakridge.
Getting a comfortable fit on the Hightower 3 was not difficult but If I am being honest, I've never been more scared riding blue trails in my life. Trails in Oakridge are no wider than 2 feet and mostly balanced on steep bench cut that hugs the entire hillside. While the trails are not steep, the speeds you can carry on these goat paths are insane. Add a clay based soil and weeks of rain, the fear of losing the front wheel and tumbling all the way down to coastal Oregon was real. Which made bike setup quite important and difficult to nail. I was tense, riding tentatively while trying to keep up with some much younger, faster dudes. I didn't die... thank you Hightower!
The Hightower 2 was so good at that what it did, this 3rd generation did not even need to exist. But improvements are an inevitable part of product cycles. Lower, longer slacker, softer, whatever the upcoming trend might be, the new Hightower struck a good balance of 'all new' and 'good, made better.' There was an audible sigh of relief from Hightower 2 owners when they realized the new bike didn't provide enough excuses to upgrade. The second coming of the 'Tower is not lower in stature than the third but of a different tower all together. Perhaps with the Hightower 3 we are looking at now wanted to move out of the parents' house and start a new life, and just occasionally return for one of mom's home cooked meals.
Bike Setup
I was on a Hightower C GX AXS RSV build during the media camp. That bike had some great and some not so great things going for it. First of all the OneUp dropper supplied on the C build was excellent. I love that dropper and judge all droppers against it. The GX AXS derailleur is a workhorse and it works really well. The Super Deluxe Select+ was a no fuss piece but there was some difficulty trying to set the bike up to handle the high speed chatter and bottom out control. The Select+ variant, without the high- and low-speed adjustments got within the ballpark of my ideal setup but didn't nail it on the head.
The new Hightower CC X01 AXS RSV delivered for a long term test with its excellent RockShox Super Deluxe Ultimate has been more precise and it's been easier to get an ideal feel. Both the HSC and LSC circuits are extremely effective in their adjustments. On the first few rides, I struggled to keep the bike supple and supportive. Eventually I got to a setting window that allowed just that.
The Fox 36 Factory at 150mm was easy enough to get within the ballpark of North Shore Acceptable. While not my favourite fork to setup in the Fox line up, it was well-suited to the Hightower's intentions and behaviour.
Fork
84psi
LSC - 10 from closed
HSC - 3 from closed
LSR - 6 from closed
HSR - 2 from closed
Token - 1
Shock
170psi for 32% sag
HSC -1
LSC - 0
Rebound - 5 from closed
Tire pressures
Front: DHR II EXO MaxxGrip - 20psi
Rear: DHR II EXO MaxxTerra - 23psi
Climbing the HighTower
The WTB Silverado Saddle has been an excellent throne for my butt that sat nestled in the middle of the rails thanks to the 76.9 degree seat tube angle of the size Medium bike. Climbing and flat ground pedalling feels very neutral and efficient. I am going to get this out of the way quick: the climb switch on the RS super deluxe is impossible to reach and needs superhuman finger strength to turn. I left it open for the majority of my rides. The lockout is effective and it turns the bike into a hardtail quite easily. The shock has a 320-lb threshold for blow by which is enough to open the circuit on a medium-sized hit. I'd still not run the shock locked out for extended periods of time.
At the 32% sag I settled on, (more on that later) there is a slight bob to the chassis. Smooth out your pedal stroke and you will barely notice it on road climbs. Stand out of the saddle and the bike will sink up and down quite happily. This is a natural characteristic of dual link and VPP bikes. The off-the-top suppleness around the sag point lends itself to more to sit down and pedal efforts. It's not a mushy feeling bike in general but at 32% sag it felt softer than my bigger bike. Riding outside of the North Shore, 28-30% sag would make the bike a more energetic climber if you would be ok pushing the suspension progression deeper into the travel. Point the bike at some chunkier climbs and the amount of traction at your disposal is incredible. The hoverbike effect is real and tech climbing is a delight aboard this beast, if you have the legs!
The way the bike is spec'd with a 32-tooth SRAM chainring and 10-50t gearing is just a gear too tall for loaded down riding around here. The bike's intentions to get you out there, far from home and bring you back without crampy legs would benefit from a 30t or better yet a 28t chainring upfront. Leave the 10-50 in the back and don't offer me a 52t for as long as i'm alive. The practical applications for that 52t are few and far between if you want to keep a steady cadence.
There seems to be enough chainstay clearance to run a 28t on the 10t cog without resting the chain on the rubberized chain stay. A bike that is sold in healthy numbers across the globe probably is OK with a 32t on both economic and practical fronts but as a rider in the Sea to Sky region, I want easier gears, and my easier gear request gives you a better chainline on the rest of the cassette. This little spec naggle aside, the 32-lb bike (loaded, including pedals and glovebox) felt light and nimble on the uphills and very energetic when the hill pointed down.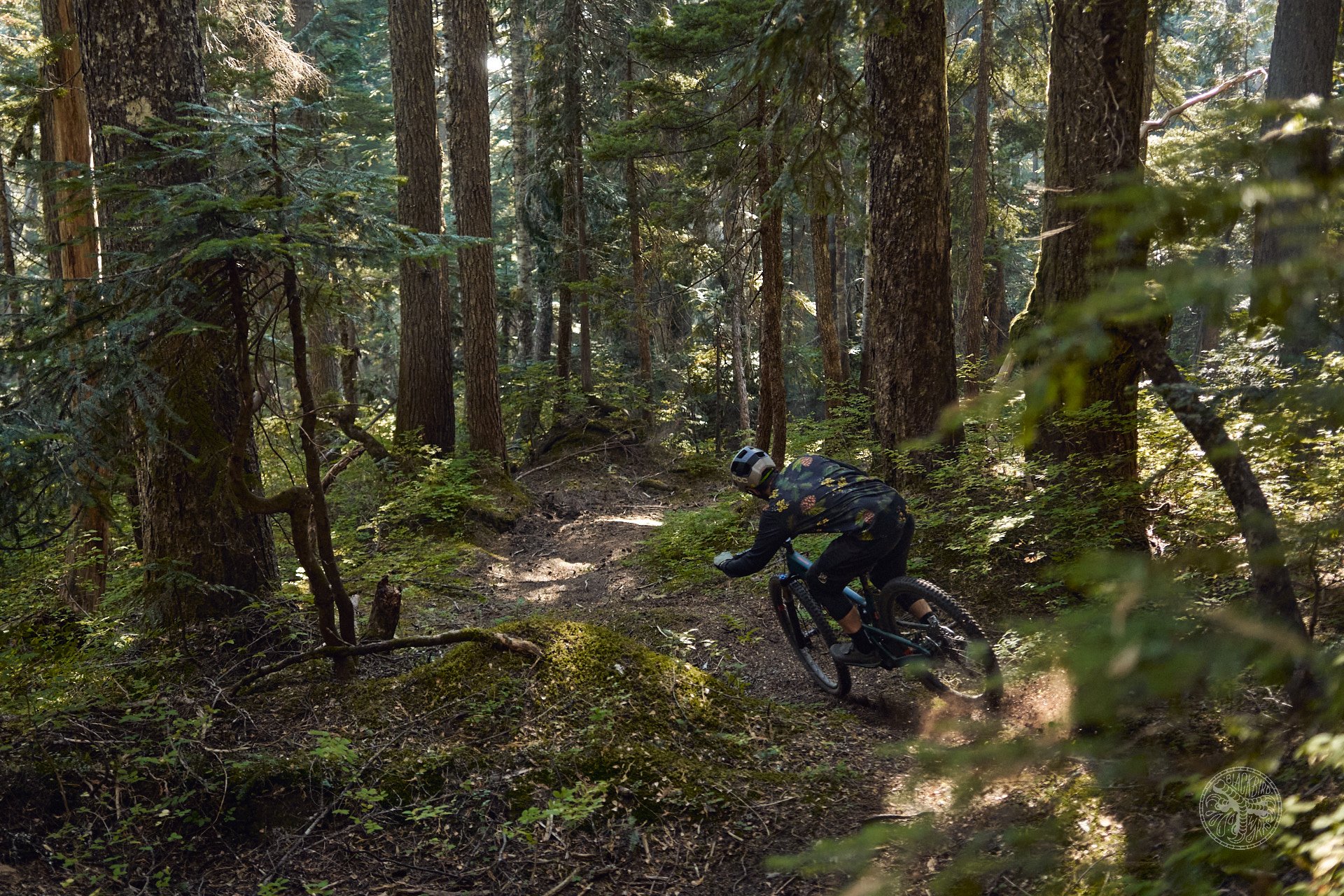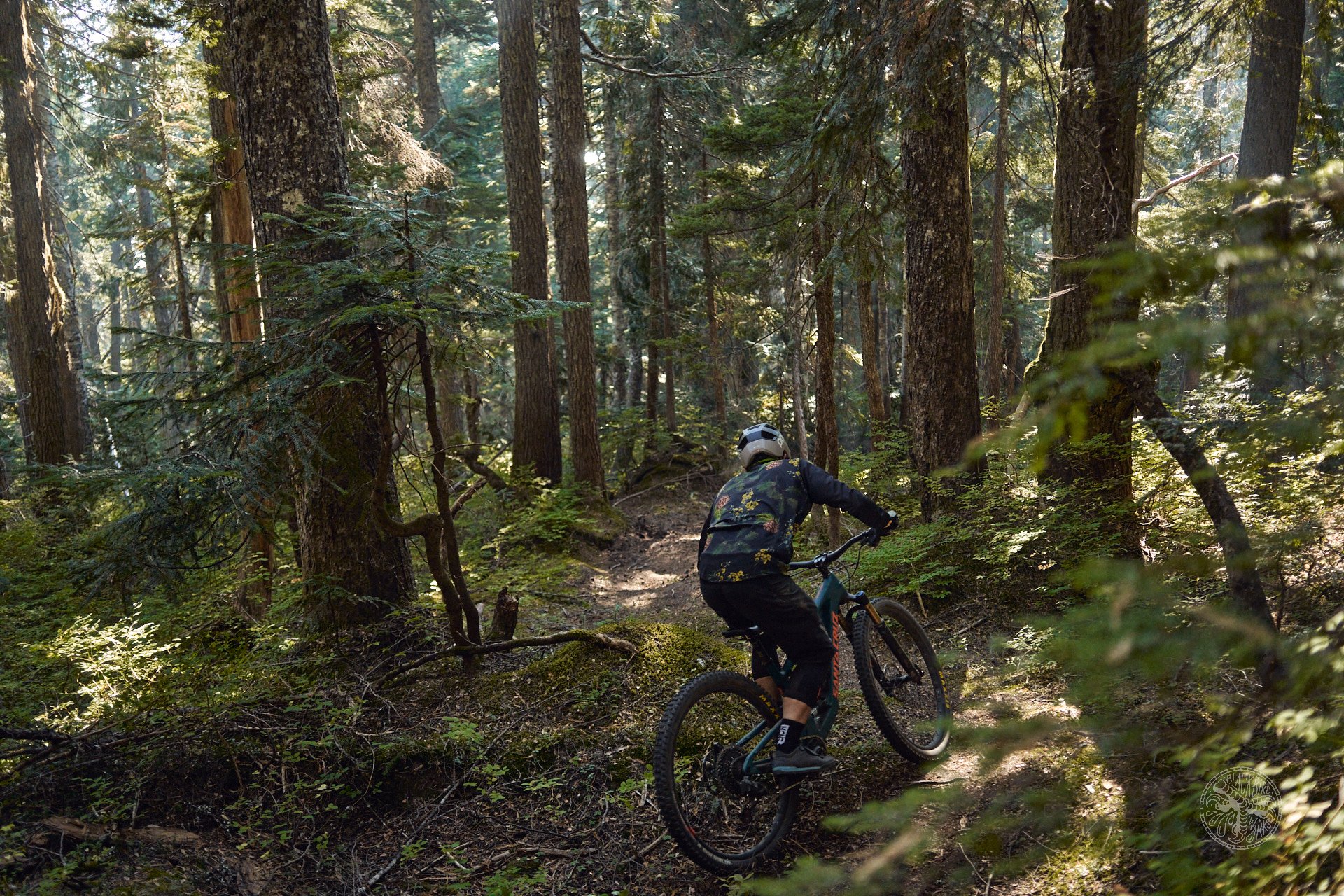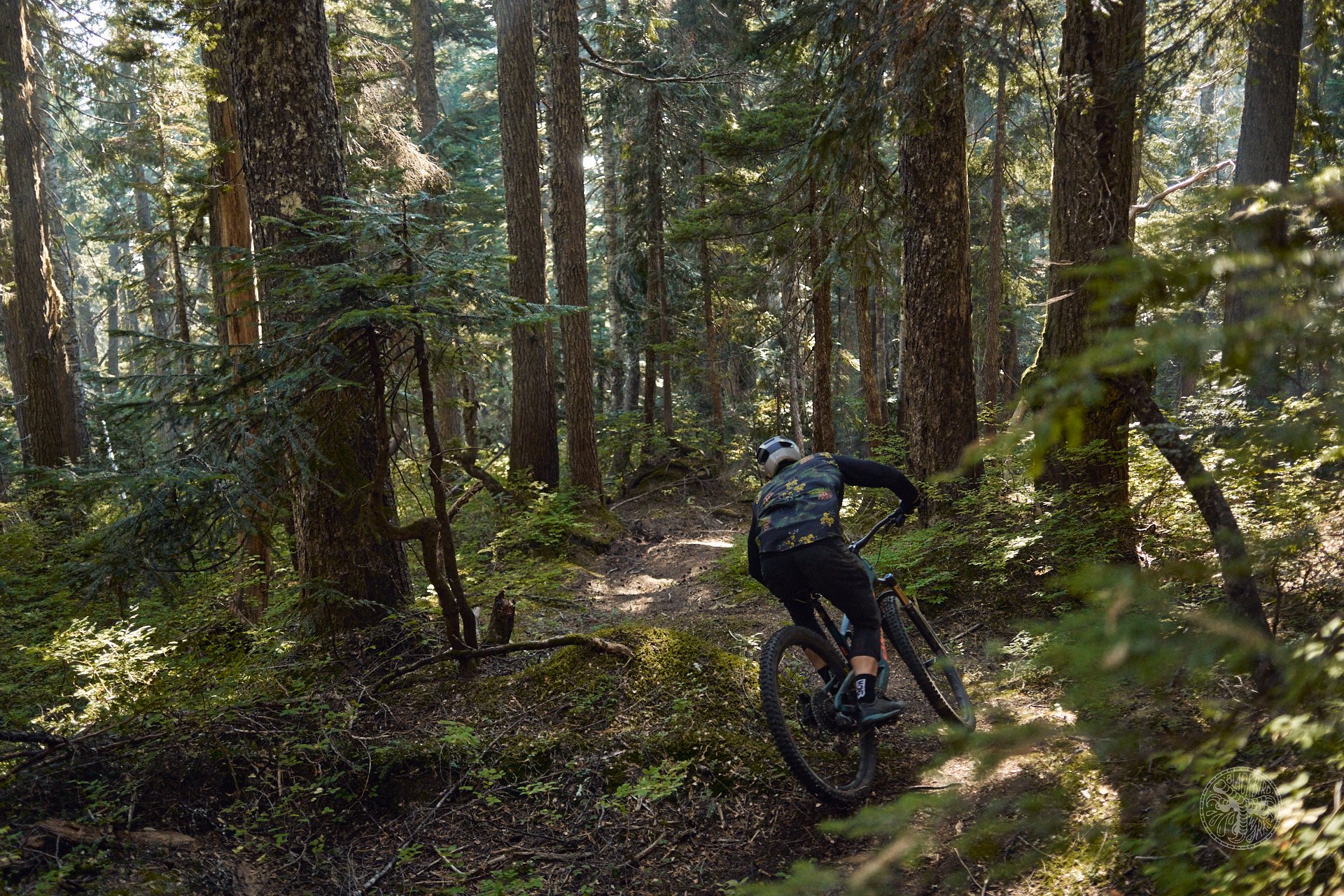 Down'ill (in Rob Warner's voice)
After my brown pants moments on the hills of Oakridge, I couldn't wait to get back to my regular North Shore Double Blacks. The weather turned from sloppy to nice and trails started drying out. I've been dividing my time between the Hightower, 5010 and my Orbea Rallon, trying to figure out which one is the best do-it-all bike. So far I have no definite answer for you. What I do know is that each of these bikes is good at letting me know its intentions. I rode the Hightower on everything from quick one hour spins out my front door to big days in the backcountry trying to locate secret goods and the 145mm travel Hightower has been capable enough to tackle any terrain I've ended up on. A 64.5° head angle for this category is an excellent landing point to begin your bike setup journey.
The journey will depend on your bravado and your hopefully honest discussion with yourself. As my Rallon got more and more capable with DH tires and a coil shock, it also has gotten less interesting to ride at slower speeds on flatter trails. For less demanding rides it made more sense to reach for the Hightower. When I get used to more travel, I was hesitant to take the Hightower on steeper, chunkier descents. But every time I took the helm of Santa Cruz's do-it-all bike, I was impressed with how capable and agile it was - and eager to encourage bad decisions. I pulled for bigger gaps and trail side poppers without hesitation. I had to be more precise with where my wheels ended up compared to the 35.5-lb Rallon, but I had no regrets with my on trail decisions. The HT3 ate it all up.
Steeper approaches with sizable G-outs were not as pleasant on the 150mm Factory level Fox 36, but a quick dial in on the High Speed Compression made sure the O ring never found its way to the top of the stanchions. These moments made me realize a 160mm Fox 36 would be an ideal front end for this bike around these parts. A quick air shaft change and the head angle will slacken to 64° of shredability. But why stop there? The EXO tires can use a little more beefing up too, so might as well slap on a couple of DD MaxxGrips to further increase trail feel and straight line stability.
Alternatively, you can do the exact opposite. If I lived in a flatter area or somewhere with lesser technical challenges, I would put way faster tires on this baby and shave some more weight. Get it down to 30 pounds loaded and ride flowy jump lines all day or put some frame bags and take it across the high country for a week.
The versatility of the Hightower is the main reason it is so successful. It is so boring that it is perfect in every sense.
Components
Reserve 30HD wheels w/ Maxxis DHR II EXO tires
I love the way the Reserve 30HD wheels ride and feel. They are lighter than the WR1 Unions by a hundred and some grams and it is most obvious around tight corners. The wheels like to spring you out after loading them with all your body weight. Combined with the VPP suspension, the way the bike generates speed on every opportunity is exhilarating. The Industry 9 1/1 Hubs are flawless and the whole setup is wrapped in dual Maxxis DHR II tires. It was a foreign sight for me initially but I figured out how to make the best of the provided grip after a couple of rides. The front tire is the proper MaxxGrip compound in EXO casing and the rear is the MaxxTerra version. While the casing is on the thinner side for rockier trails, the pair has been faultless for me combined with the active suspension on the Hightower. I try to ride light and precise, you won't see me bombing through rock gardens but rather jumping and skipping nasty bits of trail. I usually put holes in EXO casing tires if I don't run inserts but this pair has been spared from my abuse. The straight line braking and scrubbing speed is the main reason SC chose the DHR II on the front of the bike. Being able to kill speed at the tap of a brake lever is luxurious. Bombing down dusty ridge lines has been an easy affair. The lean angles are more pronounced compared to rounder profile tires. The side knobs require more lean to bite properly in corners, but that's it. No other surprises how the dual DHR II combo acts on the trail. An added benefit I found is the ability to be able to rotate tires on the bike. Once the rear tire is worn, just chuck the front one on the back and slap a new one on the front for maximum mileage out of your rubber.
SRAM Code RSC brakes with 180mm Centreline Rotors
The Codes on the Hightower came with metallic pads. It may be organic spec on some bikes but I was happy to see some proper brake pads here. The problem is the 180mm rotors. The initial bite of the brakes is amazing. Lots of modulation and lever feel. However, on sustained descents, I could feel the brakes fading into wooden blocks. I had to pull the levers harder and harder, the longer the chase was. I really wish we got 200mm rotors on the front of the bike. I understand why the bike is spec'd with the smaller rotors for the general riding population but I don't think anybody would object to slightly better brakes on a $14,000 bike.
The brakes required no bleeding or attention throughout the testing period.
Santa Cruz Cockpit
I wasn't expecting much from this in-house cockpit but man was I pleasantly surprised! The 35mm rise bars were 800mm wide upon delivery. I trimmed them to my preferred 780mm and moved everything inboard accordingly. The rise and sweep of the bars have been very easy on my elbows and the trail feel of the bars is excellent as well; precise without feeling harsh. Same compliments go for the grips on the Hightower as well; the single clamp house brand grips are so comfortable that I may have to take a ride to my local Santa Cruz shop to buy a couple of pairs for my other bikes. The end of the grips have the perfect amount of give to dampen trail noise and the shape and durometer feel great with or without gloves. The Burgtec stem is a decent chunk of aluminum and while I wouldn't call it pretty, it is not ugly either. It would be cool to see a polished, and anodized option on a bike at this level.
Sram XO1 AXS drivetrain
This is a fantastic piece of robotic engineering that just works. I like the 10-50t XO1 cassette spec on this bike and all the other XO1 bits to go along with it. There are no GX parts hidden anywhere to cut corners. Apart from my personal wish for a 30-tooth chainring, the drivetrain works day in and out. No complaints. I even like the Gen 1 paddles on the shifter.
RockShox Reverb 150
Well this is where there is a bit of a miscommunication within the departments at Santa Cruz. I don't know who managed to convince the rest of the team to spec a hose-actuated 150mm dropper on this bike but I would love to have a chat. There is 3 1/2" of post sticking out of the frame on my Medium tester and I am no Cam McRae when it comes to legs. I can easily live with a 180mm OneUp or at this price point a nice AXS Reverb 170mm on this top of the line bike. Realistically, I'll take anything but a hydraulic Reverb. Even though the dopper worked seamlessly during the test period, it would be reassuring to see something else. I really wanted the seat to get out of my way on steeper trails. The 150 Reverb did not allow for that, leaving me disappointed in this spec choice.
RockShox Super Deluxe Ultimate
This little non-trunnion shock works flawlessly. The HSC made a big difference on how the rear end feels on the local bumps. Initially I had the compression set to 0 and it felt harsh and dead. A quick dial to -1 compression made the shock move out of the way quickly enough on repetitive hits. There is a coating of dust around the rebound, piggy back area that seems to have clung on to some oil. I'm not sure if the shock is leaking or it's assembly oil. This seems to be consistent with all 4 Super Deluxes in my household, but they are all performing just fine.
Final Thoughts
The Hightower is as Subaru as it gets in the spectrum of mountain bikes. It is amazing how many of them you'll see on the trails under a range of people and they are still somehow cool. The idea of a bike that can be pulled in so many directions depending on what the terrain and the rider requires is a great design by Santa Cruz. It's a bike that can be ridden anywhere, anytime and fit right in. The Matte Emerald is a gorgeous mix of pigments that looks great in green PNW trails. The glovebox, with all the things I could stash in there, has been great as well. My sample has been watertight but I don't assume any of these openings to be water tight in design. Make sure you open it up and air it out after a wet ride. It's a great way to extend your BB's life as well, which is threaded by the way. Bearings and pivots have been trouble-free for the past few months and none of the bolts came loose. Uneventful yet again.
The Hightower CC XO1 AXS RSV is an expensive piece of equipment and at this price I'd want to see top of the line everything, like Hydra hubs and an AXS Reverb. If it was my money, I'd spend it on a C GX AXS RSV build, sell the shock for an Ultimate upgrade, bump the fork to 160mm, ditch the Reverb for a OneUp and continue chucking the bike off of anything I could find on the North Shore. That's just me and that's the beauty of mountain biking: there is no right answer. The Hightower 3 is a fantastic riding bike right out of the box as is and could quite possibly be your 'One Bike' to do it all.

Deniz Merdano
5'8"
162lbs
Playful, lively riding style
Photographer and Story Teller
Lenticular Aesthetician