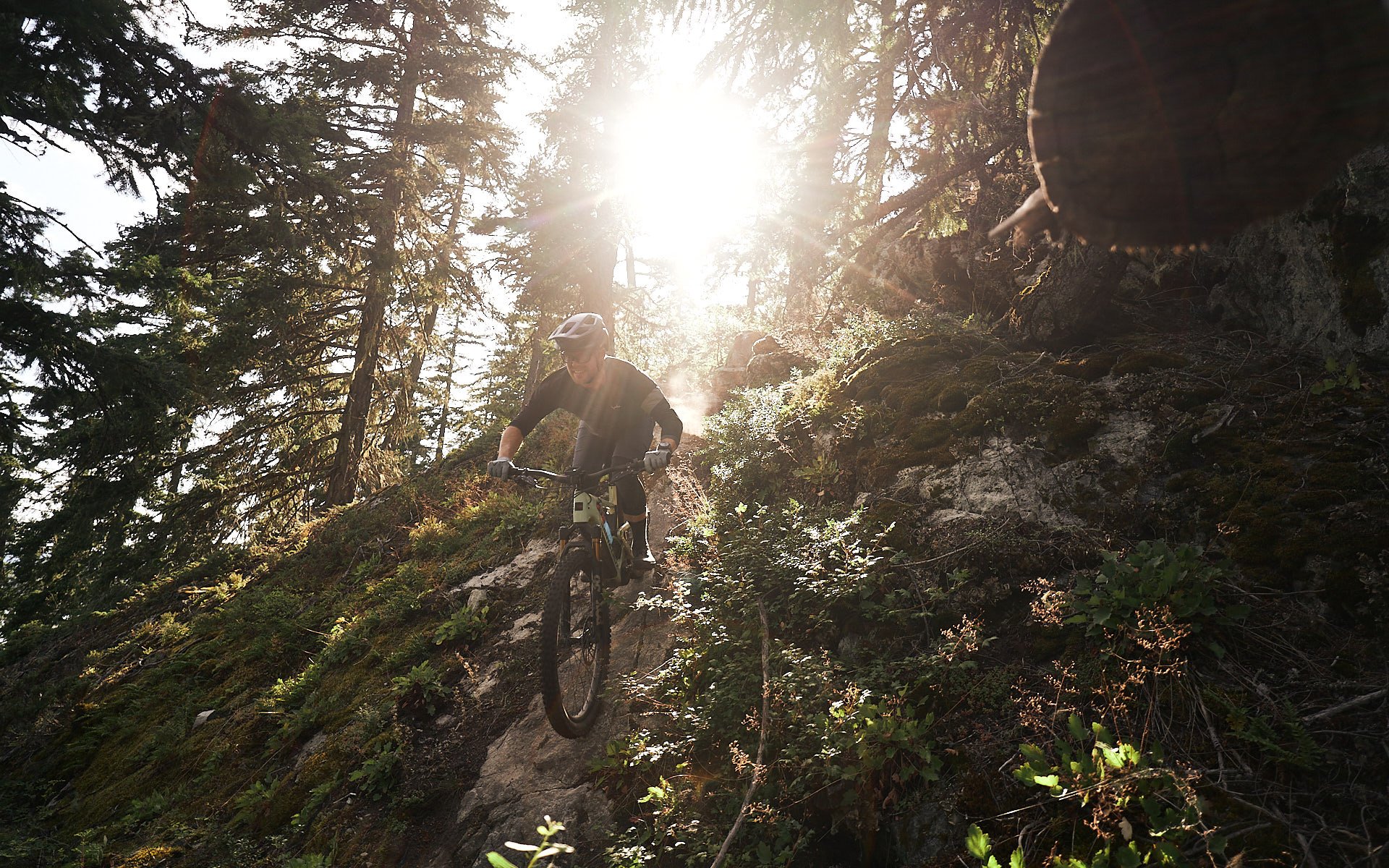 REVIEW
Santa Cruz Heckler: Six-Month Review
(Midway through) A Year Aboard the Santa Cruz Heckler
We all have friends who decided to get into riding at some point, came to us for advice, eventually pulled the trigger on a bike and then learned the hard way that you also have to budget for things like shoes, gloves, bag, tools, etc. Those aren't exactly hidden costs but they illustrate the fact that it doesn't start and end with the bike. Take it a step further, like six or twelve months down the road, and the learning continues as maintenance starts coming due. Some is voluntary or can be deferred, but we can all agree that as much as riding is 'free', there is a cost to keeping your baby running, whatever standard you adhere to between 'roached is still rideable' and 'Cameron's dad's Ferrari from Ferris Bueller's Day Off'. Like me, you probably tried to warn your friend about that, but they likely scoffed at the need for things like shoes with sticky soles or extra brake pads. Hey man, I'm not here to hassle you, just to help - happy to let you learn on your own. That same friend routinely sends me 2-year old MacAskill vids they 'just discovered'. Cute.
If you'll recall from my first look at the 2022 (2023?) Santa Cruz Heckler, the idea with this bike is to ride it for a year and, in addition to reviewing it, keep track of things like maintenance and parts needed, in the interest of providing a clear picture of what it costs to run an e-bike for a year. This is a useful exercise for any bike, but e-bikes are the new kids at the trailhead, and we all suspect they go through things like tires and brake pads (not to mention chains and cassettes) at a greater rate than regular bikes. I'm not using a 'control' bike here, and this isn't meant to be scientific - just an honest accounting of what it's like to ride a bike like this for a year, to help you out in case you're thinking of making a purchase.
So, this process is one part review, one part accounting of how everything is holding up - 6-month edition. I'll follow this article up a few more times as we approach a year on the Heckler, come late winter/early spring. For today we'll focus on how the bike rides, and very shortly I'll follow up with more detail about the componentry, wear and tear and other issues we usually cover in long term reviews and start to dig into cost of ownership.
The 6-Month Review - Ride Impressions
By way of bona fides, it may be useful to note that my experience on e-bikes has primarily been on ones that fit the 150mm travel category: the Trek Rail, Canyon Spectral:ON, and briefly the Rocky Mountain Power Play. I've also spent a bit of time on the longer travel Norco Range VLT and Specialized Kenevo. That includes at least some time on Bosch, Rocky, Specialized, and Shimano's motors - most on Bosch (Trek, Canyon) and Shimano (Norco and Santa Cruz).
The weight of an e-bike, carried low, makes for stable handling and comfort at speed and in rough stuff. The Heckler is no exception, however despite its 1282mm wheelbase, I also find it more comfortable in uncomfortable places* than the Trek Rail or the Spectral:ON. Early on I experienced a bit of understeer when I was pushing hard into a corner, but realized I was taking it too easy on the front end. After adding a bit more pressure to the spring (I'm running 110 psi) and leaning on the Fox 36 a little harder, the front end has come in line brilliantly and the traction feels balanced between both wheels. I have had many moments when I thought I took it to fast or too far and was about to go into pinball mode, only to have the tires hook up and the back end come swinging around just in time. There have been a few moments where the 36 reveals some flex, but in fairness, those were moments of true duress. In general I'm more than happy with the 38's little brother up front, despite the added heft of the 720kW battery and the extra 10 pounds I'm carrying around after - yes, I'll admit it - a few too many e-bike rides last winter and spring that ended at the brewery rather than the water trough. Let's talk about that later, though.
*like the back seat of a Volkswagen
The Heckler loves to go fast, and I love to go fast aboard it. It is no problem to link s-turns at pace, in fact I often have to remember to be patient and let the bike follow the terrain to complete the turn, so eager is it to set up for the next one. The Heckler's handling is incredibly sweet when I assume the attack position and ride with intention. On lazier days, no complaints, but to be a passenger is to give up the exhilaration of nailing an entry and letting the bike's inertia remind you that it doesn't require too much of a nudge to nail the exit. You wouldn't expect any issues with frame stiffness, and there are none, but combined with the Reserve wheels, the Heckler's ride feels lively but stately.
On the topic of the Reserve wheels, and wheels in general, I'm testing the 29" version of the Heckler, but you can also have it as a mullet. My tester has a Reserve 30 rim up front and a Reserve DH out back - canny spec for an e-bike - despite some spicy rock strikes and bottom outs against rim beds, there is nary a wobble in the wheels. The Industry 9 1/1 hubs have been trouble-free, as you'd expect. The Reserves do a nice job of balancing firmness with a lively ride feel. We've had nothing but good luck with a variety of Reserve wheels under a lot of testers over the years since they've launched, and this blended set is no exception.
Finding the Limit - Braking Control in Steep Terrain
Cam and others have commented that they find the added weight of e-bikes make for better braking traction and control. My experiences only somewhat mirror this. In truly steep scenarios, like the worst the North Shore or Whistler has to offer, where traction is at a premium (particularly if it's dry and dusty), I find myself wanting a bit more bite. Maybe a 220mm rotor up front and/or an insert and lower tire pressure would be the difference - these are things I plan to investigate. It's worth noting that the Heckler is up for it, but I think my weight plus the bike's 49 pounds starts to find the system threshold. Let me reiterate that this is only an issue when we're in the steepest terrain you'll find - off the map stuff or when traction is challenging - and the Heckler deals with this better than the Rail. In anything other than that, the SRAM Code RSC brakes, 200mm HSC rotors and MaxxGrip Assegai up front and MaxxTerra DHR II out back offer tons of braking traction and control. If you weigh 180 lbs or less, this may not apply to you, but for me it means that at the limit of my comfort zone, I trust the braking power and traction of a lighter trail bike with similar specs slightly more. Challenge for the next update: put the Heckler into extreme traction mode (220mm rotor and CushCore plus fresh rubber) seek out some slippery steeps, and report back.
To illustrate the point, an example: this summer while in Whistler for Crankworx, we did a little hunting around the 'no-flow zone' and discovered The Thing, which was built at least in part by Ken Melamed (yep, Jesse's dad) whose stonework is partially responsible for the brilliance that is Gargamel. Anyway, Cam and I discovered The Thing by chance one afternoon, and let me just say that if you're into the idea of steep rock lines with consequences cut into cliff bands and views of Green Lake, you might want to check it out (bring a friend and check your tires and brakes before you go). What a trail. Anyway, the first move comes right at the start and it has three parts, but once you're committed, you're either riding it all the way out or you're...not. It's steep and requires precise brake control, deft touch through a few turns, a lot of nerve, and the ability to be ready for anything in the 120 feet or so of vertical that you'll cover in about 200 feet of masterfully crafted rock work. That's the first move. The next four vary between being more exposed or more steep but they're all single moves - the first one is the crux and it took several tries for me to nail the nerve and brake balance. I eventually got it but linking the whole thing would have been easier on my Sentinel, no question. I still got it all on the Heckler, but it took a bit more coaxing. In fairness, I've hit several very steep lines since August on the Heckler and was 100% happy with how it handled in pretty scary terrain.
Suspension
In the first look I noted that it's a little unusual for a company to mix and match front and rear suspension, but I like the move here. Santa Cruz spec'd RockShox Super Deluxe air shocks on all Hecklers. Lower-priced trim levels got the Select and Select+, and the XO1 AXS RSV trim level I'm testing came with the Ultimate. I'm absolutely loving the newer version of the Super Deluxe Ultimate Air which I'm running on my Sentinel, but the prior model feels like a great match on the Heckler. I'm running just slightly over body weight and 30% sag, and while the travel ring routinely migrates to the end of the shock shaft, I've had very few noticeable bottom out events, and they've all been mellow. Needless to say I feel well-supported in the middle of the stroke and the Heckler still feels supple off the top - the VPP pocket captures it nicely at sag but particularly with the higher weight of the battery and motor, the Heckler's progression nicely balances initial suppleness with ramp up later on.
There is a short trail I ride a lot called E-Line which has one jump that spits you into a knuckle - it's not violent but every time I brace for impact and use it as a good gauge of a bike's progression in the latter third of its stroke - and every time the Heckler lands on that knuckle (if I popped harder I'd careen off the trail) without bottoming hard and regains traction very quickly. That's a good thing, because there's a left turn you have to set up to properly before a mild right into three steps down and a g-out into a turn to safety. If everything is dialed, the section runs smoothly, but if you bottom hard or can't get the tires to hook up, you'll have to hammer the brakes before the chute and spoil all the fun. The Heckler nails this line every time as well as the drop to flat that comes shortly thereafter.
For about a month in the summer - including my trip up to Whistler for Crankworx - I replaced the 160mm Fox 36 with a prior gen 170mm 36. That was a useful substitution for the trails we rode around Whistler, and if the bike were mine I would leave the 170 on there. Very little downside in mellower trails, but the extra 10mm made it a bit more comfortable at the bottom of g-outs or for long, steep sections. Confidence has not suffered with the return to the 160 up front, but that extra 10 mils did help make up for 'only' 150mm out back in Varsity terrain.
Climbing
In my first look, I wrote that I hadn't yet nailed traction and balance when climbing steep and technical sections. This is honestly one of the best part about e-bikes - some of the climbs you can tackle feel almost impossible, but it still requires a lot of technique, balance, and timing to get right. Having now had plenty of time to feel at home on the Heckler, I've adjusted to climbing on it and nailed some really challenging sections. In the steepest climbs, I often find myself way over the front in order to help the rear wheel clamber up and over obstacles at big angles. Of course that also requires leaving enough weight back there to pressure the rear tire, but the weight of the bike helps - usually you have to be way further forward than you think to clear a really steep section. Now that it's wet again, the job becomes managing torque and traction on slimy roots, and a fresh rear tire will help, but I'm still clambering up and over some crazy stuff on a regular basis.
Santa Cruz did an excellent job tuning the ride and suspension of the Heckler, and while any e-bike takes a little time to get used to, this is the most easily managed and comfortable e-bike I've yet been aboard. We spent our time today going over the Heckler's ride manners, but next time I'll dig into the individual components and how they've handled 8 months of riding, as well as what maintenance and parts replacements I've had to make so far and what that would cost a consumer that relied on a shop to take care of all their needs.
Specs, geo, and more info in my first look here.
Check out the Santa Cruz site for more on the Heckler.