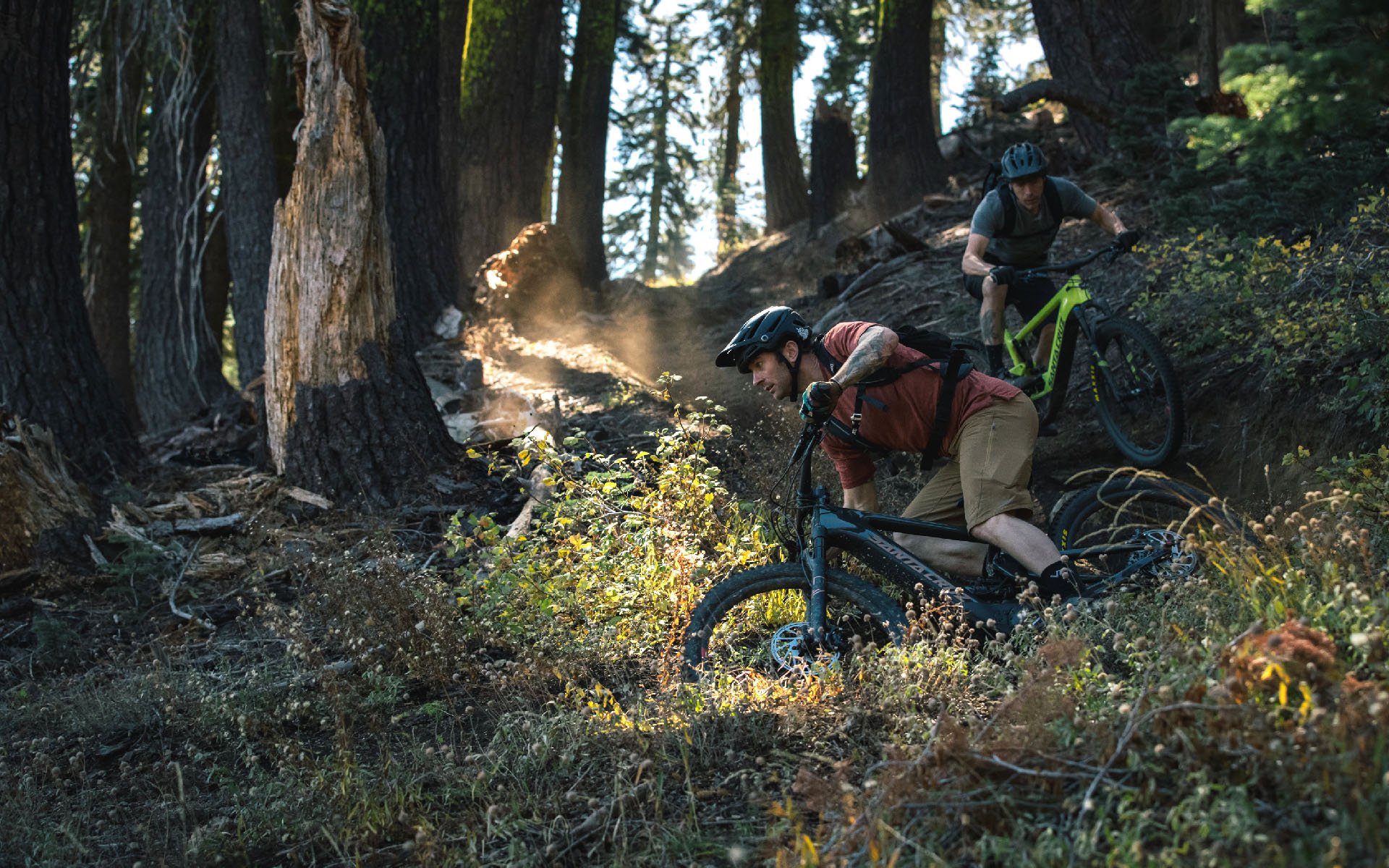 INTERVIEW
Santa Cruz Ebikes? Interview with Seb Kemp of SCB
Rumours are more common than pedal wounds in the MTB world, and I heard a juicy one a few years ago. A source (who always claims to be reputable) told me that when Santa Cruz management proposed making an ebike, the entire engineering staff threatened to quit. Electric bikes were just starting to pop up in North America, and the vitriol that accompanied them gave the story a whiff of truth. In reality what I was smelling was bullshit and the project was already underway.
While mutinous rumours were greatly exaggerated, it's no stretch to imagine that Santa Cruz might have been hesitant initially. At the time many riders felt like the sky was falling (even more than now) because these bikes existed at all and bikes that make things easier didn't seem to mesh with some elements of the Santa Cruz image. It just might align nicely with the, "we just make the bikes we want to ride," ethos however, as more riders opt to add a boosted bike to their stables.
The Heckler looks like a Bronson after a cycle of steroids; the lines are unmistakable but the brawn becomes clear after a second look. It's motor and battery are well concealed and only the recently-launched Specialized Levo SL, which has much less power and battery life, hides the electrified truth better. But a subtle ebike is still an ebike and this left me with questions.
Who better to answer them than Santa Cruz brand manager, and fallen journalist, Seb Kemp.
Title image - Adrian Marcoux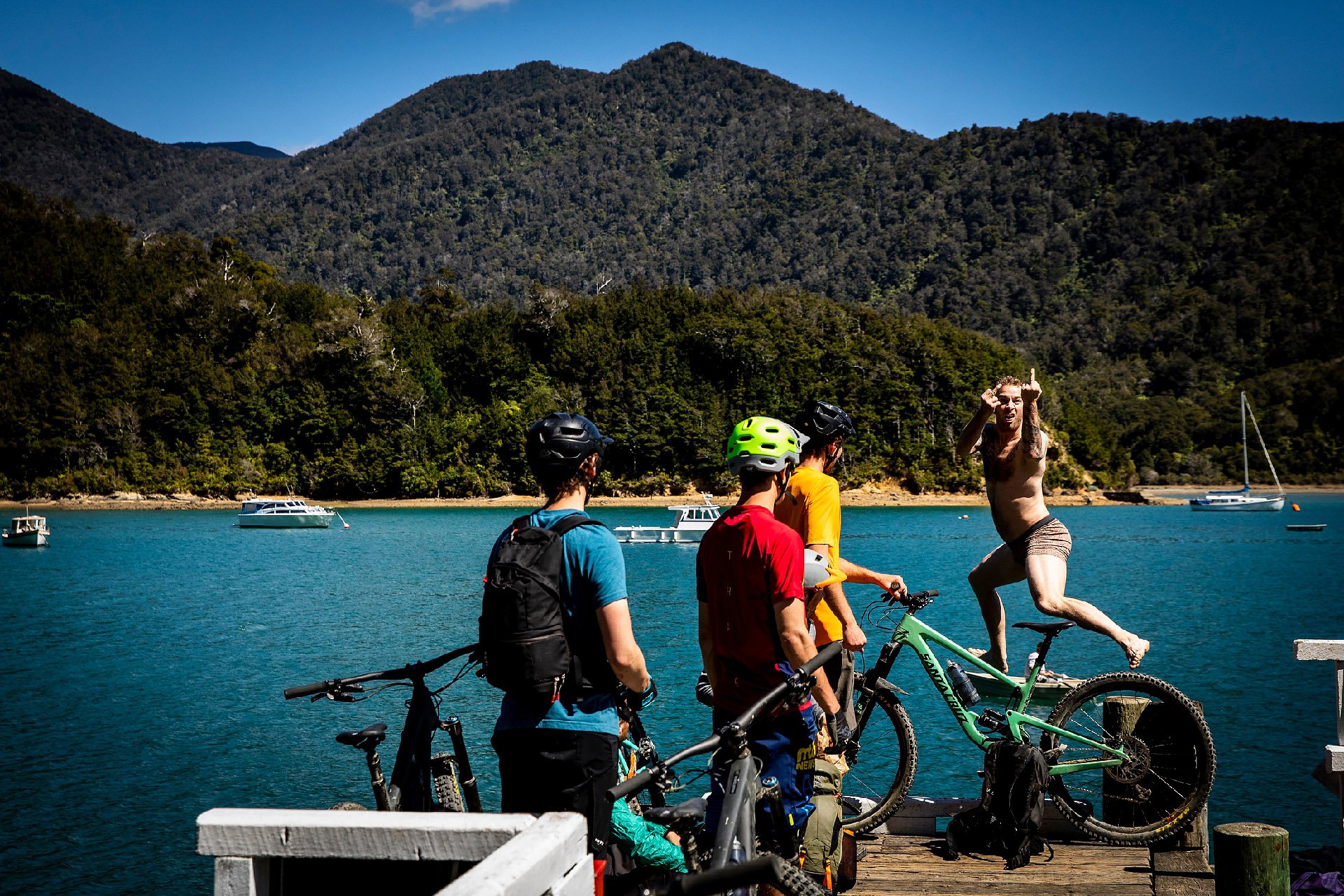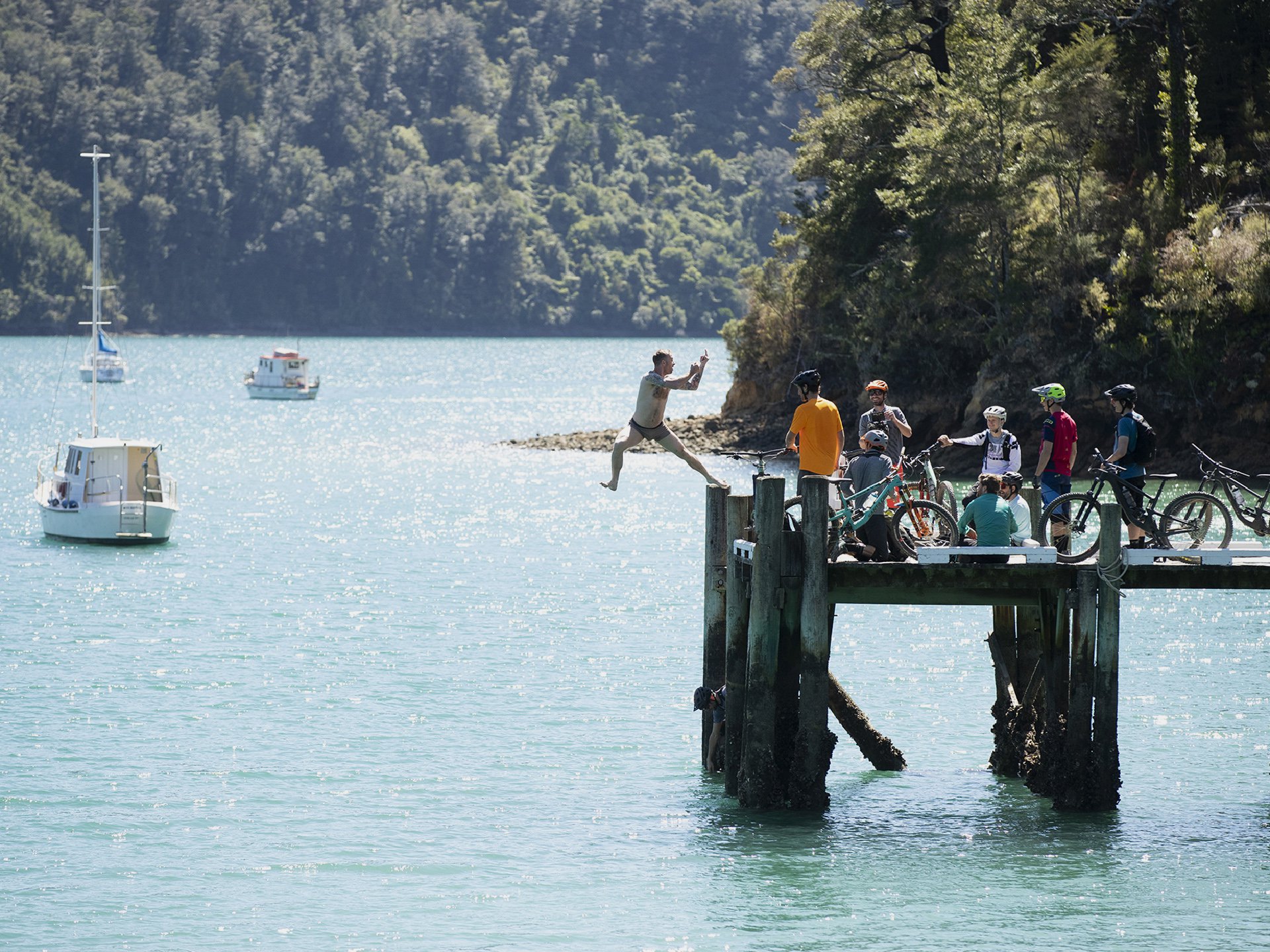 Cam McRae - Santa Cruz is off the back in terms of e-bikes considering how long Specialized, Trek and others have been at it, which suggests you've thought long and hard on this. Was there a time when an e-bike was off the table for Santa Cruz? If so why?
Seb Kemp - We spent a lot of time thinking about this. We started discussing this three years ago. From a philosophical point of view we spent a lot of time reviewing this. We spoke with riders and the people who's values and opinions we trust in order to inform our decision, we tried a lot of ebikes, we rode some more, we traveled the world, we debated this hard, we experimented and pressure tested our ideas (on both sides) and revised things. And then from a product side we purposely didn't rush something to market as a cash grab like it seemed has gone on. We feel what we've come out with skipped the beta-testing stages that's occurred with some ebikes from some brands. This is a fully realized machine and not a bike with a motor and battery strapped onto a frame.
Once the serious discussions about bringing one to market began, what were the pros and cons discussed?
It had to fit our product philosophy that we apply to all our bikes - it has to be something we want to ride, something we believe in, something quality, something that feels finished, something that is reliable, tough and rides really f-ing well on actual real world tough trails. Then it has to match our No Missed Rides philosophy - which is that it's robust enough to handle real world use and backed up with our well-regarded Rider Support service promise.
Santa Cruz has seen incredible growth recently but it still has the cachet and reputation of a boutique brand. Companies like Yeti and Ibis haven't gone electric yet. Do you expect there to be some backlash from long time customers who are anti e-bike?
We've seen a lot more long-time customers and life-time mountain bikers ask us for this than people request us not to. I also don't think we're the last company to be coming out with an ebike...
What would you say to a customer who says Santa Cruz has sold out?
We started the company by building mountain bikes and we still focus on making mountain bikes. We make a lot of different mountain bikes for different riders. It's business as usual.
Do expect to lose some customers?
Some customers might not want an ebike, and that's fine. There's still plenty of options for them. In the same way a downhill customer doesn't get his knickers in a twist when we release an XC bike I don't think anyone has to regard us making an ebike as a personal affront to their view of mountain biking. Mountain biking is a patchwork of different riders and experiences. Choose the mountain biking you're into and have fun (and don't be a dick about it).

I personally don't care about what the "industry" stats have to say and would much rather think about what switched on mountain bike innovators and life-long bikers believe. - Seb Kemp
It seems from the press release that the answer to 'why are you making an e-bike' is to ease access to trails like those built and maintained by the Sierra Butte Trail Stewardship. E-bikes make mountain bikers even more cynical than we already are however and it's clear that profit is one significant motivator. How important is the e-bike market to the industry now and how big do the indicators suggest it will be in the coming years?
Hey, I don't think too much about "the industry" (that term implies some shadowy centrally connected organization, often with the connotation that there's some nefarious scheme afoot - which is definitely not reality, it's just a bunch of bike obsessed dorks doing their best to fuel their love of biking) and the stats that are bandied about, but what we saw was a lot of really influential people in our lives say they were excited by ebikes well before we announced that we're making one. There's people like Greg Williams of the SBTS who said that after 25 years of deeply caring about getting people to experience the trails he tends to that ebikes could actually improve the experience of riders, his organization, and the local land managers by spreading traffic out and increasing the opportunity for accessing public lands. Greg isn't the only one. Ash Smith, Trans-Provence mastermind, was the first person to open my eyes to the potential. Sven Martin told me he wanted one and after I told him to lay off the pies and toughen up I saw the uses he was envisioning for his job and his local trails. Chris Ball is a mountain bike hard nut of the type-two fraternity who a lot of people really respect and he surprised me with his openness to ebikes. These perspectives didn't necessarily come from people with a profit-motive.
Were most Santa Cruz dealers chomping at the bit to get these to sell? Were some dealers wary?
We've spent more time fielding "Would you just get off your high horse and make one!" emails from retailers and riders than otherwise.
I'm of the opinion that many of the criticisms of e-bikes spring from elitism rather than legitimate concerns about how these bikes will affect the mountain biking world, but I also believe there are some legitimate reasons to proceed with caution in terms of granting access and promoting e-bike use in some areas. Where does Santa Cruz stand on how e-bikes will impact advocacy, where they should be used and what strategies should be employed to ensure e-bikers mesh well with other trail users?
Certainly. Ebikes have the potential to be a disruptive technology and then so are bicycles in general but more often than not bikes are a force for good. At Santa Cruz we've always tried to convey an ethos of responsible mountain biking - whether that's how and where we ride them or how we give back to trails, organizations, events and riders that make mountain biking so f-ing colorful. With ebikes, like mountain bikes, it's up to the individual to use them appropriately. That means having trail etiquette, following the signs and adhering to rules of the trails you're on. In the same way that's it's a mountain biker's responsibility to know what trails are off-limits and to use the trails appropriately. Like mountain bikes, not everywhere all the time. The thing with ebikes is that the rules of access differ widely across the world, across states (or Provinces), counties, towns and even forests, so users need to educate themselves and don't be dicks. That's why we led with the Downieville SBTS story because that's a legitimate sanctioned multi-user trail network that presents an example of responsible trail use and management. Sidenote: if Downieville wasn't ever on your bucket list or you haven't been for years, then go there now and lose your mind in the big empty space full of empty trails. I went four times last year (and once already this year) and I'm genuinely besotted with the riding experience there.
No matter which side of the e-bike divide you sit on, it seems obvious these bikes will create more trail traffic. What is the Santa Cruz strategy for offsetting the increased maintenance that will be required once e-bikes become more common in North America?
There's been an increase in traffic without ebikes. Trails the nation (and world) over are seeing more users and in many areas the management of the trail networks is under-resourced. Mountain biking isn't a niche sport anymore. That's why we started PayDirt last year as a way to increase our commitment to trails and the people and organizations that tend to them. We've always given a lot back but this was about increasing our commitment. I hope everyone gives back. That means every MTB company, but also every rider – does everyone reading this buy trail passes, club memberships, or donate their time? Sorry to preach but you should put back at least as much as you take from the trails, if not more. Regardless of ebikes, there's just more people on the trails than at any moment in the past and the impacts of that need addressing. If you hate ebikes because of what you perceive might be increased users on the trail I urge you to look around and see how your own riding group has expanded in recent years and think about what that means to the trails.
I assume you have spent some time on one by this point? Can you tell me your thoughts on e-biking in general and the Heckler in particular?
It's another mountain bike. I love all kinds of biking and all types of bikes. I own a lot of different bikes - downhill bikes, XC bikes, trail bikes, jump bikes, freeroad bikes – and I ride them all. I love the diversity of mountain biking and I choose my rides based on what I feel like doing that day. A Heckler means different rides, it isn't going to be my only bike from now on. I'll use mine for accessing the trails I build and maintain. I'll use it to scope out new areas and re-explore old, forgotten trails that are just too far away or "protected" by heinous climbs. I'll use mine to expand my trail map and to expand the technical riding possible. I'm genuinely excited about riding really technical terrain in new ways. Old school techniques are gonna be back in fashion, that's my prediction.
Do you think e-bikes are beginning to be tolerated by more hardcore riders? How is public perception shifting?
Certainly looks that way. I'd say often it's the "more hardcore riders" (whatever definition of hardcore someone has) have been the early adopters.
I know you have some friends who are aggressively anti-e-mtb. How will you plead your case as they decide which methods of torture to employ?
Haha! My good friends are dickheads and we have fun ribbing each other no matter what the subject. This'll give them so much ammunition that they should thank me. But none of them (even old Flip) is that aggressively anti-ebike. In fact, I've caught them giving ebikes flirtatious sideways glances recently. But whatever, if they're into them or not it doesn't matter. No e-evangelism here. Just because ebikes exist doesn't mean everyone has to ride them. Just choose your mountain biking and go have fun (and don't be a dick about it).
And now about the Heckler itself
Heckler is kind of a brash name for a bike that is already going to be thought of as rude by some people. How did that decision come to be?
In 1996 when Rob Roskopp released the original Heckler it was a tongue-in-cheek heckle to the established mountain bike norms of the time. The Heckler was for a very long-time the most reliable, all-round mountain bike that had a huge fanbase of riders who loved how it climbed and descending in a no-nonsense way. The Heckler morphed over the years, changing how much travel it had and the geo it boasted, it was always reinventing itself as riders and riding changed. So resurrecting the Heckler and giving it a new lease of life with new technology seemed to make perfect sense. And yes, we know there's gonna be people heckling us so we thought we'd beat them to the punchline.
An element of the spec I find unusual is the Shimano motor with SRAM drivetrain, without any Shimano options. Why did you choose the Shimano motor, for one, and why not Shimano drivetrains or components?
Santa Cruz believes in consumer choice and building customer bikes the same way we'd build them for ourselves. That's why you see us combining components from both SRAM and Shimano for example. It's why we've always paired Fox and RockShox suspension together if we felt that was the best choice. It's why we spec'ing legit tires, and it's why we stick with standards that make sense. We design and build bikes with performance, durability, serviceability, supplier support and—most of all—our customers in mind. We aren't beholden to the demands of OE simplicity but instead to just offering the best mix of bits for riders.

There are e-bikes that are unapologetic beasts and some that are more svelte and less powerful. The Heckler seems to be in the middle. What is the philosphy there?
Make a mountain bike that's suited to the rigors of modern mountain biking, and that means going up, down, over and through the best bits of any trail. Ebikes have the ability to enjoy more types of trail in new ways – the bits of trail that usually you want to forget or fast-forward – so the Heckler had to be fun and agile everywhere. You think steep technical climbs or long drawn out fire roads are just necessary evils so you can access the downs? On an ebike it's possible that climbing will become the most giggle-inducing parts of the trail. Crazy but true.
What did the engineers discover once they began working with VPP in this application?
Lower-link VPP offers the kinds of on-trail performance that's appropriate for modern trails but packaging it around a mid-drive motor and all the other stuff that's necessary for a rough-and-tumble ebike was no easy task. We didn't think it would be possible at first but Aaron Foley (lead designer on this project) and the whole design team worked hard to get it to all come together. The result is a really stout chassis with what we think it the best suspension on any ebike currently available. One trait that differs on the Heckler is that there's slightly less anti-squat because we found you're seated a lot more while pedaling so you want more of a cushion and the motor gives you the zip you need.
Currently there are only CC carbon-framed models available. Will lower-priced options be added in the future? Aluminum?
No plans to offer aluminum on the Heckler. We specifically went for the most high performance ebike we could make.
What existing Santa Cruz model do you expect the Heckler to ride most similarly to? Obviously the wheel size and travel seem closest to the Bronson, but there are other factors at play here.
The Bronson is the most fun, playful and all-round capable bike we make. Lots of people love it because of how it loves back wheel, it pops when needed, it'll handle the roughest trails and it's really intuitive to ride. Rear chainstay length is critical on ebikes. You want enough length that the front is planted but you don't want it too long because then bike handles like a telephone pole. 445mm chainstays was the target and 27.5-inch wheels were the only way to package that. More so, extreme geo might be cool in the trailhead parking lot or forums but if you want something to ride everywhere well then insanely an long reach, rear centre and excessively slack headangle isn't actually that useful. The geo on the Heckler (similar to the Bronson - 65.5-degree HA and 76-degree SA) is a well-rounded algorithm of numbers for going everywhere.
But if I had to describe it I'd say it feels more like a Nomad going down and a Blur (when I'm feeling really fit) going uphill.
Thanks Seb! Let the heckling begin!
For more on the new Heckler click here...