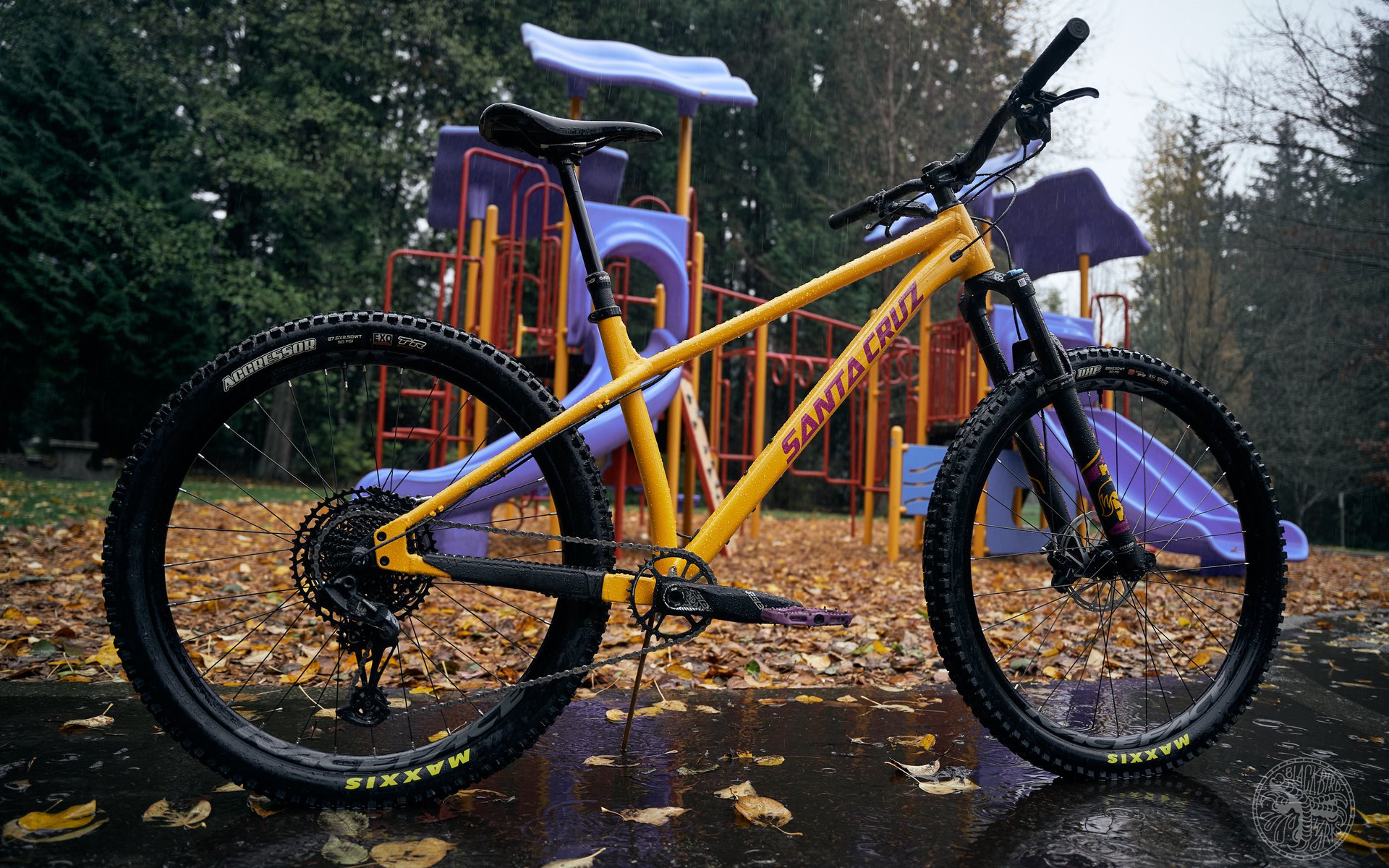 FIRST IMPRESSIONS
Santa Cruz Chameleon MX
Aluminum Is Authentic
Steel. As a material, it has great qualities for building bicycles, and perhaps the key among them is that it is the most straightforward to work with. A talented garage welder with minimal tooling can build a beautiful machine with fantastic ride qualities and bleeding-edge geometry. The vast majority of custom frame builders create with steel,* with any number of masters also working with titanium, and one of the reasons is complete control of their process from tubes to a finished product.
But the aluminum Chameleon isn't a custom frame from someone's small shop in FoCo, Frome, or Heriot Bay. And frankly, the majority of steel frames out on the trails aren't either. That's not meant to take away from your Surly, Stooge, or Chromag Stylus. That's not saying that a Kona Honzo ST or Unit isn't a fantastic machine. But before readers jump into the comments with tired tropes about how 'Steel Is Real,' I've owned a fair few hardtails and ridden a lot more, and if we're drilling down to the ride of the frame itself, the last generation Chameleon aluminum is one of the nicer ones I've ridden. For a direct comparison, both generations of Honzo ST frames I owned and loved were notably less compliant.
I attribute that to the effort put into the tubing and frame design, like the lack of a chainstay and seatstay bridge which carries forward to this generation of the frame. It's not a custom frame but that doesn't mean that a heck of a lot of thought wasn't pumped into the design. Add in some very intelligent sliding dropouts, a sub 5-lb (claimed) frame weight, a lifetime warranty, and then compare it to other volume-produced hardtails. The Chameleon's frame-only price of 950 USD | 1350 CAD is easily justified.
*Shout out to the wonderful works of Frank The Welder who builds in aluminum and steel
When I say easily justified, I'm channeling my experience as well as those of friends and acquaintances who've owned excellent aluminum rigs like Banshee's surprisingly compliant Paradox, Kona's Big Unit (RIP), Santa Cruz's last gen Chameleon, Specialized's Fuse, Rocky Mountain's Growler, and so on. Just ignore that sanctimonious sh*t shouting 'Steel Is Real' from the saddle of their Surly. Remember, the only award their bikes ever won is a 2005 Golden Toidy from SOPWAMTOS*. I'm just teasing, I love Surly. The point isn't to dump on steel bikes; it's a great material, especially for hardtails. Rather, I want to point out that in the right hands aluminum is a great choice, and usually lighter as well.
*Society Of People Who Actually Make Their Own Shit
Hot For Mullets
I smile as I pull the sweet yellow Chameleon out of the box. Size large. The new geometry, now using a 65° HTA with a 130mm fork, looks good on paper. The latest from Santa Cruz has an even cleaner version of their excellent sliding dropouts. Oh, it's a mullet. Huh. I wonder if they'll send me the 29er dropouts?
Now, I'm hot for mullets. I've been plugging 27" wheels into 29er full suspension bikes for years and have no plans to stop. It boosts the fun factor, increases tire clearance for my 5'9" frame, and the trade-offs in reduced attack angle and traction are largely equalized by a good suspension design and sag. With hardtails, I only have one previous mullet experience, which was my personal Kona Explosif. I loved the bike, but I chose to go back to a 29" rear wheel for improved climbing performance and descending comfort with the rigid rear end. Santa Cruz didn't spec especially large rubber, or a tire insert, so I know I'm going to have to run fairly high pressure in the back due to the EXO tire casing, even with the durability of the latest Race Face AR series rims.
If I was putting down a deposit on a Chameleon, it would have been the dual 29er version. Running the smaller rear hoop does add an element of playfulness and differentiation though, so I'll stick with the MX setup with an insert added to the rear wheel and maybe a larger volume tire as there is ample clearance.
It would be interesting to know how the Chameleon 29er sells v. the MX version. Self-assured riders with smoother trails, regular access to a pump track, or who simply enjoy the acceleration of the smaller wheels, probably make up a larger percentage of the pedaling population than I think. Santa Cruz makes both options available with no geo or fit penalty for your choice.
The Build
This is Santa Cruz's mid-level R build. It's a massive leap in potential performance over their SRAM SX-equipped D level build for the extra 550 USD. It's arguably a better value than the 800 USD more expensive, SRAM GX-equipped S build. The R features the lowest-level SRAM Guide T brakes and an NX drivetrain with a Fox 34 Rythm fork. There are no real misses in terms of balancing the build. I'd love to see a CaneCreek 40 headset instead of the 10, but I'm happy to see the Descendant cranks over the SX units that often seem to accompany NX level bikes.
A large portion of the 2950 USD | 3850 CAD cost for the Chameleon R is the the frame - which is certainly worthy of significant component upgrades over time. While there are cheaper NX level bikes, the Chameleon frame probably makes it a better value. I'll discuss this more in a future article but for now here are some spec highlights.
I have good news about the Fox Rhythm suspension fork. It's okay out of the box but it's a fully serviceable fork that's worthy of a rebuild whenever that time comes. A lowers service and some fresh SKF Low Friction seals will make it really okay, or even pretty damn good, depending on your specific needs, especially on the front of a hardtail where you aren't trying to match its performance up to a rear suspension system. I'm fighting a bit right now to run it with as little sag as I'd like - to get the fork to ride higher in its travel - while overcoming the stiction out of the box. It is better after a couple of rides and being stored hanging from the front wheel.
The hubs are rebadged Formulas with SRAM logos. They're cartridge-bearing units that are easy enough to service. The front hub is a front hub, and for the rear, I'd argue if you take care of it the hub is even worthy of having a fresh rim laced on it in the future versus replacing the whole wheel. The exception is that if, like me, you love the experience of a hub that is quick to engage. If this was my bike I'd be saving for something with less than 5° between pick-ups as my first upgrade.
Up at the controls, the Santa Cruz lock-on grips are one of the nicest stock locking options I've put my hands on. These could be worth buying for any lock-on lover, even if they don't own a Santa Cruz, and along with the WTB Silverado, it's very hard to fault the stock touchpoints. Someday all these companies that spec WTB are going to figure out that the Koda is their best all-around perch, but I don't want to let that get in the way of praising the good choice they made today.
The 35mm Burgtec bar and stem are potentially a more controversial choice, especially for anyone planning to use their Chameleon for bike packing. They're stiff. So stiff. And hey, some folks love a super stiff cockpit so I can't really fault Santa Cruz one way or another but I'll be swapping to my own 31.8mm setup for the rest of the review.
The Guide T brakes are SRAM's lowest level Guide units but they perform as well as any Guide brake I've used on the trail. One item of note is that they come with SRAM's MatchMaker clamps instead of the MMX hinged clamps. This doesn't change anything about shifter compatibility; it does however open up some interesting upgrade opportunities. The two-bolt MatchMaker clamp is interchangeable with the clamps on Magura, Formula, and Hope brakes. That means easy swapping of the brakes without having to buy new mounts for the dropper or shifter levers.
The Aggressor is both a good tire choice for the rear of this bike and a series of SKUs that Maxxis could simply eliminate from their catalogue. A DHR2 rolls slower but brings significantly more traction in aggressive downhill scenarios, especially when it's wet. A Rekon rolls much faster on gravel or pavement and supplies surprising traction in loose terrain. It can also be a bit terrifying when the ground is greasy but no more so than the Aggressor.
The MaxxGrip 2.5" DHF in front makes sense as a starting point. I could see some riders swapping for something faster rolling but really no tire spec is going to satisfy everyone on a machine with this many potential missions. I'm fine with the EXO sidewalls front and rear as I think this is a bike where folks will want to run the lightest tire with the best rolling v. grip ratio for their terrain, or if they're planning to pop in an insert.
Sliders
Some manufacturers of premium frames say single-speeders are too small a market to warrant sliders on their hardtails. I think any version of this statement demonstrates lazy thinking or an utter lack of imagination. F*** single speeders, there are more important reasons to have sliders on a do-it-all hardtail. As a prominent example, what percentage of Honzo ST and ESD owners do you think single-speed those bikes? Yet I regularly see them with the chainstays set to a variety of different lengths.
The superior sliding dropouts on the Chameleon are part of what makes it a chameleon. Tighten everything up and lower the fork to 110-120mm and pump it around the track. Run them at full length and over-fork the bike and race your buddies on their Enduro rigs. Pick a spot in the middle, swap in a rigid fork (or don't), load the bike up with a collection of bike-packing paraphernalia, and disappear into the wilderness. Min-max a lighter weight build and enter the single speed class at your local XC Race.
It's only 12mm of adjustment you say? I know folks who've flipped frames to add a single centimeter of reach. People who've bought a fresh stem to ditch half that distance. I've hacked that much off handlebars plenty of times. Would I love to see frame-size specific chainstays and sliding dropouts? Sure! But in addition to adding a degree of easy customizability towards your preference - short v. long - Santa Cruz, or an aftermarket manufacturer, could also offer longer options for those of us who'd prefer a chainstay length closer to say 450mm.
Marketing
I don't know that any marketing campaign will rival the production that Santa Cruz put together for the Carbon Chameleon. It's certainly my all-time favourite. But I think their Five Riders' Rides "Built For Whatever" effort to showcase the myriad potential uses for the new aluminum rig was a nice departure from typical mountain bike marketing. The campaign does a great job of highlighting that whether you're buying a frame or a complete bike, the fresh Chameleon is just a starting point and if you have a couple of minutes I'd say it's worth checking out.
Here's that Carbon Chameleon video again, because it's a cold, wet, rainy fall and this brightens my day:
Changeling
The Chameleon doesn't change colours - it's available in two distinct tones - but it does have the potential to change personalities. It's not just a hardtail mountain bike with the potential to do almost anything - all bikes are gravel bikes etc - but it has the potential to do almost anything well, depending on the exact build, and it's a solid base for the rider aiming for an ever-evolving mountain bike experience, or simply bicycling.
That's going to start with the hardest choice of all, which is choosing what size to buy. I mean, the XL has a 490mm Reach so anyone tall had best be planning to use it as a pump and jump bike. My 5'9" frame technically belongs on a medium according to their sizing chart but I have to say this large is, well... it would be generous to call it a medium-large when I'm sat upon it. It goes to show how important it is to test a bike if you can, because the Chameleon's static measurements are only slightly smaller than the large Banshee Titan I reviewed (465mm v. 470mm Reach / 638mm v. 644mm Stack). The Chameleon's reach grows with sag, and the Titan felt a full size larger when standing on it. Weird.
I'm keeping an open mind, though. The bike still handles well with a longer stem and the weight balance with the rear wheel kicked out makes it easy to ride on technical trails. Cooper Mr. Shore Country Quinn offered me a case of beer if I could resist single speeding it, but it strikes me that if I was going to swap a few parts around on any bike I review it should be the Chameleon. Besides, is there really anyone reading this who wants to hear me whine more about how awful feeling and noisy pedaling all ShiRAMano 12-spd drivetrains are in the low gear?
If I could change one thing at the design level, I'd give it the straight seat tube aesthetic it deserves and whatever bump, if any, needed in the chainstay length to make that happen. More room for bags, more room for bottles, and a more mature look.
I purposely haven't said too much about how this Chameleon rides. We're still very much getting acquainted and I don't want Santa Cruz Bicycles thinking they're getting it back soon. I love my steel bikes and I understand why steel and hardtail are conjoined in many riders' minds but that doesn't change the fact that the Chameleon is a sweet ride with the adaptability to be around a long time.
I know I'm going to have a lot more to say when I start typing up the proper review so I'm going to leave the first look there. Happy, as always, to answer any questions in the comments. There's much more information on the whole Chameleon lineup at Santa Cruz.