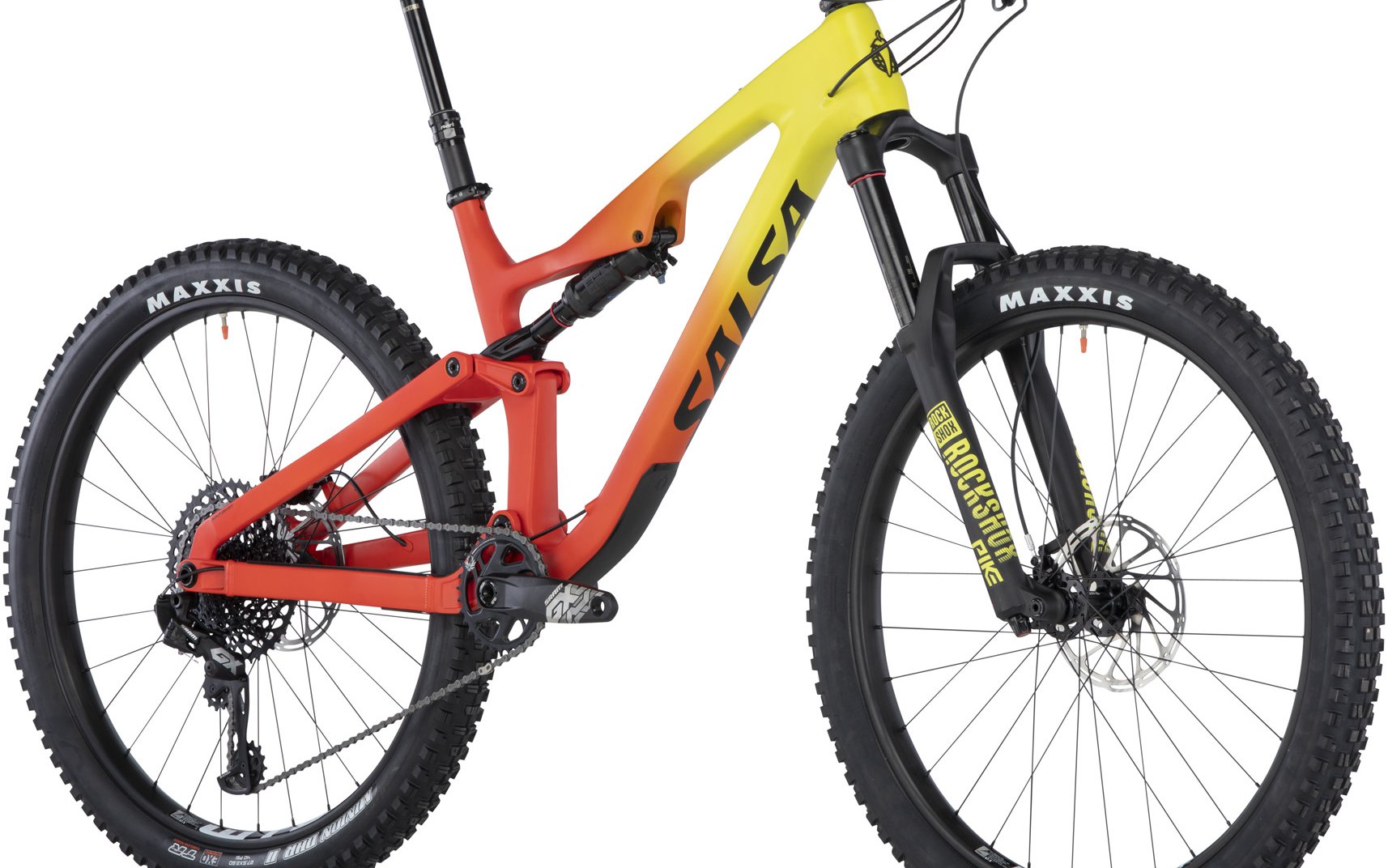 PRESS RELEASE
Salsa Announces Fresh Split Pivot Bikes
Salsa's all-new full-suspension lineup covers everything from precise and efficient XC and endurance efforts to playfully ripping every line you can find—even the ones no one sees but you.
Our new mountain bikes come with plenty of improvements over previous model years—shorter chainstays, more travel, refined geometry, flip chips for adjusting headtube angle and bottom bracket height, and dropper posts on every model. We've also tuned the Split Pivot suspension system's leverage rate to offer a more progressive ramp feel in the final third of the stroke. This provides more confidence when the suspension is pushed hard in rough terrain. Read on to see more from our Horsethief and Rustler models.
---
Horsethief
Salsa Horsethief
Horsethief is our 29" all-around trail bike. Featuring 120mm of Split Pivot rear suspension and a 140mm
fork, it's inspired by open-ended rides that could lead anywhere—perhaps even to a post-ride beverage with a scenic view.
120mm rear travel
140mm front travel
29 x 2.5" tire spec
Fits 27.5 x 2.8–3.0" and 29 x 2.1–2.6"
Super Boost 157mm rear spacing standard
Fits two 24 oz water bottles inside frame triangle
Available sizes: SM/MD/LG/XL
Rustler
Rustler is our 27.5" playful trail bike. With 130mm of Split Pivot suspension travel out back and a 150mm fork, we
designed and built it for riders who make the most of every trail feature—popping off rocks and roots, sending drops, boosting doubles, railing berms.
130mm rear travel 150mm front travel 27.5 x 2.6" tire spec Fits 27.5 x 2.3–2.8" Boost 148mm rear spacing standard Fits one water bottle inside frame triangle Available sizes: XS/SM/MD/LG/XL
Split Pivot® Design Improvements
Redesigned leverage rates
Improved pedaling and braking performance
Metric shocks standard
Flip Chip adjustability
Redesigned Leverage Rates
A revised leverage rate offers more progression and improved bottom out performance at the end of the stroke, increasing confidence and control on big hits and giving the travel a deeper feel. The beginning and mid-stroke remain relatively unchanged, with extremely supple small bump compliance off the top for a smooth ride, and consistent midtravel support to combat rider fatigue and maintain geometry. A slightly lower overall rate yields lower shock pressures for easier initial setup.
---
To see more about the Horsethief and Rustler, along with the rest of the Salsa lineup, head over to salsacycles.com