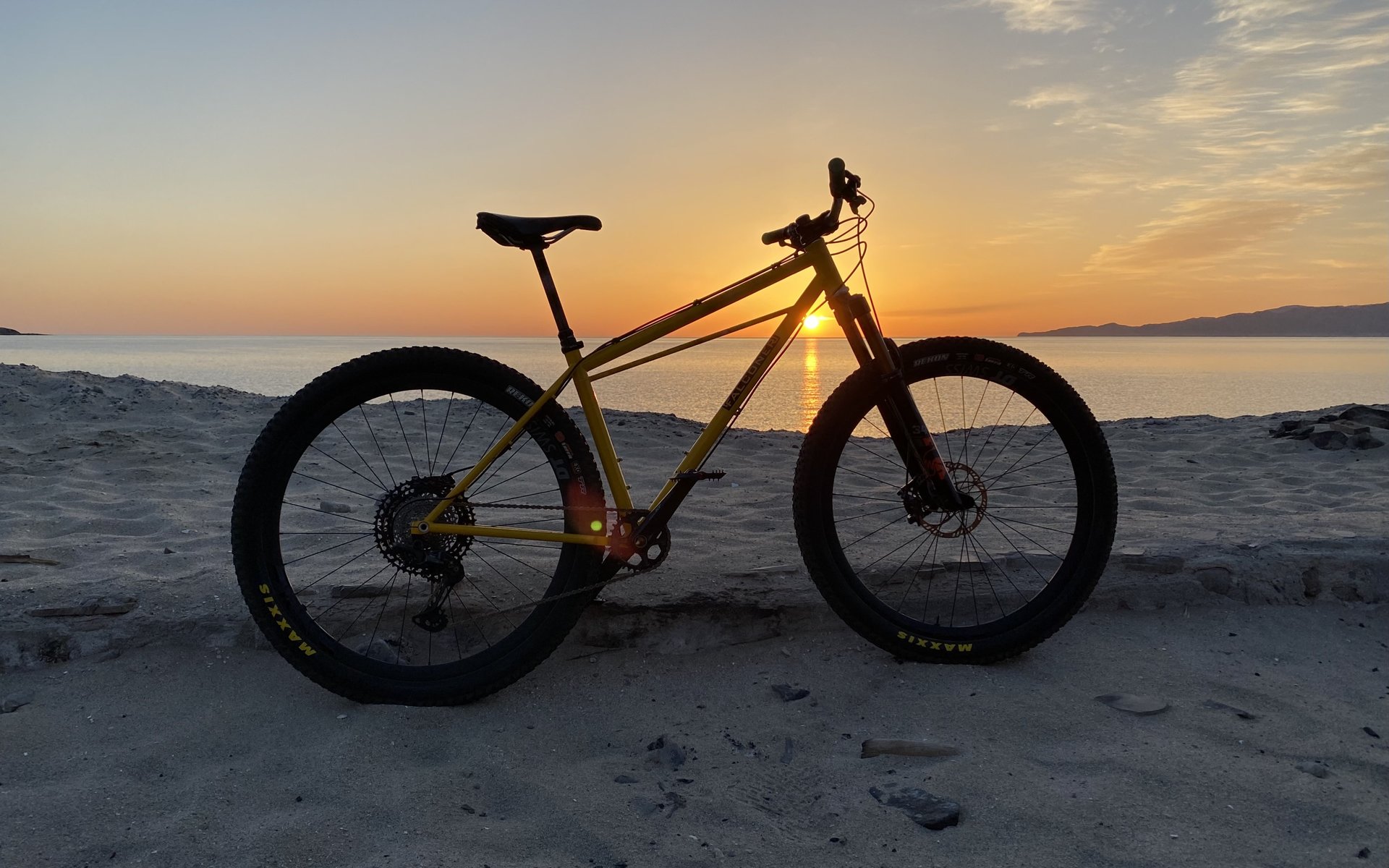 Beggars Would Ride
Salad Daze
This is the time of year where we talk about the places, people, and products that lodged in our psyches over the past 365 days. It's annual recap season; that brief window of time where we give thanks and set intentions, or something like that. I think. Bear with me, since this is still all a bit new and foreign. And I'm a bit feral. It is difficult for me to separate the spiritual wheat from the material chaff at the best of times. But, that said, there is something I have thought about a whole lot this past year, and in this one area I am absolutely brimming with gratitude.
You know what I am really, really happy about these days?
Tires.
Tires have been on my mind ever since I started writing for this site. When I started writing here, I would've been hard pressed to name an instance where I would have actually chosen to ride Maxxis MaxxGrip or Super Tacky rubber. MaxxTerra worked fine. Double Down casings? Why? I'm an old kook riding in a bone dry landscape. There's just no need. As long as there was something stopping the rim from bottoming on the ground, and that something had some sort of knob shaped things on it, and it was 29" in diameter, and had a number larger than 2.4 stamped on the casing, all was well. Or so it seemed.
Basically, I had mostly given up thinking about tires – in any sense other than width and tread pattern ­– as part of the dynamic of riding. The reasons for this are twofold. One, my riding environment is generally not super demanding. Temperature and terrain are nowhere near as widely variable as what the Shore throws at you. Two, I'm also reeling headlong into the phase of life where I am way more worried about hip injuries and heart attacks than I am progressing my riding in high risk situations. That last bit is a bitter reality check, but it is what it is. I'm an aging trail rider who doesn't get that rad. And just like the owner of a bone stock mid-1990s Totoya 4Runner, I'm probably not gonna ever really find a use for a set of 35" Super Swampers.
Then there's the hangover effect from the bad old days to consider. For so long, mountain bikers simply did not have much in the way of choice at all, and even though I got to sit in the catbird seat during the whole evolution of 29" wheels, and then 27.5+, and the rise and fall and rise of fatbikes, my thinking was colored by those bread and water decades where choice was "anything you want, so long as it's 26 x 2.1 and tanwall." As such, my whole mindset about tires was dimensional, and I managed to conveniently sidestep any real consideration of casings and compound until, well, the past year or so.
Looking at where we are now, as consumers, the proliferation of the tire market has been bonkers. Once upon a time, most tire manufacturers would hem and haw and say that it would just be too expensive to open up molds for a new wheel size, too risky, can't go there until there's a very real surge of demand, and we would get excited when a new tread pattern came along every couple years. Oooooh, look! That new Panaracer Smoke has to be the business! Velociraptor, SAY WHAT?! Look at the fangs on that thing! Mind. Blown.
Fast forward 28 years and look at the tires available to punters now. As Judy Garland once said; Toto, I've a feeling we're not in Kansas anymore. Today, the sheer number of tire brands, sizes, tread patterns, casing options, and compounds available is absolutely mindbending.
I am down in Baja for the holidays, observing my annual pilgrimage to the land of thorns and sandy arroyos. And I am thinking of the specifics of tire use here in this rocky, thorny, sandy, messy, washboardy, off-cambery, not very rad landscape. I can plead a contextual indifference at home; it would be easy to say that the riding where I live fits in the fat 66% hump of that standard binomial distribution bell curve. It's kinda like the average riding in most places that are hilly and not totally hardcore. Throw a dart at a map of the USA, and it'll probably land somewhere like this. The riding in, say, Squamish, meanwhile, would be out at one of the asymptotes, where traction on wet rock and root at low temps, along with heavy sidewall compression at low pressures, dictates much more attention be paid to compound and casing. Where consequences are REAL and getting the right tire under you has tangible benefits.
Then there'd be Baja, all the way at the other end of the bell curve, with a very different set of demands, but where once again, certain aspects of tire performance become much, much more important. There are growing mountain bike communities with expanding trail networks in places like Los Barriles, La Ventana and Todos Santos. All the way down the peninsula, most sizable towns have enough people riding that there are snaking ribbons of singletrack out in the desert if you know where to look. In those places, the standard contemporary 29x2.3 or 2.4 reality will suffice, but most riders err on the wide side, with enough knob to bite through the sand, casings tough enough to at least try and ward off some percentage of spiky ingress, and a whole lot of sealant. The rest of the peninsula, where the people are very few in number, the trails are, ummm, more transitory in nature. Sometimes they aren't really trails at all; following dry arroyos, dead reckoning by compass and topo map and trying to find the path least likely to induce bleeding. For reasons that I cannot rationally explain, this is the terrain that I gravitate toward.
There's a fresh set of tires on the hardtail; 29x2.6", Specialized Butcher T9 up front, T7 in back, Grid Trail casings at both ends. For the past couple years, I've run 29 x 2.6 Maxxis Rekons. They floated well, but would still have me pushing my bike through the sand, often, or would eventually lose the battle with the countless sharp plants. In the Vizcaino desert, it's not a matter of IF you run over some cactus spines. You will. A lot. This is a promise that Baja delivers on without fail. So this year, I went heavier with the Butchers. They are definitely a step up in traction and durability, although the T9 sure does fling a whole lot more sand around than the T7. Buuuut… they aren't that much of an improvement at floating in the jank. I have reached the conclusion that if I could fit them, I'd go up to 29x3.0 Surly Dirt Wizards, and I would not even flinch at the weight. In fact, for the back of nowhere exploration that seems to be what I inevitably end up doing down here, those ultra-meaty tires are still not enough. I am itching for a fatbike setup. Yep. There. I said it. Give me 26x5.0, or 27.5x4.5, and a bucket of Orange Seal.
Once upon a time, we had no real options when it came to equipment. The Fat Chance that Steve Garro rode offroad from Flagstaff, Arizona to Cabo San Lucas in 1992 was the same bike he was boosting air on in Moab on the cover of Bike magazine, and was the same bike he raced in the first Leadville 100. Expressive radness and grinding misery achieved on the same bike. If I recall he used Mr Tuffy liners in his tires on the Baja trip, though.
This is the cool thing about mountain biking nowadays. Just as back in the bad old days, it can be a venue for such a broad range of experience. It can mean so many different things for so many different people. Mountain biking can encompass everything from high-G jump lines on sculpted man-made terrain and the shittiest, most primitive arroyobiking imaginable. Only now we don't have to tough it all out on the same bike. Now, we are so absolutely awash in equipment choice that we can not only optimize our bike for each end of those bell-curve scenarios, but we can fine tune our rides at the most important contact point of all: where the rubber meets the ground. We may complain about the price of Maxxis tires, but really, where else can you spend a couple hundred bucks and radically change the way your bike behaves?
Wanna pin numbers on a skinsuit and rip legs off? There are scads of flyweight 500-gram tires with barely any tread and super-fast rolling silica compounds out there to optimize your red mist quest. Want to stick to the slabs and roots in the middle of winter and not die on those super high consequence lines? You've got piles of multi-ply aggressive tires with rubber the consistency of warm gummy bears to help lend peace of mind to that glistening fearscape. Want to push less, pedal more, and do not give a rat's ass about KOMs on the way to the ruins at Calamajué? I see you, Fezzari Kings Peak. Hello, massive landscape of rubber options that I know nothing about other than those magic numbers: 27.5x4.5. I'm willing to be wrong about this, dog knows it wouldn't be the first time I've barked up the wrong saguaro. But I sure do want to find out.
Salad days, meet salad daze: Where the good times collide with so many potential options that paralysis ensues. What an incredible time to be a mountain biker. Happy new year!