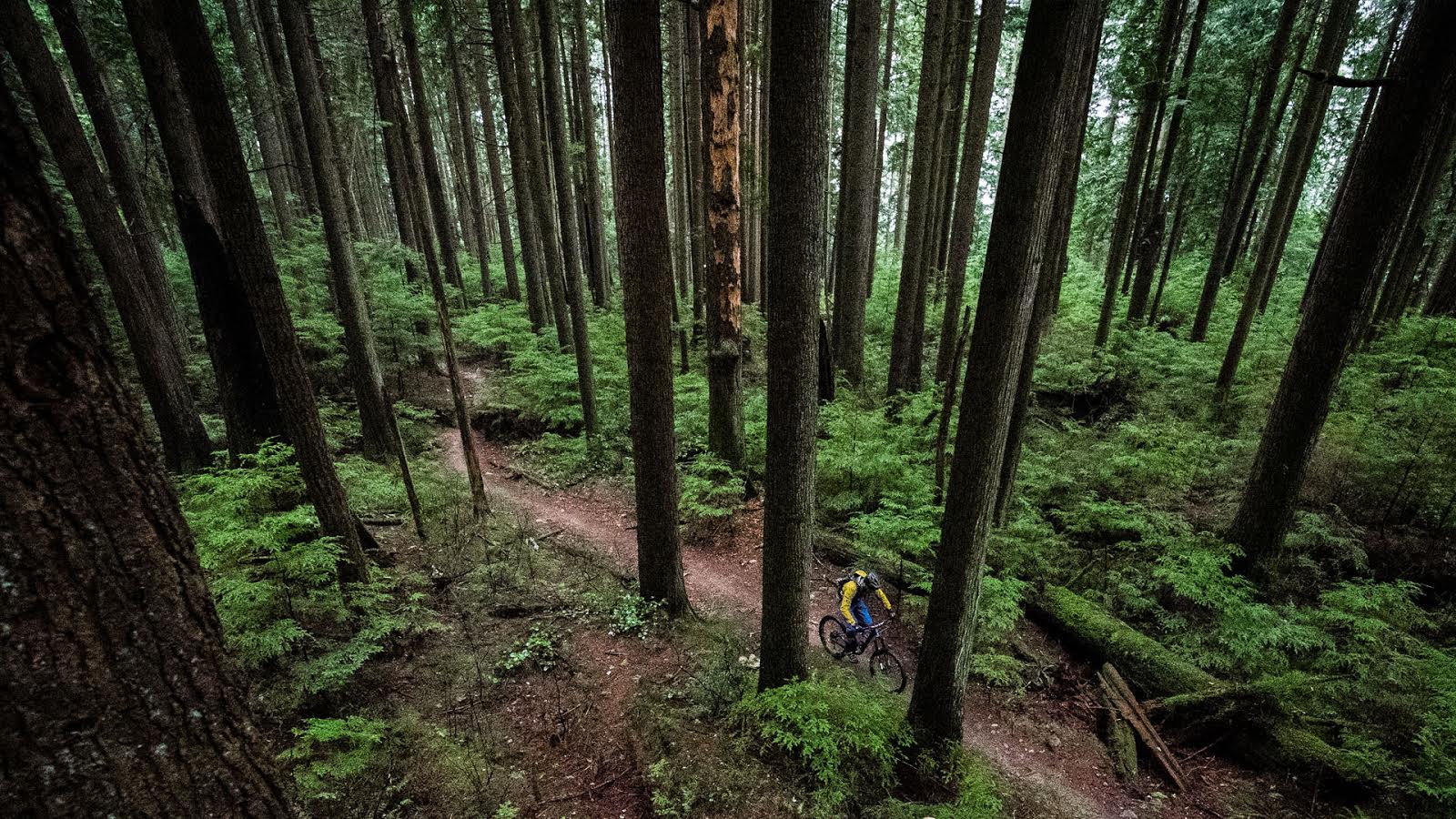 The Saboteur's Husband
On Wednesday January 28th, the Vancouver Province newspaper ran a story on the woman who is accused of sabotaging trails on Mount Fromme. If you missed this earlier you can get up to speed here. Through her husband, Mr Ronald B. Kraal, Ms. Tineke Kraal has communicated that since her arrest she has been afraid to leave her home and that her health has suffered. This is not an outcome I welcome and I am sympathetic to her plight. Initially I questioned why she was living in fear, even before her name was released, but realizing that cameras had recorded her (allegedly) nefarious actions in the woods must be disconcerting.
I can also understand her anxiety if she has been following comments below articles, in both mainstream media and on web sites like this one. She has not been treated kindly by the majority of commenters, and at times threatening language has been used. I would again like to discourage this approach and stress that most mountain bikers are reasonable and respectful people.
At the same time I can understand the anger. If she is guilty of what she is accused of, her actions had the potential to cause serious injury. I crashed as the result of a log placed after a blind corner on a steep section of trail, in the area where she apparently left debris. Luckily I was unhurt – but it could have gone otherwise. Despite having been affected by her actions, I don't hope she is severely punished and I would be happy to hear she is again out on the trails enjoying nature, if the sabotage ceases.
Today however, I find my sympathy strained. A document has come to my attention, written by Mr. Kraal, where he betrays an attitude that is at odds with the one he presented in the newspaper.
The document, from 2005, confirms that this behaviour has been going on for years (as many riders know) and that these actions were specifically targeted at mountain bikers. His contention that, ""They're making a mountain out of a molehill," has no credibility in light of this new information.
The email, dated Thursday January 27th, 2005, written to the District of North Vancouver Mayor and Council, begins "Dear Sirs", (Mr. Kraal was apparently unaware of the two sitting female councillors) and then gets to the heart of the matter: "I have been a resident of (address removed) for over 14 years and have been at war with mountain bikers ever since some council members didn't have the foresight to realize that initiating a parking ban on Coleman and McNair would only move them to Dempsey which everyone here predicted but no one on council figured that one out."
Parking has been an issue for residents near the trails on Fromme for some time, and the parking ban was a solution that wasn't supported by mountain bikers. At the same time, if you live next to a soccer field you are going to have soccer players parking near your house. If you live next to a forest, guess where the forest users are going to park? I realize this may be inconvenient and that mountain bikers, like any group, sometimes behave badly before and after they engage in their activity. As a community we are working to encourage riders to be sensitive and aware of residents, and again I'm sure we can do better.
Despite Mr. Kraal admitting to being "at war" with mountain bikers, that isn't the most disturbing part of the letter. He goes on to say "every morning we walk on the once beautiful trails and try to destroy the structures raised by people who have a total disregard and disrespect for nature."
Mr. Kraal admitted, in a public document, that he too has damaged trails. Indeed the actions he is referring to have the potential to cause even more serious injury. Several years ago I saw structures sabotaged but with all elements left in place – so the damage was impossible to recognize. Luckily I was hiking and not riding when I found them, but the results could have been disastrous.
On the aforementioned occasion I noticed a new ladder bridge on a trail called Groovula. I hadn't ridden the trail in some time so I was interested to see this feature and determine if it was well built.  A close examination revealed that all four legs were cut. Each cut was at a steep angle so that if weight, like that from a rider, had been applied to the platform, the entire structure would have collapsed; leaving four sharp wooden timbers pointing upward. I yanked the structure down so the next rider to come along wouldn't be impaled.
Next to the structure someone had, perhaps unwisely, built a throne of sorts on stilts. Curious, I began to climb up only to discover that it had been cut in the same fashion. It began to collapse beneath me but, because I was only part way up, I was unhurt. This too could have ended very badly.
Despite the fact that he has admitted to destroying structures, I am not suggesting that Mr. Kraal is responsible for these actions. And yet it seems clear the perpetrator intended to cause serious injury. It is disingenuous to say, as Mr. Kraal did, that these actions were designed only to slow riders.
I know first hand that mountain bikers can do better. We tend to get focussed on our riding and we aren't always as aware as we could be of other trail users. Doing trail work at the top of a trail yields greetings and thanks from riders, but lower down, once riders are intensely focussed, they sometimes fail to notice trail workers standing a few feet from where they are riding.
So I have some sympathy and I know we need to continue to improve, but my suspicion is that the motivation for these actions has more to do with NIMBYism than trail conflict or environmental damage. Mr. Kraal reveals his motivation when he admits that his "war" began when the parking regulations were changed. And the area where the sabotage has been noticed is a very low traffic area. For over 15 years I have ridden those trails, often several times a week, and I have never once come across a hiker. And I can only remember one occasion when I saw another rider.  Mr. Kraal makes a bold claim that his wife is in danger on the trails: "When she goes for a hike, she has to jump for safety," The idea of trail conflict in this particular area is ludicrous.
Here in North Van we have a more vocal opponent to mountain biking. Her name is Monica Craver, and she is also quoted in the Province's article. Ms. Craver has exposed her hostility to mountain bikers by shifting her rationale opportunistically. Asking Ms. Craver about mountain bikers is akin to asking Tea Partiers about Obama; she hates us independent of what we do. Ms. Craver has cited trail conflict, environmental issues and, most cynically, safety in her opposition to riders. When a young man injured his spinal cord in a freak crash, Ms. Craver callously capitalized on his misfortune and, despite having never worried about our well-being before, called for a ban on mountain biking because of the potential danger.
Long time residents of upper Lynn Valley fondly remember a time when their neighbourhood was the end of the road. There was almost no traffic, no parking issues and no mountain biking. It is likely many of them were attracted to the area for its tranquility and proximity to nature, and while I know some stellar long term residents, it's clear some were drawn to it because they don't play well with others. Fortunately newer residents to the area don't appear to have issues with the mountain bike community.
While I'm certain we aren't perfect, and that we ignore those who take issue with our behaviour at our peril, the Kraals, the Cravers, and their ilk will never accept us. Mountain bikers volunteer labour to the trails, both hiking and mountain biking, and here in North Vancouver most of us endeavour to have positive interactions with other trail users. We've come a long way, but our improvements, in both substance and image, have never been acknowledged by our adversaries. We know how you feel, Barack.
It's clear, in spite of this new information and the police allegations, that this incident presents an opportunity for the mountain biking community. Despite our anger, despite others' attempts to injure us, we can and should take the high road. My hope is that Ms. Kraal will have a change of heart and see the error of her ways. I hope to encounter her on the trails so that I can stop my bike, say hello with a smile, and let her pass.
This is one of those times when the internet can make a difference. When commenting about this issue, either here or elsewhere, let's show our true colours. The mountain bikers I know are respectful, intelligent people who show compassion for their fellow humans, Let's not let our anger, while justified, get in the way of our humanity.