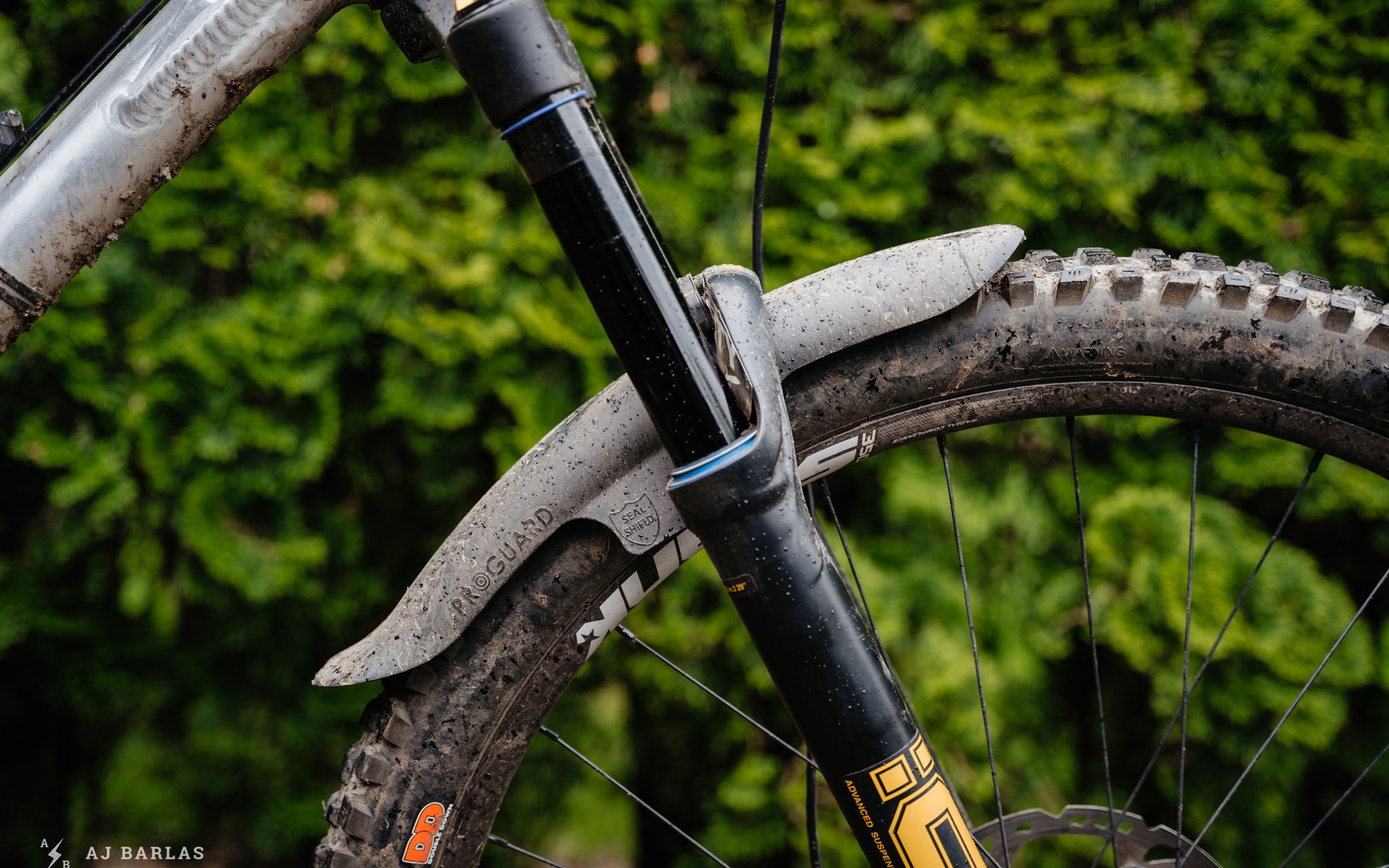 REVIEWED
RRP ProGuard Bolt On Fender Review
Observant riders will have noticed a couple of threaded holes on the backside of their fork brace. For what seems like forever, Fox forks have included them but with nothing to mount there, they left many riders puzzled. SR Suntour and DVO also manufacture their lowers with threaded holes but include fenders with your purchase for some models, while Öhlins, like Fox, gives you holes but no mud guard. Other than the Syncros Trail Fender, which only worked with some Fox forks, there were few products making use of these odd threaded inserts.
That changed late in 2019 when RRP released the Pro Guard Bolt On fender. Available in two sizes, the fender can be – you guessed it – bolted to the fork brace, removing any need for zip ties. Each fender also includes a couple of small adhesive-backed rubber pieces that mount to a specific location and reduce wear on fork lowers.
Highlights
Two sizes available: Standard and Mini
Height adjustable by 6mm
Angle adjustable for an accurate fit
A small lip at the front deflects spray
Long rear with raised lip effectively extends coverage from wheel debris
Seal Shield protects fork seals from the elements
Minimum fork offset of 44mm
Works with 26", 27.5" and 29" wheel sizes
Tires up to 3 inches are said to work with it (Tested with a range of 2.5-inch tires from Maxxis and WTB)
Includes mounting hardware for Fox, Marzocchi (2017 & later), Öhlins and SR Suntour forks
Two adhesive rubber pads protect the fork lowers from the fender
Sticker recess for riders who want custom designs (available separately or make your own)
MSRP: 47 USD / 61.99 CAD
Details
With most MarshGuard-style fenders, there's not much to talk about but this bolt-on fender changes that. RRP has produced two sizes of their ProGuard Bolt On fender and labels them Standard and Mini, however, their chosen nomenclature is quite misleading. The Standard ProGuard Bolt On offers coverage more aligned with its large zip-tied sibling, the ProGuard Max Protection fender. It's a beast of a fender capable of keeping water and muck away from your face in the most hideous conditions. The Standard measures roughly 80mm shorter than the zip-tied Max Protection fender but on the trail, I found them both to offer similar coverage. A great thing for those super soggy days.
With the Standard being the behemoth, the Mini's size is what we are more typically used to seeing on bikes but even then, it offers more protection than many. With a length of 494mm, the Mini provides ample coverage and more than any of the simple zip tied fenders floating around. In recent years there's been a surge in fender options offering more coverage and two notable names include Muddhugger and Mucky Nutz; but neither bolts to your crown.
Currently, three mounting options offered for the Bolt On fenders cover forks from Fox, Öhlins and SR Suntour. They're working on solutions for DVO, X-Fusion and some Fox 40 forks as well. RockShox fork owners are stuck with zip-tie fender solutions for the time being but if RS were to begin implementing threaded holes in their fork braces, you can bet RRP would begin work on a solution.
Included in the kit are the different bolts needed for the different forks; Fox uses two M3 bolts, Öhlins use three M4 bolts and SR Suntour use a single M6. They're packaged and labelled individually to make things easy and RRP even includes a couple of Allen keys to use. Three tilt brackets adjust the level of the fender so that achieving adequate clearance between the tire, front and rear of the fender can be achieved. The previously mentioned adhesive-backed rubber guards help make fitment a breeze once installed to the marked locations on the fender. Pinch the sides together, move the fender into position, gently resting the mounting bracket against the fork brace, and release. The fender will be held in place in most situations, allowing you to grab a bolt and gently thread it into the brace.
Try & Try Again to Get Dirty
The ProGuard Bolt Ons arrived once the wet season in Coastal B.C. had been in swing for a while, making the Standard the smart choice initially. Before mounting it, I'd been using the ProGuard Max Protection, making a direct comparison simpler. During sloppy, wet days on the bike, the Standard prevented moisture and grit finding its way to my face and often stopped much of it making it up past my waist. Different riding positions could affect the amount of coverage below the neck but above that, the muck and moisture become a distant memory – at least until stopping to take a look at your bike and surroundings. During the most biblical rainstorms, the Standard keeps heaps of the moisture and muck down around the wheel, and that makes the riding in such conditions far more enjoyable.
I kept the Standard on the bike until an early spring dry spell when I switched for the Mini. The swap was easy but be careful; the threads in the fork brace can be stripped by even moderate ham-fisting and that could be a bad scene. Cleaning threads thoroughly will also help preserve your threads. The ProGuard Bolt Ons were easy to mount to the Öhlins RXF36 m.2 that they spent the last six months on but I had taped the brace when the fork was new, preventing any dirt getting in any of the grooves to begin with.
The combo of laziness and our unpredictable coastal climate has me leave fenders on year round. I also realized the fender keeps some rocks and debris down and away preserving fork seals, keeping them fresher for longer, especially when riding in sandy, gritty locations like the Whistler Bike Park or Pemberton.
The Mini is the perfect all-rounder for me but if I need a bigger fender, the swap takes only takes minutes. It's quicker than zip ties, there's no mess and nothing disposable required.
These aren't the cheapest fenders available but there's heaps more to them so the ~$10–$20 cost difference is warranted. North American readers can also save some money with the fenders currently on sale for 42 USD / 54.99 CAD (down from 47 USD / 61.99 CAD).
Both fenders do a bang-up job on the trails but for North American readers, RRP distributor, Reciprocators has an added feel-good purchase bonus. They're donating money from every sale to local mountain bike associations – 10% of every order to be exact. Contact your local trail/mtb association to see if they're setup for the donations and if they aren't, it's probably worth suggesting they do so.
Room For Improvement?
Both fenders have worked sensationally but the length of the Standard does bring about a minor complaint. During big compressions, say at the bottom of a steep roll or during a couple of solid consecutive hits, the fender can flex enough for the rear to connect with the tire. I've never found it to be enough of a connection to slow the wheel like a quick dab of front brake but it can be unnerving when it happens in already challenging sections of trail. The first time it happened I thought maybe the bolts weren't fastened correctly but that proved not to be the case. In drier conditions, when speeds can increase and more aggressive riding comes into play, this happens more often. The Mini never exhibited this trait.
Verdict
This is another one of those, "why didn't they think of that sooner" scenarios and I'm still confused why most suspension manufacturers didn't a) work with someone to make one for their product or b) make one themselves. Designing suspension is the focus but why not make use of what's already available to provide more for your customers?
Both fenders perform great and have mostly been set and forget items. Aside from the occasional extra flex of the Standard, they go unnoticed but you'll make note of the clear vision they provide.
More on the RRP ProGuard Bolt On fenders is available on the RRP website and for North American readers, head to Reciprocators for more on the trail donation.