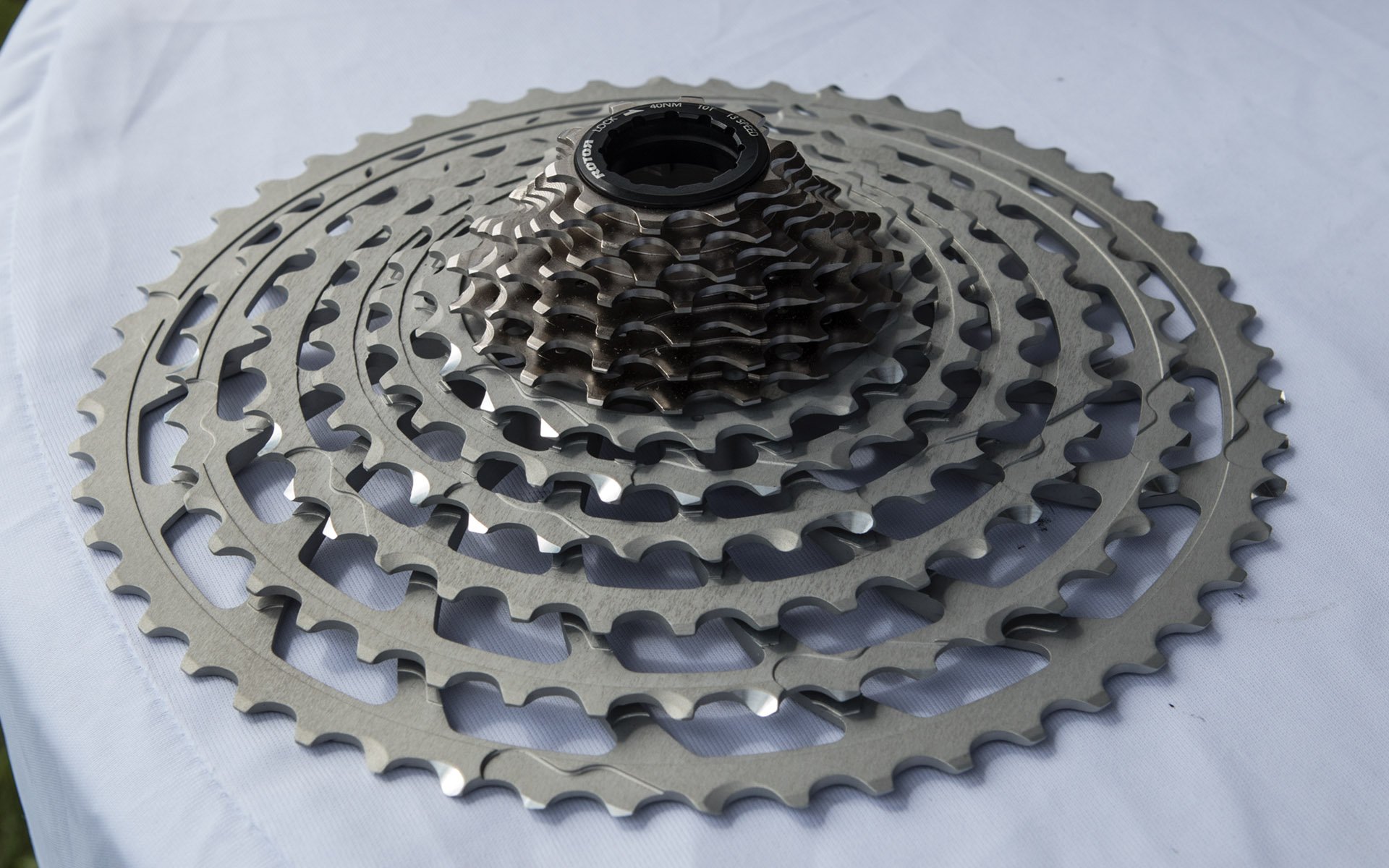 A Light and Well Priced 12spd Option
Rotor's 12x Cassette Ridden and Reviewed
Options have never been more important for mountain bikers. Until recently SRAM had a stranglehold on drivetrain components for higher end mountain bikes. Or at least they created a stranglehold by making components that were head and shoulders ahead of the competition in almost every regard. Price was and is an exception and Shimano's relatively recent entry into the 1x12 market provides some much needed choice in a package that shifts incredibly well. But that is still just two choices, aside from boutique options like Rotor's 13 speed group, Box's 12x drivetrain and cassettes from Sunrace, Garbaruk, e*thirteen, Leonardi, SEQlite and others.
The keen-eyed among you may notice that the header image is actually a 13x cassette, which is part of Rotor's own drivetrain group. Aesthetically they are identical, but the 13, obviously goes two entire cogs past 11.
While I like options, I'll only choose them when there is a parallel or an advantage in either performance, price, durability, or in rare cases weight. As I think about it, that's not entirely true. I will occasionally sacrifice in one of those areas for something that has an interesting story, incredibly engineering, or if it looks really dope.* When you invest piles of money, energy, and research into your bike, as many mountain bikers do, it's nice to be able to add some originality and personalize your ride.
*I'm too old to use that word in conversation, but I thought I'd try it out here
My affection for options made Rotor's 12x cassette catch my eye at Sea Otter 2019. It leads in several categories, being lighter (323g), less expensive (365 USD), and able to fit a conventional Shimano HG driver body. Remember the one everyone used before SRAM's XD driver showed up? As a result it has an 11t smallest cog, but it compensates by going to 52 for the bottom end so you can use a larger chainring and preserve your range.
The Rotor cassette also scores points for sweet engineering and stunning presentation. It's the sort of component you want to put on your bike because it appears to be hewn from Mithril by elves with skill and precision that puts both humans and machines to shame. That may be taking it a little deep, but it's an accurate reflection of my affection for finely crafted bike parts in general, and the Rotor cassette specifically.
The install is easy if you have a 12x SRAM drivetrain (Shimano isn't recommended) and a wheel/hub with a Hyperglide driver. I pulled a Shimano Microspline driver of a DT Swiss hub and slid an HG on in its place. I realized that I'd need to use SRAM's Eagle B-Gap adjustment tool, but I decided to see how it worked without completing that adjustment. The results were poor and the shifting was abysmal, particularly moving to a larger cog under load. After toughing it out for a couple of rides I dug out the tool and tweaked things appropriately. Shifting improved, but not enough. There were times when it didn't seem like the problem was the derailleur, so I checked the hanger alignment, which was good, and lubed the cable in case it was getting hung up. Again there was a slight improvement, but nowhere near enough, and there still seemed to be a cable or housing issue.
Final Performance Analysis
I rolled up my sleeves and replaced the cable. Again there was a marginal improvement but much more was needed so I yanked the housing. Some how the portion of housing that resides inside the upper stay in the swingarm had become crushed in one spot and kinked in another. I slid in some new housing, using Shimano product, and once again adjusted everything so that it was working well in the stand and got ready to take it out on the trail.
My first shifts seemed to be another improvement, and possibly even a significant one. I tried some out of the saddle changes on the fireroad up Mt. Fromme with decent results. Once I hit the singletrack and did some more demanding shifts, the improvements were less pronounced. The chain hung on many shifts to a larger cog under power. Instead of a simple click I often needed to keep the cable in tension to accomplish the shifts. Upshifts were generally better but occasionally they hung up as well.
After sorting out the cable issues, I still wanted to be sure there were no lingering issues preventing solid shifting, so I swapped in a wheel with an XO1 cassette and did some riding. Shifting was immediately crisper and I could perform demanding downshifts with only a click of my thumb. Upshifts were faster and smoother as well. This is only a guess, but it seems the ramps on the Rotor 12x cassette are less effective than those on SRAM Eagle cassettes.
Rotor Cassette Stats VS SRAM Eagle XX1 and XO1
Rotor Cog Sizes 11-12-13-15-17-19-22-26-31-37-44-52t SRAM XX1 and XO1 10-12-14-16-18-21-24-28-32-36-42-50t
Rotor Weight - 323g (measured) XX1 and XO1 - 357g (claimed)
Rotor Price - 365 USD XX1 - 449 USD XO1 - 385 USD
Final Analysis
I was really hoping the Rotor cassette was going to steal the show. I would have been very keen to be able to tell you this is a viable option for challenging terrain that requires difficult shifts, but that wasn't my experience. I can get by with the Rotor cassette but it means I need to plan and think about any shift that has to happen under power or very quickly. On my last ride a missed shift caused me to hop off and push up a small rise. Obviously this is no big deal when you are out riding with your buddies, but it's not ideal either. If you live somewhere without highly technical terrain and rough steep climbs in particular, I wouldn't steer you away from Rotor's 11-52 beauty. Otherwise, I'd opt for something else.