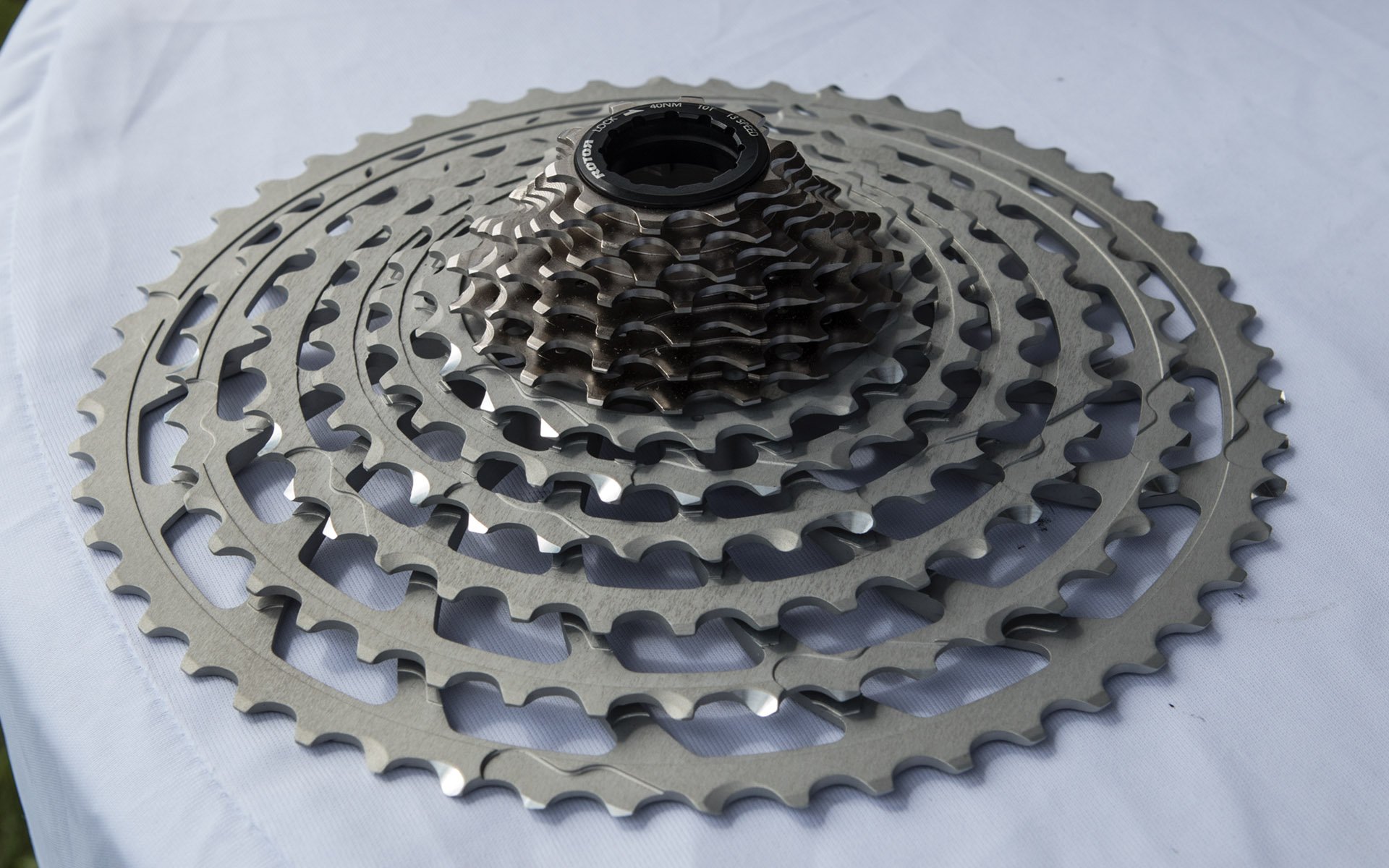 Sea Otter 2019
Rotor Components - 13 spd Hydraulically Actuated Shifting
Rotor introduced an unlucky road bike drivetrain at last year's Eurobike, and now they have a pie plate of a mountain bike cassette mated to a hydraulically actuated rear derailleur. We were told that ditching cables was one solution to the maze of patents related to bicycle changers, because they apparently relate only cable actuated derailleurs.
Just 4cc of unpressurized* mineral oil move the mechanism up and down the cogset. A shallow push on the lever pushes the fluid producing a downshift. A deeper shift releases pressure allowing gravity and the return spring to drive the train to a smaller cog.
*before actuation that is
The cogset is an interesting combo with the smallest 7 steps made of steel while the largest 6 are machined from a single piece of aluminum. We were told the cassette is both lighter and less expensive at retail than an XX1 model, which doesn't help most of us much at this point. A custom spaced hub is required to make space for that 13th cog.
Fortunately Rotor is also going to produce a 12 spd version of the cassette and all that's required to convert the system is an adjustment to a limit screw. Both versions use a 12 spd chain and the system slides onto a conventional Shimano HG cassette, with the smallest cog sitting outboard and doing double duty as the lockring.
Lori Barrett from Rotor told me cassettes would be available in May, and full groups in the fall. Hopefully it will get to market before long and we'll have to wait and see if the prices end up above or below top end groups from the competition. I can't see ditching hubs to try the 13 spd incarnation of this but 12 spd piques my interest, as does the actuation method. This seems like a simple application for hydraulics that may produce improved lever feel and reduced maintenance. For more technical information check this document from the Rotor web site or the North American site here...