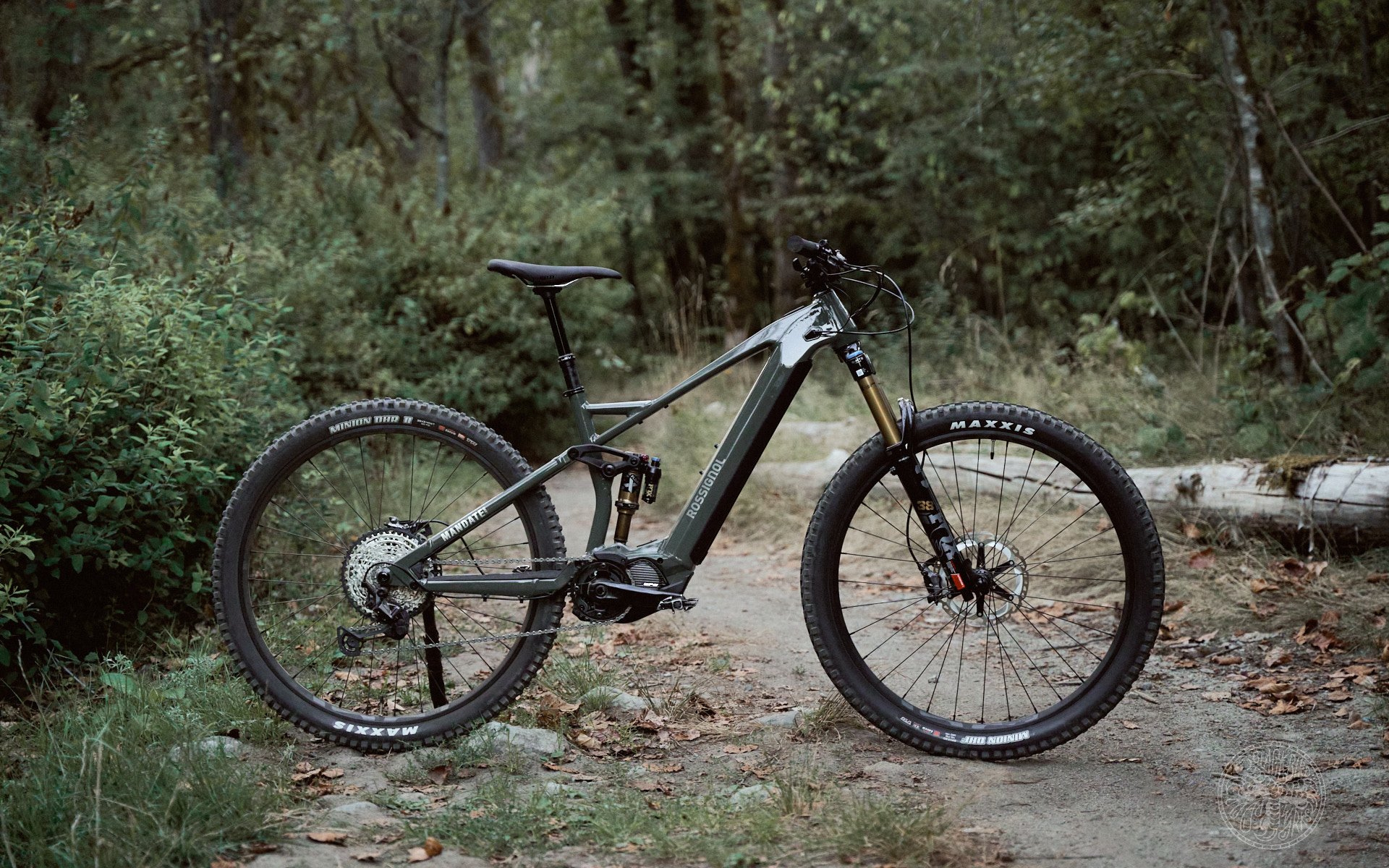 First Look
Rossignol Mandate Shift - a First Look
Coming off the heels of an extremely pricey (and capable) eMTB review, I was a little hesitant to dive into another top tier super bike review that had 9 batteries to charge before a ride. My request was simple: Yes, I'd like to test another full powered eMTB but it has to be a budget oriented one. Budget oriented is definitely a relative term while speaking of bikes and eMTBs in particular these days. Even though the current state of bloated inventories is forcing sales on every brand, it is not unusual to see 5-digit price tags on bikes.
You may have noticed the "Yes, We Make Bikes" slogan from winter sports brand Rossignol's ads on the internet and the statement is true. The French Company has deep roots in winter sports and seeing a bike from them to review for NSMB was a little bit of a head scratcher at first. But not only do Rossignol make bikes, they also have an Enduro Race Team with wicked fast riders and put out absolutely banger film projects throughout the year. Whaddaya know!
GEOMETRY CHART
| | | | | |
| --- | --- | --- | --- | --- |
| Size | Small | Medium | LArge | X-Large |
| Wheel size | 29 | 29 | 29 | 29 |
| Head Tube angle | 65 | 65 | 65 | 65 |
| Seat Tube angle | 78 | 78 | 78 | 78 |
| Top Tube length (horizontal) | 572 | 585 | 610 | 632 |
| Head Tube length | 100 | 110 | 120 | 135 |
| Seat Tube length | 375 | 425 | 445 | 485 |
| Bottom Bracket Drop  | 25 | 25 | 25 | 25 |
| Chain Stay lenght  | 450 | 450 | 450 | 450 |
| Fork Length  | 561 | 561 | 561 | 561 |
| Front-Center  | 753 | 765 | 791 | 818 |
| Wheelbase  | 1214 | 1228 | 1255 | 1281 |
| Reach | 439 | 455 | 475 | 493 |
| Stack | 613 | 617 | 626 | 640 |
While your local bike/ski shop may stock Rossignol winter gear, their ability to sell you a Mandate Shift could be limited. At this point your Rossignol bike purchase will be done online through their website. Canadian orders are shipped from Quebec and have no duties charged - a massive advantage vs. some other direct to consumer European brands.
The Mandate Shift comes in three trim levels and I received the higher end build with the Shimano EP801 motor, Fox Factory 38 150mm fork, Fox Factory Float X 145mm shock (180x55 stroke) and Shimano XT drivetrain (SLX cassette, XT derailleur, chain, shifter and brakes).
The wheels consist of XT hubs laced to E13 LG1+ EN 29" rims. No mixed sized wheels to be found on any of the Mandate Shifts and no visible option to mullet the bike either.
The Mandate Shift XT sits on top of the Shimano's latest EP801 motor. The 85Nm powerhouse is customizable in its power delivery via Shimano's E-Tube app and it took a total of 3 minutes to download, register and setup the bike in the app. The parameters for power delivery and outputs are customizable in extreme detail. The meaning of all the adjustments are not very clear however and will require more fiddling to find the sweet spot in the upcoming couple of months.
The frame itself is stout and entirely made out of aluminum. 148mm boost spacing for the rear hub is a welcome sight and the geometry numbers look like they would play well with my riding style. The size medium Mandate puts me in a 455mm reach frame with a 450mm rear center. 450mm chainstays would be a kind of number that would worry me on a mountain bike that needs to go around corners fast. On an E-MTB however, the proposed climbing stability is undeniable. A long lever arm combined with the 29" rear wheel should provide some excellent climbing bravado on the janky hills I live on.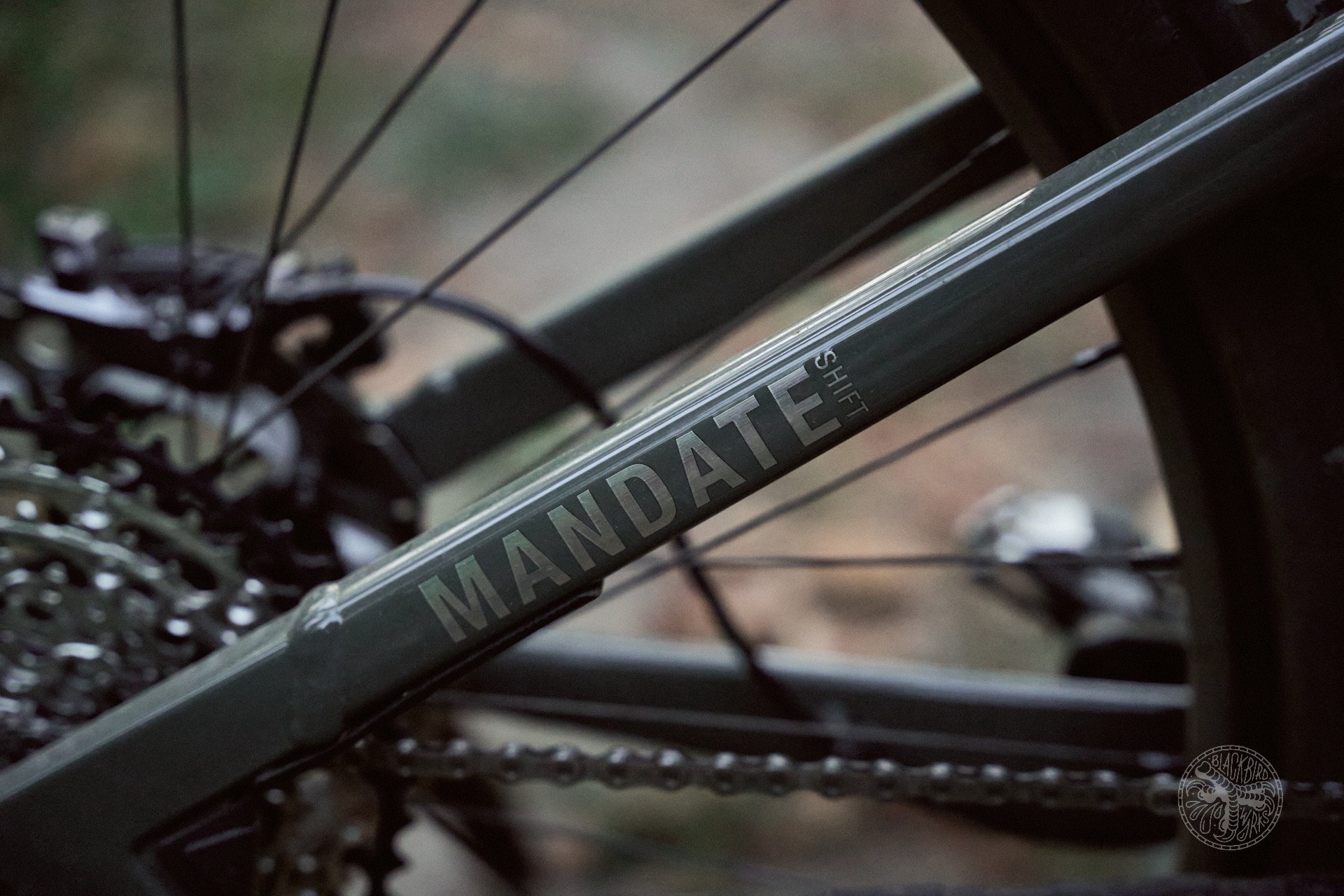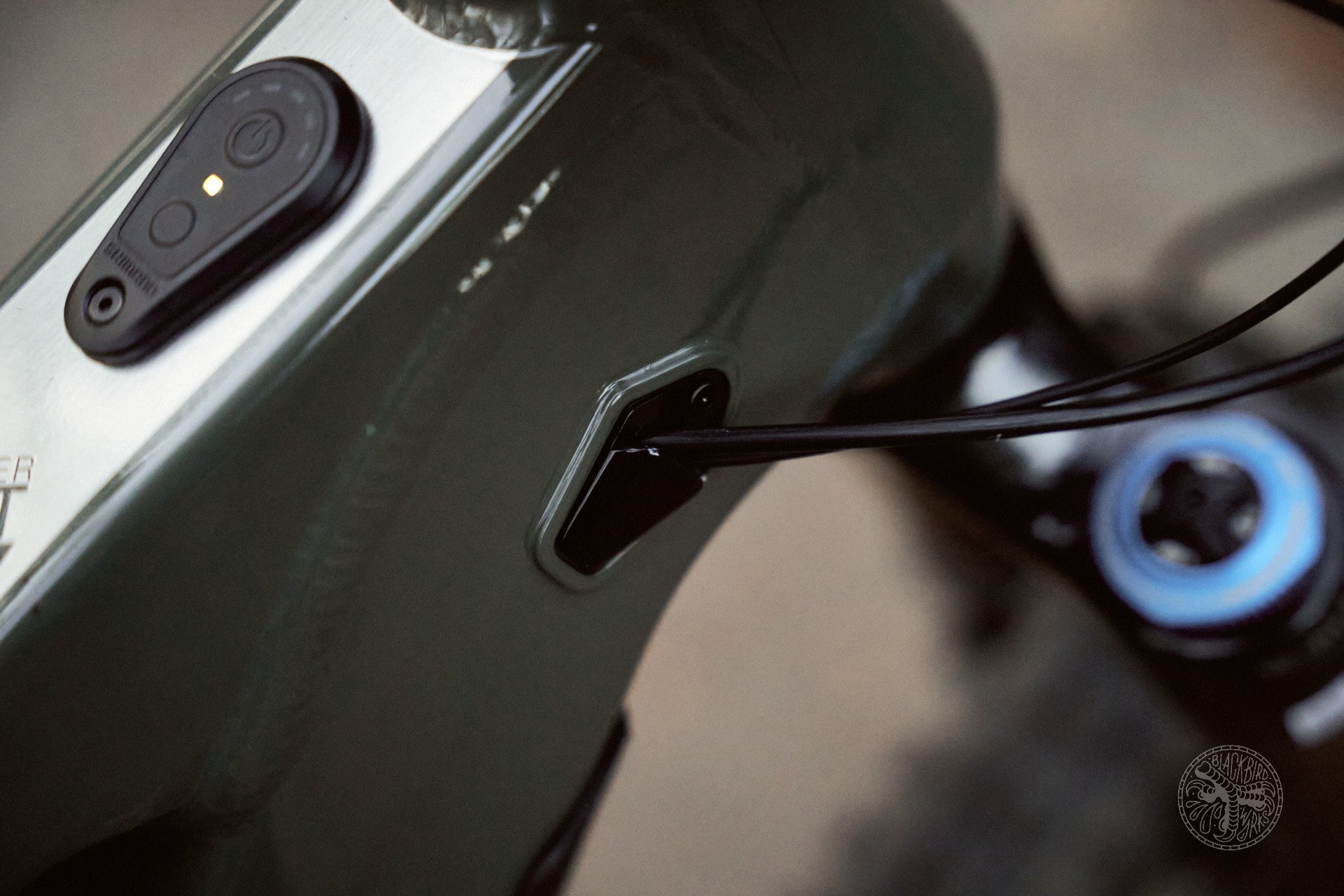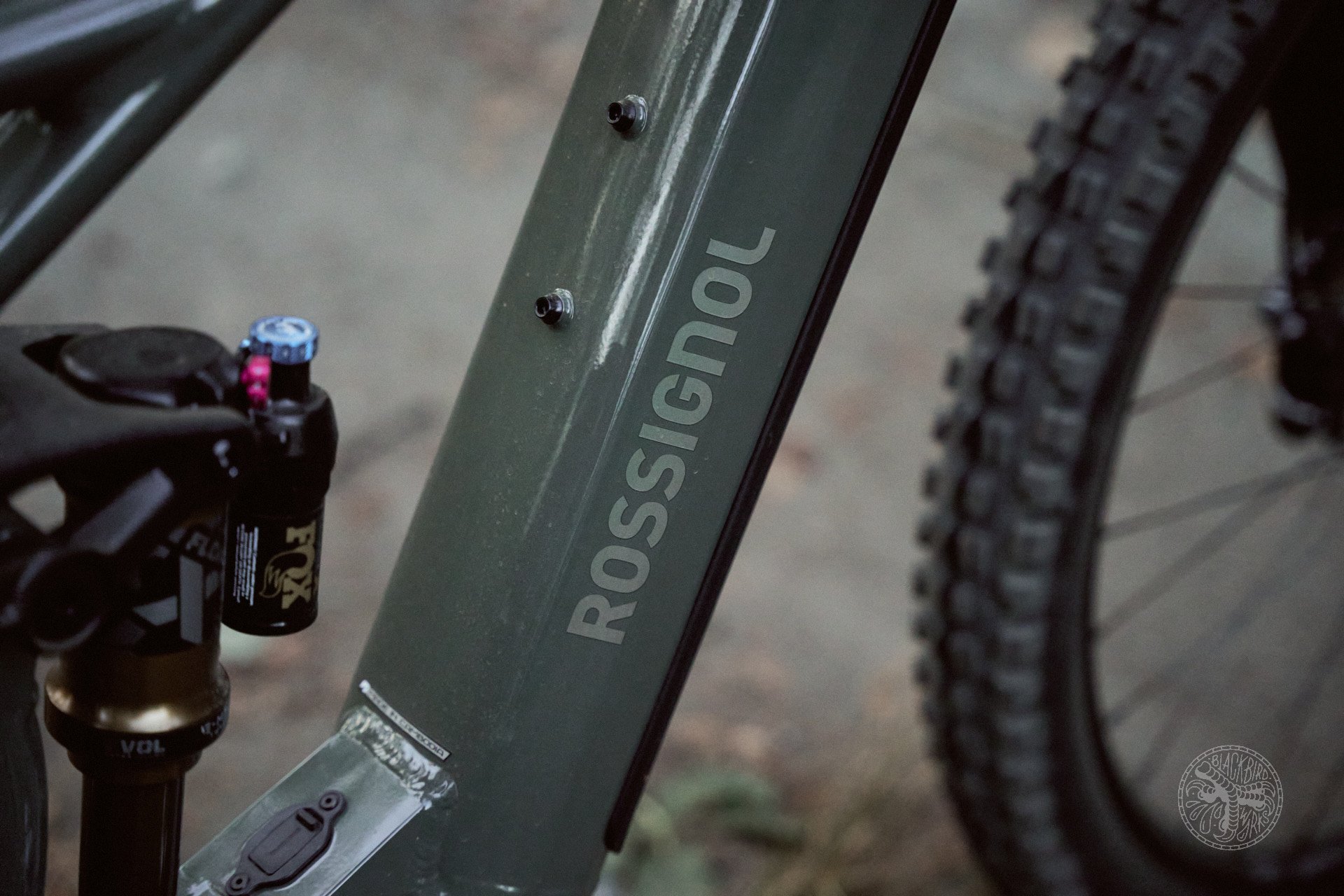 Suspension
The bike I am riding comes with a 150mm Fox 38 Factory which is a rare sight to be honest. I haven't seen a 150mm version of this obelisk of a fork in the wild up until now. The excellent fork is matched to the near flawless (in my opinion) Factory Float X in a trunnion 180x55mm stroke managing 145mm of rear travel, pointing to a rather unintentionally rowdy character of the bike. The head angle sits at a reasonable 65° and stack at a comfortable 617mm on my size medium tester.
After a quick shakedown ride around the neighbourhood with my son pointing at things for me to jump off of, I felt like I'd known the Rossi for a lifetime.
There are immediately obvious flaws of this package, however. Let me get those out of the way quick.
The KS LEV Integra dropper post provided on the size Medium is a 125mm in length. This is seriously limiting in saddle clearance on more demanding trails. So far I have set mine up slightly lower than I would at full extension. Being on E-Assist, the loss in pedaling efficiency is less obvious, especially on technical singletrack. On the road however, I wish I had access to more drop from a 180mm dropper at least. Which also should have been a Fox Transfer Factory complementing the rest of the kashima goodies.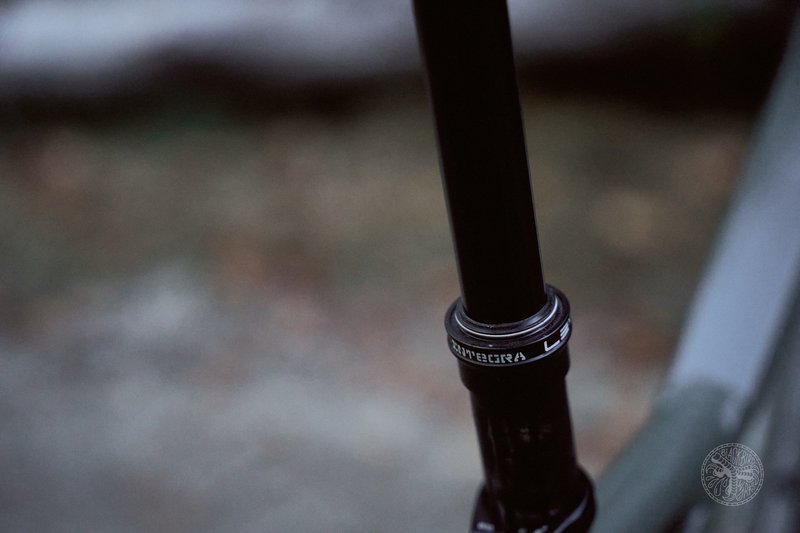 The 125mm dropper is so 5 years ago. It should not be an option except on size S and XS frames.
The dropper cable routing is easily accessible, however once the battery is out the motor may have to come out if a full housing replacement is necessary. Having performed this task on other Shimano equipped eMTBs under 30 minutes, I am not too concerned, just a little annoyed.
Tires
Not a place to save weight on an eMTB, tires are of the proper brand and model, but a swing and a miss when it comes to compound and casing: the Mandate Shift is wrapped in Maxxis' Exo+ casing tires front and rear in DHF/DHR II combination. Both in MaxxTerra Compound. These tires will not last long under a 53-lb bike and 160-lb rider. I have moved on from running inserts in my wheels for the sake of convenience and general ride feel. However the stock tires and E-13 rims will require at least something for bottom out protection in the rear. Tannus would be a good option, ot maybe CushCore if there is the potential to ride out of the trails with no air in the tires.
Starting the Mandate is straight forward with the power button right behind the headset on the top tube. No searching required for a hidden button and a quick press and hold of 2 seconds launches the bike, up and ready to go.
The Shimano Assist Switch between the left grip and the front brake is easily accessible and quite ergonomic. If you wish to get rid of this switch the modes can be controlled from the secondary button on the power toggle. The small button will cycle through Off-Eco-Trail-Boost-Off modes easily enough and the 5-colour led will light up to let you know your battery levels. Another small LED light above the mode button will light up in corresponding colours to let you know which mode you are in:
Blue for Eco, Green for Trail, Yellow for Boost, Off for... off.
For people looking to simplify their cockpits or just as a redundancy system for potential in-field failures, it is great to have this button to switch modes.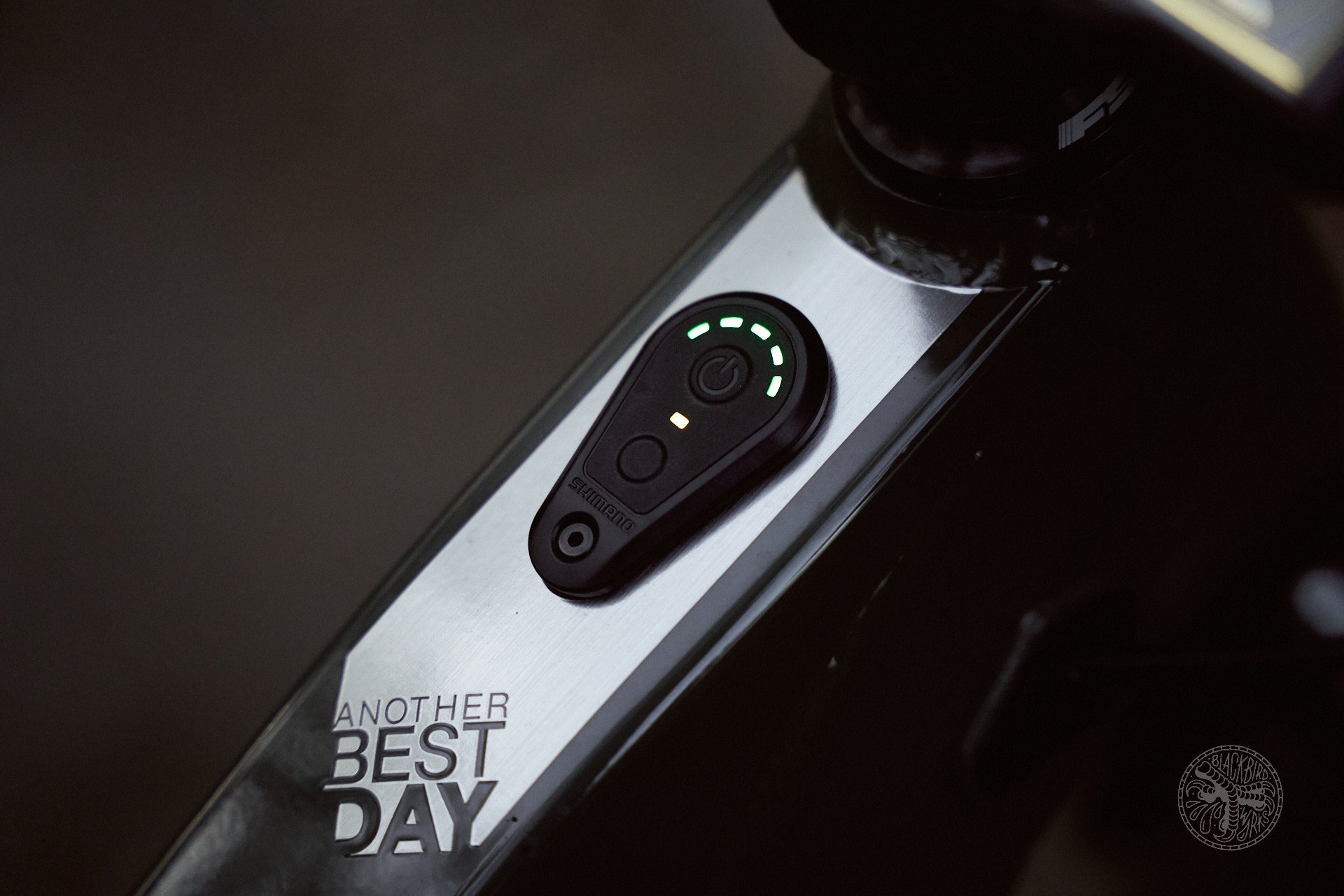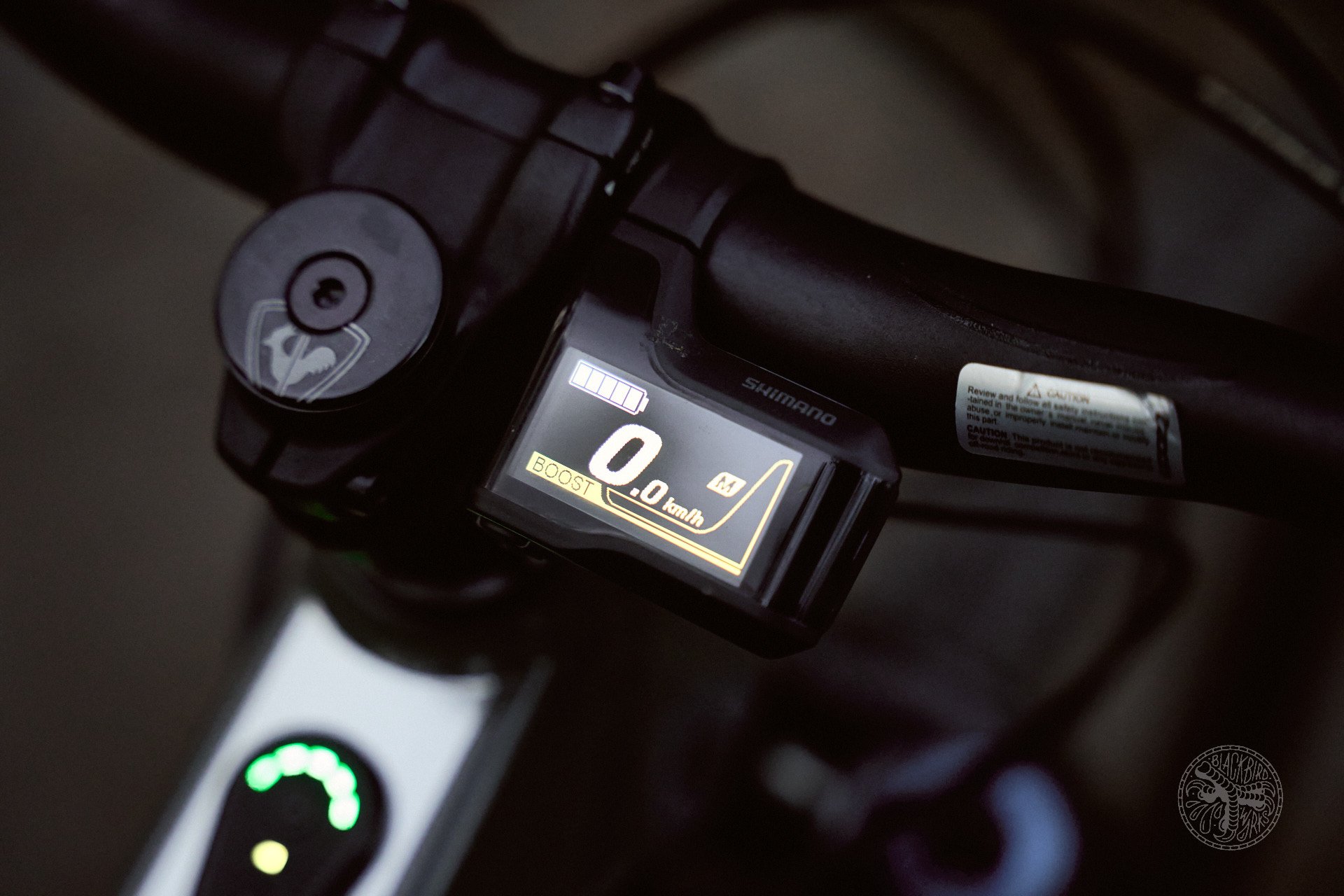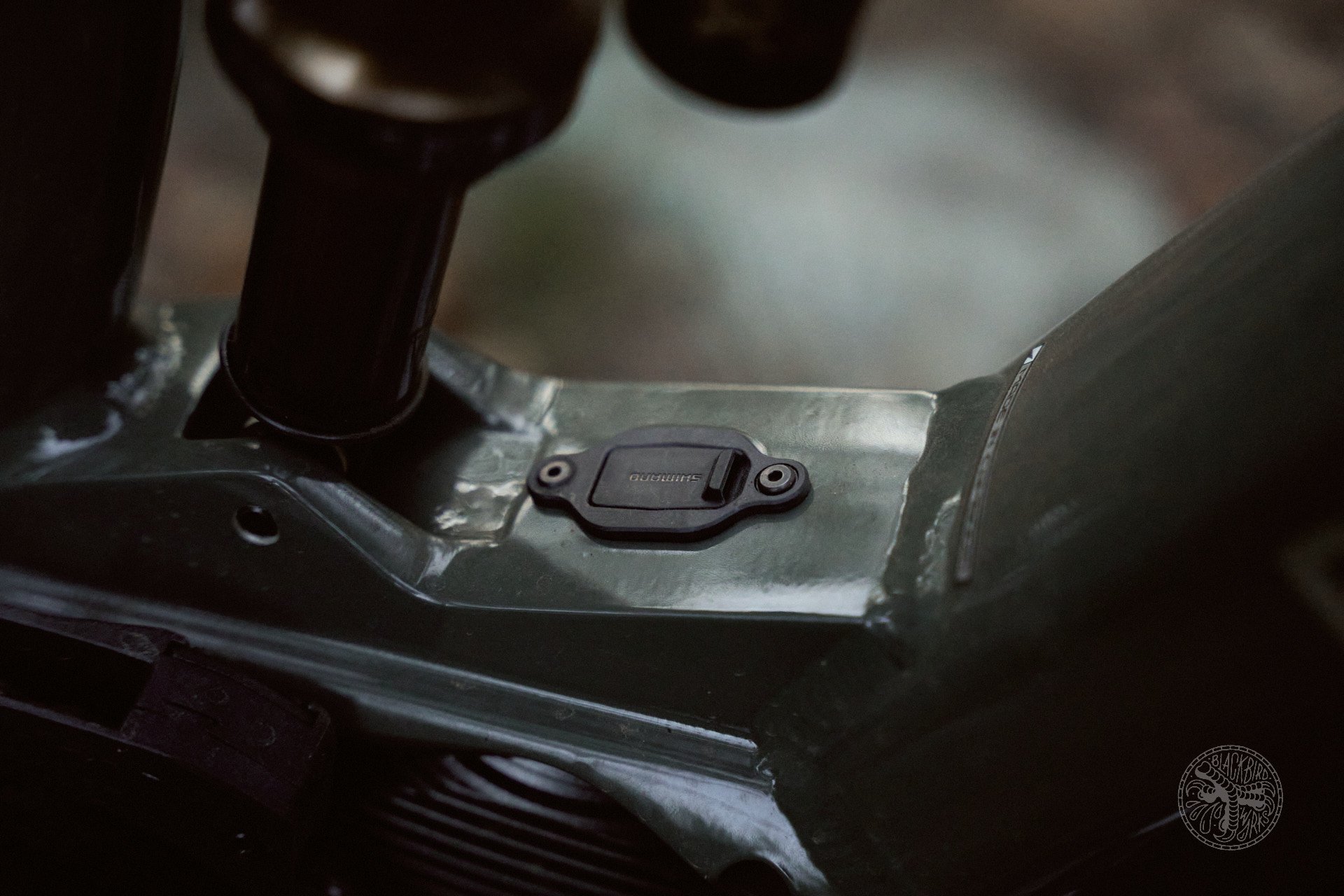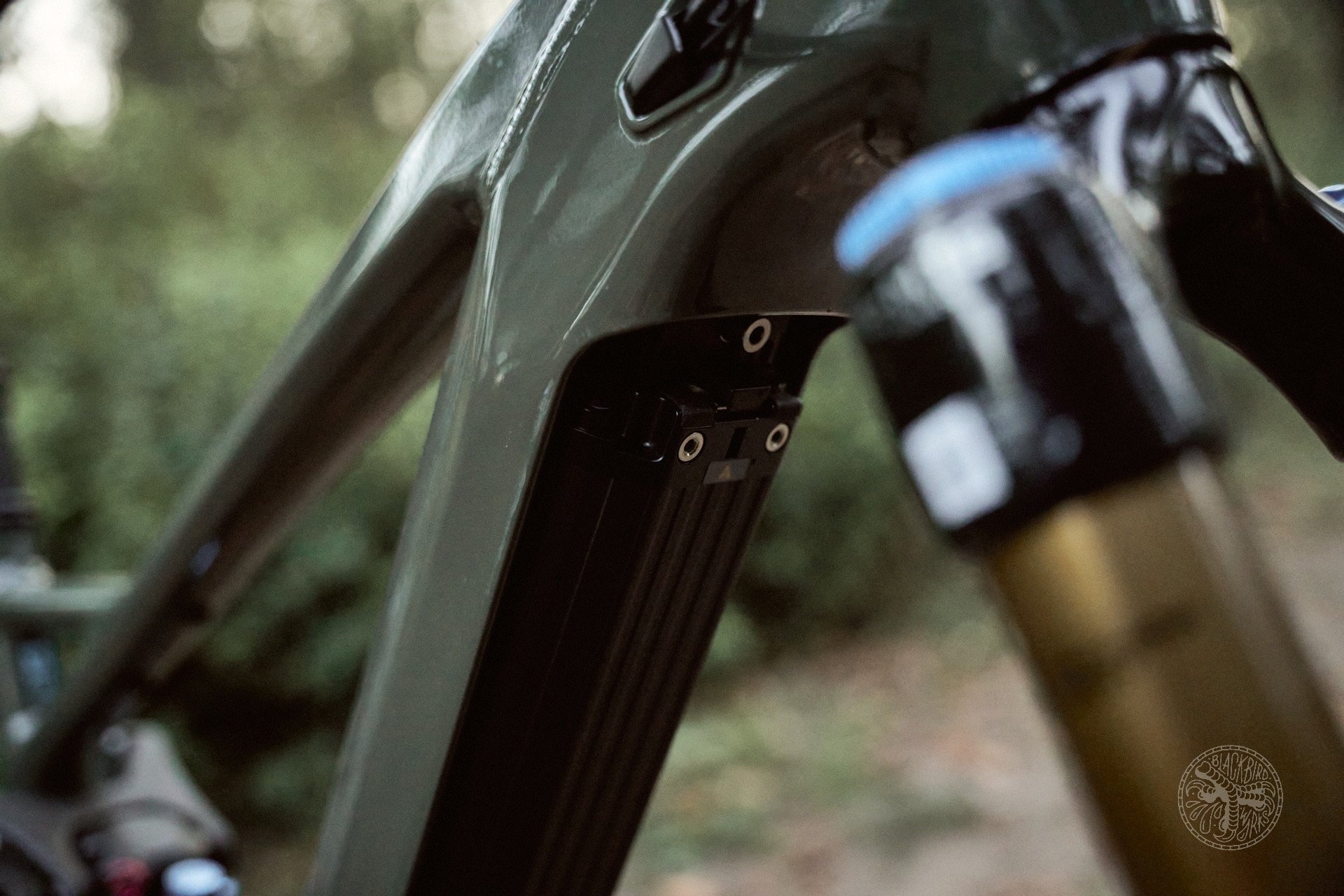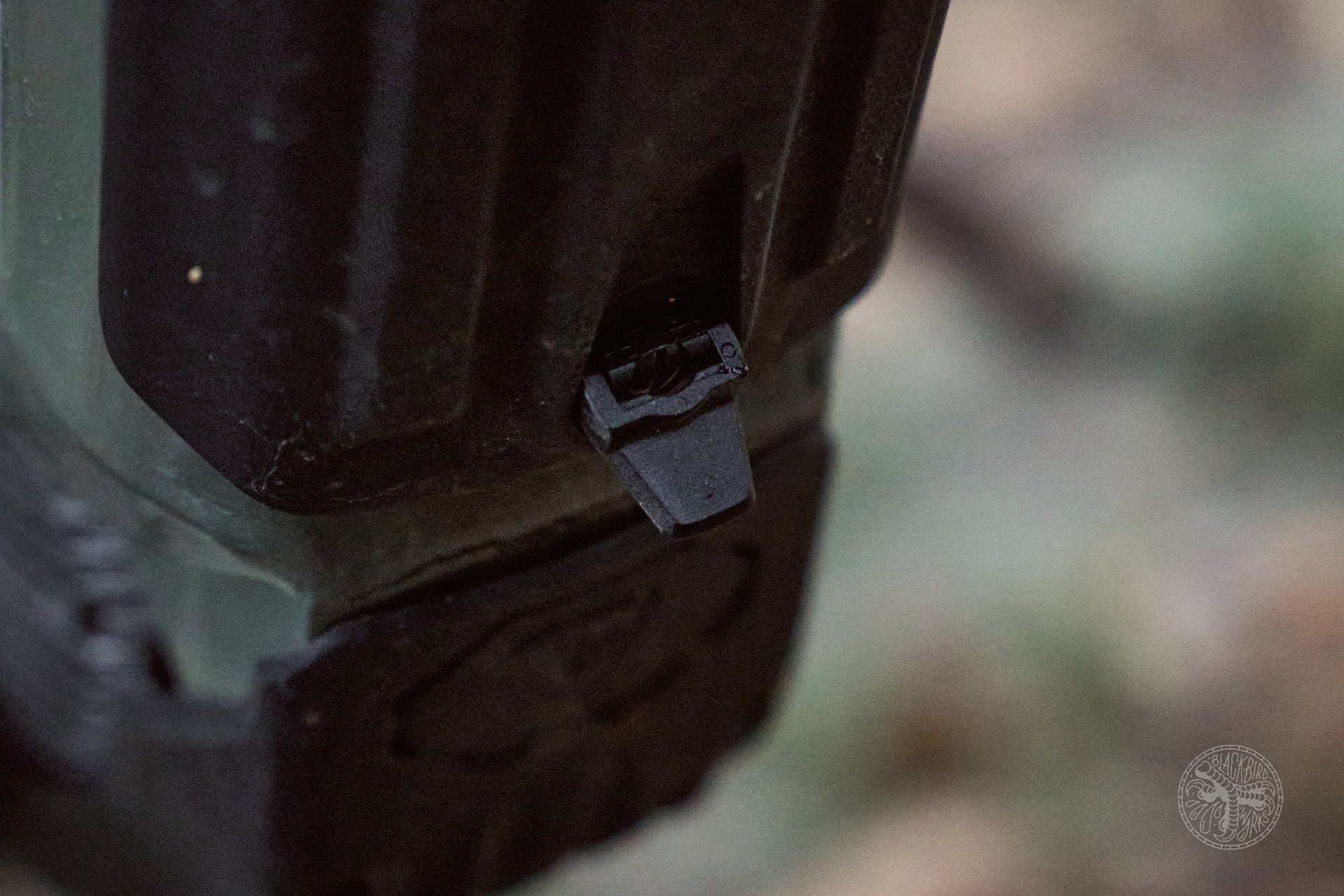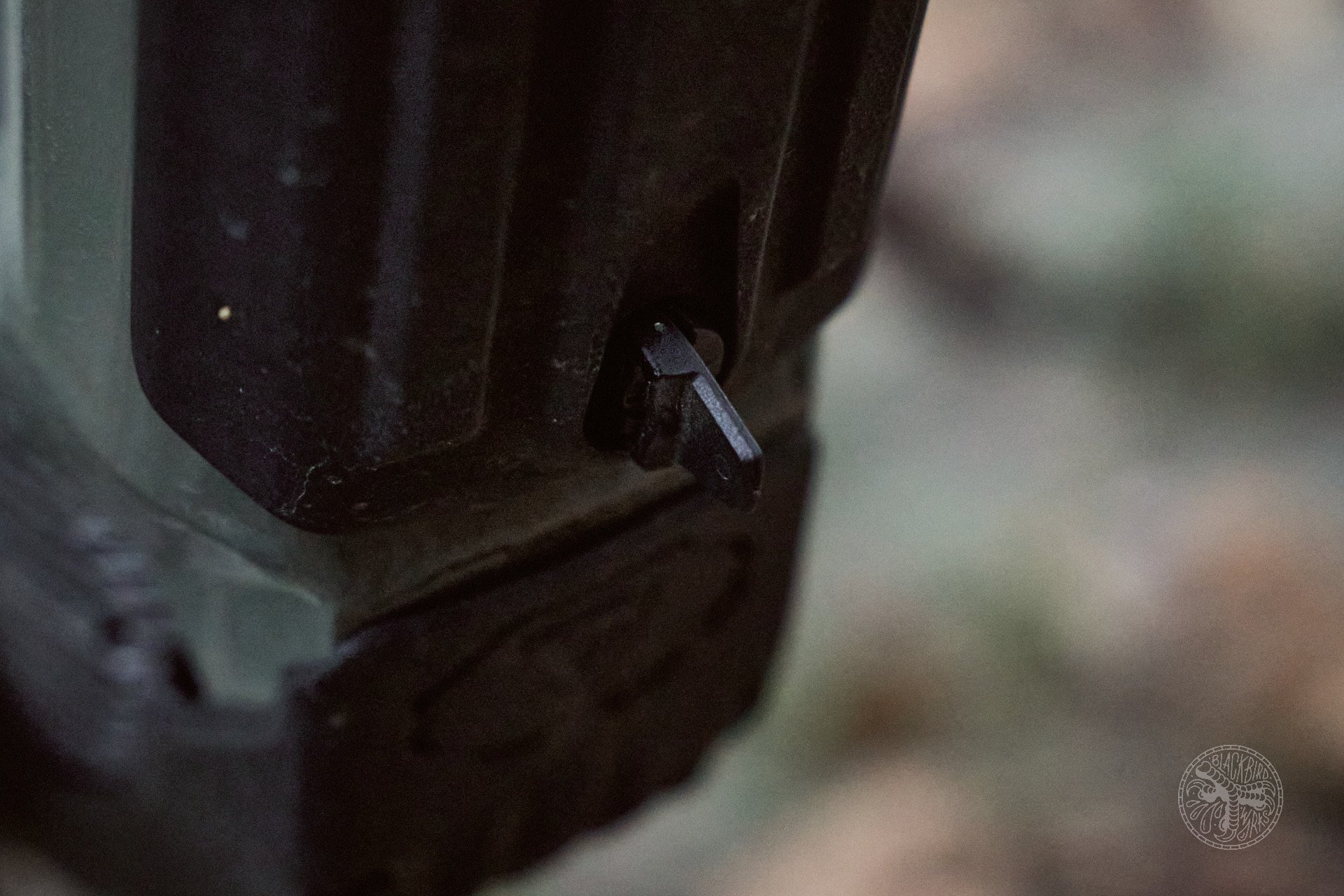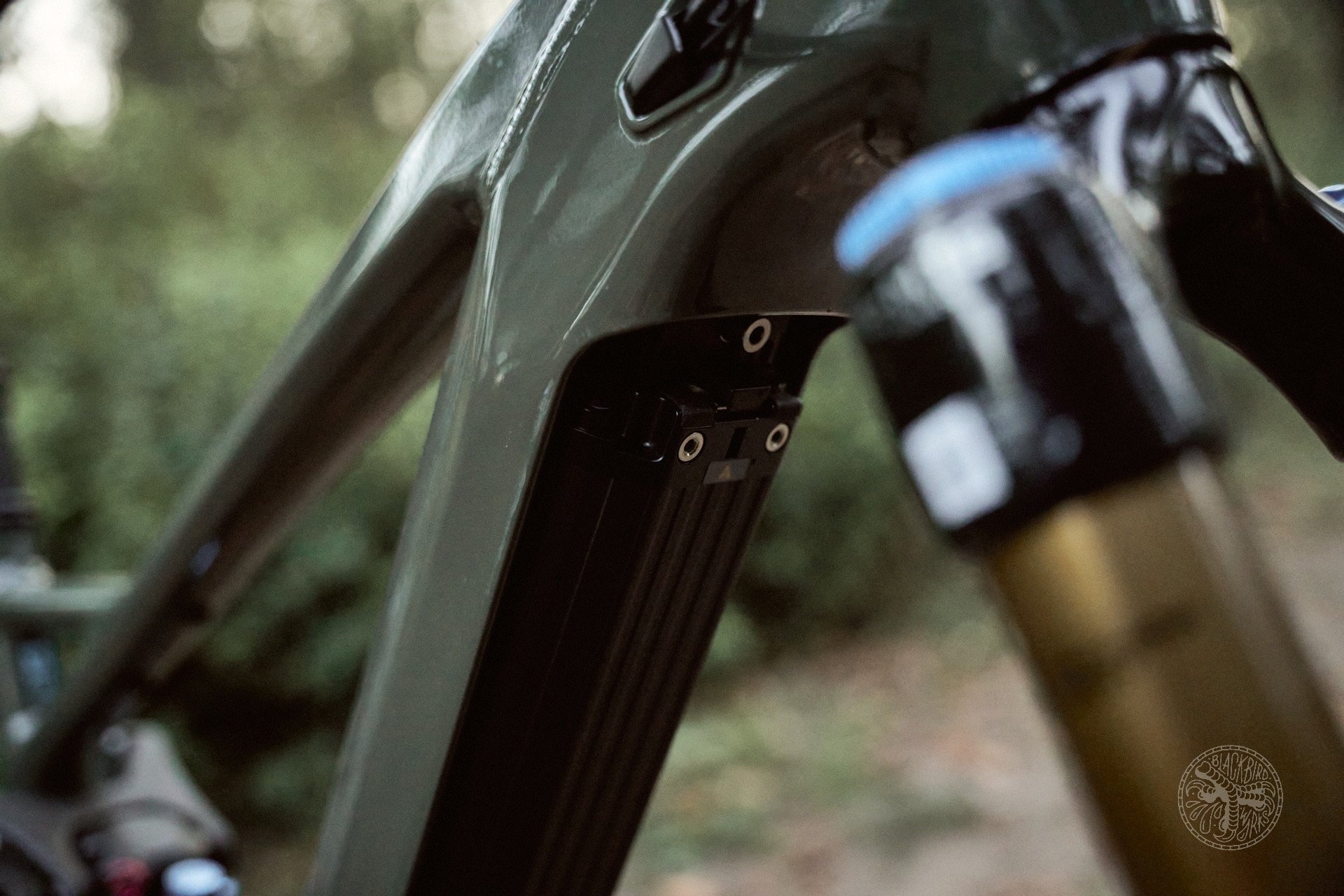 Battery
One of the biggest factors in deciding on which eMTB to go for is the battery size and ease of removal. The Mandate Shift XT hides a 630Wh battery in its belly. Coming from a 900Ah one in the Canyon, this means a few less laps for me in general.
There is no range extender available at the moment that can take the place of the water bottle. A 900Wh battery is good for 1700m (5134 ft.) of boost climbing on the north shore. The 630Wh should be good for 1200m of climbing mixed terrain of singletrack and roads.
It is not a ton of climbing for a fit person in reality but if the goal is to make those 1200m super fun and engaging, and have gas left in the tank for the downs to boost jumps and smash corners, then that makes sense.
The battery comes off the frame almost tool-free.
A fairly flimsy feeling lever is pulled out and turned to release the loose fitting cover off the bike first. I was sure I would rattle this plastic cover off on the first 100metres of trail but I have not beed successful yet. The battery then is released via the help of a 5mm hex turning a spring-loaded bolt clockwise 1/4 turn. This drops the battery down a few cms to be pulled out with your fingers. Not sure why the bolt is not just a lever, but you must at least own a 5mm hex to steal a battery off a parked bike with this method.
Riding the Mandate Shift XT
I have a handful of rides on the Mandate Shift so far and It took no time to set the bike up to my liking.
The 150mm Fox 38 Factory is inflated to 92psi with 2 volume spacers in the air chamber. The rebound is set fairly fast for quick recovery and higher stack height.
HSC is 4 clicks from closed. LSC is 10 clicks.
The Float X is set to 165psi with unknown volume spacers at the moment (because I did not need to change anything).
The rebound is set to 10 clicks from closed for very fast acting tail end on the bike. I find eMTBs really like faster rebound to bring some excitement into the ride. Faster rebound makes them ride lighter than they appear on the scale and makes popping and manualing easier when searching for fun lines, especially on flatter trails. The same principle that applies fundamentally to all bikes.
Rossignol's Mandate Shift has been predictable in the way it navigates the trails so far. No real surprises from the suspension platform under acceleration or braking. The XT hubs are quiet and have extremely low rolling resistance. The wheels seem to spin forever. It seems to go around corners just fine despite the 29" rear wheel and 450mm stays.
The frame comes with a 5-year warranty and all the parts that dress the bike up will have their own corresponding warranty coverages. Shimano components will be covered for 2 years and everything else for a year.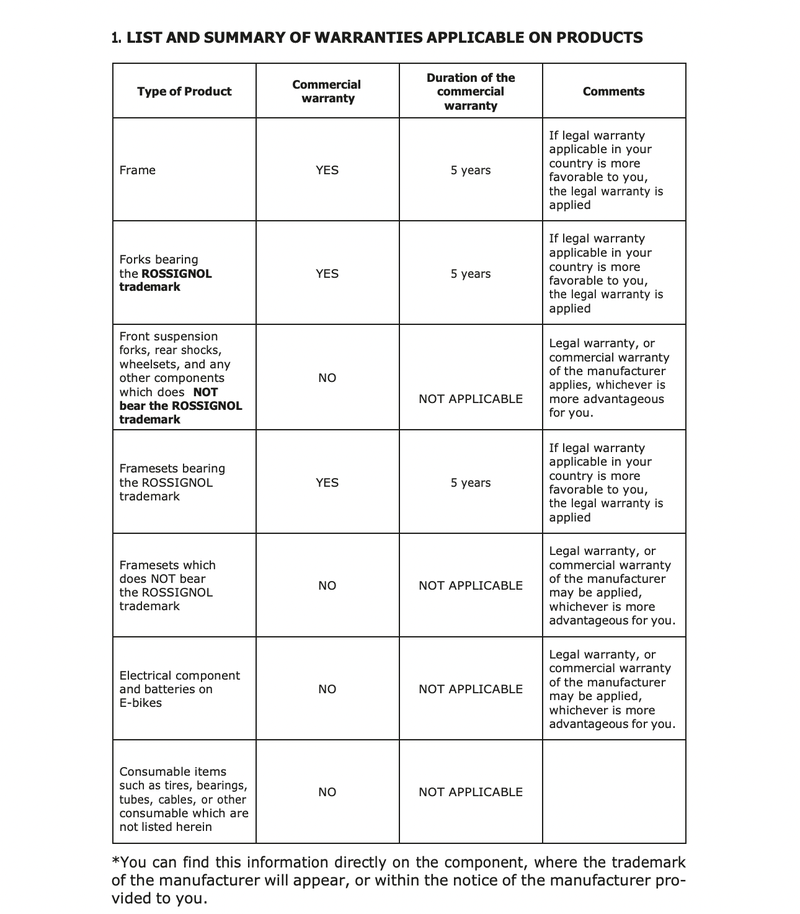 The warranty document pulled off the Rossignol website.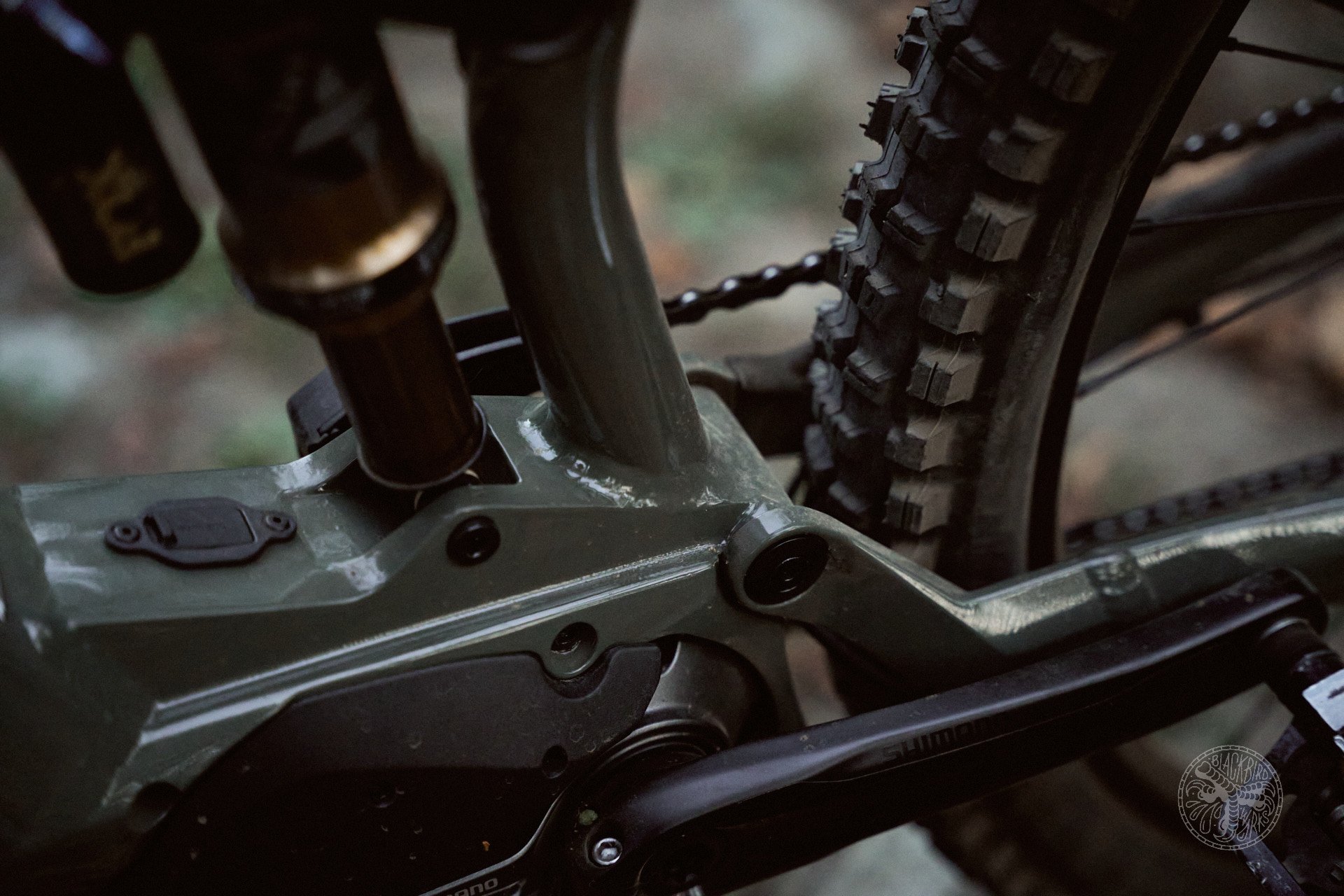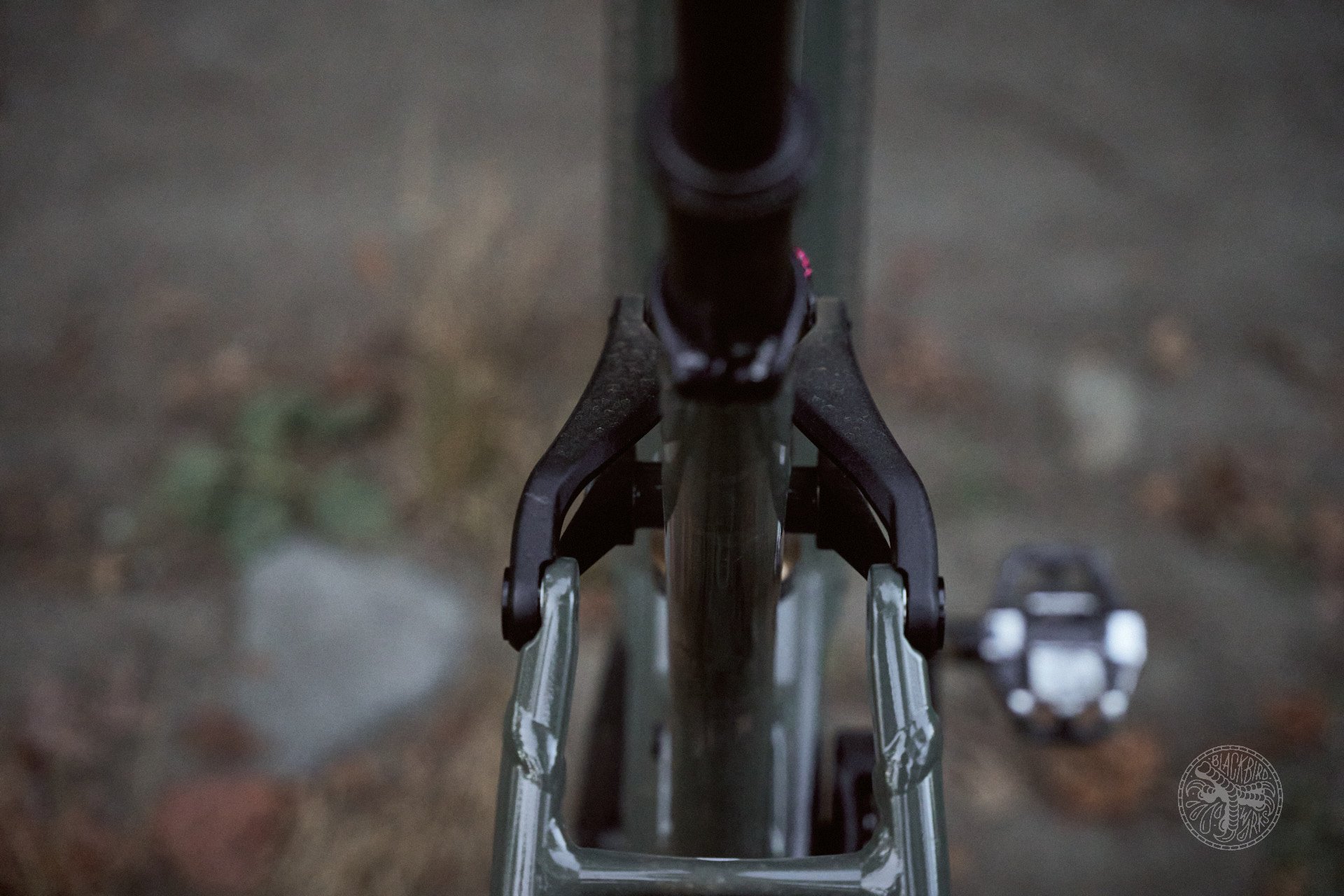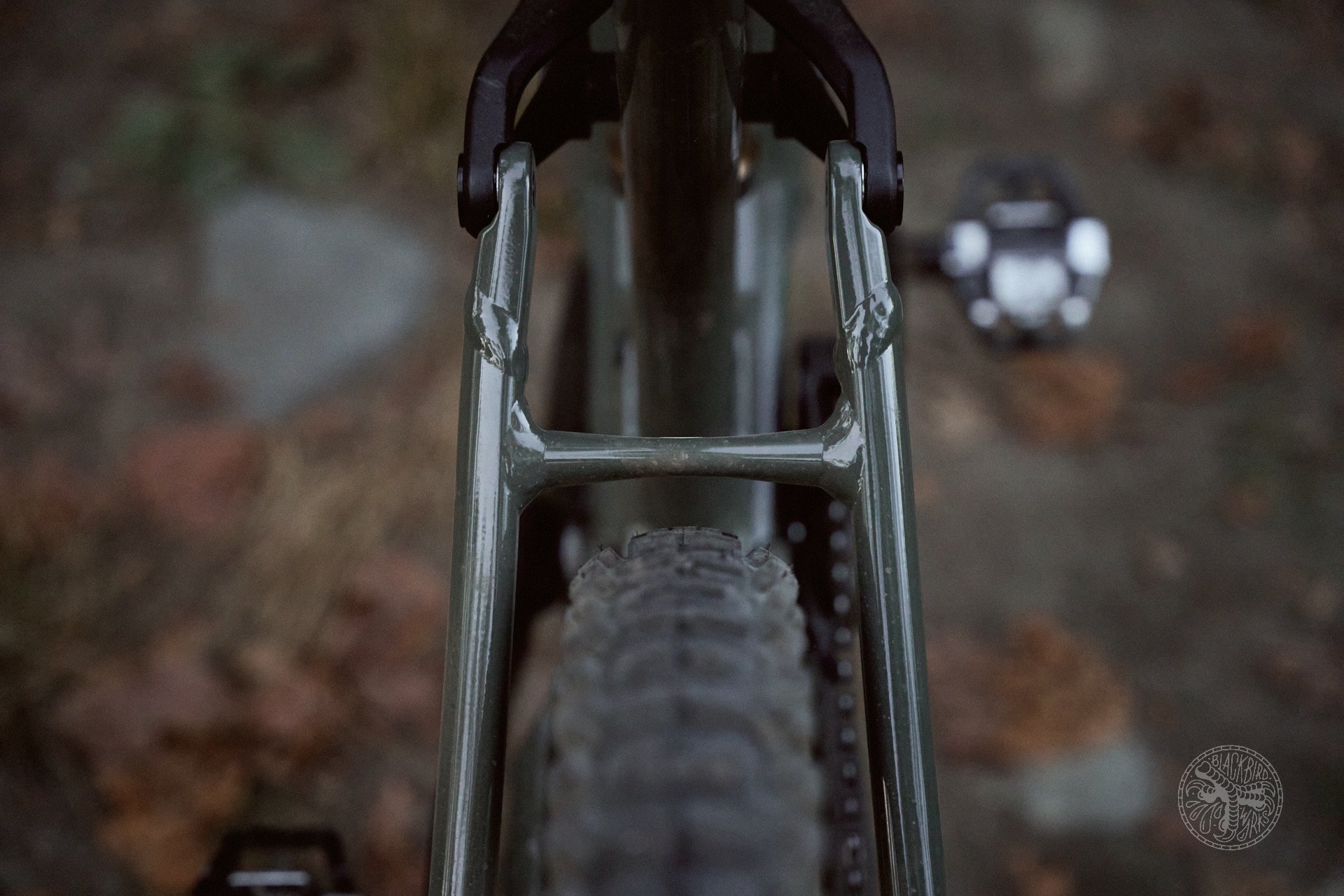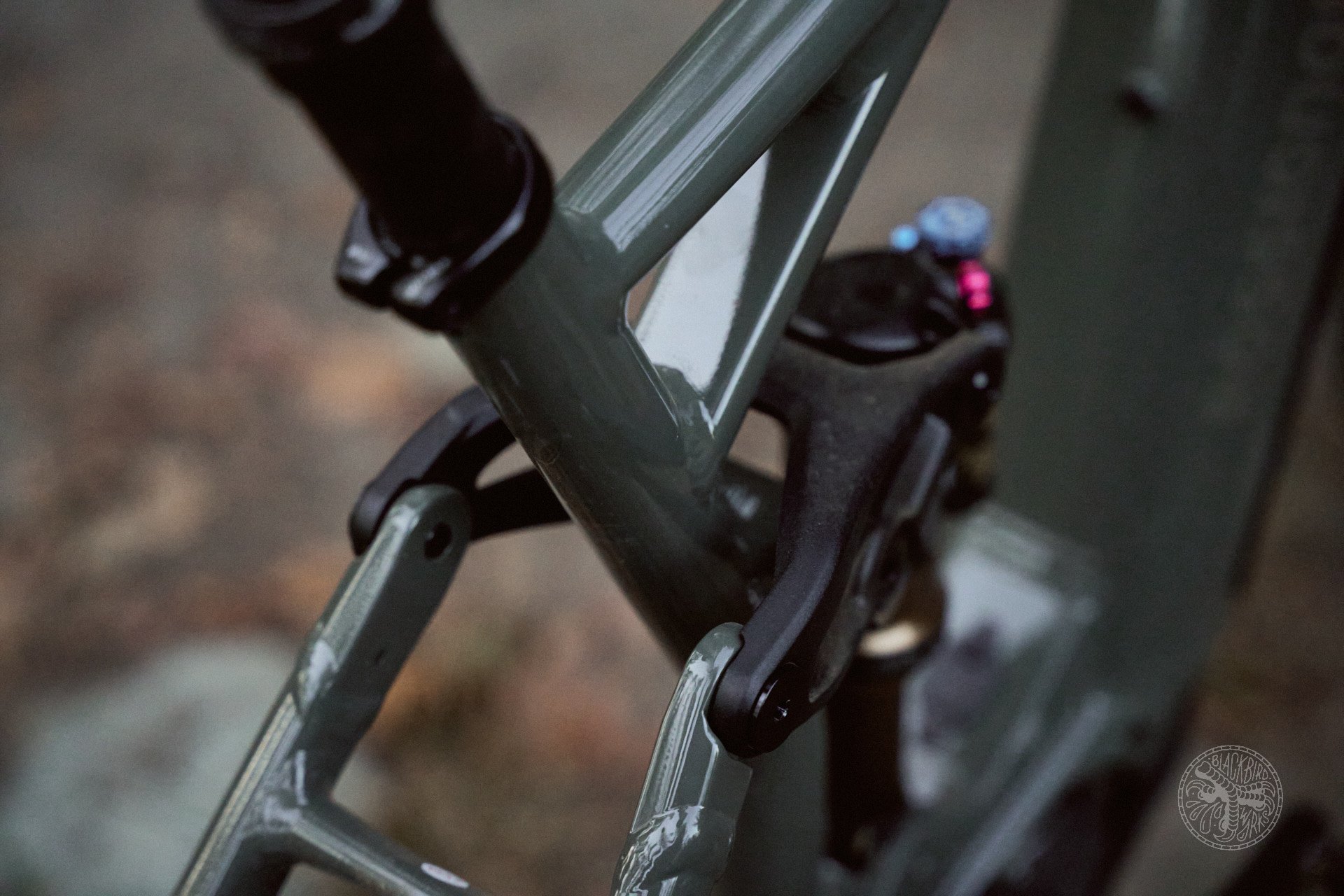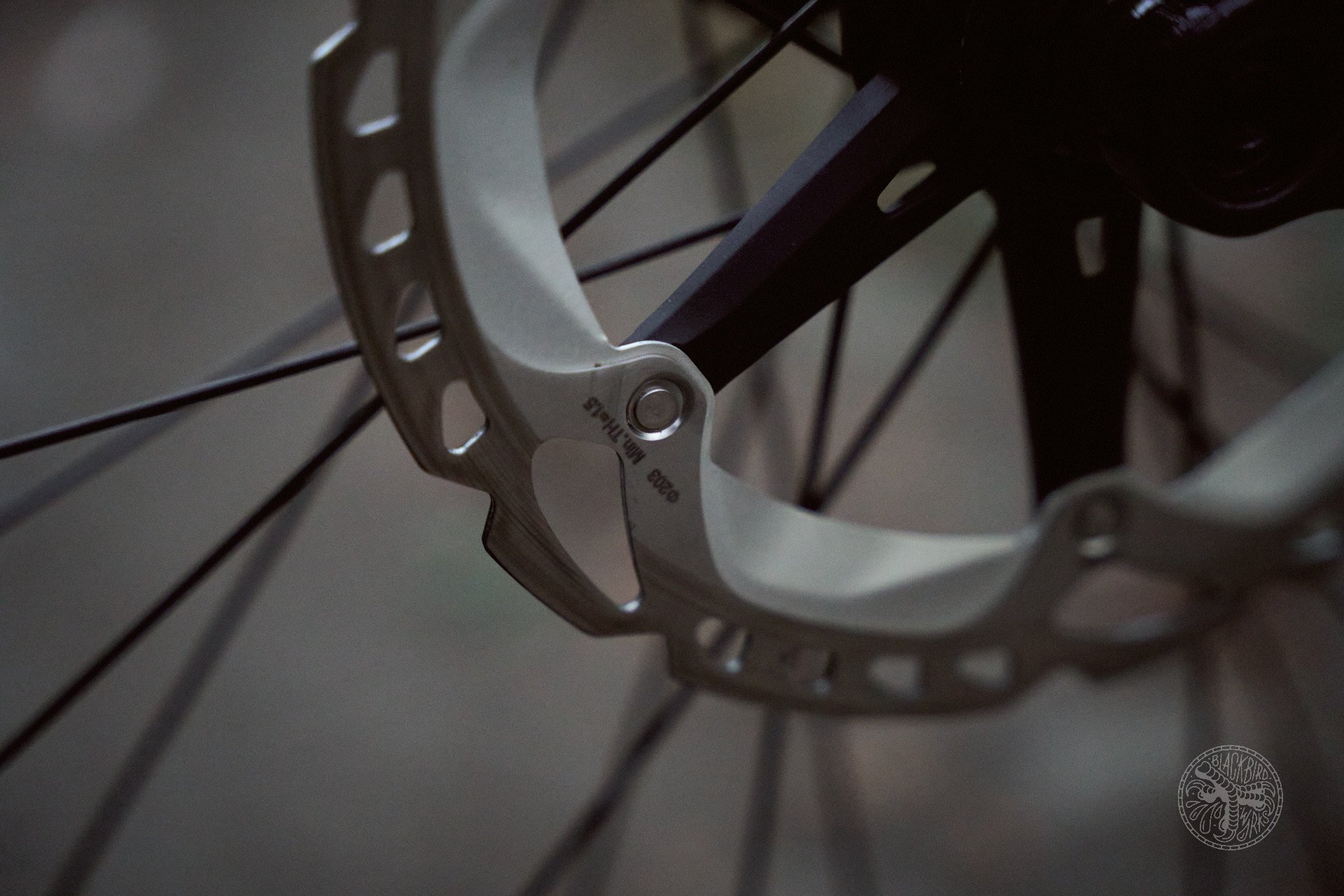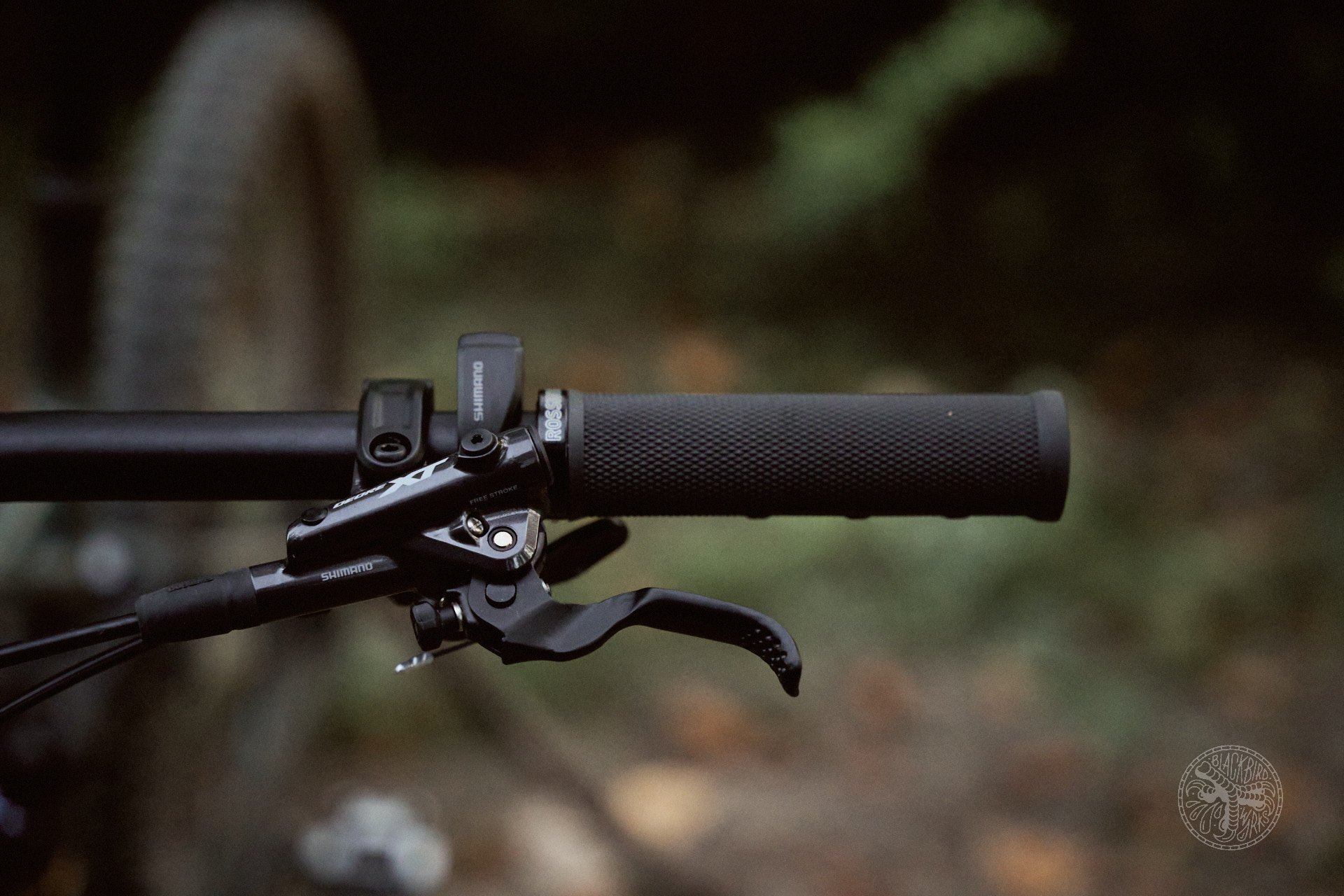 The Shimano XT brakes have been flawless so far and I have no reason to think otherwise. They come with 203mm XT rotors front and rear and metallic pads for ultimate stopping power. So far I haven't wished for more braking power in high speed situations.
So far the Rossignol Mandate Shift XT has me riding intuitively and playfully and has earned its keep in the test fleet. For sure the 630Wh battery will take some adjustment and getting used to when riding with people with 750 or 900Wh cells, but nothing is impossible and ECO is still plenty of power to get up and over most things.
Looking forward to spending more time on this bike. Watch for a longer term review in the future.

Deniz Merdano
5'8"
162lbs
Playful, lively riding style
Photographer and Story Teller
Lenticular Aesthetician