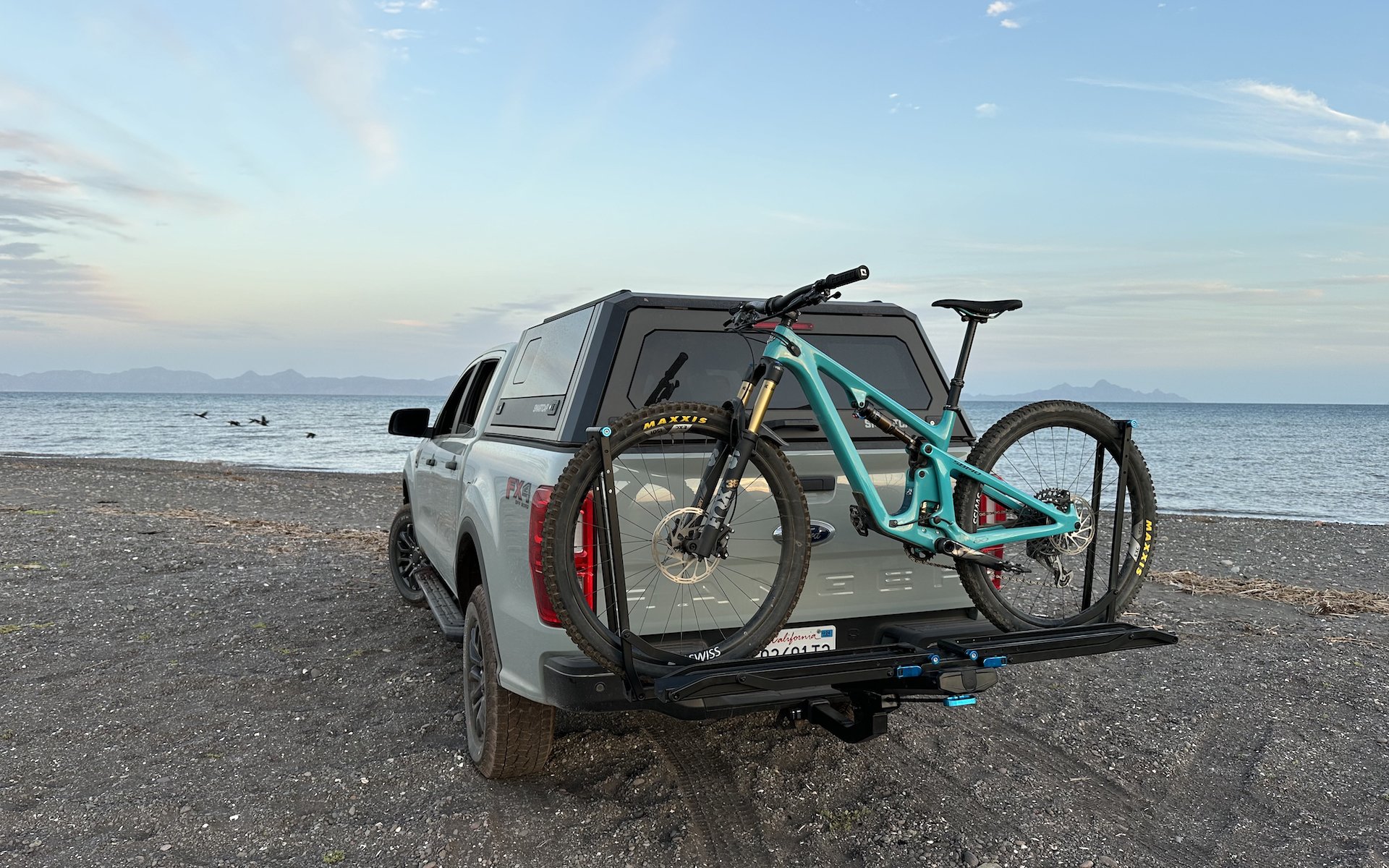 Driven to Ride, or Driving to the Ride?
RockyMounts GuideRail
The Mother Of Invention
For the past decade, I have been a van driver. This means that I have been happily ignorant of the needs of the non-van driving populace when it comes to transporting bikes from point A to point Wherever. With a van, you just throw the bike or bikes into the back, along with the dogs, the camping gear, all your bike tools, some lumber and bags of concrete, and maybe an old couch or two, and away you go. Vans are cool that way. And, as an added bonus, the windowless white contractor van is so ubiquitous as to be basically invisible, almost immune to the violations of theft and speeding tickets.
But vans also suck. In so many ways. They suck to drive, they suck to park, they suck in the wind, they suck when you are trying to talk on the phone or listen to music, they get shitty fuel economy, and the modern lifted up, heavily accessorized Sprinter/Transit/Promaster has become so prevalent in all the scenic out of the way places that they are turning into a legitimate visual pollutant. So, with all of that playing on my mind, after the past couple hundred thousand miles spent driving around a giant echoing tin box, I had reached my limit of #vanlife (this time around, anyway), and this summer downsized into #littletrucklife.
#Littletrucklife, I learned, also has some drawbacks. A five-foot long truck bed is a cruel joke in terms of actually using a truck to do anything remotely truckish. Like, for instance, transporting a bicycle. Just one. What. The. Everloving. Fuck. Have. I. Done?
Fortunately, there is a huuuuge accessory market out there with a ton of options to mitigate this unfortunate truck bed downsizing emasculation. So, after finding out that my new little truck was completely useless in terms of its ability to transport even a single bicycle without some amount of disassembly, I turned to RockyMounts in search of road trip salvation.
A Stable Solution
This here is the RockyMounts GuideRail hitch-mount bike rack. It costs a pretty penny (850 USD), but it does a lot of things right. I chose it as the balm for my itty bitty truck bed buyer's remorse for a bunch of reasons.
Before you go and tell me how I coulda just thrown a moving blanket over the tailgate, I did that for a while. It was usable in a pinch, but doing so completely negated the functionality of the itty bitty truck bed in all other ways. And when I attempted to upgrade from moving blanket to "branded moving blanket made for mountain biking", the couple of those that I tried never really fit very well around the weird lippy top of the itty bitty truck bed's tailgate. So, scratch that.
Meanwhile, without launching into a full brand-based tirade, I have had a lot of experience over the years with "more modestly priced" hitch racks. That experience can be summed up as universally shitty. At the less stratospherically expensive end of the spectrum, the racks I have dealt with have generally been wobbly, poorly designed, poorly made, plasticky, saggy, failure-prone and fragile.
When it came time to figure out what to do about a hitch rack, I started asking around. And, the more I asked, the more RockyMounts kept popping up as the "I had this other thing, then it broke, and now I have one of these" response. So I ordered one up, waited for the box to arrive, crouched down in the gravel of my soon to be ex-driveway, assembled it all in about 20 minutes flat (now that I've read the instructions I could do it in 10), bolted it into the receiver hitch of the little truck, slapped a couple bikes on it, and headed for Mexico.
This is a substantial piece of hardware. It can fit two bikes, with a weight limit of 60lb per bike. The rack itself weighs a stout 49 pounds. The receiver hitch, pivot assembly and central mounting table are all steel, while the trays and arms are aluminum. Aside from the embossed nylon bits at the ends of the wheel clamps, there isn't really much plastic to be seen anywhere. Bikes are clamped in place via their wheels, and the ratcheting arms can accommodate up to 55" wheelbases and tire widths from 19mm up to 3" (and diameters from 20" to 29"), as well as provide enough swing to allow for asymmetric bike loading. It folds up vertically into lower profile when not in use, clicks solidly into place in the ready to go position, and can also tilt down to allow opening of tailgates or hatches. All of the upping and downing is easily achieved by pulling on the blue anodized latch handle. With no bikes on the racks, deploying or stowing the rack is a one-handed operation.
Assembly was as close to a no-brainer affair as possible. The wheel trays have tracks extruded into them; they slide into a beefy central mounting table and then get bolted into place with thick aluminum plates that are profiled in the same shape as the bed of the wheel tray. The hardest part about this is making sure you get the left and right arms on correctly and with the latches facing outward. Really. That's all there is to it.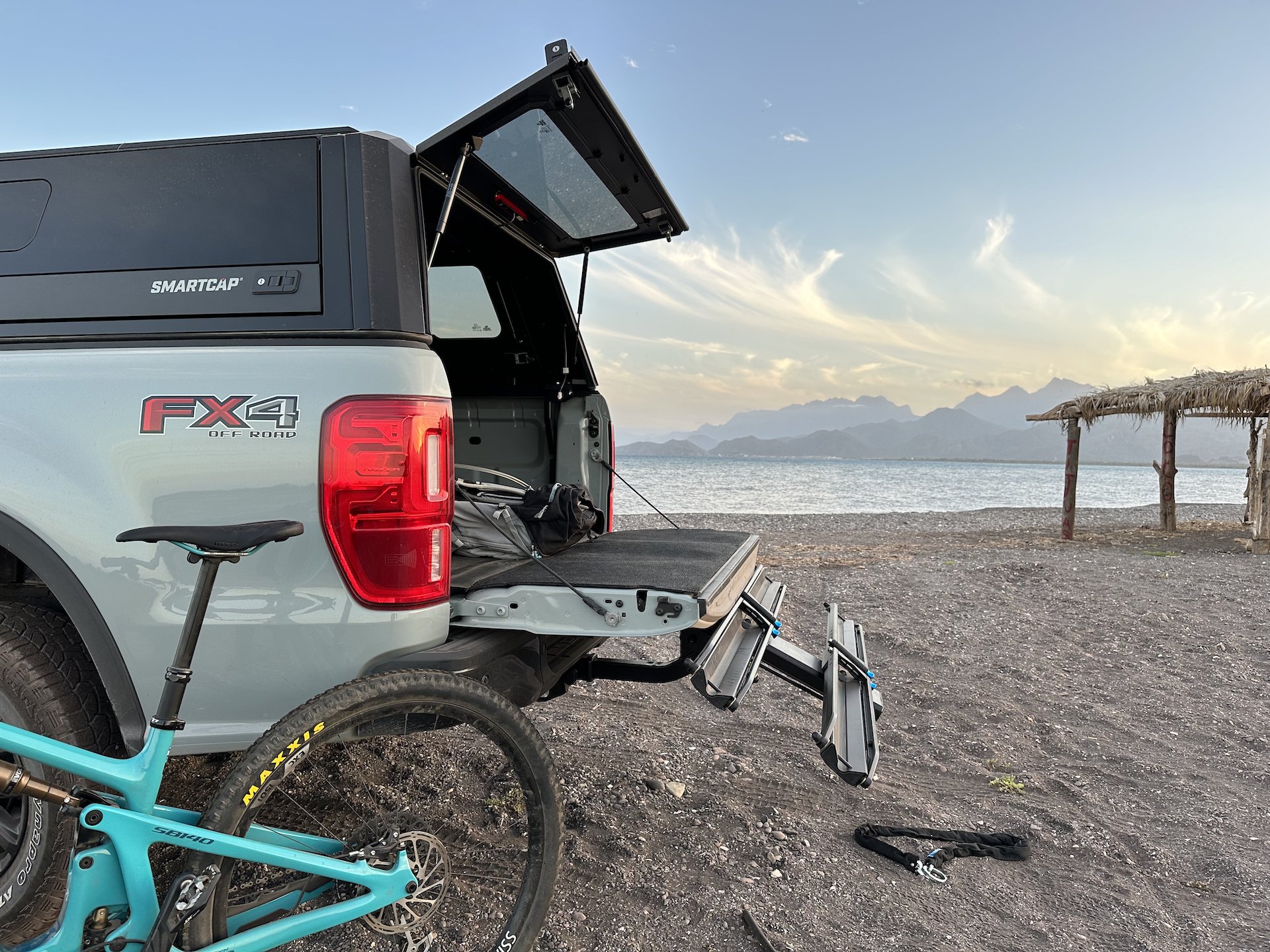 Devils and Details
The hitch mount itself is more sophisticated than yer garden variety hitch mount. As the bolt tightens into the receiver, it pulls a jam block against a marble-sized ball bearing, expanding that outward and wedging the rack in the receiver so that it won't wobble. This right here, or the lack of it, has been the bane of my existence when it comes to hitch racks. I've double bolted them in place, used J-shaped jam bolts, drilled bigger holes and counter-bored from either side with staggered bolts, all in an attempt to stop the dreaded wobbles. This setup doesn't wobble. I have no idea if everyone else is doing something like this these days, but the THREE different motorcycle hitch racks I have could all do to learn something from this little gizmo. It's awesome.
There's a security chain included with the rack, and it is a hefty collection of hardened 10mm square links about on par with Kryptonite Messenger chain. This chain loops through itself and whatever bikes are on the rack, then recesses into the steel body of the mount where a keyed tumbler plunges closed on it. It looks pretty good, but as anyone who has lived in Santa Cruz will attest, probably won't stop a determined thief with mad lock picking skills or a battery powered grinder.
The hitch mount receiver bolt also has a lock on it, but there's about a centimetre of bolt shaft between the lock and my particular receiver, which would allow the aforementioned determined thief with a grinder (or sawzall) a good access point to jack the entire rack assembly (once again, proximity to Santa Cruz has left me somewhat jaded about security in this regard).
Staggering of bikes in order to avoid tangling handlebars and saddles is relatively easy to achieve (but pay attention to how much bikes may end up sticking out beyond the sides of the vehicle), and the spring loaded ratcheting arm latches also have a nifty "full-open" feature that lets them be slid in or out without having to keep pressing them down. Like the main up/down latch, these latches are also anodized a nice blue color.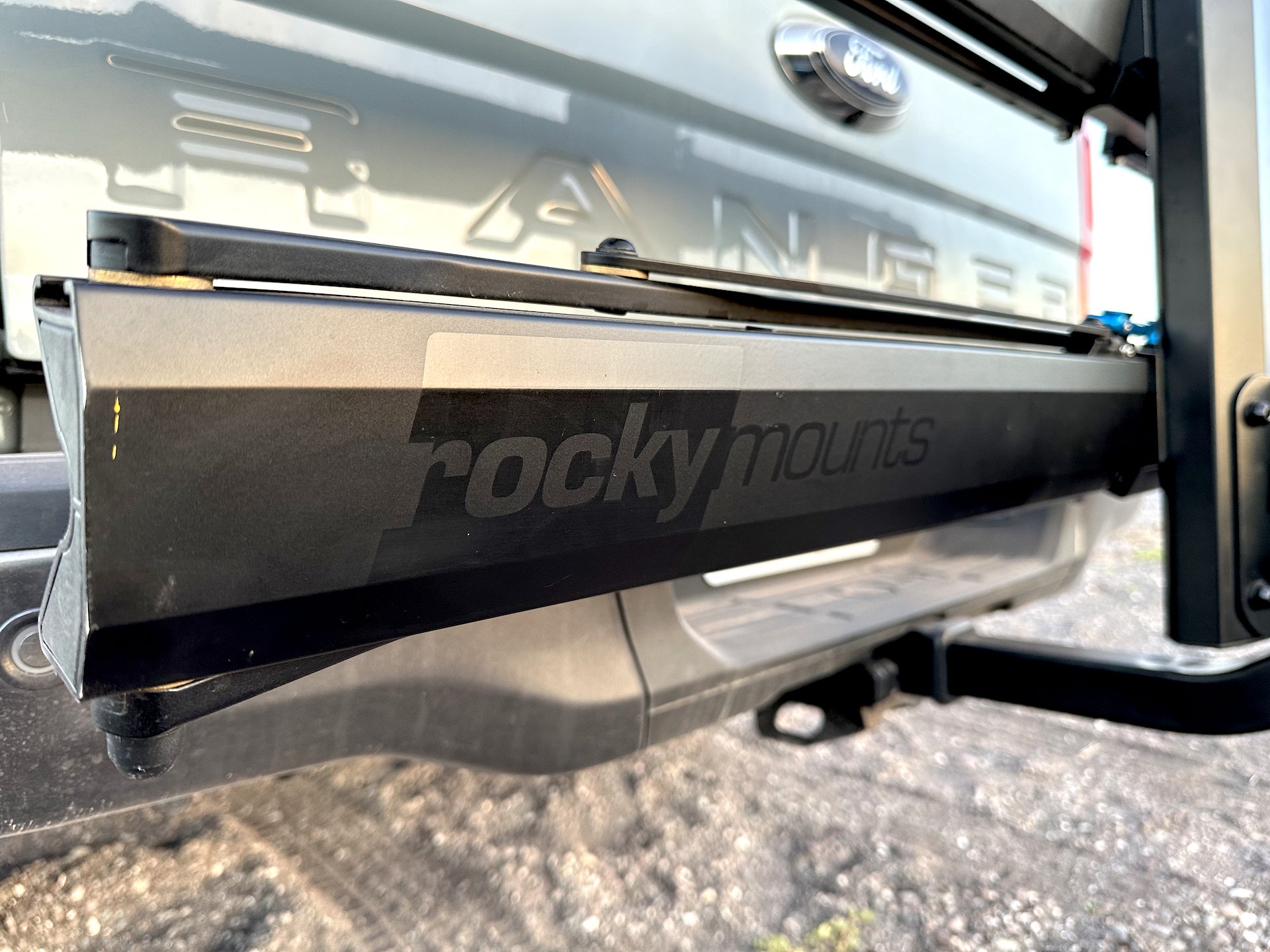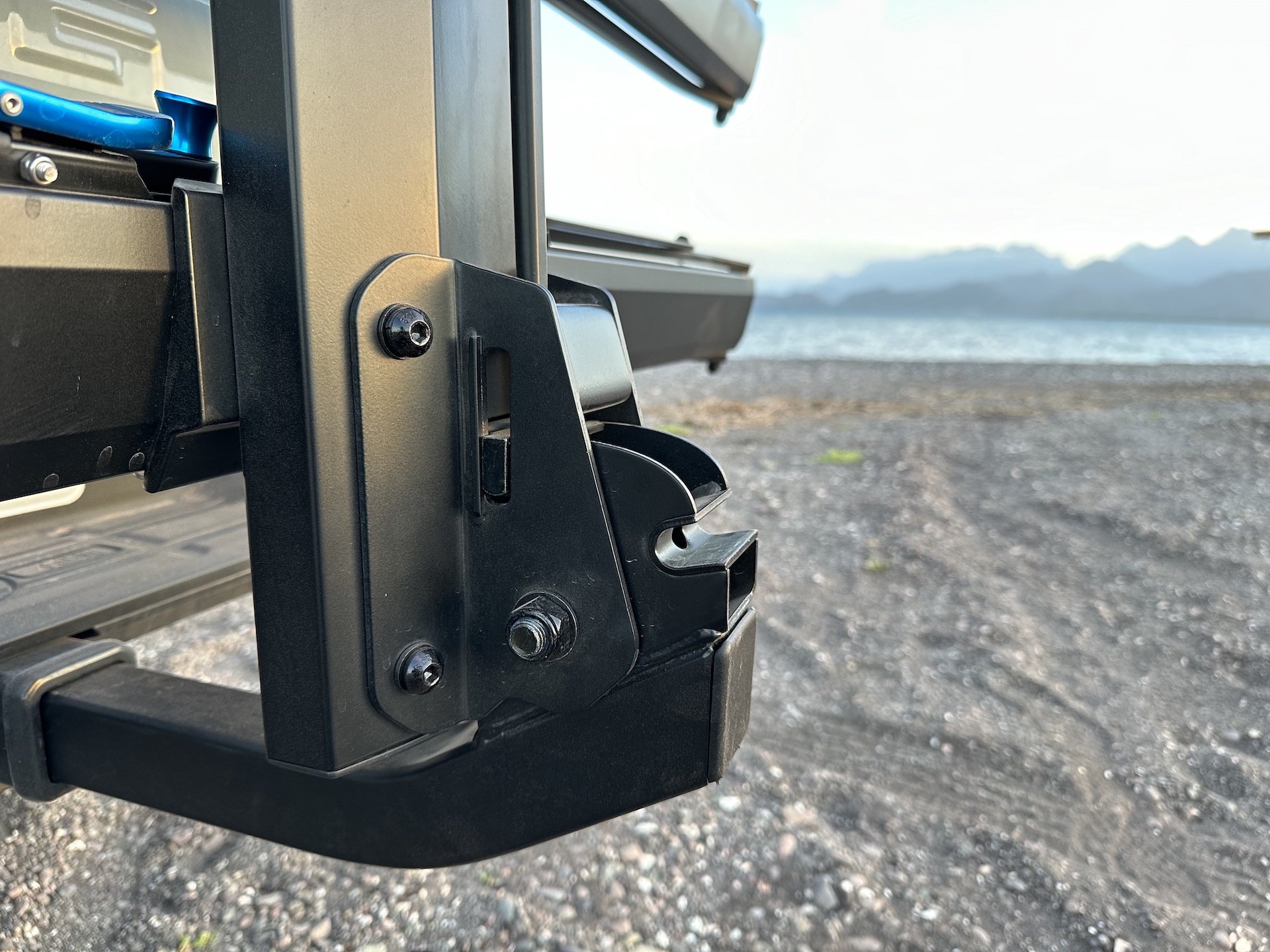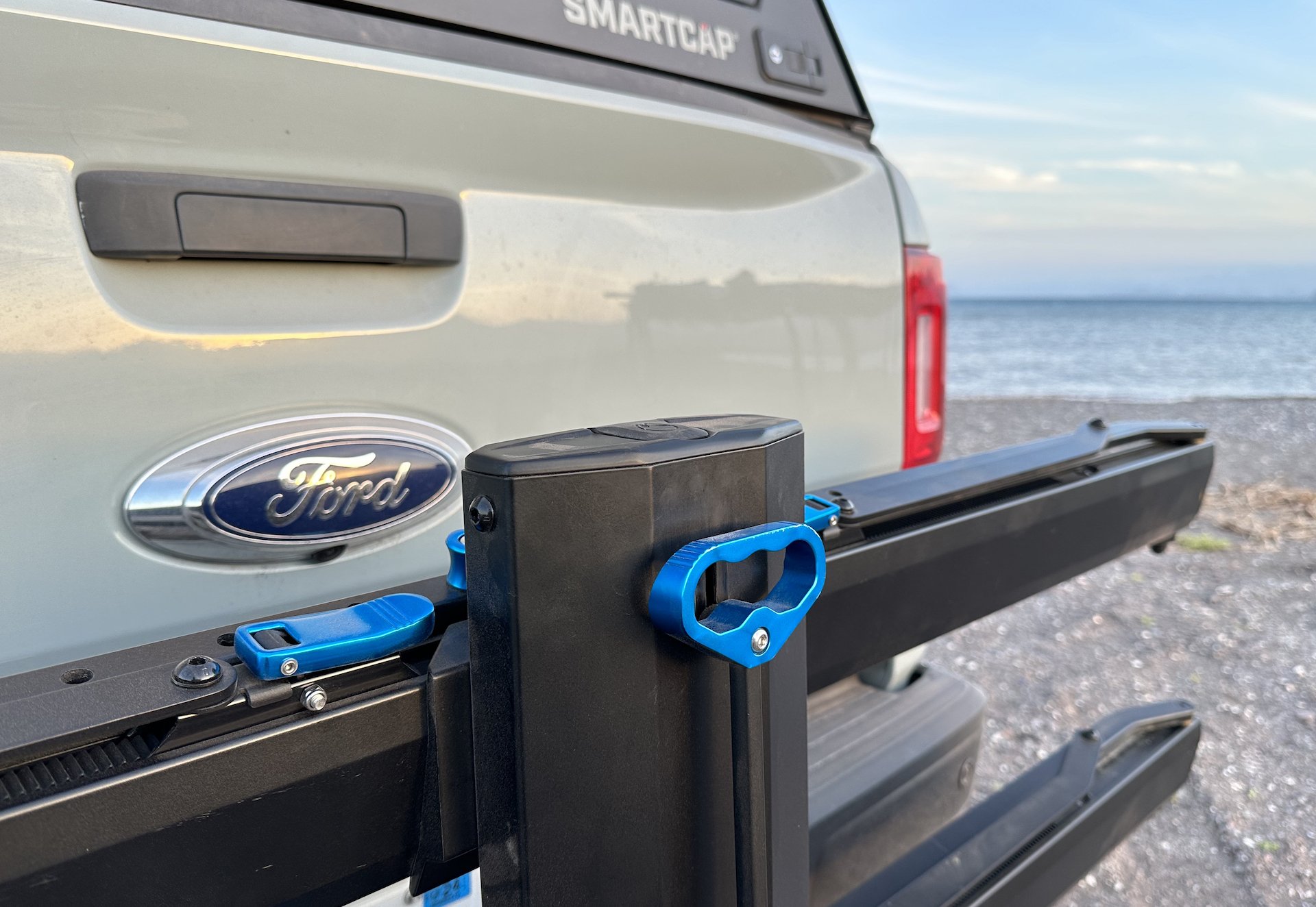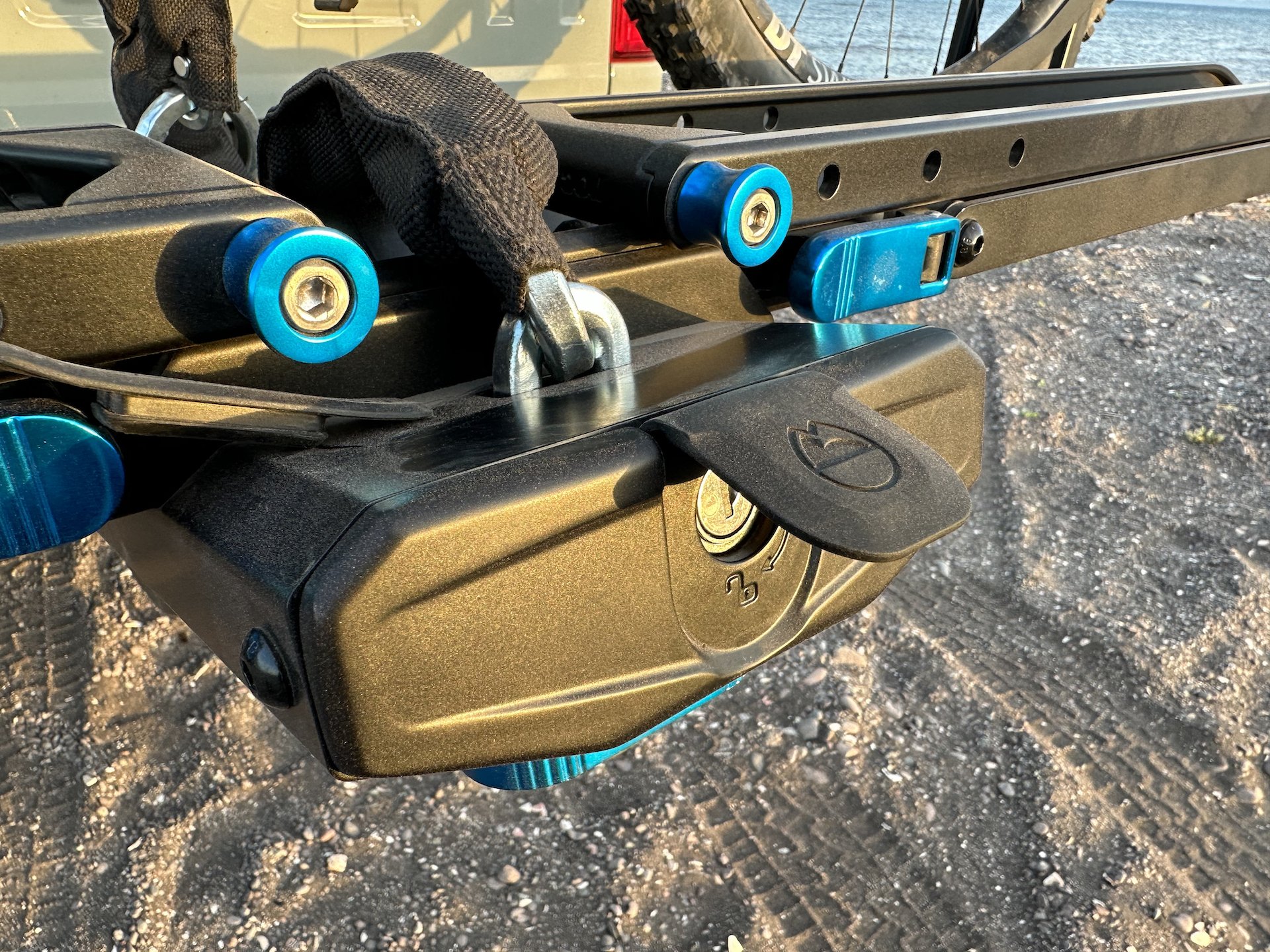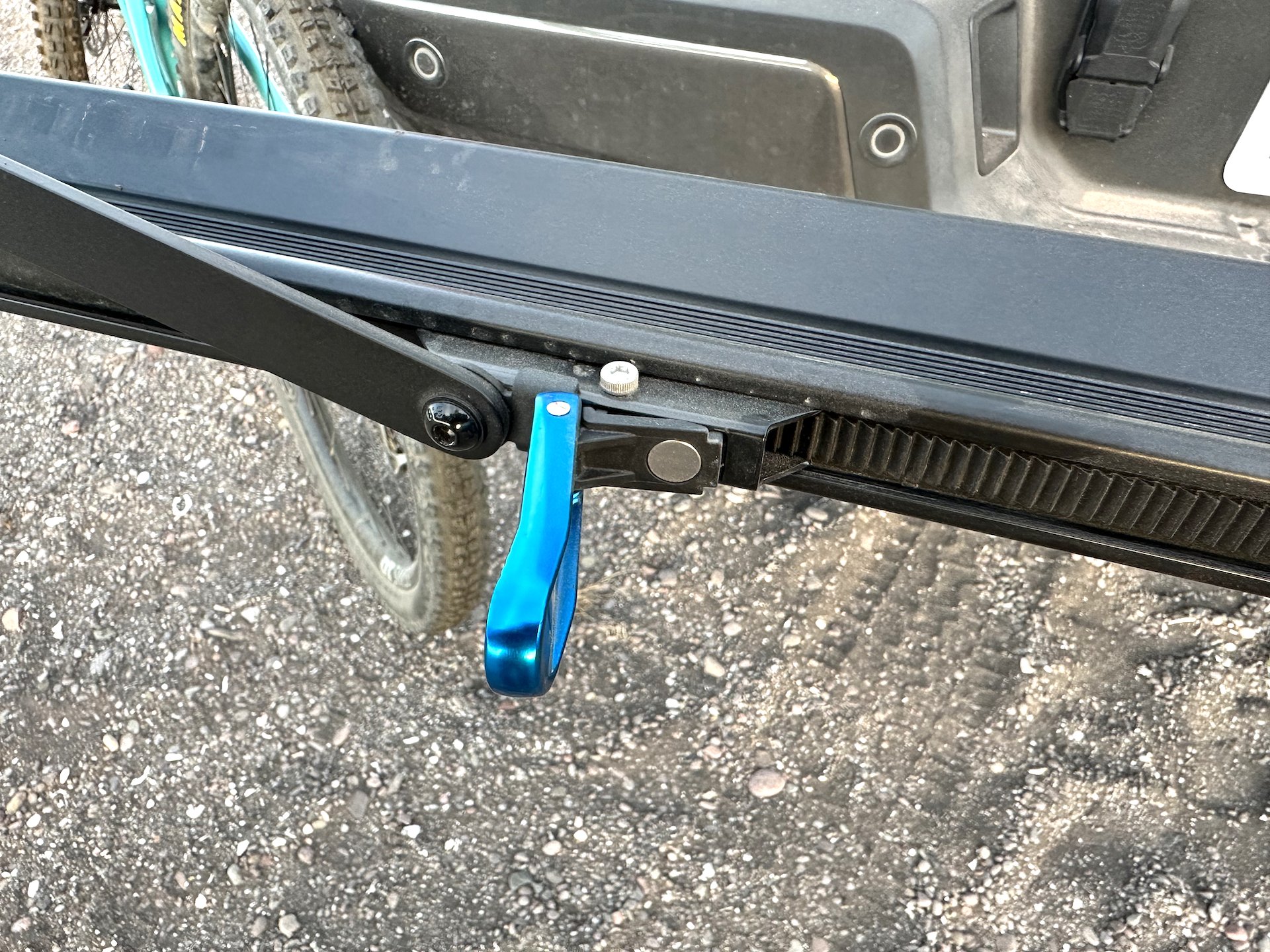 Escape Velocity Achieved
A little over 1000 miles into a potholed, occasionally washboardy, somewhat jarring shakedown run, I'm pretty damn impressed so far. I have had to tighten the big single mounting bolt about 1/8th of a turn. The rest of it - track mounts, central pivot bolt, arm hardware - is all as tight as when I bolted it all together in my soon to be ex-driveway.
I have zero complaints. Either I am getting easier to please in my old age, or this is a solid piece of kit. Going into this, I was so scarred by some of my previous hitch rack experiences that I was bracing myself to be let down. I cannot adequately expressed how relieved I am to have all my concerns dispelled. Can't do much about the buyer's remorse that has me still kicking myself for not pulling the trigger on a 10 year old Lexus GX460 or 4th gen 4runner with a v8 instead of opting into the questionable realm of turbocharged 4 cylinder motors and 10-speed transmissions, but if worse comes to worse, the rack will transfer over to whatever else I might ever choose to buy, so long as it has a receiver.