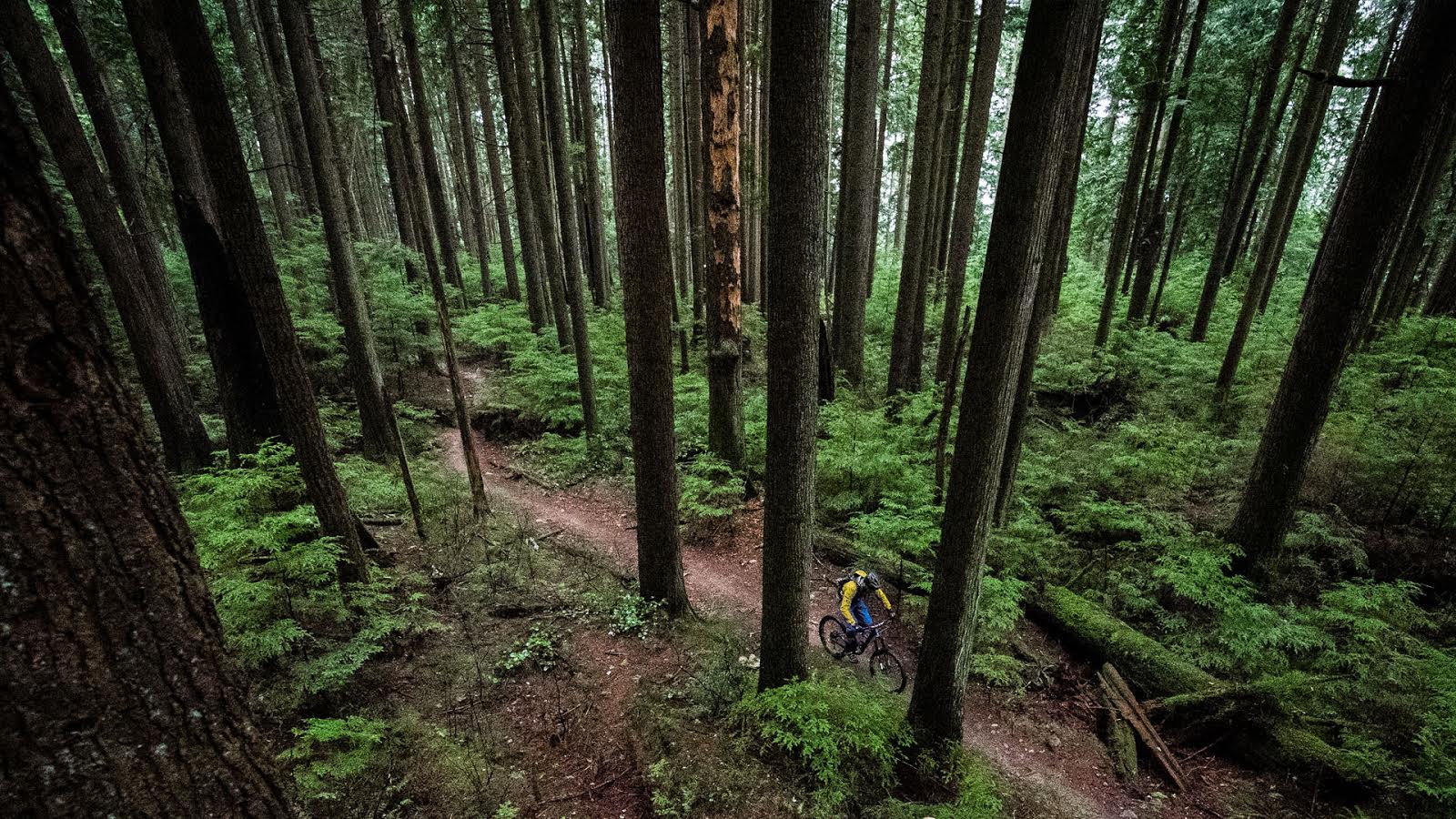 Rocky Mountain Thunderbolt: First Impressions
It's not often we build up a frame with a handpicked build. Usually, a component arrives and gets bolted to a tester or someone's personal bike. Or a bike arrives complete, and we test it more or less as it comes. In this case, we had a Shimano XTR Di2 group that needed to be tested and wanted to find a worthy home for it. As of the fall, the list of frames designed to integrate the Di2 battery was short – frames on that list deemed shore-worthy was shorter still. Enter the Rocky Mountain Thunderbolt: 120mm of travel on a carbon chassis with a rather aggressive perspective when it comes to XC riding.
So, take a Rocky Mountain Thunderbolt frame and bolt a fresh Shimano XTR Di2 group on there, and you have yourself a Thundervolt.
Like all of our first impressions articles, this is not a review. It is instead a chance to detail the spec and geometry, and tease out the finer details of the build. This allows the review to focus on ride impressions.
Shimano XTR Di2
We might as well start with this test bike's raison d'être. Since its release almost two years ago, XTR Di2 has represented one of the two bleeding edges of MTB drivetrain performance. The other, of course, is SRAM's XX1 group. They adhere to very different philosophies and for most, that of Di2 is a little harder to discern, because its introduction brought with it as many questions as it purports to answer: Why do I need robots to shift for me? Do I really want to risk having my battery die in the middle of a ride? Who would pay that much for a drivetrain? Aren't front derailleurs dead?
We'll dig into those questions in good time. For now, let's get this out of the way: the significance of Di2 for mountain bikes was never going to be tied to the top shelf version's position in the performance/value matrix. Just as Di2 for road bikes only gained real traction with Dura-Ace's predictable trickle down to Ultegra, on the dirty side it was the recent introduction of XT Di2 that confirmed that electronic shifting is about to arrive on shop floors in earnest starting in 2017. Testing this group is more about getting acquainted with how well electronic shifting works than it is about evaluating XTR Di2 in its own right. As technology marches forward, eliminating cables and providing different ways of controlling how your bike works – and how different parts of your bike work together – is how Shimano is focusing a lot of effort. Understanding the scope of Di2's potential requires a big picture perspective that spans multiple iterations of the technology, rather than getting mired in the replacement cost of that derailleur you just smashed on a rock.
Rocky Mountain Thunderbolt
Rocky calls the Thunderbolt an XC Trail bike. We don't need more categories around here, but it's apt: a 120mm chassis with 27.5″ wheels pits the bike's fast-pedaling intentions with an extra teaspoon of travel and a more playful wheel size than today's average XC bike. In 2016, Rocky added its unique Ride-9 system to the Thunderbolt, adding adjustable geometry and suspension progressivity to the mix. The BC Edition Thunderbolt ups the stroke at the front end to 130mm, and we went one further by bolting on a 140mm fork. On the BC edition, the head angle varies between 68.2 and 66.5 degrees, and ours is close to 66. By the numbers, this is a quintessential 'BC' XC bike.
The frame itself is beautifully sculpted carbon fiber, front and back. For a company that made a name for itself in the late 80s and 90s for its progressive tubesets and metal craftsmanship, Rocky has transitioned very nicely into the carbon age.
Keeping that 120mm of travel in check is Rocky's Smoothlink suspension platform, which is found throughout their lineup. In brief, it positions the rear pivot above the rear axle. The idea is to keep the average chain torque line parallel to the lower link (the line between the main and rear pivots), with the goal of reducing pedal bob. Notable design features include the use of bushings instead of bearings at the pivot placements, which reduces weight and increases stiffness, and grease ports throughout for easier serviceability. A large collet keeps things stiff and light at the main pivot. Internal routing abounds, with the exception of the rear brake line, which is neatly tucked but 100% external.
Rounding out the build
We decided to match the Thunderbolt's Fox Float DPS Kashima rear shock with something a little beefier than the stock Fox 32, so we opted for a 34 Float 140mm fork up front. The new Fit4 damper has had its share of coverage already – suffice to say for now that it's an improvement over its predecessor.
Given that this is an XTR group test bike, we didn't stop at the Di2 drivetrain. Our Thundervolt also features XTR trail brakes and wheels, and the smaller, Race pedals, which work every bit as well as the Trail version, of course, but often leave me wishing for a little more substance in those moments when a foot comes out (intentional or not) and I'm trying to get it back in again before dealing with the next set of glistening roots and mud. Speaking of roots and mud, I originally set this bike up with WTB Vigilante front and Riddler rear tires, but the rear tire especially quickly showed its lack of wet weather capability, so I swapped in a Specialized Butcher up front and a Ground Control on the rear. Nice combination of knob and lowish weight, and I don't feel like Bambi on ice anymore.
Dropper posts belong on XC bikes, too, and we got our hands on a Fall Line from the Canadian lads at 9point8. So far it's doing a kickass job getting the saddle into the right position quickly and smoothly.
For the cockpit, we kept it in the BC family and went with Chromag, but got a little aggressive and opted for an 800mm wide carbon BZA bar, accompanying 50mm stem, and some Squarewave grips. Beefier than needed for this bike but because their weight was still low, I felt that BZA was a good choice, and burly enough to last even after this test bike is torn down and the parts are used elsewhere. Given the size Large's slightly short TT, a longer stem would allow a bit more room to stretch out, but the steering precision of the shorter stem is worth it. The saddle in the photos is a WTB Silverado but I have subbed in a Chromag Lynx DT.
Thoughts
I'll get into Di2 more deeply in a subsequent article, because it's really its own story, but a few things bear mention here. First, since this is an XC bike with a dropper post, even 800mm bars start getting crowded. Frankly, I want to ditch the rear shock's remote lever but have so far left it on because of the novelty of the thing. Truth: short of racing, I find it unnecessary (in part because the bike pedals well even with the shock open), and would rather eliminate a complication from the bar and ditch a bit more weight.
One unique aspect of Di2 is the ability to run a front and rear derailleur using only one shifter. By tapping into the unit's programming, you can tell it when you want it to shift from the big ring to the small one based on the gear you have selected in the back. An audible beep lets you know when the next shift will involve the front derailleur. A different beep lets you know when you're out of gears – in other words, it's the HTFU beep. It sounds friendly, but it means "no more complaining, buddy, it's all on you now – I did my part".
This is an XC bike, no matter what I want it to be. I'll dig into this in more detail in the review, but while the slack head angle and 140mm fork make you want to party, you have to keep in mind that this thing won't gobble up rough stuff like an AM superbike. It also goes uphill way more efficiently – these are the tradeoffs we sign up for. This may not be everyone's north shore do-it-all, but it is a superb bike for aggressive cross country riding.
The new XTR Trail wheels are sweet, but the rims already look anemic despite their 24mm internal width. Carbon-laminated alloy? Awesome. 28 spokes front and rear keep the weight down but they aren't stupid light by any means – approx. 1650g for the set. I do, however, expect them to hold up to a bit of a beating.
I'm so used to wide bars now that even on an XC bike, 800mm feels appropriate. It also stretches out the cockpit a bit, making a Large frame (which fits me a bit on the small side at 6′ 1″) fit better. For strict XC riding or racing, I could imagine going narrower, but for coaxing a small bike down technical terrain, I'll stick with the confidence and control of a wide bar.
---
Does electronic shifting get your inner geek fired up, or are you content with cables?