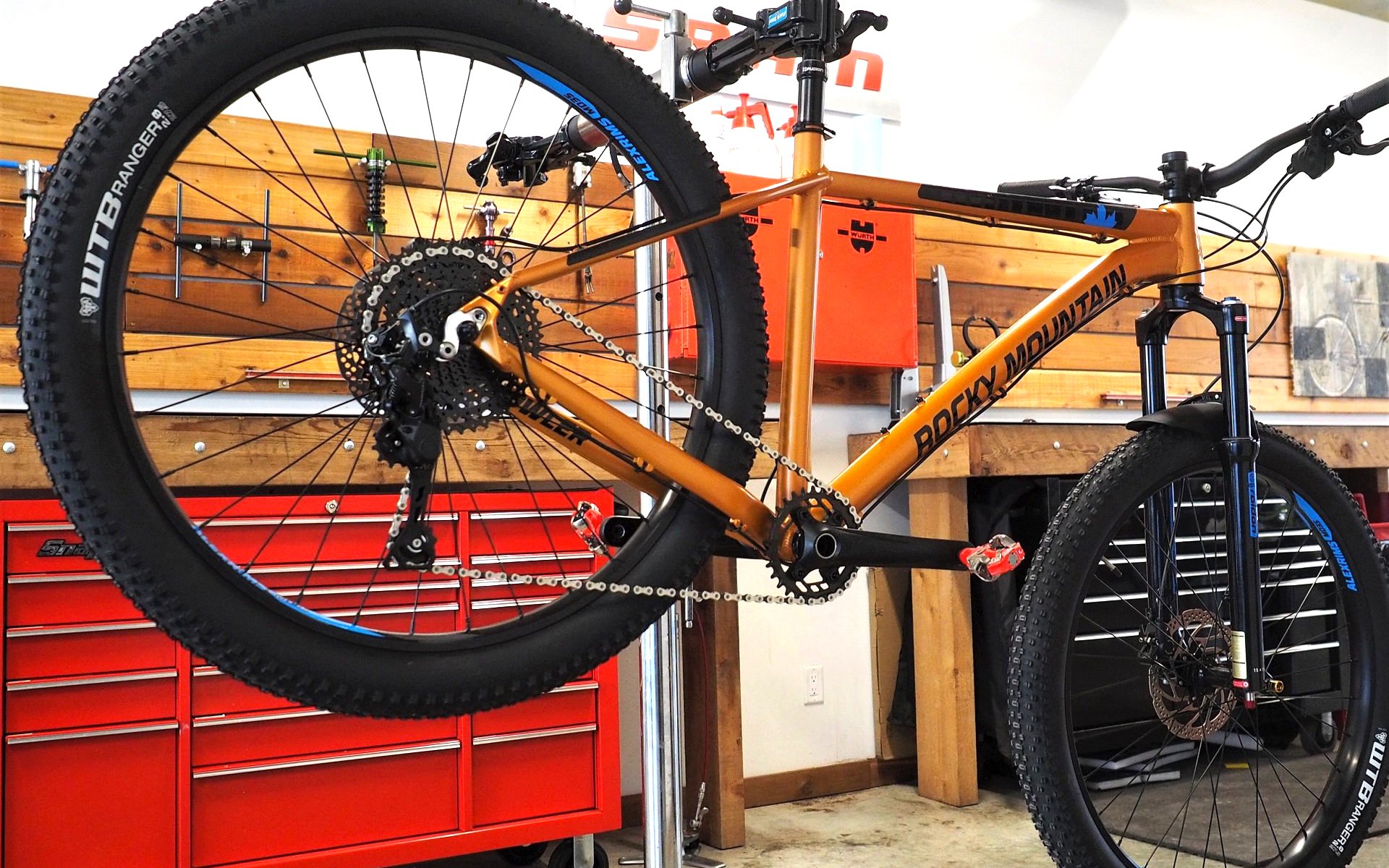 FIRST IMPRESSIONS | EDITORIAL
Rocky Mountain Growler 40 - FIRST IMPRESSIONS
Goldilocks Growler
Introducing the Rocky Mountain Growler hardtail series. Backing up the theory that good geometry is a matter of giving a sh*t rather than a matter of budget, these thoughtfully arranged bikes are available at three price levels with 26+ tires on the XS and Small sizes and 27+ on the Medium, Large, and XL models. 

The base, at 900 USD, is the Growler 20 which lacks a dropper post and clutch derailleur. The flashy-framed Growler 50, mainly separated from the 40-level bike by a thru-axle back end, is the top spec at 1850 USD. Making a solid attempt at the Goldilocks Award for the best overall mountain bike (period) is the Growler 40 with its Deore clutch derailleur, 130mm travel, 34mm-stanchioned Suntour fork, Shimano MT400 brakes, X-Fusion Manic dropper post, and 67° head tube angle. It's a lot of bike for 1360 USD | 1550 CAD. 
Frame details, especially the cable routing, are excellent. Tire clearance is massive, rear-centre is nicely balanced, and the colour pallet is actually interesting. I think in Rocky Mountain's entire 2019 lineup the only scheme I like better is the yellow-on-orange Element Aluminum. 
As I'll note below, the Growler 40 needs a couple of upgrades to make it North Shore friendly, but aside from Shimano's Pox on riders everywhere (aka 'Resin Only' rotors) all that's needed is a pair of pedals* and it looks ready for real mountain biking most places it'll be purchased.
Whether you're a parent looking to help your kid buy a real mountain bike, a new rider who wants a machine that won't hold them back, a regular rider who wants a high quality all around package, or a veteran looking for a current geometry experience on a tight budget, from XS to XL, Rocky has all but the tallest** riders covered. 

*The Growler comes with some basic metal flat pedals but I wouldn't call them trail-ready. Buy some good resin flats or a great min-maxed clipless pedal like the Shimano M-540 or LOOK X-Track alloy. 
**I'd love to see Rocky Mountain offer an XXL and make the two largest sizes 29+. 
Build Wins
I'm going to start with the frame. Awesome tire clearance, good geometry, and a nice finish. The frame on the upstream Growler 50 has a thru-axle and more modern, organic tube shapes, but this Growler 40 looks good on paper and in person. 
The cable routing is almost perfect. I wish the rear brake routing followed the rear derailleur and dropper line up the bottom of the downtube but even so, routing is cleaner than many high-end bikes of yore and there are plenty of stealth-routed super sleds with ugly exit ports that could learn something from this basic aluminum bike. Yes, I'm saying the cable routing is better than bikes that cost fortunes more. 
Often drivetrain discussions come down to how close to XTR or XX1 level shifting a drivetrain can come, but I'd flip that on its head. I think it's more prudent to compare shifting and longevity against this Deore shifter and derailleur setup. 
Deore does not perform like high-end drivetrains but I'd be spending money all over my bike - brakes, rear hub, rims, suspension, cranks, dropper post, cockpit, saddle, tires - before I'd bother upgrading from this Deore setup. If anything I'd watch the Buy-&-Sell for a used XT or XTR 10-spd shifter for sale from someone suffering upgradeitis. 
I've previously reviewed the X-Fusion Manic dropper post and it's excellent. The Large and XL-sized Growler 40 bikes should come with a 150mm dropper but I still salute this choice. It's easy to spend a lot more on a mountain bike and get a far inferior dropper post and remote. 
Likewise, the SR Suntour Raidon is a great fork that's easy to service and has the stiffest chassis that riders will see in this price range. Out of the box it doesn't feel as good as it should but 5 minutes of labour and a couple dollops of Slickoleum are going to make things much more buttery. 

Shimano's MT400 brakes are awesome, assuming you swap the rotors on day zero. Both Shimano and aftermarket pad makers manufacture sintered versions of the B01S pads which, combined with good rotors, make the brakes even better. It makes perfect sense that these brakes are also coming on the more expensive Growler 50. Feel, modulation, power curve; they're that good. 
Build Loses
Starting with the small nitpicks, in the name of longterm ownership I'd really like to see the Growler 40 come with a Race Face Ride Cinch crankset or, if sticking with something unbranded, then at least give me a standard 104 BCD spider to maximize options for less expensive aftermarket narrow-wide chainrings. 
The beauty of Cinch is the quick and easy ability to swap to a different ring size, and the any-shop-in-town replaceability factor. Race Face's inexpensive steel narrow-wide rings are anchors but they're cheerfully cheap at replacement time for the rider who doesn't want to upgrade to aluminum.
The USA has banned Kinder Surprise but somehow Shimano is still allowed to sell 'Resin Only' rotors‽ Anyone who plans to ride this bike off road should replace these before leaving the shop. Shops shouldn't even resell these to commuters. As good as the MT400 brakes are, bike companies would be doing a service to their customers to spec Tektro options on budget bikes until Shimano ceases pushing the charade that is these rotors. 
There's going to be two ways of thinking about this, but I'd like to see the cup-and-cone Shimano hubs replaced with a sealed cartridge setup. I know they come as a cheap package with the Center Lock rotors and MT400 brakes, but while we're ditching the 'Resin Only' rotors for some Tektro 6-bolts, let's hit the hubs as well. There's a reason you see almost no one, at any price level of mountain bike, riding Shimano hubs anymore. Make it easy on everyone. 

Shore Upgrades
I think that most places folks will be riding the Growler 40, it's beautiful right out of the box. Ditch the stock pedals and go ride the bike. The WTB Volt saddle also won't be for everyone but a good shop is going to help fit the bike before you roll out the door. But, the Growler 40 has the geometry and componentry to tackle some aggressive terrain with a couple of key upgrades. Start with recycling the rotors and there's really not much to change from there. 
First off it's time for tires. For Shore XC riding, the WTB Ranger actually makes a great rear tire with surprising traction up and down, and the large air volume makes for a more comfortable hardtail experience. Long term this works out to a no-cost upgrade - remove the front tire, put it aside for when the rear wears out, and buy a more aggressive front tire. 

For more aggressive hardtail ragging, especially in the winter, I'll be replacing both tires. In a nod to performance-for-dollars with a 27+ tire, I'll be running 2.8" WTB Vigilantes front and rear. Tough casings are the only way to go and I'll run a fast rear and grippy front. While I'm swapping tires, the wheels are a bit of Gorilla Tape, sealant, and a couple of valve stems away from being Tubeless so I'll do the conversion. I've aired up the Alex MD35 tubeless before and don't expect any challenge. 
The last thing I'll change is the grips. They aren't particularly uncomfortable for a basic lock-on grip but when you're used to running super sticky Push-On
https://nsmb.com/articles/renthal-ultra-tacky-push-grips/
grips it's hard to adapt to much else. You might also want to jump from the stock 760mm bar to a wider one but other than grips, rotors, and rubber, I'm expecting the Growler 40 to be ready to rock out of the box. 
Ride Time
I have some rotor adapters kicking around so going from Center Lock to six bolt is no problem. At 5'9" I'm riding a Large Growler with a 50mm stem and I'm happy with the fit. The Reach (and top tube) are not long by any estimation but pair well with the hardtail-friendly 73° seat tube angle. Some folks will complain about the 440mm rear center but after a few quick pedals, I'm really happy with my weight balance between the wheels, both when seated and standing. 
I'll be able to comment more thoroughly on trail manners once I get the tires swapped but in the meantime, it's an understatement to say I'm excited to log hours on the great looking Growler. I know this is not a bike that everybody wants. Hey, that aluminum Instinct BC Edition is an awesome machine. I also know that the potential for the Growler, with a couple of upgrades, makes it all the bike that a lot of folks need. 

You can check out the whole Growler series, including the 1360 USD | 1550 CAD Growler 40, at bikes.com.