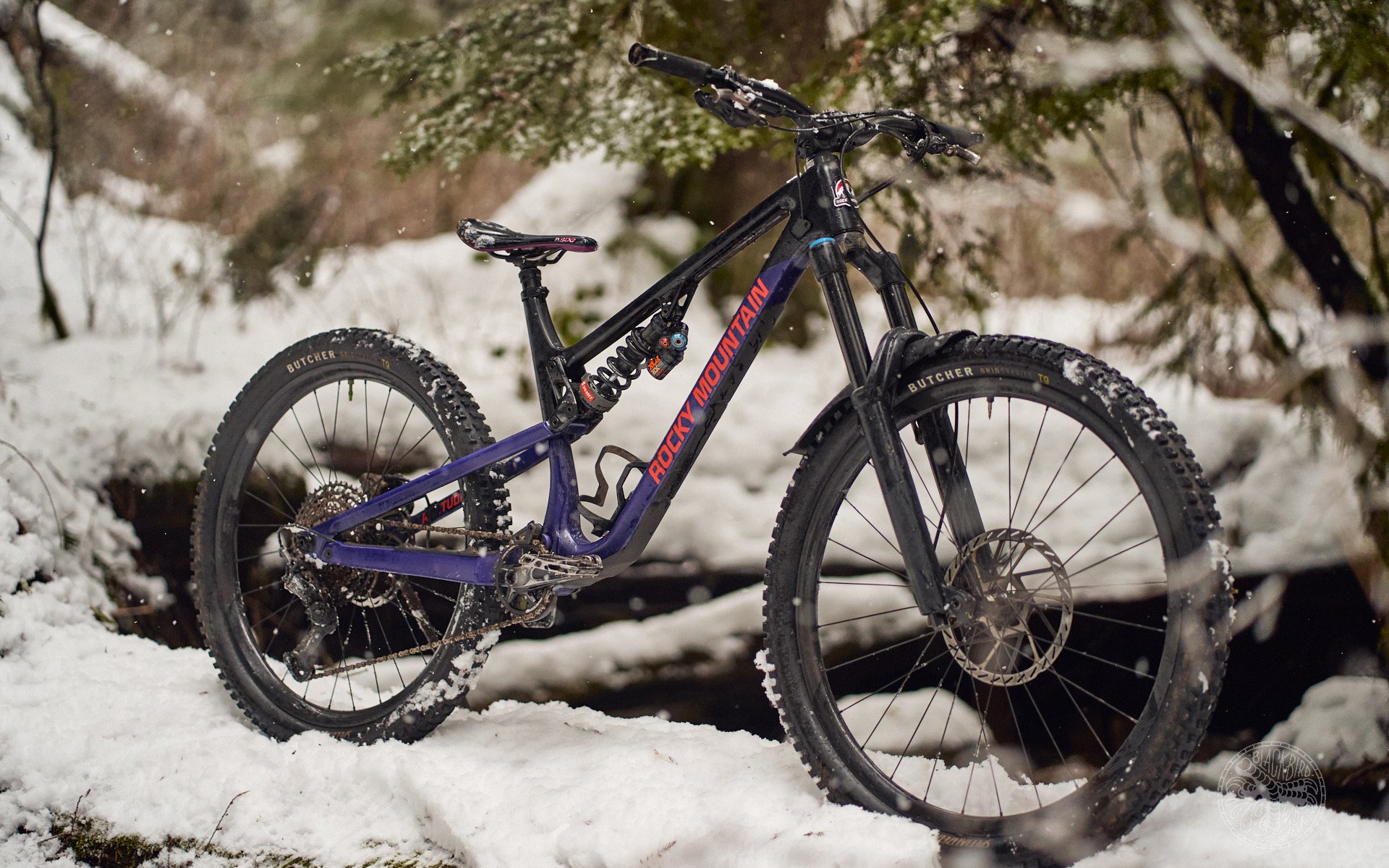 REVIEW
Rocky Mountain Altitude MX Link
What it is
Rocky Mountain dropped the current iteration of the Altitude in 2021, and you can check my review of the Altitude C70 here. It's safe to say that the Altitude is not only an enduro race bike, but a heavy hitting trail bike which absolutely does not live in the sled category. Vast combinations of geometry are facilitated by the Ride-9 flip-chip and 2 Position dropout. Rocky one-upped themselves in the Altitude adjustment department, offering a MX mount, which allows riders to use a 27.5" rear wheel instead of the stock 29".
For a minute, early mixed wheel/mullet setups seemed like a hasty bridge for riders uncomfortable with a full 29" rig, potentially combating butt clearance issues on steeps, or reducing understeer of the rear wheel. Judging by the response from pros, setup-obsessed riders (and bike manufacturers recently equipping mixed wheels as standard spec), mixed wheels are here to stay.
Rocky Mountain rider Thomas Vanderham mentioned he's played with a mixed wheel setup on an Instinct (Rocky's Enduro rig at the time), beginning around 2017. Utilizing different shock lengths and offset bushings, he arrived at a ballpark setup which worked well for his beastly riding style. When the current Altitude was in prototype phase, a modular front shock mount was implemented. Vanderham proposed a mixed wheel link be machined, maintaining the geometry of the 29" version. The MX Link then arrived in the summer of 2022. Check out Thomas and Andréane Lanthier Nadeau's shredding on the MX linked Altitude here.
Setup
Installation of the MX Mount is simple - remove the forward shock hardware, unbolt the existing forward mount, bolt the new one in, and torque it down along with reinstalled shock hardware. The 27.5" rear wheel also shifts one's weight bias slightly rearward, so the spring rate needs to be upped ever so slightly - easily done with an air shock. I've been using a Fox DHX2 coil with a Sprindex adjustable spring, upping the rate by 5-10 lbs. Rocky also advises that their Ride-9 only works with the MX Mount in positions 1 through 5. I've kept the Ride-9 in position 3.
The Ride
When I bolted the MX Link aboard my Altitude, there was no question that the bike's handling characteristics changed for the better. A local flow trail was recently transformed from amazing to otherworldly with the addition of many handbuilt bike park quality berms, on what were once flat corners. The smaller rear wheel positively blasted me through the speedy berms. I was able to stay more foward with my body positioning, feeling more precise with front wheel placement, simultaneously flicking the rear end around. On flatter corners, the playfulness instigated leaning the bike over more than I ever have, exploring the limits of side knob grip. The MX Mount absolutely makes the rear end more lively, and I've yet to find where it's served me wrong.
On steeper tech trails, turn initiation arrives quicker. This is particularly handy while dodging rocks and trees exiting slabs and steep pitches, wrangling the rear end around and continuing down ze gnar unscathed.
The inherent smaller rear wheel obviously affords more butt clearance while over the rear end of the bike on steep terrain. This is great for riders of a smaller stature. I'm 182cm/6' tall with a proportionally shorter inseam than most (31") but still get buzzed with a 29" wheel, and during chunky moves this reduces the chance of also smacking the seat with your torso and getting bucked.
Spinning up Mount Seymour road, I observed friends ahead spinning the same cadence and gear while they slowly pulled away from me. This isn't a deal breaker by any means, but you move slightly slower on climbs. For the extra playfulness, it's a worthy trade-off.
Your $136 CAD would be well spent on the Rocky Mountain MX Mount. The Altitude is already a fantastic heavy hitter of a trail bike, and why wouldn't you want to make it more flickable while keeping its stability? I'm looking forward to making the switch back to a 29" rear wheel, but I predict that will only reinforce the idea that the 27.5" will live there forever.