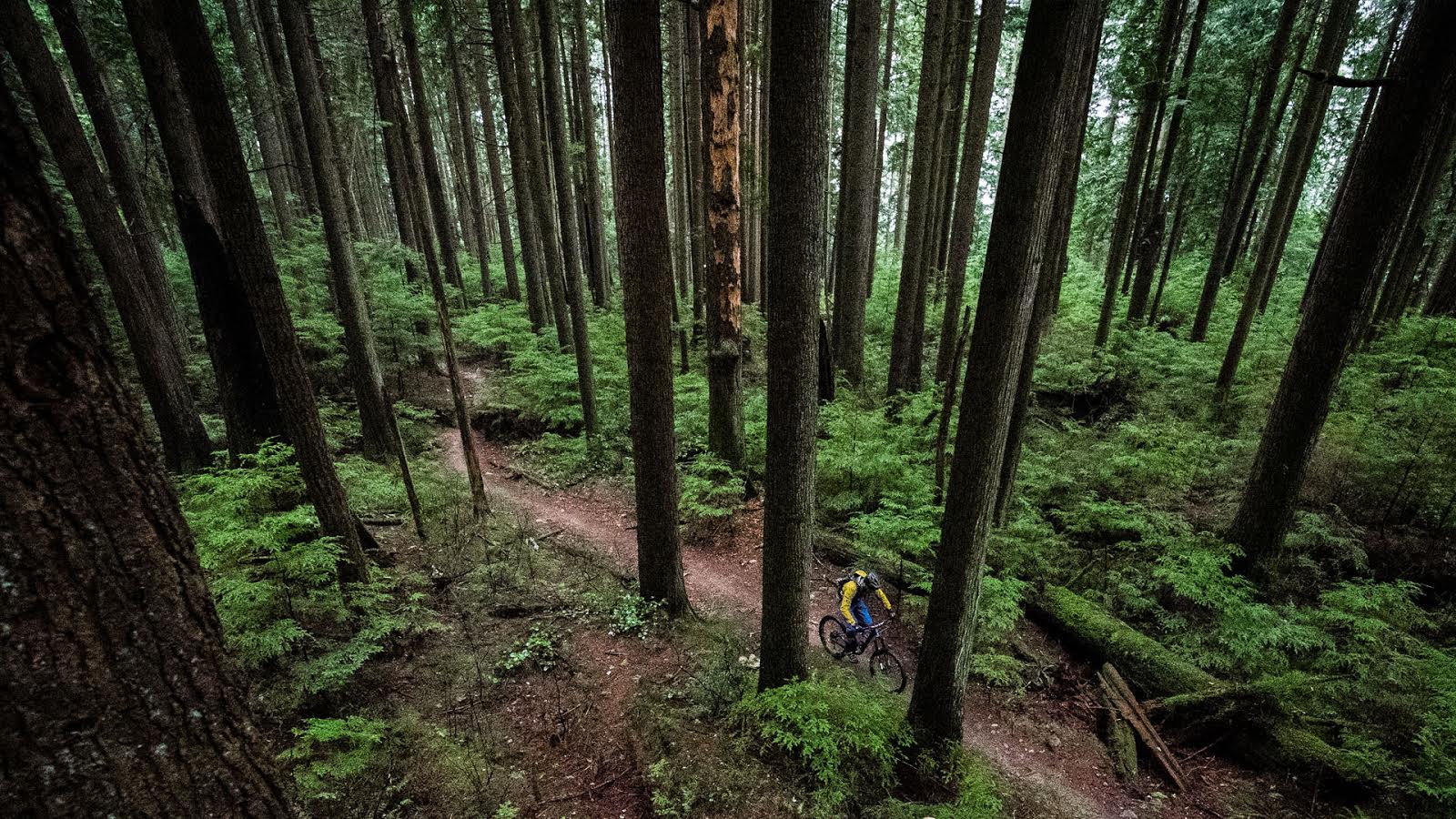 RockShox Pike Solo Air 26 and 29: Reviewed
The RockShox Pike set a new benchmark for trail forks. Black, light, and an on-trail feel that delivers for a wide variety of riders. Both Cam McRae and Morgan Taylor have spent significant time on their Pikes, and we've let loose their thoughts in a "he said, she said" review.
---
Cam McRae: 26″ Pike Solo Air 160
How would you like to ride a suspension frame with a rigid fork? As appealing as an XC ride on a 90s DH bike. Your fork does most of the smoothing when you are descending, provide support when you've got the power down, and of course point you in the right direction without porking out the front of your bike. It should deal with small impacts efficiently without going too deep into the travel while being simultaneously prepared for larger impacts. And it better do all of this in a controlled fashion. Conflicting demands make the balance delicate but it's essential: If you have a crappy fork you have a crappy bike.
Time on the injured reserve list left me out of the Pike party for the first half of last season. When it came time to slap on a black beauty I was careful not to read anything about set up unless it was from RockShox. I heard anecdotal impressions about performance but I stayed away from any printed editorial as well. I wanted to come in as fresh as possible. For the test I fitted the 160mm Solo Air model to a 26″ Specialized Enduro frame.
Like an obedient journalist, I set the fork up to RockShox specifications for my weight. I pumped it up to 75 lbs, set up the damping and was off to the races, expecting to be tickled rosy. Unfortunately I wasn't. The fork didn't have the small bump sensitivity I'd been hearing about but it did have a tendency to blow through its travel in linear fashion. The worst of both worlds. Clearly I couldn't lower the pressure to solve this problem so I played with the compression damping without success.
After a few rides I remembered the tokens. In my quest to avoid outside influence I gapped on an essential adjustment component of the Pike system. The plastic spacers, dubbed 'Bottomless Tokens' by RockShox, decrease the volume of the air spring. Add a token (or two) and the spring rate will ramp up more quickly. So I tossed one in. It was a huge job taking me about four minutes. The token led me to my happy place. I eventually reduced the pressure to 68 lbs and my reports began to glow.
The small bump sensitivity arrived but big impacts no longer pushed abruptly through the travel. It did indeed feel bottomless. The mid stroke support is distinct and it keeps the ride height nice and high so you are ready for the next impact. Once the token was in I was also able to dial in the small bump compliance. Now the Pike made things silky in the top of the travel while transferring enough feedback to give a distinct sense of the trail beneath you. There is no deadness nor wallow. An excellent balance.
Even after all this time I was skeptical about the 15mm axle. In my experience there is little or no weight benefit for a 15mm axle and there is a performance penalty. Not that I'm pointing a finger at Rock Shox, who fought for 20mm longer than anyone. Despite my grumpy reticence I'll admit the axle combines with the 35mm stanchions and asymmetrical lowers to provide precise handling and confidence inspiring rigidity. Point it and it goes where you want – but I'd still jump at a 20 mill version. I'm finally done with that dead horse.
I did have a small issue with the Pike. About three months in I visited Arthur at Suspension Therapy to go over my set up. Mr. meticulous measured the stanchion exposed and found it about 6mm too short (according to Arthur there should be approximately 163mm of exposed stanchion for the 160mm travel version). The Solo Air cartridge had lost some of its equilibrium.
Apparently negative pressure can sometimes build up in the lowers and pull the fork down a few millimetres. This can be caused by a damaged or worn o-ring but sometimes it occurs without any damage. If it is the latter the pressure can be released by opening the lower legs and releasing pressure. The former requires seal replacement. I sent the fork to Shawn Cruickshanks at Fluid Function in Whistler for service, and it returned fully erect.
Since that time the fork has performed flawlessly with no maintenance at all. In fact it seems to be getting better. According to SRAM the Charger Damper should be maintenance free until mountain bike Slopestyle becomes an Olympic sport.The Pike has met my riding needs perfectly from the dusty trails of the Okanagan, to Whistler, Squamish and Leavenworth and locally on the North Shore. I'm a Pike Belieber.
---
Morgan Taylor: 29″ Pike Solo Air 140
It's funny now to look back at SRAM's marketing material from the Pike launch last year. Jeremiah Boobar is sitting there in Sedona telling us the fork "stays higher in its travel", "feels more plush", and so on. I had all but forgotten about the original video from April and the three very well-produced Charger damper promo pieces that came out in September. I'd ridden a few Pikes over the season on test bikes and knew it was something special. When it came to mount one up to my own bike, I just rode the fork.
I simply put 85 psi in as per my 180 pound weight via the chart on the left fork leg, dialed in a few clicks of low speed compression and rebound to taste, left the Charger full open, and didn't touch the settings for over 10 rides. I was blown away – I'm a compulsive tinkerer with settings in the first few weeks on a new setup. While marketing departments invariably tout a new product as the best yet – and we've come to be skeptical of these kinds of statements – Boobar was speaking cold hard truth.
While off-the-top plushness is part of parking lot feel and the "test rides" that bike buyers choose their new steed based on, it's mid-stroke support that really matters out on the trail. Lighter forks haven't had a history of having dampers that truly work hard, and the answer is, inevitably and unfortunately, more air. As a result, I've become accustomed to sacrificing small bump compliance for better performance where it really matters.
Conversely, the Pike was nice and smooth off the top – like a fork without enough air usually feels – but had incredible damping support in the mid stroke. This was the softest fork I've ever been happy to ride – one that feels as good in the parking lot as it does riding steeps. I will admit that I bottomed out the fork on the regular, but the mid-stroke support is so good that I never felt compelled to put more air in it.
At this point my inner tinkerer got the best of me and I decided to start playing around with the setup. As Cam notes above, one token brought his Pike to life – but his initial experience was much different than mine. I called up Cruickshanks – aka the Wizard – to ask about this token business.
Immediately I felt a nag of regret about my decision to pick up the phone. Shawn's a busy guy and I appreciate any time he can take to explain the more complicated side of suspension. "If you can't change the tokens on your own, you're going to have to go take a basic mechanics course." Yes, it's as simple as letting the air out, unscrewing the top cap with a 24mm socket, and screwing the token to the cap.
Back out on the trail with reduced air pressure to compensate, I found my Pike performing more like the underdamped forks I mentioned above. The air spring ramped up quickly, and I was having trouble getting full travel out of the fork with the air spring set to give me mid-stroke support that I liked the feel of. After a few rides with the extra token in, I pulled it back out.
Last year I spent a fair amount of time on the Fox 40 Float, which was my first experience with easily adjusted spring volume – and I liked it.  In other forks we're stuck with dumping oil into the spring to reduce air volume. The RockShox token system, expanding this year to the Boxxer and inverted RS-1, is a great addition for discerning riders.
However, in more than one instance over the past year, I've ridden bikes set up with one token more than stock and have preferred them with that token taken out. Compression and rebound damping are only part of the end feel of a fork or shock, and the ability to fine-tune components to a rider's tastes is pretty damn awesome.
In the case of the Pike I like the feel of more air volume, and find the step in spring rate provided by a single token to be just a bit much. On more than one occasion I've considered taking a token to a belt sander to create a half token, but then on this particular fork I have been completely content with it as is.
---
The Pike has been the go-to in the OEM mid-travel market since it became available and distributors are consistently selling out of them in the aftermarket. Finding a rider who prefers the Fox 34 is challenging. Fox's answer is a new 36 which gets a lower axle-crown than its predecessor, an RC2 damper, and will be competitive in weight. We can only wait and see where this market goes next, but it's undoubtable that the Pike has pushed what we expect out of a fork at this weight.