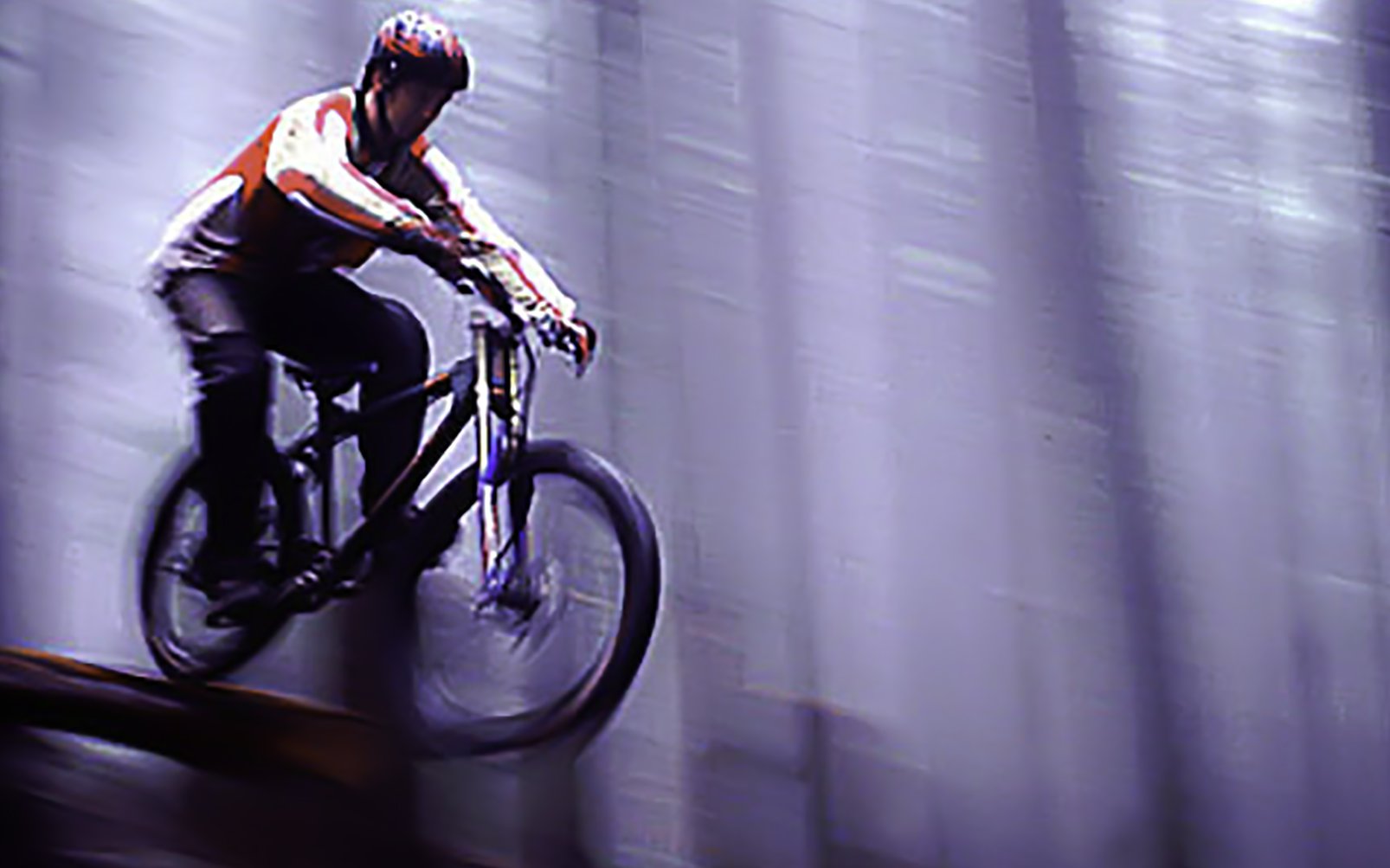 In Memoriam
Rockin' The Roach - An Ode to Ingrid Doerr
Been rockin the ROACH for over 25 years.  I don't even remember the first time I saw it, but I probably thought that a stem and top tube pad was stupid the first time I saw one. Bike stuff was always expensive. Then again....nuts. I think I found a way to afford the pads pretty quickly, and graduated to body armour with no delay. I seem to remember that there were lots of alternatives popping up to the ROACH stuff, but it always seemed to have issues with fit and durability. The ROACH gear wasn't perfect, but it worked....every day.  That, and Ingrid was always there when you needed her to be. She literally would give you the clothes off her back.  
One time, she was playing around with the idea of a jacket that you could zip the sleeves off of. I happened to be at her shop at the time, and she just passed it over to me.  "Let me know if this works."  I lost the sleeves years ago, but I still have the vest, and I was wearing it at Retallack this week when I heard that she was ill and not doing well. I'd say that it works pretty good. 20 years of riding on a garment is alright.  
Even ski gear.  She made me a custom winter jacket. Wish I still had it, but it's probably out there somewhere.  ROACH gear doesn't wear out.
Most of the pics I found are from the early 2000s.   Like these from a trip Barb and I took to Williams Lake.  First time I went to Farwell Canyon.  We linked up with Ian Hylands and snapped a few shots.
Those pics ended up being on the ROACH hang tags for years. 17 years ago.....and those lines are still burly (GoPro is just arriving at that party!). Ingrid was a huge support for Barb (Haley) when she was racing, and she still has the custom red pads that were part of her kit racing the World Cup way back when.
I even managed to get a set of the pants on the cover of Mountain Biking (they're a little hard to see, I'm in front there) when we put down a 1st descent in the Tantalus Range. And I'm still wearing those pants, too. 23 years of heli biking, and ROACH was there from the beginning.

Ingie was always on it for spotting and supporting young talent. Simmons and Tippie are obvious examples, but guys like Cory Leclerc, Gully, Vaage, etc., were all part of the stable. Just watching my media feed the past week and you see how many industry lifers have flown the ROACH flag.  
It's always a shame when someone passes away at a young age. But Ingrid has left a rich and lasting legacy.  All the adventures we've had wearing her gear were so amazing, and there's more to come. And all the stuff being made by companies like RaceFace, Chromag, Chrome, Sombrio, and many others all owe a huge debt to this woman who dared to innovate.  
Thanks for everything Ingrid.
---
We have heard through the North Shore network that Ingrid's celebration of life will take place between 3:00 pm and 5:00 pm at the
North Shore Shipyards Night Market
.