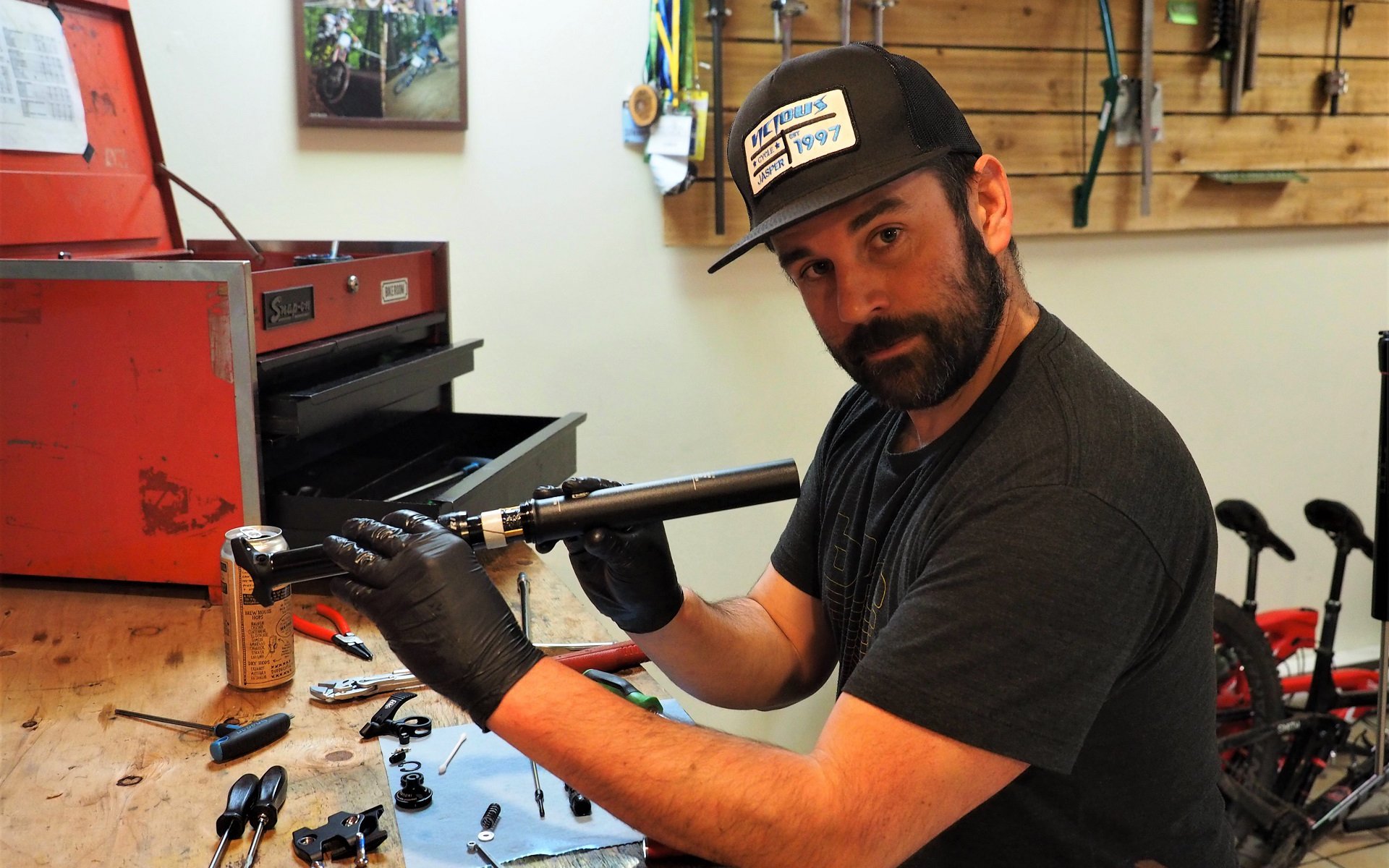 Teardown | First Look
Ritchey WCS Kite Dropper Post
But Weight...
There is an ever-increasing number of aftermarket dropper posts available and many bikes come equipped with one right out of the box. With all the choice available there is a limited number of ways that companies can differentiate themselves: travel, price, function, reliability, appearance, and weight. 
 With the WCS Kite post, Ritchey is elbowing its way into the crowded 125mm dropper category with the cleanest looking post on the market. It hits my scale at a reasonable 473 grams (31.6) for the post itself, locks solidly into place at all three drop settings (0mm, 30mm, and 125mm), and return speed is simple to adjust via a Schraeder valve at the post head. No removal of post or saddle required. Nice.  
The post uses a very simple low-pressure air system to return the post to full extension and a ball bearing collet system to hold it in place. To boot, the whole system is easily torn down with a hex key set, a strap wrench, Slickoleum, and a pair of snap ring pliers. 
The clean look of the Ritchey Kite is an excellent example of form following function. Making a robust, reliable dropper post that is also lightweight Ritchey has kept the design as simple as possible. This is most apparent when the guts are removed. Really, that's all that's in there!?
K.I.S.S.
Push remote lever. Lever pulls cable. Cable retracts ball bearing collet. Post compressed under body weight and rises via simple air system. On paper, it's the same as my experience with the coil sprung, 150mm travel, e13 TRS+ dropper but the Kite is easier to work on and I like the one piece head/shaft assembly. 
Teardown instructions: Let out air pressure and remove valve core. Loosen seal head with a strap wrench. Undo bolt under saddle clamps with a hex key. Unwind base using a hex key or screwdriver inserted through slots. Remove a snap ring. Lube it all up and reverse.
The head of the remote cable is oriented at the bottom of the post and it hooks quickly into a simple bell. Pull the cable, retract the bearings and the post is ready to go up or down.
Integration is high. The actuator is itself mounted to the bottom the air shaft. There is a limited number of parts but tolerances have to be precise for everything to work properly. The nature of the system is that the piston can become worn/pitted over time but Ritchey is committed to having excellent small parts availability. 
As with most posts, twisting play is handled by brass keyways and fore-aft slop is handled by bushings. Both items are easily replaced as part of a service. 
On that note, Ritchey, bizarrely, does not prescribe any type of routine service interval for the Kite. They specifically state not to worry about opening the post unless it feels rough or play develops. In that case, order up a seal kit and have at it. They also encourage owners to service their own posts and provide a written how-to in their owners manual which you can read here. 
Maybe the nicest thing about the Kite is that it's so simple anyone can attempt to tear it down. As long as you don't attack it with Vice Grips or hard sharp tools your local mechanic should be more than happy to finish the job for you. 
That Remote Though...
My theory on dropper post remotes is severe and requires a lot of blue language or "bike shop words" as my three-year-old calls them. For the purpose of this review let me just say that I think Ritchey should make like Fox Racing Shox and sell their remote separately from their post. 
XC or 'cross racer deciding whether or not to run a dropper post? Ritchey's 27-gram remote is ergonomic, light and has a big paddle that's hard to miss in the heat of battle. The post itself has a large return spring on the actuator to pull the remote back into position and the barrel adjuster is inline for a clean look. But, it still sucks. 
My main issue with the Ritchey remote is that it comes down to 1/93rd of a turn on the bolt to hit the point between no-slipping of the clamp and the introduction a ton of binding friction into the system. Once I hit the sweet spot there's still the fact that the remote isn't great by any metric. 
As with the Fox Transfer post, the obvious choice is to buy a Wolftooth ReMote and never look back. Just ask Jesse Melamed. I bought one for my own dropper and I may run it on the Kite for a while just to say I did. In the meantime I'm running a Crankbros Highline remote and it's a huge improvement for 9-grams. 
The Kite is 25mm travel short of having the potential to unseat my favorite dropper, the Crankbrothers Highline, so I'm not going to let the remote get me down. It looks great and works great out of the box and I have access to a few different remotes that will be significant improvements including the ReMote, Highline remote, X-Fusion Manic remote, and e13 TRS+ remote. 
For the purpose of this review, I'll be considering the value of the post without the remote against the retail price with remote included. Ritchey has the price reduced 35 USD on their site so call it 315 USD sans remote. It's like getting a ReMote for 1/2 price. 
With that bit of ugliness out of the way, the Kite is back together and ready to ride. Cabling up any remote with a cable pinch bolt is a quick and easy affair.   
Simple 
When it comes right down to it dropper posts have a really simple job to do. The out of the box action of the Kite is excellent (with my remote) and it's so simple inside I'm inclined to trust Ritchey's don't-fix-what-ain't-broke take on maintaining their dropper. The finish is second-to-none clean and the slightly textured outer should stay in place admirably in carbon frames. 
The three positions work very well for me and they're easy to find in the heat of battle. The head unit is the cleanest on the market. Service is really easy and should be very infrequently required. 
The Highline is an easier post to clean and lube but the cartridge itself is non-serviceable whereas the Kite combines the ultimate mix of being easy to work on and fully user serviceable. 
Now to grind out the wet Shore rides and report back about reliability as well as try a few different remotes. 
For more information on the Ritchey WCS Kite please check here. Current pricing is 315 USD.