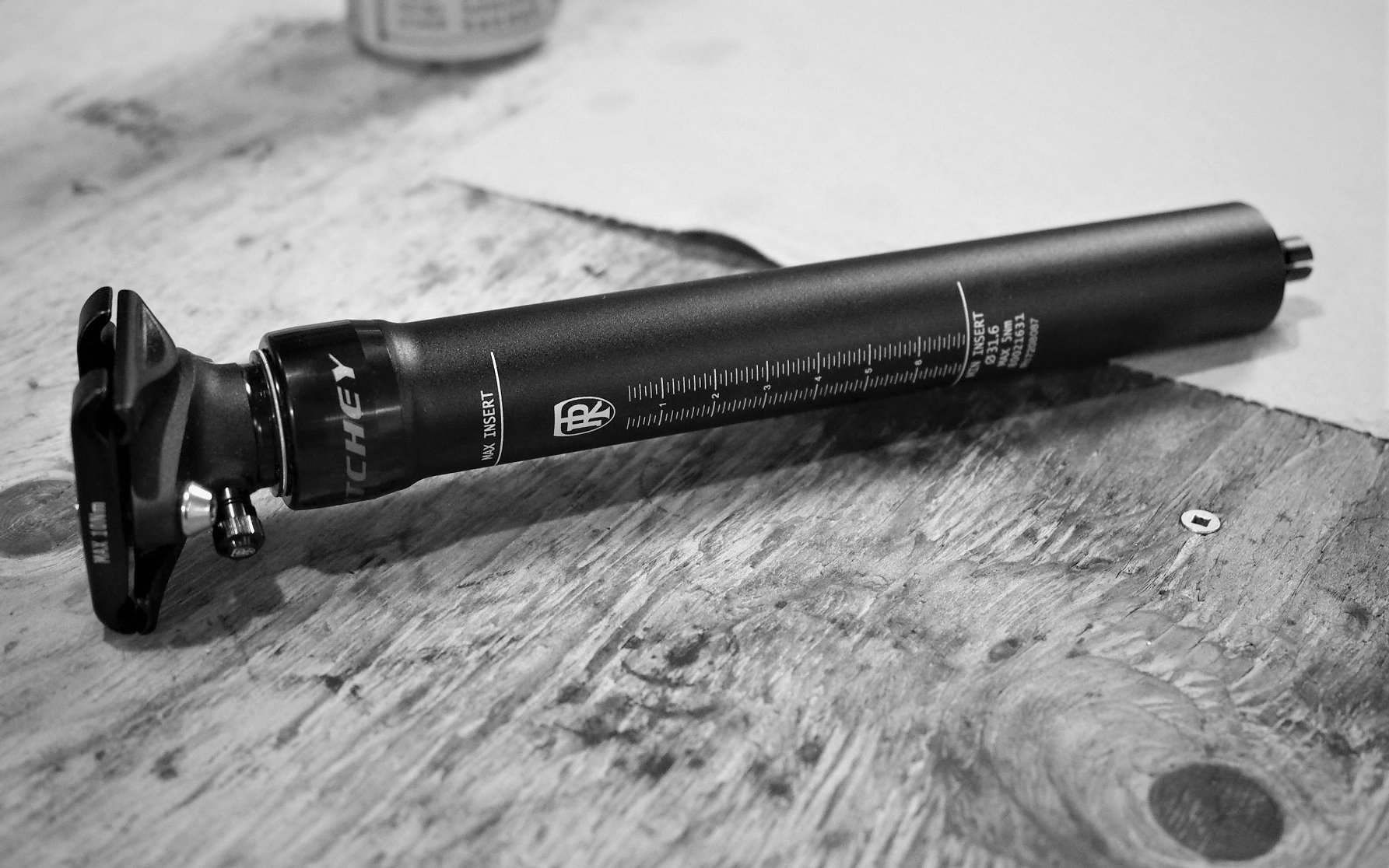 Review
Ritchey Kite Dropper Post Reviewed
Clean Kite
The 473 gram Ritchey WCS Kite dropper post is the cleanest looking post on the market. From the beveled titanium seat clamp hardware to the minimalist and easily accessible Schraeder valve, not to mention the nearly seamless seal head transition, it's beyond smooth to behold. 
It's also simple and entirely user serviceable. It has three travel positions (125mm drop, 30mm drop, and no drop) locked in place by a ball bearing collet and it returns courtesy of a low pressure air spring. 
The speed is easily adjustable via air pressure but even the slowest usable setting is FAST. In terms of usability, it reminds me of the original Fox DOSS, which was the product elite racers wanted. It has an 'inch for fun' drop setting and otherwise it's all the way down, or coming back up like a Space-X launch. Serviceability and cable routing aside, I loved the DOSS post. For riders who felt the same way, and for whom 125mm of travel is sufficient, the stealth routed and easily torn down Kite is a unicorn. 
Of Two Minds
If Ritchey made a 170mm or even 150mm version of the Kite it would be on the short-list for my personal bike. Please note, that is not the same as a recommendation for all. For me the best value dropper posts for performance, ease of maintenance, and low cost of ownership are cartridge-style posts. My two favourites remain the Crankbrothers Highline and X-Fusion Manic. On my personal bikes, I prefer the coil-and-collet e13 TRS+. The posts have many more moving parts and not surprisingly they have required more routine maintenance. 
The Kite is essentially an air-sprung version of the TRS+ and while coil sprung products generally excel in terms of simplicity, Ritchey's effort is a brilliant homage to Occam's razor.
Even the service interval, which beyond greasing a seal is a 'when the post needs it, it will tell you, leave it until then' affair, speaks to a bold attempt at simplifying the mountain bike experience with no performance loss.*
*Except for riders who love infinite adjustment - in which case stick with a cartridge post. 
Steeper seat tube angles require longer dropper posts on aggressive bikes, so the light, shorter travel Kite can be seen as an XC product. Aside from a couple of issues I'll mention below, I'd like to see a longer travel version. A year ago I would have been happy with a 150mm option and a stop in between but if Ritchey lets me choose the three settings will be full-extension, 30mm drop, and a full 170mm drop. Heck, make it 180mm just to be different. 
Issues
The Ritchey remote truly sucks. I've replaced much better remotes with my preferred aftermarket options from Wolf Tooth and e13. I'd like to see this post sold without a remote. I used it with a Wolf Tooth ReMote, e13 TRS+, and a Crankbrothers Highline remote and I was happy with all three. 
The post is very nicely made. The 370 USD price tag looks high on paper compared to 200 USD for the Manic or 280 USD for the TRS+, both of which include good remotes, but if Ritchey could call it 350 USD without a remote I'd say that's fair. I wish the remote was the only issue I had but a couple of others did come up.
The first issue I had was sizing. Oh, bike industry. The Ritchey WCS Kite was a beautiful fit in every bike I tried it in except for one. That bike has a perfect fit with every other post I have except the Kite, which I wasn't willing to twist and crank into the frame to prove a point.
I measured the 31.6 Kite at 31.64 at the widest point which is ever so slightly oversized. I put the Kite into random bikes and only a couple high-end steel jobs were a no-go. It's probably the best fitting post your frame has experienced but don't force it if it doesn't slide in.  
Another early issue was a cracked valve stem which caused all the air to leak. The beauty of a collet system is the post was still manually adjustable, which works surprisingly well, and the part was quickly and easily replaced. This only happened once, but crashes happen. Is being able to adjust air pressure without removing my saddle worth the possible headache?
Kite Dream
This good looking post scores points for being externally adjustable,* relatively light and having a long service interval. If you don't need more than 125mm of travel or infinite adjustment, this could your best option on the market. 

*ideal if you paid for a bike fit and don't want to fiddle to get your saddle back to the right spot.

For more information on the, 370 USD, WCS Kite check out Ritchey's site.