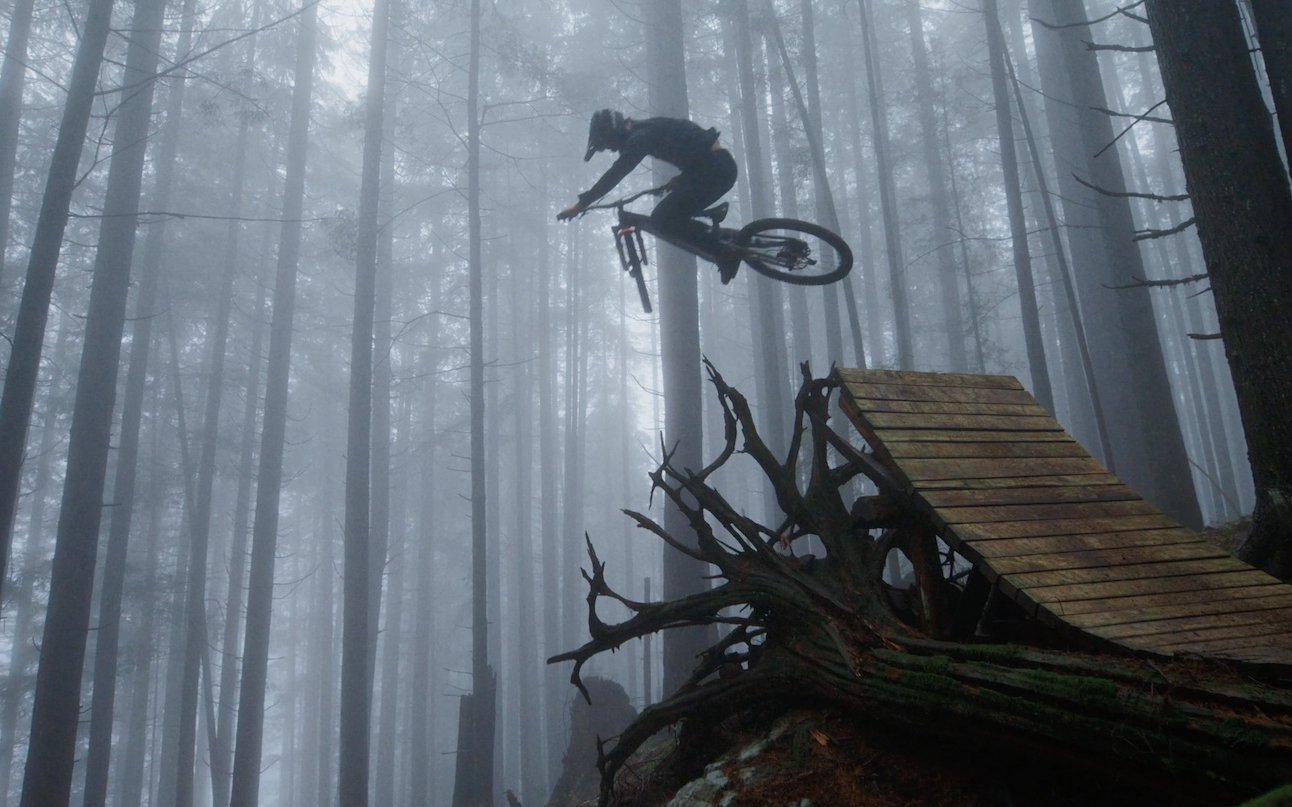 VIDEO and Interview
Risk is Reward: Premiere
Risk Is Reward is worth a watch. So far it's been worth a watch 6 times for me and I'm not done. For you maybe more, maybe fewer, but make sure you watch it. I was so keen on the movie that I wanted to talk to Steve Vanderhoek about how it came to be and what scared him enough to make him pee a little bit. I'm not sure that last part is true but it might be, based on the screenshots you see below. I chose these because they capture beautifully composed moments that begin to tell the tale of scale. Communicating size, exposure, height and steepness in mountain biking is incredibly difficult, but Scott Secco got as close as you can with these moments, and yet when you see them as part of a video scene, the impression shrinks a little. So look at them as stills and realize that in person, they would be larger and scarier still by an order of magnitude.
Well done Steve and Scott (interview below video)
Tell me how the concept for Risk Is Reward developed.
I was approached by Freehub magazine to visually tell the story of my passion for riding, building lines and my career as a firefighter in a cinematic way. They envisioned the scenes cutting back and forth in a seamless way and I couldn't be happier with the result. As for the title, the question of "Risk vs Reward" is something we all ask ourselves over and over again throughout a day. I think it's heavily influenced by skill and training in a discipline, confidence, age, past experiences and so many other factors. Someone else can look at what you are doing and say that the risk you are taking is definitely not worth the reward but I think it's a mental process unique to each individual. If you can process a situation or task at hand with a combination of confidence and skill from years of training you can be far more in control of the outcome. The feeling of reward from taking a risk but using sound judgment and believing in your abilities is second to none. Often times the greater the risk the greater the reward. At least that's how I sleep at night haha!
Would you say you've been in harm's way more working as a firefighter or riding?
100% more from riding. The fire service is constantly evolving and has come a long way. A huge emphasis is placed on consistent training and learning new strategies and tactics so that we can approach a scene in a safe way. Some of the calls we face can come with inherit danger but we always tackle the problems with a plan. With biking I am always looking for new ways to challenge and progress my riding, there are more variables outside of my control especially when guinea pigging a fresh line. 

You have only enough time to ensure you are lined up properly, release the brakes and pull as hard as you can to make it to the precision landing below. Rolling it is not an option.
Two part question: a) How many years have you been in the firefighters calendar and b) why are firefighters usually shirtless but wearing boots and suspenders?
A) I have been on the job for 10 years. I have been rejected for 10 years. I'm slowly learning that mountain biking and building is far too cardio intensive. Every little bit of muscle I gain is instantly deleted..what can you do !
B) Please don't let this secret out. We skip leg day.
Your secret is safe with me...
There are some big moves in the video. Did you and your crew build all of them? 
Some of them I did but several of them were created by other riders I highly respect who gave me permission to film on them. One of my favorites was Kenny Smith's classic "Strapping Young Dad" roll. I had eyed up a different approach airing in from the top straight into it and he was totally cool with me attempting this. That was definitely one of the trickier and scary lines to knock off. Extremely awkward run in with barely enough speed to keep the front end up.. you really don't want to mess that one up. I don't want to confirm or deny which ones are mine but if you're out and about hiking you may run in to some!
How many building hours would you say went into the moves in the film?
If I were to guess I would say about 2 months of building and 60+ hrs. Its so hard to say as many of the days were spent in torrential rain in September/October. Some days were productive while others not so much. Majority of time was spent stacking logs and dirt to make impossible rock faces somewhat rideable. I have said it before but there is nothing more satisfying than envisioning a line, seeing it slowly coming together and then tackling the first descent. 
What was the scariest move in the film?
The scariest by far was at the 1:04 mark. "Spicy Fly" is a technical, roughly 15 ft rock to rock drop with a hip. Its a full commit line with huge exposure, once you are into the line there is no bail out option. You have only enough time to ensure you are lined up properly, release the brakes and pull as hard as you can to make it to the precision landing below. Rolling it is not an option. The run out is high speed through narrow trees with a chunky exit. Like most things, the video does not do justice to the scale of this thing. That is one of the hardest and scariest moves I have had first descents down... didn't sleep well before that one.  
Did you have any close calls?
I think I had at least one close call every day of filming. In total Secco and I put 17 days into this project. We had planned to shoot it in September but it ended up getting pushed back to November. Every day was hovering around freezing temps and we were just searching for that window where it wasn't hammering rain. The conditions made even the simplest lines quite tricky.
I really wanted to shoot the "Panther" line I helped Yoann Barelli and Reilly Fogolin build. Snow was forecast for the next day and for the foreseeable future so we decided to just go for it. I carried a full size propane cylinder and a tiger torch up into the backcountry of Whistler, rappelled off and torched the slab dry. Just as I finished it started nuking snow. I ran my bike up and had just enough time to get a few shots in before the slab was completely soaked. On one of the shots you can see my front end fully start to wash out and I just had to release the brakes and hold on for the ride! I'm really happy with the shots we got that day. 
Another close call was on the cliffside line "Busted Axe Wound." The slab is on the edge of a 100ft cliff with a mandatory off camber right hand corner. Its easily one of the hardest lines I have done to date. I really wanted that shot for the film but as the months dragged on we couldn't find a window where it was dry. I would consider this line impossible to ride in the wet. So out came the torch again and I spent about 4 hours trying to dry the line. I had to rotate through 2 cylinders as the bottles would freeze over. Eventually we started to lose our daylight, It was mostly dry but not perfect. When I went for it you can see me accelerating into the corner after the gap and my tires just barely catching traction before the cliff. That to me was the closest call of the film and not something I want to touch again unless perfect conditions. 
How well do the two worlds of firefighting and mountain biking complement each other?
Quite well! I have always been very analytical and I enjoy dedicating my time fully to perfecting a craft. I find I approach stressful situations very similar in both my career and biking. I take the time and put in the work to know and understand all aspects of the job. When faced with something difficult or stressful I use my training and experience to make logical decisions and think clearly throughout. As simple as it sounds that has got me out of trouble in numerous occasions. You can feel yourself fighting the natural urge to get elevated which can lead to poor judgment. A quick breath and focus makes a world of difference. 
Tell me about working with Scott Secco?
Honestly working with Secco was incredible. I have always looked up to him and loved his work and never thought I would have the chance to be in front of his lens. He's a complete machine with his work ethic, no task or challenge was too much for him. We were up early, long days, he helped with the lines and all the while had the vision in his head. It was cool to see his approach and eye for an angle, subtle movements would really bring depth to a shot or help portray the steepness or "gnar factor." It was funny to run into people during the few months of filming and have them ask me "how many times did he make you hike the line?" That always brought a laugh but as someone who is also a perfectionist I appreciated his dedication to nailing the shot exactly how he envisioned it. Sometimes I wasn't happy with my riding and sometimes he wasn't as happy with his shot but we always kept at it until we both knew we got the best attempt we were capable of. Despite the rough conditions and huge hikes into the forest I don't think the man is capable of complaining. Always a smile on his face and just fired up to produce something amazing .."Anything for the nuggy" were words I heard often. Thanks Scott for the unreal experience, I don't think I have ever been more scared filming a project and I look forward to the next one.
Is your next project already brewing or are you going to take a break?
Next one is already being planned! I have an exciting spring and summer planned with some really awesome people. Just thankful for such an amazing riding community. Thanks for watching this one!