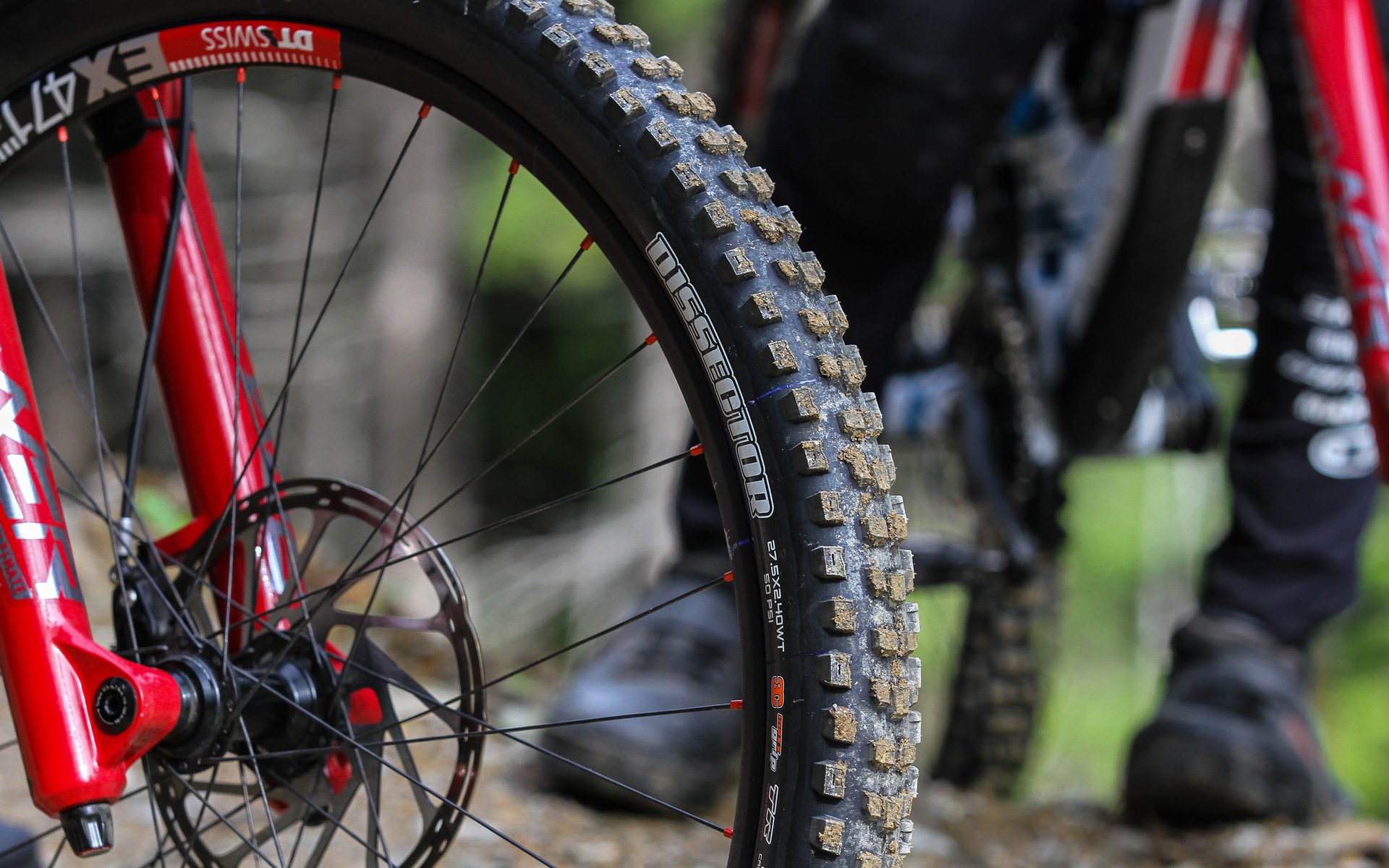 First Impressions
Riding Troy Brosnan's New Maxxis Dissector Tire
If you have a keen eye you may have noticed a tire with "G'Day Mate" emblazoned on the sidewall at the World Cup this season. Earlier this week Maxxis officially unveiled the tire and its name; the Dissector. Tory Brosnan's signature Maxxis tire follows Greg Minnaar's hugely successful Assegai from last year. The Dissector was designed with rolling speed in mind but the trick was preserving the braking traction and control needed in loose-over-hard conditions.
But where Minnaar was peppering Maxxis with requests for a tire – he even provided sketches – the Dissector came about differently. Early in 2018 Maxxis reached out to Troy about working together on a new tire. They wanted something to fill the gap between the DHRII and SS and felt that Brosnan was perfect for the task. His riding style is all about maintaining momentum and where he lives, in [r]Adelaide Australia, conditions are dry and loose.
Troy mentioned that the SS was great for rolling speed but it lacks the braking traction needed for World Cup downhill. When the fastest descenders on the planet drop the anchors, it's as late as possible and the bike needs to slow quickly and in control. Brosnan wanted his signature tire to offer the rolling characteristics of an SS tire but with much better bite under braking.
Maxxis and Brosnan worked on the tread together. The large centre lug accompanied by two smaller lugs that connect on either side, create a large surface area. Maxxis and Troy feel this creates plenty of surface for the tire to roll well while remaining stable. The centre lugs feature large ramps on the forward-facing edge, improving rolling speed over a steeper, shorter transition while the rear of the lugs has aggressive, sharp braking edges. Alternating pairs are siped at the rear so they can spread and create more surface area on the braking edge.
All lugs are shorter, especially when compared to the Assegai which has taller lugs than a DHF. I initially thought the corner lugs featured similarities to the High Roller II but with the two in my hand, it was clear they are different. The Dissector tire's overall shape isn't overly round or square and even on the 25mm internal width rim I got a few runs on, everything felt great.
With the Dissector primarily being a rear tire, Maxxis has chosen to go with a 2.4 width. I was reminded by Maxxis that heaps of riders still prefer a slightly narrower rear tire. In my experience, a wider front can soften the blows more and give some added stability on loose, rough terrain while a narrower rear can help with direction changes, allowing quicker side to side transitions. It also digs into loose terrain when braking, rather than floating around toward the surface.
First Ride Impressions
Maxxis hosted a select few media squids in Whistler to check out the new tire. Our bikes were equipped with the Dissector in the rear and the Assegai on the front. We were riding the bike park – a large component of the tire's breeding – so our bikes were set up with DH casings front and rear, both in MaxxGrip compounds. Maxxis had us set up on Canyon Senders and my XL was shod with 27.5-inch wheels.
Our first lap was a warm-up down Crank it Up. With the recent rain, the dirt in the park was as good as it gets; full-on golden hero dirt. Just about any tire would hold the main lines in these conditions but despite the moisture in the gold clay, the rolling speed of the Dissector was immediately apparent. I've been spending most of my time on the Assegai lately, and Aggressor when it's been dry and dusty, and the Dissector quickly showed its intentions.
By the middle section of Crank it Up, I grew tired of the perfect traction. When we dropped into C-More I began seeking opportunities to break the tire loose. Riding through the garbage on the inside of corners became a regular occurrence and the tire took it in stride. If it began to break loose, it was comfortable and minimal and at this point, I was getting familiar with the bike as much as focusing on the tires.
For our second lap the group went up the Garbo chair before descending Freight Train to Seven Year War, No Joke, Drop-In Clinic and a bunch more Freight Train. With conditions as they were, I wasn't interested in riding a flow trail all the way down. Aside from Seven Year War and a short section of No Joke, we hadn't hit much that was loose or technical. I split from the group and bombed Little Alder into Expressway, Too Tight, Schleyer, Lower Whistler Downhill and Monkey Hands.
Rolling up to Little Alder was far easier than I remember. Typically I'm on the pedals for at least half the slight uphill grade from the World Cup containers where Freight Train continues. I was shocked when I only had to throw in three or four casual pedal strokes before rolling across the flat and into the singletrack. Little Alder was still damp and there were a couple of moments, mostly because I haven't hit it at speed this year and got off line.
Busting out onto Expressway I let her open up and held off the brakes into Too Tight for as long as possible. Pulling up from the speeds of Expressway into Too Tight is a challenge for any tire, with loose gravel and rocks strewn everywhere. Add some course tape creating more of a bend back into the woods and things got a little spicier. When on the anchors hard, the tire did well and when it broke loose, I did notice it dancing about a bit. It was easily controlled, remaining predictable throughout, but like most it was wiggling about in this situation. I've had far hairier moments on bikes and tires I know much better.
Next was Schleyer and some silly lines were met with complete support out of the tires. On the slabs, some of which were wet, there were no unexpected slips or slides and the Dissector grabbed on as any MaxxGrip tire would. From the fade-away on Lower Whistler Downhill, going back into the woods can often be touch-and-go. But despite a poorly selected braking point I was able to get back into the trees in control. It seemed easy to make the small gaps and step-downs in this section of trail despite not feeling like I was riding well. The final test was down Monkey Hands. The lines and regularly loose conditions unsettle the chunkiest tires but everything went smoothly.
While two laps are no way to conclusively comment on a tire's performance, I did my best in the glorious conditions to unsettle things and was pleasantly surprised. The rolling speed feels excellent and I look forward to doing back-to-back testing between this, the Aggressor, the DHRII, the DHF, and the WTB Trailboss, all tires I use on the rear wheel. From a traction and cornering stability standpoint, the Dissector feels like it could make an excellent rear tire for riders in their local bike park, or where local trail conditions are often loose-over-hard. Time will tell where its limits are in softer or wetter terrain.
More on the new Maxxis Dissector Tire here.