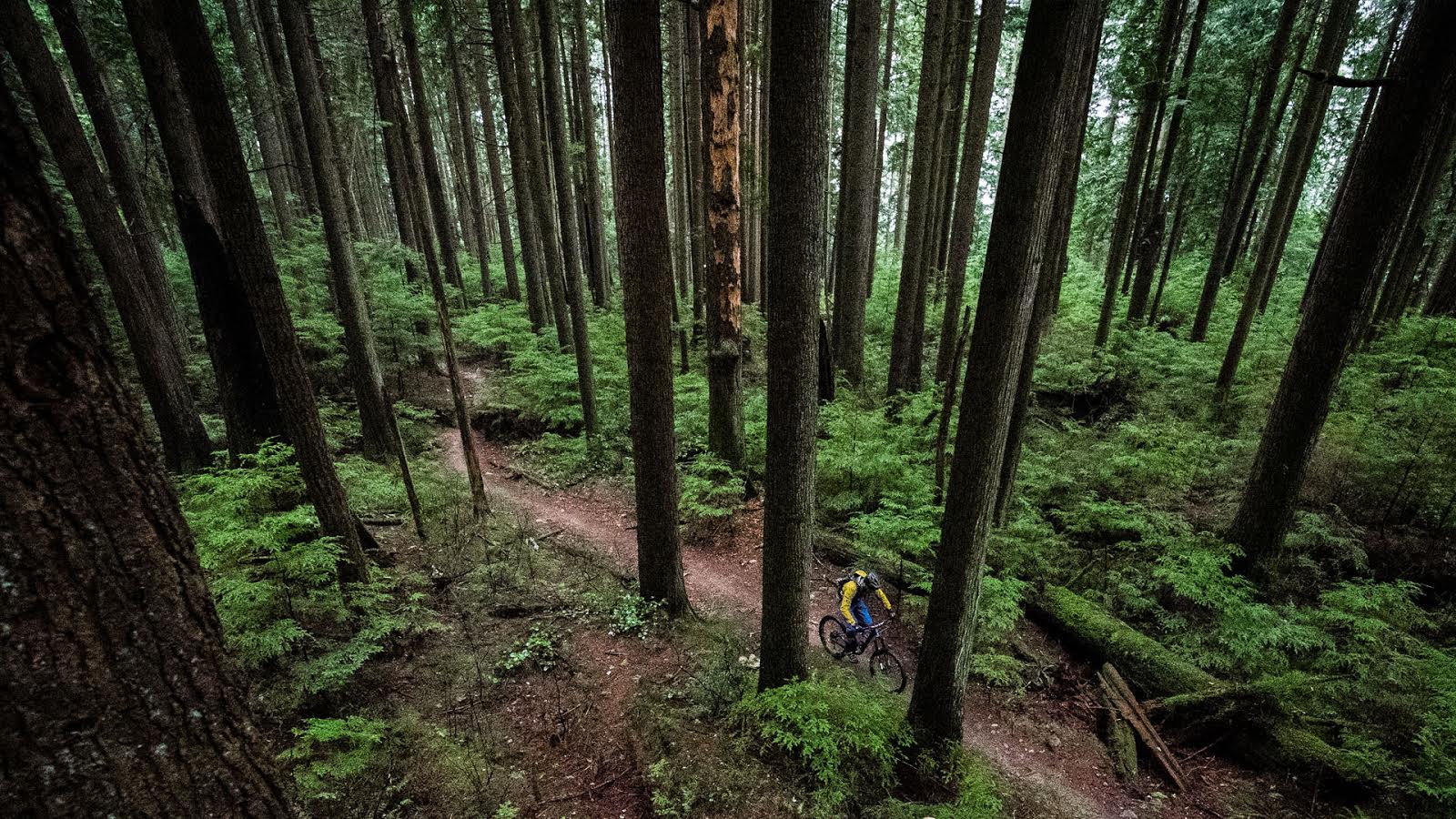 Riding the Santa Cruz Bronson
The debate rages on but it's pretty clear 650B is here to stay. Last year, while launching the 135mm Tallboy LT 29er platform, Santa Cruz was adamant that they would not be producing a bike with mid-size wheels – and yet this year their tune has changed. Seeing where the mountain bike industry has come in the past year and a bit, this doesn't come as too much of a surprise. However, it takes more than 14 months to take a design from the drawing board to carbon production. Santa Cruz was most definitely holding back.
In the weeks approaching Sea Otter, Santa Cruz invited us to ride the recently-announced Bronson, a 150mm platform ready to ship in both aluminum and carbon. We headed down to NorCal a day before the show, and Pete Roggeman and I lined up a ride with the crew from Santa Cruz.
Our guides were Josh and Nick from the SC engineering team, two of the guys who have had a significant input on the development of the Bronson. Having not ridden here before, we were happy to have a local guide with some riders who rip – and to ride on the very trails this bike was developed on.
We humbly believe that the trail is the best place to have business meetings; in this case, our goal was to find out what the new Bronson was about by smashing some dusty descents with the marketeers and engineers, and climbing back up again on winding singletrack. The trails here exhibit a wide variety of trail terrain in a relatively small geographic area: the descents had steep bits, eye-watering fast bits, some very loose corners, lots of handmade berms, and a good number of jumps. We experienced some road climbing, some fire road, and some twisty but relatively smooth singletrack.
A nugget was dropped this afternoon, and while the information isn't such a surprise, it is a nod to tight-lipped engineering departments. What became the Bronson platform actually started as a 26″ bike that was to replace the Blur LT. Just as the engineers were coming to a final design on the new 150mm platform, they decided to try a 650 version – and it was a hit. All of a sudden, design direction had shifted.
Now, for the surprise. This story may sound familiar but it's not the same one you've heard, because it actually happened in 2010.
As for the size argument, the extremes of wheel size and tire casing tend to line up with a particular riding style. Lightweight 500-600g XC tires correspond with 29″ wheels and 4-5 inches of travel, and at the other end, 1000g+ DH tires correspond with dual crown forks and 8 inches of travel. The middle ground is where the uncertainty still lies.
The trails we rode today were a great testing ground for a bike that should, if well-executed, fit the 700-900 gram tire range and be adaptable to suit your needs within the Trail/AM category. Wheel size is not even a factor, as you can now get decent tires in this weight category in all three sizes. How does it go up, and how does it go down – and how does it react when pushed to its limits in those circumstances?
We had the chance to ride two differently spec'd Bronson models. First, the top level Enve spec with XTR, a 750mm bar, and 2.4 EXO Highroller II's, as well as the XT spec model with a 711mm bar and 2.3 EXO HR2 on the front and a 2.3 Ardent LUST on the rear. Both were sprung by Fox: 34 Float up front and Float CTD w/ Boost Valve in the rear. Read on for comments from both myself and Pete on our experience on the trail.
Morgan's ride comments:
Getting set up at the factory before the ride, the folks at Santa Cruz were adamant that I go with a bar and stem that suited my riding style. I ride a 750mm bar on my XC bike, so we found a big Havoc bar and paired it with a 70mm stem. They cautioned me against the bigger HR2 MaxxTerra tires (Maxxis claims these at 890 grams) but as I was riding flat pedals for the day I decided to stick with the slow rubber. The XX1/Enve spec leaves nothing to be desired, and it seems a lot of Santa Cruz customers like to adorn their builds in this way.
I don't usually ride a trail bike on flat pedals, and when combined with the slow-rolling tires, I was definitely feeling sluggish even though I kept up with the group just fine. Through this handicap I was able to judge the Bronson's pedaling capability for those who don't augment the smoothness of their pedal stroke through clipping in. The XX1 drive was set up with a 34 tooth front and I experienced very little loss in efficiency through the suspension. I could enter a comment about wheel size here, but it wasn't really noticeable. The Bronson pedals like you would expect a trail bike with less than 150mm of travel to do – part of finding the balance I mentioned above.
Of course, given my tire and pedal choices for the day, I was looking forward to when things pointed downhill. I slotted in behind Josh and things got hairy quick. There's nothing quite like following someone down their local trails – it saves bad line choice a lot of the time, but can get you into trouble quickly. I had no problems with the point-and-shoot approach here. I found the Bronson sitting a bit higher in its travel than I may have expected a VPP design to do. Asking Josh about my setup, I found I was running on the high end of the usual pressure range for my weight. With a few more days on the bike, I would definitely hone in on an ideal setup, but in general the stiff setup was not a problem as I like to ride the front end of a bike. The Bronson suited this playful and nimble style even with the big tires. Once again, wheel size was not a concern, and I can see why the engineers decided to jump ship on the 26″ prototypes.
Santa Cruz does put the Bronson in the AM category, I suppose based on its travel and wheel size. However, I would in most cases choose this bike over the longer-legged Tallboy LT.
Pete, who usually rides a Rocky Slayer, spent the majority of our ride on the mid-spec Bronson with the narrow bar and relatively heavy tubeless ready tires; not the best combination to judge the Bronson's wheels' ability to change direction quickly in comparison to a more aggressively-equipped 26″ bike.
Pete's ride comments:
Still, while one ride can only make for first impressions rather than long-term observations, those first impressions were generally very good. Bronson feels like an aggressive trail bike rather than an AM bike, at least in its mid-spec setup: its desire to attack technical sections and steeps is only tempered slightly by the fact that it sits high in its travel in un-Santa-Cruz-like fashion (admittedly some more time invested on tuning the shock may have yielded a bit more plushness). It was responsive when asked to go quickly from side to side, provided you didn't get in the back seat – this bike is built for drivers. Lateral stiffness was great, no doubt enhanced by the 142mm rear axle – although the under-gunned Ardent in the rear usually broke loose before the bike was being pushed off-line.
The Bronson's climbing ability was appreciable, and it was efficient and well-mannered even during a few brief granny ring episodes. Even if the 'D for Descend' mode of Fox's CTD boingers was left engaged for the pedal up, the bike climbed nicely. Flip it to T(rail) and you were all set: traction was terrific and pedal-mashing didn't lead to bike-bobbing. All in all, the Bronson is a very tight package. With some more time to tune the shock and a few minor spec tweaks, it would become hard to find much to quibble about other than choosing the right superlatives. Oh, and the 650B wheelsize? Hardly noticed, thank you very much. The bike is a great package and it's a testament to its design that while aboard, wheel size didn't really stick out. Maybe it is all about what you do with size that matters most, after all.
Our time spent on the Bronsons was short but sweet. Climbs like a Trail bike, descends like an AM bike. You could apply this cliché directly to the 650B wheel, but at the end of the day, every bike design is different and approaches the ideal in a different way. Expecting that recent history will repeat itself, and knowing that Santa Cruz tends to put out good bikes on the first go – the Bronson bodes well.
---
Are you on the 650Bandwagon, or still a naysayer? Ready to make the jump now that tires and forks are getting better? Jump in to the comments below..