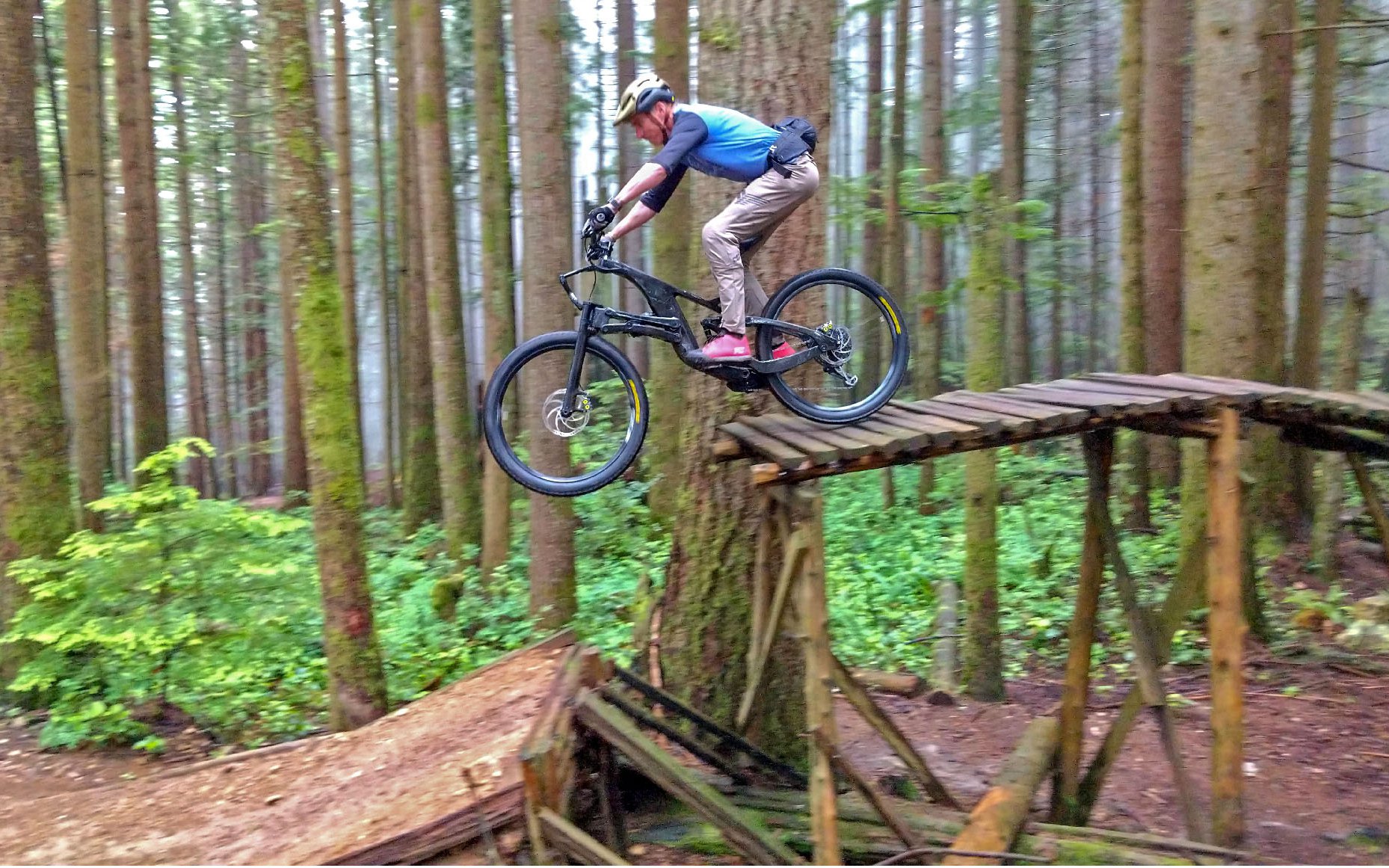 Riding Impressions
Riding the Structure Cycle Works SCW 1
I first saw this bike at Crankworx, back in 2019 when that was a thing we were able to do. My first impulse was not to rip it from the owner's grasp and get it on the nearest trail; my shortsighted knee-jerk reactions were that this was unlikely be worthy of my attention and that it looked like someone vomited acid all over the front of a bike leaving only holes and spindles where fork and frame were meant to be. Having seen more than a few meritless over-complicated ideas, I had become a little jaded. And condescending. And arrogant.
Mostly stupid.
Having become slightly less of most of those things recently, I was somewhat eager when the opportunity arrived to jump on one of these beautiful monstrosities on my local Mt. Fromme trails. Dave O'Dowd, an old friend who used to produce videos for the North Shore Ripper and run Whistler Action Video, has been doing some marketing for Structure and he gave me a call. He told me, among other things, that Loni Hull, the man behind Structure, helped design the first Isle of Mann-winning electric moto, in just six months. The team he worked with then won the event three more times. Clearly this was someone who knew volumes more about suspension design than I do. That got my attention as did some of the ideas behind the design.
As Dave related it, when Loni first rode a mountain bike, he didn't appreciate how the bike's geometry changed, in particular how the head angle steepened, as the fork moved into its travel. In fact he went over the bars, which can focus your attention to a degree. This experience, and his recovery from a concussion and broken collar bone, made him believe there was a solution to front suspension that performed better than traditional telescoping designs. A linkage fork can be designed to affect geometry differently, and Hull claims his bike's head angle actually becomes less steep during compression. Beyond that the idea was to isolate steering, suspension and braking forces.
Clearly there are good reasons why telescoping designs failed to thrive for rear suspension configurations, but one of the earliest modern full suspension designs involved forks at both ends. The 1991 Bradbury/Manitou full suspension bike had what looked like a Manitou elastomer fork replacing the seat stays, and while it worked, there were limitations in terms of bump absorption, braking and pedaling, which some engineering types believe are important. I remember the bike quite well because one passed me during a Roach XC race on Fromme in the early 90s. The idea of the bike made my inner purist so angry at the time that I rode like a demon, passed him and stayed ahead on my full rigid Ritchey Timberline*. Or maybe he bonked. Who's to know?
*to a triumphant and highly celebrated 5th place (or something) in the novice men's cat.
Less angry and more open-minded me has succumbed to and begun to embrace the inevitability of progress. The final gasps of my inner Luddite coincided nicely with the opportunity to ride the Structure. To be honest, I wasn't certain I was going to ride the Structure much, because Dave just asked me to go for a ride. I thought I might spend a little time on the bike or just talk about it but Dave's uncommunicated idea was to ride whatever I'd brought. Had I known this, rather than my Yeti SB 150, my favourite bike ever,* which I never lend to anyone, I would have brought a test bike. That would have been a better plan it turns out.
*I've had many favourites, and it's often been the most recent
We did a little set up. taking a air out of both ends, and then pedalled up to Ladies Only. Since we were only doing a short ride, I figured we should tackle something with adequate variety and difficulty. The bike climbed like a regular bike without telling me anything about how it would go down, but I mustered some false bravado and charged (for me) as soon as we tipped into Ladies.
I didn't notice much about the SCW 1 at first.. I didn't feel sketchy at all, the bike seemed easy to steer, and it worked a lot like a regular bike. But with a lot of composure. It used to be that the only way I could tell you much about how a suspension component performed, was by the success I was able to muster on the bike. I'm a little better than that now, but the first thing I noticed about the Structure was the level of moves I was confident riding without much consideration.
There's a pair of parallel moves a short way down the trail where we decided to take a few photos. The first one is a fairly steep down coaster (at least that's what I call it) and the other is a roll or launch off a massive chunk of granite onto a cedar wedge. The coaster I've ridden enough times to do on auto-pilot, but the other is much newer, tricky to get on, quite blind, and a little precarious as you teeter on top before committing to the just-revealed path to safety. It's enough of a move for me that I wasn't sure I'd do it on a strange bike on the first ride, but it felt natural and the maneuver was easy to do multiple times.
The next significant obstacle is Bart's bridge. It's a combo I've been riding since I had that rigid Ritchey, but it never seems to get much easier. You come down off a bridge with a bike length and a half to negotiate a tight right hander before a steep and tricky double drop. There are times when, while recovering from an injury, I've gone a year or more without attempting it. Like every move, it's easy for some, but this one has very rarely been easy for me.
The bike was working well enough that I pushed on and rode Bart's before I spent much time thinking about how it would go. I over-steered a little and found myself in an awkward spot on the precipice. I was clearly going to miss part of the down ramp but I felt hopeful enough to thrust my hips and see how it went. Everything worked out just fine despite my sub-optimal alignment.
I noticed early on that mall bump composure felt particularly good, and I later learned that one of the claims of Structure is extremely low stiction under small impacts. Otherwise most of what I noticed was how composed the bike felt. Beyond the small bump performance, I didn't feel the bike did much better at reacting to larger bumps than the Zeb I've been riding. It felt fine, but it was the steering and attitude of the bike under compression that felt different. I later learned that the fork was oversprung for my weight by about 20lbs. It never felt that way to me which leads me to believe that a proper spring rate would have improved the fork's ability to deal with larger impacts.
It seemed to make sense to ride Lower Ladies after Upper had gone so well. The tires and brakes sketched me out a little on the first few sections, but I only failed to ride what is for me the hardest line. I came close to getting, but the front tire slipped out midway through. It's a low percentage move for me. I probably ride it less than 25% of the time, depending on weather, bike, and rider condition and almost making it on a bike I'd never ridden before felt like a minor win.
A couple of times, jumping off ladder bridge on Big Stupid and into the Crater at the end of Lower Ladies, I hung up my rear wheel enough to tighten my sphincter. Off the Crater I landed entirely on my front wheel, completely unexpectedly. A testament to the design was the ease with which I rode out this error. My miscues seemed to have something to do with the feel of pre-loading the fork before launching. I'm sure this would be something I'd eventually compensate for, but it felt unnerving on the first ride.
A little video showing the SCW 1's front end working
Everything seemed to happen a little more slowly on the front of the Structure, as though I had more time to make decisions. I can't say I was blown away, after one ride with a sub-optimal setup, but I learned enough to realize the merit of the philosophy and execution of the design. The Structure is legit. I'm optimistic about the future of the platform and interested to spend more time on this version and future iterations.
For more, check out the Structure Cycle Works Site...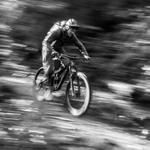 Cam McRae
Height - 6'/183cm (mostly legs)
Weight - 170lbs/77kg
Inseam - 34"/86cm
Ape Index - 0.986
Age - 56
Trail I've been stoked on lately - Boogieman
Bar Width - 760mm
Preferred Reach - 485-500mm (longer with 27.5 wheels than 29)