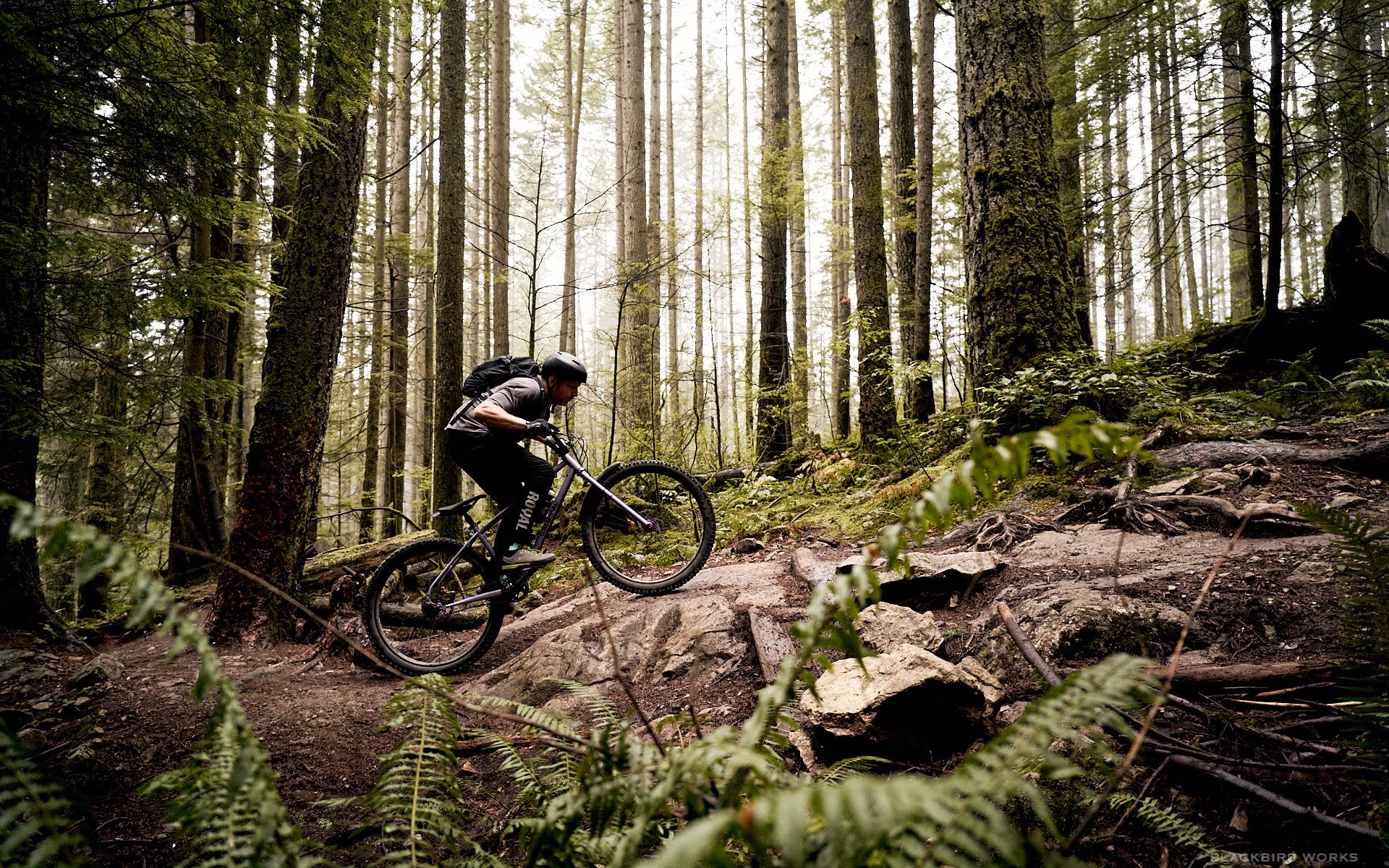 REVIEW
Riding in Royal Race Pants
Apologies & Acknowledgements
If you had told me before 2018 that I'd be even semi-regularly mountain bicycling in pants, at any point of the year, I would have chuckled. Then I started wearing Race Face's Agent pants and discovered a new perspective. Here I am, in the strange year that is 2020, frequently riding in pants. Most often these 4-way stretch Royal Racing Race pants. Raining or overcast, night or day, as long as it's less than warm out, I'm peacefully pedaling long laps in these beauties.
Before I jump into my pants, I do feel it's necessary to eat some crow. It's the mid-2000s and I'm in Old Buck Parking Lot at the base of Mount Seymour. It's a rainy fall day and my riding friends and I are already saturated. We're having a judgemental chuckle at a guy changing from one white DH kit into another before going up for a second lap. In my defense, these were two fully matched kits - shoes to helmets - and who rides the North Shore in White?! But either way, instead of laughing there are two takeaways that at least now make sense.
First off, carry spare clothes and change when your gear is disgusting. It's heavenly. Doubly so if you're shuttling and can keep infinite kits in a vehicle. Also, the right pants are awesome. So, apologies to the dude with the white V10 and doubled-up white Troy Lee package. As I'm constantly reminded, when it comes to bikes and gear I have a lot to learn.
I also feel it's necessary to acknowledge the Agent Pants from Race Face. Nominally a rain pant, I've worn my pair a tonne and they are still in great shape. They were my all-time favourite piece of cycling clothing and here's what 2018 me thought of them:
"Until the Agents, I hated riding in pants. Race Face hasn't made the first waterproof pants I want to ride in, the Agents are the first pants of any sort I've wanted to ride in. Between the comfortable cut, the stretchy material, and breathability, I've been happily wearing the Agent pants even when there isn't a reasonable chance of a deluge. In addition to being immensely comfortable for pedaling, apartment living is much cleaner and easier when I arrive home from a late rip with clean legs."
The Agents, like a lot of waterproof (read: weather-resistant) pants for mountain biking, offer nowhere near the rain protection of some hot-and-sweaty commuter rain kit. I know that really bothers some folks. For me, the Agents offered up enough weather protection while still being comfortable to actually ride in. They became my go-to fall/winter pants. They were a gateway to appreciating that even non rain pants can offer increased comfort over shorts in a deluge. I ride in pants quite a bit and I want to acknowledge that the Race Face pants moved me here.
Pants In The Rain...
...but not necessarily rain pants. The Race pants are not 'weatherproof' by any stretch of that term. When I'm storming down Ned's Atomic Rock Bin after we've had a pile of pain, these pants get soaked. Same story if I'm out riding armoured trails in a deluge. But then, as I noted in my review of the Agent pants they would saturate through in similar events as well. They're pants for riding in first.
I know it makes no sense on paper but aside from trying to keep some warmth in and some water out, and breathe, there are some real advantages to wearing non-rain pants when it's raining. For one, when I whip them off when I'm done riding there's way less random mess to deal with as my legs shed dirt until I can find a shower. My knee pads don't fill out with crap and I end up with much cleaner socks to boot. I know, I know, it's mountain biking. I love getting dirty, it's just that on a tighter schedule having one truly filthy garment to deal with - and clean legs - is much better than five items and dirty legs.
On truly soaking days, when the pants are fully saturated in no time, my knee pads stay in place better than when they're exposed directly to water and I do find that my lower legs stay warmer. Specific to the DH race cut of these Royal pants, they are tight enough that they never start to feel gross and heavy while still allowing a full range of movement. And, they've certainly proven durable thus far. The zipper pockets had me a little suspect at first, but the overall quality of these pants is WAY higher than my previous experiences with the brand some years ago. I've worn and washed them a bunch and they are still as new.
The fit of these mediums is a touch on the tight side - a race pant if you will. It's a fit that Royal has been tuning for many years on tracks around the world. They're a bit short in the leg but aside from having to toss out some particularly spicy product shots, the fit just works for pedaling and descending. I haven't tried on a large to see how much larger it is, but I'd buy the medium in an instant.
They have two zippered pockets, a zippered crotch and a ratchet-style waist cinch that looks like the one on almost any non-BOA mountain bike shoe. The waist cinch actually works great but I'm still going to take a moment to talk about how great belt loops are combined with an Arcade belt. If there was some way to combine the cinch and belt looks, I'd take it and run a belt. I don't regularly use the pants pockets for anything personally, but I do understand how they contribute to our psyche.
After a couple of decades making DH pants I'd expect that Royal would be on their game and I think the Race pant manufacturing and materials is a perfect example. The four-way stretch material is somehow light enough, stretchy enough, durable enough, and just weather-resistant enough that it ends up making a great four-season pant even with the holes lasered into the legs. I did have to track down a pair of the longest model of Saxx boxer shorts to ensure no bare skin was getting pelted by crafty raindrops.
The knees are flared out exactly the right amount to accommodate my Leatt Airflex or Pearl Izumi Elevate knees with plenty of room but enough fabric loading that they feel notably more secure than with shorts. The rest of the cut is totally non-restrictive, thanks to the cut and materials, but at the same time tight enough that you'd never suddenly wake up from a daydream and assume you're not wearing bottoms.
The all-day pedaling comfort is perhaps most shocking. Again, if it's a hot day I'm in shorts but this past spring & summer had plenty of precipitation and colder days of pant testing weather. Here in October, I'm back to loving them now that things have cooled down. I won't say that I don't notice they aren't there - there's no doubt I'm wearing pants - but the stretch action is excellent. And it's proven very durable thus far, which is another feature I'd expect from a DH Race pant.
Five sizes, the over-referenced Henry Ford colour palette, great four-way stretch material that's comfortable and durable, a more-complex-than-belt-loops-but-still-simple cinch system, and a tight-ish fit that's DH-Race enough that it also works great as trail kit. There's a lot to love about Royal's 135 USD Race Pants.
My key takeaways are that they are really pleasant to pedal in - including climbs - and that it turns out I love riding with pants in the rain. Even ones with plenty of laser holes and no waterproofness to speak of. I can't claim to have tried an absolute litany of pants, or review these based on their value as DH race pants, but I do think if riding in pants is a trend you're going to get into, these are absolutely worth a long look.