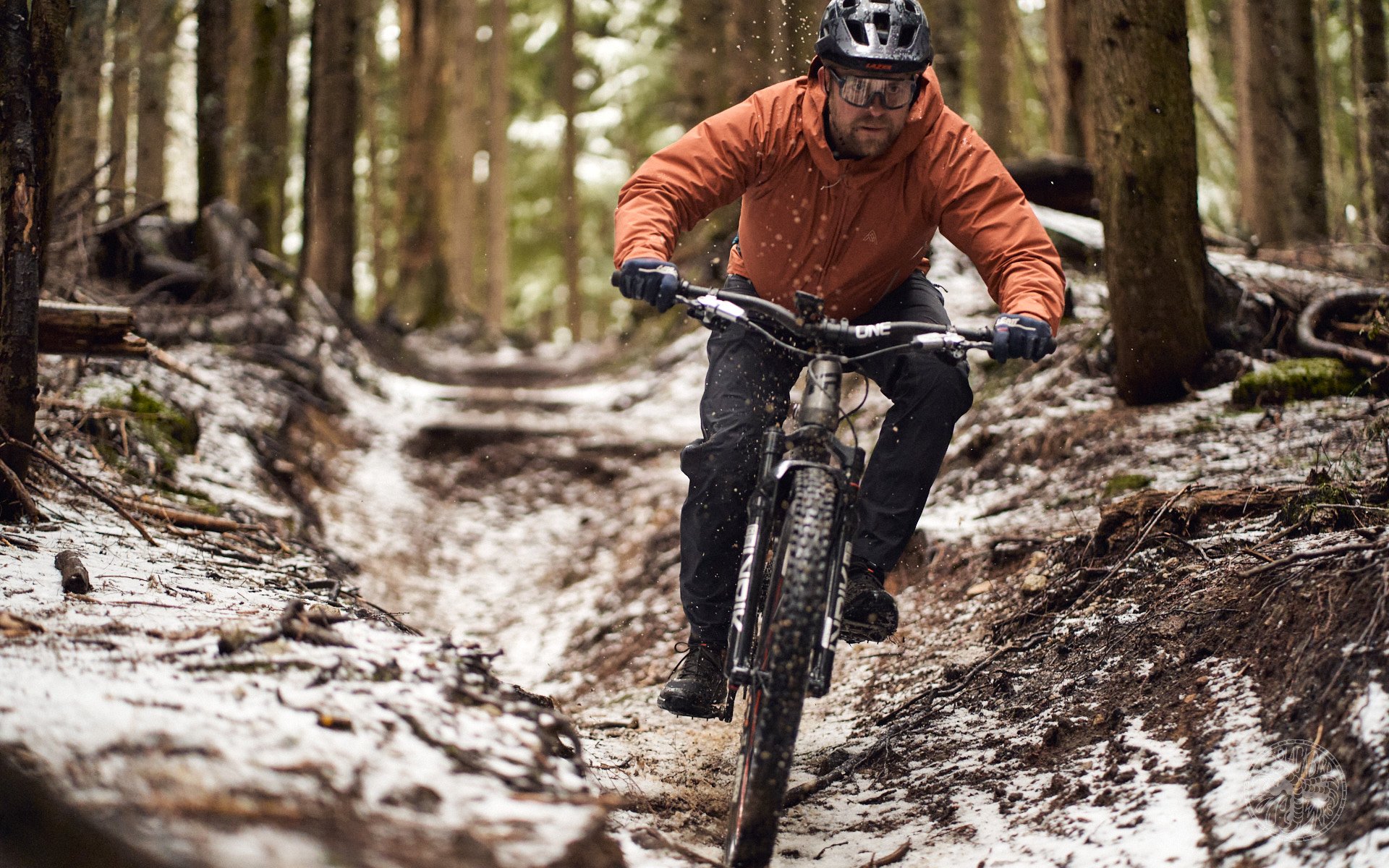 RIDING IMPRESSIONS
Riding RockShox's 2023 Suspension
This is a big day for RockShox who are launching all new forks (Zeb, Lyrik, and Pike) and Super Deluxe Ultimate air and coil shocks for the 2023 model year. We got a preview on everything and have got a series of articles for you. Cam and Pete's riding impressions of the new stuff are below, but if you want to dig into the nitty gritty of the new Hydraulic Bottom Out and RCT2 dampers, head on over to Andrew's tear down of the new shocks, or if you can't wait to learn more about the new Charger3 dampers and Butter Cups, there is a complete tear down of the new RockShox forks here.
Intro
Chris Mandell came up from Bellingham for what should have been a pretty typical April riding day: temps hovering around 10º C and cloudy skies with a chance of rain. Instead, by the time the day was over, we had won at weather Bingo.
We began with a quick primer on what we were putting onto our bikes and then set to work. Cam's Scor got a makeover up front, exchanging a prior gen RockShox ZEB for the new 2023 model. The plan had been to put that fork as well as the new RockShox Super Deluxe Coil on a 170 mm travel We Are One Arrival, but shock hardware was the final piece to that unfinished puzzle.
Meanwhile, Pete's Transition Sentinel was seeing a swap from a last gen Lyrik to the 2023 Lyrik Ultimate, and the Fox Float X2 EVOL out back was swapped out for the new RockShox Super Deluxe Ultimate air shock.
2023 RockShox Zeb - Cam's Impressions
Out of the gate I have to declare my affection for the original Zeb Ultimate. It gets high praise in terms of support, smoothness, ease of setup, and musculature. As luck would have it, my first ride on the fork was a perfect slithery, rock-strewn pinball ride, down a very dark and demanding trail. Rigidity is one of those elements you get used to quickly, so that first ride was critical for my understanding of how the purported increase in torsional stiffness over the now-previous Lyrik (21.5%) influenced my ride. And it was pretty much instantaneous. I felt like I could relax my grip a little and lean on the fork, with the knowledge it was going exactly where I pointed it. It was similar to the sensation of riding the first ENVE (then EDGE) rims in the Whistler Bike Park on a Santa Cruz Demo 10. It felt like I was aiming the bike in 4K. Precision breeds confidence and in that situation, the added stiffness was easily felt.
As mentioned above, I was planning to slap the ZEB on the We Are One 170 I'm building up as a test platform. The longer links surprised me by arriving on the Sunday of a long weekend, but I have been unable to track down shock hardware since. That made the logical choice the SCOR LT 4060 I've been testing. In some ways it was a good comparison because the stock fork on the bike is a ZEB Select, without the +. It as a more basic damper, the Charger RC vs the Charger 2.1 RC2, and clicking the single 5-click compression knob hasn't seemed to make much difference to the ride. In some situations the fork felt entirely serviceable but in others, like high speed chunky sections, it felt harsh and no dial twisting or pressure adjusting would help.
When I swapped the fork, there was a parallel. While the new ZEB Ultimate felt better, its weakness was exactly the same trail condition as the Select. It felt great on rock faces and deep compressions, slow speed tech, and even high speed bits that were relatively buff, but bony and fast would hurt my hands and make me feel terrible if I tried to approach my usual top speeds in these sections. Was it the bike? It turned out it was. Sort of.
I'd been meaning to swap out the 170mm post because the geo put the widest portion of the saddle squarely between my thighs, and I finally got to it. On my next ride, everything felt great. The brakes worked better, there was gobs of traction all of a sudden, and any issues on those high speed bits with lots of high amplitude impacts disappeared. It turns out I was unable to find my stance and manipulate the bike as I normally do until I replaced the 170mm post with a OneUp 210. This is a little embarrassing to admit, but the difference was surprisingly dramatic. So much so that some of my favourite moments since have occurred in that very particular combination of speed with big bumps. The added control and poise made it feel like everything was going in slow motion. The bike was all of a sudden eager to get in the air as well.
Obviously this whole post situation delayed my progress with the fork but it began to feel glorious. In corners I was able to select inside lines I'd never looked at before because traction was so good. Was this ButterCups? Probably not considering that cornering forces, even for a punter like me, are going to push through the effective range of that technology. I noticed them most at speed, as previously mentioned, and even more when the terrain allows you to unweight the bike and skim over the stutters.
Next I decided to strap it to the Norco Sight VLT, which has become my e-test platform, either for products that I'm not heavy or talented enough to damage without some extra heft, or those that make sense on an eMTB for whatever reason. And while the VLT has never felt under-forked, bigger stanchions only seemed to make sense. And in fact, I had the Fox 36 RC2 feeling better than any 36 I can remember - it seems to like lots of compression damping. Since I had it feeling so buttery, I knew it would be a great comparison.
I thought the first thing I would notice was the ButterCups, but actually it was the hush of the quiet damper. I never realized the 36 was noisy, but the ZEB made the absence of its tones obvious. As I started a descent of 7th Secret on Mt. Fromme, I began to notice some harshness on slow but bumpy sections. I've never really made much progress with low speed compression on forks but I thought I'd give it a try. I added one click of damping and noticed an immediate difference. If one is so nice, I should wist it twice. It got even better as the control made the fork move to the mid-stroke endpoint of these impacts in a more controlled yet progressive fashion. Three clicks didn't make it worse but not noticeably better either, so I left it there. I started going faster immediately and my front wheel placement became more accurate while fatigue was reduced.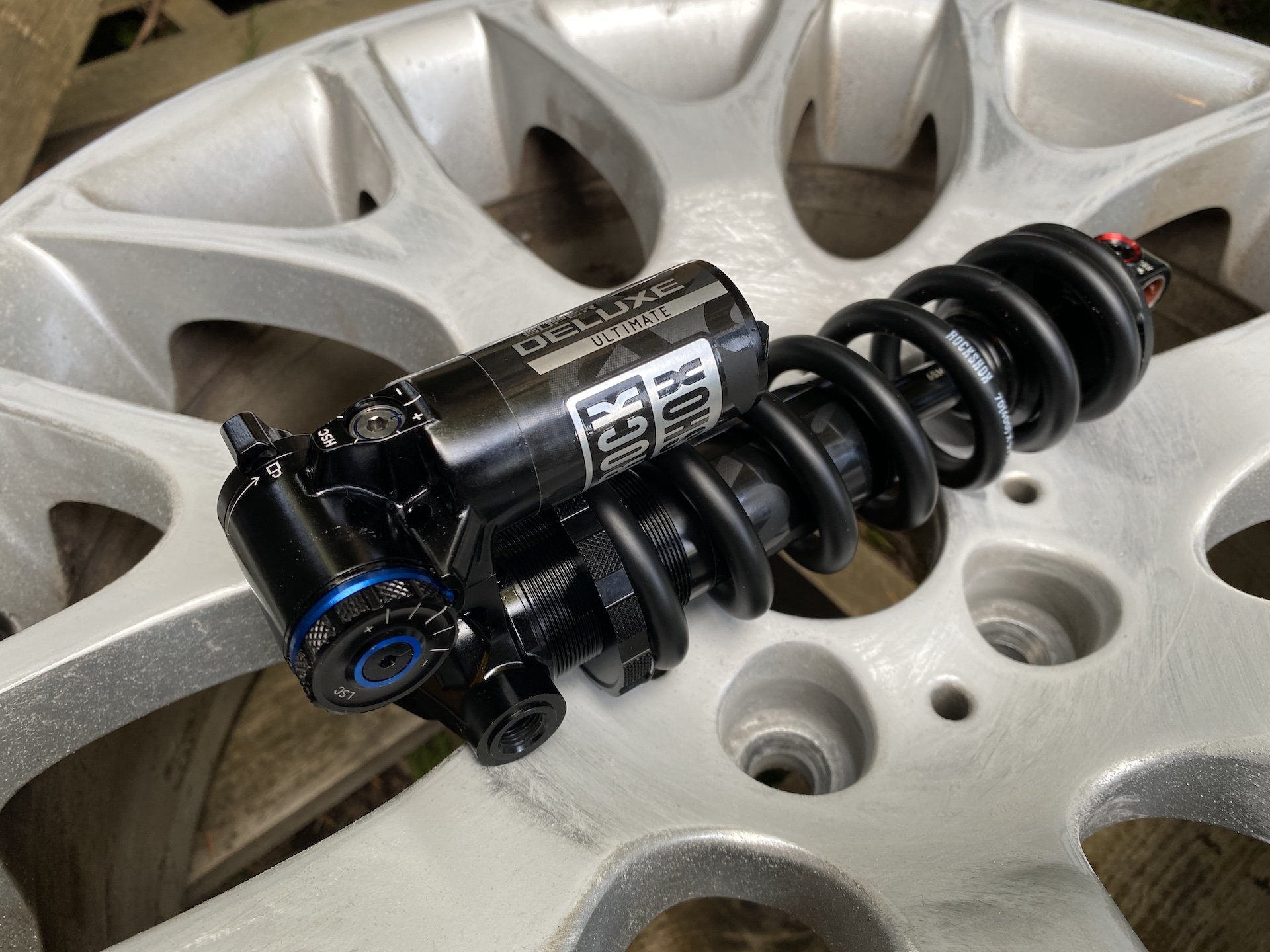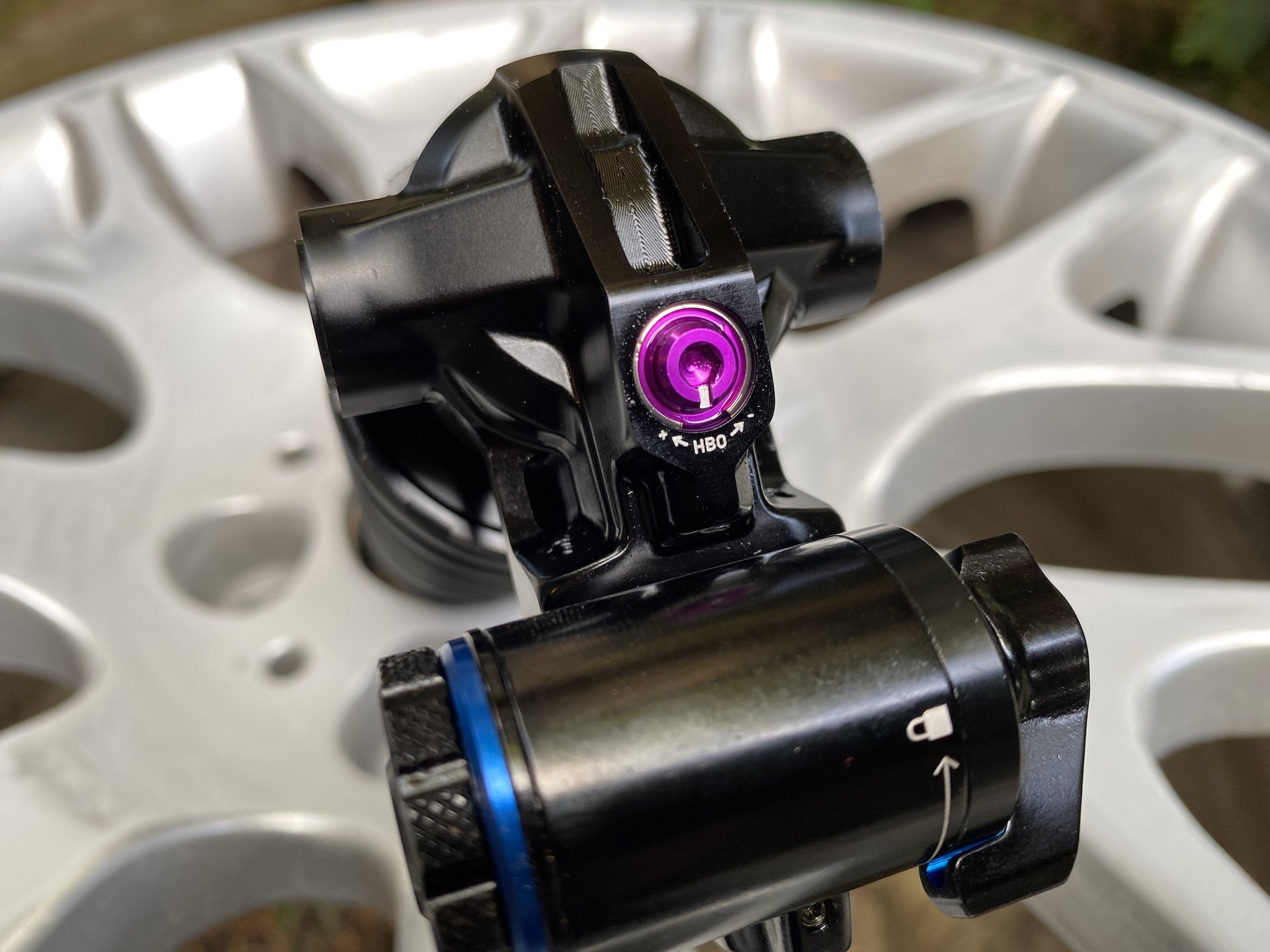 I settled into a surprisingly low 62 PSI on the SCOR, after experimenting with significantly more air during my dropper-induced crisis of confidence. I then simply added 10 PSI for the VLT, which worked beautifully. I slowed the rebound slightly and added the aforementioned slow speed compression damping. At this point I think I like it a little more than the 36, but aside from when the ButterCups are engaged, or when it's slow and bumpy, the 36 has a comparable silkiness on many trail surfaces. I'll need a swap back to get a more comprehensive verdict though.
It's early days but it's fair to say I'm getting along very well with the new ZEB Ultimate. The next step is to solve my hardware dilemma and get it, and the RockShox Super Deluxe Coil, mounted and on the dirt. Fingers crossed for this weekend.
2023 RockShox Lyrik - Pete's Impressions
As our warm and dry shuttle truck climbed the last switchback to our final destination on Cypress, increasingly insistent rain drops hitting the windshield started to develop a bit of mass. We rounded the last bend into one of the most dramatic transitions from rain to snow that I've ever seen, and within seconds visibility had fallen to nothing but white stuff. Fine. Riding in snow is great, it's just not ideal for testing.
Of course that was just the first couple hundred meters of trail - after that we transitioned quickly from lightly packed snow, to snow and mud, to mud and loam, to wet but drying conditions lower on the hill, where the sun started to appear. Those first few hundred meters were already enough for me to form an impression on the new bits on my bike, though, and they were positive. They were also surprising, because I had low expectations for being able to feel much of anything in those conditions. I expected seals that needed to be broken in, springs that would feel a bit dead, and dampers with less motivation than a lazy dog on an early morning. Instead what I got was supple responsiveness, traction I didn't think was deserved, and most notable of all, a lack of chatter from the dampers.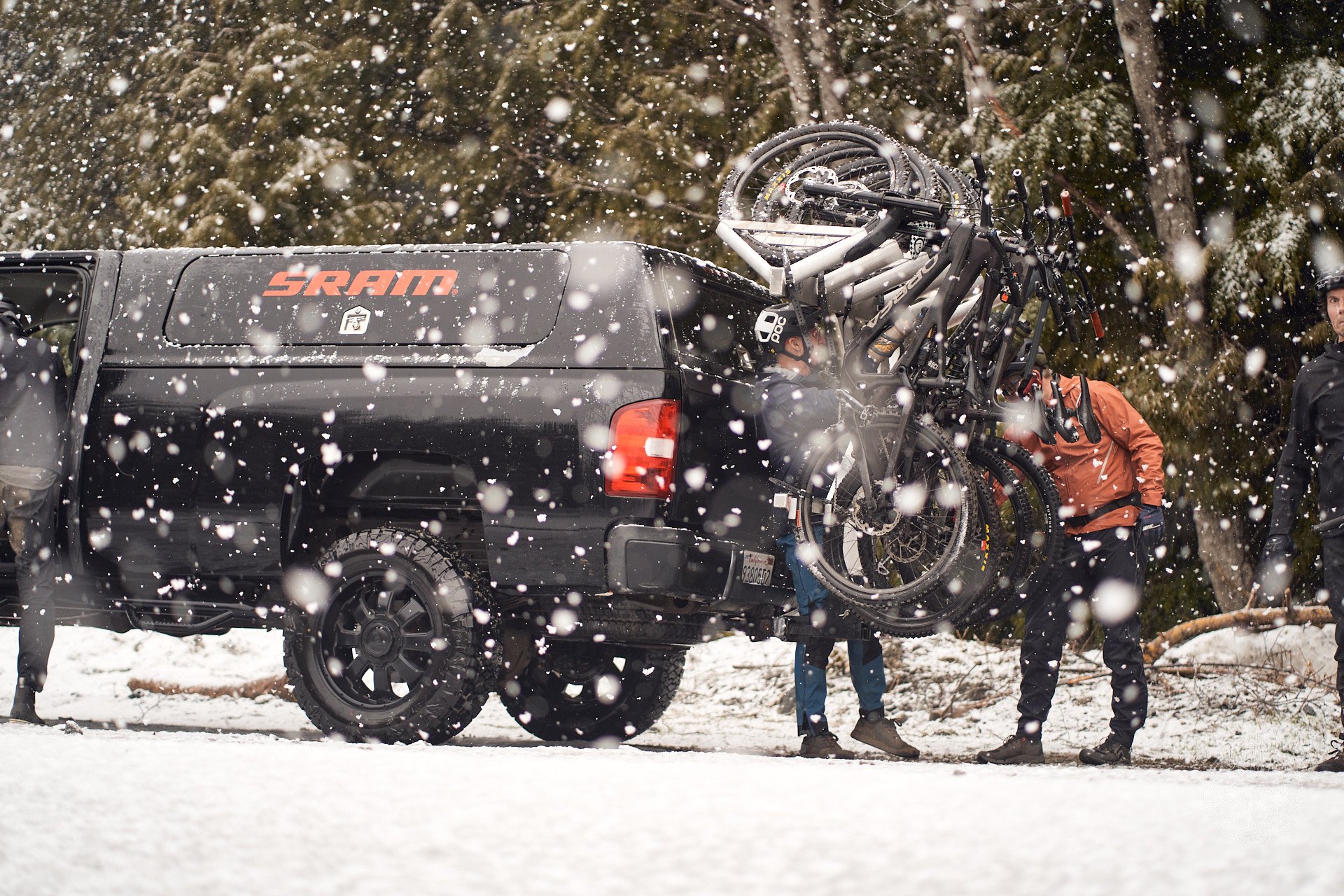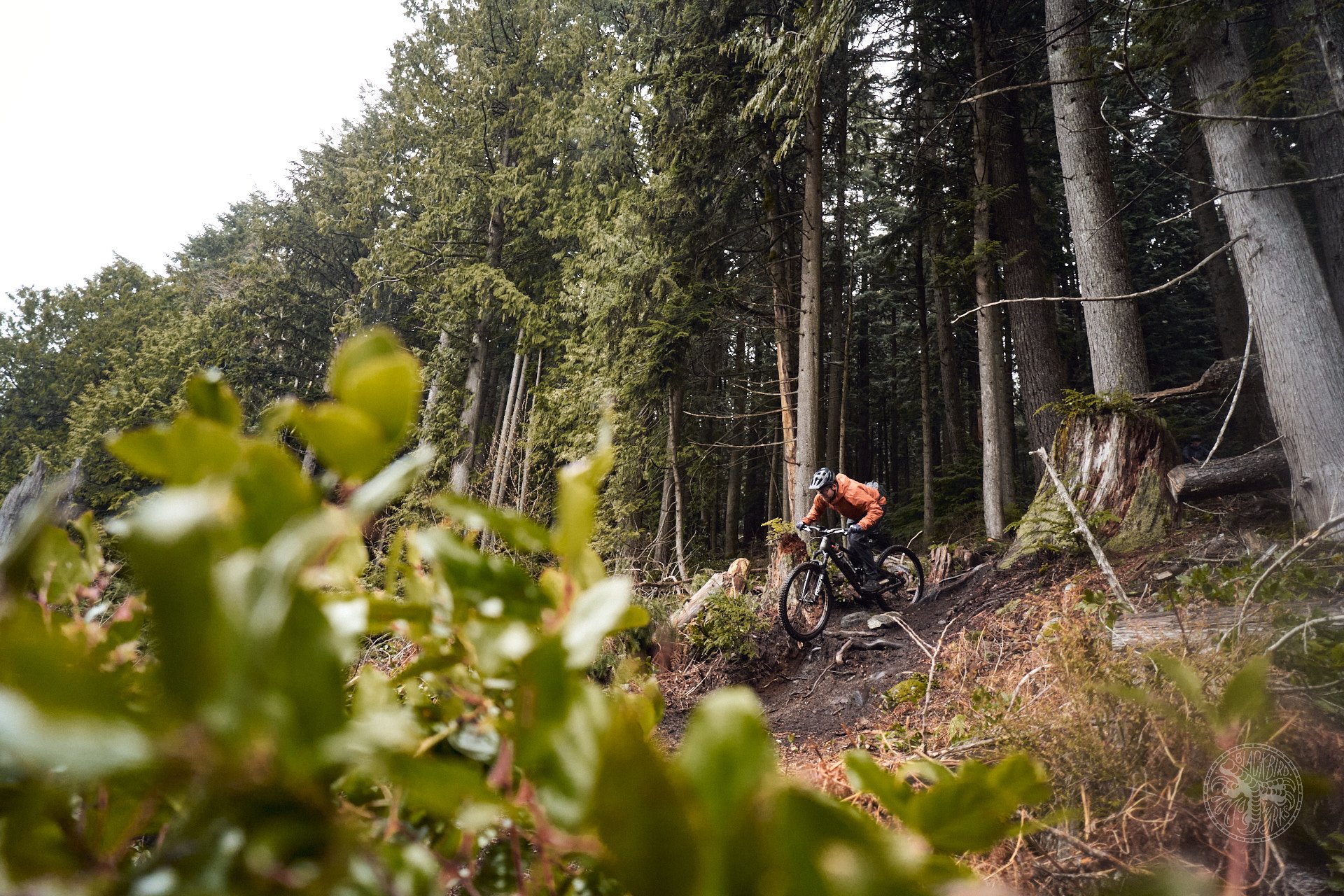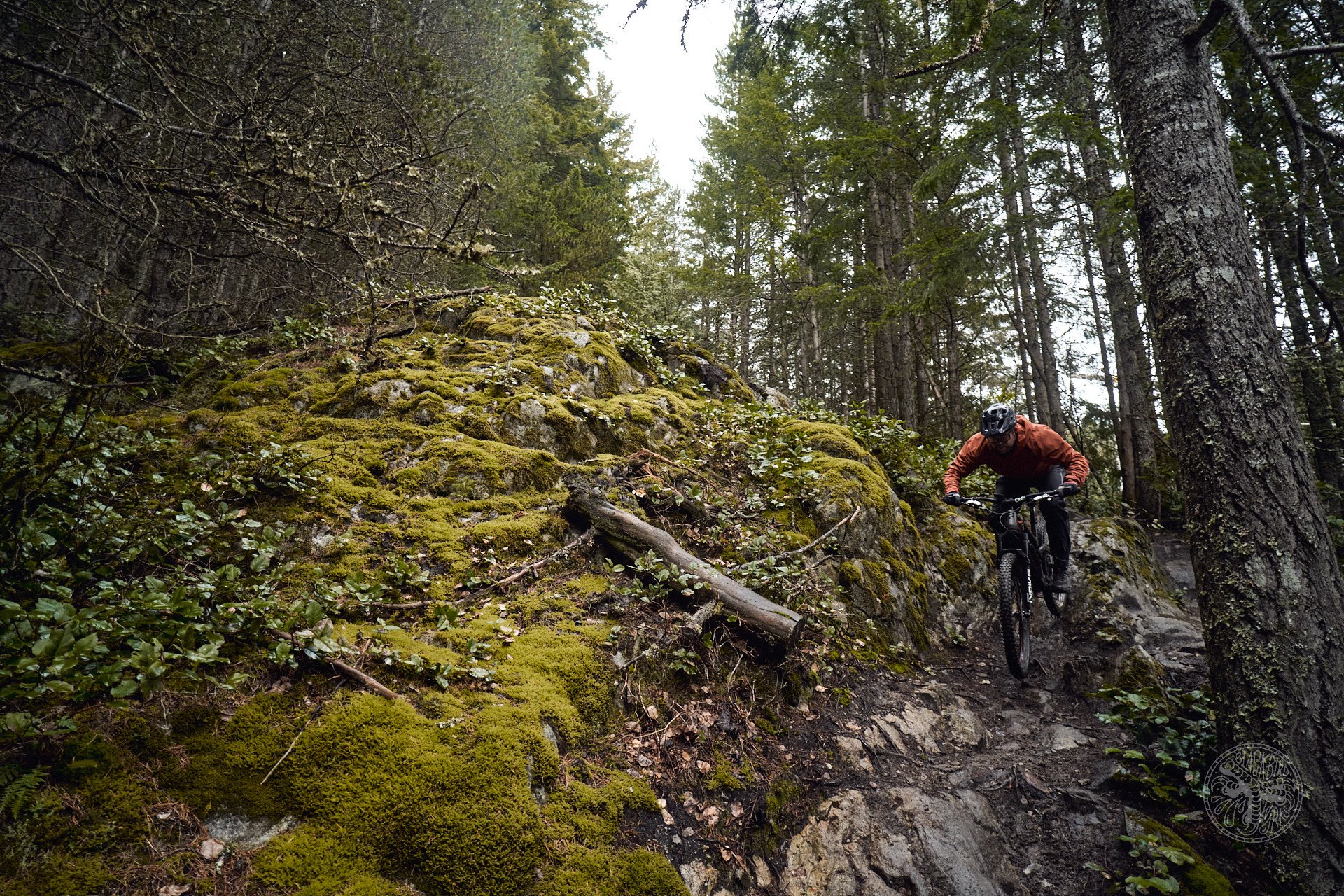 The first thing I noticed about the new Lyrik was how quiet and damped it felt. I was coming off a prior gen Lyrik with the upgraded Debonair spring that Cam and I wrote about when it came out two years ago. I was generally happy with that fork, despite it sometimes riding a little low at sag, causing me to run a bit more air in it to keep it at full height. It was reasonably supple and supportive, and plenty stiff for most of what I asked it to be as the red-nosed Rudolph to the rest of my sled. However, like the back end of the Sentinel, I wouldn't use the word supple for that Lyrik. It has always felt like both ends of that bike feel supremely capable, just not invitingly plush. If I borrowed a click of LSC to try to soften things up, I would pay for it with a bit of wallow. On the HSC side, backing off a bit risked packing things up too much or relying on too much rebound speed to pay for my sins of softness. It was a happy medium in general.
The new Lyrik softens the blow somewhat. It's not just the ButterCups working their magic on high-frequency vibrations, but their presence is noticeable in terms of feel and in terms of what you hear, which I learned can be perceptible from our back-to-back alloy vs carbon Knolly Warden experience from several years ago. A quiet bike was now quieter, and even on a day where the surface under our tires was noisy, I could hear the knobs skipping over the trail, and not a whole lot else from the bike. Unfortunately, I was running poorly-chosen rubber on a day when you really needed the best. The flip side is I learned the limits for me of a MaxxTerra front tire, and also that a WTB Trail Boss has no business on the back of a trail bike on the North Shore unless it's August. When I don't get to ride the shore as much as I used to, I need every advantage, and those tires let me down a bit. Despite that, I felt like I had great traction from the suspension - better than I am used to on that bike - right up until the point when mechanical grip would fail, usually as I tipped into a steep section of granite, at which point I backed off a few sections I should normally handle comfortably.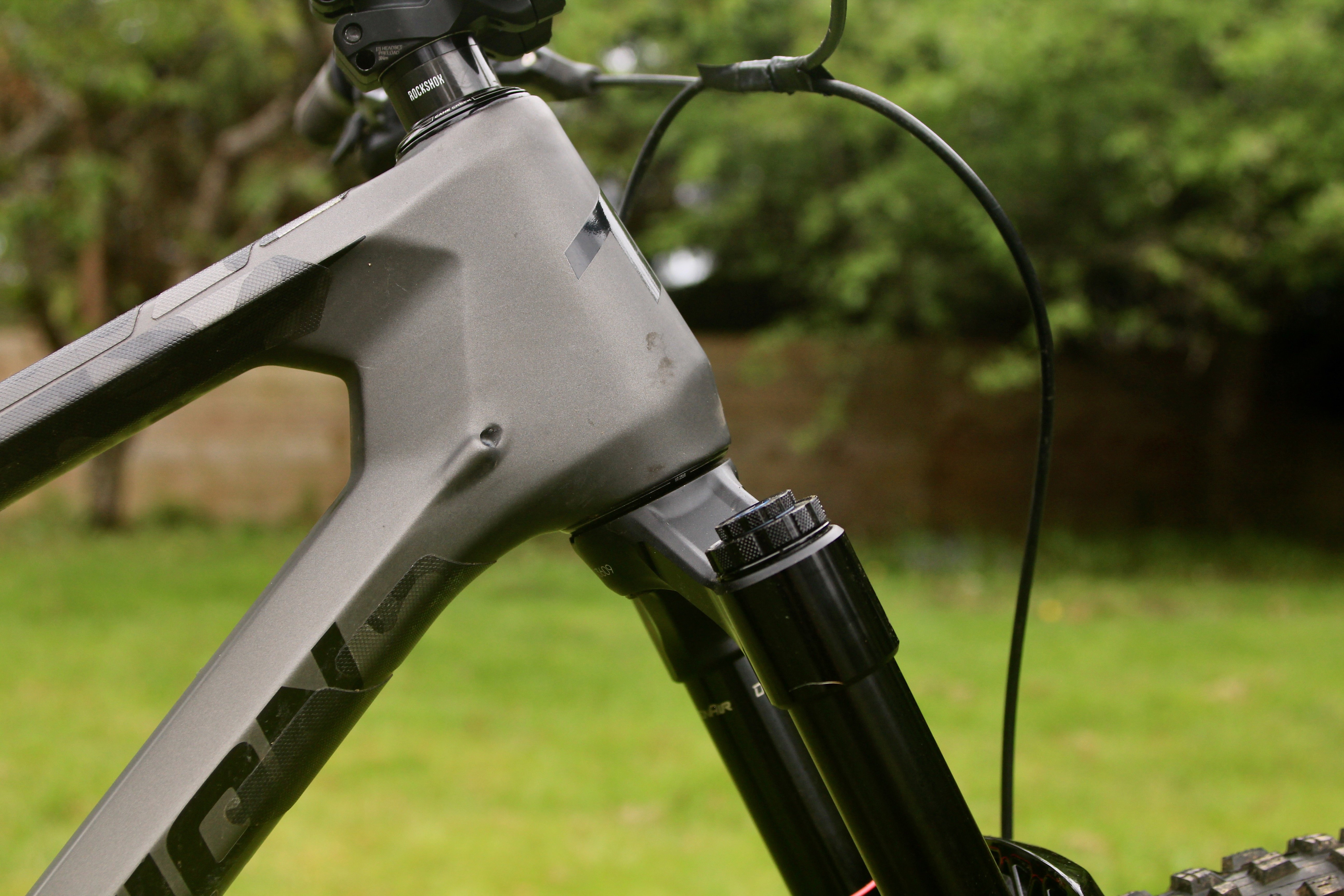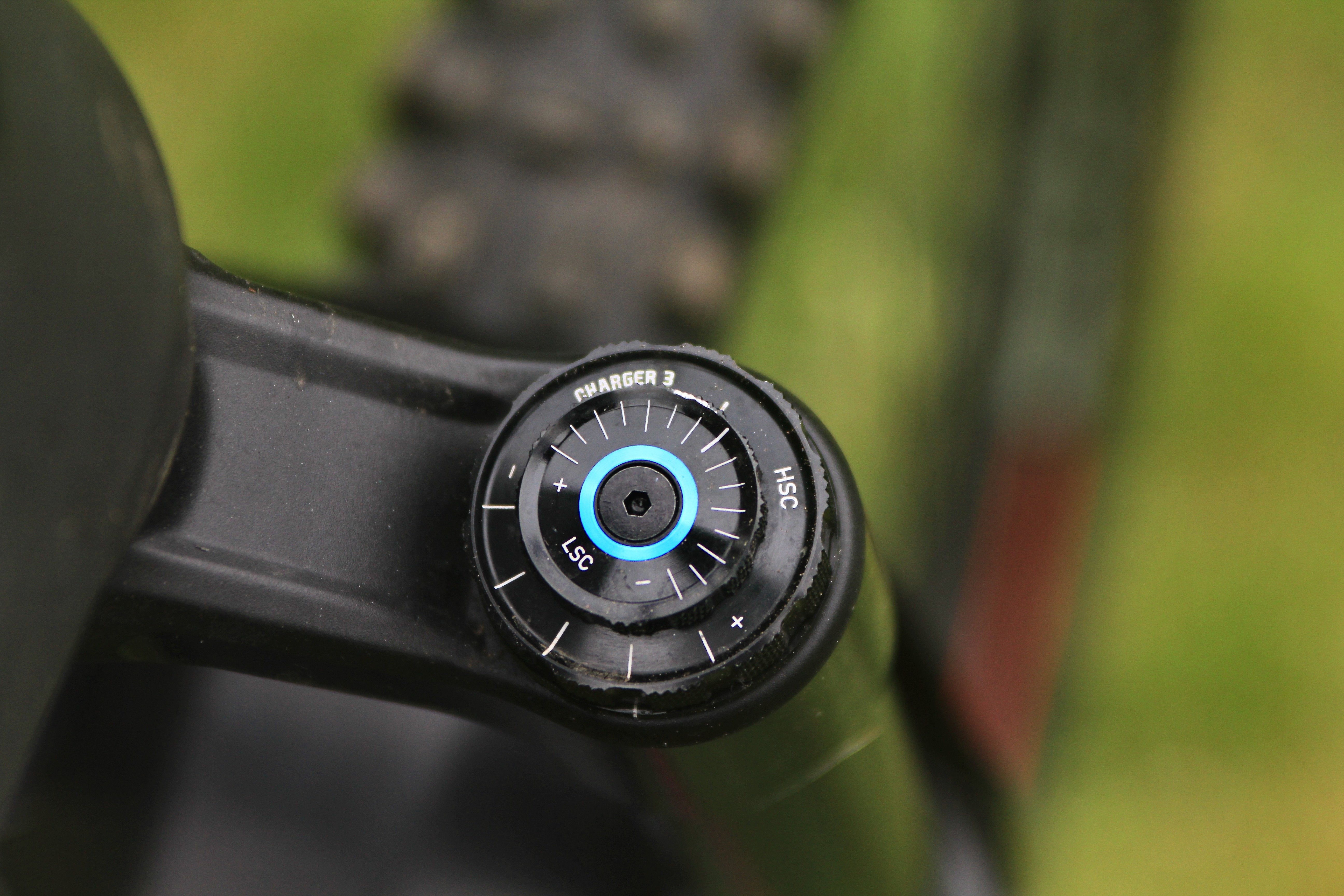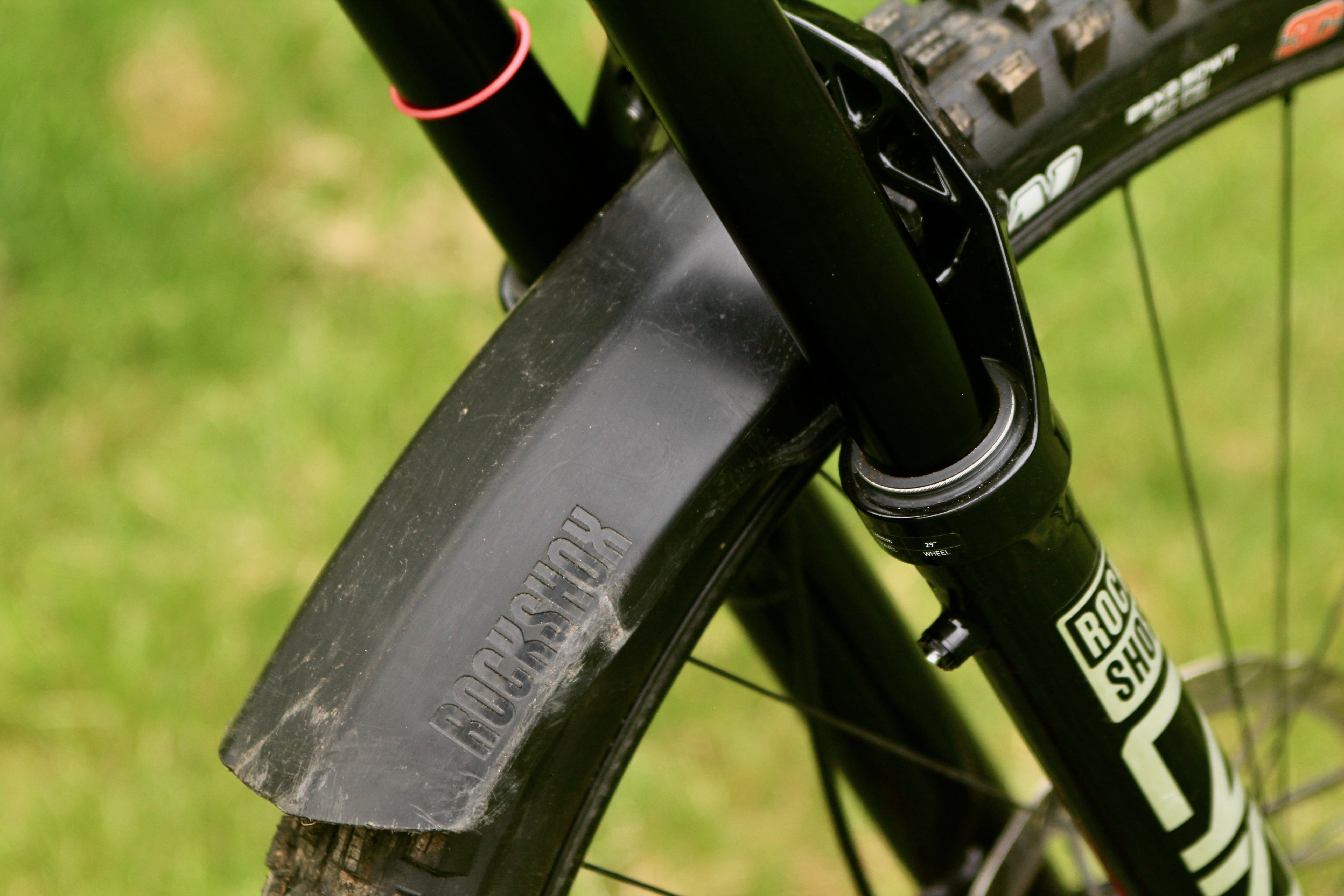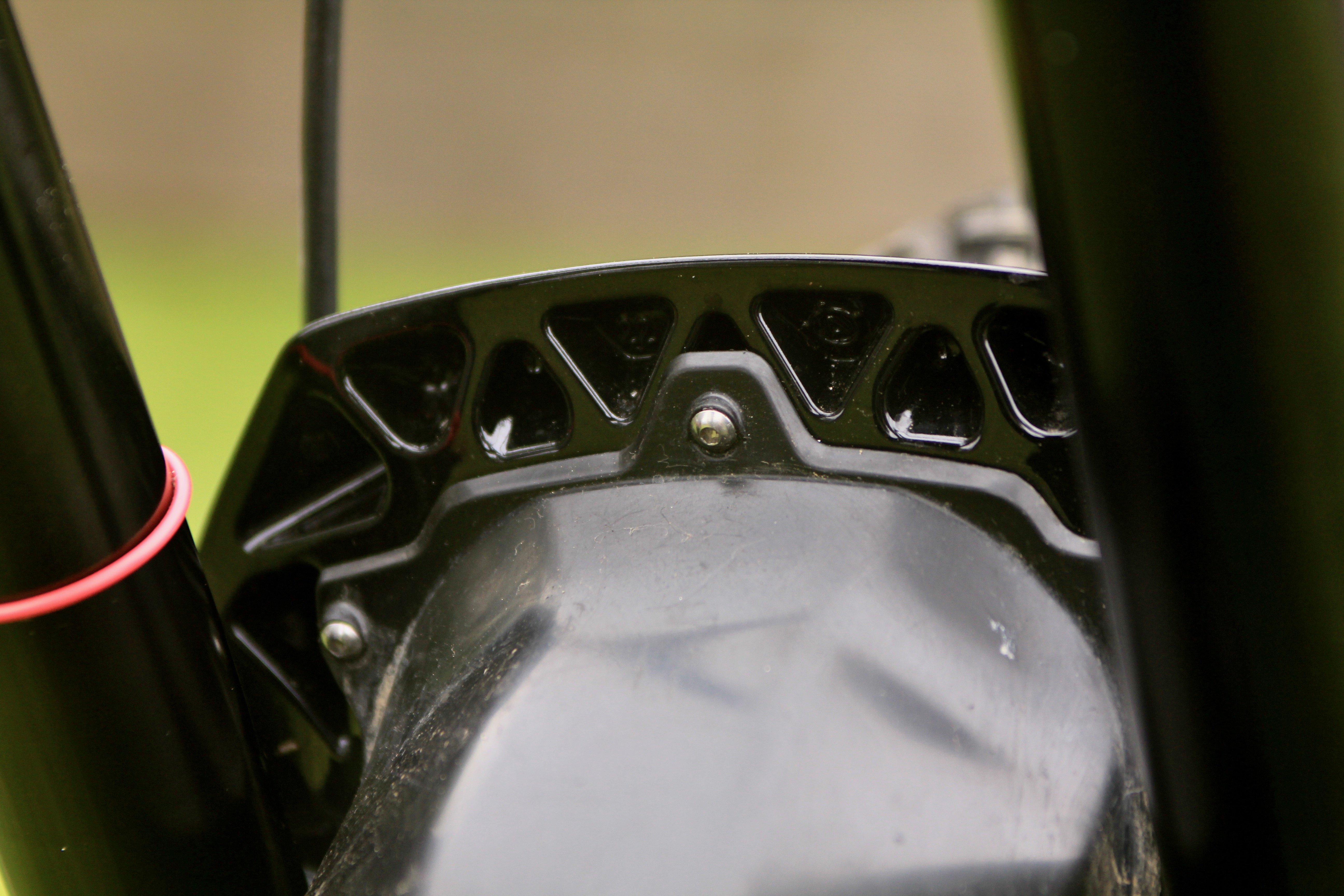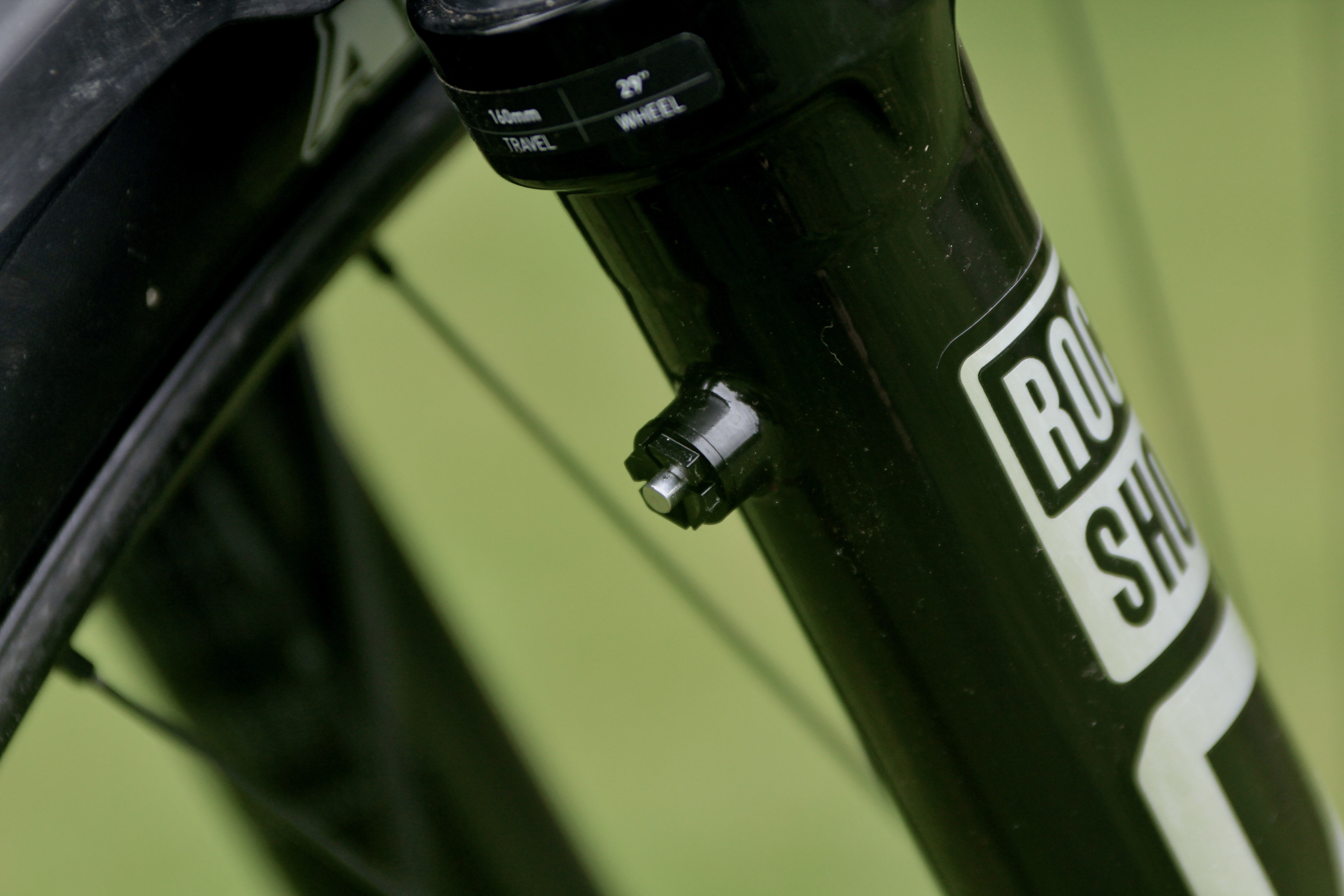 Having now had the chance to ride back on the Sunshine Coast (with improved rubber and slightly better weather) since then, I can confirm that both traction and trail feel are improved vs the prior Lyrik. I'm also happy to report that it hooks up extremely well when landing to flat at speed, something that happens quite a bit on the trails in Roberts Creek. I haven't deviated much from original settings - air spring at btwn 90-95 lbs, with HSC, LSC, and Rebound all almost exactly in the middle (I sped up HSC and Rebound about a click each for Roberts Creek and Sunshine Coast riding). Flicking knobs is an absolute pleasure on the new Lyrik - they are burly feeling and nice to look at, and the consistent changes between clicks is appreciated.
And I'm an unabashed fan of ButterCups. Their effect was one of the first things I noticed and that silent, damped feel it hasn't grown old.
It'll take more time to shake the ins and outs of all the new things RockShox has introduced here, but so far it's looking very good, indeed.
2023 RockShox Super Deluxe Ultimate Air - Pete's Impressions
I can't compare the new Super Deluxe Ultimate shock on my Sentinel with the previous one, because I was running the stock Fox Float X2 and as I mentioned, it contributed to a very capable but somewhat workmanlike feel on the bike, especially off the top and at the end of the stroke in fast and rough sections of trail. Two sections stood out to me on our ride day on Cypress that handily separated the Super Deluxe Ultimate from the X2 I had been running. The first was the baby heads and drops section of Mystery DH, which is a fun one to go pin-balling down, and where line choice can either see you greasing your way through or wishing you were on a DH bike. Having not ridden it in about six months, I was braced for a few rough landings, but instead found myself very impressed with how both ends of the bike handled the rock-strewn landings which don't leave much room for error. I didn't tear into the section, but I also didn't need to hold back too much - the Lyrik led the way but it's a section where your back end can get overwhelmed quickly by successive hits, and losing traction or contact with the ground at the wrong time will send you into the side of a rut or off the edge of the trail. Instead of any of these issues, the bike felt composed and I marveled at how well the shock both felt active and supportive without giving up traction or bouncing excessively.
The second section was just a bit further down, where a rising left forces you to carry speed so you can manage a small gap with a landing slightly above take-off. Casing it isn't violent and speed always helps but the landing is peppered with roots and on this day the soft ground meant that despite a pull and commitment, that back wheel did not make it all the way over. I braced for impact, expecting to find bottom and scrub a bunch of momentum. What I got instead felt like falling onto a family pack of paper towels when I expected to smack down onto threadbare carpet. No violence whatsoever. The shock handled it (with a bit of damper noise that I actually found really satisfying), I didn't feel a harsh bottom out, and before I knew it I had all my momentum still in hand and was on my way. It was a delicious moment that speaks to the beauty of the Hydraulic Bottom Out that Andrew goes into at length in his tear down of the new shocks.
The issue with traction and tire choice I mentioned above only reared its head later in the steeps and granite of WuTang Exit, and if I'd felt like my tires would hold me up better (or I had more skill to summon), I had lots of confidence in the way the suspension was working otherwise.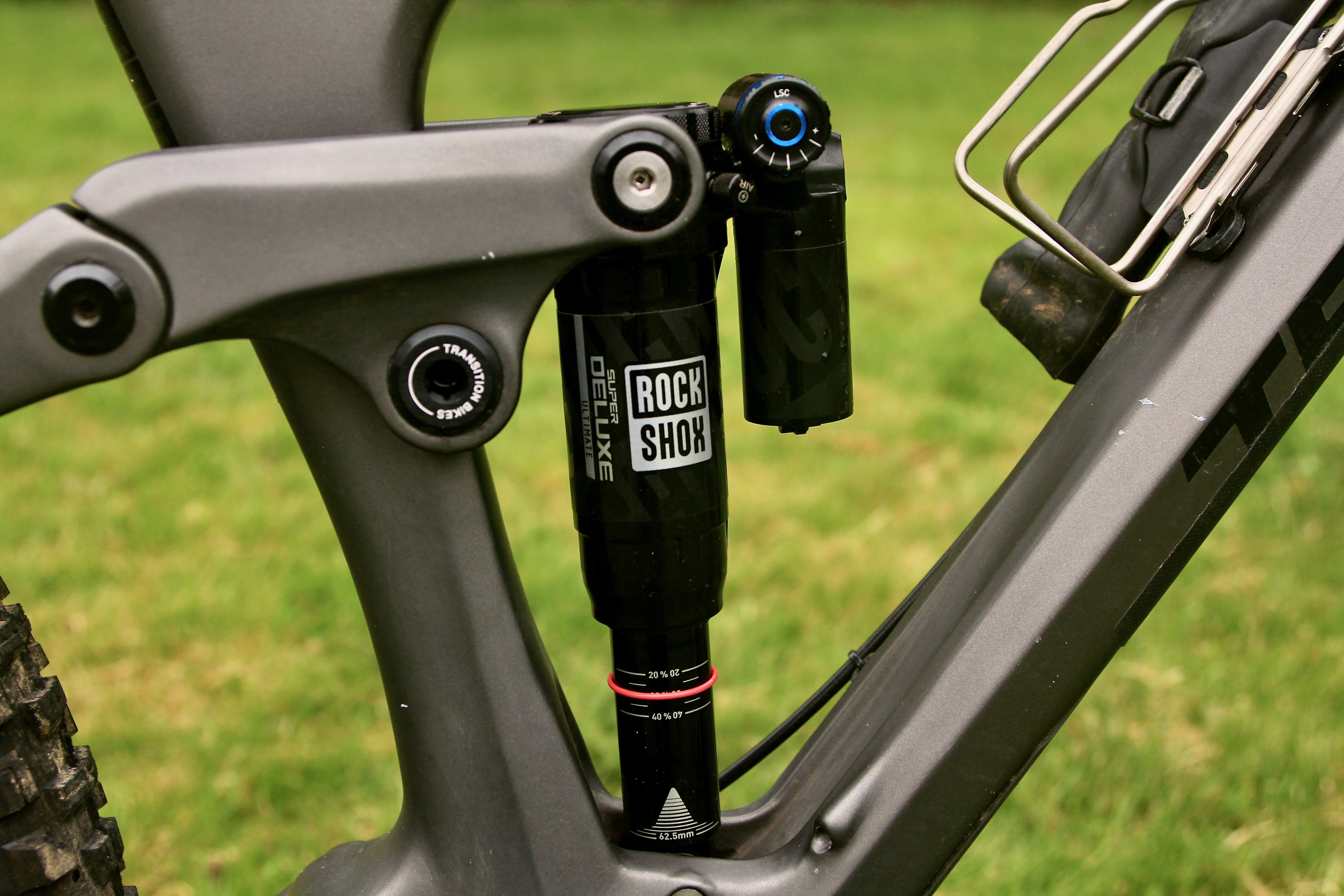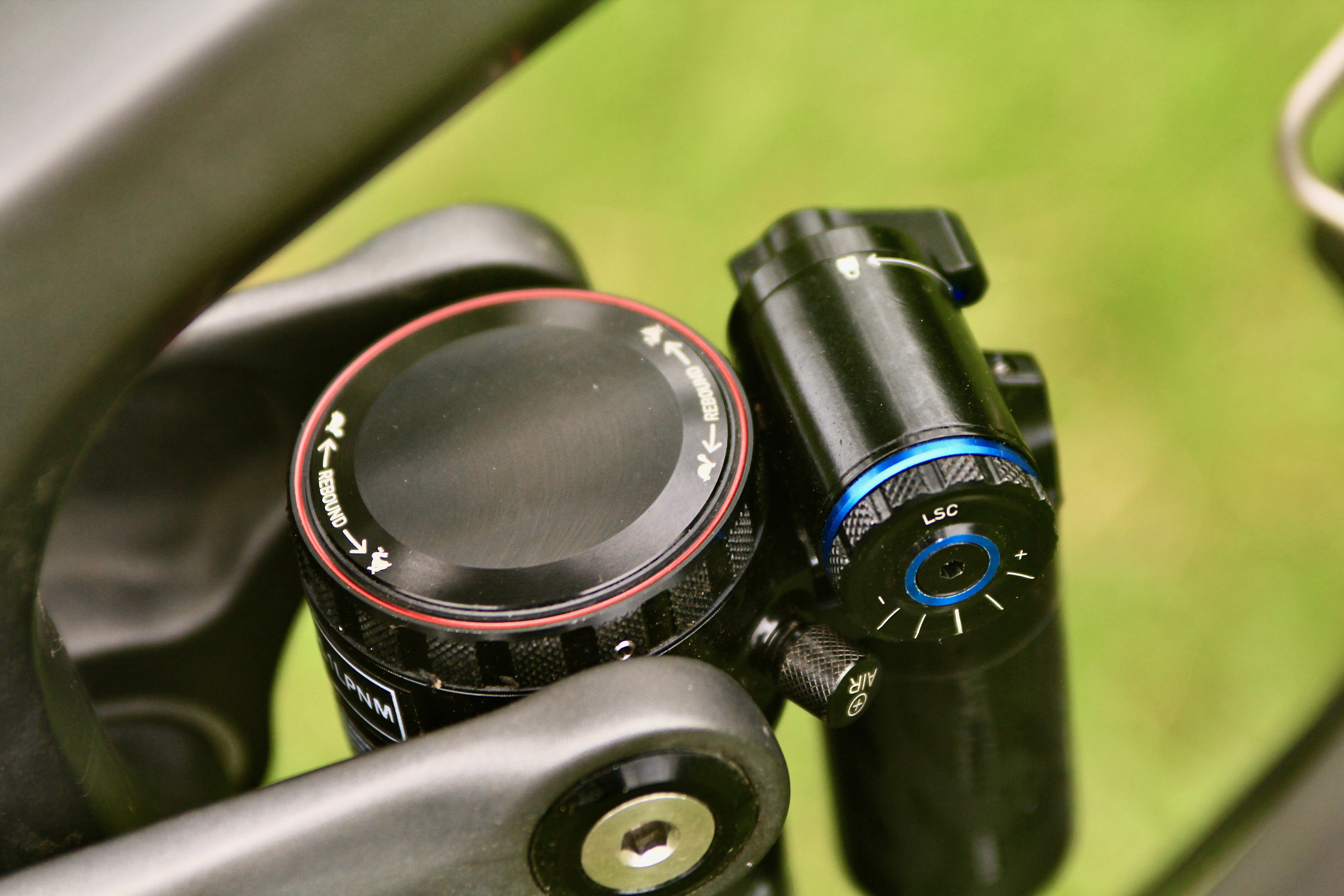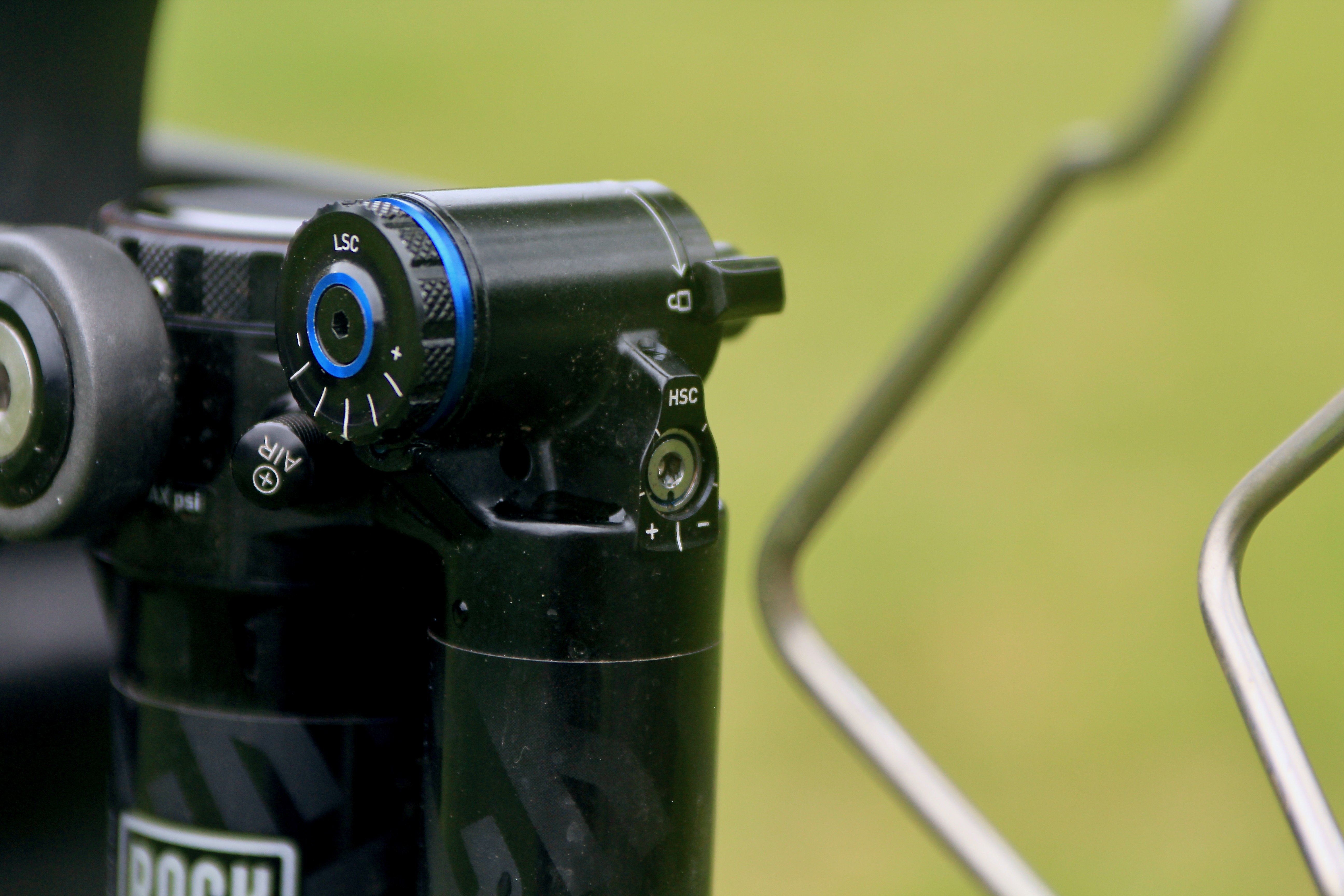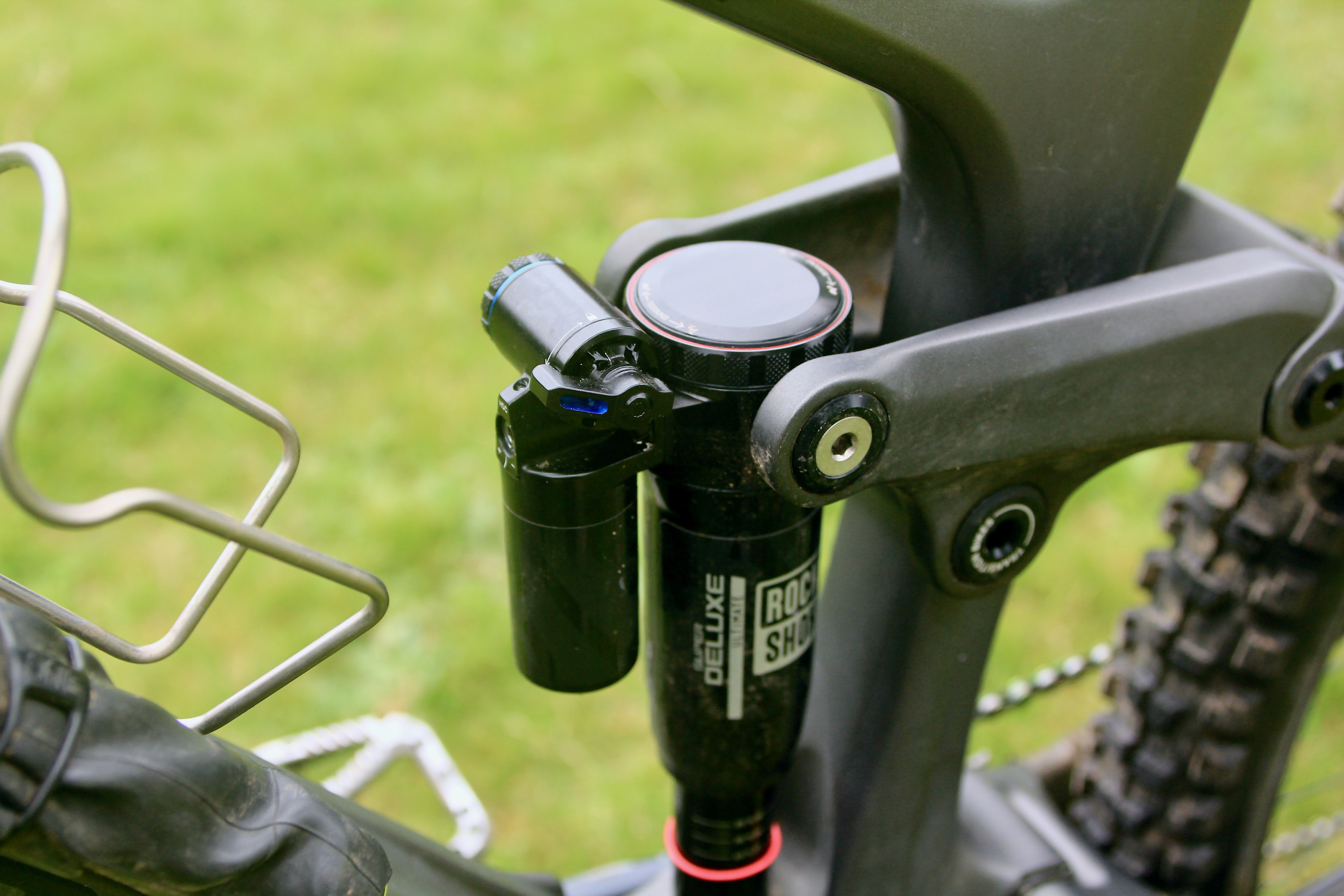 Since that day I have had more time to push the shock around in various trail and weather conditions and have found it has breathed new life into the bike. At speed it feels like it deals a bit better with successive hits, keeping the wheel tracking and allowing me to carry more speed, and consequently feeling more in control. I'm running 30% sag on the Sentinel and hitting plenty of low angle and flat drops at speed, and while the travel ring is regularly at the end of the stroke, I'm not feeling harsh bottom outs or even a sensation that the progressivity at the tail end of travel is drastically changing how everything feels. Instead I have the sensation that every landing will be met with a quick return to traction and direction control - exactly what we're looking for from a dialed full suspension rig. The Sentinel is still a trail bike (albeit a burly trail bike), but the new Lyrik up front and Super Deluxe Ultimate Air out back has it feeling better than it ever has. I'm looking forward to getting it back over to Cypress.